Economic Crisis Does Little to Dampen Mohammed bin Salman's Pricey Ambitions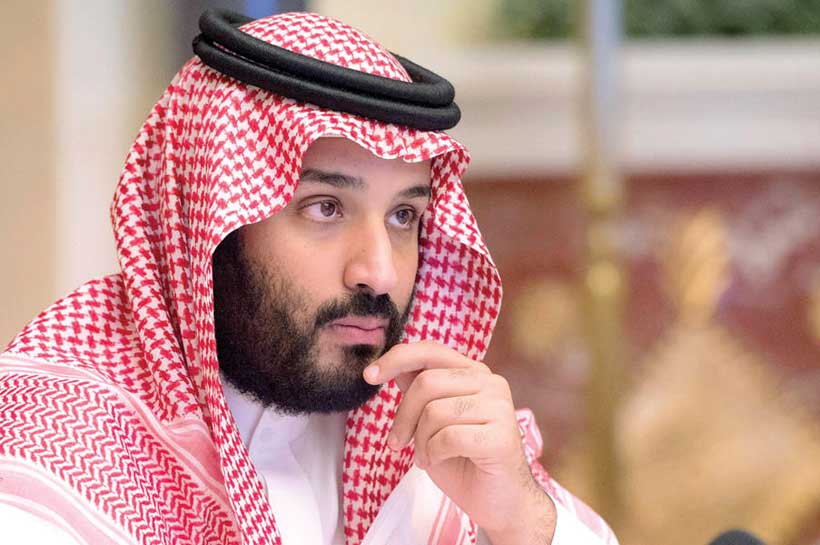 When Saudi Finance Minister Mohammed Al-Jadaan announced austerity measures in May, including an $8 billion USD cut back on spending on Vision 2030 — Crown Prince Mohammed bin Salman's ambitious plan to restructure the Saudi economy — economists and pundits assumed that was the death knell for trophy projects like NEOM, a $500 billion USD plan for a futuristic mega smart city on the Red Sea.
Economists and pundits may want to think again.
Plagued by questions about the project's strategic value at a time when the kingdom is struggling with the economic fallout of a pandemic, the impact of an oil price rout, and controversy over the killing of a tribal leader who resisted displacement, NEOM last week sought to counter the criticism by hiring a US public relations and lobbying firm.
NEOM's $1.7 million USD contract with Ruder Finn – a PR company with offices in the US, Britain, and Asia – was concluded as the kingdom sought to salvage another trophy project, the acquisition of English Premier League soccer club Newcastle United, beset by accusations that the Saudi government had enabled TV broadcasting piracy in its rift with fellow Gulf state Qatar.
The controversy proved to be a lesson in the reputational risk involved in high-profile acquisitions. Piracy was not the only thing complicating the acquisition of Newcastle. So was Saudi Arabia's human rights record as a result of mass arrests of activists and critics and the 2018 killing of journalist Jamal Khashoggi in the Saudi Consulate in Istanbul.
With the publication of a damning report by the World Trade Organization (WTO), Saudi Arabia moved quickly to counter the criticism by removing boxes of BeoutQ, an operation that pirated sports broadcasts legally contracted by BeIN, the sports franchise of state-owned Qatari television network Al Jazeera. BeoutQ broadcasts were carried by Saudi-based Arabsat.
BeoutQ was taking advantage of the banning of BeIN in the kingdom as part of the three-year-old Saudi-UAE diplomatic and economic boycott of fellow Gulf state Qatar. Saudi sports cafes began broadcasting BeIN for the first time immediately after release of the WTO report.
Like the Saudi response to the WTO, NEOM's contract with Ruder Finn seems to be an effort to repair reputational damage.
Ruder Finn's mandate appears designed to counter the fallout of the killing in April of Abdulrahim al-Huwaiti, whom the government labelled a terrorist, and to project NEOM as a socially responsible corporation bent on engagement with its local community.
Taking issue with the suggestion that NEOM was in damage limitation mode, Ali Shihabi, a political analyst, former banker, and member of NEOM's advisory board who often reflects Saudi thinking, argued in a series of tweets that project NEOM was about much more than refuting negative media reporting.
"There is much more substance to NEOM than 'flashy projects.' NEOM will be heavily involved in serious projects like advanced desalination, innovative desert agriculture and more use of solar and wind energy, etc. that are very relevant to the country and the region's urgent needs. These have been very well planned/researched and some are already being executed," Mr. Shihabi wrote, admitting that the company behind the project had yet to detail its plans.
Mr. Shihabi's claims were seconded by Ruder Finn in its filing to the US Department of Justice as a foreign agent.
"NEOM is a bold and audacious dream," Ruder Finn said. "It's an attempt to do something that's never been done before and it comes at a time when the world needs fresh thinking and new solutions."
Ruder Finn's contract was announced after NEOM said that it was taking multiple steps to demonstrate that it was being "socially responsible and [would] deliver . . . impactful, sustainable and committed initiatives."
In lieu of Mr. Shihabi's anticipated detailing of NEOM's grandiose plans, Ruder Finn's filing to the Department of Justice as a foreign agent, as well as NEOM's announcements, seemed less geared toward projecting the futuristic city's economic and environmental contribution and more towards repairing damage caused by the dispute with local tribesmen and the killing of Mr. Al-Huwaiti.
Mr. Al-Huwaiti, a leader of protests against alleged forced evictions and vague promises of compensation, was reportedly killed in a gun fight with security forces.
Mr. Al-Huwaiti predicted that he would be either detained or killed in a video posted on YouTube hours before his death. In the video, he claimed that whatever happened to him would be designed to break the resistance of his Huwaitat tribe to their displacement.
He denounced Prince Mohammed's leadership as "rule by children" and described the kingdom's religious establishment that has endorsed the Crown Prince's policies as "silent cowards."
An estimated 20,000 people are expected to be moved out of an area that Prince Mohammed once said had "no one there."
NEOM declared earlier this week that it would be offering English-language lessons at its recently established academy and that some 1,000 students would be trained in tourism, hospitality, and cybersecurity.
At the same time, the government said that eligible Saudis would be compensated for loss of land with plots along the coast as part of a program to improve standards of living.
Online news service Foreign Lobby Report reported that Ruder Finn would produce informational materials, including a monthly video to promote NEOM's engagement with the local community as well as visual materials highlighting the company's fulfillment of its social responsibility.
Ruder Finn's efforts were likely to do little to convince the kingdom's critics.
Writing in Foreign Policy in April, Sarah Leah Whitson, Human Rights Watch's former Middle East and North Africa Director, and Abdullah AlAoudh, a Saudi legal scholar, dismissed NEOM's grand ambitions. Mr. AlAoudh's father Shaykh Salman Al-Odah, a prominent reformist religious scholar, has been imprisoned in Saudi Arabia since 2017 for advocating an end to the rift with Qatar.
"Whether the NEOM project is even remotely viable, given the global financial collapse because of the coronavirus and rising Saudi debt amid historically low oil prices, is highly doubtful," Ms. Whitson and Mr. AlAoudh said. "The only result we've seen from this vision for a futuristic city is the promised destruction of a historic community and the death of a Saudi protester, using archaic means with no room for modern notions of rights and justice."
Author's note: An initial version of this story was first published in Inside Arabia
Behind Closed Doors: The Startling Repercussion of Saudi-Israeli Alliance
The media is fervently fueling the narrative that Saudi Arabia and Israel are on the brink of normalizing relations, a development that the United States is investing tremendous resources to realize. However, the certainty of this deal coming to fruition remains in the hands of time. Nevertheless, any such shift will undoubtedly send shockwaves throughout the region. Advocates worldwide argue that this potential alliance could usher in a new era of coherence and peace in the Middle East. Yet, the looming consequences of such a deal could cast a dark shadow over the region, hinting at turbulent times ahead.
To delve deeper into the complexities of the Middle East, it's crucial to understand the historical penetration and influence of the US and Israel in the region. This background provides a critical context for interpreting current events and potential development. In 1978, President Jimmy Carter embarked on a mission to underscore the Unites State's immense influence in the Middle East. He saw Israel and Egypt as instrumental to his objectives and invited their leaders to establish normalized relations through a series of agreements that would later be known as the Camp David Accords. The underlying premise of these accords was to restore peace and stability in the region, address the Palestinian issues, and foster harmonious relations between Israel and the Arab states. However, instead of ushering in an era of tranquility and stability, the Middle East was plunged into a vortex of instability and war following this penetration.
The Iran-Iraq war, the US invasion of Iraq, and the subsequent instability that has plagued the region can largely be traced back to the deep-seated influence and intervention of the US and Israel. This penetration, characterized by strategic alliances and political maneuvering, has left indelible marks on the geopolitical landscape of the Middle East. The ripple effects of these actions have not only sparked conflicts but also contributed to a climate of uncertainty and volatility. This complex web of relations and its repercussions continue to shape the region's dynamics, underscoring the far-reaching impact of foreign intervention.
Yet, this penetration also unleashed a cascade of complications. These included the exacerbation of sectarian tension, the rise of terrorism, the onset of revolts, rampant corruption, widespread violations of human rights, and regional instability. These multifaceted issues underscore the intricate dynamics at play in the Middle East.
When examining the annals of history, we find that the narrative of the US and Israel are marred by bloodshed, occupation, and intervention. Given this backdrop, one might question how normalizing relations between Israel and Saudi Arabia could possibly transform the region's longstanding instability from a conflict formation to a security regime. Can the myriad of problems that have plagued the region for decades simply vanish overnight? That is to say; even if the normalization of relations between Saudi Arabia and Israel is seen as inevitable, it does not necessarily promise peace and stability in the region. On the contrary, it could potentially exacerbate sectarian divisions and fuel proxy wars. The complexities of regional politics and longstanding religious and ethnic tensions mean that any shift in alliances or partnerships could have unpredictable consequences.
Moreover, the proposed deal to normalize relations between Saudi Arabia and Israel is steeped in controversy. While there is a possibility that the agreement may come to fruition, it is expected to include a mutual defense treaty, a security guarantee, assistance in developing Saudi Arabia's own civilian nuclear program, and decreased restrictions on US arms sales to Saudi Arabia. This could potentially include lifting the ban on selling F-35 fighter jets or other advanced weapons.
However, if Saudi Arabia acquires such advanced weaponry and nuclear capabilities, will it truly foster peace and stability? Or did it instead destabilize the region in unprecedented ways? Or could it be that the potential deal between Israel and Saudi Arabia hinges solely on the exchange of weaponry? Regardless of the underlying motivations, the transfer of nuclear capabilities from the US to Saudi Arabia could potentially perpetuate the cycle of militarization rather than offering solutions to the region's longstanding rivalry.
The recent reconciliation between Iran and Saudi Arabia, facilitated by China, could be undermined by the normalization of relations between Saudi Arabia and Israel. It was hoped that the reconciliation between Iran and Saudi Arabia would transform the region's security architecture (a change that has been broadly felt across the region). However, this progress could be jeopardized and provoke a more potent reaction from Iran. Iran has explicitly stated that the normalization of relations between Saudi Arabia and Israel is not only a betrayal of Palestinian causes but also a catalyst for regional instability.
Thus, Saudi Arabia stands at a crossroads, with the weight of a monumental decision pressing heavily upon its shoulders. The whisper of the populace echoes through the Kingdom, with reports indicating that over 60% of Saudis are against the idea of normalizing relations with Israel; their voices, filled with apprehension and uncertainty, cannot be ignored.
As a beacon of power in the region, Saudi Arabia's actions could sway its allies, potentially coercing them into a similar normalization with Israel. This could send ripples through the delicate balance of regional stability, especially given Iran's vehement opposition to any country in the region forging ties with Israel.
The Middle East, once a simmering cauldron of proxy wars between Iran and Saudi Arabia, had restored some semblance of control with the resumption of ties between these two countries. However, if Saudi Arabia normalizes relations with Israel, we will witness a chilling new conflict. A solitary Iran pitted against an alliance of Israel and Saudi Arabia could ignite a firestorm that engulfs the region. The potential consequences are dire and could cast a long, unending shadow over the region, plunging it into an abyss from which recovery may be impossible. The specters of such a future are a poignant reminder of the high stakes involved and the careful consideration required before taking such a step.
Erdogan's Recent Visit to Russia: What Does It Mean for Regional Politics?
Erdogan's recent visit to Russia, which took place on September 4th, 2023, carries significant implications for regional politics and global geopolitics. This high-stakes meeting between Turkish President Recep Tayyip Erdogan and Russian President Vladimir Putin came after a pivotal moment in their diplomatic relations. The focus of the discussion revolved around Ukrainian grain exports and the revival of a crucial UN- and Türkiye-brokered agreement that had been suspended during the war with Russia. Beyond grain deals, the visit encompassed a broad spectrum of geopolitical interests, energy cooperation, arms deals, and humanitarian concerns. This article offers a comprehensive analysis of the visit and its far-reaching consequences.
The Deal
In July 2022, Russia and Ukraine entered into separate agreements with Türkiye and the United Nations, creating a pathway for the export of much-needed Ukrainian grain, along with some Russian grain and fertilizer, through the Black Sea. The Initiative, in particular, permits the commercial export of food products and fertilizers (including ammonia) from three crucial Ukrainian ports located along the Black Sea – Odesa, Chornomorsk, and Yuzhny/Pivdennyi. This eagerly awaited agreement brings an end to a standoff during the wartime period, which posed a significant threat to global food security. The United Nations' initiative would facilitate the export of 22 million tons of grain and other agricultural commodities from Ukraine, a key global source of food production. These goods had been stranded in Black Sea ports due to Russia's military intervention. U.N. Secretary-General Antonio Guterres hailed this development as " a beacon of hope" for the millions of individuals who have endured substantial increases in food prices.
The Abandoned Grain Deal's Purpose
The now-abandoned grain deal was originally conceived to address the global food crisis by allowing Ukraine to export grain from its ports while the conflict with Russia persisted. Both Russia and Ukraine are prominent players in global agricultural markets, especially in commodities such as wheat, barley, corn, rapeseed, rapeseed oil, sunflower seed, and sunflower oil.
The Urgent Quest for a Revived Grain Deal: Optimism for a Revived Deal
Russian President Vladimir Putin and Turkish President Recep Tayyip Erdogan engaged in critical discussions regarding Ukrainian grain exports during their meeting in the Russian Black Sea resort of Sochi on September 4th. This meeting unfolded nearly two months after Russia withdrew from a UN- and Türkiye-mediated agreement, allowing Ukraine to export grain and other commodities from its Black Sea ports during the ongoing conflict.
President Erdogan expressed optimism regarding the prospect of resurrecting the grain deal, asserting Türkiye's belief in a swift resolution. President Putin echoed this sentiment, stating that Russia stands ready to reinstate the agreement once restrictions on its agricultural exports are lifted.
Diplomatic Maneuvers Leading to the Meeting
Prior to the Sochi summit, Türkiye's Foreign Minister Hakan Fidan conducted talks with his Russian counterpart, Sergei Lavrov, to finalize the details of Erdogan's visit and explore the potential for a new grain deal. These diplomatic engagements underscore the significance of the meeting and its potential impact.
Conditions for the Grain Deal's Revival
Putin emphasized that Russia would consider reviving the grain deal only when all the agreements pertaining to the removal of restrictions on Russian agricultural exports were fully implemented. He also countered Western claims that Russia's withdrawal from the deal had exacerbated a global food crisis, asserting that food shortages were not a direct consequence of Russia's exit.
UN's Efforts to Revive the Deal
UN Secretary-General Antonio Guterres recently revealed his efforts to revive the grain deal by presenting concrete proposals to Russian Foreign Minister Sergey Lavrov. However, Russian Ministry of Foreign Affairs spokesperson Maria Zakharova stated that Russian demands implied by the agreement had not been implemented in the previous deal, refraining from divulging further details.
Erdogan's Diplomatic Endeavor
Erdogan is actively pursuing an international diplomatic success story by restoring the agreement with Moscow that facilitated Ukraine's grain exports through the Black Sea to global markets. The termination of the deal by Moscow in July prompted Erdogan's efforts, as the previous agreement he brokered with the UN had garnered international acclaim. A successful restoration of the deal would undoubtedly place Erdogan in the international spotlight, especially as he prepares to attend the UN General Assembly later this month.
The UN's Recent Reprimand
Türkiye's reprimand by the UN Security Council, following clashes between Turkish Cypriot police and UN peacekeepers in Cyprus, has amplified Erdogan's need for a positive diplomatic atmosphere. This adds further weight to the importance of achieving a diplomatic breakthrough during his visit to Russia.
Implications for Regional Politics and Geopolitics
Erdogan's recent visit to Russia carries far-reaching implications for regional politics and the broader global geopolitical landscape. The interactions between Türkiye and Russia have drawn international attention due to their strategic positions and divergent interests in various regional conflicts.
Escalation and Alternatives in the Black Sea
Since its withdrawal from the grain deal in July, Russia has escalated tensions by engaging in Ukrainian ports with missile and drone strikes, even threatening to treat all vessels in the Black Sea as potential military targets. In response, Ukraine has announced the establishment of a humanitarian corridor as an alternative route, hugging the coast of neighboring Romania and Bulgaria.
Addressing Food Security in Africa: Russian Footstep in the Greater African Region
Following its withdrawal from the grain deal, Russia has been keen on addressing concerns in Africa regarding the impact of the deal's collapse on food security. On September 4th, President Putin announced that Russia was on the verge of reaching an agreement with six African countries, including Burkina Faso, Zimbabwe, Mali, Somalia, the Central African Republic, and Eritrea, to supply them with up to 50,000 tonnes of grain. This humanitarian gesture includes free food supply and logistical support, with deliveries expected to commence shortly.
Energy Cooperation and the Turk-Stream Pipeline
Energy cooperation is a significant facet of Russo-Turkish relations, with the TurkStream pipeline serving as a symbol of their partnership. The visit may encompass talks on expanding energy projects and their implications for regional energy security.
Arms Deals and Military Cooperation
Both Türkiye and Russia have engaged in arms deals and military cooperation in recent years. The meeting could lead future discussions on these agreements, including Türkiye's purchase of Russian S-400 missile systems, which has raised concerns among Türkiye's NATO allies and carries broader implications for regional security.
Balancing Alliances in Regional Politics
Erdogan's diplomatic balancing act between Russia and NATO, notably the United States, is another crucial aspect of his visit. Türkiye's strategic positioning as a NATO member with growing ties to Russia presents both challenges and opportunities. The meeting provides an opportunity to explore how Türkiye navigates these complex alliances.
Addressing Humanitarian Concerns
Beyond geopolitical interests, Erdogan's visit may address humanitarian concerns in the region, particularly Türkiye's role as a refuge for millions of Syrian refugees. Discussions may revolve around the refugee crisis and potential solutions.
Broader Implications for Global Politics
The outcomes of Erdogan's visit extend beyond regional politics, with potential ripple effects on global politics. The decisions and agreements reached during the meeting can have repercussions in areas where Türkiye and Russia intersect, such as Syria, Libya, and energy markets.
Conclusion: Shaping the Future of Russo-Turkish Relations
Erdogan's visit to Russia marks a crucial juncture in regional politics, underscoring Türkiye's delicate diplomatic balancing act between Russia and NATO. The revival of the grain deal and discussions on energy cooperation, arms deals, and humanitarian concerns reflect the multidimensional nature of Russo-Turkish relations. As these influential nations navigate their complex alliance, the implications extend far beyond the Black Sea region, impacting global geopolitics. The outcomes of this meeting will reverberate in areas like Syria, Libya, and energy markets, shaping the course of future regional and global political dynamics. The world watches with anticipation as Türkiye and Russia chart their course in an ever-evolving international arena.
Iran and Sudan's Rapprochement in 2023: New Changes in the Regional Geopolitics of the Middle East
The Middle East is a strategic region that connects Asia, Africa, and Europe and has significant natural resources, especially oil and gas. The Middle East is also a source of various conflicts and crises that pose threats to regional and global peace. The change in Middle East politics can shape the social and political transformations of the people and societies in the region, as well as their relations with other regions. With that, Iran and Sudan's rapprochement has brought a new dynamic into the politics of the Middle East.
Iran and Sudan have been allies since the 1989 coup that brought Omar al-Bashir to power, but their relations have been strained by the political and economic crisis in Sudan, the US sanctions on both countries and the regional rivalry with Saudi Arabia and Egypt. The rapprochement between Iran and Sudan in 2023 adds a new dimension to the regional geopolitics of the Middle East. It has strengthened Iran in the region, as it gained Sudan as a strategic ally and a potential gateway to Africa.
Currently in Sudan, the civil war erupted in April 2023 after a failed coup attempt by a faction of the military against the transitional government that replaced al-Bashir in 2019. The instability and conflict in both countries have affected their domestic and foreign policies. Iran has been facing internal challenges, such as protests, corruption, inflation, and environmental crises. Iran has also been involved in regional conflicts, such as the war in Yemen, the civil war in Syria, the tensions with Israel, and the nuclear standoff with the US. Sudan has been undergoing a political transition since the ouster of Omar al-Bashir in 2019, but the process has been disrupted by a military coup in October 2021. Sudan has also been dealing with humanitarian crises, such as food insecurity, displacement, and violence in Darfur and other regions.
By restoring ties with Sudan, Iran can expand its economic and political influence, as well as its access to natural resources and markets. Sudan can also serve as a counterweight to Saudi Arabia and Egypt, which have been hostile to Iran and have supported the opposition forces in Sudan's civil war. This has challenged the Saudi-led coalition in the region, which has been trying to contain Iran and its allies. Saudi Arabia and its partners, such as the UAE, Bahrain, and Israel, have formed a bloc to counter Iran's regional ambitions and to promote their interests. The rapprochement between Iran and Sudan can undermine their efforts and create new security threats for them. For example, Sudan can provide Iran with access to the Red Sea and the Bab al-Mandeb Strait, which are vital for Saudi Arabia's oil exports.
The change in the US outlook on the Middle East has reduced its involvement and influence in the region. The US has shifted its focus to other strategic priorities, such as countering China's rise, addressing climate change, and dealing with domestic challenges. The US has also withdrawn its troops from Afghanistan, Iraq, and Syria, and reduced its military aid and arms sales to its allies in the region. The US has also adopted a more balanced approach to the Israeli-Palestinian conflict, supporting a two-state solution and restoring aid to the Palestinians. The US has also resumed negotiations with Iran over its nuclear program, which was abandoned by the previous administration. The change in the US policy has created more space for regional actors to pursue their interests and initiatives without external interference or pressure.
Iran's interest in Sudan's Red Sea coast is mainly driven by its strategic and economic objectives. Iran wants to strengthen its influence in the region. Iran has decided to send military support to the Sudanese army in 2023, following talks between the foreign ministers of Sudan and Iran in Baku in July. Iran wants to secure the Red Sea and the Bab al-Mandeb Strait, which are vital for its oil exports and maritime trade. Iran has been hosting its naval fleets in Port Sudan for decades, to the dismay of Saudi Arabia, which lies opposite Port Sudan on the other side of the waterway. Also, Iran wants to expand its economic and political ties with other African countries, especially with the involvement of China as a mediator. China's role can help reduce tensions and violence in the region, as well as foster greater integration and cooperation.
The position that the rapprochement between Iran and Sudan has reduced the US leverage in the region, as it lost a key ally and a potential partner in Sudan. The US has been supporting the democratic transition in Sudan and has lifted some of the sanctions that were imposed on the country for its human rights violations and its support for terrorism. The US has also provided humanitarian and development assistance to Sudan, as well as diplomatic and military support to the transitional government. The US has hoped to use its influence in Sudan to advance its interests and values in the region, such as promoting peace and stability, countering extremism, and resolving the conflicts in South Sudan, Darfur, and Ethiopia. However, the rapprochement between Iran and Sudan can undermine these efforts and weaken the US position.
It has increased challenges for the US in the region, as it faces a more assertive and resilient Iran and its allies. Iran and Sudan have been subject to US sanctions for their alleged support for terrorism, human rights violations, and nuclear activities. The sanctions have hampered their trade and investment opportunities, as well as their ability to import essential goods and services. The US has been pursuing a dual-track policy of pressure and diplomacy with Iran over its nuclear program and its regional activities. The US has imposed severe sanctions on Iran and its proxies, such as Hezbollah, Hamas, and the Houthis, and has supported Israel's right to defend itself against Iranian threats. The US has sought to prevent Iran from acquiring nuclear weapons and to curb influence in the region. However, the rapprochement between Iran and Sudan can complicate these objectives and increase the risks of confrontation.
From a regional perspective, Saudi Arabia and its partners, such as the UAE, Bahrain, and Israel, have formed a coalition to counter Iran's regional ambitions and promote their interests. They have also intervened militarily in Yemen, Syria, Iraq, and Libya to support their proxies and allies. Saudi Arabia has also offered economic and military assistance to Sudan and other African countries, such as Djibouti and Somalia, in exchange for cutting ties with Iran. Previously, Sudan has been a major contributor to the Saudi-led coalition fighting against the Iran-backed Houthi rebels in Yemen since 2015, but its participation has been controversial and costly for the Sudanese people.
The easing of tensions between Riyadh and Tehran has enabled Iran to restore ties with some of the Sunni-led Arab states that were previously aligned with Saudi Arabia against Iran, such as Sudan, Oman, Iraq, and Qatar. Also, it challenges the influence of UAE and Egypt in Sudan, which have been supporting the military-led transitional government since the ouster of Omar al-Bashir in 2019. The UAE and Egypt have been wary of Iran's presence in the Red Sea and the Horn of Africa, and have sought to limit its access to ports and trade routes in the region. The Sudan-Iran rapprochement could undermine their efforts and create more competition for resources and influence in Sudan.
In conclusion, the Middle East is an arena of competition and cooperation among various regional and external powers. So, the rapprochement between Sudan and Iran has brought change in Middle East politics can alter the balance of power and interests among these actors, and create new opportunities or challenges for dialogue and partnership.