Iran nuclear deal still best way to ensure peace
The UN regrets that the future of the Joint Comprehensive Plan of Action (JCPOA) is in doubt, but notwithstanding current challenges, that landmark deal is still the best way to ensure that Iran's nuclear programme proceeds along a peaceful path, the UN's top political official said on Tuesday.
Rosemary DiCarlo, Under-Secretary-General for Political and Peacebuilding Affairs, told the Security Council that the 2015 agreement – which the Council endorsed through resolution 2231 – remains crucial to the global nuclear non-proliferation architecture and to regional and international security.
"It is therefore regrettable that the future of this agreement is in doubt", she said, pointing to President Donald Trump's withdrawal from the nuclear deal in 2018, the re-imposition of US sanctions and Washington's decision not to extend waivers for oil trading with Iran.
Limits surpassed
She equally regretted that Iran, in response to the US withdrawal, has – under International Atomic Energy Agency (IAEA) monitoring – surpassed limits stipulated in the Plan of Action on uranium enrichment, its stockpiles of heavy water and low-enriched uranium, and nuclear research and development activities.
She appealed to Iran to resume full implementation of the JCPOA, and to address concerns raised by other countries regarding its actions inconsistent with restrictions set out in Annex B of resolution 2231.
Ms. DiCarlo addressed a videoconference meeting of the Council as its 15 members took up the Secretary-General's ninth report on the implementation of resolution 2231 (2015) ahead of the scheduled expiration of a UN arms embargo on Iran on 18 October.
Iran implicated in Saudi attacks
Among other things, she said that, based on technical findings, and taking into account information provided by Iran, the Secretariat assessed that cruise missiles and delta-wing drones, or parts thereof, used in attacks on Saudi Arabia in 2019 were of Iranian origin.
She also said that the Secretariat has received information from Australia, Israel and Saudi Arabia regarding the alleged transfer of arms and related material from Iran, and that it will report back to the Council, if appropriate, in due course.
"Notwithstanding the current challenges to the JCPOA, it remains the best way to ensure the exclusively peaceful nature of Iran's nuclear programme," the Under-Secretary-General said. "Its full implementation, as well as faithful adherence to resolution 2231, is also fundamental to regional stability," she said.
US calls for arms embargo extension
In the debate that followed, US Secretary of State Michael R. Pompeo – describing Iran as "the world's most heinous terrorist regime" – said that Washington's "overwhelming preference" is to work with the Council to extend that embargo that the Council put into place in 2017 through resolution 1747 (2007).
"Don't just take it from me or from the United States…From Israel to the Gulf, countries in the Middle East – who are most exposed to Iran's predations – are speaking with a single voice: Extend the arms embargo", he said.
"This Council has a responsibility to listen to them."
He warned that if the embargo is allowed to run out, Iran will be free to acquire Russian fighter jets, strengthen its submarine fleet, share new military technology with its Middle East proxies and hold a sword of Damocles over the region's economic stability.
"We've imposed arms restrictions on Tehran in various forms for 13 years, and with good reason, and to substantial effect", the Secretary of State said.
Don't give in to US 'intimidation' Iran urges
Iran's Minister for Foreign Affairs, Mohammad Javad Zarif, responded that if the Council falters, it will be a "generational setback" for multilateralism and the rule of law in the face of a US campaign of intimidation against international institutions.
Pointing to successive IAEA monitoring reports that found Iran in compliance with the Plan of Action, he said that Tehran has fulfilled all of its commitments in good faith, while Washington and its "enablers" have pressured the Secretariat into a one-sided interpretation of resolution 2231.
The international community in general, and the Council in particular, face a choice – to uphold respect for the rule of law or to return to the rule of the jungle by surrendering to the whims of an outlaw bully, he said.
He added that it is long overdue for the international community and the Council to hold the US accountable for its wrongful acts, including three wars in as many decades in the Middle East and economic terrorism against the Iranian nation.
Iran prefers constructive engagement, but it does not depend on others for its security, stability and prosperity, he said, adding that more than four decades of US pressure have failed to bring Iranians to their knees.
U.S. Army Hospital in Germany Is Treating Americans Hurt Fighting in Ukraine
The Army's Landstuhl Regional Medical Center has quietly started admitting soldiers who were wounded in Ukraine combat – most of them American volunteers, reveals 'The New York Times'.
A group of Ukrainian Army soldiers pierced by Russian grenades and mortar shells arrived at a hospital recently in need of surgery. It would have been a familiar scene from the bloody war grinding on in Ukraine, except for two crucial differences: Most of the wounded soldiers were American, and so was the hospital — the U.S. Army's flagship medical center in Germany.
The Army has quietly started to treat wounded Americans and other fighters evacuated from Ukraine at its Landstuhl Regional Medical Center. Though the number so far is small — currently 14 — it marks a notable new step in the United States' deepening involvement in the conflict.
When the war erupted in 2022, hundreds of Americans — many of them military veterans — rushed to help defend Ukraine. Nineteen months later, perhaps a few hundred are still there, volunteering for local militias or serving under contract with the Ukrainian national army.
An unknown number of them have been shot, hit by artillery, blown up by mines or otherwise injured in combat. About 20 have been killed. Most of the wounded have had to rely on a patchwork of Ukrainian hospitals and Western charities for help. Now, though, the Pentagon has stepped in to offer some of them the same care it gives to American active-duty troops.
The hospital at Landstuhl is authorized to do so under a Defense Department policy, which began last summer, that allows the hospital to treat up to 18 wounded members of the Ukrainian forces at a time, the Pentagon confirmed in a statement. The fact that most of the Ukrainian troops at Landstuhl are Americans illustrates how the war has progressed in unexpected ways.
The Biden administration vowed at the start of the war that it would not put American troops on the ground in Ukraine, and it warned Americans not to get involved. Now it finds itself treating those it told to stay away.
Asked about the development by The New York Times, a Defense Department official who is regularly briefed on Ukraine-Russia matters expressed surprise, and said that leaders at the Pentagon were unaware that Landstuhl was regularly treating wounded American volunteers, but added that the leaders were not concerned about it.
The 65-bed facility, a Level II trauma center, is the largest American military hospital outside the United States, and served for years as a way station for thousands of wounded American troops evacuated from conflicts in Iraq or Afghanistan. After those wars wound down, Landstuhl's beds and expertise often went unused.
The patients now at Landstuhl are mostly from the United States, but also from Canada, Britain, New Zealand and Ukraine. Several of them said in phone interviews from their beds that they were receiving excellent care.
"We're blessed to be here," said an American veteran who underwent surgery this month to remove shrapnel from an arm and both legs. The veteran, who previously served in the U.S. Air Force, asked not to be identified because he feared reprisal by Russia.
He and others from a company of English-speaking fighters were hit during an assault on a village near the Russian-held city of Donetsk. More than two dozen soldiers were wounded, and two were killed. Over the next few days, the wounded were moved among Ukrainian evacuation points and hospitals, first near the front lines and then in Kyiv, the capital. The fighters who were interviewed said Ukraine's hospitals were under tremendous strain.
"Man, we are so thankful" to be at the hospital, said another American veteran, who was hit by shrapnel in his legs, arm and neck. He, too, asked not to be named. "I was wounded in Ukraine three weeks before they told me it would be a month before I got surgery. In Germany, they did it in two days."
Mr. Sanchez, the spokesman for Landstuhl, said the hospital was prepared to treat more wounded, and "remains postured and ready to support U.S. Armed Forces, NATO member countries and other allies and partners as directed."
But the arrangement is not without risks. Russia has repeatedly warned that any increase in U.S. involvement could spark a broader war. It would not take a particularly creative Russian propagandist to portray the American volunteers, wielding American weapons and being treated at an American Army hospital, as de facto U.S. troops on the ground.
Sen. J.D. Vance (R-OH) and House Republicans urged President Joe Biden's Pentagon to stop escalating a "dangerous" war with Russia, as the "same idiots" pushed the Iraq war.
Vance and Reps. Chip Roy (R-TX) and Matt Gaetz (R-FL) sent a letter to Defense Secretary Lloyd Austin as influential media outlets such as Foreign Affairs have called to lift the restriction on the number of American government personnel allowed in Ukraine and across its defense apparatus.
"The idea that we're going to send in offensive equipment and have planes and tanks and trains going in with American pilots and American crews — just understand, don't kid yourself, no matter what y'all say, that's called World War III," Vance said.
'Foreign Affairs' explained: "Sending advisers would increase the number of Ukrainian soldiers who receive top-of-the-line training. It would enhance Washington's understanding of Kyiv's material needs, allowing U.S. policymakers to fine-tune the aid they already provide and offer psychological assurance to Ukraine. Positioning U.S. advisers inside Ukraine would let Washington better champion crucial defense reforms that could pave Ukraine's path toward NATO and EU membership. Advisers would give the United States an added layer of oversight, as well, ensuring that aid is both optimized and employed responsibly. And, critically, deploying advisers would deliver these results at a reasonable cost."
Sen. Vance, Roy, and Gaetz cautioned that any military adviser mission risks severe escalation with a nuclear-armed Russia. They wrote:
"A military adviser mission to Ukraine would run a significant escalatory risk with Russia. It would mean placing additional "boots on the ground" in the midst of a direct and bloody conflict with Russia. Harm to our personnel under such a mission would be a tragedy, and could easily trigger Article IV consultations or even an Article V collective security declaration by our NATO Allies under the Washington Treaty. A military adviser mission would be one more step towards a dangerous, unnecessary war between the United States and Russia."
"We write to ask whether the U.S. government plans now, or in the future, to deploy an adviser mission to Ukraine, either U.S. direct-hire personnel or contractors, whether under foreign affairs, military, or intelligence authorities," the conservatives continued. "We request a response by October 3, 2023."
Why Biden administration has imposed sanctions on five Turkish companies?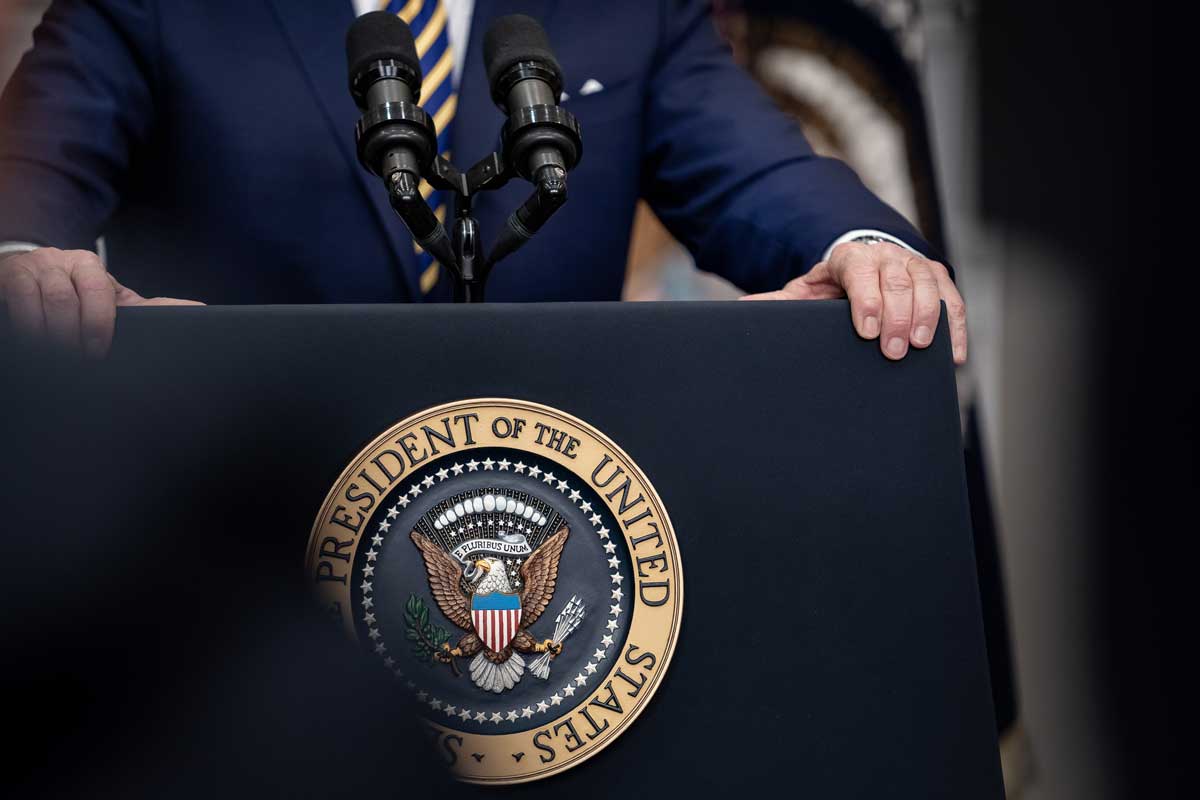 Secondary sanctions are all the rage as Washington gets more desperate to crack down on unaligned countries. The Biden administration has imposed sanctions on five Turkish companies and one Turkish national accused of helping Russia evade sanctions and supporting Moscow in its invasion of Ukraine, turning up the pressure on Ankara over its neutral stance on the Ukraine war, writes Mark Episkopos, an adjunct professor of history at Marymount University, writing on national security and international relations issues.
The new round of designations — part of a larger sanctions package targeting a wide array of Russian entities — included Turkish companies Margiana Insaat Dis Ticaret and Demirci Bilisim Ticaret Sanayi, accused of facilitating the transfer of dual-use goods to Russia.
Ankara sharply broke ranks with its fellow NATO member states, rejecting the West's maximum pressure strategy against the Kremlin in an effort to position itself as a possible mediator between Moscow and Kyiv.
Not only has Turkey refused to participate in the Western sanctions regime, but Ankara's trade relations with Moscow have boomed in the invasion's aftermath. Reuters reported earlier in 2023 that Turkey's exports to Russia jumped 262 percent year over year, reflecting the stark degree to which Ankara has profited from the vacuum caused by the withdrawal of Western economic actors from Russian markets.
Moscow and Ankara have even agreed on the construction of a new gas hub on Turkish territory that would provide Russia with alternate supply routes for gas exports, though the ambitious project is apparently being held up by management disputes.
Russia's economy has proven highly resilient against successive waves of U.S. and EU sanctions packages in large part because it has maintained and even deepened trade ties with much of the non-western world, notably including Turkey, key Middle Eastern actors, and the other BRICS countries. The Biden administration has sought to tighten the screws on Russia by levying secondary sanctions on Chinese, UAE, Turkish, and other entities accused of helping Moscow acquire advanced technology and other goods that U.S. officials say can be used to bolster the Russian war effort in Ukraine.
Turkish President Recep Tayyip Erdogan has built a political brand, cemented well before the 2022 Ukraine invasion with his decision to import S-400 missile defense systems from Russia, as a swing player between Russia and the West. Erdogan has proven adept at exploiting the geopolitical leverage afforded by Turkey's position as a strategically situated Eurasian crossroads, maneuvering between Moscow and Western capitals to advance a ruthlessly pragmatic foreign policy vision that flouts and occasionally even defies broader NATO objectives.
The Ukraine war has provided Erdogan with a surfeit of opportunities to advance this signature brand of statesmanship. Rushing to fill the diplomatic void left by Western states pursuing a maximum-pressure strategy against Moscow, Turkey has cemented its status as one of the war's most important brokers with its role in hosting the ill-fated Spring 2022 Russia-Ukraine peace talks and implementing the Black Sea Grain Initiative, better known as the Ukraine grain deal.
It appears unlikely that Erdogan will be dissuaded from his nonaligned stance by this latest round of secondary sanctions, which follows a similar set of designations announced in April 2023; nor is there any indication that the Biden administration is contemplating upping the ante with more direct punitive actions against Ankara, Mark Episkopos notes.
The Financial Dilemma: All You Need To Know About Credit Checking
In personal finance, most people prioritize taking care of their credit scores and raise considerations about credit checking. Simply put, good credit is vital in determining your financial health and access to a broad range of financial services, which is helpful if you're working on loans, credit cards, or acquiring investment assets like housing and cars.
This article will cover the essential parts of credit checking and credit scores, what it entails, and how it can affect your financial lifestyle.
Understanding Credit Checking
Credit checking, commonly known as a credit score check or credit inquiry, is a process in which banks, lenders, and landlords assess a client's creditworthiness. It involves a brief assessment of a person's credit report and score to evaluate their capacity to manage their obligations and repay debts.
Credit checking exists in most cases where an investment or loan is involved, and based on the results of their credit checks, lenders or landlords reserve the right to decline or approve a lease request or loan, which emphasizes the importance of building a good credit score.
Types of Credit Checking
In credit checking, two types of evaluation can affect your credit score, these are:
1. Soft Pull
Soft pulls or soft inquiries are credit checks that don't impact a person's credit score when evaluating their creditworthiness. This happens when you typically check your credit reports, ask a potential employer for background checks, or receive pre-approved credit offers from banks or other establishments.
2. Hard Pull
On the other hand, hard inquiries occur when a lender reviews your credit report as part of their approval process, like real estate, getting another credit card, or a loan. Hard inquiries may harm your credit score. Fortunately, it is only temporary, and you can recover from it through suitable financial activities like paying debts or settling accounts.
Credit Score vs. Credit Checking Reports
You might think that credit scores and credit reports are the same. Although closely related, credit scores are a numerical system that evaluates your creditworthiness. In contrast, a credit report or check is a detailed breakdown of your financial activities.
For example, inside your credit report are your recent credit card transactions, pre-approval processes, and recent financial activities that, in turn, reflect your overall credit score.
Considering the information above, you must understand that you know how to read your reports and understand the reason behind your credit scores. After all, self-checking your credit report is free, and you can manage it before lenders or other financial entities can incur a hard pull.
What Makes Credit Checking Important
Your credit score is a tangible representation of your creditworthiness. In other words, it reports how banks and financial institutions can trust you as a responsible borrower. A stern analysis of your credit activities allows you and your bank to work together in making favorable loan or investment programs.
To give you an idea, here's how credit checks impact your financial well-being in various ways:
Interest Rates
Determining your credit score through a hard pull often determines the interest rate you'll receive in loans and credit card debts. A higher score can lead to favorable terms and lower interest rates, saving you money.
Loan Approvals
Financial lenders use credit checks as part of their decision-making process. Depending on whether your score is high or low, it may result in denying your application or approving it and proceeding to a curated loan agreement contract.
Real Estate
In housing, landlords are typically more flexible in accepting would-be tenants. A good credit score approves them of their rental request, while a bad one may either outright deny their application or adjust for a higher security deposit instead. Overall, such flexibilities are unique from one property to another and may depend on the state's housing regulations.
Employment
Not all companies do this, but some employers conduct soft credit checks for background checks, especially for positions involving financial management or handling sensitive accounts. After all, why would they hire someone in a financial position with bad financial credit?
Insurance Policies
Your credit scores affect your payment terms for insurance premiums, especially for home or auto insurance. A lower credit score may result in higher insurance costs. Fortunately, most insurance companies still offer the same policies, so you'd still get the same benefit whether you have a higher or lower credit score.
Final Thoughts
Given the importance of credit checks and their significant impact on financial well-being, you must manage your finances. The good thing is that you're always entitled to do a self-credit check on most banks for free and report inaccuracies before settling down to an investment. Nevertheless, your credit is a fundamental aspect of personal finance, and good standing can help you go through most financial decisions and secure your future.