Impacts of COVID-19 disproportionately affect poor and vulnerable
Addressing poverty eradication on Tuesday in front of the General Assembly, UN chief António Guterres warned that the impacts of the COVID-19 pandemic are falling "disproportionately on the most vulnerable: people living in poverty, the working poor, women and children, persons with disabilities, and other marginalized groups".
The virtual high-level UN meeting was billed as the first in a series of policy dialogues on ending poverty, and also served as the official inauguration of the Alliance for Poverty Eradication, an initiative of the President of the General Assembly, Tijjani Muhammad-Bande.
In his remarks, Mr. Guterres noted that the pandemic has "laid bare" challenges –such as structural inequalities, inadequate healthcare, and the lack of universal social protection – and the heavy price societies are paying as a result.
'People-centred' recovery
Ending poverty sits at the heart of the UN's 2030 Agenda for Sustainable Development, and is the first of the Sustainable Development Goals (SDGs). Despite this, poverty and hunger, as the UN chief reminded his audience, are on the rise, following decades of progress.
Economic recovery plans should prioritize at-risk workers, such as those in the informal sector; protect micro, small and medium enterprises, including those owned by women; and involve an expansion of universal social protection, said Mr. Guterres. The Secretary-General has also proposed a rescue and recovery package equivalent to more than 10 per cent of the global economy's overall value.
The UN chief called for improved international cooperation; more support for developing countries – by providing financial assistance, and relieving or postponing foreign debt – and for economies to be steered towards inclusive and green growth.
'A blot on humanity's conscience'
Addressing the meeting, Mr. Muhammad-Bande described poverty as a "blot on humanity's conscience", which is the underlying trigger of conflict and civil strife, and "the most formidable obstacle" realizing the SDGs. Research, he said, has shown that due to the sharp decline in economic activity resulting from the pandemic, more than 850 million people now risk falling into poverty.
The Alliance for Poverty Eradication, he continued, is designed to address the poverty question from all possible angles, and serve as a forum for networking, information-sharing, and bridge-building.
Mr. Muhammad-Bande pointed out that the Alliance would be the first UN group to promote ending poverty, and will provide a major opportunity to confront the challenge, which he described as "enduring, complex and multi-sided".
Sri Lanka: 'Forced' cremation of COVID victims' bodies must stop
The Sri Lankan Government should end its policy of compulsorily cremating victims of COVID-19, independent UN human rights experts said on Monday.
In a joint appeal, Special Rapporteurs Ahmed Shaheed, Fernand de Varennes, Clément Nyaletsossi Voule and Tlaleng Mofokeng, said that the practice ran contrary to the beliefs of Muslims and other minorities.
It ran the risk of increasing prejudice, intolerance and violence, they said in a statement, insisting that no medical or scientific evidence indicated that burying the deceased increased the risk of spreading communicable diseases such as COVID-19.
To date, more than 270 COVID-19 deaths have been reported in Sri Lanka; a significant number have come from the minority Muslim community.
All of the deceased were cremated in line with amended health guidelines for COVID-19 patients, which were issued on last March.
'Aggressive nationalism'
"We deplore the implementation of such public health decisions based on discrimination, aggressive nationalism and ethnocentrism amounting to persecution of Muslims and other minorities in the country" the experts said.
"Such hostility against the minorities exacerbates existing prejudices, intercommunal tensions, and religious intolerance, sowing fear and distrust while inciting further hatred and violence", they added.
"We are equally concerned that such a policy deters the poor and the most vulnerable from accessing public healthcare over fears of discrimination", they said, noting that it would further negatively impact the public health measures to contain the pandemic.
'Immediate' cremation
Information received by the experts indicates that cremation often takes place immediately after test results are provided, without granting family members reasonable time or the opportunity to cross check or receive the final test results.
There have been several cases of cremations based on erroneous information about COVID-19 test results, the experts said.
They noted that the President and Prime Minister had instructed the health authorities to explore options for burials in Sri Lanka.
Disregard
"However, we are concerned to learn that the recommendation to include both cremation and burial options for the disposal of bodies of COVID-19 victims by a panel of experts appointed by the State Minister for Primary Health Services, Pandemics and COVID Prevention, was reportedly disregarded by the Government", they said.
"We strongly urge the Government of Sri Lanka to stop the forced cremation of COVID-19 bodies, to take all necessary measures to combat disinformation, hate speech and stigmatization" of Muslims and other minorities, "as a vector of the pandemic, and to provide remedy and ensure accountability for cremations that were carried out by error."
Special Rapporteurs and independent experts are appointed by the Geneva-based UN Human Rights Council and are neither UN staff nor paid for their work.
Shining a light on sexually exploited women and girls forced into crime
Trafficked and sexually exploited woman and girls can find themselves facing prosecution and conviction for those very same crimes, in some countries, a new UN report shows. The study aims to help prosecutors to better handle these complex cases, and protect the genuine victims.
No clear-cut cases
A 2017 criminal case in Canada, to take one example from the report, involved an 18-year-old woman defendant was charged with the forced prostitution of two female minors, aged 14 and 16. She had instructed one of them on how to dress, and what to do with clients, and taken away the cell phone of the other, to prevent her from escaping.
She was found guilty and sentenced to eight months in prison. However, it was revealed during the case that she too was a victim of sexual exploitation. The court heard that she was under the control of a male trafficker, and had been exploited from the age of 16, and physically abused by pimps.
The case, which is included in Female Victims Of Trafficking For Sexual Exploitation As Defendants, a new publication from the UN Office on Drugs and Crime (UNODC), shows the complexity of many human-trafficking-related cases, in which the defendant may also be a victim, who either had no alternative but to obey an order, and commit a crime, or hoped to limit their own exploitation or escape poverty by playing a role in the crime. The study also found that traffickers use the women and girls as a shield to protect themselves from being punished for their crimes.
Punished twice
"Ever since UNODC started collecting statistics on human trafficking 15 years ago, women and girls have consistently represented the majority of reported victims", says Zoi Sakelliadou, a UNODC Crime Prevention and Criminal Justice Officer, who coordinated the development of the study.
"We've also seen that the percentage of female perpetrators of trafficking who are at the same time victims of this crime, is steadily high too, especially if compared to female offenders in other crimes. The traffickers not only earned a profit by sexually exploiting the victims, but then made them commit crimes so they could escape liability and prosecution".
The report shows that traffickers deliberately used the "victim-defendants" in low-level roles, that exposed them to law enforcement authorities – meaning they were more likely to get caught.
These roles included the recruitment of new victims, collecting proceeds, imposing punishments, or posting advertisements for victims' sexual services.
In very few of the examined cases did the victims engage in acts of trafficking in an attempt to move up the hierarchy of the criminal organization or for financial gain.
It was not just the statistics that led UNODC to analyse this topic, explains Ms. Sakelliadou, but also calls from law enforcement and criminal justice officials, who stressed the complexity of investigating and adjudicating cases that involve female victims of trafficking as alleged perpetrators.
The study also highlights the clear links between human trafficking and violence against women, domestic violence, and the role of intimate partner violence.
"We found that in around a quarter of the cases examined, the women had been subjected to multiple forms of violence prior to and during the trafficking process, including from early childhood", says Ms. Sakelliadou. "We hope this study will support the law enforcement and criminal justice officials and the NGOs who handle these complex cases and support the victims."
Syria: 18 children killed since the start of the year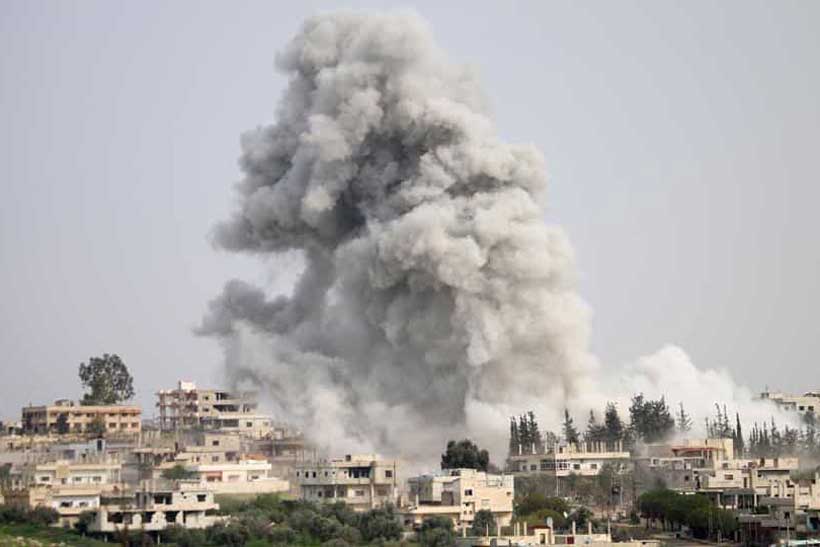 The brutal fighting in Syria continues to exact a terrible toll on children, with at least 18, including a one-year-old killed in incidents involving explosive weapons and unexploded ordnance, since 1 January, UN Children's Fund (UNICEF) said on Sunday. At least 15 others were wounded.
"Children and families in Syria have suffered so much over the past decade, with still no end in sight," Henrietta Fore, UNICEF Executive Director said in a statement.
"With each week, the fast-spreading COVID-19 pandemic is making it harder for families to survive and provide even basic education and protection for their children," she added.
Families hit hard by fighting, poverty and severe weather are reeling under fuel shortages and mounting food prices. The situation is further complicated by lack of basic services and destroyed civilian infrastructure, such as water services.
"Water disruptions force civilians to rely on unsafe water which exposes people, particularly children, to contracting potentially deadly waterborne diseases," Ms. Fore said.
Fighting 'must end'
Across the war-ravaged country, about 4.8 million children are in need of humanitarian assistance and protection, making up about 45 per cent of the 11 million overall in need of aid, according to the UN Office for Coordination of Humanitarian Affairs (OCHA).
In spite of daunting challenges, UNICEF and humanitarian actors continue to work tirelessly to support millions of children and families, Ms. Fore said, adding "but we cannot do it alone, we need funding, we need better access."
"And most importantly we need everyone to protect children and keep them out of harm's way. The violence in Syria must end," she stressed.
Millions out of school
UNICEF also called on warring parties in Syria to protect education facilities and personnel.
"While the war continues, education remains the beacon for millions of children. It is a right that should be protected and persevered," Muhannad Hadi, Regional Humanitarian Coordinator for the Syria Crisis; and Ted Chaiban, UNICEF Regional Director for the Middle East and North Africa, said in a statement on Sunday.
"We call upon those fighting to refrain from attacks on education facilities and personnel across Syria," they urged.
More than 2.4 million children – of whom 40 per cent are girls – are out of school, and one in three schools inside Syria can no longer be used because they were destroyed, damaged or are being used for military purposes, according to UNICEF.
Mr. Hadi and Mr. Chaiban also appealed for funds for education programmes.
"Sustainable and long-term funding to education will help to bridge the gap and incorporate children in education, and provide them with the skills they need to rebuild their country when peace returns to Syria."