As jobs crisis deepens, ILO warns of uncertain and incomplete labour market recovery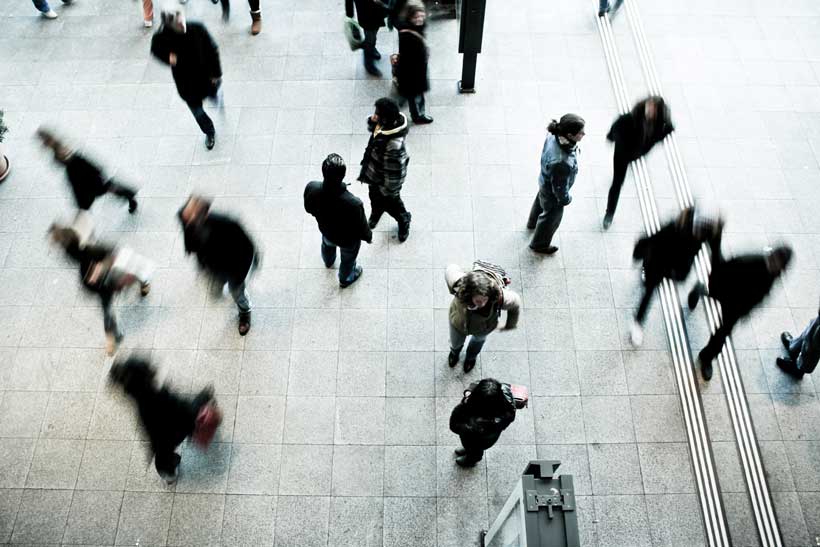 The number of working hours lost across the world in the first half of 2020 was significantly worse than previously estimated, while the highly uncertain recovery in the second half of the year will not be enough to go back to pre-pandemic levels, even in the best scenario, and risks seeing continuing large scale job losses, warns the International Labour Organization (ILO).

According to the ILO Monitor: COVID-19 and the world of work: 5th Edition , there was a 14 per cent drop in global working hours during the second quarter of 2020, equivalent to the loss of 400 million full-time jobs (based on a 48-hour working week). This is a sharp increase on the previous Monitor's estimate (issued on May 27), of a 10.7 per cent drop (305 million jobs).

The new figures reflect the worsening situation in many regions over the past weeks, especially in developing economies. Regionally, working time losses for the second quarter were: Americas (18.3 per cent), Europe and Central Asia (13.9 per cent), Asia and the Pacific (13.5 per cent), Arab States (13.2 per cent), and Africa (12.1 per cent).*

The vast majority of the world's workers (93 per cent) continue to live in countries with some sort of workplace closures, with the Americas experiencing the greatest restrictions.
Second half of 2020
The new Monitor presents three scenarios for recovery in the second half of 2020: baseline, pessimistic and optimistic. It stresses that the long-term outcome will depend on the future trajectory of the pandemic and government policy choices.

The baseline model – which assumes a rebound in economic activity in line with existing forecasts, the lifting of workplace restrictions and a recovery in consumption and investment – projects a decrease in working hours of 4.9 per cent (equivalent to 140 million full-time jobs) compared to Q4 2019.

The pessimistic scenario assumes a second pandemic wave and the return of restrictions that would significantly slow recovery. The consequence would be a fall in working hours of 11.9 per cent (340 million full-time jobs).

The optimistic scenario assumes that workers' activities resume quickly, significantly boosting aggregate demand and job creation. With this exceptionally fast recovery, the global loss of working hours would fall to 1.2 per cent (34 million full-time jobs).
Impact on women
The Monitor also finds that women workers have been disproportionately affected by the pandemic, creating a risk that some of the modest progress on gender equality made in recent decades will be lost, and that work-related gender inequalities will be exacerbated.

The severe impact of COVID-19 on women workers relates to their over-representation in some of the economic sectors worst affected by the crisis, such as accommodation, food, sales and manufacturing. Globally, almost 510 million or 40 per cent of all employed women work in the four most affected sectors, compared to 36.6 per cent of men.

Women also dominate in the domestic work and health and social care work sectors, where they are at greater risk of losing their income and of infection and transmission, and are also less likely to have social protection. The pre-pandemic unequal distribution of unpaid care work has also worsened during the crisis, exacerbated by the closure of schools and care services.
Key challenges ahead
While countries have adopted policy measures with unprecedented speed and scope, the Monitor highlights some key challenges ahead:
Finding the right balance and sequencing of health, economic and social and policy interventions to produce optimal sustainable labour market outcomes.
Implementing and sustaining policy interventions at the necessary scale when resources are likely to be increasingly constrained.
Protecting and promoting the conditions of vulnerable, disadvantaged and hard-hit groups to make labour markets fairer and more equitable.
Securing international solidarity and support, especially for emerging and developing countries.
Strengthening social dialogue and respect for rights.
"The decisions we adopt now will echo in the years to come and beyond 2030. Although countries are at different stages of the pandemic and a lot has been done, we need to redouble our efforts if we want to come out of this crisis in a better shape than when it started," said ILO Director-General Guy Ryder.

"Next week the ILO is convening a high-level, virtual, Global Summit on COVID-19 and the World of Work . I hope that governments, workers and employers will use this opportunity to present and listen to innovative ideas, discuss lessons learned and come up with concrete plans to work together to implement a recovery that is job-rich, inclusive, equitable and sustainable. We must all step up to the challenge of building a better future of work," he concluded.
The timing of the Canadian assault on the Indian foreign and security policy establishment over the killing of Hardeep Singh Nijjar is not in doubt, stresses M.K. Bhadrakumar, Indian Ambassador and prominent international observer.
It surged in the aftermath of the G20 summit, which witnessed a crushing diplomatic defeat for the US in front of the world community, where the host country India navigated skilfully to scuttle any negative reference to Russia in the event's final document.
The Nijjar affair can be metaphorically called the grapes of wrath. The liberal western world so far granted Modi government a free passage through their rules-based order. India could preach, but wasn't accountable for its own practice. All good things come to an end.
Canada has a record of acting as a surrogate of the US. As regards Nijjar file, a Canadian official familiar with the matter told Associated Press that Prime Minister Justin Trudeau's allegation against Modi government was based on surveillance of Indian diplomats in Canada, including intelligence provided by a "major ally" who is a member of the infamous Five Eyes, the secretive intelligence network of Anglo-Saxon countries — Australia, Britain, Canada, New Zealand and the US.
Interestingly, Britain scrambled to distance itself from Trudeau's tirade, while a Canadian source told Reuters that Canberra and Washington collaborated "very closely" to examine evidence indicating potential Indian involvement in Nijjar's killing.
Trudeau spoke in the Canadian parliament after consultations with President Biden, and the White House reaction on the same day was highly supportive. The White House National Security Council spokesperson Adrienne Watson said, "We are deeply concerned about the allegations referenced by Prime Minister Trudeau. We remain in regular contact with our Canadian partners. It is critical that Canada's investigation proceed and the perpetrators be brought to justice."
Watson works under NSA Jake Sullivan who reports directly to Biden. It is unlikely that Sullivan made this a personal issue with the Indian security establishment. Simply put, the buck stops at the Oval Office.
Indeed, after Watson's initial remark, the White House quickly switched to megaphone diplomacy with its highflying strategic communications chief John Kirby, a retired rear admiral, confirming for record that Biden is "mindful of the serious allegations" by Trudeau "and they are very serious… and we support Canada's efforts to investigate this. We believe a fully transparent, comprehensive investigation is the right approach so that we can all know exactly what happened, and of course we encourage India to cooperate with that."
Such gratuitous lecturing is sheer hypocrisy by a country that freely resorts to assassination as a tool in its foreign policy. Who killed Qassem Soleimani?
Alas, in the face of this bullying, Delhi's reaction has been pusillanimous, to say the least — as if it is stone deaf and couldn't hear what the White House officials were saying.
One would like to believe that India, with high values in global governance and deep respect for national sovereignty — apart from being the flag carrier of the concept of 'Vasudhaiva Kutumbakam' ('The World is One Family') — would never descend to such a heinous level as to practice murder in its statecraft.
The Indian government should strategise through its present predicament. After all, as a key member of the western alliance and a close ally of the US, Canada plays an important role for the US in establishing a so-called rules-based international order and promoting the Indo-Pacific Strategy. And "rules-based order" and Indo-Pacific Strategy are Indian mantras too.
Biden himself may come under cloud very soon and be battling for his political career. Inviting him to be the chief guest at the Republic Day with an additional frill thrown in by way of a QUAD summit to placate him is pointless. Once the Canadian investigation runs its course, Ottawa may put on the public domain further accusations passing for "evidence" — and that could happen at some point closer to our general election. All in all, the big question is, what is it that the US is really upto.
Global warming did the Unthinkable
French ski resort closes permanently because there's not enough snow, CNN informs. Winter is coming. And for yet another ski resort in France, that means facing up to the reality that there isn't enough snow to carry on.
La Sambuy, a town which runs a family skiing destination near Mont Blanc in the French Alps, has decided to dismantle its ski lifts because global warming has shrunk its ski season to just a few weeks, meaning it's no longer profitable to keep them open.
"Before, we used to have snow practically from the first of December up until the 30th of March," La Sambuy's mayor, Jacques Dalex, told CNN.
Last winter, however, there was only "four weeks of snow, and even then, not much snow," he added. That meant "very quickly, stones and rocks appeared on the piste."
Able to open for fewer than five weeks during January and February, Dalex said the resort was looking at an annual operating loss of roughly 500,000 euros ($530,000). Keeping the lifts going alone costs 80,000 euros per year.
La Sambuy isn't a huge resort, with just three lifts and a handful of pistes reaching up to a top height of 1,850 meters (about 6,070 feet).
But with a range of slopes running from expert "black" to beginner "green" and relatively cheap ski passes, it was popular with families seeking more of a low-key Alps experience than offered by bigger, higher-altitude destinations.
UK snow report website On The Snow calls it "an idyllic place to visit, with exceptional panoramic views and everything you need in a friendly resort."
La Sambuy is not the only French ski resort facing a meltdown. Last year, Saint-Firmin, another small Alpine ski destination, opted to remove its ski lift after seeing its winter season dwindle from months to weeks, a situation also blamed on climate change.
Mountain Wilderness, a French environmental group, says it has dismantled 22 ski lifts in France since 2001, and estimates that there are still 106 abandoned ski lifts across 59 sites in the country.
According to a report published in August by the scientific journal Nature Climate Change, 53% of 2,234 ski resorts surveyed in Europe are likely to experience "a very high snow supply risk" at 2 degrees Celsius (3.6 Fahrenheit) of global warming above pre-industrial levels, without use of artificial snow.
A report published in January in the Proceedings of the National Academy of Sciences journal found a "substantial possibility" of global temperature rises crossing this 2-degree Celsius threshold by mid-century.
La Sambuy's Dalex said that "all winter sports resorts in France are impacted by global warming," particularly those at a medium mountain altitude between 1,000 and 1,500 meters.
Assad-Xi Jinping meeting: China-Syria strategic partnership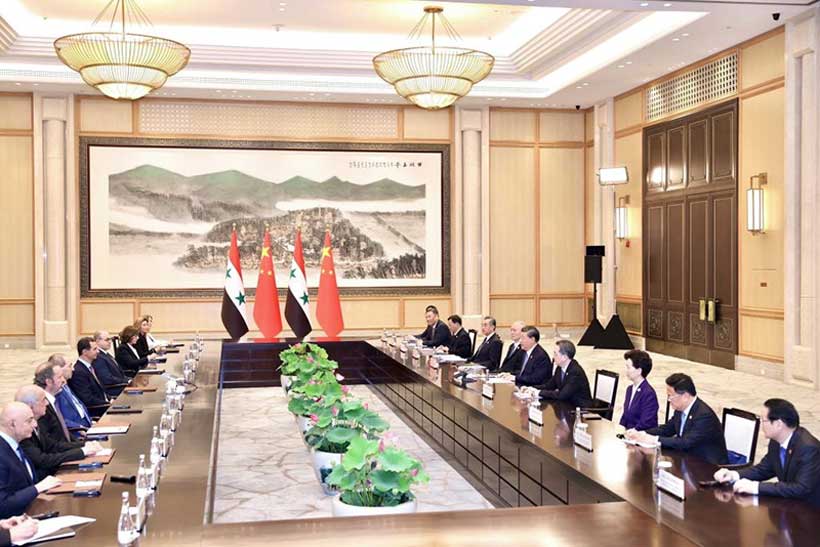 Chinese President Xi Jinping and Syrian President Bashar al-Assad on Friday jointly announced the establishment of a China-Syria strategic partnership, Chinese Xinhua Net informs.
The two presidents met in the eastern Chinese city of Hangzhou, Zhejiang Province, ahead of the opening of the 19th Asian Games.
Syria was one of the first Arab countries that established diplomatic relations with the People's Republic of China, and was one of the countries that co-sponsored the resolution to restore the lawful seat of the People's Republic of China in the United Nations, Xi said.
Over the 67 years since the establishment of diplomatic relations between the two countries, the China-Syria relationship has stood the test of changes in the international situation, and their friendship has grown stronger over time, he said.
Xi noted that the establishment of the strategic partnership will be an important milestone in the history of bilateral ties.
China is willing to work with Syria to enrich their relationship and continuously advance the China-Syria strategic partnership, Xi said.
Xi emphasized that China will continue to work with Syria to firmly support each other on issues concerning the two sides' respective core interests and major concerns, safeguard the common interests of both countries and other developing countries, and uphold international fairness and justice.
China supports Syria in opposing foreign interference, rejecting unilateralism and bullying, and safeguarding national independence, sovereignty and territorial integrity, he said.
China supports Syria in conducting reconstruction, enhancing counter-terrorism capacity building, and promoting a political settlement of the Syrian issue following the "Syrian-led, Syrian-owned" principle, Xi said.
China also supports Syria in improving its relations with other Arab countries and playing a greater role in international and regional affairs, he added.
China is willing to strengthen Belt and Road cooperation with Syria, increase the import of high-quality agricultural products from Syria, and jointly implement the Global Development Initiative, the Global Security Initiative and the Global Civilization Initiative to make active contributions to regional and global peace and development.
Assad said that in international affairs, China has always aligned itself with international fairness and justice, and upheld international law and humanitarianism, playing an important and constructive role.
Syria highly appreciates and firmly supports the Belt and Road Initiative, the Global Development Initiative, the Global Security Initiative and the Global Civilization Initiative, and will actively participate in them, Assad added.
The Syrian side thanks the Chinese government for its invaluable support to the Syrian people, firmly opposes any act of interference in China's internal affairs, and is willing to be China's long-term and staunch friend and partner, he said.
Assad said Syria will take the establishment of the Syria-China strategic partnership as an opportunity to strengthen bilateral friendly cooperation and step up their communication and coordination in international and regional affairs.
After the talks, the two heads of state witnessed the signing of bilateral cooperation documents in areas including Belt and Road cooperation, and economic and technological cooperation.