The Equality and Human Rights Commission (EHRC), the Equality Body covering England, Scotland and Wales, recently launched an inquiry into statistical evidence showing that COVID-19 had a disproportionate effect on people of Black, Asian and other ethnic minority background, and whether this could have been mitigated. To me, this initiative, which also responded to calls by political leaders and public figures for such an inquiry, is a good illustration of the situation we find ourselves in Europe. On the one hand, the COVID-19 pandemic has exposed mercilessly the inequalities that persist in our societies, amplifying the existing vulnerability of marginalised groups, including ethnic minority groups, people with disabilities, older people and LGBTI people. On the other hand, most Council of Europe member states have the tools, including equal treatment legislation and national Equality Bodies — such as the EHRC– that can help address these inequalities and combat discrimination.
As we negotiate our way out of the COVID-19 crisis, it is crucial to strengthen the potential of these Equality Bodies, to harness their expertise and heed their recommendations in order to build equal and resilient societies.
Equality Bodies: defending equality at the national level
The principle of non-discrimination is enshrined in international law and in the national constitutions and legislation of Council of Europe member states. It is rooted in the Universal Declaration of Human Rights, the European Convention on Human Rights (ECHR) and its Protocol 12, the Charter of Fundamental Rights of the European Union (EU) and in the EU equal treatment law. Twenty years ago exactly this month, the EU took a decisive step to strengthen the enforcement of this principle. The Race Equality Directive (2000/43/EC), adopted on 29 June 2000, created for the first time an obligation for EU member states to establish a specialised institution at national level to help monitor and tackle discrimination based on racial or ethnic origin. [1]
Some such institutions had pre-existed in several countries, but the Race Equality Directive gave a strong impetus for the development and expansion of Equality Bodies across wider Europe. Nowadays, most of the 47 member states of the Council of Europe have one or several Equality Bodies, many of which are mandated to deal not only with racism and gender – as required by EU law — but also with other grounds of discrimination, including age, sexual orientation, gender identity, religion and belief, disability, and socio economic status. A Network of Equality Bodies, EQUINET, was created in 2007 to facilitate exchanges and peer learning between them; it gathers 49 members from 36 European countries and Kosovo.
There is great diversity among Equality Bodies as regards their mandate, functions, size and type of institution (stand alone, or part of a National Human Rights Institution or Ombudsman institution). Equality Bodies are low-threshold complaint mechanisms for victims of discrimination who cannot or do not want to turn to courts. They have the expertise to analyse discrimination and to provide solid advice on laws and policies. Many of them may be able to identify and address intersectional discrimination (whereby a combination of multiple identities results in specific disadvantages, for example for Black women). Several Equality Bodies have the power to issue decisions, in some cases legally binding, and fines, in specific discrimination cases. This diversity among Equality Bodies can be a strength as it brings a variety of approaches to tackling inequalities. What is at the heart of impactful Equality Bodies is strong independence and effective internal operations, including strategic planning, as underscored in an Opinion on National Structures for the Promotion of Equality published by my office in 2011.
As Commissioner for Human Rights of the Council of Europe, I have the mandate to co-operate closely with national human rights structures, including Equality Bodies. Given their solid national expertise, I strive to keep a steady channel of communication open with them, including in many cases before and during my country visits. We reinforce each other in following-up on recommendations to national authorities. I am convinced that Equality Bodies, when they are effective and independent, hold a strong potential to make a difference. When dealing with individual situations, they can have a life-changing impact for victims of discrimination. They can help address discriminatory practices at a structural level in organisations in both the public and the private sector, including through advice and training. Crucially, Equality Bodies have demonstrated the ambition and potential to achieve societal change, by creating a culture where equality among societies' diverse members is truly valued.
Tackling equality challenges in Europe, old and new
The adoption of anti-discrimination legislation and the establishment of Equality Bodies across Europe is a very significant achievement. It means that there is an infrastructure in place to recognise and propose solutions to inequalities and discrimination – which continue to affect our continent pervasively.
Intensifying intolerance and hate speech across Europe
There has been a worrying down-turn on human rights in recent years, marked by a rise of far-right populist politicians who manipulate hate to gain votes, increasingly polarised societies, attempts to undermine women's rights, and a proliferation of hate speech, the most frequent targets of which continue to be minority groups that have long suffered from discrimination. Several Equality Bodies have taken courageous action to counter these negative developments. The National Council for Combating Discrimination in Romania, for example, has on several occasions fined high-level politicians for their stigmatising statements concerning ethnic minorities; the Equality Ombudsman in Sweden sued several private firms for discrimination against Muslim women and published a study on stereotypes and the representation of Muslims in the media. The Ombudsman in Poland challenged in court proceedings the legality of anti-LGBTI declarations adopted by several municipalities in the country.
Poverty and economic inequalities
Social and economic inequalities are deepening in Europe. Discrimination based on social status and origin plays an important role in perpetuating poverty, in an unending circle. In addition to anti-poverty policies, equal treatment legislation and Equality Bodies are thus important tools to address economic inequalities. The Ombudsman in Latvia, for example, has brought constitutional challenges regarding the levels of social security, minimum wage and disability pensions; UNIA in Belgium conducted research on access to employment, housing and education for various groups, including people from poor backgrounds. Unfortunately, still too few Equality Bodies in Europe have the mandate to deal with socio economic status as grounds of discrimination.
COVID-19 pandemic
The outbreak of COVID-19 has amplified existing inequalities and revealed gaps in the enjoyment of human rights. Equality Bodies, as well as Ombudsman institutions and National Human Rights Institutions, have quickly adapted their work and taken an impressive number of initiatives related to the pandemic. The Public Defender in Georgia, for example, urged the authorities to make information about COVID-19 accessible for people with disabilities and in the languages of national minorities; the Ombudsman for Persons with Disabilities in Croatia issued recommendations about the situation in social care homes for children and persons with disabilities; the Equality Body in Finland examined reported refusals of intensive care for older persons and persons with disabilities; the Defender of Rights in France underscored the imperative need for access to internet and telecommunications during lockdown and made concrete suggestions to make this possible for people and families with limited financial means. Many Equality Bodies handled individual complaints of hate speech and discriminatory treatment targeting persons of specific nationalities or those infected with COVID-19. [2]
Algorithmic discrimination
The potential impact of Artificial Intelligence on human rights is one of my priorities. In September 2019, I organised a workshop with close to 35 European Equality Bodies to discuss algorithmic discrimination. Such discrimination already exists in fields as varied as recruitment, housing, public service delivery, and financial loans assessments, to name just a few. At the same time, Artificial Intelligence also has great potential to help fight discrimination. The Human Rights and Equality Commission in Ireland, for example, used an algorithm to track and analyse hate speech and racist discourse online in order to improve policy responses. In a Recommendation entitled "Unboxing Artificial Intelligence: 10 steps to protect human rights", I highlighted several measures that can help mitigate the negative impact of artificial intelligence. National Human Rights structures, including Equality Bodies, have an important role to play in this field to help prevent violations, deal with complaints and strategic litigation, and ensure oversight of algorithms. I am pleased that work is already underway. In France, for example, the Defender of Rights handled several cases, including one concerning alleged discrimination by an algorithm allocating pupils to universities. In Finland, the Non-Discrimination Ombudsman won a legal case in which a credit institution was found responsible for multiple discrimination after a fully automated system refused a loan to a client based on statistical data relating to grounds of discrimination such as gender, age, language, place of residence and their combined effect.
Promoting a culture of Equality
The battle for Equality will only be won if everyone in society understands what is at stake and values diversity and equal treatment for all. Outreach, awareness-raising campaigns, and human rights education in schools should therefore be an important aspect of the work of Equality Bodies. The Human Rights and Equality Commission in Ireland, for example, led a campaign "All human all Equal" featuring short video portraits of disabled Irish people from diverse backgrounds. The Gender Equality and Equal Treatment Commissioner in Estonia created a TV series tackling gender stereotypes.
Sharpening the tools
Regardless of the many invaluable contributions by Equality Bodies, there are challenges that continue to prevent them from achieving their full potential. Some have a weak legal basis, or incomplete mandates and functions. In this regard, the time has come for EU member states to show leadership again by adopting the languishing Horizontal Equal Treatment Directive to cover all grounds of discrimination in all areas of life, and give a corresponding mandate to Equality Bodies. One important function that Equality Bodies sometimes lack is the power to bring cases to courts, and therefore to carry out strategic litigation, even if they can provide legal advice to victims. Furthermore, a great number of Equality Bodies report insufficient resources. In some countries, Equality Bodies are confronted with political indifference, where the authorities fail to consult and listen to them in policy making and ignore and downplay their recommendations. Ensuring that Equality Bodies are known by and accessible to the concerned populations is a challenge of crucial importance. In its MIDIS II survey on discrimination in 2017, the EU Fundamental Rights Agency found that an average of 71% of respondents were not aware of any organisations that offered support or advice to discrimination victims in their country (with variations between groups and countries). This highlights the need for Equality Bodies to have an effective outreach strategy and the means to implement it.
In some instances, particularly when they work on sensitive issues, Equality Bodies have experienced attacks and threats by politicians and others, or other types of interference that threaten their independence. I will continue to work to ensure that independent and effective Equality Bodies are in place across Europe. This means continuing to speak up to defend Equality Bodies against attempts to undermine them, but also issuing recommendations to strengthen Equality Bodies in specific countries, as I have done for example in Estonia, Bulgaria and Moldova.
I welcome recent efforts to strengthen standards on the status and work of Equality Bodies, including the European Commission against Racism and Intolerance (ECRI) revised General Policy Recommendation nr 2 and the European Commission Recommendation on Equality Bodies, dating both from 2018, as well as EQUINET's project to encourage the implementation of these standards. Member states bear the main responsibility for ensuring that Equality Bodies conform to these standards, as a way to respond to the challenges above and to secure a stronger impact for them.
The consequences of the COVID-19 pandemic and the recent resonance in Europe of racial justice protests following the murders of George Floyd and Rayshard Brooks in the United States are just the latest demonstrations that equality is not something we can dispense with. When some are excluded, it is society as a whole that is weakened. Equality is the cement that will help us be stronger together. Equality Bodies are tools at our disposal to create more equality. Let us make sure they are robust, independent and equipped so that we can tap their full potential.
[1] The EU later adopted two further Directives that contain an obligation for EU member states to have an Equality Body, namely EU Directive 2004/113/EC implementing the principle of equal treatment between men and women in the supply of goods and services and EU Directive 2006/54/EC on the implementation of the principle of equal opportunities between men and women in matters of employment and occupation.
[2] Many more COVID-19 actions by Equality Bodies are collected in a comprehensive database on the EQUINET website.
Hungry for change: An open letter to European governments
In 2020, the entire world knew what it was to be hungry. Millions of people went without enough to eat, with the most desperate now facing famine. At the same time, isolation took on a new meaning, in which the lonely and most remote were deprived of human contact when they most needed it, while the many victims of Covid-19 were starved of air. For all of us, the human experience fell far short of satisfying even the most basic needs.
The pandemic has provided a taste of a future at the limits of existence, where people are bereft, governments are stymied and economies wither. But it has also fuelled an unprecedented global appetite for change to prevent this from becoming our long-term reality.
For all the obstacles and challenges we face in the weeks and months ahead, I start 2021 with a tremendous sense of optimism and hope that the growling in our stomachs and the yearning in our hearts can become the collective roar of defiance, of determination and of revolution to make this year better than last, and the future brighter than the past.
It starts with food, the most primal form of sustenance. It is food that determines the health and prospects of almost 750 million Europeans and counting. It is food that employs some 10 million in European agriculture alone and offers the promise of economic growth and development. And it is food that we have learned impacts our very ecosystems, down to the air we breathe, the water we drink, and the climate we enjoy, come rain or shine.
Even before the pandemic, 2021 was destined to be a "super-year" for food, a year in which food production, consumption and disposal finally received the requisite global attention as the UN convenes the world's first Food Systems Summit. But with two years' worth of progress now compressed into the next 12 months, 2021 takes on a renewed significance.
After a year of global paralysis, caused by the shock of Covid-19, we must channel our anxieties, our fear, our hunger,and most of all our energies into action, and wake up to the fact that by transforming food systems to be healthier, more sustainable and inclusive, we can recover from the pandemic and limit the impact of future crises.
The change we need will require all of us to think and act differently because every one of us has a stake and a role in functioning food systems. But now, more than ever, we must look to our national leaders to chart the path forward by uniting farmers, producers, scientists, hauliers, grocers, and consumers, listening to their difficulties and insights, and pledging to improve each aspect of the food system for the betterment of all.
Policymakers must listen to Europe's 10 million farmers as custodians of the resources that produce our food, and align their needs and challenges with the perspectives of environmentalists and entrepreneurs, chefs and restaurant owners, doctors and nutritionists to develop national commitments.
We enter 2021 with wind in our sails. More than 50 countries have joined the European Union in engaging with the Food Systems Summit and its five priority pillars, or Action Tracks, which cut across nutrition, poverty, climate change, resilience and sustainability. And more than two dozen countries have appointed a national convenor to host a series of country-level dialogues in the months ahead, a process that will underpin the Summit and set the agenda for the Decade of Action to 2030.
But this is just the beginning. With utmost urgency, I call on all UN Member States to join this global movement for a better, more fulfilling future, starting with the transformation of food systems. I urge governments to provide the platform that opens a conversation and guides countries towards tangible, concrete change. And I encourage everyone with fire in their bellies to get involved with the Food Systems Summit process this year and start the journey of transitioning to more inclusive and sustainable food systems.
The Summit is a "People's Summit" for everyone, and its success relies on everyone everywhere getting involved through participating in Action Track surveys, joining the online Summit Community, and signing up to become Food Systems Heroes who are committed to improving food systems in their own communities and constituencies.
Too often, we say it is time to act and make a difference, then continue as before. But it would be unforgivable if the world was allowed to forget the lessons of the pandemic in our desperation to return to normal life. All the writing on the wall suggests that our food systems need reform now. Humanity is hungry for this change. It is time to sate our appetite.
The historic exit of the Great Britain from the European Union sparked both opportunities and chaos alike. Whether it comes to sectors within and beyond the orders of Britain, the trade policy with Northern Ireland or the isolated position of the bloc as the pandemic continues to perforate the continent with each passing day. It took a span of 4 years and a combination of referendums, disagreements in the House of Commons, displacement of public office and relentless efforts of the diplomats to bargain and negotiate an exit deal. Despite of the celebrated trade deal in action, much of the uncertainty still looms across Europe. The economic bloc now faces an empty spot of a 28th member post UK-exit and with rilling economic desperation and the Coronavirus spiralling alike, EU seeks a promising role to displace some of the pressure buildup.
The United Kingdom, mainly London, serves as the only unarguable financial rival to the metropolis of New York. Although the financial epicentre casted no qualms over trade post Brexit and even the EU financial markets reported no apparent glitches in trade across borders now subject to custom rules and regulations, the sheer volume of the trade denominated in LIBOR projects a sinister possibility of financial turmoil in the near future. Moreover, the trade deal negotiated, hailed by either parties as a victorious bargain, does little to placate uncertainty in the financial markets which further encourages the need of a solid alliance or partnership to fill the gap and subsequent irregularities faced by the European Union.
Turkey stands as one of the aspirants seeking EU membership. Every European state enjoys the privilege to seek EU membership which is subject to yearly review. Turkey has been a lurking party to seek EU approval since 1987. The opportunities opened up in 2016 after decades of tensions over Turkey's shady democracy and violent role in dealing with their Kurdish minority, residing on the south-eastern borders of Turkey shared with a war-torn Syria. A refugee deal was signed in 2016 between Turkey and EU to facilitate Syrian refugees amidst the greatest refugee crisis since World War II. The deal served as a defining chapter in improving bilateral relations. Despite of Turkey's conditions in the refugee deal: demanding a $60 billion grant from EU to pivot the refugee crisis, EU subliminally promised an expedited track for Turkey's ascension to EU membership.
However, Angela Merkel, the Chancellor of Germany, and arguably the most powerful political figure in the circles of Europe, always stood against and awry to Turkey's membership in EU. The talks of Turkish membership were even stalled back in 2019 in the EU parliament and the prospects looked murky. However, as Merkel inches closer to departure from Germany's political benches after decades of systematic control, Turkey cites the opportunity as a blessing in disguise. Coupled with Germany being at the verge of a severe recession synonymous in scale to the financial crisis of 2009, Germany's position could actually shift in favour of Turkey ever since UK-exit baffled even the most sage minds of the continent.
The opportunities, however, are not the only blocks paving way for Turkey towards EU. Turkey shares a brutal conflict with Greece, another EU member state that has muddled the chances of Turkey in the EU for decades. Turkey has the longest continental coastline in the East Mediterranean which has been long contested with Greece over the gas reserves found profoundly in the waters of the East Mediterranean. Both countries have overlapping areas and have time and time again rejected each others claims over respective maritime borders and continental shelves. The icy relations between the duo have been hazy due to multitude of other reasons as well. Ranging from disputes over Turkish migrants crossing Greek borders to ships anchoring in the disputed regions without prior alert. The recent turmoil incited when Turkey officially declared Hagia Sophia, a museum in Istanbul and a historic remnant of Greek Orthodox Christian Cathedral, as a mosque which infuriated the Greek patriots.
Turkey's ascension to membership might be a solution to economic disparity in the region; Turkey serving as a corridor between Europe and Asia and opening channels of economic flourish to EU like Silk Road initiative with China. The ascension could even solve the border disputes with Greece and project a solution to the energy reserves in Mediterranean, solving the divide once and for all. Even with Recab Tayyab Erdogan's boasting position over improving relations with EU, the extent of ease in bilateral relations is still unclear. As top Turkish Diplomat's schedule visit to Brussels in a week, and Turkey and Greece are to resume exploratory talks over territorial claims in the Mediterranean on January 25th, glimmers of astounding results are on cards in the arching diplomacy of Europe.
The new Silk Road: The agreement between the EU and China opens up new geopolitics scenarios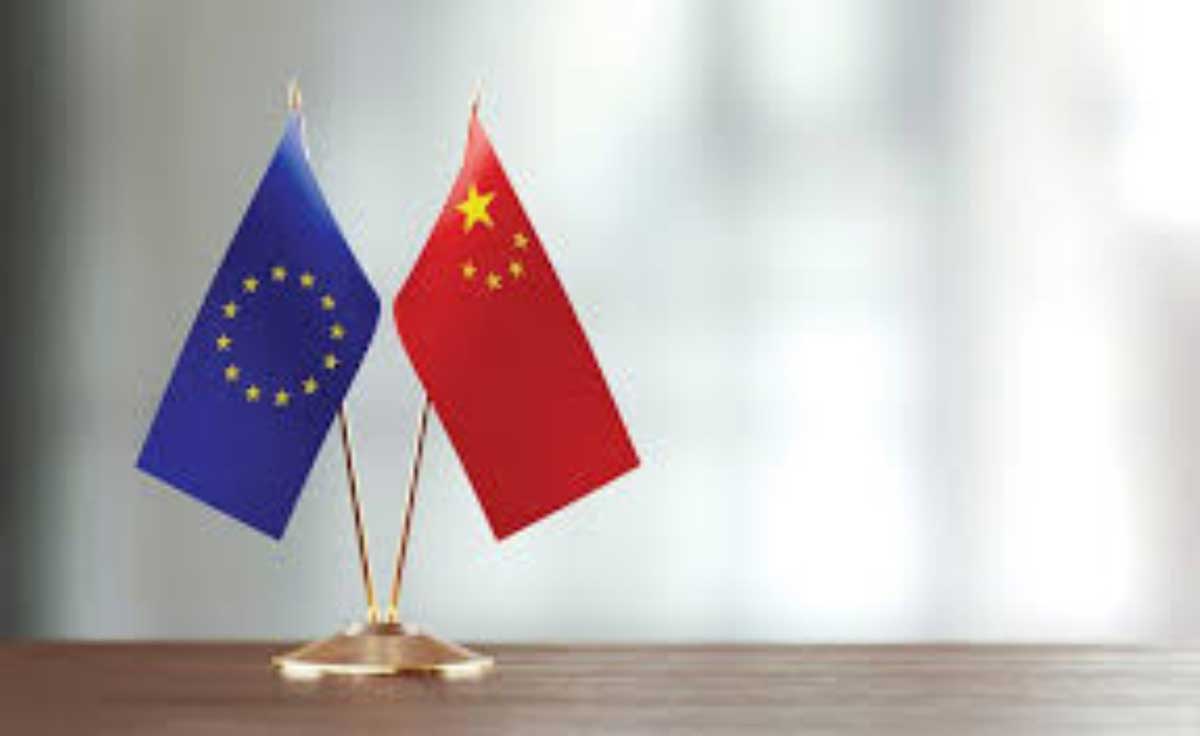 The year that has just started does not seem destined to be more peaceful than the one that has just ended.
While the world continues to be afflicted by the Covid-19 pandemic, the United States, which can boast to be "the oldest democracy" of the modern era, is not only helplessly suffering from the virus attack but is going through an unprecedented internal crisis that seriously calls into question its coveted role as world superpower.
On January 6 last, the Capitol Hill in Washington was assaulted by a crowd of "Trump supporters" who, inflamed by the subversive words of a President who does not seem to resign himself to electoral defeat, violently stormed the House in a bid to stop Congress from counting electoral votes to certify President-elect Joe Biden's victory in last November election. The attack brought America back to the dark times of Abraham Lincoln's first election when, in 1860, eleven Southern States refused to recognize the electoral result and started an attempt to disrupt the Republic that resulted in a bloody civil war.
Donald Trump's reckless adventurism which, in the coming days, could lead to his ousting, is not only causing a deep crisis in the internal set-up of the American society and its institutions, but also risks seriously undermining America's credibility globally and leading to a major downsizing of its geopolitical ambitions.
Throughout his four years in office, Donald Trump has attempted to "contain" China economically and politically, by imposing tariffs and duties on Chinese goods imported into the United States and supporting the "democracy movement" in Hong Kong that has been causing unrest in the former British colony for almost two years. By inciting his supporters to challenge and oppose the Presidential handover, he has handed a propaganda weapon on a silver platter to a country like China that, after being the first to be hit by the pandemic, was also the first to emerge successfully from it.
While recalling that when protesters stormed and ravaged Hong Kong's Capitol Hill in 2019, both Secretary of State Mike Pompeo and the Speaker of the U.S. House of Representatives, Democrat Nancy Pelosi, applauded the protesters' violent behaviour, it was easy for the Chinese Foreign Ministry's spokeswoman, Hua Chunying, to accuse the Americans of "double standards" in the moral and political assessment of their own and others' behaviours.
In a press conference convened to comment on the Washington attack on Capitol Hill, Hua Chunyingsaid: "I believe that this assault is a déjà vu … I see that in the United States there are different reactions to what happens at home compared to what happened in Hong Kong in 2019 …".
Over and above propaganda skirmishes, in the year in which the centenary of the CPC's is celebrated, China keeps on scoring points in its favour in the geopolitical and economic competition with the United States.
On December 30, 2020, the news of the historic investment agreement between China and the European Union was reported.
After seven years of negotiations, during a conference call between Chinese President Xi Jinping and the President of the European Commission, Ursula Von Der Leyen, with French President Emmanuel Macron, German Chancellor Angela Merkel and the President of the European Council, Charles Michel, the "Comprehensive Agreement on Investments" (CAI) was adopted.
It is a historic agreement that opens a new "Silk Road" between Europe and the huge Chinese market.
The CAI's basic principles aim at a substantial rebalancing of trade between Europe and China, as the latter has so far shown little openness towards the former.
With this agreement, China is opening up to Europe in many significant sectors, with particular regard to manufacturing and services.
In these sectors China commits itself to removing rules that have so far strongly discriminated against European companies, by ensuring legal certainty for those who intend to produce in China, as well as aligning European and Chinese companies at regulatory level, and encouraging the establishment of joint ventures and the signing of trade and production agreements.
In the manufacturing field, the "automotive" sector will be boosted, with specific reference to the production of electric cars, but also to the production of chemical products, materials for telecommunications and new generation health devices.
As far as the servicesector is concerned, China will foster European investment in cloud services, financial services, private healthcare and the services related to air and maritime transport.
In all the sectors covered by CAI, European investors and producers will no longer suffer any discrimination with respect to Chinese competitors, including state-owned companies, nor will they be denied access to productive sectors so far forbidden to foreigners.
The agreement also provides for guarantees that will make easier for European companies to deal with the paperwork needed to fulfil all administrative procedures and obtain legal authorizations, thus removing the bureaucratic obstacles that have traditionally made the operation of European companies in China difficult.
It is the first time in its history that China opens up in this way to foreign companies and investment.
In view of attracting them, China is committed to lining up in terms of labour costs and environmental protection, thus progressively aligning its standards with European ones, in terms of fight against pollution and trade union rights.
With a view to making this commitment concrete and visible, China adheres to both the Paris Climate Agreements and the European Convention on Labour Organization.
While commenting on the signing of the agreement, President Von Der Leyen stressed that "this is a fundamental step in our relations with China. The agreement will provide European investors with unprecedented access to the Chinese market, thus enabling our business to grow and create jobs. It also commits China to adhering to the principles of transparency and non-discrimination and fundamentally rebalances our economic relations with China.
The China-Europe agreement is another piece in the mosaic of commercial and political relations on which China wants to build the geopolitical role of a nation which, according to growth estimates, is destined to reach the first place in the world ranking in terms of GDP by the end of the decade.
In fact, CAI follows by just a month the signing of the "Regional Comprehensive Economic Partnership" (RCEP), an agreement of strategic importance signed by China with the ten ASEAN countries and with Japan, South Korea, Australia and New Zealand.
The RCEP has been described as "the world's largest trade and investment bloc" and essentially creates an area of economic cooperation and free trade involving 2.2 billion people producing 28%of world trade and over 30% of global GDP.
The RCEP countries account for 50% of the world's manufacturing output, 50% of automobile production and 70% of electronics. The RCEP eliminates 90% of tariffs on trade in the signatories' region, thus creating a huge Asian free trade area that sees, on the one hand, India's marginalization and, on the other, the growth of China's role throughout East Asia.
The CAI agreements with Europe and the RCEP agreements with Asian partners undoubtedly mark a historic turning point in relations between China and the rest of the world. The United States remains excluded from these relations, as it is currently blocked in a process of transition that limits not only its democratic activity, but also its operativity and international credibility.
After the hallmark of U.S. foreign policy in Trump's era was reduced to imposing tariffs on trade with China, the gradual loss of credibility of the U.S. administration has stultified Secretary of State Mike Pompeo's attempts to gather a broad international anti-Chinese coalition led by the United States.
The RCEP is there to demonstrate how fragile the U.S. attempts to counter China economically and politically have been, as two once strategic partners of the United States like South Korea and Australia have literally turned a deaf ear to American appeals and have struck a historic and strategic deal with China.
The CAI puts Europe in communication and in ever closer connection with what for centuries was "The Middle Kingdom", i.e. a China that has chosen to lower its ideological barriers in order to open up new pathways of economic progress and hopefully democratic development.
French and German representatives were present at the CAI signing.
While Europe was opening the "new Silk Road", the country that gave birth to De Gasperi, one of the founding fathers of the European Union, and to Marco Polo, protagonist of the opening of the first "Silk Road", was conspicuously absent from the negotiation table.