As the tug of war in Galwan Valley continues, the adventurism of China in Ladakh and few other places along at Line of Actual Control (LAC) and the resultant standoff between Chinese and Indian Forces has once again highlighted the complexity of the border issue between the two countries. The fact that 22 rounds of talks have taken place and the resolution of the border issue is nowhere in sight, speaks of the magnanimity of the problem. LAC irrespective of differing perceptions continues to be a compromise formula, pending the border resolution, which has its own pitfalls in bringing peace and tranquility, because perceptions can be repeatedly stretched beyond limits, if the intentions change, as has been the case with Chinese so many times. The idea of managing peace and tranquility through agreements and CBMs has not been found effective enough, after 15th June deadly scuffle by premeditated ambush of Indian troops by Chinese, junking existing CBMs, using barbaric methods like nail pinned rods to cause casualties, resulting in hand to hand fights, strong response by Indians, ending up with even more casualties on their side, and embarrassment to avoid declaring them.
Defining the Complexity of China-India Border Issue
Peoples republic of China (PRC) refused to ratify the Simla Agreement of 1914, signed between British India and Tibet, which was initialled by Chinese representative. The Indian stance on Border generally follows Johnson Line (1865) in Ladakh and Mc Mohan Line in East. When Maharaja Hari Singh signed instrument of accession Aksai Chin was part of it; hence rightfully belonged to India. India should have compelled China to accept Shimla Agreement, before recognising Tibet as part of PRC. There is therefore no mutually agreed border treaty between Independent India and PRC, and China refuses to accept any treaty signed with Tibet or earlier than annexation, when it does not suit it and selectively refers to them when it suits it's interest, like it referred to a Treaty of 1890during Doklam Crisis which seemed advantageous to it, despite the fact that it was superseded by many other treaties later. Rightfully, China can never be trusted; hence India can also have a relook at old treaties/recognitions with China.
It is often mentioned that it has resolved its border dispute with 12 out of 14 countries, however Chinese argue that it was done on give and take principle. In China-India equation giving anything has a heavy political cost, as both sides interpret history as it suits them, having dug their heels to their respective positions, which is unlikely to change easily. Expecting India to give Tawang or China to give back Akshaichin is unlikely to be accepted by domestic constituencies on both sides. It is for this reason that every time when the talks starts on border resolution, it invariably ends with additional measures for management of undefined, undemarcated LAC.
Why is Graceful Disengagement at LAC Difficult?
LAC by definition indicates loosely demarcated areas under actual control of Chinese and Indian Forces. The term was used by Zhou Enlai in his note to Indian PM in 1959 (Not accepted by India, resorting to Forward Policy), followed by respective positions in 1960 and post 1962 conflict, with some unheld areas in between, and later used for negotiations since 1993, with a provision that it does not impact respective positions adopted by both countries on unresolved Border Issue. Both countries have their own perception of LAC and in certain areas these perception overlap (Pangong Tso). As LAC is not demarcated, Chinese, with scant regards to international agreements and obligations, use non demarcation as an opportunity to pursue their 'Strategy of Incremental Encroachment' by laying fresh claims (Galwan Valley) and following it up with troops buildup/infrastructure development till resisted and stop just short of conflict. An opposing build up by Indian Forces leads to 'Standoff" each time.
The problem in resolution of standoff is that a graceful retreat becomes extremely difficult due to rising sentiments/ nationalism in respective countries, and media glare thus increasing the political cost of any compromise by either side. Galwan/ Pangong Tso is neither the first or nor the last standoff, which will continue to happen, unless the LAC is demarcated. The demarcation of LAC is doable, provided both sides "Agree to Agree". Chinese, however, continue to drag their feet in doing so, as they fear that it will become de facto border, forcing them to forego their claims made in 1959, including Tawang and take away an opportunity to needle India, whenever it has any major divergence in strategic interests. Having developed their infrastructure up to LAC earlier than India, China does not want to let go this comparative strategic advantage by denying similar infrastructure development by India.
When can the Demarcation of LAC could Occur?
In my opinion, the delimitation and demarcation of LAC will happen only, when the political/strategic cost of not doing so will increase for China, in comparison to doing so. The scenario when it could happen is, when China faces insurmountable military pressure on South-eastern seaboard from group of countries, in response to Chinese adventurism in Indo-Pacific, forcing it to reduce one front for engagement. China, having recovered early from COVID-19, has unfairly used it as an opportunity to make quick gains in claimed areas amidst pandemic and unfair profiteering from 'Health Silk Road' igniting global anger. Chinese aggressiveness in South and East China Sea, blocking of global sea-lane of communication and freedom of flights, coupled with declaration of independence by Taiwan can create such conditions, along with economic decoupling, resulting internal dissent in mainland, Hong Kong, and heightened rivalry with US with accidental triggers.
China on its part will try to stop its adventurism just short of war, in consonance with Sun Tzu's principle of 'winning without fighting'. India will have to walk an extra mile in Indo-Pacific engagements like Quad, and target all vulnerabilities of China with like-minded countries, including economic distancing to the extent possible. Till then China and India will continue with tug of war on LAC with tents vanishing and appearing on points like Patrol Point 14 in Galwan Valley. The troops on ground will have to continue facing the problem of guarding the undemarcated LAC like a tug of war match, with risk of changed rules of engagement with Chinese, amidst total mistrust. Indian Military is on firm ground, with free hand to local commanders, ready for all contingencies to protect its country despite rhetoric, Chinese "Three Warfare" strategy, coercion and information warfare. India also has to counter Chinese 'Strategy of Frontline States' adding Nepal to erstwhile Sino-Pakistan nexus, as proxy against India with some smart diplomacy in global platforms, as China continues to use this strategy by pitching North Korea against US.
Pakistan's Military Spending and Defence Budget 2020-21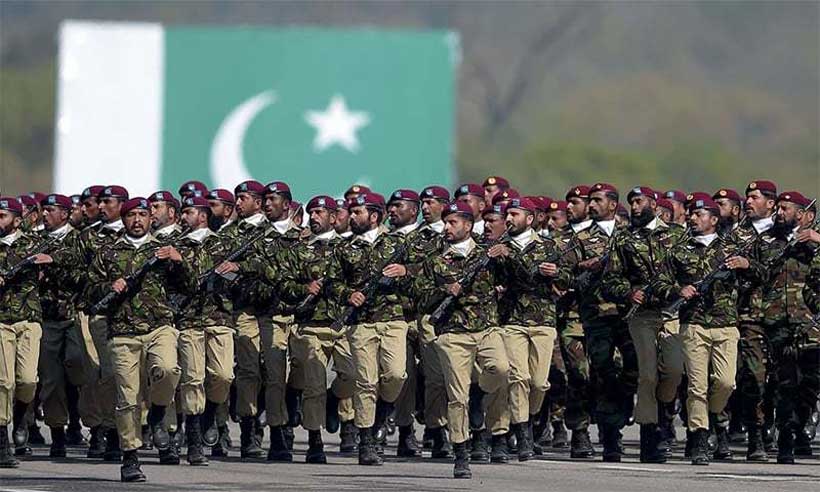 Last month the federal government of Pakistan announced its annual budget 2020-21 according to which Rs.1, 289 billion has been allotted to the defence sector. The defence budget has increased by 11.9% in the fiscal year 2020-21. However, if compared with the 2019-20 revised spending, which was Rs.1, 227 billion, the growth would be 5%. The increasing tensions between India and Pakistan post-Pulwama and the Kashmir issue are one of the main reasons behind this increase in defence spending. The defence policy of Pakistan and military spending have always been India-centric. Hence Pakistan being a much smaller state in order to maintain the conventional balance vis-à-vis India has to enhance its defensive capabilities, e.g. short-range weapons. Due to the volatile, complex and ambiguous strategic environment, military spending is essential for Pakistan.
According to the defence budget of 2020-21, the share of navy has increased and reached 10.85 %. Similarly, PAF budget has been increased to 21.25%, the army budget has increased up to 47.55%, and there has been 20.33% increase in the budget for inter-services establishment. Whereas last year the navy's share was 11.3%, while for PAF it was 22%, for army 45.4% and 21% was for the inter-services establishment. This year Pakistan navy gets Rs.140 billion, PAF Rs.274 billion, army Rs.613 billion and Rs.262 billion will be given to inter-services establishment. Moreover, for the employee related expenses Rs.475 billion have been allocated, Rs.301 billion will be given for operating expenses which include ration, transport, POL, training and medical treatment-it is 13.77% increase as compared to the previous year. For the import of arms and ammunitions and local purchases, Rs.357 billion have been allotted, which is 13.3% increase as compared to the previous year. The civil works section will grow by 26.14% as the amount allotted to it is Rs.155 billion. The growth in the civil work component was essential because of two major projects that are currently being commenced by the military i.e. the construction of border posts and fencing of Afghanistan and Iran borders. This year the lowest increment is given to the employee related expenses which are 5.6%.
In the developing states which have various military and strategic issues, the effect of military spending upon the economic growth has always been controversial because of continuous tensions between foreign policy and defence compulsions on the one hand and socio-economic needs on the other. However, according to the classical economist Adam Smith "The first duty of the state is to protect its society from the injustice and violence of the other societies as it moves towards civilization". Despite limited resources, the Pakistan army has been fighting successfully on both the borders in the east and west. About 800 million dollars is the expected cost of the border security plan. Moreover, for years Pakistan army and law enforcement agencies have been fighting against terrorism, operations like Zarb-e-Azab and Radd-ul-Fasad are among the great achievements in the mission to eradicate terrorism from the country. Hence principle responsibility of every state is to enhance its defence forces for the sake of survival and to maintain sovereignty. Hence for Pakistan in order to tackle with these internal and external threats, it has become necessary to increase its defence budget.
The continued animosity and strategic competition between India and Pakistan are also one of the main reasons that Pakistan had increased its defence budget by 11.9% in the ongoing fiscal year. Both countries were at the verge of war after the Pulwama incident when Indian aircrafts entered Pakistan. It was due to the timely and effective response of the Pakistan air force that forced Indian jets to flee, and the situation did not escalate. Hence Pakistan must maintain the strategic parity and conventional balance in order to deter India. India has enhanced its defence spending by 6% this year. According to the SIPRI (Stockholm International Peace Research Institute) annual report, India has the third-largest military budget in the world. The excessive Indian defence spending creates a security dilemma and compels Pakistan to maintain a precarious military balance by increasing its defence spending. According to the recent budget, Pakistan's emphasis would be on procurement of the equipment's to enhance air defence capabilities, improve operational capabilities of the naval fleet and to advance surveillance and communication systems. Pakistan needs to protect itself with all the available means after looking at the grand designs of India. The basis of defence planning has always been threat perception. Moreover, when one has to defend itself against a much larger enemy with the comparatively weak resource, even minimum sufficient defensive capability can only be attained through attaining massive share of the nation's resource.
Currently, Pakistan is facing different challenges and threats to its security posed by its long-term enemy India. Given the growing tensions among both countries Pakistan has increased its military budget 2020-21 in order to maintain strategic balance in the region vis-à-vis India.
The U.S. on the Way to Strategic Invulnerability
For Russia, the military developments and strategies of the United States recreate those challenges and threats that the USSR associated with President Ronald Reagan's Strategic Defense Initiative (SDI). Adopted in 1984, the SDI programme involved deploying several echelons of space strike weapons that would intercept and destroy ballistic missiles and their re-entry vehicles in all flight segments. The purpose of the SDI was to ensure that the whole of North America was protected by an anti-missile shield.
American developments today are aimed at ensuring the global military dominance and strategic invulnerability of the United States and include strategic non-nuclear weapons, missile defence, high-precision weapons, SM-6 universal anti-air and strike missiles, space strike systems (space interceptors), laser weapons, autonomous air, surface and undersea vehicles and means of conducting cyber warfare.
Essentially, the United States is systematically moving towards re-creating the state of affairs of 1945, when it was the only country that had nuclear weapons, could impose its will on the entire world, and remained beyond the reach of the armed forces of other countries. The processes that are taking place today, which could be termed a revolution in warfare, give the U.S. administration grounds to believe that cutting-edge weapons can neutralize or devalue Russia's nuclear weapons.
The structure of U.S. military spending shows that the country is stepping up its investment in military R&D. Military spending increased by 3 per cent in 2020 to USD 750 billion. Meanwhile, the military R&D budget grew by nearly 10 per cent to USD 104.3 billion.
The SDI programme was scrapped in 1993. There were several reasons for this, including political and financial motivations. However, the programme was mostly abandoned because the projects were not technically feasible. Back in 1987, the American Physical Society published a paper concluding it would take at least 10 years to understand which of the technologies being developed could have a future [1]. Even though the SDI was officially closed, some projects were continued as part of the Ballistic Missile Defense Organization, which was renamed the Missile Defense Agency in 2002, and led to the creation of anti-missile systems such as Patriot PAC-3, Aegis BMD, THAAD and the Ground-Based Midcourse Defense system.
Work continues on a number of projects that use active weapons based on new physical principles such as beam, electromagnetic, kinetic and super-high-frequency weapons, chemical lasers, railguns and neutral particle beams, and traditional missile weapons such as new-generation surface-to-space and air-to-space missiles, kinetic energy missiles and kinetic energy interceptors.
Current U.S. views of the prospects of the national defence rest on several fundamental doctrines that are being adjusted or detailed in new concepts as new technologies emerge.
The concept of a weapons "system of systems" was first put forward in an article written by Admiral William Owens and published by the Institute for National Security Studies in 1996. In 1998, the idea was transformed into a separate concept of "network-centric warfare" in a paper by Vice Admiral Arthur K. Cebrowski and John J. Garstka. The concept envisaged integrating intelligence systems, command and control systems, and high-precision weapons systems in order to ensure rapid situational awareness, identify targets and assign combat missions. The concept was intended to free military leaders of the famous "fog of war" problem, when commanding officers have to make decisions based on incomplete or unreliable data.
The development of information technologies and computer networks in the 1990s provided the tools for increasing combat capabilities by achieving information and communication superiority, combining combatants into a single network. In addition to information systems, the "network-centric warfare" concept also came to rely on developing cutting-edge reconnaissance systems, military command and control systems and high-precision weapons. By effectively connecting units and detachments in a battlespace, the system translated information superiority into combat power. In 2019, the United States Army held war games demonstrating that the combat power of an infantry platoon enhanced with artificial intelligence capabilities increases tenfold. That is, AI renders the old formula that claims the attacking side can only achieve victory if it outguns the opponent by at least three times obsolete.
It would appear that the network-centric warfare strategy performed poorly in Afghanistan, Iraq and Libya, where the military methods failed to produce the expected results. However, we should keep in mind that this strategy is not intended to fight guerrilla units but was rather conceived as a way to achieve a quick victory over a relatively equal military opponent. Additionally, some important components of the newly created architecture — such as the military internet of things and military cloud storage — are only now being created.
The internet of things is closely tied to 5G data transmission technology. The American version of 5G is currently being tested on four military bases. 5G technology has been the subject of a major dispute between the United States and its NATO allies, who decided to use available technology from China's Huawei.
New technologies allow frontline units to track and identify a far larger number of targets on a larger territory within shorter periods of time and to strike these targets with previously impossible precision.
A number of military operations in the 1990s — the 1991 Gulf War, Operation Desert Strike in Iraq in 1996, Operation Infinite Reach in 1998 that delivered strikes against targets in Sudan and Afghanistan, and NATO's 1999 operation in Yugoslavia — demonstrated that the United States and its allies were right to turn their attention to the development of remote (non-contact) warfare tactics.
Non-contact warfare is a trend that will last for decades. It is the path that all the resource-rich militaries around the world are following. However, the United States is virtually the only country that has the necessary funds, research base and scientific potential (including that of private companies) to pull it off.
In 1996, the U.S. Joint Chiefs of Staff used the idea of "network-centric warfare" to develop and publish the Joint Vision 2010 concept, which introduced the military Full-Spectrum Dominance strategy. Once again, the strategy envisaged achieving combat superiority in everything from peace-making operations to the direct use of military force through information superiority.
The same objectives are reflected in the Joint Vision 2020 concept published in 2000, which subsequently formed the basis of the U.S. military doctrine: full-range dominance; information superiority; innovations; interoperability; multinational operations; interagency operations; dominant manoeuvre; precision engagement; focused logistics; full dimensional protection; information operations; joint command and control.
For a decade, U.S. experts debated the future military information architecture. One key issue was where to store and process the information obtained: on-board a combat platform, in a command centre, or in cloud storage. In recent years, the architecture has begun to take a definite shape. In October 2019, Microsoft signed a contract with the U.S. Department of Defense to develop cloud technologies worth USD 10 billion.
Various U.S. military branches are testing pilot projects that connect platforms into a single command and control network. For instance, in October 2018, the U.S. Navy established the Information Warfare Research Project to develop technologies for cyber warfare, cloud computing and reconnaissance.
In 2019, the U.S. Navy experimented with transferring the Navy's Enterprise Resource Planning (ERP), which had previously been stored in governmental data processing centres, to cloud storage. The flexible command and information architecture produced three positive effects: it ensured reliable command, increased battlespace awareness, and allowed various units to conduct integrated fire. Sixty-four per cent of U.S. Navy ships are equipped with this tool. The Consolidated Afloat Networks and Enterprise Services (CANES) is being installed on ships to protect the system from cyber threats.
The U.S. Air Force is developing similar software called Kessel Run to provide information exchange and data analysis. In particular, software for refuelling aerial tankers was developed as part of the project. The software is being constantly improved and features new platforms and functions.
The U.S. Air Force actively uses Link 16 terminals to provide communication between U.S. fighter jets and a number of of allied countries as part of the MIDS programme that is being jointly developed by the United States, France, Germany, Italy and Spain. By using Link 16, military aircraft, ships, and ground forces can exchange tactical images almost in real time.
As part of Project Missouri, the U.S. Air Force has set up an information link between fifth-generation F-22 and F-35 fighters. The additional Project Iguana, made it possible to input data from U2 reconnaissance aircraft and space satellites into the system. In 2019, the Air Force experimented with connecting military transport aircraft and maritime and ground military equipment to the project. Currently, the Valkyrie unmanned combat aerial vehicle is being integrated in the network.
Another NATO states are implementing similar information integration projects for their militaries; Germany, in particular, finances the "Glass Battlefield" (gläsernes Gefechtsfeld) project.
Network-centric warfare rests on several basic principles: distribution, connectedness, separation of functions, remote command, use of artificial intelligence and use of high-precision weapons.
The information component of the network-centric warfare includes the following tools:
The military internet of things
Cloud storage and cloud computing
Autonomous systems
Space communications echelon
The network-centric warfare concept pays particular attention to reconnaissance and collecting and analysing information by using autonomous systems. To deliver high-precision long-distance strikes, the Pentagon considers it necessary to have reconnaissance capabilities for a range of up to 1000 miles.
For that purpose, the United States is currently developing three sets of reconnaissance systems that make it possible to discover, identify and locate the adversary's radars and communication systems. These systems can be installed on the MQ-1C Gray Eagle drone. Optical and radio intelligence data is supported by cyber space reconnaissance capabilities.
In April 2017, Lieutenant General John N.T. "Jack" Shanahan, Director of the Joint Artificial Intelligence Center, developed the "algorithmic warfare" strategy that envisaged using artificial intelligence to analyse the information collected. Google was involved in implementing the project, codenamed MAVEN. As part of the project, AI-based algorithms process gigantic arrays of photographic and video information collected by drones in Iraq and Afghanistan. The project's impressive results led to dozens of new projects being established. In 2018, under public pressure, Google withdrew from Project MAVEN, but the Pentagon contracted Booz Allen for the job, after which the project's budget grew almost tenfold.
For 50 years, American military strategists have been searching for a solution to the A2/AD (anti-access/area-denial) problem. By "area," the Pentagon means the territory where the U.S. military is within reach of the adversary's weapons and cannot operate in full force. The A2/AD problem forced the Pentagon to conduct remote warfare from areas beyond the reach of the adversary's air defence systems, tactical ballistic missile systems and anti-ship ballistic missile systems. For decades, high-precision weapons were used to handle the A2/AD problem.
In 2014, U.S. Secretary of Defense Chuck Hagel approved the Defense Innovation Initiative (also called the "Third Offset Strategy") developed by the Center for Strategic and Budgetary Assessments (CSBA). The strategy included creating a new long-term R&D planning programme that emphasized robotics, autonomous systems, miniaturization, big data and cutting-edge manufacturing, including 3D printing. The programme focused on drone operations, which entailed the development low-observable forward-looking long-range unmanned aerial vehicles (including sea-based UAVs), and a family of various unmanned combat aerial systems.
The current U.S. military strategy envisages increasing the significance of operations involving strike drones and surface and undersea drones.
Autonomous refuelling aircraft make it possible to double the safe distance for U.S. aircraft carriers to deliver strikes against enemy territory. According to the U.S. Naval Air Force's MQ-25 Stingray programme, by the mid-2020s, unmanned refuelling aircraft will have assumed the functions of aerial refuelling for the aircraft carrier's air wing.
Another area for developing unmanned aerial vehicles is "wingman" drones. As part of the Low Cost Attritable Aviation Technologies (LCAAT) project, a U.S. Air Force laboratory is developing the XQ-58 Valkyrie drone as a "wingman" for F-22 or F-35 fighter jets. In combat, the drone will carry the surveillance, electronic warfare (EW) and communications systems, as well as weapons. "Partner drones" are intended to become the "expendables" in warfare, taking on some of the functions of the pilots and, if necessary, bearing the brunt of an attack.
Another projected, called Gremlins, developed under the auspices of the Defense Advanced Research Projects Agency (DARPA), focuses on developing the technology for using a transport aircraft to deliver a drone swarm to an area where they will perform a series of strike, reconnaissance or other missions. Upon completion of the mission in question, the drones will be brought back aboard the aircraft and prepared for another mission within 24 hours. A fighter, bomber or even an unmanned mother aircraft can be used to deliver Gremlins to the combat area. Like many other unmanned aerial vehicles, Gremlins will be deployed as part of a unit or swarm and will independently distribute functions for optimal mission performance.
However, the most significant reforms have been saved for the U.S. Navy. In 2017, the Ghost Fleet concept, a continuation of the "network-centric warfare" concept, was adopted. Under this concept, ground, aerial and underwater unmanned vehicles will interact simultaneously and perform a wide range of combat missions without risking the lives of ship crews and marines. To further develop the concept, the U.S. Navy has ordered a group of experts to submit the Concept for "the organization, manning, training, equipping, sustaining, and the introduction and operational integration of the Medium Unmanned Surface Vehicle and Large Unmanned Surface Vessel with individual afloat units as well as with Carrier Strike Groups, Expeditionary Strike Groups, and Surface Action Groups" to Congress by September 2020.
The adoption of this concept will signify major changes in the plans for building the fleet and in its operational strategies, where autonomous underwater and surface vehicles will be integrated with carrier and expeditionary strike groups.
According to preliminary reports, the U.S. Navy will receive robotic surface ships of four different classes: large unmanned surface vehicles that can distribute large sensors and fires; medium-sized unmanned surface vehicles with smaller sensors and electronic warfare equipment; small unmanned surface vehicles that can tow mine-hunting equipment and work to relay communications; and even smaller unmanned surface vehicles.
Over the next decade or two, the U.S. Navy may change its architecture in favour of unmanned vessels spread over a larger area and combined into a global network operated from remote and mobile control centres. According to the report on the Navy's large unmanned surface and underwater vehicles that has been submitted to Congress, the wartime tactic of using large unmanned vehicles may include spreading the fleet, letting the unmanned vehicles bear the brunt of the attack, and then delivering rapid retaliatory strikes.
The first component of the system is the Sea Hunter, an autonomous unmanned surface vessel that has already entered service. The ship was built as part of the DARPA Anti-Submarine Warfare Continuous Trail Unmanned Vessel programme. The unmanned vessel is designed to operate as part of a swarm searching for and hunting submarines. Testing has showed the vessel's high efficiency: travelling at a speed of 12 knots, the ship can cover 19,000 kilometres in 70 days of autonomous sailing.
The Navy is also developing another project for secret undersea operations, called CLAWS. According to the U.S. Navy's recently adopted R&D budget, the Orca XLUUV, a 50-tonne, 25-metre-long undersea vehicle developed by the Boeing Corporation, will carry 12 torpedoes and have both strike and anti-surface warfare capabilities. The autonomous submarine with AI and weapons is designed to operate partially without human control. The Orca XLUUV will enter service in 2023 and, together with the Sea Hunter, will pose a threat to the naval component of Russia's nuclear triad since it puts a question mark over its principal advantage: stealth.
To communicate with unmanned vessels and command autonomous missions, the U.S. Navy created the CARACaS (Control Architecture for Robotic Agent Command and Sensing) command architecture that allows drones to analyse dynamic operational situations when on a search mission, or when protecting harbours, carrying out surveillance, conducting EW or landing missions, and even when attacking as a swarm.
The most significant manifestations of the revolution in warfare may take place in the U.S. space sector. On February 20, 2019, President of the United States Donald Trump signed a law establishing the U.S. Space Force, with approximately USD 72 million earmarked for the purpose. The objectives of the Space Force include protecting U.S. interests in space, deterring aggression and protecting the country, as well as projecting military power in space, from space and into space.
A total of USD 11.9 billion was allocated in 2020 for R&D in space systems, which is USD 2.6 billion more than in 2019.
The Missile Defense Agency will receive USD 10.4 billion, including USD 108 million for the creation of a space sensor system to track hypersonic and ballistic missiles and the development of a "sensor array" to counteract the hypersonic missile systems of Russia and China.
The spending on militarized space will total USD 14.1 billion, which is 15 per cent more than in 2019. The Pentagon's space programmes are classified, which creates additional risks for strategic stability. It is known that projects are under way in the United States to develop reusable space hypersonic systems and micro spacecraft, intercept spacecraft with "inspector" satellites, and carry out kinetic and non-kinetic attacks on satellites. Projects for directed-energy impact on nuclear weapons command systems are particularly dangerous. There is a trend for ensuring the interoperability of anti-missile and anti-satellite weapons. American assets in space are becoming more integrated and more interoperable.
One of the ways that the United States plans on winning the arms race is by involving its allies in joint projects to pool resources and technologies. Aligning weapons and combining data feeds should save funds. For example, in addition to the so-called Five Eyes states, Japan's operations centre is also joining the space projects.
In the foreseeable future, space-, air- and ground-based lasers are seen as the most promising means of neutralizing ballistic and hypersonic missiles. The Pentagon and American industry are working on a technology that could reach the necessary level in a few years. The Pentagon is considering deploying combat lasers in orbit, as well as on UAVs patrolling the upper boundaries of the atmosphere, on ships and on anti-missile defence platforms. The Indirect Fires Protection Capability-High Energy Laser (IFPC-HEL) which can reach up to 300 kilowatts in power, will presumably have entered the Pentagon's service by 2024. It will be powerful enough to intercept not only UAVs, but also incoming cruise missiles.
Other NATO states are conducting similar R&D. For instance, France has officially admitted it is making laser-armed satellites that it intends to use against enemy satellites that threaten the country's space forces.
Forward-looking American military technologies are intended to devalue Russia's nuclear weapons:
Maritime unmanned hunters can compromise the stealth of Russia's strategic undersea cruisers. Unmanned vessels and undersea drones can autonomously track SSBNs for protracted periods of time and neutralize them in case of danger.
Space tracking and targeting systems will make mobile ground-based missile systems vulnerable.
In a few years, laser weapons and neutral particle beams will become powerful enough to plan the interception of ballistic and hypersonic missiles.
Today, the United States is withdrawing from arms control agreements that might tie its hands and undermine its technological leadership. This confirms that Washington hopes to ride the wave of the revolution in warfare to ensure its global military dominance and protect its national security from virtually any threat.
1. APS Study Group Participants; Bloembergen, N.; Patel, C. K. N.; Avizonis, P.; Clem, R. G.; Hertzberg, A.; Johnson, T. H.; Marshall, T.; Miller, R. B.; Morrow, W. E.; Salpeter, E. E.; Sessler, A. M.; Sullivan, J. D.; Wyant, J. C.; Yariv, A.; Zare, R. N.; Glass, A. J.; Hebel, L. C.; APS Council Review Committee; Pake, G. E.; May, M. M.; Panofsky, W. K.; Schawlow, A. L.; Townes, C. H.; York, H. (July 1, 1987). "Report to The American Physical Society of the Study Group on Science and Technology of Directed Energy Weapons." Reviews of Modern Physics. 59 (3): S1–S201. Bibcode:1987RvMP…59….1B. doi:10.1103/RevModPhys.59.S1.
From our partner RIAC
Libyan conflict puts NATO to the test
Domestic and external actors never tire of calling for a ceasefire in Libya, but the situation continues to escalate nonetheless, both in and outside the war-torn North African country.
Turkey's military activity in Libya is already having a knock-on effect with Egypt now threatening to enter the war. Small wonder, because the Egyptian President Abdul Fattah al-Sisi came to power by ousting the regime of the Muslim Brotherhood (now banned in the Russian Federation), which the Libyan Government of National Accord (GNA) is chummy with. Since the «Brothers" currently play a prominent role in Morocco, Tunisia and Algeria, Cairo would hate to see them gaining strength also in neighboring Libya. Here Egypt enjoys the support of the monarchs in Riyadh and Abu Dhabi who are wary of the Muslim Brotherhood's support for the idea whereby people are free to elect their political leaders.
After proclaiming his internationally-backed "Cairo initiative" to resolve the Libyan conflict, al-Sisi followed this up with a stern warning: "Any direct intervention from the Egyptian State in the Libyan crisis is now having international legitimacy… restoring security and stability in Libya is part and parcel of Egyptian security and stability…Sirte and al-Jufra (a major air base – A.I.) are the "red line" that we will not allow to cross."
According to the Abu Dhabi-based Al-Arabiya television channel, the Egyptian government is consulting with representatives of EU countries on measures to prevent the GNA forces' seizure of Sirte. And Ankara has allegedly been "advised" to refrain from any military action in Libya's oil-bearing regions. The Speaker of the House of Representatives (the parliament in Tobruk) Aguila Saleh has confirmed that the authorities of eastern Libya have asked Egypt for military assistance in the "war on terrorism and in countering foreign invasion."
Presently, Libya is the place where the interests of at least four NATO members – Turkey, France, Italy and Greece intertwine.
Ankara openly supports the GNA and makes future peace negotiations in Libya conditional on the seizure of Sirte and al-Jufra. However, while rejecting the "Cairo initiative" and refusing to recognize the legitimate status of the Libyan National Army (LNA) commander Khalifa Haftar, Turkey simultaneously makes clear its readiness to communicate with Aguila Saleh.
Turkish delegations are frequent guests in Tripoli, just as the head of the Government of National Accord, Fayez Sarraj, is in Ankara. By providing across-the-board assistance to the authorities in Tripoli, Turkey expects to set up its military bases in Libya, secure a share of the production and sale of Libyan oil, and make sure that Turkish construction firms are invited to assist in Libya's post-war restoration. And again, Ankara and Tripoli share a great deal of ideological affinity for the political and religious beliefs of the Muslim Brotherhood.
Italy also supports the GNA, though not as zealously as Turkey, with Rome already cooperating with Tripoli in the oil and gas sector and counting on its assistance in curbing illegal emigration to its territory.
France, meanwhile, is staking on Khalifa Haftar, who it believes is someone capable of stabilizing the situation in the country, which borders Chad and Niger, both of which are part of Paris' zone of interests in Africa.
As for Greece, it feels uneasy about the agreements between Ankara and Tripoli, none of which recognize Athens' right to the continental shelf between Rhodes and Crete.
In the meantime, contradictions between NATO Allies begin to "materialize": on June 10, a Turkish navy frigate used its fire control radars to "illuminate" a French warship that was to inspect, as part of NATO's Operation Sea Guardian, the cargo on board a Turkish ship headed for Libya's Misrata. France slammed the accident as "extremely aggressive" and demanded that the matter be investigated under the NATO format. The Turkish news agency Anadolu then reported, citing the Turkish naval command, that the frigate had not used its radars to target the French ship, but was only monitoring its "dangerous maneuvers."
In response, the French President Emmanuel Macron stated that the incident confirmed his earlier view about the "brain-dead" North Atlantic Alliance, and his Foreign Minister Jean-Yves Le Drian said that the EU needed to discuss the prospects of its relationship with Turkey as soon as possible.
Turkey has long been an internal irritant within NATO. Late last year, Ankara blocked a NATO defense plan for Poland and the Baltic countries unless Brussels adopted a similar plan to defend Turkey against the terrorist threat from the Kurdish "People's Self-Defense Units" in Syria. In fact, this would be tantamount to the organization that acted as the Western coalition's ally in the war against Islamic radicals being branded as a terrorist one. They eventually reached a compromise, but Reuters recently reported about the French defense ministry complaining about Turkey's opportunistic position: "While Ankara has approved the plan, known as Eagle Defender, it has not allowed NATO military chiefs to put it into action." The NATO headquarters declined to comment on this information.
During a joint videoconference of NATO countries' foreign ministers in April, the Turkish and Greek top diplomats bickered over the issue of migrants. When denied by NATO Secretary General Jens Stoltenberg a chance to make yet another statement, the Turkish foreign minister simply "signed off."
However, looking at the situation from the standpoint of Ankara it would seem that recently it has had ample reasons for resentment.
In 2016, in the wake of the botched military coup, many Turkish military officers, fearing reprisals, requested asylum, of all places, in Turkey's fellow NATO countries. A year later, during NATO exercises in Norway, someone posted the photographs of Ataturk and Erdogan on the stand listing the "accomplices of NATO's enemies." The trickster was eventually found and fired, but the Turkish president even refused to accept an apology from his allies.
Finally, after a Syrian airstrike in Idlib left dozens of Turkish servicemen dead earlier this year, Erdogan convened an emergency NATO summit. All he got from his allies, though, was just an expression of moral support. Luxembourg's Foreign Minister Jean Asselborn said that because Turkey had not coordinated its military operation in Idlib with NATO, the pertinent article in the NATO Charter on collective defense against an outside aggression was not applicable in this case. Exactly the same thing happed five years ago when a Russian warplane was shot down by a Turkish missile and Ankara requested NATO assistance in the event of a possible conflict with Moscow.
Therefore, the results of a February poll by the Pew Research Center, which showed that only one in five Turkish citizens were satisfied with NATO's policies (compared with the 53-percent average in 16 member-countries) look fairly logical. As for the Turks, more than 55 percent of them showed the thumbs down to Brussels.
In recent years, Turkey has pursued an increasingly independent policy, which is more and more at variance with the interests of some of its NATO allies, and refuses to put the bloc's interests ahead of its own. Moreover, Ankara primarily uses its membership in the Alliance to increase its political clout in relations with third countries. Bruno Tertre, deputy director of the Strategic Research Fund, hit the nail right on the head when he told the Paris-based weekly business magazine Challenges that "the Alliance must be based on shared values and interests. However, in the case of Turkey, Erdogan, we do not share either one."
This reality is only highlighted by the conflict in Libya.
However, Turkey's "intra-bloc destructiveness" is a far cry from what is being done by the administration of the current US president. Donald Trump, who regularly complains about America's European allies spending too little on defense, has even threatened to pull the United States out of NATO. Dissatisfaction with German "stinginess" was one of the reasons behind Trump's decision to move part of the US military from Germany to Poland. Angela Merkel aptly commented to this by saying that the European countries should wake up to a new reality where the United States will no longer strive for the role of world leader. Yuri Wendik from the BBC's Russian Service even complained that Trump views NATO as just a "commercial joint venture."
Meanwhile, it looks like relations between the two "rabble-rousers" start warming up again: the FBI has opened a preliminary probe of Fethullah Gulen, a Muslim preacher, who currently lives in Pennsylvania, hiding from the Turkish authorities; Trump keeps delaying the introduction of long-promised sanctions for Ankara's purchase of Russian S-400 air defense systems. Erdogan, for his part, has all but stopped mentioning Washington's support for Kurdish forces in Syria; Ankara and Washington seem to have clinched some agreement on Libya. Overall, the Turkish-American agenda is less and less correlated with NATO's.
Make no mistake, NATO is still far from being a "lame duck," but it still seems that the process is already gaining traction, and that the Libyan test can spur it on.
Last November, George Friedman, the founder and chairman of Stratfor, a private company that publishes geopolitical analyses and forecasting of international affairs, wrote that the biggest problem today, is America inability to be constantly at war as it has been fighting in Afghanistan and Iraq for 18 years now. He adds that the US no longer wants to be in the region and expects countries like Turkey to take responsibility for the region."
Ankara apparently agrees and Washington would hate to disappoint its Turkish partners.
From our partner International Affairs