Re-Negotiating Apartheid in 21st century's South Africa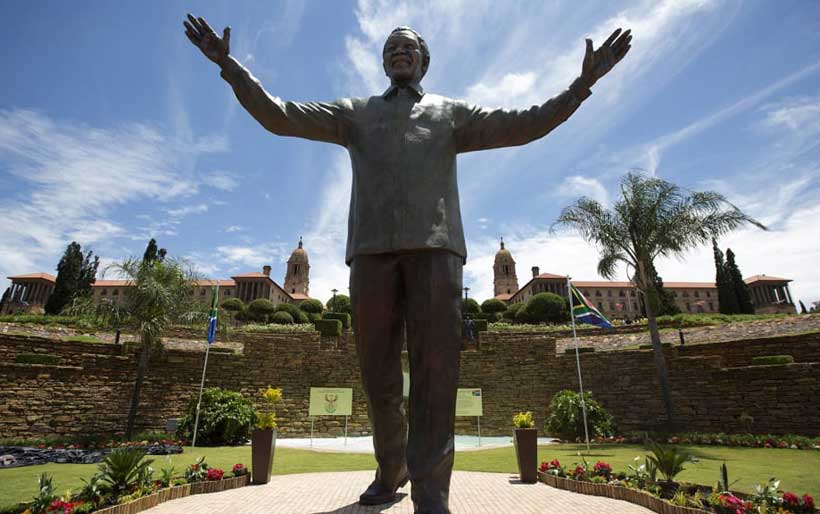 Introduction to the Idea of Apartheid
'Apartheid' or Apartness is the term used in Afrikaans and Dutch languages. It is the name given to separating people by Race, with reference to where you live, where you work, where you go to school, what mode of transport you use and where you die. This policy was introduced by the National Party (NP) in 1948 and it continued until 1994 when the 1st all-race elections were held. In the 1980s, the system of Apartheid was considered so entrenched that international observers predicted South Africa can't have a democratic polity without a civil war. But negotiations between ANC led by Nelson Mandela and NP led by De Klerk gave us a compromised solution with a truly democratic constitution. But Apartheid was not just for these 46 years as segregation of blacks from the whites existed ever since the Dutch 1st landed in South Africa in 1652.
The demography of South Africa is quite interesting as South Africa had 3/4th of Blacks, Africans, Colored and even Indians who were taken there for work and they settled there. The whites were a small minority who controlled all political power in pre-Democratic South Africa and enjoyed considerable economic success. These whites were Dutch descended Afrikaners and the British descended English speakers. The history also plays a part in making South Africa a region of Apartheid as this mere refueling and trading post at Cape of Good Hope of the Dutch and British will soon become the richest region of Africa. Diamonds were discovered at Kimberly and world's largest Gold reserves were discovered near Johannesburg. A combination of factors like diversity, longevity, power and wealth created the factors which led to the inception of Apartheid.
The causes of Apartheid are of two types-Real & Immediate causes. The Real cause was white business owners wanted to make sure they make unparalleled profits by using a massive lowly paid African workforce. White settlers wanted protection from competition in jobs and businesses from African workers and producers. This elaborate system helped them to preserve their lead. The Immediate cause of the war needs to be understood in the context of the 2nd World War. South Africa manufacturing sectors and factories boomed in this period. White males were predominantly working for the military and so factories needed to be staffed with women and African male workers in even semi-skilled and skilled jobs. These skilled jobs were denied to them until the 2nd world war and hence the white electorate was getting skeptical about increased black competition for jobs. Secondly, in War times Police and internal law enforcement agencies could not regulate passes of Africans and regulate their movement in the cities. So Racial lines between the white and black started getting blurred. Thirdly, Whites were outnumbered in the cities for the 1st time in the history of South Africa. The rural populace started migrating to the cities due to increased job opportunities, aspirations of a better future and as famines hit the countryside. Fourthly, African workers working in the industries increased by 70% at this time and the number of women workers increased by 50%. After the 2nd world war, Africans constituted 50% of the industrial workforce for the 1st time in the country's history. This was looked like a threat by the white populace. Fifthly, ANC started becoming very militant in this period as they decided that their days of pleas, prayers and petitions were over as their dialogue and faith in the British crown did not bring any credible results. They decided to shift to radical methods to give wings to their aspirations.
The immediate causes were viewed as threats by the white populace so both the UP (United Party) and NP campaigned for solving the problems of blacks. The Nationalist Party won the elections in 1948 in spite of the fact they won fewer votes due to a constitutional provision of greater rural representation. They found a legislative route to drive through reforms by announcing Influx control in South Africa. Apartheid was described to the world as a social experiment to build a new model. It was designed to fulfil the tripartite objectives of NP which are Economic Growth, maintenance of white supremacy and reduction of African protests.
How Apartheid was implemented
The NP felt their mandate as a call for 'white supremacy now and always' and started building an intricate system by a complex mixture of laws where everything in the lives of South Africans were determined by Race. The country became a police state for most of the populace and the mechanisms of laws were truly breathtaking. We will look at some of them to get a fair idea about this arrangement.
The Population Registration Act, 1950 which provided the crux of all subsequent legislation as it divided the people into White, Colored, Natives (Bantu) and Indians. The massive population registrar was created for everyone and identity cards were issued with the assigned race of the individual. This was the bedrock legislation laying down a rigid racial classification and identification mechanism which will govern your access to rights and legal remedies. The Abolition of Passes and Coordination of Documents Act of 1952 was created to standardize the requirement of passes for Africans. Regional Pass documents which were known as Reference books were made mandatory to be carried by everyone in person at all times. The Prohibition of Mixed Marriages Act, 1949 prohibited marriages between whites and other communities. The Immortality Act of 1950 banned Sexual relations between Whites and other communities. The Group Areas Act, 1950 gave the government the power to regulate land ownership and occupations on the basis of race. It gave the government all the necessary ammunition needed to divide all of South Africa. The Reservation of Separate Amenities Act, 1953 stated all races should have separate public facilities like toilets, parks and beaches and the infamous Apartheid Signboards were erected under this act. The Native labour Act, 1953 banned trade Unions for labourers and their Right to Strike.
The most dangerous piece of legislation was The Bantu Education Act of 1953 which had long-term devastating consequences on the future of South Africans. The idea was to teach Africans their Cultural Heritage and give them the necessary skill sets as per their opportunities in life. The school curriculum was tailor-made to fit the demands of economic life for only Africans in South Africa. The objectives of Bantu education was to provide some skills for Africans to make them effective instruments in the labour markets. Secondly, it aimed to solve problems of poverty and unemployment as unemployed black youths were becoming militant and espousing violence on the streets. Thirdly, this system they hoped will make the Africans hate their own cultures and regard the Europeans as prophets to save them barbaric cultures. They will be true symbols of "Black Skin with White Masks. "The consequences of Bantu Education were as follows. At first, Bantu education institutionalized Apartheid culture and ideology and formalized myopic curriculum, unqualified teachers and resources hungry schools for Africans. Secondly, Instructions in Mother Tongues had two impacts as when they reached higher classes
a)They could not understand mathematical and other technical aspects due to poor grip on English Languages.
b)South Africa is a diverse country with multiple mother tongues so instructions in mother tongues helped in exposing ethnic fault lines between these communities.
The most painful aspect of Bantu Education is it turned out to be an instrument of oppression instead of its emancipatory abilities.
The 21st Century South Africa
"Never, never and never again shall it be that this beautiful land will again experience the oppression of one by another and suffer the indignity of being the skunk of the world. Let Freedom Reign. The Sun shall never set on so glorious a human achievement."-Nelson Mandela's Inauguration speech in 1994
These were the words of Nelson Mandela, the 1st Black President of South Africa. When South Africa truly elected in a truly democratic election. The country was brimming with optimism at this time and everyone looked forward with hope towards a glorious future. It has been more than 25 years since that time but the country remains deeply segregated.
The Apartheid Era segregation of cities continues as all the major cities have most prime locations occupied by the Whites as the government could not re-distribute land as per the negotiated settlement which ANC & Nationalist Party had decided in the 1990s. All the prime locations of Johannesburg, Pretoria, Cape Town, and Durban are still occupied by the minority whites. They make up the top 5% or most rich people in the populace and the areas they live have all best houses, best amenities, best hospitals and facilities which can happily be compared with any western European countries. If you move outside, you see millions of people living in makeshift camps even without the bare minimum facilities. Khayelitsha in Cape Town is the home of the biggest informal settlements and is a fast-growing city with a population of over 1 million. But as most people live outside the city in shabby conditions the unemployment rates are 50% and the crime rates are very high.
The World Bank Report (May 2018) also testifies the fact South Africa remains the most economically unequal country in the world. The Nelson Mandela introduced RDP (Reconstruction & Development Program) is the biggest state-led Housing Development project in the world. It has seen more than 3.6 million new homes built free of charge for people having annual income less than 3500 Rand (£200). But RDP Program has certain demerits like reinforcing spatial apartheid as these houses were constructed outside the cities where the Africans already lived. These zones were de-linked from the core areas of the cities through Apartheid era natural and artificial barriers. Secondly, RDP houses are allotted after a painful waiting period of 10-15 years if you are not well connected to the government. Thirdly, RDP houses are single-storied arranged in boring repetitive rows and the inhabitants are forbidden from engaging in Trade from those flats. Fourthly, as these houses are built fast and cheaply sometimes they even fall down and they look a lot like open-air prisons.
The education sector was badly affected by Bantu education System and even in a post-Apartheid South Africa, the impacts continue to haunt them. Many Non-white South Africans have to pay the black tax which means supporting their unemployed parents, grandparents and paying fees for their siblings. This decreases their abilities to dream larger goals in life.An OECD's Report showed that after six years of schooling, 27% of black South African students still could not read.
Corruption: – Corruption has been a huge factor for South Africa as Jacob Zuma presidency was tainted with the ugly marks of corruption. World Bank reports declared South Africa as the most corrupt country in the world in 2018.
Indicators:-The Official unemployment rate is around 28% and most of the wealth is concentrated in the hands of the whites. 10% of the white population owns 90% of the national wealth and 80% of the black South Africans owns nothing at all. But the number of Black Asian and mixed-race millionaires increased by leaps and bounds to 17300 as per New World Wealth consultancy firm. But all of them had one thing in common which is lucrative ties with the government. The number of the Black middle class has also proliferated to 4.2 million as according to estimates from the 'University of Cape Town.'14% of the Populace of South Africa still lives in informal settlements and the backlog of RDP houses have reached 2.1 million in 2018.
Entrepreneurship:-More Business firms are closing down than opening as per estimates of London Business School and only 2.5% of firms have been established in 3.5 years. The odds of being a black entrepreneur are not in your favour.
HIV:-South Africa's 19% of the population is infected by HIV. Thabo Mbeki's government (1999-2008) was the complete denials government who refused to believe South Africa's HIV rates and even went to an extent to ban antiretroviral drugs which pushed thousands of South Africans towards death. The situation has improved after Mbeki with efforts of the Ministry of Health and NGOs like Treatment for Action. But more needs to be done to address the social cause of the disease.
Poverty & Underdevelopment:-The National debt has ballooned seven times since 1994.ANC development plans reinforced the rural-urban divide by focusing on development in urban spaces.
Land Control:-So Nelson Mandela tried to redistribute land by using the 'Willing-Seller and willing buyer model'. This model failed miserably as only 10% of the white-owned land could be returned back to the black farmers'. This even creates problems for black entrepreneurs as they have very less property to procure loans by using the property as collateral. White Farmers control an estimated 73% of the farmlands today. South Africa could not implement any radical policies to mitigate rural poverty by redistributing lands without compensation due to fear spooking markets, down-gradation from international credit agencies and pressure from the USA.
The Way Forward-Towards a Bright Future for the Rainbow Nation
"Mandela may have postponed Revolution but for how much longer is the question."-Henrich Wolff, a local architect of South Africa
South Africa's problems have been created by more than 300 years of systematic Racism and historical injustice on behalf of the blacks. But some policy decisions, the current style of governance and normalization of corruption which are post-1994 phenomenon have sought to take the country backwards by a few decades. South Africa is a unique case in point where we cannot implement a one size fits all policy as Whites and Non-whites have stark inequalities. So we need to develop a model which helps in achieving equity.
Some Improvements which can be implemented to make South Africa an egalitarian society are:-
At first, Affordable Housing solutions can be game-changer and Johannesburg has already started implementing it. In this scheme, private developers are legally bound to reserve 30% of their houses and provide them at affordable rates. This will help in making the city inclusive and breaking the Spatial apartheid of the cities. Secondly, RDP needs to plan and then implemented.RDP needs to convert into a smart city project where houses will be better organized properly with more commercial spaces. The government has to increase incentives for living at the RDP houses. Thirdly, informal settlements need to be made more livable by using various projects like VPUU (Violence Prevention through Urban Upgrading program). This project which is being implemented in Cape Town can really help in improving basic minimum infrastructure, lowering crime rates. This project uses community-based participation to improve streets and places. Fourthly, the government has to bold policy measures by implementing land ceiling acts. This needs to be done in a much-planned manner to avoid Zimbabwe's case of giving farmlands to farmers without necessary knowhow of commercial farming. Fifthly, the government needs to scrap the PIA (Protection of Information) Act and bring more robust legislation to increase transparency and accountability of the government. Sixthly, the government needs to improve health and education indicators of the populace by aggressively spending on these two sectors. These sectors demand a bit of patience and perseverance as significant development takes time but they are very important in propelling South African economy and improving human development parameters. A consultancy firm can be engaged to give properly focused ideas of governance intervention at the specific levels and here South Africa can learn from the Government of Haryana's 'Saksham Haryana' Program. Seventhly, the government of South Africa needs to develop a dual-track strategy to deal with HIV which will have to look at both the social and medical causes of the epidemic. Eighthly, the government needs to abolish private militias (Police) which the rich use for their protection and enforce uniform policing's standards across the country.
Whenever a small developing country starts treading on the path of development it faces numerous challenges on its way to fulfilling the mammoth aspirations of its population. South Africa is a unique case as it has suffered from systematic repression and oppression and hence the government needs to put greater efforts to make country livable, human and more inclusive for all.
Terrorism and COVID-19: Brutality of Boko Haram in Africa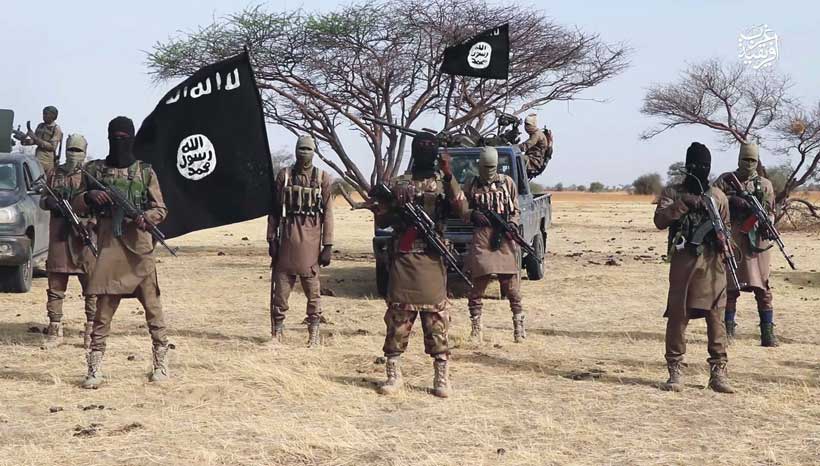 Authors: Dr Nanda Kishor and Ms Meghna Ria Muralidharan*
On 1 August 2020, Boko Haram killed 19 civilians through a grenade attack on a camp of displaced people in Nguetchewe village of northern Cameroon leaving 11 people seriously injured. Boko Haram has turned out to be one of the lethal terrorist organisation in western and central Africa. Year after year it has been listed as the fiercest terrorist organisation in the global terrorism index. As the world tries to counter the pandemic, Nigeria continues its battle against insurgent groups threatening the stability and political integrity of Africa's most populous state. Since 2011, Boko Haram has been the largest Islamist militant groups in Africa, has attacked political and religious groups, military and the local police. The Chibok abduction of 200 girls in April 2014, drew international attention to the growing threat from the militant group and the inability of the government to counter it. Boko Haram promotes a version of Islam that considers western education as "Haram". It forbids the Muslims from taking part in political and social activity linked with western society including voting in elections, wearing shirts and trousers or obtaining secular education. The militant group has been in Nigeria for over a decade, fighting to carve out an Islamic caliphate based in Nigeria. The violence has led to the death of approximately 30,000 people and millions have been displaced and the spillover effect is witnessed in the neighbouring countries of Chad, Cameroon and Niger.
Boko Haram and COVID-19
From 17 February 2020, when Nigeria reported its first case of coronavirus, there has been a spike in the number of confirmed cases of Covid-19, with more than 43,000 confirmed cases and over 800 deaths as of 3 August 2020. The North East region of Nigeria, Boko Haram's stronghold has become a COVID hotspot. There have been reports about mass mysterious deaths in Yobe, one of the state worst hit by the militant attacks and Borno, Nigeria's second-largest city. The pandemic struck first in Borno, the epicentre of Boko Haram on 18 April 2020 after a health care worker assisting in an internally displaced peoples (IDP) camps hosting approximately 60,000 Boko Haram survivors was killed by the militant group. Since then, Borno has become one of Nigeria's worst-hit state. Further, it is believed that the virus is spreading at a higher rate in these IDP camps due to a poor health care system.
The pandemic has had a very little mitigating impact on the terrorist activities and there has been a steady rise in the attacks. In addition to the recent attacks on the military, the group has been targeting health care workers and destroying religious as well as educational institutions. Boko Haram has continued its media activities during this pandemic by releasing audio messages of its factional leader, Abubakar Shekau. These messages reflect its continuous attempt to rejuvenate the jihadist scheme across the Sahel. Keeping up with its communication strategy, Jama'atu Ahlis Sunna Lidda'awati wal-Jihad (People Committed to the Propagation of the Prophet's Teachings and Jihad, abbreviated as JAS)released an hour-long audio message detailing its position on Covid-19. Shekau framed the virus as a divine punishment from Allah for indulging in sodomy and non-payment of Zakat. This aligns with Boko Haram's motive of being against western education. He has further claimed that the non-Muslims and hypocrites were using the outbreak as a pretence to stop Muslims from practising their faith, stopping pilgrimage to Mecca and congregational prayers. The group also released audios thereby stating that how it has continued to stay in groups and were observing fast and also condemned the safety measures of lockdown and social distance as evil. The groupwent on to claim that Sambisa is a safe haven against the pandemic, a propaganda to lure the young Nigerian population.
Responses of State and International Community
Since one of the factions of Boko Haram led by Abubakar Shekau expressed allegiance to Islamic State in 2014, they have dreamt of their own Islamic state in Africa. In 2015, Boko Haram opened its first twitter account in the name of al-Urwa al-Wuthqa, or "the Incessant Handhold" and has been active in propaganda. The major issue and vulnerability of Nigeria is being unable to govern its people and provide them with welfare. Exploiting this scenario, Boko Haram uses underemployed youth as recruits. The state though argues that due to the security scenario it is unable to deliver the promises, the far north of the state suffering from food insecurity and malnutrition have been the easy target for Boko Haram. Boko Haram promised to pay them between 300,000 and 400,000 CFA (US$600 – US$800) each month to join their cause. The minimum wage, for those lucky enough to be employed, is just 36,000 CFA (US$72) per month. Those who resist joining Boko Haram are severely punished and are forced to leave the place. Boko Haram has been a single reason for the internal displacement of more than 2.4 million people in northeast Nigeria, Cameroon, Chad and Niger. International organisations are in critical condition even while providing refuge to the internally displaced people. Their security is always compromised and the international community is mute to this scenario.
Terrorist groups across the world have been exploiting the COVID-19 scenario by spreading misinformation and have not spared the population in such a grave scenario. Two important factions led by Abubakar Shekau and another by Abu Musab al-Barnawi have been constantly thriving to overthrow the secular regime in Nigeria to establish Islamic State with strict enforcement of Sharia. Knowing the spread and reach of the organisation, Nigeria has tried to negotiate with Boko Haram but unfortunately, Shekau has spoiled every attempt so far and anybody willing to do have been mercilessly killed within the organisation. Barnawi has been willing to negotiate but from the position of strength though the government has been denying of paying ransom or prisoner exchange. Several reports indicate that the schoolgirls from Dapchi of Yobe State were captured by the Barnawi faction.
Time and again the international community has failed to help counter-terrorism and contain Boko Haram. Partially this is also due to the leadership in the affected states in Africa. The Multi-National Joint Task Force (MNJTF) against Boko Haram consisting of Nigeria, Benin, Chad, Niger and Cameroon which became comparatively weaker since the withdrawal of Chad in 2017 has been one of the reasons for the failure of the effective counter-terrorism measures.
What is in Store?
The uninterrupted propaganda and activity of Boko Haram may affect the people of the region much more than before. It also has the potential to damage the relief expected to combat COVID-19. Any health intervention by Muslims, individuals, State or international agencies during the pandemic has been viewed by Boko Haram as Haram (Forbidden). Knowing the brutality unleashed by Boko Haram in the past, Boko Haram is not just a terrorist organisation killing and kidnapping people but a public health risk now.
*Ms Meghna Ria Muralidharan is a Research Scholar at Centre for African Studies, School of International Studies, Jawaharlal Nehru University, New Delhi
How COVID-19 pandemic affected South Africa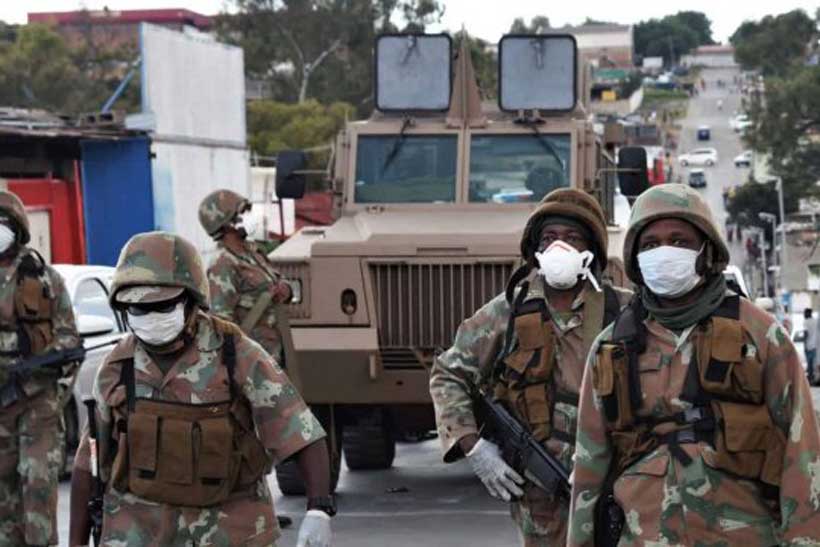 At present, South Africa is the world's fifth in the number of coronavirus cases. The epidemiological situation in the country continues to deteriorate, as despite a decreasing number of new cases reported daily, the number of tests has decreased as well. On August 2, 2020 the total number of infected exceeded 511,000, with a daily increase staying at 10,000 – 12,000. The death toll exceeds 8,000. Nevertheless, Health Minister Dr. Zweli Mkhize points out that the percentage of recoveries make up 64% – higher than the world average of 58.2%, which does inspire hope.
Significantly, what hit South Africans the most was the economic consequences of the COVID-19 pandemic. South Africa is de facto the only country where along with the closure of different sectors of the economy after the introduction of a quarantine on March 27th there still exists a ban on the sale of tobacco and alcoholic drinks, including wine, the domestic consumption of which is a major source of the country's revenues. (In June the government partially lifted the ban on alcohol for one month,, which caused a serious rush among the population and as a result, an upsurge in COVID-19 cases – P.L.) Moreover, the above-mentioned measures have inflicted substantial losses on the restaurant business and the farming sector, triggering severe criticism from trade union movements. Union leaders have warned the South African government that if not lifted the quarantine will result in the loss of jobs for 800,000 public catering workers and for about half a million employees of the wine-making industry. The situation in the tourist sector is as alarming as the country's authorities keep the decision to close the borders in force. Domestic tourism is also prohibited. All in all, about 3 million people have lost their jobs during the 4-month quarantine and experts predict a growth in unemployment from 30% to 50%.
In addition, the South African society is demonstrating an ever growing criticism of the measures taken by police and military personnel to guarantee anti-pandemic regime. Participation of police and army servicemen is frequently accompanied by disproportionately harsh measures against quarantine violators, particularly residents of informal settlements, known as "townships". All this sparks sporadic outbursts of protests among poor dark-skinned communities. Meanwhile, shortages of protective masks and other individual protection items have resulted in more cases of law enforcement employees contracting the coronavirus infection, which leads to the closure of many police stations and an increase in crime.
South Africans point out that the government and its anti-COVID-19 committee are unable to cope with the crisis, which becomes clear from a surge in coronavirus cases among the population. Also under question is the country's healthcare system, which, experts say, will not be able to handle an influx of coronavirus patients at the peak of the epidemic in August-September due to shortages of hospital beds, medical equipment and medicaments. What is particularly frustrating is the numerous cases of the authorities being slow in addressing social issues, especially those related to the preservation and creation of new jobs.
Given the situation, South African experts say, tensions will continue to escalate and as the epidemiological situation deteriorates, there will be more mass protests on the part of the dark-skinned community, particularly residents of "townships".
Simultaneously, the South African government is pinning hopes on a short lull, – last week the IMF approved the so-called "COVID" loan of 4.2 billion dollars for South Africa. The South African leadership expects these resources to reverse the negative trend by financing the priority program of supporting the country's population.
Meanwhile, analysts underscore that the government is faced with other, equally pressing issues, including restoration of the economy, restructuring of state-run companies, and creation of jobs. Experts say South Africa is in for hard times, which will require maximum coordination from the authorities to maintain political and social stability amid the continuing social and economic crisis in the country.
From our partner International Affairs
Sashaying to success: Fashionomics Africa helps designers embrace the digital age
From a new digital marketplace to connect Africa's creatives with global markets, to masterclasses to help designers share and learn, and webinars to inform and inspire: the African Development Bank's flagship Fashionomics Africa(link is external) initiative has taken great strides this year.
The website and mobile app were unveiled at the Global Gender Summit in Kigali in November, to help Africa's fashion designers, textile and accessories entrepreneurs grow their businesses, with a focus on women and young people.
"It is all really for connecting business to business, businesses to consumers and ensuring we are putting into place all we need to really transform the clothing and fashion industries in Africa," Dr. Jennifer Blanke, the Bank's Vice President for Agriculture, Human and Social Development, said at the launch.
With secure e-commerce and online payment systems, the aim is to connect suppliers, buyers, manufacturers and distributors to consumers and investors – to increase access and grow markets within Africa and across the globe.
"The Fashionomics Africa digital marketplace will be a game-changer for Africa's fashion entrepreneurs, to be able to reach regional and international markets and increase their revenues," said Mahlet Teklemariam, Founder of Hub of Africa, an Ethiopia-based fashion platform that promotes African brands.
In February, Fashionomics Africa hosted a masterclass in Nairobi on how to establish successful fashion brands. Organized by the Bank's Gender, Women and Civil Society Department, more than a dozen fashion industry mentors shared their experiences and expertise with the aspiring entrepreneurs, the vast majority of them women.
"The Fashionomics Africa masterclass has all the right ingredients to add flavour to your fashion business," said Linda Murithi, founder of Love Fashion Kenya, one of the designers who attended the Nairobi event.
The masterclass – which followed similar workshops held in Addis Ababa, Abidjan, Johannesburg, Kigali and Lagos – discussed business acumen, access to finance, branding, marketing and networking and reflected on the challenges and opportunities African fashion entrepreneurs encounter.
"Some designers feel alone. Fashionomics Africa has created a platform where people share the same language," said Brendan McCarthy of the Parsons School of Design, and one of the mentors at the masterclass. "They can connect, share experience and create a collaborative community."
More recently, in a rapid response to the new social and economic environment created by the COVID-19 outbreak, Fashionomics Africa has launched a series of webinars to address the opportunities and threats posed by the pandemic to Africa's fashion industry.
At the opening webinar in early June, fashion entrepreneurs, investors, industry experts and business insiders, exchanged ideas on the need for a digitally-enabled African fashion industry during and after the COVID-19 pandemic.
"African fashion is rising right now. African designers need to develop their unique business modeland have to be innovative. To do so, digital is key," Sarah Diouf, founder of made-in-Africa online brand Tongoro, said at the webinar. "It's a tool that we can truly leverage in our advantage."
Be it the feel of the fabric, the fit of the design or the vibrancy of the pattern: the fashion business has traditionally thrived on personal attention and face-to-face contact. But the need to reimagine the role of technology as a lever for growth in the industry has been thrown into sharp relief by the COVID crisis.
The containment measures put in place to curb the spread of the virus mean fashion entrepreneurs, like those in other industries, must look to online trading tools and or mobile money platforms to build resilience and prepare for the future. In this, the role of Fashionomics Africa is more vital than ever.