"Is it an end that draws near, or a beginning?"-Karl Jaspers, Man in the Modern Age (1951)[1]
Toward the close of World War II, with the advancing Red Army not yet in Berlin, Adolph Hitler and some of his closest aides retreated to the Fűhrerbunker, a presumed shelter of last resort near the Reich Chancellery. On 29 April 1945, Hitler married Eva Braun. One day later, to be followed by the entire Joseph Goebbels family, they committed suicide.
What could this infamous historical event possibly have to do with US President Donald J. Trump and his rapidly-descending American presidency? To be sure, this current head of state is not guilty of genocide,[2] and likely does not have any sort of "final retreat" in mind. Nonetheless, on June 1-2, 2020, during a period of unusual uncertainty and instability in Washington DC, Trump briefly made his way to the White House basement "safe area" for improved personal security. While in no way reasonably analogous to thebloodied Fűhrerbunker of the Third Reich, it was nonetheless a grim reminder that we too, as a fragile and unraveling American society, could sometime have to confront our ownleader-created Gotterdammerung,or "Twilight of the Gods."[3]
However irksome, such a reminder should have its proper and clarifying place in this country's national consciousness. Even if taken only as metaphor, a presidential retreat to the "bunker," whether as a singular isolated event or as continuous and ongoing practice of self-serving escape, could plausibly emerge in America's collective future. At that fateful point, it would likely be much too late to make any once-necessary policy remediations.
At that point, even while barely comprehending American crowds shriek their approval at rancorous presidential rallies, the existential damage will already have been done. Though the elucidating theatrical genre here would likely appear to be tragedy, the actual ambience of Donald Trump's crumbling cities would probably resemble pathetic melodrama or an unseemly self-parody.
There would be little residual mystery here for the Trump minions or for anyone else. To incredulous Americans, the once preventable horrors of a deranged national leadership will have become a fait accompli. Moreover, to this nation's ineradicable shame, these once-distant horrors could run the gamut from various selective infringements of human rights, both national and international, to massively cascading death counts arising from "plague" (pandemic) and/or catastrophic nuclear war.[4] If this last atomic scenario might at first appear implausible or impossible, thoughtful Americans should bear in mind that any US president's ultimate authority to use nuclear weapons is distinctly far-reaching and potentially incontestable.[5]
Once abused or simply misunderstood, this authority could open the way for America's very own existential "twilight" and "retreat."
In such too-easily rejected circumstances – "Out of sight, out of mind" – it is well worth remembering the cautionary historical observation of Sigmund Freud: "Fools, visionaries, sufferers from delusions, neurotics and lunatics have played great roles at all times in the history of mankind, and not merely when the accident of birth had bequeathed them sovereignty. Usually they have wreaked havoc." Significantly, Freud wrote these sobering words before humankind had unlocked the secret of the atom, before any nation-state could ever have had reason to worry about finding itself in extremis atomicum.
Truth is exculpatory. As with so many previous dictators or would-be emperors, Donald J. Trump is generally unaffected by any decipherable considerations of Reason or Science. In the evident matter of a still-accelerating worldwide biological assault, he has without hesitation substituted his own conspicuously uninformed medical opinions for the country's most well-qualified and esteemed epidemiologists. In these life-endangering behaviors, Trump remains able to make wildly irrational substitutions because (like these previous dictators and would-be emperors) he feels himself unbound by any usual rules of calculation, logic or scientific method.[6] Or in the marvelously apt terminology created by 20th-century Spanish thinker Jose Ortega y'Gasset (The Revolt of the Masses,1930)" "The mass-man has no attention to spare for reasoning; he learns only in his own flesh."[7]
Lest anyone may not yet have noticed, Donald J. Trump is philosopher Ortega's "mass man" par excellence. At first glance, any such demeaning ascription could appear to be inappropriate prima facie. How, after all, can an American president be a "mass man?" Mustn't there be something basically wrong with a such an ascription, as even by definition, the nation's leader is patently above mass? Isn't this very plainly therefore an obvious oxymoron?
To be sure, this "Fűhrer's" loyal followers would object strenuously. Yet, these very same followers would deny any Trump-committed wrongdoings, even if they were direct personal witnesses. For them, as for their endlessly-dissembling leader, truth and falsity are readily interchangeable.
Utterly.
"I love the poorly educated" ranted candidate Trump back in 2016.[8]
"Intellect rots the brain," warned Propaganda Minister Joseph Goebbels in 1934.
"Whoever can dominate the street will one day conquer the state," offered Joseph Goebbels at Nuremberg rally in 1934.
"The goal is to dominate the street," echoed Donald Trump on June 1, 2020.
Is there a curious verbal and philosophical kinship here? Is it even possible that Trump is well aware of Goebbels' "wisdom," and sees therein some very compelling examples? It was Joseph Goebbels, after all, who became well-know for the logic-torturing statement that any lie can become "truth" if it is merely repeated often enough.
Whether literally, or "merely" as metaphor, any upcoming Trump retreat to the Fuhrerbunker would necessarily follow certain catastrophic declensions of the wider American commonwealth. It follows, inter alia, that our most overriding current responsibility must be to heed such portentous warnings, and thereby to remain standing as a civilized national community as long as such a vital stance is still at least possible. Among many other things, this means an unswerving obligation to stand firmly against the multiplying and incessantly primal surrenders of the Trump administration, even when our duly elected representatives in the Congress display gratuitous servility to this incoherent presidency and an almost measureless level of personal cowardice.
Observing the groveling, obsequious and breathtakingly fawning behavior of the vice president, secretary of state, secretary of the treasury, homeland security secretary, Republican leadership in the Senate, secretary of health and human services, etc., etc. – the humiliating list goes on and on – Americans should finally inquire: What is going on here? To ask such a basic question, citizens needn't even be well-read, educated or determinedly intellectual. They might ask, therefore, without any fear of retribution: What are the well-habituated sycophants sustaining this hideous president so afraid of?
Here we have a fundamentally core question that must be raised quickly and resolutely. There is, after all, no conceivable set of justifications for such pervasive and irredeemable official cowardice. Historically, however, there is ample precedent in the "Thousand Year Reich."
Of what consequences are they so afraid? In the absolutely worst case scenario for these relentless administration sycophants, they would simply have to get real jobs and do some real work. Of course, judging from their generally conspicuous lack of any tangible learning or acquired wisdom, this expectation could still prove overwhelming. To wit, most Americans no longer expect even their highest officials to do any serious reading. In the case of the president, the unassailable truth that Trump reads nothing – nothing at all – is actually more of an asset than a liability for his followers. The fact that this president who "learns only in his own flesh" has never bothered to read the US Constitution elicits similarly little public consternation.
In essence, presidential historical and jurisprudential illiteracy is very widely acceptable. This is the case even among Trump's opponents, who by now have relinquished even their most basic citizenship expectations.
There is more. Even among the most conscientious political reporters and journalists, tough questions put to the president invariably deal narrowly with certain purported policy delinquencies of the moment, but never with this president's more overriding and general incapacity. The real problem with US President Donald Trump, however, is not that he makes variously specific mistakes or commits assorted particular harms. It is that he is intrinsically unfit to be President of the United States.
Period.
In April 1945, the Third Reich – "the thousand year Reich" – went up in smoke. For the most part, the individual Germans who had made this twelve-year horror possible were not identifiably "evil." Rather, in the precisely-fashioned language of political philosopher Hannah Arendt, who had been a student of Professor Karl Jaspers, these docile people were merely ordinary or "banal."[9] What had made this murderous and genocidal regime possible, therefore, was not any deliberate malice or bloodlust, but instead the very sort of pervasive cowardice we witness today in the United States, -especially at the level of gratuitously belligerent government officials.
Plausibly, the multiple harms now being inflicted upon the United States and other parts of the world by President Donald J. Trump will not rise to the level of a nuclear war or genocide. Nonetheless, this is difficult to confirm for certain. The most fearful war or genocide consequences that could come immediately to mind are for the most part unprecedented or sui generis. It follows, from the standpoint of science and formal logic, that nothing can be said about the true probability of any such consequences. Accordingly, it would be foolhardy to dismiss them prima facie as somehow exaggerated or insignificant.
There are pertinent examples. As just one worrisome case, if some internal crisis in the Trump administration were sometime to occur at the same time as a North Korean nuclear crisis, a catastrophic nuclear war could not be ruled out. In this connection, it is also crucial to understand that Trump has never understood the most elementary elements of nuclear deterrence, and originally felt that "attitude," rather than "preparation," would successfully "denuclearize" the Pyongyang regime.[10]
More precisely, said Trump, after returning from the Singapore Summit," Kim Jung Un and I "fell in love." At that still-early stage in his defiling presidency, it ought already have become obvious that "the emperor has no clothes." Already, it should have been apparent that this was not simply a remediable problem of bad manners or spasmodically careless error.
Why, then, was he permitted to go on by so many who surely knew better? Why should so many have continued to believe that this president was capable of understanding myriad complex, intersecting and even synergistic problems? Now, as just one more portentous step toward the "Fuhrerbunker," Trump supports policies that undermine the most utterly indispensable safeguards against further Covid-19 resurgence. Millions of Americans have even accepted this president's incoherent line contra competent science and informed immunology, sometimes to the extent of personal experimentations with Trump-recommended "detoxifying" disinfectants.
"Is it an end that draws near," inquired Karl Jaspers, "or a beginning?" The answer will depend, in large part, on what another major post-war German philosopher had to say about the Jungian or Freudian "mass." In his own classic study, Being and Time (1953), Martin Heidegger laments what he calls, in German, das Mann, or "The They." Drawing fruitfully upon earlier core insights of Nietzsche, Kierkegaard, Jung and Freud, Heidegger's "The They" represent the ever-present herd, crowd, horde or mass, an "untruth" (the term favored by Danish philosopher Soren Kierkegaard) that can all-too-quickly suffocate personal growth and identity.
Anywhere, these assemblies are an eternally reassuring source of shelter from individual citizen responsibility. Such sources of "untruth" were recently present in Tulsa just as they had earlier been present in 1930s Berlin. How else can we explain a public that enthusiastically cheers an American president who complained, at his June 20th Oklahoma rally, "There is too much testing (Covis19) going on," or which stood by silently when Trump ordered his lapdog attorney general to transform the US Department of Justice into a corrupted agency of personal benefit and political enforcement?
For instructive purposes, analogies are not always meant to be exact, literal or "perfect."[11] There are, of course, very substantial differences between the rise of German National Socialism in the 1930s and this incumbent American president's subversion of American democracy. At the same time, there are also increasingly disturbing points of commonality between the philosopher's "The They" and Donald J. Trump's viscerally loyal minions. Left in place, this president could suddenly or eventually lead a fragmenting and imperiled American state toward its own apocalyptic end, whether by war, plague or "metastasizing" internal decay.
Should this outcome be permitted to happen, a US presidential retreat to the "Fűhrerbunker" could sometime prove to be more consequential than mere metaphor.
At that once unimaginable point, the American survivors would be asking themselves exactly the same question that surviving Germans had asked themselves back in the dark summer of 1945.
Among other things, that point could become a notably unwelcome "remembrance of things past."[12]
---
[1] Karl Jaspers is the distinguished twentieth century German philosopher best known for his post war classic, The Question of German Guilt (1947). This book will be briefly discussed toward the end of the present essay.
[2] He did instruct his Secretary of State and Attorney General to openly denounce the International Criminal Court's planned investigation of alleged US war crimes and crimes against humanity in Afghanistan. This direction was in fundamental contradiction of America's obligation to both national and international law. In the words used by the U.S. Supreme Court in The Paquete Habana, "International law is part of our law, and must be ascertained by the courts of justice of appropriate jurisdiction, as often as questions of right depending upon it are duly presented for their determination. For this purpose, where there is no treaty, and no controlling executive or legislative act or judicial decision, resort must be had to the customs and usages of civilized nations." See The Paquete Habana, 175 U.S. 677, 678-79 (1900). See also: The Lola, 175 U.S. 677 (1900); Tel-Oren v. Libyan Arab Republic, 726 F. 2d 774, 781, 788 (D.C. Cir. 1984)(per curiam)(Edwards, J. concurring)(dismissing the action, but making several references to domestic jurisdiction over extraterritorial offenses), cert. denied, 470 U.S. 1003 (1985)("concept of extraordinary judicial jurisdiction over acts in violation of significant international standards…embodied in the principle of `universal violations of international law.'").
[3] Here we may recall Swiss Playwright Friedrich Durrenmatt's succinct reminder of what is both obvious and repressed: "The worst sometimes does happen." But where understood in the express imagery of the theatre, as below, this "worst" is likely to present itself not as high tragedy, but as pathos or farce.
[4] For authoritative early accounts by this author of nuclear war effects, see: Louis René Beres, Apocalypse: Nuclear Catastrophe in World Politics (Chicago: University of Chicago Press, 1980); Louis René Beres, Mimicking Sisyphus: America's Countervailing Nuclear Strategy (Lexington, Mass., Lexington Books, 1983); Louis René Beres, Reason and Realpolitik: U.S. Foreign Policy and World Order (Lexington, Mass., Lexington Books, 1984); and Louis René Beres, Security or Armageddon: Israel's Nuclear Strategy (Lexington, Mass., Lexington Books, 1986). Most recently, by Professor Beres, see: Surviving Amid Chaos: Israel's Nuclear Strategy (New York, Rowman & Littlefield, 2016; 2nd ed. 2018). https://paw.princeton.edu/new-books/surviving-amid-chaos-israel%E2%80%99s-nuclear-strategy
[5] See, by this author, Louis René Beres, at The Bulletin of the Atomic Scientists: https://thebulletin.org/2016/08/what-if-you-dont-trust-the-judgment-of-the-president-whose-finger-is-over-the-nuclear-button/ See also, by Professor Beres, https://warroom.armywarcollege.edu/articles/nuclear-decision-making/ (Pentagon).
[6] In part this is because he knows that many of his followers are actively seeking to avoid any too-challenging analyses or obligations of clear thought. Recalling the philosopher Karl Jaspers, in Reason and Anti-Reason in Our Time (1952): "There is something inside all of us that yearns not for reason, but for mystery – not for penetrating clear thought, but for the whisperings of the irrational."
[7] Similarly, we may learn from Swiss psychologist and philosopher Carl G. Jung in The Undiscovered Self (1957): "The mass crushes out the insight and reflection that are still possible with the individual, and this necessarily leads to doctrinaire and authoritarian tyranny if ever the constitutional State should succumb to a fit of weakness." At this point of almost fevered US citizen surrender to street-master Donald J. Trump, it is no longer difficult to imagine such a sweeping social downfall.
[8] This brings to mind a warning by French poet Guillaume Apollinaire, in The New Spirit and the Poets (1917): "It must not be forgotten that it is perhaps more dangerous for a nation to allow itself to be conquered intellectually than by arms."
[9] See Hannah Arendt's Eichmann in Jerusalem (1963).
[10] See, by Professor Louis René Beres, at Harvard National Security Journal, Harvard Law School: https://harvardnsj.org/2020/03/complex-determinations-deciphering-enemy-nuclear-intentions/
[11] In technical philosophy of science terminology, such perfect or "one-to-one" resemblances are known as "isomorphism."
[12] The literary origin of this phrase, of course, is Marcel Proust's early 20th century allegorical biography, his novel in seven parts, Remembrance of Things Past.
Addressing the infodemic should be the key priority of a Biden administration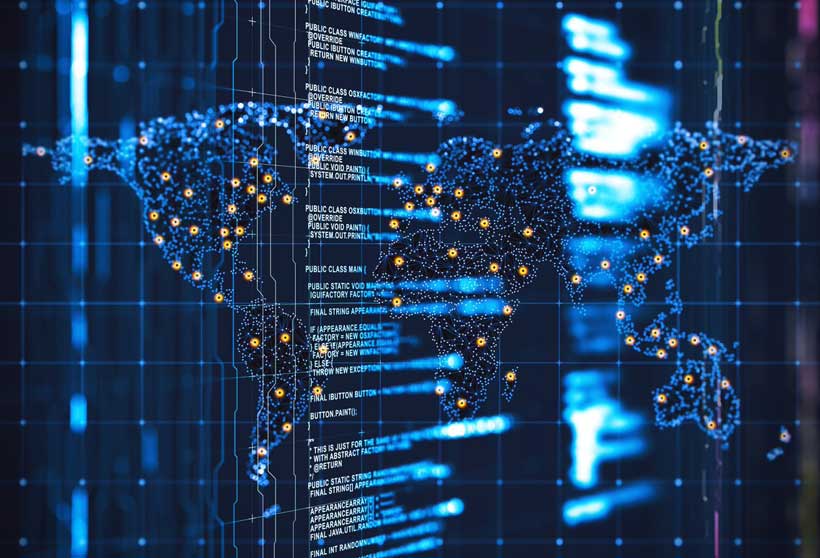 The 2020 election underlined the growing tribalism in the United States with many seeing it as a referendum on the soul, identity, and future of the United States.
One reason for the growing divisions is that Americans increasingly self-segregate, living in communities that reinforce their political, social, religious, and philosophical views facilitating the growth of visceral political anger. Consequently, everything is political and personal and compromises virtually impossible.
The election and the result highlighted that millions of Americans, despite plenty of factual evidence to the contrary, hold views not based on empirical evidence. Millions believe the 2020 election was neither free nor fair and that Democrats support globalist cabals, child-trafficking, paedophilia rings.
The tribalism is most visible in the way many Americans respond to the Covid-19 pandemic with 76% of Republicans and GOP-leaning independents asserting the US had done a good job dealing with the coronavirus outbreak, even though the virus continues to run rampant across the country. Despite plenty of evidence to the contrary around 29% believe Covid-19 is an intentional bioweapon, others believe Bill Gates had planned the pandemic or that 5G technology is responsible for the outbreak.
Without tackling the infodemic, a Biden administration would struggle because proponents of disinformation (the intentional spreading of untruths) and adherent of misinformation (belief in untruth) have increasingly moved from the fringe to the centre.
A study from the Cornell Alliance for Science identified President Trump has the world's biggest disseminator of COVID-19 misinformation. It is therefore unsurprising that so many Americans question not only the root of the pandemic but how to combat it. Consequently, many doubts any information that does not come from Donald Trump, especially as many of his supporters look at life in a binary way, of either full support or full resistance.
Soon after being declared winner, Joe Biden announced the establishment of a COVID-19 advisory board composed of public health experts, whose role would be to aid in coordinating the response to the pandemic. However, relying on science is problematic as the hyper-politicisation has meant many Americans mistrust scientific findings, holding it to be equally biased.
Beyond a highly partisan Congress, which is likely to stall many of Biden's policies, the administration would need to grapple with President Trump's judicial legacy. President Trump not only appointed three Supreme Court justices thus altering the political leaning of the court, but he reversed the trend of promoting diversity. For example, in 1977, the judiciary was predominantly white and male, but successive presidents worked hard to bring forth minorities onto the bench to reflect the nature of American society. President Trump's nominees could end up slowing down or torpedoing an ambitious, reformist agenda. Challenging the legitimacy of the courts would only add to the growing division, especially as studies indicate that over 60 percent of Americans have faith in the judicial branch.
Joe Biden is uniquely suited to address many of these challenges. Firstly, his age may be an advantage; he has lived through many changes, and he can rely on those experiences as he reaches out to people. He has blue-collar roots, and the fact that he attended a non-Ivy League university would appeal to many Americans suspicious of the elites. His religious commitment gives him a unique ability to speak to many of President Trump's religious supporters; he just needs to find the tone.
Biden's principal task should be to use to White House pulpit to speak with people, connect with them, and persuade them to abandon their hyper-partisanship. He should reject President Trump's usage of executive orders, regulatory discretion particularly when things will get tough, such as Senate refusing to confirm his nominees. As an experienced bridge-builder, he must spend more time speaking with people, bringing them to the Oval Office to persuade them to support empirically-test policies. Reminding opponents, he secured the support of over 80 million Americans.
The Biden administration will also face many demands from Progressive claiming they worked very hard to get Biden elected. They will argue, with merit, that having a moderate agenda, one designed to win over moderate Republicans and Independents is a betrayal. However, Biden emphasises his goal is to heal America, to bring an element of stability. To pacify the Progressive, he must emphasise he is overseeing a transitional administration, designed to restore civility and unity and lay the foundation for Kamla Harris.
Reversing the infodemic would take time as it calls for healing divisions and encouraging many Americans to abandon many strongly held ideas, which requires empathy. Joe Biden has the skills to do bring about positive change, and for the sake of many Americans and the world, we must hope that he succeeds.
Fakhrizadeh's Assassination Could Endangers Biden's Diplomacy
The international political situation heats up, especially in the Middle East, after the killing of Iran's leading nuclear scientist, Mohsen Fakhrizadeh. Apart from Mohsen, several other Iranian nuclear scientists have also been killed in the past decade.
Mohsen was attacked in eastern Tehran on Friday (27/11). He was ambushed by an armed group and the target of a Nissan car explosion before a gun battle broke out. He was rushed to the hospital, but his life could not be helped.
Iranian political and military officials have blamed Israel and US as the masterminds behind Mohsen's assassination and attack. Iran's Supreme Leader, Ayatollah Ali Khamenei, called for retaliation for Mohsen's death. Iranian President Hassan Rouhani also said he would retaliate and appoint Israel as the mastermind behind the attack.
Iran and Hezbollah are currently said to be targeting Israelis and Jews around the world. Places owned by Israel and Jews will be the main targets of their retaliation for Mohsen's death. Israel is also raising its guard. The Israeli government is reportedly on standby and is tightening the security of its embassies around the world. Jewish communities around the world are also asked to be on high alert. The Israeli military has also increased its vigilance along the country's borders.
What is interesting is that the US secretly deployed the USS Nimitz aircraft carrier to the Arabian Gulf region last Wednesday. Although US Navy Fifth Fleet Spokesperson, Rebecca Rebarich, denied the movement of the fleet was unrelated to Mohsen's assassination, the international public interpreted the aircraft carrier in order to anticipate the escalation of threats that might arise after the murder case.
There is not much information about Mohsen. Mohsen is the head of the research and innovation organization at the Iranian Ministry of Defense. He's the main figure behind Iran's secret nuclear development.
In April 2018, PM Netanyahu mentioned Mohsen's name when uncovering a nuclear file which he said had been smuggled by Israeli agents from Iran. He named Mohsen as the head of a secret nuclear project called the Amad Project.
In its 2011 report, the UN nuclear weapons watchdog also identified Mohsen as the mastermind behind Iran's nuclear technology. He was considered to have the ability to do so and at that time it was suspected that he still had an important role in these activities.
Mohsen's assassination is certain to provoke a new confrontation between Iran and its enemies, including the United States and Israel, in the final weeks of Donald Trump's presidency.
Mohsen's assassination is considered as the culmination of the US and Israel's strategic plan to sabotage Iran's nuclear program. In fact, various parties consider Mohsen's killing to be the culmination of Israel's long-term plan.
Mohsen has long been the target of several Israeli prime ministers as well as several directors of the Mossad spy agency. This murder was also predicted to aim at uprooting Iran as a country of nuclear knowledge.
However, some international observers have speculated that the main purpose of the assassination was actually to obstruct the US administration in the era of President-elect Joe Biden who will dialogue to find a diplomatic solution to end the conflict with Iran.
What's more, President Biden has expressed his intention to re-enter the 2015 nuclear deal with Tehran, which has been largely devastated since President Donald Trump left the deal in 2018.
Statement from Amos Yadlin, former head of Israel's military intelligence and head of the Institute for National Security Studies (INSS). Amos said whoever makes the decision to assassinate Mohsen should know that there are still 55 days left in which the White House has someone who sees the Iranian threat as they do. In fact, Amos says Biden is a different story. Amos' statement certainly points to President Trump who is still in power in the White House.
Biden's victory: An Opportunity for Transatlantic Reconciliation after Trump and Brexit?
Joe Biden's victory Last November came at a critical point during the Brexit negotiations between The European Union and the United Kingdom. There has been a lot of speculation as to whether a change in the American presidency will substantially affect the talks between Europe and Britain. Realistically speaking, the effect the Democrats' victory in the US will have, at least on Brexit talks before the end of this year, will be minimal.
On a positive note, now that Donald Trump has been defeated, this leaves very little room for the UK to use the threat of a quicker and better deal with the US to try to subdue the EU and make them accept a more pro British agenda. The UK has no longer the US is an alternative to fall back onto if no deal is the result of the negotiations by December 31st.
Since the 2016 British referendum, the decision to leave the EU was enthusiastically greeted by Donald Trump. In very simplistic terms, Trump saw The British "Yes" vote as an act that vaguely resembled his campaign slogan "Let's Make America Great Again." The long standing, more loyal foreign policy ally of the US in Europe, was slowly showing signs to move away from the multilateralism Donald Trump greatly despised.
Ever since the outcome of the Brexit referendum became official, Donald Trump voiced his strong support for the UK to pursue a hard Brexit, and even enticed the British government with the prospect of a robust trade deal between the US and the UK, to convince the UK to drop out of the EU without a deal. In reality, none of those big American promises ever materialised. From 2016 to 2020, Donald Trump did absolutely nothing to support the UK. Biden's victory last November, makes any past promises made by Trump impossible to fulfil.
Biden will, in principle, follow a diametrically opposed foreign policy to Trump's. He sees the EU, and not the UK, ask the key actor that will help him advance American interests in the European continent. While there have been mutual expressions of willingness to strengthen the relationship between the Americans and the British, Joe Biden has always been skeptical of Brexit, and has made it clear from the start that one of his priorities in foreign policy will be to rebuild the relationship with the EU rather than pursuing a trade deal with the UK.
Ideally, should the UK try to have some sort of leverage to negotiate with the incoming American administration, they need to aim to strike a workable deal between with the EU before the end of this year. That, however, seems unlikely to happen. From an American perspective, it is highly probable that the Biden's administration will not prioritise any UK-US trade deal in the foreseeable future. There is a strong possibility that Joe Biden will focus on domestic and close neighbours (Canada and Mexico) Issues during his first year in the presidency.
While this is understandable, considering the legacy of the Trump, Biden also has to be careful enough to avoid the temptation to play hardball with the UK because of Brexit. If he does, this could prove to be a fatal mistake with long lasting consequences, specially in a moment when the West is struggling with its own internal weaknesses and the rise of external threats to its unity.
One aspect that both Europe and the US have to acknowledge is that the importance of the UK goes beyond striking a trade deal with the EU. Looking at the rise of more geographically widespread authoritarian and antidemocratic pressures from central, Eastern Europe, China and Russia, the UK is still plays an important role on the continent's security. Talks on further cooperation on how the EU and the UK will cooperate on foreign and security policy once the transition period ends on 31st of December 2020 have not yet been held. The UK, unfortunately, is likely to remain a crucial partner on such topics especially due to its role as a prominent and active member of NATO, and therefore, talks on this issues should not be left unaddressed.
The UK is aware of its importance militarily, and this explains the £24.1 billion investment announced by the UK Prime Minister, Boris Johnson, this year. This is the largest investment since the end of the Cold War and it aims to modernise the armed forces, as well as to expand the Royal Navy to turn it into the largest fleet in Europe.
This move will enhance the UK's status as Europe's leading military power. The UK has also been among the first respondents to recent security crisis in Ukraine and Belarus. Not engaging with the UK altogether in security and foreign policy issues may prove to be detrimental in the long run for the security in the EU, especially considering the rising tensions and instability in the Ring of Fire, from Belarus to Ukraine, Kyrgyzstan and Nagorno-Karabakh.
The EU's Common Security and Defence Policy (CSDP) and the Common Foreign and Security Policy (CFSP) allow for intergovernmental cooperation, this means that states can pursue their own policies and coordinate them only when they align with the EU's. The CSDP also allows EU member states to intervene when NATO as an alliance chooses not to. To date, there are 17 of such interventions, in all of these, the UK has been the biggest contributor.
Security is an area of opportunity for Europe and the US, Biden could potentially push for the Europeans to grant the UK an observer role in the Political and Security Committee, or the Foreign Policy Council to advance a common security and foreign policy for the region that wouldn't only benefit Europe, but also the US interests in the wider European area.
Recently, the UK has been an advocate of what is called a "Global Britain" that echoes the times of the great British Empire's prominence as a global player. How this will be achieved is still unclear. This grand strategy may fare impossible under current economic and political conditions in the UK and in the world, as well as with the uncertainty surrounding the future relationship of the UK with its neighbours after Brexit.
Anything can happen, the UK could pursue a close, special relationship with Europe where cooperation is prioritised, or there could be a more profound break between the two, where the UK sets its own agenda against the EU's. For decades, the terms Europe and the EU have been used interchangeably. Now that one of the major European players is out of the organisation, both sides have not yet worked out how the future relationship will be. If it continues to be antagonistic this could send the whole continent into a spiral of chaos, reduced capabilities an increased volatility.