Human Rights Council calls on top UN rights official to take action on racist violence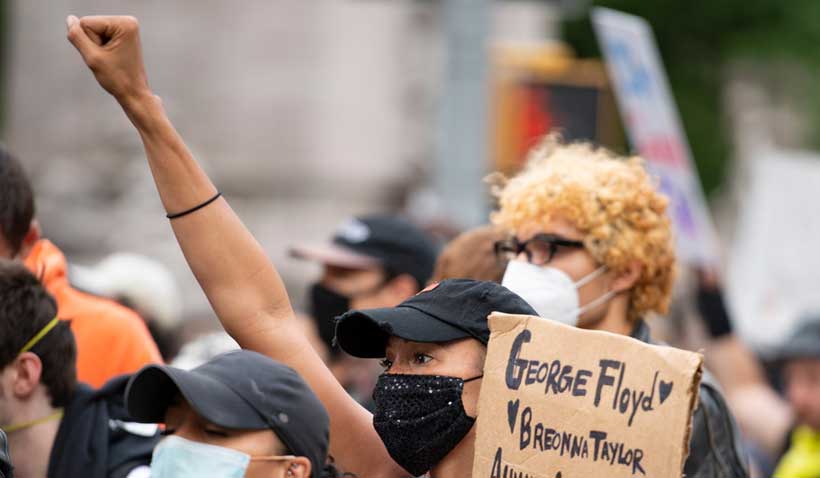 The UN's top rights official, Michelle Bachelet, is to spearhead efforts to address systemic racism against people of African descent by law enforcement agencies, the Human Rights Council decided on Friday. The resolution – decided unanimously without a vote – follows a rare Urgent Debate in the Council earlier in the week, requested by the African group of nations, following the death of George Floyd in the US state of Minnesota.
The unarmed African-American's death on 25 May was captured on video while a police officer knelt on his neck for over eight minutes in Minneapolis, sparking worldwide protest.
During the debate on racism, alleged police brutality and violence against protesters that preceded the resolution's adoption, no less than120 speakers took the floor.
Many expressed sympathy for the family of Mr. Floyd, whose brother also addressed Council members in Geneva, in a passionate pre-recorded video message in which he urged the United Nations to act.
No international probe
Although some delegates had called for an international probe to investigate killings of black people in America, and violence against demonstrators, others maintained that the issue impacted on all nations, and required a broader approach.
In line with the final version of the resolution text, the High Commissioner should "prepare a report on systemic racism, violations of international human rights law against Africans and people of African descent by law enforcement agencies, especially those incidents that resulted in the death of George Floyd and other Africans and of people of African descent".
The text also calls on Ms. Bachelet – assisted by UN appointed independent rights experts and committees "to examine government responses to anti-racism peaceful process peaceful protests, including the alleged use of excessive force against protesters, bystanders and journalists".
Overseeing the resolution, Ambassador Elisabeth Tichy-Fisslberger (Austria), President of the Human Rights Council (14th cycle) announced that the text was ready for their consideration and asked whether a vote could be dispensed with, in light of the general consensus.
'An historic step'
"Excellencies, ladies and gentlemen, I have been informed that a number of resolutions are ready for adoption during this meeting as shown on the screen…So, I would like to ask if there is a request from anybody for a vote…I see none, so may I take it that the draft proposal L50 as orally revised may be adopted without a vote? It is so decided."
In his address to Member States as coordinator of the African Group, Dieudonné W. Désiré Sougouri, Permanent Representative of Burkina Faso to the United Nations Office, declared the Urgent Debate "an historic step" in the combat against racism of which the Human Rights Council could be "proud".
"The international outrage caused by the tragic events that led to the death of George Floyd underlined the urgency and importance for the Human Rights Council to raise its voice against injustice and police brutality which African people and people of African descent are faced with every day in many regions of the world," he said.
The Council also heard widespread declarations of support for an investigation into violence against protesters supporting the Black Lives Matter movement.
Racism will remain 'a priority'
"The fight against all forms of racism and racial discrimination remains a priority for us," said Michael Ungern-Sternberg, Permanent Representative of the Republic of Germany to the United Nations Office at Geneva. "The past weeks, many people around the world raised their voices and took to the streets to send a clear signal that racism and excessive use of force by law enforcement officials against minority populations cannot (any) longer be accepted."
Other speakers insisted that the resolution was necessary and important in promoting awareness about systemic racism, and in continuing the work of implementing key pledges taken to combat the scourge in 2002 at the Durban World Conference Against Racism, Racial Discrimination, Xenophobia and Related Intolerance.
"Black lives matter," said Ambassador Coly Seck, Permanent Representative of Senegal to the United Nations Office at Geneva. Racism continues to happen in many countries too, he said, noting that it was in "flagrant contradiction" to the UN Charter in which we place our faith in the basic rights of man and in the value of the human person".
UN independent experts voice 'profound concern' over US Government accusations of 'domestic terrorism'
And in another human rights development concerning the fallout from protests over George Floyd's death in the US, UN independent experts on Friday expressed "profound concern" over a recent statement by the US Attorney-General describing the so-called Antifa movement and other anti-fascist activists as "domestic terrorists", saying it undermines the rights to freedom of expression and of peaceful assembly in the country.
"International human rights law protects the right to freedom of expression, association and peaceful assembly", said Fionnuala Ní Aoláin, the UN Special Rapporteur on the promotion and protection of human rights and fundamental freedoms while countering terrorism.
"It is regrettable that the United States has chosen to respond to the protests in a manner that undermines these fundamental rights."
Following nationwide demonstrations that began after police in Minneapolis killed African American George Floyd, US Attorney General William Barr warned that alleged violence carried out by Antifa and other movements "is domestic terrorism and will be treated accordingly", noted the press release issued by the UN rights office, OHCHR.
'Loose use of terrorist rhetoric'
Although there has not been an legislative action taken following the 31 May statement, Ms. Ní Aoláin – an expert lawyer who worked extensively in the human rights and terrorism-related field in her native Northern Ireland – said that the "the loose use of terrorism rhetoric undermines legitimate protests and dampens freedom of expression in the United States, which has been a hallmark of US constitutional values, and a beacon far beyond its shores".
Echoing the unease expressed by the UN High Commissioner for Human Rights regarding structural race discrimination in the US, particularly in the realm of policing, the Special Rapporteur said that regulating protests and violence through the lens of counter-terrorism may only sharpen divisions and accentuate tensions, fuelling further human rights violations.
The group of independent experts strongly recommend that the violent elements among peaceful protesters who have been identified by law enforcement, be dealt with fairly, and in accordance to due process under existing penal law.
Ms. Ní Aoláin is urging the US Government to take a human rights-based approach in their response to protests and violence and avoid the misuse and misappropriation of the language of terrorism.
"Unless it does, the Government risks cheapening grave crimes that fall under the rubric of terrorism and failing to fulfil fundamental obligations to ensure counter-terrorism measures are fully compliant with international human rights law."
The Special Procedures of the Human Rights Council constitute the largest body of independent experts in the UN Human Rights system, and they address either specific country situations or thematic issues in all parts of the world.
The experts work on a voluntary basis; they are not UN staff and do not receive a salary for their work, as well as being independent from any government or organization.
UN officials fear US terrorist designation will hasten famine in Yemen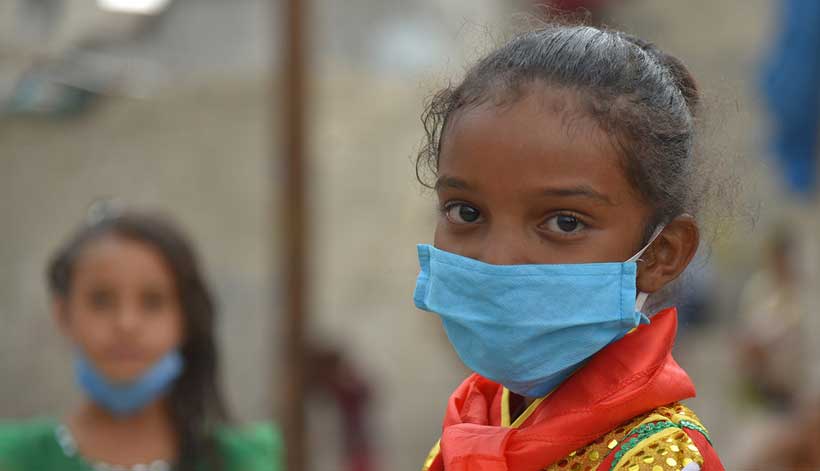 Senior UN officials have expressed concern over the potential impact of the decision by the United States to designate Yemen's Ansar Allah, more commonly known as the Houthi movement, a terrorist group, the Security Council heard on Thursday.
Briefing the online meeting, UN Special Envoy Martin Griffiths said Yemen was going through dark times following a deadly attack last month on its newly-formed Cabinet, and with millions facing potential famine, but emphasized that peace is still possible.
Mr. Griffiths condemned the 30 December attack at the airport in Aden, which targeted the Government officials who had just arrived from Saudi Arabia. Dozens of civilians, aid workers and a journalist were also killed.
"The attack cast a dark shadow over what should have been a moment of hope in the efforts to achieve peace in Yemen. The formation of the Cabinet and its return to Aden was a major milestone for the Riyadh Agreement and for the stability of state institutions, the economy, and the peace process", he said.
"The Government has launched an investigation into the Aden attack and has made its conclusions public earlier today that Ansar Allah was behind the attack."
'Chilling effect' on peace efforts
For more than five years, Yemen has been mired in conflict between the internationally-recognized Government, which is backed by a Saudi-led coalition, and Houthi rebels.
On Sunday, the United States announced it will designate the group a Foreign Terrorist Organization (FTO) under domestic law. Mr. Griffiths expressed serious concern over this prospect.
"We fear in my mission that there will be inevitably a chilling effect on my efforts to bring the parties together. We all hope to have absolute clarity on far-reaching exemptions to be able to carry out our duties", he said.
Yemen remains the world's worst humanitarian crisis. Some 16 million people will go hungry this year, and 50,000 are already essentially starving to death, amid a shortfall in aid. Preventing a massive famine is the most urgent priority, the UN Humanitarian Affairs chief and Emergency Coordinator told ambassadors.
Yemenis stockpiling food
Mark Lowcock called for the FTO designation to be reversed, which Mr. Griffiths also supported, outlining its potential impact on aid relief in a country that overwhelmingly relies on food imports.
He explained that humanitarian agencies provide food vouchers or cash to needy Yemenis so they can shop at markets.
"Aid agencies cannot, they simply cannot, replace the commercial import system," he stressed. "What this means is that what the commercial importers do is the single biggest determinant of life and death in Yemen."
Mr. Lowcock reported that Yemenis are already rushing to markets to stockpile food, while commercial traders fear the designation will affect their operations.
"Some suppliers, banks, insurers and shippers are ringing up their Yemeni partners and saying they now plan to walk away from Yemen altogether", he said. "They say the risks are too high. They fear being accidentally or otherwise caught up in US regulatory action which would put them out of business or into jail."
Although the US plans to introduce licences so that some aid and imports can continue, the relief chief said further details will not be available until 19 January, the day the designation takes force.
Reverse designation, or face catastrophe
The head of the World Food Programme (WFP), David Beasley, gave a blunt assessment of the prospects, putting aside his prepared remarks to speak "heart-to-heart".
"We are struggling now without the designation. With the designation, it's going to be catastrophic. It literally is going to be a death sentence to hundreds of thousands, if not millions, of innocent people in Yemen," he said.
Mr. Beasley, an American, also removed his "UN hat" for a moment, to speak about his engagement with Washington, which allocated $3.75 billion to WFP last year.
"I'm very grateful for that", he said. "But this designation, it needs to be re-assessed, it needs to be re-evaluated, and, quite frankly, it needs to be reversed."
Mr. Beasley added that Yemen is among several countries facing famine, and the COVID-19 pandemic has only exacerbated these crises.
The WFP chief called for Gulf States "to pick up the humanitarian financial tab for this problem in Yemen", and urged the Council and world leaders to apply pressure on the warring parties to end their fighting.
"I can assure you that Mark Lowcock and I will be before you pretty soon talking about other countries," he said. "And if we can't solve this one – this is man-made completely – shame on us."
UNICEF: Closing schools should be 'measure of last resort'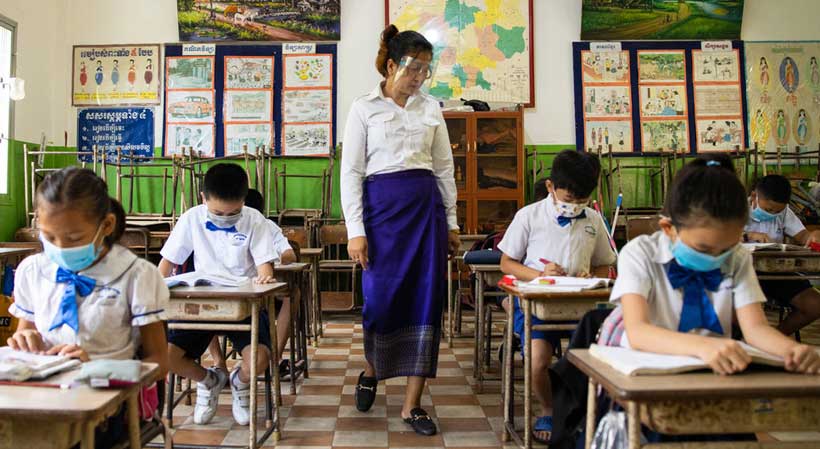 The head of the UN Children's Fund (UNICEF) underscored on Tuesday that "no effort should be spared" to keep children in school, as the coronavirus pandemic continues into a second year.
"Despite overwhelming evidence of the impact of school closures on children, and despite increasing evidence that schools are not drivers of the pandemic, too many countries have opted to keep schools closed, some for nearly a year", Henrietta Fore said in a statement.
A high cost
The UNICEF chief highlighted that the cost of closing schools has been devastating, with 90 per cent of students globally facing shutdowns at the peak of the COVID disruptions last year, leaving more than a third of schoolchildren with no access to remote education.
"The number of out-of-school children is set to increase by 24 million, to a level we have not seen in years and have fought so hard to overcome", she said.
"Children's ability to read, write and do basic math has suffered, and the skills they need to thrive in the 21st century economy have diminished", Ms. Fore added.
Closure a 'last resort'
Keeping children at home puts their health, development, safety and well-being at risk – with the most vulnerable bearing the heaviest brunt, she said.
She pointed out that without school meals, children are "left hungry and their nutrition is worsening"; without daily peer interactions and less mobility, they are "losing physical fitness and showing signs of mental distress"; and without the safety net that school often provides, they are "more vulnerable to abuse, child marriage and child labour".
"That's why closing schools must be a measure of last resort, after all other options have been considered", stressed the top UNICEF official.
Evaluating local transmission
Assessing transmission risks at the local level should be "a key determinant" in decisions on school operations, Ms. Fore said.
She also flagged that nationwide school closures be avoided, whenever possible.
"Where there are high levels of community transmission, where health systems are under extreme pressure and where closing schools is deemed inevitable, safeguarding measures must be put in place", maintained the UNICEF chief.
Moreover, it is important that children who are at risk of violence in their homes, who are reliant upon school meals and whose parents are essential workers, continue their education in classrooms.
After lockdown restrictions are lifted, she said that schools must be among the first to reopen and catch-up classes should be prioritized to keep children who were unable to learn remotely from being left behind.
"If children are faced with another year of school closures, the effects will be felt for generations to come", said Ms. Fore.
Humanitarians seek $1.3 billion to help millions in war-weary Afghanistan
The UN and humanitarian partners in Afghanistan are seeking $1.3 billion to assist almost 16 million people in need of life-saving assistance as a result of decades of conflict, recurrent natural disasters, and the added impact of the continuing COVID-19 pandemic.
The number of people targeted for assistance is over a six-fold increase compared to four years ago, when 2.3 million people were targeted for assistance, according to Stéphane Dujarric, spokesperson for the UN Secretary-General.
The situation of children is particularly worrying.
"It is projected that nearly one in two children under the age of five will face acute malnutrition this year," Mr. Dujarric said on Monday.
Hunger is "soaring" as people have lost their livelihoods, he added, noting that in 2021, nearly half of Afghanistan's population will need humanitarian assistance to survive.
People 'increasingly desperate'
According to the UN Office for Coordination of Humanitarian Affairs (OCHA), across Afghanistan, about 18.4 million people are in need of assistance, a number that rose sharply last year with the outbreak of the coronavirus pandemic.
"While enduringly resilient, people are increasingly desperate, resorting to debt and other more dangerous coping mechanisms to survive including marrying off their young daughters and sending their children to work," Parvathy Ramaswami, Humanitarian Coordinator a.i. for Afghanistan, said in the foreword to a humanitarian response plan.
The survival of the 15.7 million most vulnerable depends on humanitarians operating there receiving sufficient financial resources to deliver a response, she noted, adding that "the consequences of late or inadequate funding are very real."
The outlook for 2021 has worsened further due to significant unmet needs last year due to funding shortfalls and the acute focus on COVID-19, as well as the slow rollout of complementary development assistance, the response plan noted.
'Exhausted and hungry for peace'
Ms. Ramaswami went on to note that in spite of the bleak situation, there is "still cause for hope" with the start of the intra-Afghan negotiations.
"After enduring decades of war, people are mentally exhausted and hungry for peace, yearning for an end to civilian deaths and suffering."
She also highlighted the need for a permanent ceasefire or a persistent reduction in violence, to allow humanitarians to assess the situation, especially in the hard to reach areas.
"Until this much hoped for peace becomes a reality, the humanitarian community stands beside the people of Afghanistan during what surely must be one of the country's difficult periods," the UN official added, stressing "we all must do more, stretch higher, and do better to deliver life-saving assistance to those who need it most."