7 Trends Impacting the Retail and Consumer Products Industries Amid a Global Pandemic and Beyond
As of April 2020, eCommerce year-over-year growth was up 68%, surpassing 40% of total retail sales.
Convenience continues to reign supreme as more than half of consumers reported their willingness to spend more to get what they need.
In 2019, 40% of consumers were willing to pay the same or more for private labels; COVID-19 has further accelerated private brand sales.
Consumers have increased spending on hygiene, sustainable products and organic sales in recent months, with income disparity likely to continue to play a key role in the growth of these categories.
Why this matters
Over the last 20 years, attempting to predict the future of retail and consumer products has become a rite of passage for many industry analysts, experts and pundits. Unfortunately, COVID-19, and its far-reaching impact on the industry, has created an unprecedented disruption that hinders the ability to accurately predict what may come next. Deloitte's report, "The future is coming … but still one day at a time," examines a different way to think about the future path of these industries. Through analyzing years' worth of data, the report identifies a framework of four disruptive forces—consumer preferences, technology advancement, economic pressures and market forces—that have given rise to seven trends likely to shape the future of the retail and consumer products industries.
These trends were built based on analysis done by Deloitte's InSightsIQ, which actively monitors and aggregates a diverse set of real-time consumer, macro, marketplace, competitive and economic data sets to better predict how and when brands can win in the marketplace.
Convenience is the new battleground
Prior to COVID-19, consumers made it clear that convenience matters and the new normal has further accelerated this trend. According to the report, more than 50% of consumers report spending more on convenience to get what they need, with "convenience" increasingly being defined by contactless shopping, on-demand fulfillment and inventory availability. As such, there has been a surge in mobile payment usage, delivery app downloads and buy-online-pick-up-in-store (BOPIS) adoption. For many, this acceleration is driven by scarcity of other options, while others have opted for these models because they perceive them to be safer and healthier.
Commoditization and premiumization of products
According to the study, as of April 4, consumer spend across all retail categories has decreased by more than 40%, placing significant strain on short-term operating margins. This trend has increased private brand sales in recent months, with price and supply chain constraints playing a key role in this growth, as well as consumers trading brand preference for brand availability amid stockouts. It remains unclear, however, if consumers will emerge with new preferences or lower brand loyalty than observed prior to COVID-19. Either way, income bifurcation will likely continue to play a critical role in the choices consumers make.
Digital sales grow, but achieving success remains complex
COVID-19 has accelerated digital channel growth in recent months. By mid-April, online orders grew 130% year over year, with meaningful gains in categories where digital commerce penetration had been historically low, such as grocery. Plus, with consumer mobility significantly decreased, desktop share of digital traffic has seen a significant uptick as consumers swap their phones for computers while at home. However, it is still difficult to determine exactly how these trends will manifest in the long term as stay-at-home orders are lifted and stores re-open.
Moreover, the spike in digital orders has had significant fulfillment implications for retailers, with order picking and last-mile delivery adding to the cost and complexity of the exercise. While consumers have demonstrated a willingness to pay for on-demand fulfillment in the short term, it remains to be seen if they will continue to offset the cost of delivery in the future. Overall, while digital growth remains strong, the ability to profitably pursue that growth remains under tremendous—and growing—pressure.
Brick and mortar changing its role
As of 2019, stores still accounted for a staggering 85% of retail sales. Not only that, in certain categories, the numbers of physical stores have even grown in recent years. In fact, COVID-19 further demonstrated the importance of the physical store, with many brands and retailers experiencing significant revenue loss from the temporary closure of stores.
The dramatic shift to e-commerce has also hastened the redefined role of the physical store, and many retailers have reimagined their stores to serve as order fulfilment centers to meet digital demand and drive last-mile execution. But, it is not yet clear whether this acceleration will be sustained by consumers maintaining digital shopping behaviors or the sector will see a normalization to pre-COVID trends as restrictions are lifted and stores reopen.
New business models have a growing impact
COVID-19 also has led to the adoption of nontraditional models in "essential" categories such as food, grocery and pharmacy, while at the same time decelerating short-term growth of new models in "non-essential" categories. Among these non-essential categories is apparel, where, according to the report, consumer spend has seen a decline of more than 70% versus last year.
Past trends also reveal that economic uncertainty often results in changing consumption habits and the emergence of new models. Retailers and consumer products companies continue to expand outside of their traditional revenue models to fast-track growth and meet changing consumer preferences. However, depending on the impact from the pandemic, it is likely that proliferation of new models will continue, but it remains unclear which models will sustain impact in the long run.
Health and sustainability growing priorities (for some)
COVID-19 also has substantially altered consumer spending habits for healthy and sustainable products. Consumers have dramatically increased spending on hygiene (e.g., hand sanitizer, medicines), sustainable products and organic sales, but it is unclear how much of this volume increase was driven by consumer choice versus availability of options amid out-of-stock conditions.
Income disparity also is likely to continue playing a key role in the growth of health and sustainability markets, with low- and middle-income households reporting more job losses than upper income households (50% versus 32%). This outsized economic pressure on the discretionary budgets of low- and middle-income households may further bifurcate health and sustainability spending across income levels.
Consolidation in retail and fragmentation of market share
With the closure of "non-essential" physical retail locations due to COVID-19, consumers shifted spending to select physical and e-commerce retailers that could provide essential goods and meet their convenience needs. While it is unclear who will be the ultimate winner, the impact of COVID-19 could accelerate further retail consolidation, creating an environment where a small set of players emerges stronger at the expense of smaller or independent players.
At the same time, the pandemic has accelerated short-term fragmentation of packaged goods, either as a true signal of consumer demand or a temporary behavior driven by supply chain constraints and stockouts. Looking ahead, economic uncertainty could have longer-term implications on fragmentation, as brands become increasingly challenged to overcome decreased consumer spend and increased operational challenges.
MSMEs Key to Southeast Asia's Post-COVID-19 Recovery
Strengthening the dynamics of micro, small, and medium-sized enterprises (MSMEs) with innovation and internationalization will be key to revitalizing Southeast Asian economies devastated by the coronavirus disease (COVID-19) pandemic, according to a new report from the Asian Development Bank (ADB).
MSMEs are a critical driving force in Southeast Asian economies, accounting for an average of 97% of all enterprises and 69% of the national labor force from 2010 to 2019. They contributed an average of 41% of each country's gross domestic product over the same period.
"MSMEs in Southeast Asian economies mainly focus on domestic markets and their level of entrepreneurship remain suboptimal. Supporting the development of MSMEs, particularly in technology adoption and participation in global supply chains, will contribute to inclusive growth and aid in recovery efforts from COVID-19," said ADB Chief Economist Yasuyuki Sawada. "We're confident that this new report, Asia Small and Medium-Sized Enterprise Monitor (ASM) 2020, which provides a rich set of data and analyses on MSME development in Southeast Asia pre-COVID-19 pandemic, would become a benchmark in helping design feasible government assistance for MSMEs amid a new normal in the region."
The first volume of ASM 2020, released today at a virtual launch attended by ADB Vice-President for Knowledge Management and Sustainable Development Bambang Susantono, presents a detailed assessment of financial and nonfinancial issues facing MSMEs in Southeast Asia at both the country and regional levels. It also analyses policies and regulations surrounding MSME development and access to finance in each country in Southeast Asia.
Key findings from the report's second volume, to be released on 28 October, examines the impact of COVID-19 on MSMEs in Indonesia, the Lao People's Democratic Republic, the Philippines, and Thailand based on rapid surveys conducted from March to May this year. The challenges faced by MSMEs in the region have been exacerbated by COVID-19, with demand for MSME products and services declining since the onset of the pandemic. This has resulted in layoffs, reduced business operations, and a depressed outlook for the sector. The report explores policy approaches that could support MSMEs during and after the pandemic.
ASM 2020's remaining two volumes will be released by the end of 2020. They comprise a thematic chapter analyzing the impact of fintech-based loans to tricycle drivers in the Philippines; and a technical assessment that will present ADB's new Small and Medium-Sized Enterprise Development Index.
Recession Deepens as COVID-19 Pandemic Threatens Jobs and Poverty Reduction in Western Balkans
The COVID-19 pandemic has plunged the Western Balkans region into a deep recession, with drops in both domestic and foreign demand, coupled with disruptions in supply chains, forcing all six countries in the region into negative growth territory for 2020. According to the World Bank's latest Regular Economic Report (RER), economic growth is forecast to contract by 4.8 percent in 2020, 1.7 percentage points lower than forecast in April. A second, stronger wave of the pandemic since mid-June is delaying economic recovery in the region. Travel restrictions and social distancing measures have also depressed growth in those countries more reliant on tourism.
The pandemic is further challenging labor markets in the region and threatening to undermine the progress that countries have made on improving the population's welfare. By June, unemployment in the region had risen by a half of a percentage point, erasing 139,000 jobs. An additional 300,000 people are estimated to have fallen into poverty in Albania, Kosovo, Montenegro, and Serbia – a significant number, but less than half of the total that would have fallen into poverty had response measures not been put in place, notes the report.
"Like in much of the rest of the world, the COVID-19 pandemic is continuing to hit people hard in the Western Balkans, threatening threatening the health and economic well-being of people in all six countries," says Linda Van Gelder, World Bank Country Director for the Western Balkans.
"As bad as this situation is, it would have been much worse had governments not taken swift measures from the outset of the crisis. The first priority remains getting the health crisis under control and limiting the economic damage. Policymakers in the region will then need to focus on strengthening their economic fundamentals for a resilient recovery."
According to the report, all six countries in the region were quick to introduce policies to protect lives and livelihoods. The introduction of large job-retention schemes, including employee subsidies, helped arrest some of the worst impacts of the pandemic on employment, while social assistance programs, such as cash transfers, helped protect the most vulnerable populations in the region in the face of lockdowns and other restrictions.
Despite these measures, however, the gains in labor force participation made in the region over the last few years have now been erased and progress on poverty reduction is being imperiled by the crisis. Compounding these challenges are soaring fiscal deficits in the region, as governments continue to spend more to counter the economic contractions in the face of plummeting revenues. With the end of the economic crisis uncertain, pressure on labor markets and incomes is likely to continue for some months.
"Apart from improved health systems and robust social protection mechanisms, policymakers in the region will need to take measures to enhance human capital, build stronger institutions and strengthen the rule of law. The unfortunate situation of needing to spend more in a time of declining revenues puts additional pressure on governments in the region to prioritize fiscal sustainability, including through improving public spending and strengthening tax compliance," says Linda Van Gelder.
The report acknowledges that the speed of recovery, in the short term, will depend on how the pandemic evolves, the availability of a vaccine that allows for the normalization of economic activity, and a sustained recovery for the region's main trading partner – the European Union (EU).
Collapsing consumer demand amid lockdowns cripple Asia-Pacific garment industry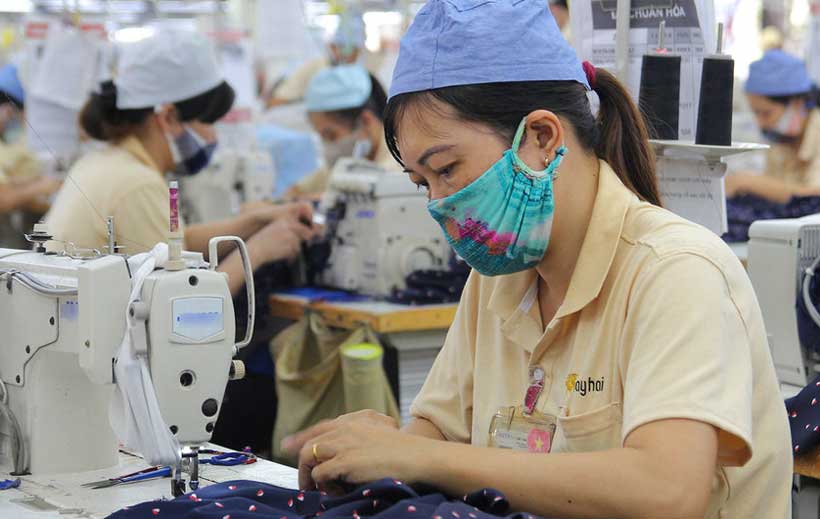 The COVID-19 pandemic has triggered government lockdowns, collapsed consumer demand, and disrupted imports of raw materials, battering the Asia Pacific garment industry especially hard, according to a new report released on Wednesday by the International Labour Organization (ILO).
The UN labour agency highlighted that in the first half of 2020, Asian imports had dropped by up to 70 per cent.
Moreover, as of September, almost half of all garment supply chain jobs, were dependent on consumers living in countries where lockdown conditions were being most tightly imposed, leading to plummeting retail sales.
ILO Regional Director for Asia and the Pacific, Chihoko Asada Miyakawa, pointed out that the research highlights "the massive impact COVID-19 has had on the garment industry at every level".
Ripple effect
In 2019, the Asia-Pacific region had employed an estimated 65 million in the sector, accounting for 75 per cent of all garment workers worldwide, the report reveals.
Although governments in the region have responded proactively to the crisis, thousands of factories have been shuttered – either temporarily or indefinitely – prompting a sharp increase in worker layoffs and dismissals.
And the factories that have reopened, are often operating at reduced workforce capacity.
"The typical garment worker in the region lost out on at least two to four weeks of work and saw only three in five of her co-workers called back to the factory when it reopened", said Christian Viegelahn, Labour Economist at the ILO Regional Office for Asia and the Pacific.
"Declines in earnings and delays in wage payments were also common among garment workers still employed in the second quarter of 2020".
Women worst impacted
As women comprise the vast majority of the region's garment workers, they are being disproportionately affected by the crisis, the report tracked.
Additionally, their situation is exacerbated by existing inequalities, including increased workloads and gender over-representation, as well as a rise in unpaid care work and subsequent loss of earnings
Moving forward
To mitigate the situation, the brief calls for inclusive social dialogue at national and workplace levels, in countries across the region.
It also recommends continued support for enterprises, along with extending social protection for workers, especially women.
The ILO's recent global Call to Action to support manufacturers and help them survive the pandemic's economic disruption – and protect garment workers' income, health and employment – was cited as "a promising example of industry-wide solidarity in addressing the crisis".
"It is vital that governments, workers, employers and other industry stakeholders work together to navigate these unprecedented conditions and help forge a more human-centred future for the industry", upheld Ms. Miyakawa.
Nuts and bolts
The study assessed the pandemic's impact on supply chains, factories and workers in Bangladesh, Cambodia, China, India, Indonesia, Myanmar, Pakistan, Philippines, Sri Lanka and Viet Nam.
It is based on research and analysis of publicly available data together with interviews from across the sector in Asia.