Prospects and Challenges for Indonesia to Counter IUU Fishing as a Transnational Organized Crime
Authors: Ahmad Almaududy Amri Ph.D and Aloysius Selwas Taborat LL.M*
Ocean governance has never been so crucial as it is now since the conclusion of the United Nations Convention on the Law of the Sea (UNCLOS) in 1982. The myriad and multifaceted dimensions of ocean governance have intertwined in a complex manner.
Major impacts of climate change as exhibited in a growingly warmer and acidic global ocean, rising sea level, and the retreating of sea ice (2020 Copernicus Ocean State Report) continue to pose existential problems to policy makers worldwide. On the other front, ocean governance is tightly related to global development agenda, the United Nations Sustainable Development Agenda (Agenda 2030).
Against the backdrop of this global landscapes, the question about how to better address illegal, unreported, and unregulated fishing (IUUF) rise to eminence. A 2019 Blue Paper titled "Illegal, Unreported and Unregulated Fishing and Associated Drivers", commissioned by the High Level Panel for A Sustainable Ocean Economy, asserts that IUUF is, among others, a criminal and human rights phenomenon.
The Paper also pointed out that "…although many efforts to stem IUU Fishing are international, national governments must initiate much of the action, including regulating their own coastal fisheries, enacting regulations at ports of entry, ratifying international agreements, and employing new tracking and transparency technologies". Indeed, not an easy feat for national policy makers. They have to tame the recalcitrance of both global and domestic fabric of policies.
In such a context, policy makers are under constant pressure to cater and deliver to the specificity of IUUF problems and challenges that besieged the extent and possibilities of their policy arsenals. And in the Indonesian context, we argue that such dilemma concerns with the fundamental question of to what extent should IUUF be addressed from a criminal and law enforcement perspective. In other words, how can a criminal and law enforcement approach to IUUF can complement Indonesia's policy to address IUUF's environmental and developmental dimension. We attest, that a criminal and law enforcement approach to IUUF is indeed plausible and imperative.
One of the most pressing issues in the combatting of IUUF from a criminal and law enforcement perspective is whether a penal sanction can be applied in the Exclusive Economic Zone (EEZ), the maritime domain where IUUF occurs the most. In 2016, at the 25th Session of the Commission on Crime Prevention and Criminal Justice (CCPCJ), the Indonesian Government introduced IUUF as transnational organized crime (TOC).The criminalization of IUUF as TOC, provided the legal framework to justify the enforcement of penal sanctionsin any maritime zones, notwithstanding EEZ. Punitive approach is critical to deter future IUUF practices.
The current global landscapes and domestic context, particularly with the growing importance of ocean governance, provides an impetus for Indonesia to rethink and reconsider its strategy in combatting IUUF as a TOC. After all, global efforts to address this issue must be anchored on a forceful initiative and measure at domestic level, if goals or commitments were to ever work at all. Hence, the following strategies can therefore be considered.
I. Usage of appropriate term
IUUF is a well-defined term particularly by the Food and Agriculture Organization (FAO) and considered as an act violating administrative regulations (fisheries management concern). Thus, in accordance with this understanding, IUUF conducted in EEZ cannot be penalized. To address this, the term IUUF should be changed. Terms such as fisheries crime may be the best option.
II. Proposing resolutions at regional and multilateral forums
Garnering international support is a must. Efforts at regional and global levels must be strengthened with tailor-made approach to every cooperative platform.
In 2007, together with United States and Timor Leste, Indonesia sponsored an ASEAN Regional Forum (ARF) Statement on Cooperation to Prevent, Deter, and Eliminate IUUF. The preamble paragraph stipulated that ARF is working to ensure that national legislation and enforcement regimes provide appropriate administrative, civil, and/or penal sanctions to prevent, deter, and eliminate IUUF. This statement is critical as a stepping-stone in raising awareness about IUUF and how penal sanctions may be applicable in the future. But this statement alone is insufficient. It is imperative to endorse this idea in a more global scale.
CCPCJ has indeed acknowledged fisheries crime as an emerging crime. However, CCPCJ is still weighing the possibility to classify fisheries crimes as TOC. Indonesia can identify the possibility to initiate a resolution on this issue in CCPCJ.
III. Usage of relevant international legal frameworks
a. UNCLOS
Article 73 (3) UNCLOS stipulates that violation of fisheries laws and regulations of the coastal state's EEZ may not include imprisonment and other forms of corporal punishment. Nonetheless, it provides avenue shall states wish to impose other kinds of punishments/sanctions. But such sanctions should be first agreed by other contracting states in a form of an agreement. The said agreement should clearly stipulate the kinds of punishments/sanctions enforced to the perpetrators conducting illegal fishing in the EEZ. Indonesia can capitalize this provision by negotiating such agreement bilaterally, regionally or multilaterally.
b. UNTOC
United Nations Convention against Transnational Organized Crimes (UNTOC) has explicitly listed the criteria of crimes that can be categorized as serious crimes. Article 3 (1) mentions that a crime is a serious crime if the offence is transnational in nature and involves organized criminal groups. Indonesia can utilize UNTOC to categorize fisheries crimes as TOC and to make it a new predicate crime hence creating a new legal norm.
IV. Domestic efforts
Indonesia should revise its domestic law to accord with the said efforts. The current Fisheries Act No. 31/2004 (as amended by Act No. 45/2009) has no penal sanctions. Additionally, Circular Letter of the Supreme Court (SuratEdaran Mahkamah Agung) No. 3/2015 in point 3 supported Article 73 (3) UNCLOS which in principle stated that perpetrators conducting IUUF activities in the Indonesian EEZ can only be asked to pay fine (reasonable bond) and not imprisonment.
Modification to the existing laws is inevitable if Indonesia were to go all the way in making IUUF or fisheries crimes as TOC. Most of the cases in Indonesia, IUUF perpetrators are not able to pay fines. The practice in Australia might serve as a reference, whereby it imposes imprisonment as a subsidiary punishment to fine. If the perpetrators unable to pay fine, the fine would be converted to number of days in prison.
Efforts to categorize IUUF or fisheries crimes as TOC will require lengthy process at both domestic and international level. Nevertheless, a meaningful step by Indonesia to address IUUF in a non-business as usual manner will serve as a building block to the global efforts.
*Aloysius Selwas Taborat LL.M holds LL.M degree from Washington College of Law, American University.
DISCLAIMER: Views expressed above are the authors' own.
Bali governor puts Indonesia on the spot
A refusal by the governor of Hindu-majority Bali to host an Israeli soccer team at this May's FIFA Under-20 World Cup puts the Indonesian government, football association, and foremost Muslim civil society movement on the spot.
Wayan Koster's refusal threatens to lead FIFA to deprive Indonesia of its hosting rights, which oblige it to allow national teams to compete irrespective of whether countries recognise one another.
The International Paralympic Committee (IPC) stripped Malaysia of its right to host the 2019 World Para Swimming Championship because it refused to allow Israel to participate.
"We request the Minister adopt a policy of banning the Israeli team from competing in Bali. We, the provincial government of Bali, declare that we reject the participation of the Israel team to compete in Bali," Mr. Koster wrote in a March 14 letter to the youth and sports ministry a day after the minister resigned because he was elected deputy chairman of the Indonesian Football Association.
Indonesia has refused to establish diplomatic relations with Israel as long as it fails to resolve its conflict with the Palestinians.
The rise of a far-right, ultra-nationalist, and religiously ultra-conservative Israeli government has further dampened already dim hopes that the world's most populous Muslim-majority country and democracy would follow the United Arab Emirates and other Arab states in recognising Israel soon.
This week, the Indonesian foreign ministry condemned Israeli Finance Minister Bezalel Smotric's denial of Palestinian existence. "Indonesia continues to consistently support the Palestinian people's struggle," the ministry said.
Earlier, ministry spokesman Teuku Faizasyah asserted that Israeli participation in the FIFA tournament would "not weaken Indonesia's consistent position on Palestine."
If world soccer body FIFA deprived it of its hosting rights, Indonesia would suffer a setback in positioning itself as a Southeast Asian sports powerhouse. In addition, Indonesia would lose its spot in the championship.
Indonesia qualified for this year's tournament as the host rather than because of its performance in qualification matches.
Mr. Koster's refusal was celebrated by Muslim oragnisations, including the Indonesian Ulama Council (MUI), which groups the country's top clerics, and Muhamadiyya, the country's second-largest civil society movement with tens of millions of followers. The groups this week protested Israeli participation in the tournament.
The refusal and the protest shine a spotlight not only on pro-Palestinian sentiment in Indonesia but also the at times blurred distinction between legitimate criticism of Israel and anti-Jewish sentiment.
To be sure, the slogans of the protest were anti-Israel, not anti-Jewish.
Even so, Israel has sought to spin crossovers between the two to discredit all criticism as anti-Semitism.
The controversy over Israeli participation in the Bali tournament also highlights the outreach to Jews and other faith groups by Indonesia's Nahdlatul Ulama, the world's largest and most moderate civil society movement.
Nahdlatul Ulama has been a driving force in reforming Islamic law to rid it of supremacist concepts. Some 20,000 Nahdlatul Ulama Islamic scholars in 2019 replaced the notion of the kafir or infidel with that of a citizen.
In addition to tackling problematic concepts in Islamic law, Nahdaltul Ulama has been at the forefront of efforts to take inter-faith dialogue beyond hollow, feel-good, lovey-dovey declarations by putting historical grievances, truth-telling, and the troubled histories of Islam and other faiths on the agenda.
Nevertheless, Aan Anshori, a young Nahdlatul Ulama religious scholar, cautions that antipathy in Indonesia toward Jews is "culturally deep-seated."
"The key to turning this around is to instill the importance for coexistence between Islam and other faiths today," Mr. Anshori said.
Last year a poll showed that 51 per cent of Indonesian Muslims had serious misgivings about having Jewish neighbors, 57 percent opposed allowing Jews to teach in public schools, and 61 per cent objected to Jews becoming government officials.
Also last year, the alliance of Islamic scholars on the Javan island of Madura, a region with a history of intolerance, and a conservative cleric who identifies himself as a Nahdlatul Ulama associate, protested against the participation of an Argentinian rabbi, known for her advocacy of human rights, in a summit of religious leaders organised by the group under the auspices of Indonesian President Joko Widodo.
"I am an NU (Nahdlatul Ulama) member, rejecting (the leadership's) efforts to bring the Jewish rabbi, Silvina Chemen, to Indonesia… The infidels from the children of Israel have been cursed through the words of Prophet Dawud (David) and Prophet Isa (Jesus), son of Maryam (Mary)," said Luthfi Bashori Alwi.
A Sunni Muslim mob armed with machetes and sickles attacked and burnt a Shiite-majority village in Madura in 2012, killing a 45-year-old woman and seriously injuring several others.
Nahdlatul Ulama secretary general Yahya Cholil Staquf set the tone for his leadership by addressing, shortly after his election in January 2022, the Simon Wiesenthal Center on Holocaust Remembrance Day as well as the Palestinian embassy in Jakarta at about the same time.
Calling for compassion, Mr. Staquf referred only obliquely in his Wiesenthal Center speech to the Palestinians and other repressed groups.
He noted that "Holocaust remembrance serves as a memorial and vivid reminder of the cruelty, violence, and suffering that so many human beings — acting in the name of their 'group identity,' whether ethnic, racial, religious, or political — have, for thousands of years, inflicted upon others. This pattern of malignant behavior continues to threaten humanity, and civilization itself, to the present day."
Mr. Staquf was more explicit in his speech at the Palestinian embassy.
"If the people of the world fail to ensure a better, more noble future for Palestinians, humanity will have failed in its collective responsibility to ensure a better future for everyone, by fostering the emergence of a global civilization," Mr. Staquf said.
Mr. Staquf is one of two Nahdlatul Ulama leaders, alongside former Indonesian President Abdurrahman Wahid, to visit Israel. Mr. Wahid travelled when he was head of Nahdlatul Ulama rather than when he was head of state.
Discussing his own experience Ezra Abraham, a 29-year-old Indonesian Jew, suggests that engagement with others as well as frank and honest dialogue as pursued by Mr. Staquf produces results.
"Part of the problem (in Indonesia) is that the decades-long invisibility of the Jewish people has made us into the convenient, never-seen bogeyman,.. At past interfaith events, (Indonesian) Muslim participants were initially uncomfortable when I told them I was Jewish. But by the end of our frank discussions, most would've modified their stance," Mr, Abraham said.
Indonesia: Climate Change Challenges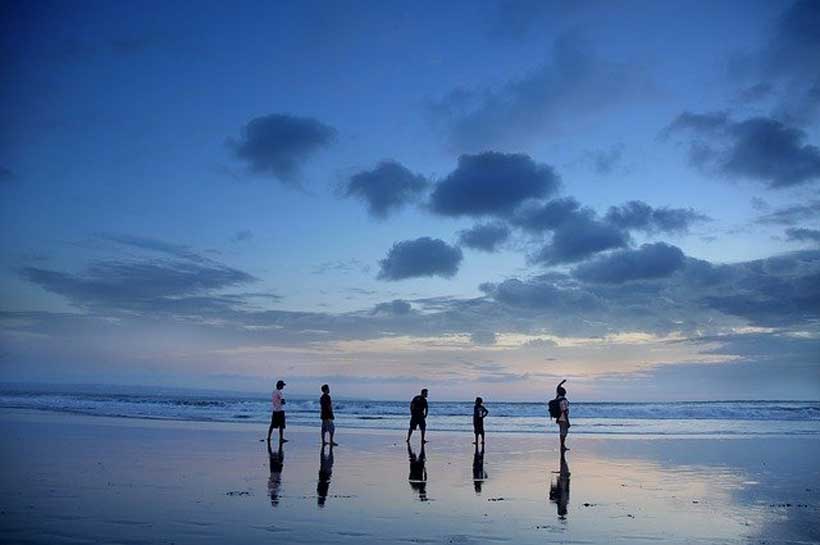 Indonesia is a nation that faces the threat of drowning land due to the impact of global warming. Rising sea levels, caused by the warming of the Earth's atmosphere, are leading to the submergence of low-lying areas in the country, particularly in coastal regions. The effects of this problem are not limited to the loss of land, but also include the displacement of populations, environmental degradation, and the potential exacerbation of social, economic, and political issues.
The impact of rising sea levels on Indonesia's archipelagic status is a real concern as many of its outermost islands and basepoints could potentially be submerged in the future. As an archipelagic state, Indonesia benefits greatly from UNCLOS, which permits Indonesia to claim sovereignty over all of the waters between its islands. If sea levels rise, the basepoints used for drawing archipelagic baselines might be partly or fully covered by water, affecting the measurement of the allowable distance between all the basepoints. In a worst-case scenario, where the basepoints are completely underwater, Indonesia may have to find alternative basepoints or rebuild them. Rising sea levels could cause total territorial loss, including the loss of baselines and maritime zones measured from them.
To protect its archipelagic status, Indonesia needs to assess the impact of sea level rise on the outermost points of its islands and drying reefs of its archipelago. It should also record the heights above sea level of these basepoints, and how much they will be impacted by sea level rises. Indonesia could consider declaring its archipelagic baselines as final once defined and declared notwithstanding sea level rise. Additionally, Indonesia and other Southeast Asian countries threatened by rising sea levels could adopt a regional declaration recognizing the stability of their baselines and secure their maritime entitlements. As chairs of ASEAN this year, Indonesia could take this opportunity to take collective action to respond to rising sea levels.
The issue of environmental migrants is closely tied to this problem. Environmental migrants are individuals or groups of people who are forced to migrate from their homes or communities due to environmental factors, including sea-level rise, drought, desertification, and deforestation. In the case of Indonesia, many people are likely to be displaced by the submergence of coastal areas, which can lead to a variety of challenges, including housing insecurity, food insecurity, and economic instability.
In the face of these challenges, it is crucial that effective protection of fundamental human rights is prioritized. This includes ensuring that the rights of environmental migrants are protected, including the right to adequate housing, food, and healthcare, as well as the right to seek asylum and protection from persecution. Governments must also take steps to address the root causes of environmental migration, such as by reducing greenhouse gas emissions and promoting sustainable development.
Existing policies and international frameworks, such as the United Nations Framework Convention on Climate Change and the Paris Agreement, provide a basis for action on this issue. However, it is essential that governments and other stakeholders take concrete steps to implement these policies effectively, and that the voices of affected communities are heard in the decision-making process. This requires a commitment to collaboration, transparency, and accountability at all levels of governance, as well as a recognition of the urgent need to address the threat of climate change and its impact on vulnerable populations.
International efforts, such as the International Organization for Migration's support for a research project on climate and migration in Indonesia, and the World Bank's South Asia Water Initiative and Climate Adaptation and Resilience for South Asia project, are encouraging but insufficient. Therefore, three policy recommendations to reduce the risk of climate-induced migration in South Asia are offered:
-Promote more livelihood opportunities in non-agricultural sectors to reduce the vulnerability of agriculture workers to climate-driven displacement.
-Empower non-federal authorities to better tackle climate-induced displacement risks, particularly at the local level.
-Host and sponsor dialogues and other exchanges to generate greater regional cooperation so that South Asian states can jointly combat the shared and transnational threats of climate change and climate-induced displacement.
The threat of drowning land in Indonesia due to global warming highlights the urgent need for action on the issue of environmental migration and the protection of fundamental human rights. Governments and other stakeholders must work together to address the root causes of this problem and to provide effective support and protection to affected communities.
Indonesia's Leadership in ASEAN 2023: Young Generation as Game Changers in Echoing Regional Peace Narratives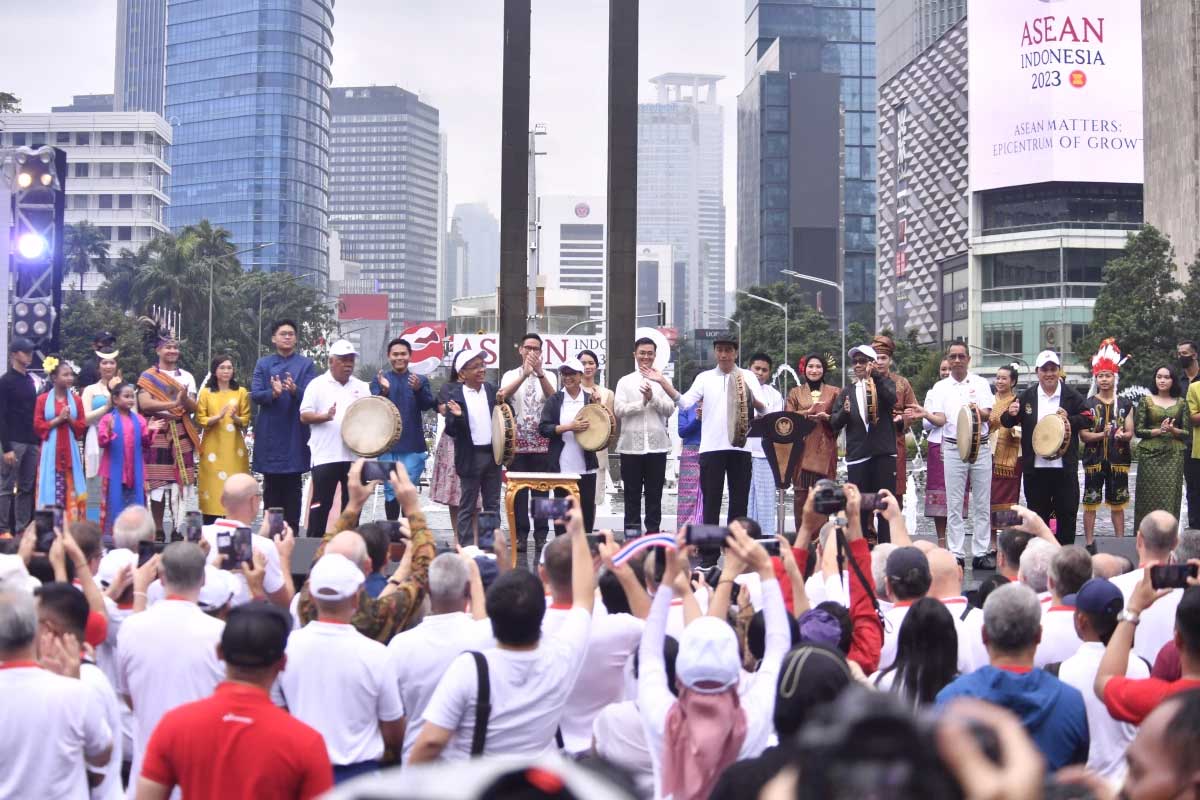 'ASEAN Matters: Epicentrum of Growth' was announced by President Joko Widodo as the theme for the one-year relay of Indonesia's leadership in ASEAN at the ASEAN Summit agenda on 13 November 2022 in Cambodia. As can be seen, Indonesia has received a lot of trusts and a progressive image from the international order, as evidenced by its success at the G20 multilateral economic cooperation forum in 2022, and this year Indonesia is preparing to become the leader of the regional organization agenda of The Association of Southeast Asian Nations (ASEAN) (Setkab, 2022). Indonesia openly gets many opportunities to introduce its identity to be more vocal regionally and multilaterally, one of which is introducing basic Indonesian principles such as Pancasila and Bhinneka Tunggal Ika (different but still one), which are compact or following the principles of international organizations which Indonesia chairs. As a reflection, ASEAN is indeed thick with diversity, so solidarity is one of the principles upheld. Archipelagically, Indonesia is a country composed of tracks of reconciliation with differences. So, in terms of harmonizing the differences that occur, Indonesia has vital ammunition for that.
The effort and enthusiasm of innovative and creative youth in various fields is a potent ammunition from Indonesia. According to the Central Statistics Agency (BPS), in 2021, the youth in Indonesia will be around 64.92 million people, or around 23.90% of Indonesia's total population (Mahdi, 2021). What about the number of youths within the scope of ASEAN? ASEAN estimates that the total population of the younger generation will be around 220 million in 2038, which has yet to be accumulated with the estimated calculation of Timor Leste's inclusion as the 11th member of ASEAN (CNN, 2022). So, the total population explosion must be utilized as the epicenter of progressive growth for all ASEAN countries. Referring to article 32 of the ASEAN charter, ASEAN leaders have three main tasks: spokesperson, chief executive, and tabling new initiatives. Also, in carrying out this leadership, the ASEAN chairperson must pay attention to several things: actively advancing and enhancing the interests of ASEAN members, guaranteeing ASEAN centrality, representing ASEAN, ensuring an adequate response, and carrying out its duties, principles, and functions to the fullest (ASEAN, 2008). There are three main pillars in the topic of ASEAN discussion; the first is the economic sector which is discussed in the ASEAN Economic Community (AEC), politics in the ASEAN Political-Security Community (APSC), and socio-culture in the ASEAN Socio-Cultural Community (ASCC). A topic that is interesting to young people and has a variety of uniqueness due to the diversity of ASEAN is ASCC-based so socio-cultural terminology will be the main focus of writing. The heart of ASCC is to ensure the quality of life (QOL); quality of life of the ASEAN people through cooperative activities with the concept of being people-oriented, people-centered, environmentally friendly, and promoting sustainable development (ASEAN, 2016). Therefore, when Indonesia chaired ASEAN, he had a significant role in maintaining regional and domestic stability. When the quality of life and regional stability are met, the situation is safe and free from threats, and the obstacles to achieving ASEAN's vision can be reduced in tension. Regarding peace, the young generation of ASEAN, especially in Indonesia, must be introduced and well-educated as a game-changer to create peace in the Southeast Asian region. So, this article simultaneously proves the question, how can Indonesian youth be actively involved in ​​regional peace through the momentum of Indonesia's chairmanship in ASEAN in 2023?
Looking back on youth involvement in ASEAN, for the first time in 2022, ASEAN held a Youth Dialogue under the chairmanship of Cambodia in ASEAN in 2022. This Youth Dialogue is being held jointly with the Republic of Korea (ROK) and resulted in policy recommendations as a form of commitment from the younger generation in preparing for the industrial revolution 4.0 in the era of recovery from the COVID-19 pandemic (ASEAN, 2022). In other forums still under ASEAN's attention, the younger generation has only made and submitted policy recommendations that have yet to be contributively and actively involved in the ASEAN process. Indicators or parameters of the younger generation's influence in ASEAN regional forums still need to be determined because the younger generation still plays a passive role in ASEAN. On the other hand, many youth-based organizations, forums, communities, and start-ups in Indonesia exist. Until now, there are 2,346 start-ups in Indonesia, making Indonesia the first-ranked country with the most significant number of start-ups beating Singapore in second (Annur, 2022). Start-ups indicate the development of the young generation's innovation and are a model and proof that Indonesia's young generation already has the ammunition to put a 'sense of influence' among Southeast Asia's younger generation. Indonesia's momentum as chair of ASEAN in 2023 should further facilitate and provide opportunities for Indonesia's young generation to become the epicenter of creation and innovation for the younger generation in the Southeast Asian region. The government must open up space for collaboration and cooperation between the younger generation of Indonesia and other young people in the ASEAN region so that the benefits generated are not only for the younger generation who will continue ASEAN in the future.
Citing the vital role of an ASEAN chairman, Indonesia has full power, for example, in recognizing the existence of a strategic and applicable youth regional forum according to the needs of the younger generation, for example, in cybercrime case studies. Events regarding cyber warfare and its derivatives are exciting and essential for the younger generation who live in an era of digital transformation where war, political weapons, the economy, and various aspects that can weaken national security are carried out through cyberspace. The point of cyber security at the ASEAN level must be a shared concern and mission. This mission can be focused on the younger generation, firstly through policy recommendations, secondly also through meetings or gatherings under the pillars of ASEAN in which the younger generation has not been a representative so far to listen to and interpret debates which also ultimately have an impact on their welfare, the younger generation can become observers in meetings involving high-ranking state officials, even though at the closing ceremony or summit, in the end, the younger generation can feel the atmosphere of meetings in ASEAN. In another form of involvement, the younger generation in Southeast Asia should have a common interest or shared goals, especially in viewing the centrality of ASEAN, and in this case, shared goals are formulated through meetings at the youth level which will ultimately position ASEAN to have a youth-way. The existence of multilateral forums such as dialogues and conferences will further increase awareness and a sense of solidarity with each other, so that common interests arise. The younger generation must promote, innovate, and integrate ASEAN in the focus of any issues that ASEAN will implement in the ASEAN leadership under Indonesia as its chairperson in 2023.
This analogy can describe the relationship of involvement and interrelationship between peace, the younger generation, and Indonesia's leadership. Peace is a goal to be achieved, while the younger generation is a tool (game-changer) in achieving this goal, and Indonesia's chairmanship of ASEAN in 2023 is the time or momentum. Through the younger generation, the concept of peace regarding fairness in opinion and innovation, the right to be protected from threats, and the right to be free to make choices these values ​​will be reflected when the younger generation knows their position and what is the urgency and justification for their existence in this context. Indonesia's leadership in several forums has been left from regional to multilateral. The low failure rate in these leadership positions indicates that peace as a form of embodiment of ASEAN's vision and solidarity in its journey is possible, primarily through the younger generation's involvement. Harmonization between the values ​​upheld in each country in ASEAN, under the umbrella of ASEAN centrality, is expected not to become an obstacle to the unity of these ASEAN countries. Because the main actors are the younger generation, and the younger generation tends to have a character that likes to work together and produce new ideas exclusive to their field, the tendency to distort one another is rated low. Moreover, ASEAN is the driving force for the movement of the younger generation. A package that complements and fulfills one another.
The game-changer idiom construction in the title refers to the player context, which can bring about change very effectively. When the younger generation already has a portion of involvement, then the younger generation should make the most of this position. The more optimal the role of the younger generation, the more ASCC points will be achieved and creating ASEAN as the epicenter of growth, meaning that the full significance of change is approaching the final goal, then the young generation's point as a game-changer will be realized. In the track record of making peace with differences, the young generation sparks significant peace (volcanically) in voicing an issue. It means that Indonesia's ammunition through the younger generation as a game-changer is no longer wishful thinking, but a reality based on factual evidence.
ASEAN "We Care, We Prepare, We Prosper" this slogan reminds us to be ready for various opportunities and challenges and ignites the spirit of achieving shared prosperity. Indonesia's chairmanship in ASEAN is one of the venues for strengthening Indonesian identity globally; Indonesia can realize the noble values ​​of Pancasila, which are not rigid but adapt to the urgency of ASEAN in the next year. By involving the younger generation in a comprehensive and participatory manner, there is a strategic relationship between Indonesia's leadership as momentum, the younger generation as a game-changer or tool, and peace that is trying to be vocalized and echoed because ASEAN matters. In the end, after the common goals are achieved, mutual benefits can be added value for Indonesia and ASEAN itself.