The Dilemma of Online Classes
Karl Marx is of the view that if there prevailed no equal field for individuals to compete, then competition is myth. Therefore, for materializing real competition, it is rudimentary to provide leveled field for competitors. Recently, there prevails no equal grounds for students regarding online classes and e-learning, therefore competition among students is not less than fraud.
Since the outbreak of COVID-19, each fabric of the society got affected, education is obviously not an exception. To overcome this loss, Higher Education Commission (HEC) directed universities to launch online classes and e-learning for graduate students. This strategy is though last option, but seems to be more face-saving than bringing real changes in the future prospect of students.
The materialization of e-learning and online classes without the provision of necessities regarding online teaching system is negation of the former. Ensuring equal facilities to all the students is the fundamental duty of HEC and authorities concerned with top echelon decision making. The discriminatory policy on the part of HEC to suggest students to freeze the semester, if they could not afford the online classes, will intensify deprivation in already marginalized section of society.
The availability of internet should have been surveyed before launching online schooling system. To substantiate it patently, there are almost five districts in Balochistan that is deprived of the internet facility. Same is the case with Ex-Fata. Gilgat Baltistan and rural Sindh are not much different. Even in some urbanized centers internet is not working properly. This poor quality of internet service create disturbance in the form of voice interruption during lectures in online classes.
It is not secret that students are confronting problems even in their traditional mechanism of teachings practiced in universities. Numbers of students don't get the teacher, standing before them on dice, because of social, cultural, structural and language barriers. The distanced learning, internet interruption, camera-consciousness on the part of both teacher and students has galvanized the problems related to knowledge gaining. If the students couldn't get knowledge, then the only formality 'that semester is on' is non-scientific logic in era of science. Again, the focus of the online classes should be the content of transmission of knowledge to the concerned students.
Apart from students, even possible sections of university professors are non-technical in running the e-system. At the pace of pandemic, universities were closed in March and online classes have been started in June. So, this gap of two and half months could have been used for training sessions of teachers and students to have improved the quality of teaching. HEC didn't assisted teachers and students with this technical aspect of complexity.
Importantly, in online classes some of the disciplines are easy to be taught like that of social sciences. In contrast to this, subjects like statistics, mathematics, electronics, geophysics, physics and other natural sciences are difficult to be taught. This will surely affect the understanding intensity of students attached with the fields of natural sciences.
In online classes, it is beyond teacher's capacity to have control over the class and the psyche of the students. Moreover, the removal of students from class by other students and muting the mike of the teachers are common issues going on in online classes. These disturbances which seem minor badly affect teacher's concentration during class.
The classes that are 'teacher-centered' can prove well in e-learning system. In case of 'teacher-student centered' classes, the online classes don't prove so fruitful. The reason behind this is that academic debate can't be commenced. Moreover, the lack of familiarity with e-learning transforms the academic discussion into the state of shrill. This will neither benefit teacher not students.
Since last two weeks, students are on roads and protesting against online classes in different parts of the country. They are major stakeholders and must be addressed. The logic behind the closure of universities and educational institutions is to shun students from COVID-19 pandemic. So when students are on road, then do they not get affected?
Bringing into account the above mentioned reasons, the e-learning and online classes are never helping students in the context of gaining knowledge. In such state of affairs, the HEC and regulatory institutions needs to own the major liability and brunt. The students must be relieved to the possible extent.
In a nut shell, Higher Education Commission has only addressed the managerial aspect of issues but skipped the issues lied on ground level regarding the materialization of her plans. The culmination of success can be achieved when ground realities are addressed too. Therefore, it is high time for HEC to revisit her policies and own the major portion of liability and brunt. In this state of Coronavirus and panic, the students should not be burdened with more panic.
Women in leadership 'must be the norm'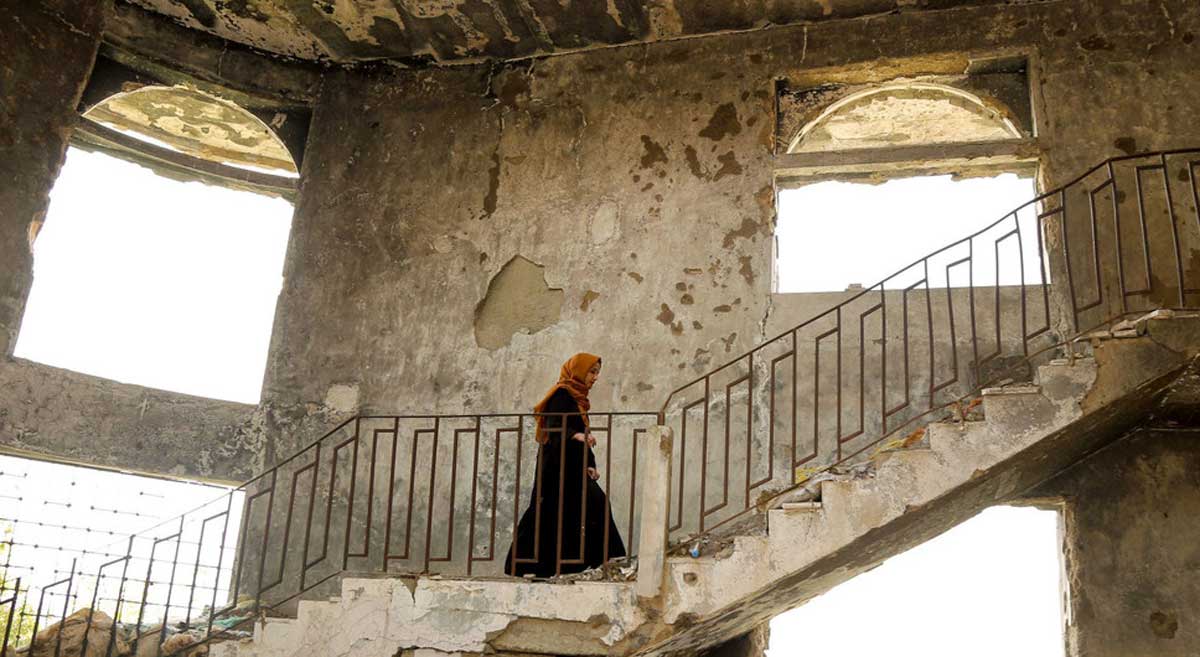 We can no longer exclude half of humanity from international peace and security matters, the UN chief told the Security Council on Thursday, emphasizing the need to fully address the challenges and gaps that continue to prevent women having an equal say.
"Today, women's leadership is a cause. Tomorrow, it must be the norm", Secretary-General António Guterres told the meeting, covering landmark resolution 1325 on Women, Peace and Security.
Frontline women
Having just visited the photo exhibition, In their Hands: Women Taking Ownership of Peace – a collection of inspiring stories of women around the world seen through the lenses of women photographers – he told ambassadors that the exhibit brings to "vivid life" their dedication to "the most important and consequential cause of all, peace".
"From the safety of this chamber, we discuss and debate pathways of peace for countries around the world", said the UN chief. "But the women portrayed in the exhibition are on the front lines of the fight for peace".
He called them peacebuilders, changemakers and human rights leaders, and described their work mediating and negotiating with armed groups; implementing peace agreements; pushing for peaceful transitions; and fighting for women's rights and social cohesion throughout their communities.
Yet, he pointed out, "women remain on the periphery of formal peace processes, and they're largely excluded from rooms where decisions are made".
Disheartening trend
Citing rising rates of violence and misogyny; the extreme under-representation of women in decision-making positions; and a myriad of challenges faced by those in conflict, the top UN official observed that the power imbalance between men and women remains "the most stubborn and persistent of all inequalities".
"In every humanitarian emergency, the clock on women's rights has not stopped. It's moving backwards", he said regretfully.
In Ethiopia, women have been victims of sexual violence; in Yemen, excluded from political processes by the warring parties; in Afghanistan, undergoing a rapid reversal of the rights they had achieved in recent decades; and in Mali, after two coups in nine months, "the space for women's rights is not just shrinking, but closing", Mr. Guterres said.
'Fast-track women'
The UN chief stressed: "We need to fight back, and turn the clock forward for every woman and girl" – the commitment outlined in Our Common Agenda and Call to Action on Human Rights.
"Increasing women's representation and leadership across every aspect of the UN's peace activities is critical to improving the delivery of our mandate and better representing the communities we serve", he said.
But Council's support is needed for partnerships, protection and participation.
Women leaders and their networks must be supported to meaningfully engage in peace and political processes, he explained.
Secondly, women human rights defenders and activists must be protected as they carry out their essential work.
And finally, women's "full, equal and meaningful participation" must be supported in peace talks, peacebuilding, and political systems as countries transition to peace, he said.
"We need full gender parity", underscored the UN chief. "We know it can be done".
Advancing women's rights
Women should not have to accept reversals of their rights in countries in conflict, or anywhere else.
Mr. Guterres said that the UN will double down on "truly inclusive peacemaking" and put women's participation and rights "at the centre of everything we do – everywhere we do it".
The best way to build peace is through inclusion, and to honour the commitment and bravery of women peacemakers we must "open doors to their meaningful participation".
"Let's turn the clock forward on women's rights and give half of humanity the opportunity to build the peace we all seek", concluded the Secretary-General.
Time to say 'enough'
To create a tangible difference in the lives of women and girls, UN Women Executive Director, Sima Bahous, highlighted the need for governments and the Security Council "to step up" to address the way we confront peace and security issues.
For too long violence has targeted females and their rights; and women continue to be marginalized and excluded "in those very places where they can drive change", she told the Council.
"Surely the time has come to say enough", she said.
Open doors to women
While acknowledging a "glimmer of light" resulting from the passage of the original resolution, Ms. Bahous said that while not enough, it must be used in the fight for women's equality.
Noting that vast military spending has been "in bitter contrast" to limited investments in other areas, she advocated for curbing military spending and expressed hope that delegates "share my sense of urgency" on the issue, which impacts other priorities, including women's rights.
The UN Women chief noted that increased participation, combined with curbing the sale of arms in post-conflict settings, significantly reduces the risk of backsliding.
She reminded ambassadors that while "equal nations are more peaceful nations", equality requires higher levels of support for healthcare and related services.
Moreover, Ms. Bahous regretted that women's organizations are poorly funded, noting that without the necessary financial resources, they cannot effectively carry out their work.
Turning to Afghanistan, she shone a light on the women who had collaborated with the UN and whose lives are now in danger, advocating for doors to be opened wider, to women asylum seekers.
Women at the stakeout
Subsequently, former Afghan women politicians took to the Security Council stakeout to ask the international community to pressure the Taliban "to put their words in action" and fulfill their promises made in 2019 in Qatar including supporting girls' education and women's rights.
"The reason we are here today is to meet with different Member States and ask them to regard women and human rights in Afghanistan as a matter of national security of their own countries, because it's not just a political or social issue but it's a matter of security", said Fawzia Koofi, former Peace Negotiator and first woman Deputy Speaker of Afghan Parliament.
Former Afghan Parliamentarian and Chairperson of the House Standing Committee for Human Rights, Civil Society and Women Affairs, Naheed Fareed, questioned whether the world wanted to "register in history" their recognition of "a de facto structure that is in place in Afghanistan", to represent Afghan women, their dignity and desires. "From my point of view, they don't", she told reporters.
Gender Mainstreaming and the Development of three Models
The field of gender mainstreaming plays a central role in the debate of critical feminist International Relations (IR) theorists. Reading the influential work of Enloe 2014 regarding the locations and the roles of women in the subject of IR brings women into the central discussion of international studies. However, some of the feminist IR scholars defy the negligible participation of women in international political theory and practice.
The main aim of gender mainstreaming is to achieve gender equity in all spheres of life (social, political, economic), without any doubt that gender mainstreaming has had a central role in pushing the strategy of realising gender equity since the concept's inception. However, feminist IR scholarship admits that it is not the best approach, or in other words, the right pathway concerning feminist struggle. There are many different approaches and mechanisms in which such dissatisfaction is conveyed; nonetheless, at the axis of Postcolonial Feminist scholars debate, gender main streaming depoliticises the concerns of feminist scholars. Feminist studies show that theoretically, the change of structuring of gender equity determinations from women to gender in gender mainstreaming perhaps contradicted achievements made to bring women from the periphery to the centre of Feminist IR.
The emergence of Models in Development:
Discussion asking to what extent women have been benefited (or not) from the developmenthas given rise to the following three models. These approaches show how men and women are affected in different ways because of the development of how the lives of women, in particular, are affected.
Women in Development (WID):
By the 1970s, the reality that women were subjugated and left far behind in the process of development became clear and widely recognised. In some areas, this recognition even acknowledged development has further worsened the status of women, for example, the exclusion of women from the main development projects. The Women in Development (WID) approach proposed the inclusion of women into programs related to development. WID was a successful initiative that strengthened the consideration of women as an integral part of society. The decade of 1975 to 1985 was even declared the decade of women. However, this approach was problematic, as WID did not focus on structural changes in social and economic systems, which were necessary for discussion. Furthermore, this approach was not enough to bring women to the mainstream of development successfully.
Women and Development (WAD):
Thisapproach was critical and arose in the late 1970s using Marxist feminist (critical) thoughts. As its nature, the Women and Development (WAD) approach criticised WID because of an increasing gap between men and women. According to WAD, the idea of women's inclusion was wrong because women already contributed substantially to society. Yet, they were not receiving the benefits of their contributions, and WID further contributed to global inequalities. The main rationale of WAD was to increase interactions between men and women rather than just implementing strategies of women's inclusion. Besides, WAD considered the class system and unequal distribution of resources to be primary problems, as it's women and men who suffer from the current system. On a theoretical level, WAD strongly endorsed changes to the class system; however, it proved impractical as it ignored the reason for patriarchy and failed to answer the social relationships between men and women.
Gender and Development (GAD):
In the 1980s, further reflection on development approaches started the debate of Gender and Development (GAD). As GAD followed and learned from the weaknesses and failures of WID and WAD, it was a more comprehensive approach. GAD paid particular attention to social and gender relations and divisions of labour in society. The GAD approach strove to provide further rise to women's voices while simultaneously emphasising women's productive and reproductive roles, contending taking care of children is a state responsibility. As a result of GAD, in 1996, the Zambian government changed their department of WID to the Gender and Development Division (GADD). These changes made it easier for women to raise their voices more constructively in an African country. Gender development is a continuous, current phenomenon. Women have choices today that they did not have in prior or even the last generation.
The main point is that instead of discussing whether to mainstream gender or not, it needs to be discussed how it can happen in a better way. Gender mainstreaming is considered a theory of change in GAD.
The above discussion has offered an overview of how gender mainstreaming's theoretical approaches and expectations have met with the praxis; however, some scholars critique the concept of depoliticising and diluting equality struggles. These considerations are also worth inquiry and, accordingly, are discussed below.
KP's Education Reforms – Heading Towards Right Path
The first word revealed in the holy Quran was "Iqra" which means "to read". This first verse of Holy Quran shows us the importance of pen, greatness of knowledge and importance of education in Islam. Article 25-A of Pakistan's constitution obliges the state to provide free and compulsory education to all children between the ages of five and sixteen. Education is the reason behind rise and fall of any nation. After the 18th amendment, on April 19th 2010, the education sector was assigned to the provinces, with a hope that provinces would focus on providing quality education, as previously; there was a lack of comprehensive planning and strategy in this sector.
During its second stint in KP, PTI-led government declared an education emergency in the province. As part of election manifesto, PM Imran Khan reiterated his firm resolve to upgrade education system across KP. Consequently, during past three years, KP government has focused on the neglected education sector and introduced various revolutionary steps to improve the quality of education.
The provincial government is spending heavily on building infrastructure and basic facilities. The number of non-functional schools have been reduced massively due to effective policies. A real time focus is given to the lack of facilities like boundary walls, water supply, electricity, and toilets. To get rid of load shedding issues, the government installed thousands of solar panels in schools to have an un-interrupted supply of electricity at daytime. Simultaneously, increased annual budget for education.
The present age is known as an era of Information Technology (IT) and a nation cannot progress without making full use of it. Therefore, the provincial government has established thousands of state of the art IT labs across KP. It is pertinent to mention here that Microsoft has also endorsed this effort and offered to train above 15000 IT teachers with free certification.
The major five-year revolutionary educational reform plan (2019-2023) was brought by department of Elementary and Secondary Education as a flagship project of KP government in this tenure. The four core aspects of this innovative plan includes teachers' training, curriculum reforms, establishment and up-gradation of schools and the appointment of new teaching staff.
In order to reduce teacher to student ratio it has been decided to hire 65,000 new teachers well versed with modern education techniques, including 11,000 primary teachers under this five years' plan. So far, more than 40,000 teachers have been recruited on merit bases through NTS. After the merger of tribal districts in KP, the education Ministry has approved a handsome amount for the restructuring the current education system. In order to modernize the current education system, KP government has established 138 Data Collection Monitoring Assistants (DCMAs) in tribal districts.
Taleemi Islahi Jirga (TIJs) are converted into Parent-Teacher Councils (PTCs) and connected them with education ministry with an aim to keep a check and balance. Government has introduced a new concept of school leaders and aims to train about 3,000 leaders who will be responsible for monitoring the classrooms, lesson management, implementation, and daily school life.
The process of expanding teachers' training program to all districts of the province is also in process. Furthermore, the education department has almost completed its working on the development of high-quality script lessons for different subjects. Textbooks for classes 1 to 10, will also be revised according to modern standards by 2023.
Another milestone achieved by KP government is the establishment of Independent Monitoring Unit (IMU). This vigilant monitoring system has reduced teachers' absenteeism by 17% to 20%. It also constantly collects reliable data which is helpful for realistic planning.
Previously, teachers used to take salaries without performing any duties; however, with the advent of biometric attendance system, those ghost servants have been captured. Enrollment drives have been organized every year. Government is giving free books to the children including drawing and coloring books to enhance their creative thinking. Government is also stressing on female education through its new policy of building classrooms with a ratio of 2 for female and 1 for male.
To impart the true teachings of Islam, Quranic education and Nazira is made compulsory up to class 12th. In a refreshing development, students of private schools are migrating to government schools due to student-friendly policies.
Nevertheless, there is room for improvement in the education sector like linking promotions of teaching and administrative staff with performance. Government teachers should be made bound to enroll their children in public sector. The concept of uniform curriculum will create national thinking. Another important aspect which needs attention is to address the growing role of tuition and coaching centers. Technical education should also be focused from the base. Experiences of others successful educational models like Finland model may be studied to improve the sector.