World Economic Forum Announces 100 New Technology Pioneers In 2020 Cohort
The World Economic Forum announced today its 2020 Technology Pioneers, future headline-makers addressing global issues with cutting-edge technology. From artificial intelligence (AI) to carbon capture, this year's cohort is using innovations to protect the climate, improve healthcare and much more, helping us to reset society and build towards a better future.
"This year's class of Technology Pioneers are improving society and advancing their industries around the world," said Susan Nesbitt, Head of the Global Innovators Community, World Economic Forum. "These are the companies that think differently and stand out as potential game-changers. We're looking forward to the role they'll play in shaping the future of their industries."
Of the 100 firms selected, over one-quarter are female-led, more than double the industry average. These firms also come from diverse regions that stretch beyond traditional tech hubs, with companies using innovative technology in novel ways all around the world.
In Brazil, CargoX is digitizing trucking to optimize logistics that can improve the livelihood of truckers in the country. India's ZestMoney is using its technology to transform the financial services industry, offering affordable credit to those who are unable to access this through traditional finance paths.
Each Tech Pioneer is impacting their country and their community in different ways. For example, Kenya's Twiga is lowering food costs in Africa by using B2B data to make food supply chains more efficient.
Other economies represented include: Argentina, Austria, Brazil, China, Chile, Canada, Denmark, Finland, France, Germany, Hong Kong SAR, India, Israel, Japan, Kenya, South Korea, Luxembourg, Singapore, Switzerland, Taiwan (China), Spain, United States, United Kingdom.
As well as their regional diversity, this year's Technology Pioneers are at the cutting-edge of a wide range of industries that span smart cities, healthcare cleantech, finance, logistics and more.
For example, the US-based Metawave is using AI and machine learning to enhance automotive sensors with the capability to make cars smarter and safer. In China, Sensoro has developed internet of things solutions to enhance smart city capabilities around the world.
Many other Technology Pioneers are focusing their innovations on combating climate change. Polystyvert focuses on implementing a circular economy for plastics; Aleph Farms focuses on advancements of alternative means that can help promote a more sustainable food system.
In addition to their long-standing contributions to their industries, many Technology Pioneers are also using their tech to support COVID-19 responses around the world. Some, like Sherlock Biosciences and Genetron Health, have helped develop rapid testing options for COVID-19. Another, Lunit, whose technology uses AI to analyse lung diseases from chest X-rays, has released its software for free online to help medical professions in the diagnostics and treatment of COVID-19 patients.
This year's cohort selection also marks the 20th anniversary of the Technology Pioneers community. Many past recipients have gone on to become household names including, Airbnb, Google, Kickstarter, Mozilla, Palantir Technologies, Spotify, TransferWise, Twitter and Wikimedia.
Following their selections as Technology Pioneers, this year's firms will be invited to participate at World Economic Forum workshops, events and high-level discussions throughout their two years in the community. Firms also have opportunities to work with policy-makers and private sector leaders to help define the global agenda on key issues.
The 2020 Technology Pioneers include:
Asia
ABC Technology, People's Republic of China. Extracts insights automatically from unstructured data and improves decision-making
ABEJA, Japan. End-to-end artificial intelligence solutions using a self-developed platform
Banuba, Hong Kong SAR. Specializing in computer vision and shaping a future beyond cameras
BigSpring, Singapore. Lifelong skilling with measurable return on investment
Bitmark, Taiwan, China. Restores trust in data
Coda Payments, Singapore. Monetization in emerging markets for digital content providers
CureApp, Japan. Prescription digital therapeutics to treat medical disorders and diseases
Genetron Health, People's Republic of China. Precision oncology R&D to prevent and cure cancer in China
GuanData, People's Republic of China. Committed to making smarter decisions and enabling intelligent enterprise
K2 Data Technology, People's Republic of China. An industrial big data and artificial intelligence company
Lunit, Republic of Korea. Using artificial intelligence to conquer cancer
Sensoro, People's Republic of China. Technology services devoted to sensing everything intelligently
StashAway, Singapore. A digital wealth management platform aimed at building long-term wealth
Stellapps, India. Data-led, internet of things-based, farm-to-consumer dairy supply chain digitization
Veridium Labs, Hong Kong SAR. Fintech focused on unlocking the trillion-dollar natural capital asset class
Xtransfer, People's Republic of China. Making small and medium-sized enterprise financial services simple and accessible
ZestMoney, India. Artificial intelligence-based digital lending platform disbursing affordable credit to millions
Europe
Ada Health, Germany. A digital front door to the future of health
Akselos, Switzerland. Using real-time digital twins to accelerate the energy transition
Alpine Quantum Technologies, Austria. Realizes turn-key quantum solutions to address second quantum revolution challenges
Chainlink, UK. Connecting blockchain smart contracts with real-world data
Climeworks, Switzerland. Empowering climate positiveness by permanently removing carbon dioxide from the air
ComplyAdvantage, UK. Reinventing money-laundering data using machine-learning technology
Dawex, France. A data exchange technology company operating a data marketplace
Dorae, UK. The physical trade cloud
Eigen Technologies, UK. Transforming documents into data to drive better, faster business outcomes
Elliptic, UK. Protecting businesses against financial crime in crypto
Enevo, Finland. Data analytics and automated logistics software for the waste industry
Haven, UK. A transportation management system for international shippers
IMMO Investment, UK. Using technology to simplify real estate sales, rentals and investments
Job Today, Luxembourg. A leading hiring app in the UK and Spain
Kalido, UK. Fuelling prosperity through artificial intelligence-powered people and opportunity matching
MakerDAO, Denmark. Inclusive and transparent platform for economic empowerment on the blockchain
Mirakl, France. A platform strategy to compete fairly in a digital economy
Nextail, Spain. Smart retail platform empowering fashion merchandisers
Oura Ring, Finland. Democratizing health information
ProGlove, Germany. A leader in industrial wearables
Ripjar, UK. Products to fight financial crime and manage risk
Starling Bank, UK. A digital bank app providing retail accounts and banking services
Streetbees, UK. Market research meets technology: real data in real time
Wingcopter, Germany. Manufacturer of unmanned, electric-powered, vertical take-off and landing aircraft
Latin America
CargoX, Brazil. An online Latin American trucking system connecting loads with carriers
Descomplica, Brazil. Pairing education and tech for classes reaching millions of students
Ripio, Argentina. Gateway to the new digital economy in Latin America
The Not Company, Chile. Using artificial intelligence to help develop food products from plants
Middle East and Africa
3d Signals, Israel. Plug-and-play factory digitalization for improved productivity
Aleph Farms, Israel. Leading a sustainable food system to nurture a thriving planet
MorphiSec, Israel. Deterministic endpoint protection against fileless attacks and evasive malware
Optibus, Israel. A high-tech mobility platform improving mass transportation in cities
Prospera, Israel. Transforming how food is grown with data and artificial intelligence
Seebo, Israel. Helping manufacturers increase capacity and prevent losses using artificial intelligence
Lori Systems, Kenya. Tech-driven logistics services company seamlessly coordinating haulage across frontier markets
Twiga Foods, Kenya. A marketplace focused on lowering food costs in African cities
North America
Air Protein, USA. Making air-based meat to sustainably feed the future
Avanci, USA. One-stop access to essential patented technology for connected devices
Axonify, Canada. A modern learning solution for frontline employees that actually works
Boston Metal, USA. Game-changing metals production: better, less expensive steel without carbon emissions
Brightseed, USA. Using artificial intelligence to discover phytonutrients for health and wellness
Carbon Engineering, Canada. Removing carbon dioxide directly from the atmosphere at large scale
Clarity AI, USA. Tech platform analysing the societal impact of investments and organizations
DataVisor, USA. A fraud detection platform powered by transformational artificial intelligence technology
DEVCON, USA. Artificial intelligence-powered enterprise security software for all industries
Dragos, USA. An industrial cybersecurity technology and services company
EdCast, USA. Artificial intelligence-powered knowledge cloud for unified discovery and personalized learning
Ellevest, USA. On a mission to get more money into women's hands
Energy Vault, USA. Enables renewable energy to provide baseload power 24/7
Enveil, USA. Pioneering data security to protect data in use
EquityZen, USA. A marketplace for private company shareholders and investors
Fiddler Labs, USA. Delivering explainable artificial intelligence with trust, visibility and insights built in
Foghorn Systems, USA. Deriving machine learning and artificial intelligence-powered insights to organizations
Guideline, USA. A retirement company offering a fully automated 401(k)
Innowatts, USA. Powering the energy transition forward with artificial intelligence
Instrumental, USA. Leveraging artificial intelligence to find and fix manufacturing process issues
Integris Software, USA. Data privacy automation
Kebotix, USA. Artificial intelligence and robotics-powered materials platform
Knotch, USA. Content intelligence platform for brands that independently measures content marketing
Lavva, USA. Vegan yoghurt made with real ingredients and zero added sugar
Lightning Labs, USA. Technology for faster, cheaper, global digital payments
Metawave, USA. Advancing automotive radar sensors and boosting the deployment of 5G
MindBridge, Canada. Technology for restoring trust in financial data
Peek, USA. Connecting the world through experiences with a double-sided marketplace
Phylagen, USA. Arming organizations with the power of environmental genomics and data
Piano Software, USA. Software-as-a-service platform offering analytics, personalization and subscription
Polystyvert, Canada. Implementing a circular economy for petroleum-based plastics
Remix, USA. Helping cities around the world envision their mobility future
Rize, USA. Next-generation 3D additive manufacturing
Roadbotics, USA. Empowering communities to make data-driven infrastructure decisions
SecurityScorecard, USA. A global leader in cybersecurity ratings
Sherlock Biosciences, USA. Making molecular diagnostics better, faster and more affordable
Shippo, USA. A shipping platform for 21st-century e-commerce
Smart Wires, USA. A "valve" that increases power grid transfer capacity by 20%-40%
Takeoff Technologies, USA. Automated end-to-end micro-fulfilment solution that helps grocers thrive online
Trace Genomics, USA. Deep machine learning and agronomic knowledge to advance food production
Trulioo, Canada. Global identity verification
Two Hat Security, Canada. Artificial intelligence-powered content moderation platform
Veo Robotics, USA. Transforming factories by making machines responsive to humans
Verge Genomics, USA. Next-generation drug discovery for neurodegenerative diseases
Versatile, USA. Non-intrusive technology giving construction professionals hard data for easier decision-making
Vim, USA. Enabling value-based healthcare decisions by aligning payer and provider incentives
ZeroFox, USA. Safeguards modern organizations from dynamic security threats
About the Technology Pioneers:
The World Economic Forum believes that innovation is critical to the future well-being of society and to driving economic growth. Launched in 2000, the Technology Pioneer community comprises early to growth-stage companies from around the world that are involved in the design, development and deployment of new technologies and innovations, and are poised to make a significant impact on business and society.
The beginner's guide to backup program files like an expert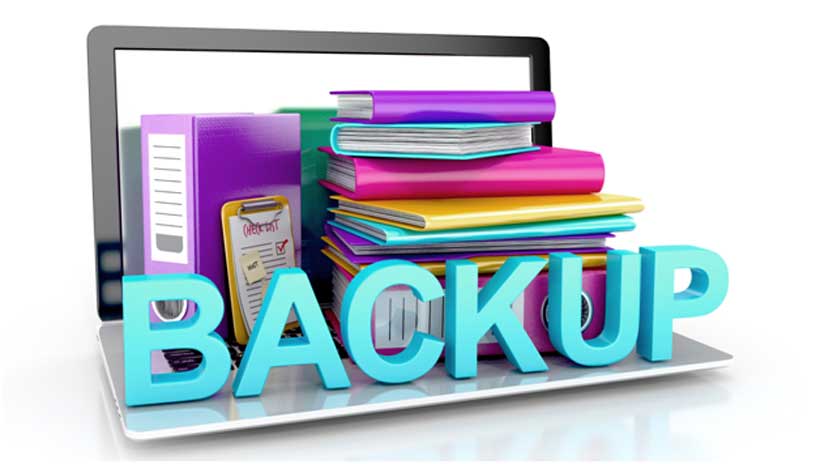 The invention of the internet was a revolution for the computer industry. It caused an exponential increase in the sales of desktops and laptops. With technological advancements, the laptops are being upgraded within two to three years as well. Thus, there will be a time when you will have to upgrade your laptop. Backing up your important files and documents will be needed for a smooth transition from one PC to another. Moreover, there are other risks like hardware failure, hacks, etc. due to which you can lose your precious data also. So, if you are not taking backup periodically, there is a high risk of data loss.
The data backup process takes some effort. But thanks to new software and hardware services, it has become easier than ever. In this article, we will take you through the details of the data backup process.
Types of PC Backup
Backing up of data can be as simple as creating duplicates of your important files or creating a full disk image. There are a lot of tools available at your disposal that you can choose from either of these methods for backing up your files. The factors that you must consider while picking up a data backup option are redundancy, security, and accessibility. Thus, review these parameters before zeroing-in on a specific backup method. Let's have a look at all the options available to you:
Backing Up data on an external storage device
One of the simplest ways backing up data is by copying it to an external storage device. Devices like USB, an SD card, or an external hard disk can be used for this activity. If your device has USB 3.0, then the file transfer will be faster. Ensure that you have enough space to transfer all the relevant files on the external device that you have chosen. Once you have the device with you, connect it with your PC, and copy all the relevant files.
The data transfer by this process can be time-consuming. Moreover, you will have to manually select all the files and documents that you want to backup. Thus, there are chances of data loss if you aren't cautious while selecting the files. Files like emails, system settings, program settings, etc. cannot be copied in this process. Thus, this process of data backup isn't recommended.
Cloning a full disc image
Your entire PC's data can be backed up by creating a full disc image. You would need a secondary storage device like a USB drive, memory card, an external hard disk, or a cloud-based service. Taking backup on your device's hard disc is not recommended because if it fails, the entire data is lost. Follow the below steps for backing up the image:
In the 'Start Menu' on your device click on 'Settings'.
Click on the 'Update & Security' button.
You will see a 'Backup' option which will let you create a full system image to back up your entire system files.
Pick the location where you want to back up the data and hit the 'Go' icon.
The data backup process is automatic and will take around an hour to complete.
System backup with software
Using data backup software is a great way to automate the data backup process. Software like Zinstall Backup helps you in backing up all your files, programs, and software without any data loss. Follow the below steps for backing up data:
Connect your system to an external USB device or an external hard disk or a cloud storage service.
Download and install Zinstall Backup software.
Run the software once installed. It will automatically detect available backup locations.
Click the "Settings" button to select the backup location you want to store your data in.
Click the on button on the left, and Zinstall Backup will start working.
All the files, programs, and software will be backed up to your storage device within an hour. The process is executed automatically and there are no chances of data loss. You can also set a periodic backup option. In this case, only the changed files and documents are backed up which reduces the number of reads and writes the data backup requires.
System failure or hacking attacks can happen anytime. Thus, it is important to keep a backup of your important files and documents. We hope the above article can get you started with the data backup process.
Modernizing data collection enhances resilience of statistical offices in times of crisis
A virtual UNECE workshop concludes today in which experts on surveys, censuses and alternative data collection methods have revealed their brand-new learning about the best ways to maintain core data collection, and collect newly-demanded data, in the midst of the Covid-19 pandemic.
The need for statistics isn't put on hold during a national or international crisis—in fact demand increases, as decision-makers rely on numbers to guide their next moves. National statistical offices (NSOs) are experienced in maintaining business continuity in the face of adversity, be it hurricanes, earthquakes, civil unrest or political upheaval. But never before have so many NSOs had to deal with a situation that has placed such enormous and wide-ranging restrictions on their ability to collect data. The businesses that provide economic and labour force data have been closed; the staff that conduct surveys and analyze data have been locked-down in their homes, with new staff hired and trained online; survey-takers and respondents have had to observe new and changing health protection rules such as social distancing and wearing personal protective equipment; and supply chains have been disrupted for the basic items needed to gather data, such as paper for printed questionnaires or tablets for electronic data gathering.
Maintaining essential data collection
From the very beginning of the Covid-19 pandemic, the official statistics community has recognized how crucial it is to maintain data collection. Users of official statistics, from banks to businesses and from politicians to school pupils, still expect to be able to look up basic figures such as GDP, population, migration, unemployment. They expect these figures to be reliable and comparable with those they used before the pandemic. And they expect them to reflect the new realities of the current situation, such as current unemployment and earnings figures.
Presenters in this week's UNECE workshop outlined the lengths they have gone to to keep gathering data. In Mexico, the pandemic struck as the country's census was underway. New social distancing rules meant some census enumerators had to call out questions to respondents through their windows. In the Netherlands, an online portal was developed and tested at speed to gather data from businesses without traditional surveys. Ireland, Italy and Poland have employed a variety of techniques to communicate with respondents to secure their vital responses to surveys, from sending postcards and handwritten notes to increased use of telephone calls. Discussions revealed that the more advanced an NSO was before the pandemic in their move towards modern modes of data collection (electronic devices, Internet responses, video interviewing and so on), the easier it was for them to make the changes required by the Covid restrictions.
Collecting new data to measure new phenomena
The world has changed in countless ways since the onset of the pandemic. Responding to these changes requires information about things that previously were not measured—or at least not by national statistical offices. NSOs have found themselves at the centre of nationwide efforts to collect, coordinate and disseminate statistics on the virus itself—cases, tests, hospital admissions, mortality rates. And new survey questions or whole new surveys have sprung up across UNECE countries to gather data about the impacts of working from home and school closures on mental health, gender-based violence and unpaid care work; the economic fallout of business closures and furloughs; and the envionmental impacts of reduced mobility and industrial activity.
Examples showcased in this week's event included new questions on covid impacts in Finland's Consumer Confidence Survey; and new modules in a plethora of surveys in Poland on science, technology, culture, tourism and civil society. In the United Kingdom, a Business Impact of Coronavirus Survey was developed and conducted every two weeks starting in early March.
Long-term impacts on data collection
The UNECE programme on modernizing official statistics has for close to a decade supported countries in making a transition to using new modes of data collection, new data sources and new methods for integrating data from multiple sources. For many NSOs the pandemic has accelerated this transition, forcing the hands of cautious offices where the alternative may have been to stop collecting data altogether. The pace of change has been rapid, with one participant stating "we have had a greater impact in six months than in our whole careers so far". While the panoply of new tools, techniques and statistical products may in time settle as the pandemic runs its course, the steps taken across the UNECE region in the direction of statistical modernization are undoubtedly permanent.
World Bank Supports Digital Connectivity in Haiti to Build Resilience
The World Bank's Board of Executive Directors approved today a US$60 million grant from the International Development Association (IDA) for the Haiti Digital Acceleration Project. This financing aims to increase access to broadband services in Haiti and establish the foundations of digital resilience to respond to health, climate and economic shocks.
"The COVID-19 crisis has highlighted the essential role that digital technologies play both during and after crisis. More widespread and affordable internet access could make Haiti more resilient to future shocks," said Anabela Abreu, World Bank Country Director for Haiti. "The World Bank is supporting Haiti to increase access and affordability of digital services, while building the necessary skills for digital literacy. Increased broadband connectivity can help drive innovations and new industries that create jobs."
The lack of affordable and reliable internet connectivity is a key constraint to inclusive growth in Haiti, as only 35 percent of the population has access to broadband internet. The Haiti Digital Acceleration Project will address key bottlenecks to digital development, and help develop the digital economy as a driver of growth, a stronger recovery from the COVID-19 crisis, and the ability to more effectively respond to future shocks. Given the potential for the project to enable better connectivity and digital services, it is expected to benefit the entire population of Haiti.
One of the key project activities will include technical assistance to help develop strategies and regulatory tools to promote competition in the digital infrastructure and services market. The project will also better prepare individuals and businesses for the jobs and economy of the future through the development of their digital skills. This includes opportunities particularly for women, girls, at-risk youth, and the rural population to access skills training. The project will also provide equipment, broadband, and software for the public administration to improve the efficiency of service delivery and the modernization of the Haitian Government.