India and China: Conflict or cooling?
Early May saw a new aggravation of the border conflict between India and China, this time in Ladakh. The withdrawal of extra contingents, which had been brought to the border during a few weeks of the confrontation, began only on June 10th, following a series of online and offline meetings of military representatives of the two countries. Amid all these developments, India signed an agreement with Australia on mutual access to military bases. The two countries' Prime Ministers Narendra Modi and Scott Morrison agreed to expand military and technical cooperation in the course of an online summit. Earlier, India signed a similar agreement with the USA. New Delhi has also welcomed Donald Trump's initiative to include India in an enlarged G7. How far will the current India-China cooling go?
As far as the border "incident" in May is concerned, Indian and Chinese news media have been making practically identical accusations against one another. Both parties claim that there has been a «considerable» advancement of military units in-land, into the territories either party claims to be their own. Also, they talk about "well-fortified camps in infiltration zones" and "deployment of extra forces" on the territory of either state along the "de facto control line".
According to Indian critics of Modi, the responsibility for the recent aggravation rests with China. Beijing's moves came in response to India's decision to eliminate Kashmir's autonomy in August last year. At present, India controls 45% of the historical territory of Jammu and Kashmir, where the greater part of the population lives, while Pakistan controls 35%. The rest 20%, deserted and scarcely populated plateau Aksai Chin, is under the control of China. India views Aksai Chin as an integral part of the historical region of Ladakh – the eastern part of Jammu and Kashmir and uses this as a foundation to lay claims on it and question its belonging to China. The region carries significance due to its role in the distribution of water resources of the Indus basin. In August 2019 India deprived Kashmir of autonomy and established a new federal territory, Ladakh, which comprised Aksai China plateau. China was quick to strongly condemn New Delhi's policy.
In the opinion of Chinese observers, tactically the recent escalation on the border with China is being used by New Delhi for "self-assertion". Strategically, India counts on presenting such moves to the West as part of global efforts to contain Beijing, thereby paving the way for rapprochement with leading western countries, in the first place, the United States. The development of Indian-Australian ties is seen in the same context. According to Chinese data, India is even ready to reconsider its negative attitude to Canberra's participation in American-Japanese-Indian naval exercises "Malabar".
Historically, a state of confrontation appears "natural" for relations between India and China. Sincethe early 1960s the two countries have been mostly busy getting ready for a war and an overt escalation. By the early 2000s the rapid economic and geopolitical upsurge of China transformed the country into a major challenger for India. At present, China holds the firm position of а country that determines India's foreign policy. The previous border conflict – in Doklam – occurred in summer 2017 and resulted in a new cooling of bilateral relations.
However, in 2018 the relations between two major Asian powers revealed a tendency for a warm-up. During 2018 Xi Jinping and Narendra Modi met five times – an unprecedented number for relations between Beijing and New Delhi. In a matter of just a few months the two sides expanded the agenda of bilateral relations to include an extensive range of issues, including the possibility of holding joint military exercises. In December 2018 New Delhi hosted talks between the Indian and Chinese foreign ministers after which the Chinese foreign minister pointed out that through joint effort China and India had built a "brilliant eastern civilization". In October 2019, in wake of an informal summit in Chennai, Modi announced "the start of a new era in relations between India and China".
Speaking in favor of India-China rapprochement are a number of factors. «…In spite of all the difficulties and inevitable tactical losses, such consolidation would undoubtedly meet long-term interests of both countries». The joining of efforts would facilitate «stabilization of geopolitical situation throughout the vast European expanses and would create new opportunities for trans-continental cooperation in various areas». The benefits of strategic rapprochement between Beijing and New Delhi are too "numerous" and "too evident" not to become an issue of consideration for strategists on both sides of the Himalays».
Meanwhile, Chinese-Indian relations bear quite a few strategic differences. Both China and India are coming to rely on national identity. The Bharatiya Janata Party – the party of Indian nationalists – has been in power in New Delhi since 2014. From the point of view of domestic policy, the stake on national feelings of the Hindu majority has yielded considerable dividends for the party. In turn, China's rhetoric on the territorial issue is as unyielding as ever. China also continues to develop strategic ties with Pakistan – India's historical opponent. Finally, China has been pushing India out of South Asia and the Indian Ocean – territories traditionally regarded by New Delhi as a zone of India's vital interests. And India's trade deficit has been on the rise, having amounted to 60 billion dollars.
In addition, a demonstration of resoluteness in all spheres has become the main feature of Chinese foreign policy of late. «The new … approach, which manifests itself in social networks, in newspapers, and at negotiating table…» is part of China's campaign for «what the Chinese leaders believe to be China's legitimate place in the world». Critics describe Beijing's new foreign policy as "assertive", signaling a «grave conflict» with the officially declared policy of striving for "mutual gains".Given the situation, there are grounds to assume that the growing social and economic superiority is intangibly changing Beijing's attitude to its "backward" neighbor, making it more lenient.
In the meantime, the policy of national consolidation is fraught with new problems for both countries. Traditionally, New Delhi stakes on a multi-vector foreign policy and rejection of strategic coalitions. At the moment, India is trying to avoid a situation in which it would have to choose sides in a rapidly unfolding cold war between China and the United States. Firstly, for New Delhi, a choice of one of the sides in the war – Beijing or Washington – would radically destabilize the status quo and would destroy the fragile balance in the system of international relations, at least, in the Eastern hemisphere. Secondly, right now India would have to accept a secondary role, both in the Chinese "Community of Shared Future for Mankind", and in the American strategy for "Indo-Pacific Region". As a result, New Delhi's "hesitations" is all but intensifying distrust, both in Washington, and in Beijing.
China, in turn, is set on avoiding a role similar to that of the USSR in the 1970s, when the United States made a breakthrough in relations with China, thereby putting the Soviet leadership in a difficult position. Should there appear a strategic alliance between New Delhi and Washington, then China would find itself in a position of geopolitical disadvantage. If Washington could put into effect its policy of institutionalizing the so-called "union of Pacific democracies", "Asian Atlanta", particularly with the participation of all four major players – the United States, India, Japan and Australia, America would regain dominating positions in Asia-Pacific Region.
In the course of last year, trends that do not encourage a warming of China-India relations hit a new level. InIndia the year 2019 marked parliamentary elections and transition to a more pronounced policy of national consolidation on the basis of the principle 'India is a nation of Hindus'. This triggered mass protests of Muslims across the country. There was also an escalation of confrontation with Pakistan, which has China as a strategic patron in recent years. Indian-American ties continued to develop – President Trump paid a visit to India in February this year.
India's social and economic weakness is becoming a major obstacle to the country's greater status in Asia and elsewhere in the world. In addition, according to Indian observers, strategically, New Delhi "is incapable of resisting the irreversible large-scale industrial and infrastructural advancement of Beijing via the Himalayas and the sea routes of South Asia, which are considered a traditional sphere of influence of India, and is thus forced to resort to a counter-balance strategy". A major element of such a strategy is the closest possible rapprochement with America.
Meanwhile, China has irreversibly been drawn into a full-blown trade war with the United States, which in 2019 entered the phase of confrontation of financial systems and a 'cold war' in the sphere of new technologies. Given the situation, Beijing is less willing to hide its anger over an unrelenting, in its opinion, rapprochement between New Delhi and Washington. On June 7 Global Times, a branch of People's Daily, an official newspaper of the Communist Party of China, warns India against being fooled by the Americans. The article also says that China will not concede "a single inch of territory" to India. In another publication of Global Times India's readiness to join G7, whose expansion but without China was recently proclaimed by Donald Trump, is described as "a dangerous game".
As it happens, "the ideal" foreign policy framework for India is to be an autonomous center of strength, which is cooperating with different competing poles simultaneously and maintaining a constructive balance of interests amid competition between leading powers. Meanwhile, for China, given a mounting confrontation with the United States, further constructive relations with India appear to be one of the most favorable scenarios in the conditions of the changing architecture of a world order after the corona crisis. History shows that «political willpower and readiness for compromise» can overcome even the most deep-rooted differences. In the long run, both countries should be realistic enough to understand that an alternative to normalization of bilateral relations is a new escalation of crisis.
Moscow is fully aware of the challenge of establishing a dialogue between so big, so ambitious and so different, in many respects, countries. Russia wants the world's two most densely populated nations to search for solutions which would make their relations better and more effective, without jeopardizing the positive experience of cooperation they accumulated in previous years. It is essential to find a way between continuation of constructive effort in the absence of full consensus, on the one hand, and refusal to cooperate under the pretext of outstanding differences, on the other.
From our partner International Affairs
The Unfolding Chinese Aggression against Taiwan
The last few months have seen a heightened level of Chinese aggressive activity against Taiwan. Repeated incursions into its air and marine space, have become norm rather that rarity. There have been occasional pushbacks from the Taiwan military. The US administration too, has come up with nuanced statements, bordering on advise for the Chinese to behave rationally. The Chinese actions subsequently indicates its explicit contempt for whatever the Taiwan and the American governments are protesting about and there seems no reduction in the incessant Chinese movements aimed at challenging the sovereignty of Taiwan, politically and militarily.
So what actually is going through the minds of Xi Jinping's People's Liberation Army (PLA) leadership. Is China going to invade Taiwan militarily and brush aside whatever little opposition is coming across through the US. Why for a change, the Chinese aggression has suddenly become more open and emphatic against Taiwan? If it has already planned to take over Taiwan militarily and the US administration is merely making a public show of its commitment to Taiwan Relations Act, 1979. Most importantly, if and when something like this happens whether it could lead to a war between the US and China. And what will be the security implications in the region, for countries like Japan, India and smaller ASEAN nations.
It is important to understand the strategic background of Chinese activities. The sudden spurt in the aggression against Taiwan has preceded the outbreak of dreaded Corona virus across the world. It is interesting that the virus actually did originate in China, whether intentionally or accidentally, and the timing of Chinese aggression in the region, Ladakh in India, around Senkaku Islands of Japan and Taiwan, has increased when the global attention has been shifted almost wholly to the pandemic. Also, these countries themselves along with other nations in the region, Thailand, Philippines, Indonesia, Vietnam, Malaysia are also engaged badly in protecting respective economies against the onslaught of the virus.
While the World Health Organisation's (WHO) sudden stop into the delayed investigations into the origin of Corona, seems curious and act itself probably require another investigation, strategically the timing seems perfect for China. While the countries in the region and world as a whole, seems distracted towards containing the impact of pandemic, the goings on in China, suddenly and miraculously, has become normal.
It initially directed its greater attention and military power against India. Continuing with its unofficial salami slicing strategic doctrine, it tried to occupy an important part of eastern Ladakh. However, with India being no pushover, that reacted with tremendous military build-up and even occupied some strategic tracts in the Kailash range, making the Chinese PLA vulnerable in Moldo and Spanggur Gap, it had to fall back on the policy of protracted negotiations followed by selective disengagements.
Unable to secure all its strategic objectives on the India front, China then moved on with a tactical strategy on Taiwan. It started with approach of intense intimidation, with the hope that the resolve of most political sections there will be severely dented. The international community will remain unsettled and uncertain about Chinese intentions, partly as a result of Corona and partly seeing this tactic for quite long.
The actions of Xi Jinping's Chinese Communist Party (CCP) in the last two-three years, have been extremely unsettling for the global community. It started off with unprecedented aggression in the south China Seas against all regional countries, occupying uninhabited islands, shoals and repeatedly getting into the maritime zones of other countries, claiming them to be its own, openly violating the United Nations International Convention on Laws of Sea (UNCLOS). After a while with opposition getting limited, it crafted a news strategy of creating new artificial islands on seas with strategic and security objectives.
The domestic clampdown on Hong Kong followed. A little bit of international condemnation and strong domestic protests notwithstanding, China was able to stifle the crisis subsequently. It followed with a major aggression against India. Once that was met with a fearsome and retaliatory pushback by India, China reportedly expanded its borders by occupying some uninhabited remote villages in smaller nations, Nepal and Bhutan. With Nepal completely locked in a domestic political turmoil and ruling dispensation having inexplicable affinity with the Chinese Ambassador in Kathmandu and the CCP, there was no murmurs of even diplomatic protests either. Bhutan being completely dependent upon India for its security, found India too involved with the unfolding domestic Corona crisis to directly get into the picture a la Doklam in 2017.
While CCP has grandiose plans to make China a great power by 2049, the centenary year of China's communist rule, events seem to have increased its political and strategic appetite. A supposed unification of a renegade province, in the form of Taiwan, could well be the crowning glory for the CCP in the centenary year of its founding. More importantly, it could well turn out to be the biggest political victory for XI, if it materialises, at all.
The US currently is the only power that seems capable and willing, to protect and defend Taiwan. There are other regional powers like Australia, Japan and India who could well support and help Taiwan, protect its sovereignty. However, how far they will go and face China, strategically and militarily, is open to evolving situations.
A raging border and maritime dispute with both India and Japan should occupy minds of PLA planners. Though neither are strategic pushovers, especially India can actually give China a bloody nose, as happened in Ladakh in June last year. Japan too is concerned over Chinese moves and for the first time in decades, has started bolstering its latest weapon acquisitions besides of course, having the American security guarantees. But the Chinese moves against Senkaku islands, does indicate a significant bit of security threats to Japan, if and when Taiwan is invaded by China.
Australia too, has been facing a barrage of economic and psychological warfare in particular from China. Since the cancellation of the Belt and Road initiative (BRI) of China in Australia and a couple of other strategic infrastructural lease agreements, it too is facing Beijing's ire. Though Anthony Blinken, the US Secretary of State just assured that his country will stand with Australia as an ally, it too is likely to face an increased amount of Chinese belligerence in the likelihood of Taiwan invasion.
Finally, the Chinese dilemma on Taiwan is squarely dependent upon the likely American reaction. Sooner or later, a lightning special forces attack on Taiwan, decapitating its formidable small military force is a real possibility. This possibility in fact, has been gamed and suggested by top US military generals too.
The important strategic factor for the global community is that China is one country that has repeatedly been violating international norms, rules, regulations and challenging an established order to fulfil its expansionist aggressive designs. If it is allowed to do so in case of Taiwan or no clear exposition of Taiwan's sovereignty is made by major powers, the likelihood of erosion of others security in the region, will be a real possibility.
For the US, a mere repetition of standing with Taiwan and current ambiguity about its political status, will not do, any more. It along with the emerging Quad of Australia, India and Japan and may be, Vietnam and others later, should form a bulwark of defence and security of Taiwan, against Chinese aggression. Politically and militarily, if required, the world needs to come forward to protect the territorial integrity of Taiwan and make China accept that its land-grabbing tactics, by intimidation and false historical records, will no longer do. The days of redrawing territorial boundaries by force, are over and must not be accepted.
Chinese Assertiveness in Terms of Its View of World Order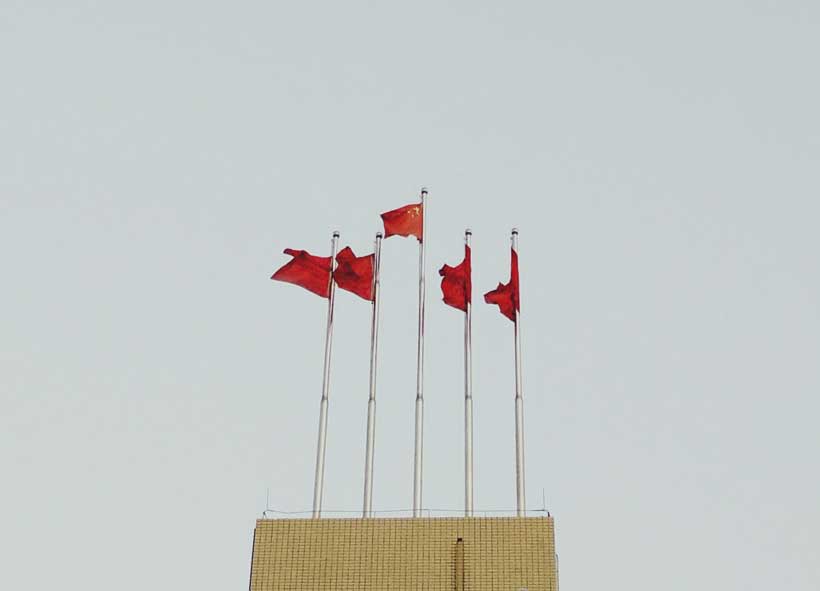 The 'Rise of China' since 1990s can now match 'Asian Miracles' like Japan, Korea, Taiwan and Singapore. For three decades Chinese economy was rising so fast that in some years Chinese economy rose nearly 15 percent per year. With its enormous population and economy China is now a power to reckon and soon to challenge US dominance if not globally but in most of the regions. This power made China an assertive force in Asia as it has territorial disputes with nearly every single of its neighbors on the land and water. John Mearsheimer acknowledges it as the 'tragedy of great power politics'. But this might not be the only reason of Chinese assertiveness. Chinese World Order or Chinese International Relations Theory might explain another reason of Chinese aggression to view the broader perspective which includes Chinese academia and society.
China is a bully in Asia where it bullied powerful countries like India to powerless like Bhutan or Kyrgyzstan. China claims Nepal and Bhutan including Indian States like Arunachal, Sikkim and Ladakh are also part of South Tibet. Previously China annexed a part of Kyrgyzstan and now demands half of the country as part of Pamir Heights. Communist China annexed Tibet and Xinxiang and Aksai Chin from India. China fought wars with both India and Vietnam in the past. Implicitly China also claims Mongolia as part of China. It has dispute in the East China Sea and South China Sea where all of the neighboring states are victim of Chinese aggression. China claims the entire South China Sea violating the Laws of the Sea and claimed the 'Nine Dash Line' is its territory. Vietnam, Thailand, Indonesia. Malaysia, Brunei, Philippines none of them are spared from Chinese assertion. In the East China Sea, China claims Taiwan as its own part and Senkaku Islands from Japan.
Modern China claims these areas in terms of its history but it does not justify Chinese position in the Westphalia order. Chinese policymakers are very capable of understanding and implementing its interests. They must not want to destabilize the neighbors or a sovereign country without any interest or reason. Apart from national interest, Chinese world view or International Relations Theories must be in scrutiny.
It is thought that China does not have International Relations Theory but a world view where the world order is totally based on China alone. The real international relations theories are absent in Chinese world order as there are no state apart from China. The schools of thoughts are represented by primarily Confucius and Mencius, Shen Dao, Mo Zi etc. The Confucius School promotes peace and it justifies the decisions of the rulers where China is in the middle of the Earth and China is 'all under heaven'. The Legalism School of Shen Dao promotes powers as the center of everything and the result of war depends on economy and agricultural power. Mo Zi's School of thought gave the ruler the mandate of "from heaven to earth" which means everything is under rule of Chinese ruler.
So in the Chinese World Order, everything state China ever knew had a tributary relationship with China. China was the center of the Earth and all the states were around it was the tributaries. Chinese rulers had 'mandate from heaven' to rule all over the world. In the 'Warring Period' China was unified by this doctrine. If a state sent gifts to Chinese king, it was seen as tribute and if Chinese King sent gift, it was the generosity of Chinese king to the tributary state. . Even if China imported goods, they labeled it as tribute to the emperor and exports are generosity. In past these types of relations were present with Vietnam, Thailand, Manchuria, Korea and many more. In modern days, British envoys offered friendship from Britain to China, the Chinese emperor addressed the British Emperor as tributary to China.
Now officially China is a Marxist-Leninist-Maoist state where they want to spread these doctrines 'far from four seas'. Still in July 1971—during Henry Kissinger's secret visit to Beijing—Zhou Enlai summed up Mao's conception of world order by invoking the Chairman's claimed purview of Chinese emperors with a sardonic twist: "All under heaven is in chaos, the situation is excellent." From a world of chaos, the People's Republic, hardened by years of struggle, would ultimately emerge triumphant not just in China but everywhere "under heaven." The Communist world Order would merge with the traditional view of the Imperial Court. In Mao's literature, Mao declared that Tibet was incomplete without five fingers of Tibet; they are Arunachal, Sikkim, Bhutan, Ladakh and Nepal.
With these doctrines in hand they are looking forward to expanding its border on the basis of "All Under Heaven", flexing its muscles and showing the neighbors who is the boss. What are Chinese interests? They want to become the center of the world, to be in the top of the hierarchy that others will obey it, acquire all the geopolitically important areas, open up to the Oceans, stop countries to rise as great powers, the Chinese President as the Emperor and keep all under threat and in its own belly. So becoming the center power of the world is in the old Chinese doctrines which China is fulfilling with its communist ideas in Westphalia order. There is a hypothetical question, if China gets all the lands from so called five fingers of Tibet, and gets legitimacy to South and East China Sea, will it stop? The answer might be negative.
China's Navy in the Arctic: Potential Game Changer for the Future of the Region?
During the Cold War, the Arctic was one of the most strategically important regions where both the Soviet and American militaries had strategic missile launch sites and military bases. During the 1990s, the tensions decreased. Once the ice started to melt, this is changing not only the geographical but also the political landscape in the region, increasing the probability of a potential confrontation in the Arctic. Today's Arctic is different in that there is a new player in the region, namely China, which is bringing new opportunities to the area, but at the same time making political and security issues there even more complex.
The Chinese Navy and the Arctic
According to the recent data, the People's Liberation Army Navy (PLAN) is the largest navy in the word. It has more ships, but the US Navy is heavier, as it has approximately 293 ships approaching nearly 4.6 million tons, while the Chinese Navy, having some 350 vessels, tops 2 million tons. It also has 2 aircraft carriers, 4 nuclear-powered ballistic missile submarines, 6 nuclear-powered attack submarines and 50 diesel-electric ones. In comparison, the Russian Navy consists of 221 warships and 70 submarines.
A question may be raised as to how China's Navy will actually gain access to the Arctic. China may use bilateral negations with the Arctic coastal states to get such access. Building logistics bases to support military activity could be allowed within the exclusive economic zone of a coastal state so long as this does not undermine the coastal state's freedoms and rights.
It is more likely that China will exploit its freedoms and the rights bestowed by the U.N. Convention on the Law of the Sea. Nevertheless, the deployment of China's military vessels and submarines and the practice of having unilateral military excises will indeed be a sensitive political matter. Therefore, China may use the legal framework of international security cooperation as an official excuse for its military presence in the Arctic in the future.
Li Zhenfu, a Chinese maritime studies scholar, said, "Whoever controls the Arctic Ocean will control the new corridor for the world economy" (Brady 2017: 64). Following this logic, it will be crucial for Chinese officials to make sure that the trading route through the Arctic will be secured for Chinese ships. This argument can potentially be used by the Chinese government in the future as justification for the Chinese Navy to patrol the high seas. One of the key advantages of Arctic shipping routes is the absence of potential checkpoints. Nevertheless, if the geopolitical situation changes, there will potentially be three checkpoints for Chinese ships heading for the Arctic: the straits dividing the Japanese archipelago, the Bering Strait, Russia's Severnaya Zemlya and New Siberian islands (the Northern Sea Route), and Canada's Queen Elizabeth islands (the Northwest Passage).
The Chinese Communist Party recognizes that China will have to develop its sea power. Anne-Marie Brady, a New Zealand political researcher, suggests that this policy has already been discussed in Chinese newspapers and has been put into practice. For example, in 2014, the People's Liberation Army Daily pointed out: "If China is to become a great power, it must be powerful on the high seas, and to achieve this it must have a clear maritime strategy" (Brady 2017: 236). It is widely believed that the Chinese Navy master plan has been influenced by Alfred Mahan's (one of the most important American strategist of the 19th century) writings on sea power and the Soviet admiral Gorshkov's strategy. Mahan said that a country willing to become a dominant maritime power would have to build a strong navy in order to get access to key resources and protect its commerce (1890). As one of the principal architects of the reforms in the Soviet Navy, Adm. Gorhskov believed that only a maritime force with sufficient power will be able to operate across the deep waters of open oceans and high seas as well as globally. In his view, the adoption of nuclear weapons carried by ballistic missile submarines is one of the key elements to it. It can be argued that the facts indeed prove that the Chinese strategy seems to represent this notion. In the future, this may lead to the situation where the Arctic Sea Route will not merely be a commercial route but also with a military dimension to it.
Chinese experts expressed similar ideas about the military importance of the Arctic for China. In 2010, Shi Chunlin, a Chinese maritime specialist, wrote, "The Arctic Sea is a strategic military route; whoever controls the Arctic will have the upper hand over other opponents" (Brady 2017: 64). In 2012, the Chinese Communist Party policy journal published a report that that sought to analyze China's maritime policies. One of its key messages was that China "will protect the rights on the open seas and pay close attention to the Arctic and Antarctic" (Brady 2017: 71). From a military and strategic perspective, the Arctic is an area that could make China vulnerable. In the event of any war or conflict, China's nuclear missiles targeted at Russia and the United States will traverse through the Arctic's outer space, while the key elements of the US missile defense system and launch sites for anti-ballistic missiles are located in the Arctic or close to the polar region (e.g. Fort Greely in Alaska). To make the Arctic less vulnerable for China, increased military presence will be the inevitable solution but the manner in which that will occur is the question up for debate.
Since the 1950s, China has been trying to develop its own nuclear submarine. Mao Zedong sought help from the Soviet Union; however, Nikita Khrushchev eventually denied China's request saying that China would be protected by Soviet submarines. The Chinese government did not drop the idea and, as Mao Zedong put it, "even if it takes ten thousand years", China will have nuclear submarines of its own. In 1959, the Chinese naval power program started, and 1971 saw the launch of the Type-091 nuclear attack submarine.
China's northern fleet and its submarines based in Qindao have been active in the northern Pacific Ocean since 2009. Chinese submarines (Type-094, Jin-class) are also capable of navigating in the Arctic (Brady 2017: 83). However, there is a potentially significant limitation in the navigation of Chinese submarines in the waters of the Arctic coastal states. Article 20 of the UN Convention on the Law of the Sea states: "in the territorial sea, submarines and other underwater vehicles are to navigate on the surface to show their flag".
The United States has approximately 5800 nuclear warheads, Russia has approximately 6400, while China has about 300. This particular aspect should be given extra attention. If the Chinese navy's scientists and engineers develop a system which allows Chinese submarines carrying with nuclear weapons to access the Arctic Ocean without any detection, this will be a game-changer. It will significantly change the nuclear balance in the world.
In both the darkest hours of the Cold War and amid today's geopolitical tensions, Russia and the United States managed to sign agreements that helped to cool down the nuclear warheads race, with the most recent example being the agreement on the 5-year extension of the New START between President Putin and President Biden. There is no such a successful story of nuclear warheads deals being signed under the same difficult circumstances between China and the United States/Russia.
One reason that the Arctic states, and Russia especially, should be concerned is due to an event that occurred last summer when Valery Mitko, president of the Arctic Academy of Sciences in St. Petersburg and a former Navy captain who served in the Pacific Fleet, was arrested and charged with treason of passing state secrets to China. The most worrisome aspect of that arrest is that Mitko had been accused of giving China the information on the methods used to detect submarines. It is quite possible that this information will be used to design new Chinese technology which will allow the submarines to remain invisible in coastal waters of the Arctic states.
Rob Huebert, a senior research fellow with the Centre for Military and Strategic Studies at the University of Calgary, considers it crucial to begin a conversation about China's potential military presence in the Arctic as, in his opinion, it is "inevitable logic" that Chinese submarines will appear in the Arctic Ocean. Huebert adheres to the opinion discussed in my previous article "A Black Swan in the Arctic Waters. Has China become a Great Power in the Arctic?", which stipulates that China will exploit scientific cooperation. Naturally, the Xuelong icebreaker might be used "as a means of mapping the ocean bottom" so that China's Navy could map such a geographically remote region. However, Mr. Huebert analyzed Xuelong's routes to arrive at the conclusion that the passages of this icebreaker were the areas where China may potentially send its submarines. In this regard, China is acting in the way utterly similar to that of the United States and the Soviet Union when they started sending their submarines under the Arctic ice. Military presence in the World Ocean is the key element of being a superpower. China's increasing scientific and economic activity in the Arctic, the ongoing modernization of its naval fleet as well as the efficient implementation of robust shipbuilding programs will help China's government to move from a regional land-based power to a maritime superpower with the potential of having a global reach.
Final Thoughts
Any nation which seeks to enjoy military presence in the Arctic region will have to follow several steps. First, they would have to establish a commercial/scientific cooperation with other players in the region, and China has already succeeded in establishing close economic and scientific ties with the Arctic states. The next step would be to increase political presence in the region. Opening new embassies and cultural centers is one way to accomplish this, as indeed the power and ambitions of a country can sometimes be judged by its embassies abroad. In this regard, China, being a non-Arctic nation, has been much more proactive that any other state in establishing itself in Iceland, a nation whose proximity to the Arctic makes it an important player in the region.
Figure 1. Chinese Embassy in Reykjavik, source
China has built one of the largest embassies in Iceland (see Figure 2 to compare it with the Russian and the US embassies). Unofficially, the building is referred to as China's "Arctic Embassy" (Brady 2017: 175). Despite the fact that the large new embassy has the capacity to house more than 500 staff, only five diplomats from China were accredited to Iceland. This fact may suggest that the massive building was constructed not for the reason of having a large number of personnel or hosting large-scale events, but as a symbolic soft power message to the other countries, showing that China considers the Arctic to be within its sphere of influence.
However, you might be wondering why Iceland has been chosen as the country to build China's "Arctic Embassy". First, China and Iceland have close economic ties. Upon withdrawing its application to join the EU in 2015, Iceland became the first European state to sign a Free Trade Agreement with China. At the same time, Iceland's president founded the Arctic Circle, a forum to facilitate the dialogue in the Arctic region. Chinese officials were invited to participate in its proceedings from the forum's inception. Three years later, China became the second largest exporter to Iceland. China's Sinopec and Iceland's Orka Energy created a joint venture, Shaanxi Green Energy Geothermal Development (SGE). Sinopec is the owner of 51 per cent of that venture. Meanwhile, the China National Offshore Oil Cooperation has been considering to develop oil and gas shelf cites in Iceland. The cooperation between China and Iceland goes beyond energy as well. In 2018, the China-Iceland Arctic Observatory was opened. At first, it was designed to serve as an aurora observatory. However, it has become a much more ambitious Arctic project. The observatory is now used to research satellite remote sensing. Indeed, this raises concerns as to potential long-term security implications for the Arctic region on account of China's increasing presence in Iceland. The last but not least, Iceland has the close geographic proximity to the Arctic, with its capital being the world's northernmost capital. Therefore, it can be said without a doubt that construction of one of the largest embassies in Iceland in spite the fact of only five diplomats accredited to Reykjavik is a symbolic message which epitomizes China's growing presence in the Arctic.
It is also worth mentioning that the US has not stayed away from that "architecture challenge" in Iceland. In 2020, a brand-new building of the US embassy, arguably as large as the Chinese edifice, was opened (see Figure 3). It only proves that there is an important pollical symbolism in constructing modern embassies in regions which great powers want to protect and where they would like to pursue their economic and political interests.
Figure 2. Russian and US (until 2020) embassies in Reykjavik, Iceland, source
Figure 3. The new building of the US Embassy in Rekjavik, Iceland, source
Once close economic and political ties are forged, military presence can be considered the final step in establishing China's presence and exposing its ambitions in the region. If we analyze how the European Union evolved, we will see that is path of development follows a similar trajectory. First, it was founded as a pure economic community, then throughout the years it transformed into a political union. Within the framework of that political union, there are now more thorough discussions about creating a united European army. As an attempt to move from words to action, in March, 2021, Brussels approved a 4.9-euro billion defense project that "has been tipped to pave the way for the long-proposed EU army".
Chinese officials may find legitimate reasons to justify the presence of the Chinese Navy. Arguably, it could be presented as aiming to protect its commercial ships or scientific bases. Nevertheless, the potential appearance of Chinese ships and submarines in the Arctic will make the geopolitical situation in the region even more complicated. It will definitely vest China with more bargaining power, considering the country's active involvement in energy projects in the Russian Arctic as well as in other commercial and scientific projects with the other Arctic states. There is little doubt that Chinese officials will play these trump cards if necessary. There is going to be a "great game" for the Arctic, and without a doubt, China will be one of the key players in it.
From our partner RIAC