As many people know, the Israeli government was supposed to be formed after the elections of April 9, 2019, but Netanyahu himself failed to do so and the Knesset was dissolved again to prepare for further elections, which took place on September 17, 2019.
Even after this second election there were not the political and numerical conditions to create a stable and homogeneous government majority and new elections were held on March 2, 2020.
On April 20, 2020, an agreement was reached between Benny Gantz and Bibi Netanyahu, which led to the current government of national unity, which officially began to work on May 17, 2020.
As already said, based on the agreement with Benny Gantz, the Prime Minister is Netanyahu himself, who will be replaced by the current Defence Minister, Benny Gantz, in November 2021.
Gantz was Chief of Staff of the Israel Defence Forces (IDF) from 2011 to 2015 and later became Speaker of the Knesset from March 26 to May 17, 2020.
He created his "Israel Resilience" Party in December 2018, based on an alliance with the centre-right group Telem, founded by former Defence Minister Moshe Yaalon, and also with Yesh Atid, (literally "There is a Future"), a party founded in 2012 by YairLapid, thus creating the "Blue and White" alliance.
The Minister of Agriculture and Rural Development is Alon Schuster, from the "Blue and White" alliance.
Son of a German and an Argentinean, he was born in Sderot, one of the most famous and oldest Kibbutzin Israel. He was later part of the Nahal Brigade and was wounded at war.
The Nahal Brigade, which became autonomous in 1982, during the Lebanon War,is a particular structure in the IDF: it stems from a regular paratrooper battalion, but it is also formed by volunteers of the Zionist political movement Nahal, which represents a tradition combining social voluntarism, kibbutzlife and the Israeli military tradition, of which the kibbutz is an integral part (just think of the history of Palmach, for example).
Schuster was a traditional member of the Labour Party (Ha Avoda), which is a socialist democratic, but above all a Zionist party – a political group born in 1968 from the merger of Mapai (literally "Workers' Party of the Land of Israel"),Ahdut Ha Avoda, (literally "Labour Unity"), which is Ben Gurion's old party, and Rafi (literally "Israeli Workers' List") founded by Ben Gurion in 1965.
In 1965 personalities such as Moshe Dayan, Shimon Peres, Chaim Herzog and Teddy Kollek followed the Founder of the State of Israel within Rafi.
Kollek, who was mayor of Jerusalem for several years, was a very important figure for the creation of the Israeli State, both publicly and with its covert operations in Europe and above all in Italy.
Schuster joined the centrist "Blue and White" alliance in April 2019 and was elected to the Knesset.
The Immigration Minister (also known as the Minister of Aliyah, (literally "Ascent"), i.e. the right of all Jews to return from the Diaspora to the Land of Israel), who more exactly defines herself as "Minister of Aliyah and Integration", is Prima Tamano-Shata.
She is a Jewish lawyer, journalist and political activist born in Ethiopia.
At the end of March 2020, she left the Yesh Atid group to join the centrist "Blue and White" alliance.
Prima Tamano-Shata was born near Gondar, in the region of the Ahmara, the tribe that heroically followed the deeds of Amedeo Guillet, whom they called Kummandant Shaitan, namely the "Devil Commander".
The family of the future Minister arrived in Israel with "Operation Moses", when the Ethiopian Jews (known as Beta Israel community or Falas has)were covertly evacuated from Sudan by the IDF during a civil war that caused a famine in 1984.
The newly created Minister for Community Empowerment and Advancement", i.e. the Ministry that deals with municipal and local administrations, is Orly Levy-Abekasis, who is member of the Gesher movement (literally "Bridge") belonging to a centre-liberal area.
The party was founded by Orly Levy-Abekasis' father.
The new Minister joined the Knesset in 2009 with the Israel Beitenu movement and again in 2019 she founded the aforementioned Gesher Party, which initially ran together with the Labour Party.
It should be recalled that her father was the Moroccan Foreign Minister, David Levy, who was also a personal friend of the Moroccan King.
Orly did her national service in the Israeli Air Force and later got a law degree at the Interdisciplinary Center Herzliya. She now lives in the Mesilot Kibbutz.
The current Minister of Telecommunications, who is essential in a country like Israel, is Yoaz Hendel.
He belongs to Derekh Eretzthat, based on European standards, can be considered a small centre-right movement. It was founded in March 2020 by Zvi Hauser and Yoaz Hendel himself, after their leaving Telem, one of the components of the "Blue and White" alliance.
A military historian by training, he worked as a journalist and was the Chairman of the Institute for Zionist Strategies (ZTS), established in 2005, whose real goal is to draft a real Constitution for Israel.
The Institute deals much with demography, as also the other modern governments should do.
He was born to a father of Romanian Jewish descent and a mother of Romanian and Polish Jewish descent and grew up in the religious settlement of Elkana.
He served in the Shayetet 13naval commando unit, one of the most important elite forces.
He was discharged after six years of service and remained active for several years in the Israeli security system and Prime Minister's Office.
He holds the rank of a Lieutenant Colonel in the Reserves where he serves each year.
Yaachov Litzman is the current Minister of Housing and Construction. He previously served as Minister of Health.
He was born to two Polish survivors of the Holocaust in a German refugee camp. Later his family immigrated to Brooklyn and, at age 17, he immigrated to Israel with his parents.
He is a Haredi and belongs to the "United Torah Judaism", an alliance of Agudat Israel, which is traditionally linked to the movement of the same name in Upper Silesia, which is now more Hasidic than Haredi, although it has a long history as a non-Zionist movement of observant Jews.
The Minister of Culture and Sports is Hili Tropper, who belongs to the "Blue and White" alliance.
Son of a Rabbi, he began his political career in the Labour Party. He also has long experience in educational and school matters and an effective personal relationship with Benny Gantz.
David "Dudi" Amsalem, from the Likud Party, was appointed as Minister for Cyber and National Digital Matters.
His parents were immigrants from Morocco and he previously held the post of Minister of Telecommunications. During his IDF national service he was a tank commander in the Armoured Corps and later obtained a Bachelor's Degree in Economics and Business Administration from Bar-Ilan University.
He is Chairman of the Likud Party's Jerusalem branch.
A"Blue and White" alliance member, Michael Biton, was chosen for the key post of Defence Minister.
He was born to parents who had immigrated from Morocco. He got a BA in Behavioural Studies and Hebrew Literature from Ben Gurion University of the Negev, as well as a MA in organizational leadership from the Hebrew University of Jerusalem.
Already elected as a candidate of Kadima – the old centrist and liberal party established in 2005 by Likud and Labour members who supported the unilateral plan of disengagement on the Arab issue, developed by Ariel Sharon -later Michael Biton formed a new political party, called Ahi Israel. Due to a leadership dispute, however, he quickly decided to leave the party and become member of the "Blue and White" alliance.
The current Minister of Diaspora Affairs is Omer Yankelevitch, born Galitsky.
An attorney and civil rights activist, she is a member of the party formed by Benny Gantz and co-founder of the Just Begun Foundation, which sponsors social initiatives to help integrate peripheral and marginal populations in Israel.
Her father was a native of Lithuania and she received a Haredi education. At age 16 shetaught Hebrew and Judaism in Moscow and Ukraine.
The Economy Ministry, which was merged with the Welfare Ministry in 1970, is currently led by Amir Peretz.
A "historical" Labour member currently serving as leader of the Labour Party, he also served as Minister of Defence and Minister of Environmental Protection, as well heading the Histadrut union federation – born at the time of the British Mandate for Palestine – between 1995 and 2006..
After five years as mayor of Sderot, in 1999 he left the Labour Party to establish his own party, One Nation, also known as Am Ehad (literally, and more precisely, "One People"). In 2004 he merged it back into the Labour Party.
Following the 2006 elections, however, Peretz and his partially new Labour Party joined the Kadima-led coalition, which had been established in 2005 to support Ariel Sharon's unilateral plan for disengagement from the Gaza Strip. Peretz served as Defence Minister in the Kadima-led coalition government.
During his tenure as Defence Minister he greatly supported the 2006 Lebanon War and, above all, approved the Iron Dome defence system. He was later defeated by Ehud Barak in another Labour leadership election and resigned from the Cabinet.
In 2012 he resigned from the Knesset after leaving the Labour Party to join the new party called Hatnua, (literally "the Movement"), belonging to the centrist and liberal-democratic area.
In 2013 he ran with the Greens, who had previously merged with Hatnua, while in 2015 he was elected to the Knesset with a list formed together with the Labour Party, called "the Zionist Union", which became the second largest parliamentary group at the time.
Hatnua was a party whose demands focused – especially in 2013 – on peace between Israel and the Arabs, social justice, full employment and also full merger between army and citizens, as well as on religious pluralism and secularism.
The current Education Minister is Yoav Galant.
He was former Commander of the Southern Command in the Israel Defence Forces and former Minister of Construction in 2015. In 2018 he joined the Likud Party.
His Polish mother was a Holocaust survivor and his father fought the Nazis, as a partisan of the Jewish brigades, in the forests of Ukraine and Belarus.
.[He served in the 84thGivatiBrigade and he fought the 1948 Arab-Israeli war and other subsequent wars.
The GivatiBrigade was stationed in the Gaza Strip and mainly carried out counter-guerrilla operations until the Sharon Plan. He received a BA in Business and Finance Management from the University of Haifa.
Galiant began his military career in 1977 as a naval commander in the 13th Flotilla. In the 1980s he moved to Alaska and worked as lumberjack. He then returned to the Navy and served as Commander of a ship-based missile launcher. In 1994 he took up the command of the whole 13th Flotilla.
After serving for three years as Commander of the 13th Flotilla he moved up to command the Gaza Division. In 2001 he was appointed as Chief of Staff, while in 2002 he became the Prime Minister's Military Secretary.
In 2005 he was appointed as Commander of the Southern Command. During his tenure the IDF embarked on Operation Cast Lead against Hamas in the Gaza Strip.
In his political career Galant initially accepted to run for the Kulanu Movement created in 2014, while in 2018 he joined the Likud Party and was appointed as Minister of Aliyah and Integration. In 2019, however, he resigned from the Knesset.
The current Minister of Environmental Protection is Gila Gamliel, a female member of the Likud Party born in 1974 to a Jewish Yemeni family.
Her mother was from Libya. She studied at the Ben-Gurion University of the Negev where she was awarded a BA in Middle Eastern History and Philosophy. Later she also graduated in Law.
The Finance Ministry is led by Israel Katz from the Likud Party. Katz. previously held the posts of Minister of Agriculture, Minister of Transport, Minister of Intelligence and Minister of Foreign Affairs and was also member of the Security Cabinet of Israel.
His parents were German Holocaust survivors coming from the German-speaking region of Romania, on the border with Germany and Hungary.
He drafted into the IDF in 1973 and volunteered in the Paratroopers Brigade. After his discharge in 1977 he studied at the Hebrew University of Jerusalem. He entered the Knesset tin 1998 as a replacement for Ehud Olmert.
In 2003 he was appointed Minister of Agriculture in Ariel Sharon's government and in January 2004 he announced a plan to increase settlements in the Golan Heights. Along with Netanyahu, Katz was also against Sharon's Gaza disengagement plan. In the same period, he even lobbied with the World Zionist Organisation to provide incentives and subsidies for settlements in the West Bank.
Former Minister of Transport in Netanyahu's government in 2009, Gabi Ashkenazi is the current Foreign Minister in the government formed by the Likud Party, the "Blue and White" alliance and other groups.
He was Chief of General Staff from 2007 to 2011. He is a Mizrahi Jew -i.e. an Eastern Jew, often of Maghreb origin – born in the Sharon region of central Israel. His father, a Holocaust survivor, had immigrated to Israel from Bulgaria while his mother had immigrated from Syria.
He attended a renowned high school affiliated with the prestigious Gymnasia Herzliya in Tel Aviv and later studied at the U.S. Marine Corps University.
He served in the Golani Brigade from 1972 to 1988 and he first saw action during the 1973 Yom Kippur War. Later he took part in the Operation Thunderbolt, the Operation Entebbe and in the Operation Litani of 1978.
During the 1982 Lebanon War Ashkenazi served as deputy Commander of the Golani Brigade. He was promoted to Commander of said Brigade in 1987.
A year later he was appointed Head of Intelligence for Israeli Northern Command.
He later worked as the Chief of Israel's civil administration in the occupied Lebanon and in 1994 he was promoted to Chief of the General Staff's Operations Directorate. In 1998 he was appointed Head of the Israeli Northern Command, a position that would make him responsible for Israel's withdrawal from its Security Zone in Southern Lebanon. He criticized the withdrawal, believing that it should have been accompanied by negotiations with Syria.
He was appointed IDF Deputy Chief of Staff in 2002, but he had also been in charge of the construction and maintenance of the fence physically separating Israeli and Palestinian communities in the West Bank.
He advocated building the fence very close to the Green Line, i.e. the 1949 "Armistice border".
In 2006 Ashkenazi was appointed Director-General of the Defence Ministry and served as Chief of the General Staff from 2007 until 2011.
He joined the current government as member of the "Blue and White" alliance.
Yuli Edelstein, from the Likud Party, is the current Minister of Health.
He is of Ukrainian descent and son of a Jewish father and a Christian mother. Later both parents converted to Christianity. Currently the Minister declares he is an Orthodox Christian and he is also a "Russian Orthodox priest".
He arrived in Israel in 1977, but then went back home and was later "sent" to the Siberian penal colonies by the KGB, after being arrested by the Russian Intelligence Service on fabricated charges: coincidentallyhe was charged with home possession of drugs.
He immigrated definitively to Israel in May 1987,moving to the West Bank settlement of AlonShvut.He did his national military service in the Israel Defence Forces, attaining the rank of Corporal.
In 1996 he founded the Yisrael Ba Aliyah Party, together with the famous Soviet dissident Nathaniel Sharansky.
In 1996 he was elected to the Knesset and became Minister of Immigrant Absorption in a Netanyahu's Likud-led government.
In 2009 he was appointed Minister of Information and Diaspora.
Following the 2013 elections, he became Speaker of the Knesset.
Another Likud member, Ze'ev Elkin, was appointed to the newly-created posts of Minister of High Education and Minister of Water Resources.
He was born to a secular Jewish family living in Ukraine and, as a young man, he joined Bnei Atikva, the largest Zionist religious movement in the world.
He studied mathematics and physics at Kharkiv University from 1987 to 1990. He later became the General Secretary of the Soviet Union branch of Bnei Atikva, the aforementioned association founded during the British Mandate for Palestine.
After immigrating to Israel, he studied at the Hebrew University of Jerusalem. He was elected to the Knesset for Kadimain 2006.
He served as Deputy Minister of Foreign Affairs from 2013 to 2014 and then became Chairman of the Knesset Foreign Affairs and Defence Committee.
In 2015 Elkin was also appointed Minister of Immigrant Absorption and Minister of Strategic Affairs, a post he had to surrender after only 11 days when Gilad Erdan was appointed Minister of Public Security, Strategic Affairs and Public Diplomacy. Elkin asked for Minister of Jerusalem Affairs portfolio as compensation for losing Strategic Affairs and Netanyahu met his demand.
The Ministry of Intelligence is led by Eli Cohen from the Likud Party.He previously held the post of Minister of the Economy and Industry and was a member of the Security Cabinet of Israel.
He has a MBA in Accounting and in ance, as well as specific qualifications and skills in management.
The current Minister of the Development of the Negev and Galilee is Aryeh Deri, from Shas, the Haredi religious political party.
He previously served as Minister of the Economy and in 1999 he was convicted to a three-year jail sentence on bribery and fraud charges.
He was born in Morocco and he is the brother of Rabbi Beer Sheva. In 1998, as Interior Minister, he abolished the censorship of plays in theatres.
TheMinistry of Jerusalem Affairs and Heritage, which is not a permanent Ministry in Israeli politics, is led by Rafi Peretz,who served as the Chief Military Rabbi of the Israel Defence Forces and is currently leader of the "Jewish Home" party.
He was born in Jerusalem to parents of Moroccan Jewish descent and in 2019 he served as Minister of Education.
Avi Nissenkorn is the current Minister of Justice. He is a lawyer and former General Secretary of Histadrut labour union.
He is a member of the "Blue and White" alliance.
His parents immigrated from Poland. In February 2016 he became a member of the Labour Party and later joined the Israel Resilience Party led by Benny Gantz.
The Ministry of Labour, Social Affairs and Social Services is led by Itzik Shmuli, a Labour Party member and former leader of the National Union of Israeli Students.
His parents are of Iraqi Jewish descent: He was conscripted to the Israel Defence Forces in 1998 and served as tank commander. In 2001 he opened a restaurant and catering company with his father in Tel Aviv where he worked for two years. In 2003 he moved to Argentina. After returning to Israel, he attended the Oranim Academic College and graduated in Special Education and Social Community Action. As stated in various articles, he officially belongs to the LGBT community.
He is a member of the Zionist Union.
A member of the Likud Party, Yuval Steinitz, is the current Minister of National Infrastructure, Energy and Water Resources.
He served as Minister of Finance (2009-2013) and as Minister of Intelligence and Strategic Affairs (2013-2015). He holds a Ph.D in Philosophy and was a senior lecturer at the University of Haifa.
He joined the "Peace Now" movement as a young student.
The Minister of Public Security, who deals with Police Forces, Prison System and Fire Department, is led by Amir Ohana, another member of the LGBT community.
He previously held the post of Minister of Justice. His parents are Sephardic Jewish immigrants from Morocco. He served in the IDF as a road accident investigator in the Military Police. After leaving regular military service, he served in the Shin Bet, the Israel Security Agency.
He is also Chairman of the Likudgay caucus Likud Pride.
Gilad Erdan from the Likud Party is the current Regional Cooperation Minister.
He formerly held the posts of Minister of Public Security, Strategic Affairs, as well as Minister of Information, Minister of Environmental Protection, Minister of Communications, Home Front Defence Minister and Minister of Internal Affairs.
Son of Romanian Jews of Hungarian descent, he studied law at Bar-Ilan University and practices as a lawyer. He is also legal advisor to Benyamin Netanyahu.
He is very close to the U.S. Evangelical Zionist network and was also Israeli Ambassador to the United States from January 2020 to date.
Yaakov Avitan is the current Minister of Religious Affairs. He is the son of the Rabbi of Be'er Tuvla Regional Council. He was ordained as a Rabbi at the age of 19 and is a current member of the Shas party.
The Ministry of Science and Technology is led by Yizar Shai from the "Blue and White" alliance.
He was born to parents from Argentina. In 1981 he started his national service in the Israel Defence Forces, joining the Paratroopers Brigade and serving in the 1982 Lebanon War.
He studied at Technion, the best scientific university in Israel and in the whole Middle East, established in 1912, which is currently 85thin the world's scientific university ranking.
He established the Business Layers company in 1998.
The Ministry of Settlement Affairs is led by Tzipi Hotovely from the Likud Party.
She already served as Minister of Diaspora Affairs and has a sound legal background.
She practices Orthodox Judaism and was born to parents who immigrated to Israel from Georgia. She is a famous TV journalist, known for her radical anti-assimilation views on Israeli Arabs.
Meirav Cohen is the Minister for Social Equality and was born to parents who immigrated from Morocco.
During her national service in the Israel Defence Forces she worked at Army radio as a presenter and editor. She studied at the Hebrew University of Jerusalem for a BA in Economics and Business Administration. She is a member of the "Blue and White" alliance.
Orit Farkash-Hacohen, from the "Blue and White" alliance, was appointed Minister of Strategic Affairs. She was previously Chairwoman of the Electricity Authority.
She had a career as lawyer and worked for the Anti-Trust Authority. Between 2006 and 2007 she attended Harvard University, earning a Master's Degree in Public Administration.
Asaf Zamir serves as the new Minister of Tourism for the "Blue and White" alliance. Formerly Deputy Mayor of Tel Aviv, his family lived in the United States for four years during his childhood. During his national service in the Israel Defence Forces he served in the central control unit of the Israel Air Force. After graduating from Tel Aviv University, he started his career as a lawyer.
An old friend of Italy, Miri Regev, was appointed Minister of Transportation for the Likud Party. She also previously served as Minister of Culture and Sports. Her father was from Morocco and her mother from Spain.
She began serving as the IDF spokeperson's representative in the Israeli Southern Command and in 2003 she was appointed coordinator of the national public relations efforts at the Israeli Prime Minister's Office in preparation for the IraqWar.
She continued to work in the field of military communication during Israel's disengagement from Gaza in 2005 and the 2006 Lebanon War.
Finally, Tzachi Hanegbi, a national security expert, is the current Minister without portfolio at the Prime Minister's Office.
He previously served as Minister of Agriculture and rural Development and Minister of Regional Cooperation, as well as Minister of Justice, Minister of Internal Security, Minister of Intelligence and Nuclear Affairs and Minister in the Prime Minister's Office supervising Israel's Intelligence Agencies. He was born to a family of founders of the covert and underground organizations that later reported to the Likud Party.
Egypt's search for a fig leaf: It's not the Handball World Championship
Hosting major sports tournaments can confer prestige on a country, but in the case of Egypt, the 2021 Handball World Championship will do little to repair its relations with the US, Italy and states in the Gulf, argues James M. Dorsey in this analysis.
***
Egyptian general-turned president Abdel Fattah Al-Sisi sees the 2021 men's handball world championship in Cairo and Alexandria as an opportunity to put his best foot forward at a time when Egypt's relations with its closest regional and global partners are encountering substantial headwinds.
Successful hosting of the championship, the first to involve 32 rather than 24 competing teams, would also serve to counter criticism of the government's handling of the coronavirus pandemic. Egyptian health minister Hala Zayed recently admitted that many more Egyptians contracted the virus than the government has so far reported. A successful hosting would further put a crown in the feather of Egyptian-born International Handball Federation (IHF) president Hassan Moustafa.
Egypt has put strict pandemic-related precautionary heath measures in place for the tournament from the moment teams, officials, and journalists arrive at Cairo International Airport. The measures apply to training, lodging and media arrangements as well as the transport to and from hotels and the championship's four designated match venues. Egypt is determined to ensure that the championship does not turn into a spreader of Covid-19.
That concern prompted the IHF and Egyptian authorities at the last minute to shelve a plan to allow fans into the four venues that include the Cairo Stadium Sports Hall, the New Capital Sports Hall in Egypt's newly built desert capital east of Cairo, the Dr Hassan Moustafa Sports Hall in Giza, and the Borg Al Arab Sports Hall in Alexandria.
The IHF said the decision was taken "considering the current COVID-19 situation as well as concerns that have been raised, amongst others by the players themselves."
Critics charge that Egypt is hosting the tournament even though it seems unable to meet the basic requirements of medical personnel who are on the frontline of the fight against the pandemic.
Doctors and nurses have protested against the high number of infections in their ranks because they lack access to sufficient personnel protection equipment and are threatened with imprisonment if they fail to report to work despite the risk to their lives.
Symptomatic for Mr. Al-Sisi's brutal crackdown on any kind of criticism, several doctors have been arrested on terrorism charges for voicing their grievances.

Putting aside the fact that the impact of a handball tournament pales when compared to the prestige of hosting a mega-event like the World Cup or the Olympic Games, the handball tournament is unlikely to provide much of a fig leaf for Mr. Al-Sisi's hardhanded repression of anyone voicing an opinion but his sycophantic supporters.
That is particularly true for the incoming administration of US President-elect Joe Biden that has not only promised to emphasize human rights in its foreign policy but also needs to do so in its bid to repair America's image and restore its credibility, severely damaged by four years of Donald J. Trump, widely viewed as an authoritarian who undermined foundations of democracy.
Similarly, the tournament will not change perceptions in Italy and much of Europe that hold Mr. Al-Sisi's intelligence service and law enforcement responsible for the kidnapping, torture and killing of Giulio Regeni.
A 28-year-old postgraduate student at Cambridge University, Mr. Regeni had been researching Egypt's independent unions before he went missing in late January 2016. His body was found in a ditch so badly mutilated that his mother could only identify her son by the tip of his nose. He reportedly had sustained a broken neck, wrist, toes, fingers, and teeth before his death, while initials were carved into his severely burned and bruised skin.
Relations between Egypt and Italy last month deteriorated further when Egypt's public prosecution closed its investigation into Mr. Regeni's murder, rejecting Italian prosecutors' findings that accused four Egyptian security officials of responsibility for his death.

Mr. Al-Sisi's abominable human rights record may not be of concern to the United Arab Emirates and Saudi Arabia but equally the tournament will do little to repair cracks in his relationship with the two Gulf states, his main financial backers.
In a move that will not have gone unnoticed in Gulf capitals, Egypt anointed the newly opened, Qatari-owned St. Regis hotel on the banks of the Nile River in Cairo as one of the tournament's key logistics nodes, including its media center.
Qatari Finance Minister Ali Sharif al-Emadi landed in Cairo last week to inaugurate the hotel hours after a Gulf Cooperation Council (GCC) summit lifted a 3.5-year long Saudi-UAE led economic and diplomatic boycott of Qatar, in which Egypt as well as Bahrain participated. Mr. Al-Emadi was the first Qatari Cabinet official to visit Egypt since the boycott was imposed in 2017.
Showcasing the hotel was meant to counter-intuitively signal to Saudi Arabia and the UAE Egypt's concern that reconciliation with Qatar involved far too many concessions, including dropping demands for the closure of Qatar's state-funded, freewheeling Al Jazeera television network and a halt to support of political groups like the Muslim Brotherhood.
Egypt was forced to reluctantly agree to lifting the boycott even though it accepted continued Qatari investment and Qatari gas supplies over the last 3.5 years.
Egypt also felt sidelined by the UAE and Bahrain's establishment of diplomatic relations with Israel. The move deprived Egypt of its role as Israel's primary official diplomatic conduit to the Arab world at a moment that the Al-Sisi regime is seeking to put its best foot forward in anticipation of Mr. Biden taking office.
Mr. Al-Sisi's concerns are compounded by Emirati support for Ethiopia with which he is at odds over the construction of a dam on the Nile that threatens Egypt's water supply; the UAE's growing influence in neighboring Sudan; plans to link the UAE and Israel through a pipeline that would compete with Egypt in selling gas to Europe; and Emirati interest in the port of Haifa that could create an alternative to the Suez Canal.
All of this could undermine Egypt's position as a key pillar of US Middle East policy and persuade the US to further shift the focal point of its broader Middle East and North Africa policy to the Gulf.
Mr. Al-Sisi has sought to pre-empt an incoming Biden administration by releasing prisoners, highlighting his good relations with Egyptian Christians, and hiring US lobbying firms to plead his case to the Biden camp as well as Capitol Hill.
Hosting a handball world championship is a minor maneuver in the mountain that Mr. Al-Sisi is trying to move, particularly one that Mr. Trump tarnished by describing the Egyptian leader as "my favorite dictator." That is a label a handball tournament is unlikely to alter.
Author's note: This article first appeared on Play the Game
Looming Large: The Middle East Braces for Fallout of US–China Divide
China would like the world to believe that the Middle East and North Africa region does not rank high on its totem pole despite its energy dependence, significant investment and strategic relationships with the region. In many ways, China is not being deceptive. With relations with the United States rapidly deteriorating, China's primary focus is on what it views as its main battleground: the Asia–Pacific. China is nonetheless realising that remaining aloof in the Middle East may not be sustainable.
In assessing the importance of the Middle East and North Africa region to China, the glass seems both half full and half empty with regard to what it will take for China to secure its interests. In the final analysis, however, the glass is likely to prove to be half full. If so, that will have significant consequences for Chinese policy towards and engagement in the region.
Indeed, measured by Chinese policy outputs such as white papers or level of investment as a percentage of total Chinese overseas investment, the Middle East and North Africa region does not emerge as a priority on Beijing's agenda even if virtually all of it is packaged as building blocks of its Belt and Road Initiative (BRI).
It was only in 2016 that China published its first and only Middle East-related white paper, devoted to the Arab states rather than the region as a whole. Apart from rehashing China's long-standing foreign policy principles, the paper highlighted opportunities for win-win cooperation in areas ranging from energy, trade and infrastructure, but also technology, nuclear development, and space.[1]
Investment figures tell a similar story. Of the US$2 trillion in Chinese overseas investment between 2005 and 2019, a mere US$198 billion or under 5 per cent went to the Middle East and North Africa.[2]
The region is unlikely to climb Beijing's totem pole any time soon, given the dramatic decrease in Chinese foreign investment in the last four years to about 30 per cent of what it was in 2016[3] and expectations that Middle Eastern and North African economies will significantly contract as a result of the coronavirus pandemic and sharp downturn in energy markets.[4]
Half Full Rather Than Half Empty
What turns the glass half full is the fact that the Middle East fulfils almost half of China's energy needs.[5] Moreover, some of China's investments, particularly in ports and adjacent industrial parks in the Gulf, Egypt and the eastern Mediterranean,[6] are strategically important. What was once primarily a Belt and Road "string of pearls" linking Indian Ocean ports has evolved into a network that stretches from Djibouti in east Africa through Oman's port of Duqm and the United Arab Emirates' Jebel Ali port into a near dominant position in the eastern Mediterranean and onwards into the Indo–Pacific.
China already exerts influence in the eastern Mediterranean region through its involvement in ports in Greece, Turkey, Israel and Egypt. It has expressed interest in the Lebanese port of Tripoli and may well seek access to the Russian-controlled ports of Tartus and Latakia if and when it gets involved in the reconstruction of war-ravaged Syria. This was one reason that the Trump administration warned the Israelis that China's engagement in Haifa, where they have built their own pier, could jeopardise continued use of the port by the US Sixth Fleet.[7]
Asserting the importance of the Middle East, Niu Xinchun, director of Middle East Studies at China Institutes of Contemporary International Relations (CICIR), wrote back in 2017: "The politics and security of the Middle East [are] inextricably related to China. This is the first time in history that China has possessed political, economic and security interests in the Middle East simultaneously."[8] CICIR is widely viewed as China's most influential think tank.
More recently, however, Niu has taken what seems like an antipodal position, maintaining that the Middle East does not feature prominently in China's strategic calculations. In a webinar in May 2020, he said: "For China, the Middle East is always on the very distant backburner of China's strategic global strategies … Covid-19, combined with the oil price crisis, will dramatically change the Middle East. [This] will change China's investment model in the Middle East."[9] Niu emphasised that China considers the Asia–Pacific rather than the Middle East as its primary battleground for differences with the United States.
This shift was part of a game of shadow boxing to subtly warn the Gulf, and particularly Saudi Arabia, to dial down tension with Iran to a point where it can be managed and does not spin out of control.
To ensure that its message is not lost on the region, China could well ensure that its future investments contribute to job creation, a key priority for Middle Eastern states struggling to come to grips with the economic crisis as a result of the pandemic and the sharp fall in oil demand and prices. Middle East political economy scholar Karen Young noted that Chinese investment has so far focused on a small number of locations and had not significantly generated jobs.[10]
Subtle Messaging
Subtle Chinese messaging was also at the core of China's public response to Iranian leaks that it was close to signing a 25-year partnership with the Islamic republic that would lead to a whopping US$400 billion investment to develop the country's oil, gas and transportation sectors.
China limited itself to a non-committal on-the-record reaction and low-key semi-official commentary. Foreign Ministry spokesman Zhao Lijian, a "wolf warrior" or exponent of China's newly adopted more assertive and aggressive approach towards diplomacy, was exceptionally diplomatic in his comment. "China and Iran enjoy traditional friendship, and the two sides have been in communication on the development of bilateral relations. We stand ready to work with Iran to steadily advance practical cooperation", Zhao said.[11]
Writing in the Shanghai Observer, a secondary Communist party newspaper, Middle East scholar Fan Hongda was less guarded. Fan argued that the agreement, though nowhere close to implementation, highlighted "an important moment of development" at a time that US–Chinese tensions allowed Beijing to pay less heed to American policies. In saying so, Fan was echoing China's warning that the United States was putting much at risk by retching up tensions between the world's two largest economies and could push China to the point where it no longer regards the potential cost of countering US policy as too high.[12]
Diplomacy with "Chinese Characteristics"
Nonetheless, China's evasiveness on the Iran agreement constituted a recognition that the success of its Belt and Road initiative and its ability to avoid being sucked uncontrollably into the Middle East's myriad conflicts depends on a security environment that reduces tension to manageable proportions and ensures that disputes do not spin out of control.
"Beijing has indeed become more concerned about the stability of Middle Eastern regimes. Its growing regional interests combined with its BRI ambitions underscore that Middle East stability, particularly in the Persian Gulf, is now a matter of strategic concern for China," said Mordechai Chaziza, an expert on China–Middle East relations.[13]
Reflecting what appears to be a shift in China's approach to regional security, Chinese scholars Sun Degang and Wu Sike described the Middle East in a recently published article as a "key region in big power diplomacy with Chinese characteristics in a new era". Sun and Wu suggested that Chinese characteristics would involve "seeking common ground while reserving differences", a formula that implies conflict management rather than conflict resolution. The scholars said Chinese engagement in Middle Eastern security would seek to build an inclusive and shared regional collective security mechanism based on fairness, justice, multilateralism, comprehensive governance and the containment of differences.[14]
A Blunt Rebuke
But China's conflict management diplomacy may not go down well with the Gulf Arabs, notably Saudi Arabia, judging by what for Saudi media was a blunt and rare recent critique of the People's Republic. In a game of shadow-boxing in which intellectuals and journalists front for officials who prefer the luxury of plausible deniability, Saudi Arabia responded bluntly in a column authored by Baria Alamuddin, a Lebanese journalist who regularly writes columns for Saudi media.
Alamuddin warned that China was being lured to financially bankrupt Lebanon by Hizballah, the Iranian-backed Lebanese Shi'a militia. She suggested in a column published by Arab News, the kingdom's primary English-language newspaper, that Hizballah's seduction of China was occurring against the backdrop of a potential massive 25-year cooperation agreement between the People's Republic and Iran. "Chinese business and investment are welcome, but Beijing has a record of partnering with avaricious African and Asian elites willing to sell out their sovereignty. Chinese diplomacy is ruthless, mercantile and self-interested, with none of the West's lip service to human rights, rule of law or cultural interchange", Alamuddin charged.[15] She quoted a Middle East expert from a conservative US think tank as warning that "vultures from Beijing are circling, eyeing tasty infrastructure assets like ports and airports as well as soft power influence through Lebanon's universities."[16]
Abandoning Saudi official and media support for some of the worst manifestations of Chinese autocratic behaviour, including the brutal crackdown on Turkic Muslims in Xinjiang and the repression of democratic expression and dissident, Alamuddin did not mince words.
Alamuddin went on to assert that "witnessing how dissident voices have been mercilessly throttled in Hong Kong, Tibet and Xinjiang, Lebanese citizens are justifiably fearful that their freedoms and culture would be crushed under heavy-handed, authoritarian Chinese and Iranian dominance, amid the miserable, monolithic atmosphere Hizballah seeks to impose."[17]
A Hair in the Soup
Further complicating Chinese efforts to nudge the Middle East towards some degree of stabilisation are China's technology and military sales with no constraints on their use or regard for the potential geopolitical fallout. The sales include drone and ballistic missile technology as well as the building blocks for a civilian nuclear programme for Saudi Arabia, which would significantly enhance the kingdom's ability to develop nuclear weapons should it decide to do so at some point in future.
These sales have fuelled fears, for different reasons, in Jerusalem and Tehran of a new regional arms race in the region.[18] Israel's concerns are heightened by the Trump administration's efforts to limit Israeli dealings with China that involve sensitive technologies while remaining silent about Chinese military assistance to Saudi Arabia.[19]
Washington's indifference may be set to change, assuming that the recent rejection by the US Embassy in Abu Dhabi of an offer by the UAE to donate hundreds of Covid-19 test kits for screening of its staff was a shot across the Gulf's bow. A US official said the tests were rejected because they were either Chinese-made or involved BGI Genomics, a Chinese company active in the Gulf, which raised concerns about patient privacy.[20]
The American snub was designed to put a dent in China's "Silk Road" health diplomacy centred on its experience with the pandemic and predominance in the manufacturing of personal protective and medical equipment as well as pharmaceutics.
A Major Battlefield
Digital and satellite technology in which Chinese telecommunications giant Huawei's 5G cellular technology rollout is but one component seems set to be a major battlefield. US officials have warned that the inclusion of Huawei in Gulf networks could jeopardise sensitive communications, particularly given the multiple US bases in the region, including the US Fifth Fleet in Bahrain and the forward headquarters of the US military's Central Command, or Centcom, in Qatar.[21]
US Assistant Secretary of State for Near Eastern Affairs David Schenker said the United States had advised its Middle Eastern partners in the region to take "a careful look at investment, major contracts and infrastructure projects." He warned that certain engagements with China could "come at the expense of the region's prosperity, stability, fiscal viability and longstanding relationship with the United States."
Schenker cautioned further that agreements with Huawei meant that "basically all the information and your data is going to Huawei, property of the Chinese Communist Party". The same, he said, was true for Chinese health technology. "When you take a Covid kit from a Chinese genomics company, your DNA is property of the Chinese Communist Party, and all the implications that go with that."[22]
The rollout of China's BeiDou Satellite Navigation System (BDS), which competes with the United States' Global Positioning System (GPS), Russia's GLONASS and Europe's Galileo,[23] sets the stage for battle, with countries like Saudi Arabia, the UAE, Egypt and Turkey having signed up for what is known as China's Digital Silk Road Initiative.[24] So far, Pakistan is the only country known to have been granted access to BeiDou's military applications, which provide more precise guidance for missiles, ships and aircraft.[25]
Promoting "the development of the digital service sector, such as cross-border ecommerce, smart cities, telemedicine, and internet finance (and) … technological progress including computing, big data, Internet of Things, artificial intelligence, blockchain, and quantum computing," the initiative will enable China to enhance its regional influence and leverage in economics as well as security.[26] China's state-owned international broadcaster, China Global Television Network (CGTN), implicitly anticipated US resistance to its Middle Eastern partners being roped into a Chinese digital world when it declared that "a navigation system is like a gold key of your home that should be kept only in your own hands, not others."[27]
The successful launch in July of a mission to Mars, the Arab world's first interplanetary initiative, suggested that the UAE was seeking to balance its engagement with the United States and China in an effort not to get caught in the growing divergence between the two powers. The mission, dubbed Hope Probe, was coordinated with US rather than Chinese institutions, including the University of Colorado Boulder's Laboratory for Atmospheric and Space Physics and NASA's Mars Exploration Program Analysis Group (MEPAG). It launched from Japan's Tanegashima Space Center.[28]
You Can Run, But You Can't Hide
A continuously deteriorating relationship between the United States and China is a worst-case scenario for Middle Eastern states. It would progressively reduce their ability to walk a fine line between the two major powers. That would be particularly true if US efforts to force its partners to limit their ties to the People's Republic compel China into defiance by adopting a more geopolitically assertive posture in the region.
Ironically, the US desire to recalibrate its engagement with the Middle East and a realisation on the part of Saudi Arabia and Iran that their interests are best served by a reduction of tension rooted in an arrangement based on a non-aggression agreement could serve as a catalyst for a new Gulf security architecture. This could involve embedding the US defence umbrella, geared to protect Gulf states against Iran, into a multilateral structure that would include rather than exclude Iran and involve Russia, China and India.
A more multilateral security arrangement potentially could reduce pressure on the Gulf states to pick sides between the United States and China and would include China in ways that it can manage its greater engagement without being drawn into the region's conflicts in ways that frustrated the United States for decades.
None of the parties are at a point where they are willing to publicly entertain the possibility of such a collective security architecture. Even if they were, negotiating a new arrangement is likely to be a tedious and tortuous process. Nonetheless, such a multilateral security architecture would ultimately serve all parties' interests and may be the only way of reducing tension between Saudi Arabia and Iran and managing their differences, which would in turn help China secure its energy and economic interests in the region. This reality enhances the likelihood that the glass is half full in terms of China ultimately participating in such a multilateral security arrangement, rather than half empty, with China refraining from participation.
Author's note: This article first appeared in Middle East Insights of the National University of Singapore's Middle East Institute
End Notes
[1] Ministry of Foreign Affairs, People's Republic of China, "China's Arab Policy Paper", 13 January 2016, https://www.fmprc.gov.cn/mfa_eng/zxxx_662805/t1331683.shtml#:~:text=Since%20the%20establishment%20of%20diplomatic,fields%20has%20been%20constantly%20deepened.&text=The%20Chinese%20government%20has%20issued,development%20of%20China%2DArab%20relations.
[2] American Enterprise Institute, "China Global Investment Tracker", https://www.aei.org/china-global-investment-tracker/.
[3] Agatha Kratz speaking on "China and the Mediterranean Region in and Beyond the Pandemic, German Marshal Fund", 3 July 2020, https://www.gmfus.org/events/china-and-mediterranean-region-and-beyond-pandemic.
[4] James M Dorsey, "Turning Gulf Security Upside Down", Insight 238, Middle East Institute Singapore,  6 July 2020, https://mei.nus.edu.sg/publication/insight-238-turning-gulf-security-upside-down/.
[5] Michal Meidan, "China's Energy Security at 70", The Oxford Institute for Energy Studies, October 2019, https://www.oxfordenergy.org/wpcms/wp-content/uploads/2019/10/Chinas-energy-security-at-70.pdf.
[6] James M Dorsey, "Syria lures but will China bite?", The Turbulent World of Middle East Soccer, 12 June 2020, https://mideastsoccer.blogspot.com/2020/06/syria-lures-but-will-china-bite.html.
[7] Dorsey, "Syria lures but will China bite?"
[8] Niu Xinchun, "China's Middle East Strategy under the 'Belt and Road' Initiative", Foreign Affairs Review 04/2017.
[9] Niu Xinchun speaking on "How are China's Relations with the Middle East Evolving During the COVID-19 Pandemic?", Chatham House, 19 May 2019, https://www.facebook.com/watch/?v=2721841274725780.
[10] Karen Young, "The false logic of a China–US choice in the Middle East", Al-Monitor, 30 June 2020, https://www.al-monitor.com/pulse/originals/2020/06/false-logic-china-us-choice-mideast-economic-political-power.html.
[11] Ministry of Foreign Affairs, People's Republic of China, Foreign Ministry Spokesperson Zhao Lijian's Regular Press Conference on 6 July 2020,  https://www.fmprc.gov.cn/mfa_eng/xwfw_665399/s2510_665401/2511_665403/t1795337.shtml.
[12] "Iran announced a 25-year comprehensive cooperation plan with China. Can China–Iran relations get closer?", Shanghai Observer, 20 June 2020, (观察家 | 伊朗宣布与华25年全面合作计划,中伊关系能否进一步走近?)https://www.shobserver.com/news/detail?id=264494.
[13] Mordechai Chaziza, "Religious and Cultural Obstacles to China's BRI in the Middle East", The Begin-Sadat Center for Strategic Studies, 12 June 2020, https://besacenter.org/perspectives-papers/china-middle-east-obstacles/.
[14] Sun Degang and Wu Sike, "China's Participation in Middle East Security Affairs in the New Er: -Ideas and Practice Exploration" (中东研究】孙德刚 吴思科:新时代中国参与中东安全事务-理念主张与实践探索), Shanghai International Studies University, July 2020.
[15] Baria Alamuddin, "Chinese and Iranian vultures circling over Beirut", Arab News, 2 August 2020, https://www.arabnews.com/node/1713456.
[16] Danielle Pletka, "Lebanon on the Bbrink", American Enterprise Institute, 9 May 2020, https://www.aei.org/op-eds/lebanon-on-the-brink/.
[17] Baria Alamuddin, "Chinese and Iranian vultures circling over Beirut".
[18] Phil Mattingly, Zachary Cohen and Jeremy Herb, "US intel shows Saudi Arabia escalated its missile program with help from China", CNN, 5 June 2020, https://edition.cnn.com/2019/06/05/politics/us-intelligence-saudi-arabia-ballistic-missile-china/index.html.
[19] Mattingly, Cohen and Herb, "US intel"; Timothy Gardner, "US approved secret nuclear power work for Saudi Arabia", Reuters, 28 March 2019, https://www.reuters.com/article/us-usa-saudi-nuclear/us-approved-secret-nuclear-power-work-for-saudi-arabia-idUSKCN1R82MG.
[20] Interview with author, 8 June 2020.
[21] Interview with author, 10 July 2020.
[22] Middle East Institute, "Shifting Dynamics and US Priorities in the Middle East: A Conversation with David Schenker", 4 June 2020, https://www.mei.edu/events/shifting-dynamics-and-us-priorities-middle-east-conversation-david-schenker.
[23] Ben Westcott, "China's GPS rival Beidou is now fully operational after final satellite launched", CNN Business, 24 June 2020, https://edition.cnn.com/2020/06/24/tech/china-beidou-satellite-gps-intl-hnk/index.html.
[24] Belt and Road News, "China's Global Digital Silk Road is arriving in the Middle East", 16 September 2019, https://www.beltandroad.news/2019/09/16/chinas-global-digital-silk-road-is-arriving-in-the-middle-east/.
[25] Maria Abi-Habib, "China's 'Belt and Road' Plan in Pakistan takes a military turn", The New York Times, 19 December 2018, https://www.nytimes.com/2018/12/19/world/asia/pakistan-china-belt-road-military.html.
[26] Huang Yong, "Construction of digital Silk Road lights up BRI cooperation", People's Daily, 24 April 2019, http://en.people.cn/n3/2019/0424/c90000-9571418.html.
[27] Kristin Huang, "China's answer to GPS complete as final BeiDou satellite launches", South China Morning Post, 23 June 2020, https://www.scmp.com/news/china/science/article/3090186/chinas-global-aspirations-lift-beidou-satellite-launches-orbit?utm_source=Twitter&utm_medium=share_widget&utm_campaign=3090186.
[28] Jesse Yeung, "The UAE has successfully launched the Arab world's first Mars mission", CNN, 21 July 2020, https://edition.cnn.com/2020/07/19/middleeast/uae-mars-hope-launch-intl-hnk-scn-scli/index.html.
JCPOA Implementation Amid a Tug of War between Rhetoric and Facts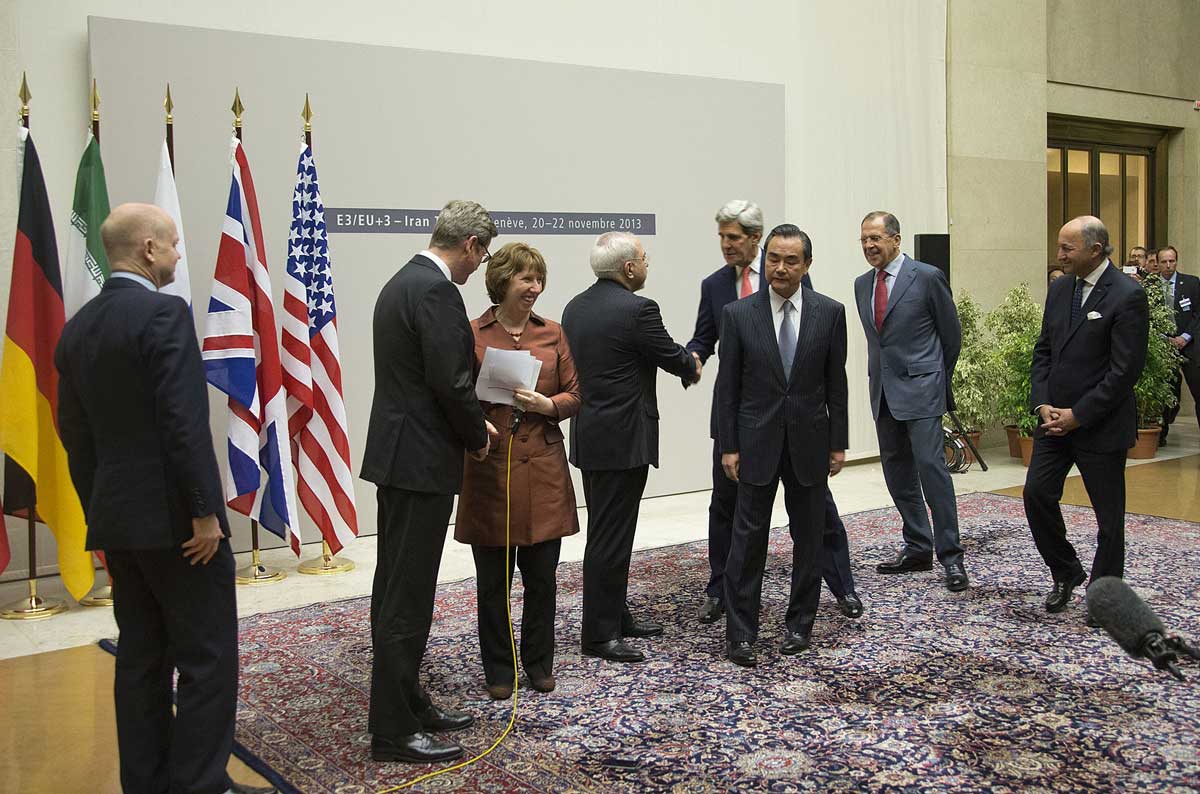 The man behind the insurrection at home and disarray abroad!
A few days before the fifth anniversary of Implementation Day of the JCPOA on 16 January 2021, U.S. House handed Trump a second impeachment. What is important in this regard is the fact that Trump was basically indicted by the U.S. legislature for violating the rule of law. The Article of Impeachment clearly states that the president is impeached for high crimes and misdemeanors and the president stands accused of violating the Constitution of the United States. According to the Article of Impeachment he remains a threat to national security, democracy and the constitution. The truth is, Trump has been a threat not only to U.S. national security, but an abominable menace against international peace and security all along; what Iran has clearly understood and signaled to the world since the early days of this outgoing -or the soon-to-be-removed- Trump administration, the international community only secretly admitted and quietly wished for change.
Although the establishment in the United States put a stop to Trump, his unbridled bullying on the international scene persisted for the full duration of his term with little or no practical opposition at all. By his sheer disregard for all established principles and institutions Trump threw the anarchical nature of international relations in stark relief and all the U.S. traditional allies in Europe under the bus as well! Though Trump is now history in the U.S., some worrying signs in the past weeks suggest proper lessons have not been learned by some Europeans and Trumpism towards Iran might persist for quite a while.
Post-Trump JCPOA
The post-election developments in the U.S. were the source of considerable consternation among the European leaders; therefore, the impeachment was saluted in Europe as they could finally breathe a sigh of relief. Although the impeachment and power transition occur nationally in the U.S., it has nonetheless huge global ramifications. Jo Biden promised in Munich Security Conference of 2019 that they would be back! They are back now. The U.S. president-elect put out words that he would return to the nuclear deal with Iran provided that Iran returns to compliance. In this regard there are a few elements that require prompt attention.
First and foremost, Iran was the victim in the past two years; the victim of an unrestrained bully who made no secret of his disdain for the longest established principles of international conduct, chief among which pacta sunt servanda. Thus, any attempt to twist the facts and portray Iran as the actor who undermines the diplomatic process is grossly irresponsible and highly provocative. Second, unlike the Trump administration's whimsical and unpredictable conduct, all the reversible steps undertaken by the Iranian side have been communicated in a transparent manner to all parties. Third, for every step there has been the element of predictability and nothing came as a surprise so as to ensure good faith throughout the process. Fourth, the reversible steps taken by Iran in the past year, much to the dismay of Europeans, were the inevitable result of Europeans' inaction and non-performance of commitments which deprived Iran of billions of dollars and prevented the normalization of trade and economic relations specifically during the last year when the Covid-19 outbreak inflicted a huge human cost on Iran. Last but not least, the IAEA monitors every step of the way and has mounted one of the most rigorous monitoring and verification regimes in the Islamic Republic of Iran. This all means that the "concerns", regardless of the scale of their intensity, as expressed by the European parties to the deal in their statements of 6 and 11 January, are only a reflection of the discursively constructed culture against Iran's nuclear program.
With the IAEA in Iran enjoying full access under the Additional Protocol for now, and considering Iran's status as an NPT member state, it is difficult to understand European's "deep regrets" and their "repeated calls" to "reverse all action that are inconsistent with Iran's JCPOA commitments". It is also impossible not see the hypocrisy of it all; for instance, a regional ally of Europe, while sitting atop a vast nuclear arsenal, openly boasts their nuclear weapon capacities and asserts that they do not need to explain themselves on their nuclear warheads simply because they are not NPT member states. Moreover, there are other regional allies of Europe who are NPT member states, yet they have not even signed the Comprehensive Safeguards Agreement, let alone the Additional Protocol.
All through the past two years, Iran has pursued a measured nuclear diplomacy and avoided any action that might hint at provocation or escalation in the nuclear field. The term reversible has been purposefully chosen by Iran in description of its reduced commitments and if Europeans want to see a reversal of actions, they know what Iran expects; it is nothing more than the EU/E3 commitments expressly spelled out in the JCPOA.
Recent postures by the EU and the E3 do not help mainly because they portray Iran as the main culprit of the current nuclear standoff whereas it is only defending its natural interests in a matter of high security stakes. Such statements also ignore one very important fact, or at least tone it down significantly and that is the destructive role that the U.S. withdrawal played in the post 8 May 2018 drama.
A tug of war between rhetoric and facts
One might ask why it has been the case that Iran's nuclear program is conceived of as a proliferation threat! To find the answer, we should take stock of the security context of the early 2000's when discursive constructs of threat significantly outweighed factual analyses and calculations of the Bush administration. Iraq is a vivid example of such disregard for facts where Bush's blind insistence on the existence of weapons of mass destruction in Saddam's arsenal, based on flawed cherry-picked intelligence despite all internationally verified evidence to the contrary, led to the U.S. invasion of Iraq the scourge of which is still fresh in the region.
It is a peculiar fact that Discourse shapes realities in foreign policy, and it has often been the case that discursive constructs play a far more effective role than substantial facts. The U.S. administration back in early 2000's paid no heed neither to the IAEA expertise, not to words of warning by American senior politicians. At the time of Operation Iraqi Freedom, Bush's claims were unconfirmed and to this day, not a trace of weapons of mass destruction has been found in Iraq. It was maybe for good reason that William Burns, recently tapped by President-elect Biden to lead the C.I.A. laments not "tak[ing] a hard stand against war altogether" and recounts the build-up to Iraq war and failure in mounting and effective opposition to it as his "biggest professional regret".
In that light, it is safe to assert that Iran's nuclear crisis was the direct product of such securitized foreign policy discourse which portrayed Iran's nuclear program as a proliferation threat. Such frame of mind has poisoned everything related to Iran and its non-proliferation policies. From foreign policy circles to intelligence communities, from think thanks to centers of academic excellence, from press to media the rhetorical and constructed notion of "Iran as a proliferation threat" permeates debates and what seems to
be taken for granted is that whatever Iran does, even within the confines of the Comprehensive Safeguards Agreement and the Additional Protocol, is inevitably linked to weaponization efforts! This construct has become an open wound that the U.S. and others in the region find easy to poke anytime their powerful lobbies deem it necessary to further their regional agenda of aggression and war mongering.
A return to the facts
In my capacity as ambassador, and so far as Covid-related restrictive measures would allow, I have been trying hard to accentuate the factual element in Iran's nuclear program to European diplomats. The IAEA is present in Iran and its inspectors have access under the Additional Protocol to the places they might deem worthy of inspection. All nuclear activities in Iran are declared to the Agency and unfold before the eyes of IAEA inspectors. Besides, in sharp contrast to what the U.S. did on 8 May 2018, in the past two years Iran has had a transparent, verifiable and predictable and reversible course of action in its nuclear program. Let's be clear, though, Iran agreed on a provisional basis to take confidence- building measures as stipulated under the JCPOA. You cannot build confidence forever, neither can such measures be taken for granted!
In the end, I would like to invite the European parties to the JCPOA to play a constructive role and acknowledge the fact that Iran was the victim of Trump administration's policies in the past two and a half years. Secondly, I call upon the EU/E3 not to be part of this securitized discourse on Iran and not to tug at the rhetoric end of this discursive war and take the public opinion and its impact into serious consideration. Pursuing a policy of sanctions and coercion failed in the past and it is doomed to fail in the future as well. Finally, with the upcoming U.S. administration and the talks here or there in Washington about a prospective Biden administration return to the JCPOA it is important to build on this momentum rather than to create obstacles to the diplomatic process.