What If A North Korea Nuclear Crisis Should Coincide With Election Loss For Donald J. Trump?
"I hold despicable, and always have, anyone who puts his own popularity before his country."-Sophocles, Antigone, Speech of Creon, King of Thebes
Democrat presidential candidate Joe Biden worries audibly that Donald Trump could "steal" the upcoming election, including a once-inconceivable concern that this incumbent might simply refuse to vacate the White House. Though any such expressed fear would have been preposterous prima facie in ordinary times, these are notordinary times. Indeed, if a bad election outcome should somehow coincide with a North Korean nuclear crisis,[1] the already-ominous "Biden Scenario" about Trump could prove relatively benign.[2]
The underlying and exceedingly complex strategic issues involved here will not be resolved by a politician's whim or by intellectual faint-heartedness,[3] whether by persons already in government or those still merely "aspirational." Inter alia, regarding nuclear decision-making in Washington, there are many intersecting circumstances that will need to be considered, including the more-or-less unpredictable effects of a stubbornly-escalating disease pandemic. Making all the densely critical issues even more difficult to anticipate or resolve, these effects of "plague" could fall differentially (that is, equally or unequally) on the two contending nation-states.[4]
In any event, we should begin any corresponding analyses at the beginning. Concluding his Singapore Summit with Kim Jung Un back in June 2018, President Trump returned home offering unwarranted reassurances that "there is no longer any nuclear danger from North Korea." Though an absurd extrapolation from his visceral personal "diplomacy," a patently absurd extrapolation, this unsupportable comment was quickly brushed aside by trump's solidly-ardent supporters. "What further need might Trump have," went their corollary queries, "for intellectual preparations?" Plainly, we were then to "learn" from this president, all that could ever be needed to deal satisfactorily with a nuclearizing adversary was a proper presidential "attitude."
Understandably, this uncannily anti-intellectual presidential stance has led to a continuously unstable US-North Korea nuclear relationship. Since the time of the Singapore Summit, that adversarial country has actually accelerated all tangible efforts in refining and expanding its national nuclear forces and infrastructures. Now, to wit, Pyongyang explicitly rejects any further ties or negotiations with Trump. "Never again will we provide another package to be used for achievements without receiving any returns," said North Korean Foreign Minister Ri Son Gwon on June 12, 2020.
Though already true by definition, Gwon felt motivated to add: "Nothing is more hypocritical than an empty promise."
Going forward, Donald Trump will have to rely upon much more than a conspicuously belligerent nationalism in this increasingly perilous dyad.[5] The core problem is that this American president, like any other "Mass Man," a term used insightfully by 20th century philosophers Carl G Jung and Jose Ortega y' Gasset, thinks against Reason. More precisely, in Ortega's selective terminology, the man of the Mass or the Crowd (a comparable term favored by 19th century Danish thinker Soren Kierkegaard[6]) "has no energy to spare for Reason. He learns only in his own flesh."
There is something to be learned here. In preparing for inevitably complex crisis bargaining with North Korea, America will require presidential leadership that thinks far beyond what is palpable in its "own flesh." It will require leaders who read and analyze diligently rather than annoyingly turn away from all challenging strategic materials.[7] For the moment, of course, US President Donald Trump is anything but such an enlightened leader. This open loathing of all serious thought by America's head of state is utterly obvious and unambiguous.[8]
"I love the poorly educated" affirmed Donald Trump during the 2016 campaign. This was as if to remind voters that he, an aspiring president but otherwise just like them (the "mass" or "crowd") has no use for any serious learning, erudition or study. Why should he? Wouldn't every problem he could face promptly melt away in the face of a proper presidential "attitude?"
There is more. In preparing for nuclear negotiations with North Korea – preparations that we already know he will find objectionably complicated – Donald Trump will have little precedent upon which to rely.[9] When considered together with this president's verifiably limited capacity to succeed in any complex international negotiations, the United States has much to worry about. In essence, in what quickly emerges as the "best case scenario," Mr. Trump would gratefully hand over any moment-by-moment crisis deliberations to his most senior military and intelligence agency deputies.
For the most part, those who he had himself selected would be unequal to the preparation-requiring task. At that very late stage, moreover, it could quickly fall disproportionately upon "the generals" to save us. This ought not to be taken, however, as a necessary "positive." These military leaders, too, because of the unprecedented nature of such a nuclear crisis arising between asymmetrical adversaries, would expectedly be guided by visceral, "seat-of-the-pants" or derivative (from pre-nuclear standoffs) calculations. Among other concerns, just because the United States nuclear capacity would presumptively be "more powerful" than North Korea's, this would not automatically signify a US bargaining advantage.
For one thing, even a relatively "small" North Korean nuclear force could threaten and produce "unacceptable damage" to the United States or to its variously dependent regional allies in Japan and/or South Korea.[10]
None of this represents a per se criticism of "the generals" by any means. It is merely an inescapable acknowledgment (1) that scientific probabilities must always be based upon the determinable frequency of pertinent past events; and (2) in this case there have been no pertinent past events. Whatever ultimately unravels between Washington and Pyongyang, therefore, any such genuinely unique ventures in competitive risk-taking between two unequal enemies will have to be navigated in uncharted waters.
There is still more. The experiential uniqueness would be mutual. Still, such mutuality would not necessarily prove to be in the best interests of the United States. This is because an overly confident Kim Jung Un and/or Donald Trump could generate a more-or-less uncontrollable cycle of move and counter-move, an out-of-control escalation leading inexorably toward some mutual atomic catastrophe.
President Donald Trump and his counselors ought never forget that this sort of rapid cycle deterioration could be rendered incrementally more precarious as a result of unforeseen interactions between one side's fully executed moves and the other's. In more technical terms, any such perilously opaque interactions would be known correctly as "synergies."[11] As there are no extant experts on nuclear war[12] – not in the United States, not in North Korea, and not anywhere on this persistently beleaguered planet – there could even emerge a hideously bewildering "synergy of synergies."[13]
Formally, this conspicuously indecipherable sort of multilayered and overlapping intersections is what computer scientists are sometimes apt to call "cascades."
All things considered, whatever the relevant political context (e.g., the expected presidential election outcome), Mr. Trump should proceed in any impending North Korean crisis with exquisite prudence and a corresponding caution, recalling at every point of concession and demand the inherently limited body of available strategic thought. At the same time, he and his counselors will need to bear closely in mind that while nuclear war avoidance should remain the most important and ongoing legal objective,[14] maintaining "escalation dominance" would also be pronouncedly central to American national security. In such utterly difficult and many-sided matters, US success will require an almost unimaginably meticulous "balance," a tenuous level of analytic equilibrium that has rarely ever been witnessed or expected.[15]
There is more. Despite his generally dismissive attitude toward learning and professional preparation, President Trump's strategic plan for North Korea ought never be constructed ex nihilo, out of nothing. Nonetheless, this plan, ipso facto, must still be the intended result of assorted deductions or extrapolations drawn more or less skillfully from pre-nuclear forms of conflict management.[16] For these deductions and extrapolations ever to be up to the expectedly herculean intellectual task at hand, they must accurately represent the correctly-determined outcome of dialectical modes of military reasoning.
What exactly does this mean? Plato, in the middle dialogues, describes the dialectician as the one who knows best how to ask and then answer sequential questions. Two and a half thousand years later, even in the currently advanced computer age, it is this person or persons who should be placed in charge of reaching valid and effectively purposeful strategic outcomes. These are not people who learn only "in their own flesh." On the contrary, they are the indispensable analysts who are vastly more comfortable with "preparations" than with "attitude."
The conclusions are unmistakable. America's key strategists and negotiators must employ more than "common sense" thinking or crude publicity-centered methods drawn from reality television shows or raw commerce. In essence, they must become or at least learn to become very capable dialecticians.
Among other things, this ancient scientific method of seeking answers by correct and sequential reasoning remains best suited for handling any North Korean nuclear crisis now lying ahead. To be sure, there is no elaborate computer program or algorithm that can possibly substitute for actually mastering such disciplined reasoning. Now needed to rescue the United States from certain corollary and prospectively expanding nuclear hazards are sufficiently imaginative human beings, most notably dedicated thinkers who have long been nurtured by impressively broad sectors of knowledge and learning, not just by the latest in vogue statistical techniques or computer technologies.
There is more. In all expectedly nuanced presidential deliberations with the North Koreans, America might sometimes do better to rely, at least in part, on talented diplomats, poets, philosophers and mathematicians than on career soldiers. Significantly, in the grievously measureless history of warfare, the military professional has more than just occasionally made distressingly consequential mistakes. Looking ahead, Americans should be demanding that trained strategists carefully avoid future errors in planning what is still an altogether unique form of warfare, one for which their formal training has been largely extraneous and with which they could have had absolutely no tangible acquaintance.
For the United States, the North Korea crisis, whether protracted or episodic, will immediately become a contest of "mind over mind," and not just one about "fire and fury" or "falling in love." This is no longer a time for sterile clichés and embarrassingly empty presidential witticisms. Earlier, President Trump had said of his special relationship with Kin Jung Un: "We fell in love."
Plainly, it has been a short and conspicuously ill-fated "romance."
During any upcoming diplomatic struggle, belligerent nationalism from Donald Trump will offer us nothing more than gratuitous presidential buffoonery. Here, hopefully, each side, as long as it is still able to remain recognizably rational, will seek "escalation dominance" without simultaneously endangering its own national survival. If the American side should sometime calculate that its North Korean counterpart is not fully rational, the apparent incentives to undertake far-reaching military preemptions could then become overwhelming.
What then?
This occasion would not be a matter for the intellectually faint-hearted, even if the American calculation on enemy rationality should turn out to be wrong. Also relevant here would be certain understandably anticipated prospects of any North Korean plans to "preempt the preemption," cautionary scenarios concerning anticipatory self-defense that could make compelling strategic sense in Pyongyang.[17] Predictably, President Kim's closest military counselors could sometime seek to clarify for their leader that the United States would have considerable damage-limiting advantages to striking-first, especially while North Korea's nuclear weapon and ballistic missile assets were still evidently in early stages of development and still relatively few in number.
If push comes to shove, especially in the midst of a dissembling presidential election, Donald Trump could decide to undertake selective military action against North Korea. In response, Pyongyang – then having no realistic option to launching certain presumptively gainful forms of armed reprisal – could choose to strike American military forces in the region, and/or certain other carefully selected targets in Japan, Guam, or South Korea. Them whatever North Korea's preferred configuration of selected targets, Kim Jung Un's retaliatory blow would likely be designed not to elicit any unacceptably massive (possibly even nuclear) American counter-retaliations.
Assuming enemy rationality, this assumption is persuasive even if Kim were correct that he had already the required range-capacity to strike American cities. Nonetheless, amid unprecedented circumstances of in extremis atomicum, virtually anything could happen.
If Trump should sometime decide to launch a defensive first-strike, a "preemption," perhaps as the apocalyptic apotheosis of Joe Biden's utterly worst fears, the North Korean response, whether rational or irrational, could be "disproportionate."[18] In that very unstable case, one rife with uncertain potential for a more continuously unfettered escalation, any contemplated introduction of nuclear weapons into the mix might not be rejected.
Not at all. What then?
There is more. Such an introduction would not necessarily have to originate on the American side. This sobering inference is unassailably valid, in part, because North Korea has previously displayed verifiable forms of nuclear weapons/ballistic missile capability. According to sources within the South Korean intelligence services, North Korea maintains approximately one hundred nuclear-related sites, including thirteen specific "Research Institutes." The same sources estimate thirteen to eighteen enriched uranium warheads, and at least thirteen different kinds of missiles.
The Pukguksong 1and 2; and Hwasong – 12, 13, and 14, can allegedly reach targets up to 12,000 kilometers from launch site.[19]
In any such escalating circumstances, Mr. Trump could settle upon using a "mad dog" strategy vis-à-vis President Kim. The American leader could render himself dependent upon an untested strategy of pretended irrationality, or what I have frequently called in my own published books and monographs (produced over the past fifty years) the "rationality of pretended irrationality."Any such belligerent dependence, while intuitively sensible and compelling to Mr. Trump, could backfire, thereby opening up an irreversible path to certain potentially unstoppable escalations.
If, on the other hand, President Donald Trump's defensive first strike against North Korea were recognizably less than massive, a fully rational adversary in Pyongyang might determine that his own chosen reprisal should be correspondingly "limited." But if Mr. Trump's consciously rational and systematically calibrated attack upon North Korea were wittingly or unwittingly launched against an irrational enemy leadership, the response from Kim Jung Un could then be an "all out" retaliation. Plausibly, such an unanticipated response, whether nuclear or non-nuclear, would be directed at some as yet undeterminable combination of U.S., South Korean, and Japanese targets.
Cumulatively, this sort of response could inflict substantial or even catastrophic harms. North Korea's unconventional weapons already include biological agents (Pyongyang maintains three Biological Research Institutes within the country's National Academy of Sciences) and chemical ordnance (currently estimated at 5,000 tons of weaponized material). Even a perfectly rational North Korean leadership could sometime calculate that all-out retaliations would make perfect strategic sense.
In facing off against each other, even under optimal assumptions of mutual rationality, both President Trump and President Kim Jung Un would have to concern themselves with all possible miscalculations, errors in information, unauthorized uses of strategic weapons, mechanical or computer malfunctions and myriad nuances of cyber-defense/cyber-war. In other words, even if both President Trump and President Kim were abundantly capable, humane[20] and focused – a markedly generous assumption, to be sure – northeast Asia might still descend rapidly toward some form or other of uncontrollable nuclear war. If this dire prospect were not already sobering enough, it is also reasonable to expect that the corresponding erasure of a once-prevailing nuclear taboo would substantially heighten the likelihood of nuclear conflict in other parts of the globe, especially southwest Asia (e.g., Pakistan and India), and/or the Middle East (e.g., Israel and Iran).
Regarding the given Middle East scenario, a war between Israel and Iran could still be nuclear if the Islamic Republic were not yet in the Club. Here, for whatever reasons, correctly or incorrectly, lawfully or unlawfully, the Israeli side would accept the rationality of using some elements of its nuclear arms against a non-nuclear Iran.
When Pericles delivered his famous Funeral Oration, it was to express confidence in an ultimate victory for Athens. Simultaneously, as recalled by Thucydides, the Greek historian of the Peloponnesian War (431 – 404 BCE), Pericles had expressed variously deep fears about self-imposed setbacks along the way. "What I fear more than the strategies of our enemies," lamented Pericles, "is our own mistakes."
Today, as US President Donald Trump must prepare to face off capably with Kim Jung Un, perhaps even at a time coinciding with the 2020 election, the expected consequences of American mistakes could be vastly destructive, perhaps even authentically intolerable. It follows that in choosing a cost-effective style of escalation and negotiation with Pyongyang in such circumstances, the United States must remain wary of locking in to any lethal pattern of interaction for which the other side's reaction must likely or invariably be deeply harmful to the United States. More precisely, Mr. Trump and his counselors must continuously and vigilantly refrain from offering any provocation for which the unpredictable North Korean adversary could then have only one "rational" response, nuclear war.
We began this informed strategic dialectic with a uniquely fearful hypothesis; that is, that the risks of a genuine nuclear crisis with North Korea could be purposely and wrongly enlarged by Donald Trump. In this plainly menacing scenario, the inexcusable presidential enlargement could sometime become unmanageable or even existential. Then, concerning the specific "Biden Scenario," America would have opened itself up to literally unprecedented military harms,[21] the result of its wholly incapable president's near-total preoccupation with personal image and nefarious self-promotion. Recalling ancient Greek playwright Sophocles' Antigone, we would be reminded after the fact of what can happen when a leader places his own presumed popularity "before his country."
Though himself entirely unfamiliar with both world and US national history, Donald Trump's malfeasance in this worrisome scenario could prove staggering. In essence, it could represent the ultimate presidential dereliction, one displaying various egregious violations of both US Law and international law[22] and an irremediable opening to an enemy's existential attack. Not to be ignored is that even this presumptively worst case scenario could be further exacerbated by a still-uncontrolled biological plague.
There is only one sensible way to "give the lie" to any such intolerable outcomes. It is to ensure that Americans never again elect a president who thinks and learns only "in his own flesh."
---
[1] In specifically legal terms, there would likely be jurisprudential uncertainties concerning whether or not an authentic state of war obtained. Under international law, which has long been "incorporated" into US law, the question of whether a formal condition of war exists between adversarial states is inherently unclear. Traditionally, a "formal" war was said to exist only when a contesting state issued a formal declaration of war. The Hague Convention III codified this position in 1907. This Convention provided that hostilities must not commence without "previous and explicit warning" in the form of a declaration of war or an ultimatum. See Hague Convention III on the Opening of Hostilities, Oct. 18, 1907, art. 1, 36 Stat. 2277, 205 Consol. T.S. 263. Presently, a declaration of war may be tantamount to a declaration of criminality because international law prohibits aggression. See Treaty Providing for the Renunciation of War as an Instrument of National Policy, art. 1, 46 Stat. 2343, 94 L.N.T.S. 57 (also called Pact of Paris or Kellogg-Briand Pact), August 27, 1948; Nuremberg Judgment, 1 I.M.T. Trial of the Major War Criminals 171 (1947), portions reprinted in Burns H. Weston, et. al., International Law And World Order 148, 159 (1980); U.N. Charter, art. 2(4). A state may compromise its own legal position by announcing formal declarations of war. It follows that a state of belligerency may obtain without formal declarations, but only if there exists a recognizable "armed conflict" between two or more states and/or at least one of these states considers itself to be "at war."
[2] A North Korean nuclear crisis is used here as example because it would be both plausible and potentially catastrophic, but there are other conceivably pertinent sources of presidential deflection, e.g., an India-Pakistan nuclear crisis, and/ or a dramatic nuclear breakthrough by Iran.
[3] Anticipating political indifference to strategic complexity, Clausewitz warned presciently in his classic On War: "Everything is very simple in war, but the simplest thing is difficult."
[4] The multiple problems here stemming from complexity and intersection bring to mind the Clausewitzian concept of "friction." This always-sobering consideration usefully emphasizes various recurring and core elements of pertinent decisional difficulty. See Carl von Clausewitz, On War, especially Chapter VI, "Friction in War."
[5] In this connection, one must recall Donald Trump's core philosophy of belligerent nationalism, an "America First" dogma fundamentally contrary to the basic principles of international law. Inter alia, international law is an integral part of the legal system of all states in world politics, and assumes a reciprocally common obligation of states to supply reasonable benefits to one another. This immutable assumption of jurisprudential solidarity is known formally as a "peremptory" or jus cogens expectation, that is, one that is never properly subject to question or reversal. It can be discovered early in Justinian, Corpus Juris Civilis, Hugo Grotius, The Law of War and Peace (1625) and Emmerich de Vattel, The Law of Nations or Principles of Natural Law (1758). Later, it was given special prominence by William Blackstone in his foundational (for the United States) Commentaries on the Law of England.
[6]The Kierkegaardian concept of "crowd" is also roughly analogous to German philosopher Friedrich Nietzsche's "herd" or Sigmund Freud's "horde."
[7] See, by this writer, at Harvard Law School, Louis René Beres https://harvardnsj.org/wp-content/uploads/sites/13/2020/04/Beres_Complex-Determinations_v2.pdf
[8] In narrowly legal terms, either the United States or North Korea could (especially amid so many contextual uncertainties) commit "aggression." For the specified crime of aggression under international law, see: Resolution on the Definition of Aggression, adopted by the UN General Assembly, Dec. 14, 1974. U.N.G.A. Res. 3314 (XXIX), 29 UN GAOR, Supp (No. 31), 142, UN Doc A/9631 (1975) reprinted in 13 I.L.M., 710 (1974).
[9] The atomic bombings of Japan in August 1945 do not properly constitute a nuclear war, but "only" the use of nuclear weapons in an otherwise conventional conflict. Significantly, too, following Hiroshima and Nagasaki, there were no other atomic bombs still available anywhere on earth.
[10] Professor Louis René Beres is the author of some of the earliest books on nuclear war and nuclear terrorism, including Terrorism and Global Security: The Nuclear Threat (1979); Apocalypse: Nuclear Catastrophe in World Politics (1980) and Surviving Amid Chaos: Israel's Nuclear Strategy (2016; 2018). His pertinent writings on this topic have been published in The New York Times; The Atlantic; Special Warfare (Pentagon); Modern War Institute (West Point); The War Room (Pentagon); World Politics (Princeton); Parameters: Journal of the US Army War College (Pentagon) International Journal of Intelligence and Counterintelligence; Harvard National Security Journal (Harvard Law School); Jurist; Modern Diplomacy; International Security (Harvard); Yale Global Online; The Brown Journal of World Affairs; Israel Defense (Tel-Aviv) and The Bulletin of the Atomic Scientists.
[11] See, by this writer, at Harvard Law School: Louis René Beres, https://harvardnsj.org/2015/06/core-synergies-in-israels-strategic-planning-when-the-adversarial-whole-is-greater-than-the-sum-of-its-parts/ See also, by this writer, at West Point (Pentagon): Louis René Beres https://mwi.usma.edu/threat-convergence-adversarial-whole-greater-sum-parts/
[12] In logic and scientific method, there can be no genuine "experts" on historically unprecedented events.
[13] Such bewildering interactions could shed light upon an entire global system's degree of order or disorder, a more focused view that would reflect what the physicists call "entropic" conditions. In part, at least, any such perspective could be dependent upon the pertinent decision-maker's subjective metaphysics of time. For a very early article by this author dealing with linkages between such subjective metaphysics and national decision-making processes, see: Louis René Beres, "Time, Consciousness and Decision-Making in Theories of International Relations," The Journal of Value Inquiry, Vol. VIII, No.3., Fall 1974, pp. 175-186.
[14] In precise words of Mr. Justice Gray, delivering judgment of the US Supreme Court in Paquete Habana (1900): "International law is part of our law, and must be ascertained and administered by the courts of justice of appropriate jurisdiction…." (175 U.S. 677(1900)) See also Opinion in Tel-Oren vs. Libyan Arab Republic (726 F. 2d 774 (1984)).Further, the specific incorporation of treaty law into US municipal law is expressly codified at Art. 6 of the US Constitution, the so-called "Supremacy Clause."
[15] In a still-broader jurisprudential sense, Donald Trump should be reminded that all states, but especially the leading actors, have a continuing legal obligation to "produce happiness" in world politics. Though intrinsically difficult to measure, a minimum threshold here would be to prevent overtly destabilizing prospects for expanding international warfare. Says Emmerich de Vattel, The Law of Nations (1758), "The first general law, which is to be found in the very end of the society of Nations, is that each Nation should contribute as far as it can to the happiness and advancement of other Nations."
[16] Under the law of armed conflict, these pre-nuclear forms – but potentially also certain post-nuclear ones – concern three categories of criminality: crimes of war; crimes against peace and crimes against humanity. These crimes are defined succinctly but authoritatively in the Charter of the International Military Tribunal ("The London Charter"), Aug. 8, 1945, art. 6(a) – (c), 59 Stat. 1546, 1547, 82 U.N.T.S. 279.
[17] This peremptory principle of anticipatory self-defense has its modern origins in the so-called Caroline Case, which concerned the unsuccessful rebellion of 1837 in Upper Canada against British rule. Following this landmark case, even the serious threat of an armed attack can sometimes be taken as sufficient legal justification for defensive military action. In more narrowly technical jurisprudence, the criterion of permissibility revolves around a danger presumed to be "instant, overwhelming, leaving no choice of means, and no moment or deliberation." Of course, during the first third of the nineteenth century, there could have been no conceivable thought of forestalling a nuclear attack.
[18] The specifically legal principle of proportionality is contained in the rules governing the resort to armed conflict (jus ad bellum) and in rules governing the actual conduct of hostilities (jus in bello). In the former, proportionality relates to self-defense. In the latter, it relates to conduct of belligerency. Proportionality is itself derivative from the more basic principle that belligerent rights are not unlimited (See notably Hague Convention No. IV (1907), Annex to the Convention, Section II (Hostilities), Art. 22: "The right of belligerents to adopt means of injuring the enemy is not unlimited").
[19] See Giancarlo Elia Valori, "How Global Powers Could Achieve a Denuclearized Korea," Israel Defense, June 27, 2017.
[20] Though normally not discussed in the context of strategic planning and nuclear war, human rights would be broadly affected by virtually any pertinent decisions. In this connection, the cornerstone of the human rights regime is the U.N.'s Universal Declaration of Human Rights, G.A. Res. 217A, U.N. Doc. A/810, at 71 (1948). This document, together with the following authoritative codifications, comprise what is generally called an International Bill of Rights: International Covenant on Economic, Social and Cultural Rights, 6 I.L.M. 360 (entered into force, Jan. 3, 1976); and International Covenant on Civil and Political Rights, 6 I.L.M. 368 (entered into force, Mar. 23, 1976).
[21] One may think here of the High Lama's warning in James Hilton's classic Lost Horizon: "The storm…this storm that you talk of….It will be such a one, my son, as the world has not seen before. There will be no safety by arms, no help from authority, no answer in science. It will rage until every flower of culture is trampled, and all human things are leveled in a vast chaos….The Dark Ages that are to come will cover the whole world is a single pall; there will be neither escape nor sanctuary."
[22] For authoritative sources of international law, see art. 38 of the Statute of the International Court of Justice: STATUTE OF THE INTERNATIONAL COURT OF JUSTICE, Done at San Francisco, June 26, 1945. Entered into force, Oct. 24, 1945; for the United States, Oct. 24, 1945. 59 Stat. 1031, T.S. No. 993, 3 Bevans 1153, 1976 Y.B.U.N., 1052.Court of Justice: STATUTE OF THE INTERNATIONAL COURT OF JUSTICE, Done at San Francisco, June 26, 1945. Entered into force, Oct. 24, 1945; for the United States, Oct. 24, 1945. 59 Stat. 1031, T.S. No. 993, 3 Bevans 1153, 1976 Y.B.U.N., 1052.
Quad foreign ministers meet in New York for the third time
Quad foreign ministers met in New York for the second time this year and the seventh time since 2019. The four-nation grouping's ambit of cooperation has clearly expanded and diversified over the years. What were the key talking points this time? I analyse.
The foreign ministers of India, Japan, Australia and the United States – four key maritime democracies in the Indo-Pacific – met on the sidelines of the 78th annual session of the United Nations General Assembly (UNGA) in New York on September 22. This was their seventh meeting since 2019 and the second of 2023. Notably, exactly four years ago, this four-nation Quad was raised to the foreign ministers' level amid a UNGA session. Earlier in 2023, the ministers met in March on the sidelines of the G20 ministerial in New Delhi and in May, this year, the Quad leaders' summit was hosted by Japan on the sidelines of the G7 summit. Having met twice in 2022 as well, the ministers congregated six times in person and virtually once so far.
The previous ministerial in New Delhi saw the four-nation grouping making a reference to an extra-regional geopolitical issue for the first time – Ukraine – and also the initiation of a new Working Group mechanism on counter-terrorism, a key agenda item for India and the United States, among other themes of discussion. Following the seventh meeting, India's foreign minister Dr S. Jaishankar tweeted, "Always value our collective contribution to doing global good", while U.S. Secretary of State Antony Blinken remarked that the grouping is "vital to our shared vision for a free and open Indo-Pacific, and together we reaffirmed our commitment to uphold the purposes and principles of the UN Charter".
Diversifying ambit of cooperation
The ministers have clearly doubled down on the commitments taken during their previous deliberations, particularly to improve capacity-building for regional players. The joint statement that followed the meeting read, "The Indo-Pacific Partnership for Maritime Domain Awareness is supporting regional partners combat illicit maritime activities and respond to climate-related and humanitarian events." Similarly, the Working Group on maritime security promised "practical and positive outcomes" for the region. Prior to the recent ministerial, the Working Group on counter-terrorism conducted a Consequence Management Exercise that "explored the capabilities and support Quad countries could offer regional partners in response to a terrorist attack", the joint readout mentions.
Later this year, the U.S. island state of Hawaii will host the Counter-terrorism Working Group's meeting and tabletop exercise, which will focus on countering the use of emerging technologies for terrorist activities, while the Working Group on humanitarian assistance and disaster relief (HADR) will be convened in Australia's Brisbane for its second tabletop exercise. Earlier in August, this year, all four Quad navies participated in Exercise Malabar for the fourth consecutive year, off Sydney, the first hosted by Australia. However, as in previous meetings, the ministers didn't specifically mention Russia or China with regard to the situations in Ukraine and maritime east Asia respectively.
On the Ukraine question, the ministers expressed their "deep concern", taking note of its "terrible and tragic humanitarian consequences" and called for "comprehensive, just, and lasting peace". In a veiled reference to Russia, the ministers rebuffed the "use, or threat of use, of nuclear weapons", underscoring the respect for sovereignty and territorial integrity of all states, and called for the resumption of the UN-brokered Black Sea Grain Initiative, which allows for the export of food grains and fertilizers from Ukraine to world markets via a maritime humanitarian corridor, amid the ongoing conflict with Russia.
Similarly, in another veiled reference to continuing Chinese belligerence and lawfare in maritime east Asia, the ministers stressed upon the need to adhere to the United Nations Convention on the Law of the Sea (UNCLOS) and to maintain "freedom of navigation and overflight consistent with UNCLOS", reiterating their "strong opposition to any unilateral actions that seek to change the status quo by force or coercion", including with respect to maritime claims in the South and East China Seas. Going further ahead, the ministers expressed their concern on "the militarisation of disputed features, the dangerous use of coast guard and maritime militia vessels, and efforts to disrupt other countries' offshore exploitation activities". The joint readout also had mentions of North Korea and Myanmar.
The evident and the inferred
Today, almost all the areas of cooperation of Quad countries happen to be the areas of strategic competition with China, the rapid rise of which necessitated the coming together of the four nations, even though this is not openly acknowledged. In this new great game unfolding in the Indo-Pacific, the U.S.-led Quad is trying to balance China's overwhelming initiatives to capture the support of smaller and middle powers in the region and around the world. Placid initiatives such as the Open Radio Access Network, the private sector-led Investors Network, Cybersecurity Partnership, Cable Connectivity Partnership and the Pandemic Preparedness Exercises should be read in this context.
With the rise of Quad in parallel with the rise of China and other minilateral groupings in the Indo-Pacific such as the AUKUS (a grouping of Australia, the United Kingdom and the United States), the existing regional framework based on the slow-moving, consensus-based Association of Southeast Asian Nations (ASEAN) was put to test. However, allaying all doubts, Quad deliberations at both the ministerial and summit levels continued to extend their support to ASEAN's centrality in the region and also for the ASEAN-led regional architecture that also includes the East Asia Summit and the ASEAN Regional Forum. Despite somewhat differing regional outlooks, the Quad likes to see itself as "complementary" to the ASEAN, rather than an "alternative" to its pan-regional influence.
India, the only non-ally of the U.S. in the Quad, will host the fourth in-person Quad leaders' summit in 2024. The Asian giant is often dubbed as the weakest link in the grouping, owing to its friendly ties with Russia, but other members intent to keep India's bilateral equations with other countries away from the interior dynamics of the grouping, signalling an acknowledgement of India's growing geopolitical heft in the region and beyond. This seems to be subtly reflected in the stance taken by individual Quad members in the recent India-Canada diplomatic row, in which they made sure not to provoke New Delhi or to touch upon sensitive areas, even though a fellow Western partner is involved on the other side.
| | | |
| --- | --- | --- |
| Quad Foreign Ministers Meeting | Month & Year | Venue |
| First | September 2019 | New York |
| Second | October 2020 | Tokyo |
| Third | February 2021 | Virtual |
| Fourth | February 2022 | Melbourne |
| Fifth | September 2022 | New York |
| Sixth | March 2023 | New Delhi |
| Seventh | September 2023 | New York |
NB:- All three Quad ministerials in New York were held on the sidelines of the respective annual sessions of the UN General Assembly i.e., the first, the fifth, and the seventh meetings.
On the multilateral front, the four ministers reaffirmed their support for the UN, the need to uphold "mutually determined rules, norms, and standards, and to deepen Quad's cooperation in the international system, and also batted for a comprehensive reform of the UN, including the expansion of permanent and non-permanent seats in the Security Council. While China and Russia, two powerful permanent members of the Security Council, continue to denounce the Quad as an "exclusionary bloc", the Quad ministers and leaders tend to tone down any security role for the grouping.
However, a recent comment made by Vice Admiral Karl Thomas of the U.S. Navy's Seventh Fleet during this year's Exercise Malabar is noteworthy. He said the war games were "not pointed toward any one country", rather it would improve the ability of the four forces to work with each other and "the deterrence that our four nations provide as we operate together as a Quad is a foundation for all the other nations operating in this region". Even in the absence of a security treaty, in a way he hinted at the grouping's desire to cherish its collective strength across all fronts and to check on hegemonic tendencies that may manifest in the region from time to time.
Dynamics of the Sikh Vote Cloud Canada's Diplomatic Relations with India
Operating across British Columbia (BC), Alberta, Manitoba and Ontario, gangs made up of Indo-Canadian Punjabis – Brothers Keepers, Dhak-Duhre, Dhaliwal, Sanghera, Malli-Buttar, and several such, are involved in arms trafficking, racketeering, extortion, narco trafficking, money laundering, and not the least, assassinations. Formed in 2004 and mandated to disrupt and suppress organised crime in B.C. the Combined Forces Special Enforcement Unit (CFSEU-BC), has warned the public of the nexus of Punjabi-Canadians to violence.
In the murders of Punjabi singer Sidhu Moose Wala and Ripudaman Singh Malik, acquitted in the tragic 1985 Air India Kanishka terror-bombing case, the conspicuous involvement of these Indo-Canadian gangs with notorious criminals Goldy Brar and Lawrence Bishnoi at the helm, manifested itself.
On June 18 Sikh Hardeep Singh Nijjar, was gunned down as he left his gurdwara in Surrey, B.C., which has the highest proportions of Punjabi Canadians. Nijjar had entered Canada in 1995 on a fake passport and claimed asylum on arrest at Toronto. In B.C. he married a local who sponsored his immigration and he was subsequently awarded Canadian citizenship. Brazenly propounding anti-India separatist sentiments, Nijjar was even placed on Canada's no-fly list and Interpol's red corner notice. Alongwith gangsters Arshdeep Singh Dala, Maninder Singh Bual, and Mandeep Singh Dhaliwal his outfit Khalistan Tiger Force (KTF) was involved in contract killings in Punjab. Gang-related killings account for a third of all homicides in Canada's British Columbia.
Despite this disconcerting background of Nijjar's ties to organised crime gangs in Canada, on September 18, Prime Minister Justin Trudeau alleged the involvement of "agents of the Indian government" in the killing of Nijjar. A claim outrightly rejected by New Delhi as "absurd" and "motivated." If Trudeau was looking to further impair an increasingly forbidding bilateral relationship, he succeeded. Canada and India have expelled a senior diplomat each and negotiations for a free trade agreement stand suspended.
There is a palpable perversity to Canada's position on the Khalistan issue. In 1982, Trudeau's father and then Prime Minister Pierre Trudeau
had rejected Late PM Indira Gandhi's demands for extradition of Khalistani terrorist Talwinder Singh Parmar, who went on to execute the bombing of Air India Flight Kanishka, killing 329 people in 1985.
Alarmed by the presence of Sikh secessionists among the diaspora, former Prime Minister Dr Manmohan Singh during his 2010 trip to attend the G20 summit in Toronto, asked Canada "to stop people from using religious places to promote extremism." Canadian MP Sukh Dhaliwal, had introduced a motion in the Canadian parliament to declare the 1984 riots a "genocide". Fast forward to 2023, G20 under PM Modi there was no attempt at all to put even a vaguely positive spin on the India-Canada equation.
The timing of Trudeau's accusation just days after the G20 summit in New Delhi where he says he brought Khalistani extremism and "foreign interference" "directly to PM Modi in no uncertain terms" smacks of umbrage at being at the receiving end of a very hard-hitting message that the 'extremist elements in Canada are "promoting secessionism and inciting violence against Indian.'
The Khalistan issue has got a fresh lease of life after the advent of the Justine Trudeau government. With just 32.2 percent of the popular vote, Liberal leader Trudeau has the least electoral support in Canadian history, and was backed by Jagmeet Singh's New Democratic Party (NDP) which openly supports the Khalistan Referendum on Canadian soil.
Canada's Conservative opposition leader, Pierre Poilievre, has urged Trudeau to show the evidence that the government has in hand. Notwithstanding this current posture the Conservative Party (CP) too, has in the past caved in to the Sikh vote bank. In 2018 when its condemnation of 'glorification of terrorism' was objected to by the World Sikh Organisation, the CP dropped its 'anti-Khalistan' motion in the House of Commons.
There is beyond sufficient evidence, to India's contention that Canada, and other western nations including US, UK, and Australia have allowed cadres of separatist violent Khalistani groups to thrive. The UK recently set up a £95,000 fund to enhance its understanding of the threat posed by Khalistan extremism. While the amount set aside to tackle pro-Khalistan elements is not substantial, it acknowledges that a Sikh radicalisation problem exists in the west.
Sikh temples and organisations abroad orchestrate Remembrance Days for 'Operation Blue Star' on June 6 and 'Sikh Massacre' on November 5, that serve as cultural repertoires and focal points of advocating Khalistani extremism. This year at the remembrance day parade, Khalistan supporters in Ontario exhibited a female figure in a blood-stained white saree with turbaned men pointing guns at her, to celebrate the assassination of late PM Indira Gandhi. The poster behind the scene read "Revenge for the attack on Darbar Sahib."
Reacting to this macabre tableau, External Affairs Minister Dr S Jaishankar said, "Frankly, we are at a loss to understand other than the requirements of vote bank politics why anybody would do this … I think there is a larger underlying issue about the space which is given to separatists, to extremists, to people who advocate violence. I think it is not good for relationships, not good for Canada."
At multiple diplomatic and security talks, India has raised the issue of wanted terrorists and gangsters only to be defied by the Canadian government with non-committance and brazen support for extremist Sikhs. And yet Canada's NATO allies and partners in the 'Five Eyes' intelligence sharing agreement, the United States and Australia, have expressed "deep concerns" over the issue. Adrienne Watson, spokesperson for the White House National Security Council said, "We are deeply concerned about the allegations referenced by Prime Minister Trudeau." Foreign Secretary of the UK, James Cleverly, posted UK's reaction on platform X "We are in regular contact with our Canadian partners about serious allegations raised in the Canadian Parliament." One wonders if this allegation of targeted killing by India is in retaliation to New Delhi's steady favour of Russia, and has been levelled after reports of a brokered American deal with Pakistan for weapons transfer to Ukraine in lieu of an IMF bailout emerged.
Admonishing Canada on X, former Foreign Secretary Nirupama Menon Rao said, "Canada has an extremely spotty and very, very poor record on the whole issue of Khalistanis in Canada. The support these lawless elements have received under the cover of what is called freedom of expression and democratic rights of citizens…it must control such elements with a firm hand and cannot allow them to run free to foster terrorism and violence in our country."
Amid the hectic media coverage there was speculation that 'Trudeau's allegations have put the White House in an especially tight spot.' But this were swifty checked by Adrienne Watson in her X post, "reports that we rebuffed Canada in any way on this are flatly false. We are coordinating and consulting with Canada closely on this issue."
The manner in which copious evidence on Khalistan separatists handed over to the Canadian side have gone unaddressed and yet Trudeau's allegation invoked strong reactions from other western nations, implies that this has moved beyond our bilaterals with Ottawa. It will have ramifications on how India deals with its strong G7 allies, especially the US.
For India the existence of Khalistani extremists and their alignment with organised crime in Canada poses security exigencies. India must at this juncture refrain from a broad generalisation of Sikh diaspora as secessionist, an incrimination that was implied during the Sikh-dominated farmers' movement.
Political parties must rise above partisan politics over separatist movements that are a threat to nation security. Voices from Punjab attest that Khalistan supporters remain 'fringe' and 'on the margins.' Even among expatriate Sikh community leaders have challenged the anti-India narrative laid out by Khalistanis and their supporters, despite the fact that they, and the community there, regularly face harassment and threats of violence from expatriate Khalistanis. Former Punjab Chief Minister Amarinder Singh states that Nijjar's murder was the result of a factional feud within the management of the Guru Nanak Sikh Gurdwara situated at Surrey and that Trudeau had "walked into a trap owing to vote bank politics."
New Delhi must ensure that overseas Sikh communities which have tried to counter pro-Khalistan disinformation shall not be left alone to defend themselves.
China and Venezuela Deepening Cooperation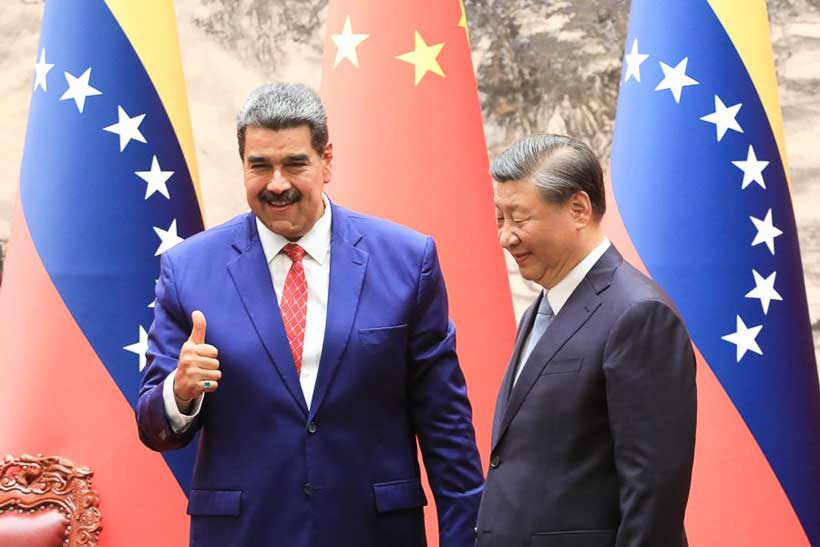 In a significant development that underscores the changing dynamics of global politics and economics, Chinese President Xi Jinping and Venezuelan counterpart Nicolas Maduro recently signed several bilateral cooperation agreements in Beijing, highlighting the changing dynamics of world politics and economics. China's determination to participate in partnerships that promote economic stability and prosperity demonstrates its unwavering commitment to global economic recovery.
The agreements signify a strengthening of their partnerships and span a variety of fields, including trade, the economy, and tourism. The cooperation has been upgraded to an "All-weather strategic partnership," reflecting the continued dedication of both countries to the advancement and development of the other. The decision by China and Venezuela to strengthen their ties comes as the world is witnessing a transformation in international alliances and trade partnerships.
The economic collaboration between the two countries is one of the most significant aspects of this new era of partnership. The recent agreements are expected to further cement Venezuela's ties with China, which has long been the country's major trading partner.Investments in infrastructure development and oil and gas exploration and production are part of the cooperation in the energy industry.
During his visit to China, President Maduro expressed his optimism for the relationship's future, stating it heralds the start of a "new era" for both nations. Venezuela, which has recently experienced economic difficulties, views China as a dependable ally that can aid in reviving its economy. China, on the other hand, sees Venezuela as a crucial friend in the region and a valuable supply of natural resources.
China and Venezuela's energy cooperation has broad implications. As the globe grapples with concerns about energy security and climate change, this alliance might have a big impact on the global energy landscape. China's investments in Venezuela's oil sector can stabilize oil prices and provide a more consistent supply of crude oil to the global market.
Aside from the energy industry, both countries have pledged to deepen their collaboration in a variety of other economic areas. Venezuela can benefit from China's expertise in agricultural technologies and infrastructural development in one area. Venezuela may enhance food production and reduce its reliance on imports by modernizing its agricultural sector with Chinese assistance, thereby increasing food security for its citizens.
Additionally, both countries have enormous potential in the tourism sector. Venezuela has incredible landscapes such as the famous Angel Falls and virgin Caribbean beaches, which may appeal to Chinese tourists looking for new travel experiences. Similarly, China's rich history and culture have always captured the interest of visitors from all over the world, including Venezuelans. The tourist accords aim to make travel between the two countries easier, to foster cultural interaction, and to develop tourism-related enterprises.
Furthermore, the strengthened relationship extends beyond economic interests to include political and strategic considerations. Both countries have reaffirmed their commitment to mutual support in international forums and to no interference in the other's internal affairs. This strategic partnership is consistent with China's aim of establishing a multipolar world and strengthening cooperation across developing nations.
The collaboration between China and Venezuela should be seen in the larger Belt and Road Initiative (BRI) initiative. The BRI seeks to establish a network of economic and infrastructure partnerships across Asia, Europe, Africa, and Latin America. A deeper integration of Venezuela into China's global economic vision through its participation in the BRI could create new trade and investment opportunities.
The potential for economic development in Venezuela is one of the most notable benefits of the China-Venezuela cooperation. In recent years, the South American country has suffered severe economic issues, including high inflation, financial sanctions, and political unrest. China's investments and assistance can help stabilize Venezuela's economy, generate jobs, and raise inhabitants' living standards.
The China-Venezuela connection is a key milestone in the shifting global political and economic landscape. In a changing world order, this partnership has the potential to provide Venezuela with economic prosperity, stability, as well as greater autonomy.