Baluchistan under the British Administrative System
Frontiers have always been regarded as a chicken neck for almost all the states of the world. Analyzing the very importance of frontiers in nation's history Lord Curzon; Viceroy of India, had succinctly wrote, "Frontiers are like a razor's edge on which hangs suspended the modern issues of war or peace, of life or death to nations". This very statement narrates the unobtrusive proclivity of British in Baluchistan. Likewise, British administration in Baluchistan was commenced on same footings, helping guarding the frontiers in case of any external threat.
British administrative system in Baluchistan had been formulated after a considerable time, taking in view all possible threats and opportunities. External threats and internal feuds remained the key issues to be handled accordingly. British never remained static in their policy of handling Baluchistan's affairs. For some time Close Border Policy (the stationary policy/scientific border) was enacted that followed the principle of " Masterly Inactivity". It ensured guarding of borders and suppression of any emerging raids and riots. But when needed and become inevitable, the British policy in Baluchistan was changed. It adhered to as per the militarily situation demands. Sometimes it pursued the masterly inactivity that confined the troops to forts largely interconnected with network of roads and railways. It declared Indus river as a borderline. The policy lasted from 1849 to 1879. Afterwards, it opted for forward policy that mainly stressed upon a need to westward advance across the river Indus. It created room for Baloch tribes and directed at showing respect for Khans. That policy at the time, was declared as human, sympathetic and civilized.
Furthermore, British introduced that administrative system in Baluchistan which coupled with stringent handling of external menaces marked a harsh response to internal political developments. Therefore, resulting in non permanent institutional setup in the province.
In order to get their its cherished goals achieved and pacifying the tribal lords British divided Balochistan into four political divisions.
1) The British Balochistan
2) The Leased Areas
3) The State Terrotries
4) The Tribal Areas
1) The British Balochistan
It consisted bordering areas of Pishin, Chamman, Dukki, Shera Rud, and Shahrig.
2) The Leased Areas
These comprised of Quetta, Noshki, Nasirabad and Bolan; the corridor connecting British Balochistan with Sindh and Punjab.
3) The State Territories
Kalat, Kharan, Makran and Lasbela came under this category commonly known as Balochistan Agency Territories.
4) The Tribal Areas.
These included Zhob, Kohulu, Marri-Bugti, Chaghi, Sanjrani areas. These areas were knows as Chief Commissioner's Province.
The British Baluchistan was governed by Agent to Governor General (AGG) and leased territories and tribal areas came under Political Agents (PAs) administration. States were governed by Khans who administered tax system while the real power laid in the hands of AGG.
During World War I, British realized its strong position in the wake of controlling adjacent areas. It never wanted its fortification of bordering areas going insular. Therefore, it developed a wide network of road and railway linkages to those areas. It was during that time, Quetta emerged as the most important garrison and the biggest cantonment of British India. It was the biggest to that extent that it accommodated 0.1 million army men at a time. Additionally, on a prior call of ten days, it further could assemble 0.1 million more soldiers in the vicinity. Such giant military station was Quetta at the time. Its militarily supremacy can be gauged from the fact that British got control of all possible routes of penetrating into Iran and Afghanistan. This strategic maneuver gave it a hedge over Union of Soviet Socialist Republic (USSR), Germany and Turkey.
Additionally, to make easier the access to rest of the Subcontinent, British constructed roads and railway tracks up to Punjab and Sindh. It aimed at bolstering feasible connectivity between British Baluchistan and Sindh and Punjab in order to overcome any difficulty during the times of war. It went for a dry and deserted territories rather than fertile and more feasible areas for constructing road network. It had a far most fascinating road facility from the fertile areas of Loralai, Ziarat to Dera Ghazi Khan known as Thal Chotiani Route towards whole Punjab, but it didn't consider it. For the sake of sabotaging Khan of Kalat's power and possibility of an attack along with Marri-Bugti tribes, British preferred a more arduous task of making a way through Bolan pass. It served two main interests of British. Firstly, it segregated Marri-Bugti tribes from Kalat state. Secondly, it connected Baluchistan with Sindh and Punjab. British sacrificed comfort and ease of travel for the sake of long term political privileges.
Besides balkanization of Baluchistan, administratively, it was divided into two parts. The British Baluchistan and Baluchistan's States. The British Baluchistan comprised leased areas, tribal areas of strategic importance and areas occupied by British. It was administered by AGG. Tribal areas felt under Political Agent while Deputy Commissioners monitored settled and urbanized districts. These PAs and DCs were usually commanders of the army stationed there. Contrary to that, states of Kalat, Kharan, Makran and Lasbela comprised another administrative unit where Khans were the administrative heads of states. Khan collected taxes, and ruled through tribal Sardars. They were entitled to settle inter tribal and intra tribal feuds and squabbles. The States administrative units were called Nazimats and their head was addressed as Nazim who was helped by Mustawafis and Naibs in collection of taxes. To further curtail the power of Khan of Kalat, British declared Lasbela, Makran, and Kharan as separate entities. This move cleared a way in controlling the power of Khan of Kalat. It directed at benefitting the British; the most.
Similarly, education system in Baluchistan was not directed to educate the masses rather it served the vested interests of British. Before the advent of British in Baluchistan, the traditional way of imparting education through Mosques and Madarsas existed. It was not before 1881 when the first Anglo Vernacular Middle School for boys in Quetta was opened. Later renamed as Sir Robert Sandman School. After a considerable period of eight years, Lady Sandman established a Primary School for girls. In 1904, Khan of Kalat established a Primary School for Boys at Mastung. Prior to this no school system based on Western educational style prevailed in Baluchistan. Even there existed no separate department of Education before 1920. The British didn't pay any attention in educating the people of Baluchistan because it understood the stringent implication of education among people. It lacked a dare to confront peoples popular demand for their rights and outfits. Therefore, deliberatively, British left Baluchistan with meagre educational facilities.
On the whole, British left no stone unturned in order to get maximum benefits from British Baluchistan. It hampered its economic progress, discouraged politicization of people, discarded modern education system and paid no heed to the development of strong administrative setup resulting in economic deprivation, social backwardness and bad governance. It spent least on programs of sociocultural mobilities that in turn brought about deterioration of social fabric. It did nothing to ameliorate the standard of lives of downtrodden. British put its economic gains a top priority at the stake of Balochs advantages.
Regrettably, this was not the land and people of Baluchistan who were to be benefitted from British's militarists, educational, and social policies but the British concerns that were to be served by hook or crook. British administration in Baluchistan was designed in a highly prudent manner. It served British's vested interests. It never meet up with public needs and demands. According to a native Baloch writer, what essentially did matter were the enterprise of alien rulers. They never bothered to consider what Balochs needed the most.
Evidently, it is fair to write that it Baluchistan remained under the tight control of British administrative machinery. Its representatives such as AGGs, APs, DCs enjoyed inclusive powers. They were entitled to act as the real power holders in militarist and political spheres. They discouraged political education of masses even at a minor level. It is therefore necessarily sufficient to see political development of Baluchistan from the magnifying glasses of British policies in Baluchistan. Eventually, the things changed with the promulgation of act of 1935, outbreak of World War II and All India Muslim Leagues popular demand of political reforms in Baluchistan.
US-China Developing Confrontation: India and QUAD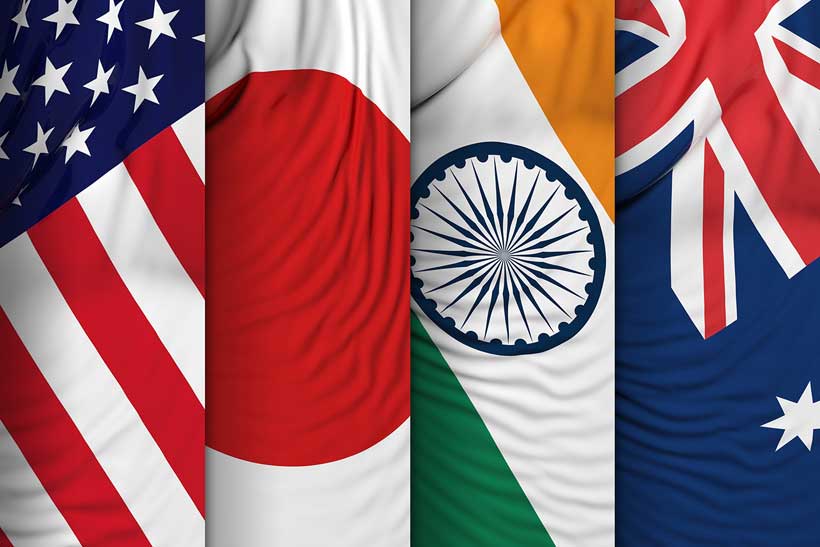 At the request of the editors of International Affairs magazine, the renowned Kanwal Sibal, India's Foreign Secretary and Ambassador to Turkey, Egypt, France and Russia, comments on new US initiatives in Southeast Asia.
Judging by its Interim National Strategic Security Guidance (INSSG) document (March 2021) the Biden Administration intends to be tough towards China on many fronts. Human rights issues in Xinjiang and Tibet, threats to Taiwan, limiting Hong Kong's autonomy, encroachments and territorial pressures in the East and South China Seas, freedom of navigation and overflight issues, preserving a free and open Indo-Pacific, unfair trade practices, technology theft, resilience of critical supply chains, emerging technologies, standard setting for 5G, a new competitive US industrial strategy, and so on.
Whereas Trump had alienated allies and weakened America's hand in dealing with China's challenge, the Biden administration seeks to speak to China from a position of strength. For this it seeks to restore ties of confidence with Japan, South Korea and Australia in priority. In doing this the US is indirectly recognizing its reduced strength and its inability to meet the China challenge alone. In this perspective, It had reached out to Europe for policy coordination towards China even before it took office, but Europe went ahead to sign a Comprehensive Investment Agreement (CAI) to protect its own independent and competitive interests in China. After the fractious US-China Alaska meeting, the US has continued its coordinating efforts with Europe but faces resistance from Germany and France in particular who want to retain their strategic autonomy in dealing with China, believing that US policy under Biden will remain self-centred and that too much water had flown under the bridge for US-Europe ties to simply revert to the pre-Trump era.
The timing of virtual Quad summit before the Alaska meeting was also intended to signal to China that like-minded countries were coming together to deter what they view as China's increasingly aggressive policies. From a telephonic meeting at the Foreign Ministers level in February 2021 the summit was a major step forward in consolidating the Quad politically. India, earlier reticent in moving too far too quickly with the Quad in the light of the need to manage the stresses of its China ties, decided to join. After the stand-off in eastern Ladakh India has realized that deferring to Chinese sensitivities is not reciprocated by China. The visit of the US Defense Secretary Lloyd Austin to India coincided with the US-China meeting in Alaska.
In the INSSG, India is not treated strategically in the same category as US allies like Japan, Republic of Korea and Australia. The China challenge is felt primarily in the western Pacific where the US has bases, deployed military forces and a powerful naval presence. China's challenge in the Indian Ocean is not considered of the same order for the time being, but partnership with India, with its significant naval assets and geographic position, overlooking the critical sea lanes of communication in the region, is important for the future. India is seen as a net security provider, fitting into the template of burden sharing. For this the US has shown its readiness to build India's maritime surveillance capacities by supplying defense platforms, intelligence sharing, increasingly complex military exercises with the inclusion of Japan and Australia, and utilizing the India-US defense-related foundational agreements that provide for inter-operability and sharing of geo-spatial data.
Although the joint statement issued by the Quad summit did not mention China by name, China was of course discussed, with each leader sharing his thinking. According to US NSA Jake Sullivan, China, about whom none of the leaders had any illusions he said, was discussed at the meeting but was not its focus. Coercion of Australia, harassment around the Senkakus, border aggression against India figured in the discussions. According to him, the Quad is now a critical part of the architecture of the Indo-Pacific. Cybersecurity incidents impacting Quad members too figured, including attacks against India's power sector. He dismissed the talk about Quad being a military alliance, though he stated that it has to worked out at the leaders level and that of the working groups how the Quad can move from freedom of navigation to broader regional security questions. Apparently, at Alaska, the Chinese reacted negatively to US mentioning its dialogue with India.
The summit rightly felt that the Quad should have a broader agenda than simply China, a point of view that India has studiously supported. India is conscious of the fact that the US, as well as Japan and Australia, have deep economic ties with China, which can be rolled back selectively to lessen dependence by decoupling in critical areas, restricting Chinese access to advanced critical technologies in which China has external dependence such as semi-conductors, preventing Chinese investments in sensitive areas etc but cannot be dramatically reduced, given China's huge weight in the global economy. The US policy seems to be "extreme competition", cooperation and confrontation, as required. India's investment in the Quad, beyond the maritime security aspect, would be to benefit from a shift away from China of critical supply chains, use India's democratic environment to attract more US investment and technology transfers that would accelerate India's growth for the welfare of its people, besides enabling it to close the developing gaps with China.
It is in this perspective that the decision on building India's capacity for vaccines should be seen. The three expert groups set up by the Quad summit, on vaccines, critical technologies (5G, AI, Quantum Computing, human biology) and climate change broaden the Quad's agenda, opening up bilateral opportunities with the US for India, besides creating the beginnings of a structure. In line with Indian thinking and emphasis on a broader agenda, the Quad leaders pledged "to respond to the economic and health impacts of COVID-19, combat climate change, and address shared challenges, including in cyber space, critical technologies, counterterrorism, quality infrastructure investment, and humanitarian-assistance and disaster-relief as well as maritime domains". The decision to manufacture US vaccine in India with Biological E Ltd to provide one billion doses to the Indo-Pacific region was taken, with Japanese finance and Australia's delivery support. The third group will deal with critical – and emerging-technologies to facilitate cooperation on international standards and innovative technologies of the future. 
China's concerns about the Quad summit and the strengthening of India's strategic ties with the US have no basis. China has benefited enormously from US capital and technology and that of its allies for China's rise. The economic power it acquired, and with that military power, has been used by it to expand territorially in the western Pacific and globally through the BRI, not to mention in the Indian Ocean. Now that defenses are being put up against China's policies and ambitions, China, after the stand-off in Ladakh, has no ground to warn India not to become close to the US. Even now the US is China's biggest economic partner and China is reaching out to the US to ease pressures on it. Its critique of "selective multilateralism" would apply equally to the Russia-India-China group, BRICS as well as the SCO. It has established a Quad in our region- the China-Pakistan-Afghanistan-Nepal group, in which Nepal does not fit at all.
The bristling encounter at Alaska demonstrates that China's expectations that a change of administration in the US could lessen tensions and some accommodation could be worked out have been belied for the time being. China touted the Alaska meeting as a strategic dialogue, which was strongly denied the US. In response to Secretary of State Blinken's severe strictures on China's infringements of a rules based international order on various issues, Politburo member Yang Jiechi hit back brutally, decrying US democracy, castigating America's racism, calling it the champion of cyberattacks, rejecting the notion that western nations represent global public opinion, and, most significantly, stating that the US lacked the qualifications to speak to China from a position of strength, now or even 20 or 30 years earlier. Yang Jiechi may have intended to say all this in private but felt compelled to do so in public to show to the domestic and international audience that China will not be bullied and will deal with the US as an equal. If he had reacted meekly, it would have been a blow to China's prestige and its self-image. It appears that after the public spat the two sides got down to business calmly on the agenda items , with serious differences over Taiwan emerging and raising US concerns that this could become a flash point if Xi Jinping was determined to achieve reunification, by force, if necessary. There was no commitment by the US side to meet again despite persistent probing by Yang Jiechi to elicit a response.
With China and Russia in the cross-hairs of the Biden government, it is not surprising that both countries have closed ranks against the US. Lavrov and Wang Yi rejected US calls for "a rules-based order" and proposed a summit of the UN Security Council's five permanent members to be held "to establish direct dialogue …in the interests of maintaining global stability". With the sharper US divisions with China and Russia it is unclear what the P5 summit could achieve concretely, especially as the representative nature of the UN Security Council as currently constituted is questioned in large parts of the world.
Regrettably, a new version of the Cold War might now be taking shape. In the developing scenario, it is very important that the India-Russia dialogue is strengthened so that the implications of the new developments and the compulsions of the two countries are better understood bilaterally.
From our partner International Affairs
Convergence of interests determines Russia-Pakistan Relations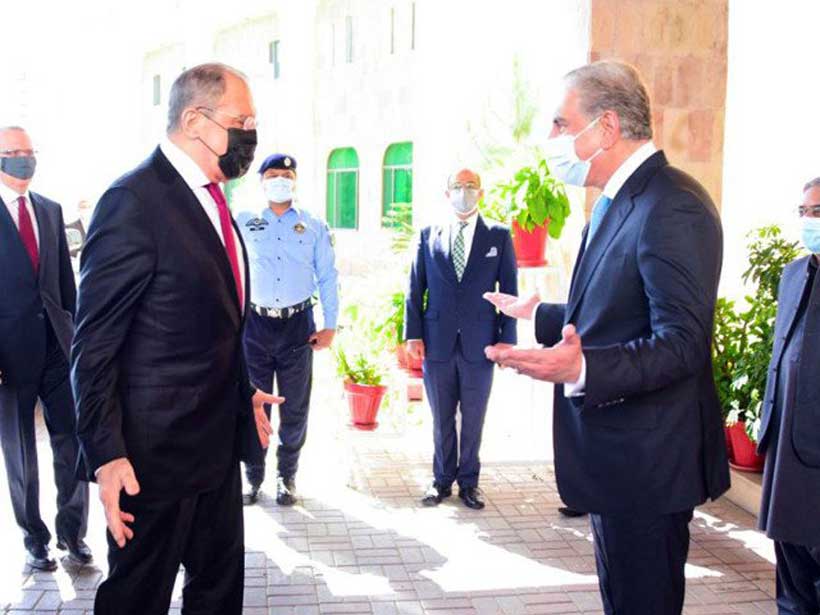 Russian Foreign Minister Sergey Lavrov visited Pakistan on 6-7 April 2021 and held delegation-level meetings with Foreign Minister Shah Mahmood Qureshi, in addition to called on Prime Minister Imran Khan and Army Chief, as well as had interaction with other dignitaries and senior officials during his two-day stay in Islamabad, Pakistan.
It is worth mentioning that Russia and Pakistan face similar challenges and pass through similar difficulties, including sanctions, economic challenges, security threats, etc. Both countries share similar views on the Afghanistan issue, terrorism, regional security, and China's common friend. There exists a comprehensive convergence of interests.
Especially after India signed a series of Defense agreements and acted as a "Major Defense Partner" and American-led Quad or concept of Asian NATO, the geopolitics has emerged so that Russia and Pakistan must cooperate with each other. As a matter of fact, we left with no option except strengthening regional cooperation.
Russian Foreign Minister Sergey Lavrov said that Moscow and Islamabad would boost ties in the fight against terrorism, with his country providing defense equipment to Pakistan and the two holding joint military exercises.
During the meeting, Prime Minister Imran Khan restated Pakistan's determination to expeditiously complete the mandatory legal process for the "Pakistan Stream" (North-South) Gas Pipeline project and begin the work as early as possible.
Pakistan-Russia mutual relations and issues of regional and global importance were discussed in the meeting. The Prime Minister fondly recalled his interaction with President Vladimir Putin during the Shanghai Cooperation Organization (SCO) Summit in Bishkek in June 2019. He had emphasized his desire to take the bilateral relationship to a new level. He repeated that the importance Pakistan attached to its relations with Russia as a critical foreign policy priority. The Prime Minister uttered satisfaction at the steady growth in bilateral ties, including deepening cooperation in trade, energy, security, and defense.
Citing to the situation in Indian Illegally Occupied Jammu and Kashmir (IIOJK), the Prime Minister shared Pakistan's perspective on peace and security issues in South Asia, including the need for sustainable, peaceful resolution of the Jammu and Kashmir dispute.
The Prime Minister repeatedly extended his invitation to President Putin to visit Pakistan at his earliest convenience. It is hoped that President Putin will visit Pakistan soon.
Moreover, disturbing the peace process in Afghanistan, where both countries have long histories of concerns. It was the first time a Russian foreign minister had visited Pakistan in nine years and comes at a delicate time for Afghanistan with peace talks making little progress and a deadline approaching for the United States to withdraw its forces. "(Pakistan and Russia) share convergent positions on several issues … including peace and stability in Afghanistan,"
The visit comes as Moscow seeks to increase its stature in the region, particularly in war-torn Afghanistan, where it has sought to inject itself as a critical player in fast-tracked efforts to find a permanent peaceful end to decades of war.
As Washington appraisals an agreement it signed more than a year ago with the Taliban and rethought a May 1 withdrawal of its troops, Moscow has stepped up its involvement in Afghanistan, emerging as a significant player. Last month it hosted talks between the Taliban and senior government officials, and Lavrov suggested another high-level meeting could again be held in Moscow.
Addressing a joint press conference with Foreign Minister Shah Mahmood Qureshi, Lavrov expressed satisfaction over a 46 percent increase in trade between them. He, however, stressed there is a need to diversify it further. Discussing the energy sector opportunities, he said both the countries are now discussing a new protocol on the Stream Gas Pipeline Project, an ambitious project to transport 1.6 billion cubic feet per day of regasified liquefied natural gas (LNG) from Karachi to Lahore. As soon as it is signed, the construction work will begin. The top Russian diplomat termed the relationship between the two nations mutually beneficial and constructive. He recalled Russia had provided 50,000 doses of its Covid-19 Sputnik-V Vaccine.
Qureshi said Pakistan wanted to build a relationship with Russia that is based on trust. He said Moscow has always advocated the importance of international law and multilateralism. "These are principles that Pakistan adheres to. Our coordination and cooperation at the United Nations level have been excellent." At this, Lavrov reaffirmed the commitment to deepen ties with Pakistan and create win-win cooperation between them.
India's Naxalbari Achilles' heel
On April3, 2021, there was a pitched battle between a Naxalite (or Maoist) group (called "rebels") by Indian government) and government forces of over 1500 "jawan", equipped with state-of-the art weapons and helicopters at the Bijapur-Sukma border. The Naxals armed with machine guns gunned down 22 members of the government forces and injured 31 others, excluding missing personnel. Eight of the dead jawans were from the CRPF, seven from the elite Cobra (Commando Battalion for Resolute Action) while the others were part of the Bastariya Battalion of the Central Reserve Police Force (CRPF) and the District Reserve Guard (DRG). Two of the dead CRPF jawans were from Assam, where assembly polls are on.
The Naxalite decamped with forces' weapons, uniforms and shoes. The government claims that they killed 10 Naxalite, but could only produce the corpse of a dead woman as a "rebel". The government claims that the Naxalites take along their dead and injured.
(Twenty-two jawans killed in Chhattisgarh Maoist gun battle. Officers claimed more than 10 ultras were killed in Saturday's encounter but other sources said the police had found the body of a lone rebel — a woman. Telegraph India April 5, 2021).
Lapses
Media described the "counter-insurgency operation" as an "intelligence failure and poor leadership by the CRPF commanders and drew parallels with the February 2019 Pulwama massacre of 40 personnel in the run-up to the general election". Earlier in April 2017, the Naxal had killed 25 CRPF personnel near Burkapal in Sukma. The media blames home minister and the government of being preoccupied in winning elections in some state assemblies through turn coats. It is alleged that "five teams totaling 2,000-plus security personnel had on Friday night launched a concerted operation in the Maoist-hit Bijapur and Sukma districts after learning that rebels led by the dreaded Madvi Hidma were hiding in the forest. A CRPF officer admitted, `The operation was launched from five places Tarrem, Usoor and Pamed in Bijapur, and Minpa and Narsapuram in Sukma. While a team was advancing through the forests near Jonaguda, around 500km from state capital Raipur, it was ambushed by some 250 Maoists on Saturday afternoon, said. He said the forces were scattered and trapped along a two-km stretch of forest. The patrolling team from Tarrem came under heavy fire, prompting some of them to move to what appeared a deserted village, where the Maoists lay in wait for them. The Maoists fled with the weapons, bullet-proof jackets and the shoes of the dead troops'.
Naxalite clout
The recent encounter belies government claim that it has wiped out Naxalism from their stronghold Bastar. Bastar division of Chhattisgarh has a population of 23, 48,808 persons. It is spread over 40,000 square kilometers (Census 2011). Bastar division has a security-personnel-to-civilian-population ratio of 1:22 with the deployment of 58,772 central paramilitary force personnel and another 50,000 of state armed-police personnel, the. Security forces occasionally conduct "search and destroy" operations in the area killing or arresting innocent people for "Naxal offence". . The jails are overcrowded to the extent of three times the prison capacity, filled with Adivasis (tribals). The report of a High Level Committee headed by Virginius Xaxa, submitted to the government in May 2014, highlighted this fact.
Even expression of sympathy with Naxals is now a heinous offence.
In the Bhim Koregaon planted letters case, several intellectuals and rights activists including Navalakha were declared "traitors" by the government. They were even accused of having links with Kashmiri militants. It was claimed that they were in communication with Ghulam Nabi Fai, a Kashmiri leader who has served two-year imprisonment in the USA for having illegally received funds from the inter-services intelligence of Pakistan.
Despite repression under draconian laws, the Naxalbari uprising has still been alive since May 1967.
According to India's home ministry "more than two-thirds of Maoist related violence is now restricted to only 10 districts of the country. However, media reports reflect Maoists are well entrenched in at least 68 districts. The movement could not be quelled despite tall claims by Indian authorities over the past 53 years. Indian home ministry has a whole division dedicated to dealing with the movement.
No writ of government
In Naxalite-influenced rural areas, there is no trace of India's judicial system. There, the Naxalite organisations act 'virtually like policemen, arresting, meeting out "justice" and in some cases even executing the guilty' ("Internal security situation", India's National Security: Annual Review 2004, New Delhi, India Research Press, 2005, p. 87).
With the merger of pro-Naxalite revolutionary bodies, the Naxalites are the sole arbiters of justice in rural areas.
Concluding remarks
The term "Naxalite" is rooted in Naxalbari village (West Bengal) where Kanhu Sanyal presented the concept of "forcible protest against the social order relating to holding of property and sharing of social benefits". They started the Naxal movement on March 3, 9167 at Naxalbari village, near Siliguri sub-division in West Bengal. It is 30 to 50 miles from Sikkim. Tibet and Bhutan in the, Nepal in the West and from Bangladesh in the east. To him the purpose of the protest was "organizing peasants to bring about land reform through radical means including violence".
Naxalite movement in India is viewed as an internal security problem. However, the populist appeal of the movement's ideology reflects that it could soon assume international dimensions if China supports it. India's Lieutenant General KM Seth laments, 'Unfortunately, the threat to internal security from Naxalites has acquired dangerous proportions and can no longer be wished away. …they are also developing links with Turkish and Philippino terrorist organisations…We have suffered and bled patiently and have taken huge human casualties, which could exceed 13,000, uniformed personnel and 53,000 civilians during the last 25 years… As of today, their overall strength could be put to approximately 20, 000 undergrounds, 50,000 overgrounds and more than a lakh in frontal organisations. Their armoury is reported to comprise approximately 900 AK-47 rifles, 200 light machine guns, 100 grenade firing rifles, 2 inch mortars, thousands of .303 rifles, self-loading rifles and .12-bore guns with a huge quantity of explosives at their disposal'. ("Naxalite Problem", U. S. I. Journal , January-March 2005, New Delhi, p. 19, 23).
India may blame Pakistan for the freedom movement ('insurgency' or 'militancy') in occupied Kashmir. But, who shall she blame for the Naxalite insurgency in Andhra Pradesh and other Indian states? This is a movement against economic deprivation and brutality of the state or central government's law-enforcing agencies.
Indian media has now begun to report that the counter-insurgency forces are fearful of grappling the Naxalite. In Guntur (Andhra Pradesh), the Naxalite announced a cash reward of five lac rupees per policeman ("Reward scheme sends forces into huddle", Indian Express, August 25, 2005). IG (Guntur Range) Rajwant Singh admitted, 'My men are removing the posters and convincing the villagers to inform them about the activities of Naxalites'.