Throughout COVID-19 recovery, 'plummeting' clean energy costs can help climate action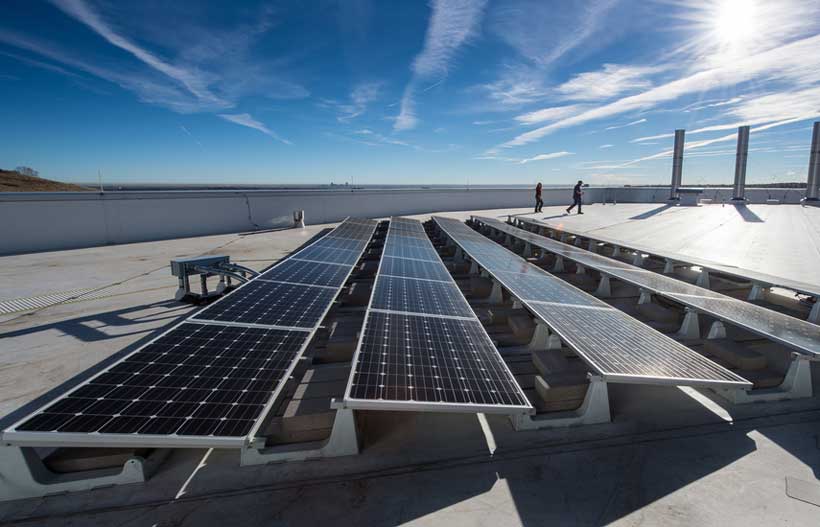 COVID-19 hits the fossil fuel industry, a new UN report published on Wednesday shows that renewable energy is more cost-effective than ever – providing an opportunity to prioritize clean energy in national economic recovery packages and bring the world closer to meeting the goals of the Paris Agreement.
The new report, Global Trends in Renewable Energy Investment 2020, is a collaboration between the UN Environment Programme (UNEP), Frankfurt School-UNEP Collaborating Centre, and energy financing company, BloombergNEF.
Against the backdrop of governments injecting huge amounts of money into their economies to offset the impact of coronavirus lockdowns, UNEP chief Inger Andersen; Nils Stieglitz, President of the Frankfurt School of Finance and Management; and Jon Moore, Chief Executive BloombergNEF, maintain in the foreword that "putting these dollars into renewables will buy more generation capacity than ever before", and help countries deliver on stronger climate action.
Tell-all numbers
The report illustrates that apart from large hydro-power generation, in 2019, renewable energy grew by a record 184 gigawatts (GW).
Although this was a 12 per cent jump over the previous year, the 2019-dollar investment was only one per cent higher.
Meanwhile, technology improvements, economies of scale and fierce competition, have prompted the cost of wind and solar electricity to continue to drop over the last decade, resulting in and 83 per cent price drop for electricity from new solar photovoltaic plants, in the second half of 2019.
Although this represents good progress, the report notes that "there is room to do much more".
Looking ahead
Nations and corporations have made clean energy commitments over the next decade, for 826GW of new non-hydro renewable power by 2030, at a likely cost of around $1 trillion.
However, these commitments fall far short of what is needed to limit the rise in global temperatures, to well under 2 degrees Celsius under the Paris Agreement, and also falls short of last decade's achievements, which saw around 1,200GW of new capacity, at a cost of $2.7 trillion.
"This lack of ambition can be rectified in economic recovery packages", assured Ms. Andersen, Mr. Stieglitz and Mr. Moore, adding that by "simply repeating the investment of the last decade, over the next, would buy far more clean energy than it did before".
The COVID factor
The slump that the coronavirus has created in the fossil fuels sector, combined with the resilience of clean energy, have made it clear that renewable energy is a smart investment, says the report.
"The chorus of voices calling on Governments to use their COVID -19 recovery packages to create sustainable economies is growing", maintained Ms. Andersen.
And the report's findings highlight that renewable energy is one of the smartest, most cost-effective investments going.
"If governments take advantage of the ever-falling price tag of renewables to put clean energy at the heart of COVID -19 economic recovery, instead of subsidizing the recovery of fossil-fuel industries, they can take a big step towards clean energy and a healthy natural world – which ultimately is the best insurance policy against global pandemics", concluded the UNEP chief.
Solutions to accelerate renewables integration and power system resilience
Singapore and the International Energy Agency today co-hosted the second Global Ministerial Conference on System Integration of Renewables (SIR). The Conference was held as part of the Singapore International Energy Week (SIEW) 2020.
This is the first SIR Ministerial Conference to be held in Asia. Under the theme "Investment, Integration, and Resilience: A Secure, Clean Energy Future," the SIR Ministerial Conference brought together close to 30 Energy Ministers, global CEOs and thought leaders to discuss emerging issues in the acceleration of renewables integration and power system resilience with a strong focus on Asia and Southeast Asia. The IEA also launched its new report on electricity security, Power Systems in Transition, at the Conference. The report provides important recommendations on modernising power grids for greater reliability and flexibility.
Singapore's Minister in the Prime Minister's Office and Second Minister for Trade & Industry, and Manpower and co-Chair of the SIR Ministerial Dr Tan See Leng said: "International cooperation and public-private partnerships remain vital as we navigate towards a more sustainable energy future. As we address the urgent need to future-proof our systems to create more resilience and flexibility, we must also increase the share of, and enhance the integration of renewable energy in our energy systems. We look forward to working with the IEA to advance global energy transitions."
"The IEA is pleased to partner with Singapore for the 2nd Ministerial Conference on System Integration of Renewables as the country sits at the heart of Asia, a region that will be critical in shaping the future of global energy markets," said Dr Fatih Birol, the IEA Executive Director. "Today, we shared important lessons from across Asia and beyond on how best to integrate growing shares of wind and solar into power systems while maintaining security of supply. This will be crucial if renewables are to become the fundamental cornerstone of global clean energy transitions."
Singapore's cooperation with the IEA has deepened significantly since it became an Association country of the IEA in 2016. Singapore and the IEA have co-hosted many innovative initiatives and programmes to advance the global energy agenda. These include the training programmes under the Singapore-Regional Training Hub, the Singapore-IEA Forum and the Capacity Building Roadmap on Energy Investment and Financing for ASEAN.
Impact of COVID-19 on Commodity Markets Heaviest on Energy Prices
While metal and agricultural commodities have recouped their losses from the COVID-19 pandemic and are expected to make modest gains in 2021, energy prices, despite some recovery, are expected to stabilize below pre-pandemic levels next year, the World Bank said.
Oil prices fell dramatically in the early stages of COVID-19 and have only partially regained pre-pandemic price levels, while metal prices declined relatively modestly and have returned to levels that preceded the shock, according to the semi-annual Commodity Markets Outlook report. Agriculture prices were relatively unaffected by the pandemic, but the number of people at risk of food insecurity has risen as a result of the broader effects of the global recession.
"The impact of COVID-19 on commodities has been uneven, and could have lasting effects for energy markets," said Ayhan Kose, World Bank Group Acting Vice President for Equitable Growth, Finance & Institutions and Director for the Prospects Group. "When declines in commodity prices are short-lived, policy stimulus can buffer their impact. However, when prices remain depressed for an extended period, policy makers need to find solutions so their economies can adjust smoothly to a new normal. Because of COVID-19, the new normal for oil-exporting emerging and developing economies arrived earlier. In the post-COVID world, these countries need to be more aggressive in implementing policies to reduce their reliance on oil revenues."
Oil prices are expected to average $44 per barrel in 2021, up from an estimated $41 per barrel in 2020. Demand is expected to rise only slowly as tourism and travel continue to be held back by health concerns and as global economic activity is anticipated to return to pre-pandemic levels only in the year after next. Supply restraint is expected to be eased steadily. Energy prices overall —which also include natural gas and coal—are expected to rebound sizably in 2021, following large declines in 2020, an upward revision from April's forecast. A resurgence of a second wave of the pandemic that results in more lockdowns and less consumption, and delays in vaccine development and distribution, could lead to lower energy prices than forecast.
Metal prices are expected to post modest increases in 2021 after falling in 2020, supported by the ongoing recovery in the global economy and continued stimulus from China. A prolonged period of weak global growth would lead to lower prices than forecast.
Agriculture prices are expected to rise slightly in 2021, following an estimated 3% increase in 2020 following some shortfall in edible oil production. Concerns about food insecurity remain relevant in several emerging market and developing economies. These concerns are prompted by hits to incomes from the global recession, bottlenecks in food availability at the local level, and border restrictions that have constrained labor supply. Food price inflation has spiked in several countries.
The pandemic is only the latest in a long history of shocks to commodity markets. A Special Focus looks at the nature of commodity price shocks on 27 commodities during 1970-2019. It finds that highly persistent ("permanent") and short-lived ("transitory") shocks have contributed almost equally to commodity price variation, although with wide variety across commodities. Permanent shocks account for most of agricultural commodity price variability while transitory shocks are more relevant in industrial commodity prices. The varied duration of such shocks points to a need for policy flexibility.
A transitory commodity price shock may call for stimulative fiscal policy to smooth consumption; countries that depend on exports of commodities subject to cyclical price swings may want to build fiscal buffers during the boom phase and use them in the bust period to support economic activity. In countries that rely heavily on commodities that are subject to permanent shocks, structural policies such as economic diversification and broadening the tax base may be needed to facilitate adjustments to new economic environments.
Countries Raise the Sails on Offshore Renewables Sector
Offshore renewables, including offshore wind, wave, tidal, ocean thermal, and floating solar PV, will witness substantial growth in capacity over the next decade and play an essential role in the global energy transformation. In this context, representatives from 40 countries gathered to identify collaboration areas and agree on concrete actions to accelerate progress and ensure rapid uptake of these promising technologies.
According to the International Renewable Energy Agency's (IRENA) projections, global offshore wind and ocean energy installed capacity will reach 228 GW and 10 GW respectively by 2030.
During his welcoming remarks, IRENA Director-General Francesco La Camera stressed offshore renewables' importance in meeting growing energy demands and improving living conditions. "Offshore renewables have the potential to meet more than four times the global energy demand of today, foster a blue economy, and bring socio-economic benefits to some of the most vulnerable areas to climate change such as small island territories and coastal areas," he said.
The Collaborative Framework on Ocean Energy/Offshore Renewables first met on 25 June 2020, during which Members and States in Accession provided inputs on the thematic scope of the Collaborative Framework and agreed to include relevant stakeholders in future meetings. In response, this second meeting of the Collaborative Framework, moderated by H.E Ambassador 'Akau'ola, Tonga's Permanent Representative to IRENA, included participation, insights, and support from the Global Wind Energy Council (GWEC) and Ocean Energy Europe (OEE).
Currently, 90% of global installed offshore wind capacity is commissioned and operated in the North Sea and the nearby Atlantic Ocean. Mr. Ben Backwell, CEO of GWEC, attributed the rapid uptake of offshore wind in Europe to regional cooperation on interconnection, marine spatial planning (MSP), and sector coupling in the North Sea. Mr. Backwell highlighted the critical role that the Collaborative Framework can play in fostering similar regional partnerships in other parts of the world.
Representing the ocean energy sector in the Collaborative Framework, Mr. Rémi Gruet, CEO of OEE, suggested that ocean energy will become a game-changer, estimating that the sector can provide more than 1.2 million jobs worldwide by 2050. Mr. Gruet also underscored the predictability of ocean energy, which complements the variable renewable energy sources, as a compelling reason to make wave and tidal energy technologies essential additions to power systems that will be dominated by solar PV and wind.
Members also agreed on 13 topics of focus for the Collaborative Framework, around the areas of technology development, research and innovation, market incentives, and sustainability. The topics include analyses on accelerating technology cost reduction, grid integration, resource mapping, and coupling of offshore renewables with Power-to-X technologies. Participants also indicated the important role of IRENA and the Collaborative Framework in moving a global Offshore Renewables agenda forward in other relevant multilateral venues including the G20 and the COP26.
IRENA Members also agreed on modalities for future meetings under the Collaborative Framework, including the selection of Italy and Tonga as co-facilitators.