Republic of Cuba is an archipelago of 11.27 million inhabitants located in South America. The healthcare system of the country is considered as one of El Commandante's greatest achievements. It was borne out of revolutions socialist ideology which envisioned healthcare accessibility as a fundamental right of all Cuban citizens. In 2014, the then United Nations Secretary General, Ban Ki-moon during an official visit to Cuba termed its healthcare system as "a model for many countries" to follow. The country over the years has offered scholarships to foreign students including those from United States and Europe. A number of low income families from across the world have benefited from the medical schools of Cuba. The Latin American School of Medicine (Escuela Latinoamericana de Medicina) is one of the largest medical schools in the region which hosts thousands of students from over 100 different nations. Cuban health workers have in the past contributing in elimination of polio, tuberculosis, typhoid fever, and diphtheria. During the Corona virus epidemic healthcare workers were sent to at least 21 countries by the government, notably to Italy and South Africa. President Miguel Diaz-Canel of Cuba has recently declared COVID- 19 as "under control in the country". The article in the light of the above developments provides an analysis of the policy adopted by Cuba to contain the novel virus that has shaken global operations.
Strategies Adopted to Contain COVID-19
Cuba before closing its border increased monitoring at the port, airports and marinas. In this period, travelers arriving with symptoms were hospitalized in isolation for at least 14 days. A case detection strategy was adopted to deal with larger population groups using rapid tests and real-time polymerase chain reaction (RT-PCR) tests. The people who were most prone to virus were identified and record was maintained of those individuals coming from high-risk countries. They were then placed in isolation centers for diagnosis and testing by RT-PCR. Post-mortem of persons having died with respiratory or diarrheal symptoms was also carried out by health professionals to identify virus circumstances and patterns. Healthcare specialists used rapid tests on larger population which in Cuba's case proved quicker and cost-effective. Door-to-door screening drive was undertaken with the partaking of medical students. When a case was confirmed, contact tracing was started to also identify those people who potentially had the risk to develop the novel virus. These policy steps resulted in early identification of cases. It was reported that up to 2.5 million people a day were screened by going house-to-house. Patients were hospitalized for at least 15 days, by the end of this period if they were declared symptoms-free and in recovering stage, they were once more tested by RT-PCR. If the results were negative, they get a clinical discharge to return to their home with a restricted movement for further 15 day period. After this time, RT-PCR test is repeated after which they can return to their normal activities. However, if the test is declared positive, it is repeated again in 5 days and if it proves positive the patient is readmitted to the hospital until the test is proven negative.
An intense media campaign was also initiated by Cuban government where the public were informed regarding the dangers and precautions of COVID-19 virus. Scientists and medical practitioners affiliated with various organization teamed up with BioCubaFarma to develop medications to treat COVID-19. Work was also carried out to develop digital applications that allow facilitate people with symptoms to communicate with health professionals for medical instructions. The policy has been successful as a result of inter-sectoral partaking by local communities along with government agencies such as Ministries of Education, Immigration and Customs and Ministry of Labor and Social Security. The Cuban healthcare system suffers critically as a result of American sanctions. Nevertheless, Cuba upgraded its diagnostic lab facilities in Havana where the National Civil Defense Scientific Research Center has capacity to undertake 1000 RT-PCR tests daily. The first of RT-PCR kits came through the Pan American Health Organization (PAHO), and later more were acquired from China. In order to address the supply shortage Cuba has also started domestically producing specialized gowns, aprons, masks, goggles and face shields, to facilitate protection for people working in health services.
Conclusion
Much of Cuba's success in responding to COVID-19 has been as a result of primary healthcare system in the country. Cuba has a history of generating innovations in medical science and research. In 1985,it prepared the first and only vaccine against meningitis B. Scientists of the country have also developed new treatments for hepatitis B, diabetic foot, vitiligo and psoriasis. A lifesaving lung cancer vaccine was developed by Cuba that was also imported by the US. Cuba was also the first country to eliminate the transmission of HIV and syphilis from mother to child, an achievement recognized by World Health Organization (WHO) in 2015.
It is reported that Cuban biotechnology has developed drugs that have already been effective in fighting the coronavirus in China and other countries. According to Director of Epidemiology at Cuba's Ministry of Health, Francisco Durán, drugs are in development stage "to improve innate immunity". These include Interferon Alpha 2B, created in the 1980s in collaboration with scientists in Helsinki to combat a dengue outbreak. It is being produced presently by a joint venture with a Chinese company. New varieties of Interferon are being developed institutes of the Scientific Pole to improve its effectiveness against Covid-19.Cuban institutes are also producing another domestically manufactured drug, CIGB 258, which was already under development prior to the pandemic for the treatment of rheumatoid arthritis. Duran stated, "These and other drugs, almost all manufactured and patented in Cuba, are components of the island's anti-Covid-19 cocktail". According to John Hopkins University, Cuba has registered a mortality rate of 4.2% compared to 6% in the US and 12% in Spain. Almost 87% patients have recovered from the COVID-19 virus, the highest recovery rate in South America. Cuban policymakers, however have been critical of the US embargo which poses a serious problem for Cuban biotechnology. It is difficult to import constituents of the drugs and has made joint-research difficult since it is based on cross border correspondence and exchange of scientific ideas.
*This disclaimer informs the readers that the opinion expressed are those of the author and are not in any way representation of associated organization's and publishing platform.
What democrats and republicans expect from U.S. foreign policy
Partisanship colors Democrats' and Republicans' foreign policy priorities in ways that will matter substantially for companies, global supply chains and financial markets under a divided Congress. This is demonstrated by the results of a public opinion poll conducted by Morning Consult's U.S. Foreign Policy Tracker.
Among voters' top five concerns, Democrats tend to prioritize outward-looking issues, including 'climate change' and 'preventing global pandemics' and 'economic crises', while Republicans' attention is inwardly focused on 'immigration' and 'drug trafficking', as well as 'securing U.S. supply chains'.
The largest partisan gap in public attitudes is on climate change. Among 14 major foreign policy challenges facing the U.S. government, the issue ranks first on Democrats' list of priorities and 13th among Republicans.
There is also substantial polarization on 'immigration policy', 'human rights' and 'managing relations' with both Russia (upweighted by Democrats) and China (upweighted by Republicans).
A divided Congress will see gridlock over many of these issues.
More Republican voters than not (46%) and a near plurality of Democrats (32%) want 'greater isolationism in U.S. foreign policy', marked by 'limited American engagement overseas' and 'greater closure to global trade and capital flows'.
Voters' top five foreign policy issues are also noteworthy for what they leave out: 'major geopolitical challenges confronting the United States', including 'Russia's invasion of Ukraine', 'U.S.-China relations' and 'the Iran nuclear deal'.
Republican voters rank both China and Iran policy more highly than Democrats, and by wide margins: The former place them in seventh and eighth place by share, compared with 13th and 14th for Democrats. Russia's invasion of Ukraine, meanwhile, ranks sixth among Democrats and 10th among Republicans.
Its placement in the latter group's ranking suggests that efforts to resolve the war and provide further economic and military aid to Ukraine risk being deprioritized, in line with recent media reporting.
Per the figure below, near majorities of Republican voters (48%) support decreasing U.S. involvement in other countries' affairs and reducing foreign aid provision, substantially outpacing the shares who prefer the status quo. Democrats, by contrast, are nearly evenly split as to whether they would prefer the U.S. government decrease its involvement in other countries' affairs or maintain the status quo.
Democrats' and Republicans' preferences are somewhat more closely aligned when it comes to their attitudes on 'America's military activities overseas'. A substantial plurality of Republicans (41%) would prefer that U.S. foreign policy involve more limited deployment of U.S. troops, and would like 'to reduce American participation in military conflicts beyond the country's borders'. For Democrats, the margins are slimmer on both fronts at present.
Voters' attitudes toward 'U.S. involvement in international organizations like the United Nations' exhibit the sharpest polarization. Per the figure below, a near majority of Democrats (49%) support 'greater involvement', while a plurality of Republicans (34%) favor 'decreased engagement', though the share of Republicans who prefer to maintain present levels of engagement is close behind.
(Categorization derives from a survey conducted among a representative sample of 2,005 registered voters, with an unweighted margin of error of +/-2 percentage points).
International Affairs
Gun violence: human rights situation in the United States is very dismal
The United States is known as the world's largest democratic or full democracy country. From this introduction, the question may arise whether the United States considers it its 'right' to inform other countries of the world about disappearances, murders or human rights violations. However, according to various reports, the human rights situation in the United States is getting worse day by day. The incidence of gun violence, murder, police torture is increasing. The justice system is dying in the "vocal" country to protect global human rights, which is what the US citizens themselves are worried about.
In the middle of this year, the State Council Information Office of China published a report on the human rights situation of the United States in 2021. According to the report, the human rights situation in the United States has worsened compared to previous years. Millions of people have died in the country due to the government's failure to control the corona epidemic due to political instability. At the same time, gun violence casualties have multiplied. "False democracy" tramples on the political rights of the American people, and aggressive behavior by law enforcement agencies makes life difficult for immigrants and refugees in the United States.
Also, of concern is the country's growing discrimination against ethnic minority groups, particularly people of Asian descent. According to many analysts, the US administration's unilateral actions have created new humanitarian crises around the world.
Statistics on gun violence deaths
According to recently released statistics from the US Centers for Disease Control and Prevention (CDC), 2020 saw the highest number of gun-related deaths in 2020 than any other year. This includes a record number of shooting deaths as well as gun suicides.
Analyzing data collected from various sources including CDC, FBI, US-based public opinion polling and research institute Pew Research Center says, in recent years, the complete data related to gun attacks in the United States is available in 2020. That year, 45 thousand 222 people lost their lives in such incidents in the country.
For years, there have been more gun suicides in the United States than gun deaths, the CDC says. In 2020, 54 percent of gun-related deaths in the country were suicides (24,292), while 43 percent were homicides (19,384). In addition, there were 535 "unintentional" gun deaths that year, 611 law enforcement-involved deaths, and more than 400 "unspecified circumstances" deaths.
A total of 45,222 people died in gun-related incidents in 2020, which is 14 percent more than the year before, 25 percent more than five years ago and 43 percent more than a decade ago.
In the United States, gun violence has taken a toll in recent years. It killed 19,384 people in 2020, which is the highest since 1968. That year, gun deaths were up 34 percent from 2019, 49 percent from five years ago, and 75 percent from 10 years ago.
Comparative Analysis of Gun Violence
The rate of gun violence in the United States is much higher than in other countries, especially developed countries. Although a 2018 study by the University of Washington's Institute for Health Metrics and Evaluation of 195 countries and territories says that the United States ranks above the United States in terms of such violence, several countries in Latin America.
The study cited 2016 as the most recent year for gun violence statistics. According to the research report, the death rate from gun violence was 10.6 percent per 100,000 people in the United States that year. Whereas in Canada this rate is 2.1 percent per 1 lakh, in Australia 1.0 percent, in France 2.7 percent, in Germany 0.9 percent and in Spain 0.6 percent.
But the rate of violence is higher than in the United States in countries such as El Salvador, Venezuela, Guatemala, Colombia and Honduras. Overall, the United States ranked 20th in the world for gun violence deaths in 2016.
What is the annual death toll in mass shootings in the United States?
It is difficult to give a definite answer to this question. Because there is no single definition of 'mass gun attack' or 'mass shooting'. Its definition can vary depending on various aspects, including the number of casualties and the circumstances of the attack.
According to the US Central Intelligence Agency, the Federal Bureau of Investigation, or FBI, a mass shooting or mass shooting occurs when one or more individuals are actively involved in killing or attempting to kill people in a populated area. According to this definition, 38 people (excluding attackers) were killed in such incidents in 2020.
The US Gun Violence Archive (an online database of gun violence incidents) defines a mass shooting as an incident in which four or more people are shot, even if no one is killed (except the gunman). By this definition, 513 people were killed by gun violence in 2020. But however, defined, mass shootings in the United States kill more people each year than all gun violence combined nationwide.
Police 'hiding'
According to various monitoring organizations, more than two hundred people died in the United States in the first five months of this year. As the general public panics over a spate of gun attacks, new questions have been raised about the role of the US police.
According to a report by the US media Washington Post, since 2015, an average of 1,000 people has been killed by police in the United States every year. Since 2015, The Washington Post has started collecting data on every shooting incident involving police officers on duty in the United States.
Earlier in 2014, after an unarmed black man named Michael Brown was killed by the police in Ferguson, USA, an investigation came out that half of the shootings or torture by the country's police were not reported.
A Washington Post analysis of more than five years of media coverage, social media posts and police reports found that the number and circumstances of fatal shootings and overall victimization rates remained relatively unchanged during that period. Last year i.e. in 2021 also 1 thousand 49 people were killed by police firing.
According to the Washington Post, an average of 1,000 people dies each year in gun attacks or similar incidents across the United States. The same number of people were killed in police firing. Although half of those killed in police shootings are white, blacks account for the majority of victims as a percentage of the population. About 13 percent of the total population of the United States is black. Also, more than 95 percent of those killed by the police are men, between the ages of 20 and 40.
Racism
It is 2:30 PM local time on May 14 of this year. A supermarket in Buffalo, the second largest and black-dominated city in New York, was suddenly shaken by the sound of gunfire. An 18-year-old started shooting indiscriminately with a semi-automatic assault rifle. The attack was carried out in military uniform with body armor. The youth was also using a camera to broadcast his bloody rampage live online. Describing the aftermath of the attack, a local police officer said that day that it was like walking through the set of a 'horror movie'. But it was all real. It was a battlefield.
13 people were shot in that attack in Buffalo. 10 of them died. Police later said 11 of the 13 people shot were black. The FBI described the attack as an incident of "violent extremism". Agent in charge of the FBI's Buffalo office, Stephen Belangia, told the BBC it was being investigated as a 'hate crime' and racially motivated violent extremism.
Immediately after this attack, the local police arrested the suspected gunman named Peyton S. Gendron. He was charged with 'first-degree' murder. Then the investigation revealed more sensational information. It is learned that the young man had posted a 180-page 'manifesto' online in support of white-supremacist beliefs. He also described immigrants and black people as "substitutes" for white people in hateful writings. And through this, the issue of racism in the United States comes to a new discussion.
The idea that whites are being 'replaced' by blacks has recently moved from far-right political ideology in the US to mainstream Republican Party politics. And many US media personalities are helping to popularize this ideology, which is seamlessly being further influenced by the rhetoric of the Republican Party.
The young man who attacked Buffalo tried to justify his demonic attack by promoting the ideology that white people in the United States are being weakened by immigrants. And his manifesto was full of racist words about black Americans.
The Buffalo attacker claimed to be inspired by the killing of 51 worshipers by attacking two mosques in Christchurch, New Zealand in 2019. His claim is similar to the incident. Christchurch attacker Brenton Tarrant was using the camera to broadcast the attack live online. He also published his own manifesto before the attack.
But the Buffalo attackers were more influenced by homegrown discontent than they were by the Christchurch massacre.
According to the U.S. Gun Violence Archive, there were nearly 200 shootings or gun attacks in the country from January to May. In addition, according to a recently published report, between 2019 and 2020, the death rate of gun attacks in the United States has increased by about 35 percent overall.
But the Buffalo massacre stands out not only because of the number of victims, but also because of the political nature of the attack. Analysts say the incident must be seen in the context of the growing normalization of racism and political violence in the United States.
According to information from US-based independent media outlet Education Week, 17 US states have recently signed laws banning or tightening 'critical race theory' or racism and sexuality education, and 12 more states are considering similar legislation. Apart from this, discussions are going on about removing some books that may spread racist attitudes.
But these collective efforts have also created a mockery of the history of American racism and xenophobia. Discussions of America's racial history have turned the spotlight on the country's existing poverty, unemployment, and social deprivation.
According to many social scientists, centuries of neglect, neglect, and lack of opportunity have driven a large portion of blacks in the United States to violence. As a result, many white people in the country feel unsafe. And hate is born from that insecurity.
Gun violence is on the rise in the United States. According to various local media, more than two hundred people have lost their lives in gun attacks in the country until May of this year. In this situation, lawmakers and experts demand reform of the private arms control law.
They say gun violence has emerged as a serious social problem in the United States that cannot be stopped. Strict legislation and enforcement are needed for this. Instead of giving advice or advice to others, the US administration should focus on resolving the crisis in its own country first.
Democrats Control of the Senate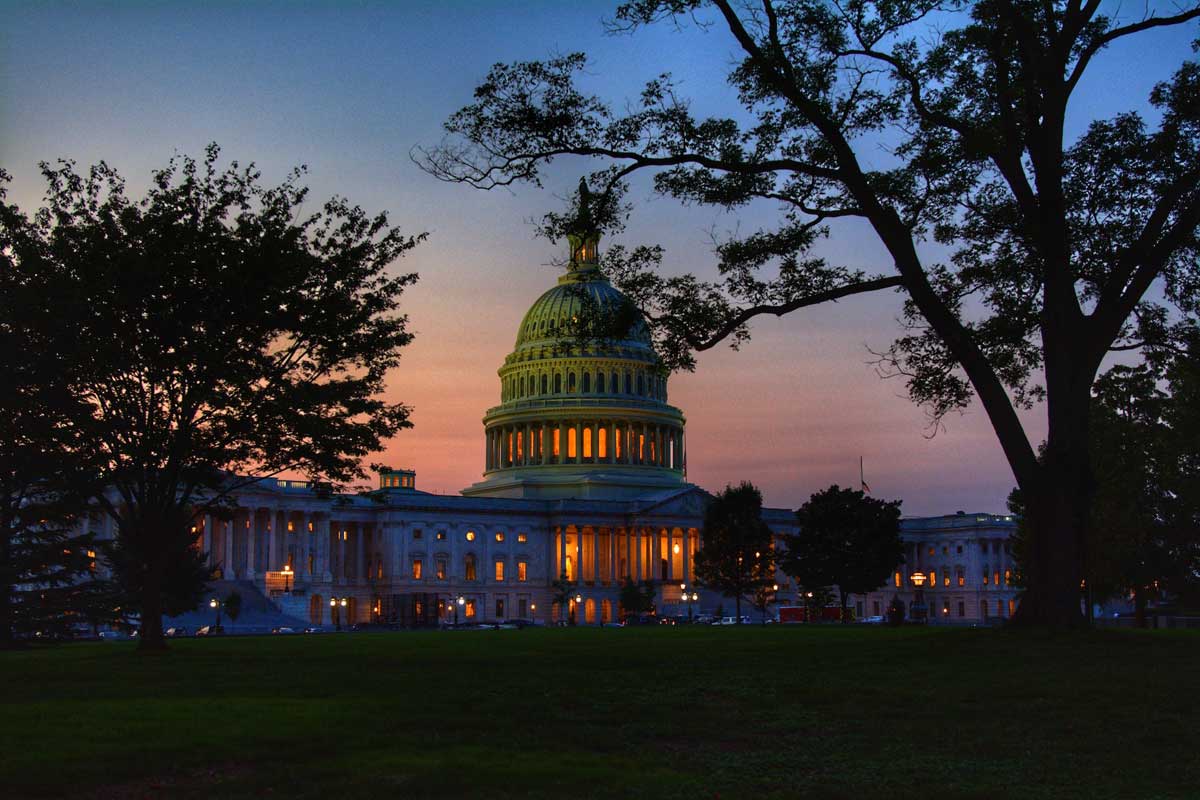 Midterm elections are held in the United States every four years in the middle of the term of the American President, that is, two years after the presidential elections, in order to elect all members of the House of Representatives (435 members) and a third of the members of the Senate. These elections are an indication and a referendum on the performance of the American President in the first two years of his presidency.
During the elections that took place on November 8, 35 senators were elected who spent 6 years in office, in addition to 36 governors out of the 50 state governors who spent 4 years in office, 36 state governors and 27 state secretaries from a total of 50 states, besides the election of a large number of the local legislative positions, including the election of 6279 deputies out of 7383 deputies in the state legislative assemblies.
The midterm elections this year took place in an unprecedented atmosphere at various levels, as it was the first elections after the Covid-19 pandemic, which led to the death of more than a million Americans, and infected 100 million, and it is also considered the first elections to be held after supporters of former President Donald Trump stormed the Congressional Building in January 2021 to prevent the official announcement of President Joe Biden's victory, and they are known as "Elections Deniers".
The Senate elections – in particular- are considered a political battle by all standards, in which Catherine Cortez Masto's uneasy victory in the State of Nevada came as a lifeline for the Democratic Party, and the failure of Republicans' plans to take control of Congress. This battle was resolved in favor of the Democratic Party in the Senate.
The US Vice President Kamala Harris – who, by virtue of her position, presides over the Senate – has the relative weight, as she broke the tie rule and tipped the balance in favor of the Democrats, who seized seat No. 50 after announcing Masto's victory in the aforementioned seat, while the Republicans remained at seat No. 49 in the Senate which is the upper chamber of the Congress, comprises of 100 seats.
The elections also have witnessed the defeat of a quarter of the candidates supported by Donald Trump, in which some of them instigated and participated in storming the Congress. The setback was the failure of the sweep expectations as expected by Trump and the Republicans, and even Republican lawmakers, and other commentators admitted that the Republicans had failed to achieve what is known as the Red Wave sweep, in reference to the States that support the Republican Party, which are known as the red States.
Many opinion polls had indicated that the Republican Party is expected to achieve a great successes in these elections, especially in light of the inflation and high prices crisis that the American citizens suffer from, which resulted in a significant decline in the popularity of President Joe Biden in recent months.
It can be asserted that a simple majority in the Senate will give the Democratic Party the ability to approve the judges chosen by US President Joe Biden to fill positions in the district courts, circuit courts and supreme courts, and this in turn will be a fundamental step for the Democrats to win new seats on the Supreme Court that now enjoys a majority of six to three Republicans. In addition, by controlling the Senate, the Democrats can reject legislations sent by the House of Representatives, which is controlled by the Republicans, and this is a remarkable success for the Democratic Party.
The majority in the Senate also means for President Joe Biden the ability to move easily with regard to international treaties, and the negotiations that will take place with the Republicans on a broader spending package at the end of the year, an issue that will need the approval of both parties.
A number of Democratic senators will seek to raise the debt ceiling, while House Republicans will seek to use this issue as a pressure card to obtain spending cuts. However, Democrats have the ability to raise the borrowing ceiling before Congress takes the oath, if the party members remain united.
The Democrats' control by a small majority of the Senate is considered a miscarriage of Republican plans to conduct investigations into the activities of the Biden administration and his son Hunter, who had business dealings with Ukraine and China. The Democrats will maintain control over committees and investigations, in addition to preventing any attempts by the Republicans to isolate President Joe Biden, and on top of that, Democrats can pass a limited number of controversial bills with a simple majority of votes.
It is certain that this victory will have positive repercussions for the Democratic Party and President Biden during the next two years, that is, until 2024, when new elections for Congress will be held in both the House of Representatives and the Senate, in addition to the presidency.
It was expected, before the elections, that the Democratic party would lose 25 or 30 seats in the House of Representatives, and the party would turn into a clear minority in the Senate. This result would have been seen as a public rejection of President Biden, which would increase the pressure on him in his quest to run for a second term. But in turn, and after this victory, President Biden's position within his party has been strengthened, and his advisors are now speaking with greater confidence about his intention to run for a second term, but this definitely depends on the performance of the Biden administration at the internal and external levels, the American citizens' feeling with an improvement in their economic conditions, and the continuation of making progress in a number of issues, foremost of which is the issue of health insurance.
On the other side, there are concerns that a divided Congress, by nature, may lead to a state of legislative stalemate, and the Republican control of the House of Representatives will be enough to eliminate any hopes for President Biden to pass a comprehensive legislative agenda over the next two years.
Nevertheless, and despite the disagreement, there is a consensus between the Republican and Democratic parties over a number of files including confrontation with China, the promotion of international trade, and the acceleration of establishing energy projects.
The elections showed the lack of centralization of external issues and the focus on internal issues, including issues of protecting democracy and freedom of abortion, which is what the Democratic Party bet on and succeeded in. In addition, the performance of the Democrats reinforced confidence in President Biden's agenda and his presence at home and on the international stage. In contrast, the failure of many pro-Trump candidates to win the elections is a painful blow to his movement, which puts Trump's political future at stake, especially in light of his announcement to run for the upcoming 2024 presidential elections.
The elections were also evidence of the American citizen's awareness and support for democracy despite the economic conditions, international instability, and the Biden administration's preoccupation with several international files.
What happened in the elections was a victory for American democracy and emphasis on its strength, its ability to overcome challenges, and a correction for the compass of the American political system, which was distorted by Trump.