EU defines green investments to boost sustainable finance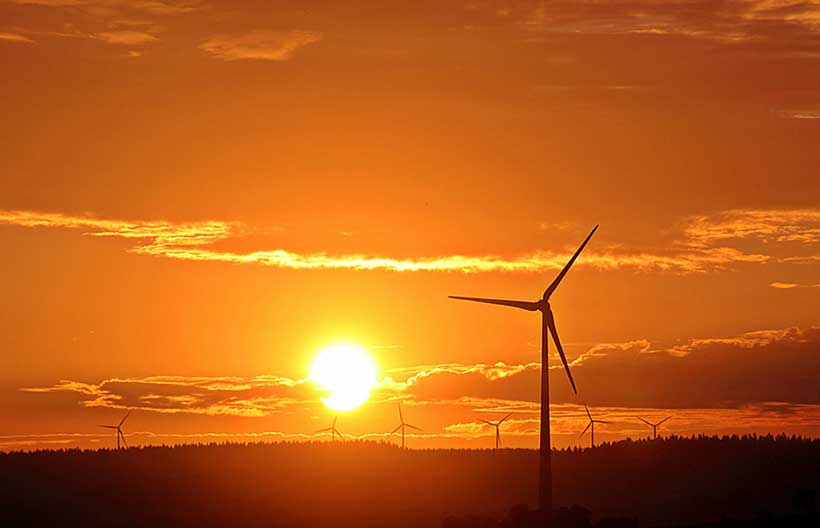 To boost the shift towards eco-friendly investment the EU is introducing rules to define what qualifies as green or sustainable activities.
During the June plenary session, MEPs will vote on a framework that determines which activities can be considered sustainable. This would establish a common classification system across the EU, provide business and investors with clarity, and encourage an increase in private sector funding for the transition towards climate neutrality.
Parliament and Council negotiators reached a provisional agreement in December 2019. Parliament's economic affairs and environment committees backed the agreement on 28 May.
Need for a common definition
Sustainable development requires the preservation of natural resources and respect for human and social rights. Climate action is an important aspect, as the need to limit and mitigate the effects of climate change becomes more and more urgent.
The EU is committed to gradually decreasing its greenhouse gas emissions. The European Green Deal, the EU's flagship initiative on climate action, sets a goal of zero net emissions by 2050.
To achieve the goal, the EU must invest in new technologies. The European Commission estimates that Europe needs about €260 billion in extra investment every year over the next decade.
Public investment will not suffice and private investors will have to step in to finance climate-friendly projects. This requires clear criteria on what exactly is sustainable and eco-friendly; otherwise, some funding might be directed to "greenwashing" projects that claim to be green, but in reality are not.
Some EU countries have already started developing classification systems. Both companies seeking funding and investors interested in supporting sustainable projects would benefit from common EU standards.
Which economic activities qualify as sustainable
The taxonomy regulation sets six environmental objectives and states that an activity can be considered environmentally sustainable if it contributes to any of them without significantly harming any of the others.
The "do no harm" principle – which will be further defined by the European Commission – ensures that an economic activity causing more damage to the environment than creating benefits cannot be classified as sustainable. Environmentally sustainable activities should also respect human and labour rights.
The environmental objectives are:
Climate change mitigation (avoiding/reducing greenhouse gas emissions or increasing greenhouse gas removal)
Climate change adaptation (reducing or preventing adverse impact on current or expected future climate, or the risks of such adverse impact)
Sustainable use and protection of water and marine resources
Transition to a circular economy (focusing on the reuse and recycling of resources)
Pollution prevention and control
Protection and restoration of biodiversity and ecosystems
Financial market participants selling financial products and large companies with more than 500 employees will have to disclose how and to what extent their activities contribute to the environmental objectives. If they don't claim to be sustainable, this should be clearly stated.
Next steps
Once the rules have been adopted, the European Commission will develop technical criteria for each objective.
These should be ready by the end of 2020 for climate change mitigation and adaptation. The deadline is the end of 2021 for the other objectives. The rules will apply for each environmental objective one year after the technical criteria have been established.
Deloitte: Energy Management – Paused by Pandemic, but Poised to Prevail
Since Deloitte began conducting its annual survey tracking clean energy attitudes and actions a decade ago, the percentage of residential consumers concerned about climate change and personal carbon footprints has risen steadily from about half to a consistent 68%, putting increasing pressure on businesses to do more. The year 2020 appeared to be the tipping point, but when COVID-19 hit, many questioned whether the momentum had been derailed as companies focused on survival.
Deloitte's 2020 Resources Study, "Energy Management: Paused by Pandemic, but Poised to Prevail," found that despite the pandemic — and maybe in part because of it — progress in efforts to manage energy use, reduce carbon emissions and address climate change will likely continue and even potentially accelerate in the longer term. The study is based on survey data collected from 1,531 residential consumers and 602 business decision-makers.
Consumer concern about climate change is rising, but looking to others to solve
Consumer sentiment about climate change has steadily increased over the past decade. Sixty-eight percent of residential consumers surveyed said they were "extremely or very concerned" about climate change and their personal carbon footprint and 65% said they saw greater renewable energy development as boosting the national economy, the highest level since 2014. While the benefits of clean energy are clear, most consumers (80%) surveyed expect others, such as the government and corporations, to address climate change issues. And about a third of respondents expect action from their employers.
Millennials are a driving force for corporate sustainability
Further emphasizing the corporate role, more than a third of respondents who identified as full- or part-time employees, students and/or job seekers said it's extremely or very important to work for a company with sustainability and/or climate-risk goals, and this sentiment rose to nearly 50% among millennials. "Employee motivations" has consistently been one of the top three drivers of corporate energy management programs, selected by at least a quarter of business respondents each year. But in 2020, that rose to a third, the highest level ever in our surveys. Employees are becoming more vocal about climate change, and this may be due to the growing influence of millennials in the workplace.
Businesses are feeling increasing stakeholder pressure to address climate risk
In line with rising consumer sentiment, nearly 60% of businesses surveyed feel increased pressure from stakeholders to develop and disclose plans to demonstrate how they're addressing climate risk. The stakeholders seen as most active are employees (49%), followed by board members (42%), customers (41%) and shareholders (37%). Of those businesses feeling increased pressure, nearly 90% have reviewed or changed their climate-risk disclosure procedures and developed plans to address climate-related risks.
Importantly, although businesses are feeling pressure, they also increasingly see procuring clean energy as doing the "right thing." In fact, 75% of those surveyed said recent global climate change reports have caused them to focus more on energy management. And almost 90% of respondents now see energy procurement as "not simply a cost to the company, but an opportunity to reduce risk, improve resilience, and create new value."
Convergence of cost and clean means more green
Over the past 10 years, the "cost" versus "clean" motivations for utilizing cleaner energy resources have been steadily converging as renewable energy costs have declined. This greater affordability is allowing businesses and residential consumers to prioritize clean energy without making bottom-line sacrifices.
Businesses are procuring more renewables through more channels:
Sixty-three percent of businesses surveyed have increased emission reduction goals.
Three-quarters of business respondents said customers are asking them to procure renewable energy.
More than half (51%) of businesses said they're working to procure more electricity from renewables.
Of the 60% of businesses citing having onsite generation, the highest share of electricity supply was generated with cogeneration (15%) and renewables (13%).
Microgrids also appear to be growing in popularity with 44% of business respondents saying they've considered a microgrid, a spike of 9 points over 2019.
Residential consumers still cost-conscious but putting environment first:
For the first time in five years, "utilizing clean energy sources to be better stewards of the environment" was cited ahead of "keeping my total energy bills affordable" as one of the top three most important energy issues to residential consumers.
More than half (53%) of respondents said it's "extremely" or "very" important that part of their electricity supply comes from renewable energy.
Thirty-two percent of respondents said they were "very" or "extremely" interested in installing solar panels and 51% of those who don't already have them on their primary residence, expressed interest if combined with battery storage.
Among respondents who had already installed rooftop solar, "clean" beat out saving money for the first time as the primary motivator.
Renewables are gaining ground as a reason for respondents to switch providers versus lower electricity costs as renewables rose 3 points in 2020 to take second place from "better service," while "lower electricity costs" stayed steady in first place.
ADB, IEA Renew Agreement to Collaborate on Energy Sector Sustainability and Resilience
The Asian Development Bank (ADB) has renewed a memorandum of understanding (MOU) with the International Energy Agency (IEA) to scale up collaboration and advance progress on sustainability with increased focus on energy sector resilience in Asia and the Pacific.
"The energy sector is a key driver of growth and human development, especially during recovery from the impacts of the coronavirus disease (COVID-19) pandemic," said ADB President Masatsugu Asakawa. "We are pleased to renew our agreement with IEA, which builds on our successful collaboration to date, and we look forward to advancing our shared objective of achieving a more sustainable and resilient energy future in Asia and the Pacific."
Under the 3-year agreement, the two organizations will share knowledge and best practice in energy sector data and analysis, on-the-ground engagement, capacity building, technology, and innovation, among other areas. This will help to overcome critical knowledge and experience gaps blocking the development of sustainable energy systems in ADB's developing member countries and enhance IEA's data collection and capacity building efforts in Asia and the Pacific.
ADB first signed a 3-year MOU with IEA in March 2017 to facilitate knowledge and analytical work to advance clean energy development in ADB's developing member countries. As part of this, ADB worked with IEA to study power system flexibility in India to integrate more solar and wind energy in the grids.
The renewal agreement was signed on the occasion of IEA's Clean Energy Transitions Summit, where Mr. Asakawa gave a speech at the plenary session to an audience of over 50 energy ministers and energy sector leaders. Last month, IEA Executive Director Fatih Birol delivered the keynote address at ADB's 15th Asia Clean Energy Forum 2020. IEA is a knowledge partner of ADB's leading annual energy forum.
ADB invested more than $23 billion in clean energy, including both sovereign and nonsovereign initiatives from 2008 to 2019. Last year, ADB's climate financing reached a record $6.56 billion, meeting its target of doubling its annual climate investments from 2014 one year ahead of schedule.
Under Strategy 2030, ADB is targeting $80 billion in cumulative climate financing from its own resources by 2030 and for at least 75% of its country operations to feature climate adaptation and mitigation initiatives.
40 Ministers from around the world gather to address the world's energy and climate challenges
Ministers from dozens of countries accounting for over 80% of the world economy today took part in the International Energy Agency's first Clean Energy Transitions Summit, discussing how to bring about a sustainable and resilient recovery from the Covid-19 crisis and achieve a definitive peak in global carbon emissions.
Ministers participating in the Summit included those from the world's largest energy consumers: Minister Zhang Jinhua of China, Secretary Dan Brouillette of the United States, Commissioner Kadri Simson of the European Union, Minister R.K. Singh of India, Minister Kajiyama Hiroshi of Japan, Minister Kwasi Kwarteng of the United Kingdom, Minister Bento Albuquerque of Brazil, Minister Seamus O'Regan of Canada, Minister Sergio Costa of Italy, Minister Gwede Mantashe of South Africa, Secretary Rocío Nahle of Mexico, Minister Arifin Tasrif of Indonesia, and Deputy Prime Minister Ribera of Spain.
Speakers also included United Nations Secretary-General Antonio Guterres, CEOs from across the energy sector, top investors, heads of regional development banks and other key international organisations, past and present COP Presidents – including Secretary of State Alok Sharma of the United Kingdom – and leaders from civil society. The full list of participants is available below.
Participants highlighted the impacts of the Covid-19 pandemic on their energy systems, underscoring the importance of finding ways to support clean energy transitions despite the current challenges. Key themes includes the need for greater innovation in areas such as hydrogen, the importance of inclusive and equitable recoveries, and how to make the electricity sector more resilient and sustainable.
"This Summit proves that international dialogue and collaboration can bring great value. It was an opportunity to inform, support and inspire each other. Now, it is time for all of us to get to work – building back our economies, bringing our citizens back to work, ensuring that 2019 was the definitive peak in emissions and building towards the resilient and sustainable energy systems of the future," said Dr Fatih Birol, the IEA's Executive Director who chaired the Summit. "What I see clearly is momentum – momentum behind sustainable recovery and momentum behind clean energy transitions."