2016 was out of the ordinary year. The 'skittish' Donald Trump got elected as the 45th President of the United States. Britain voted to make its historic exit from the European Union and for the Commonwealth of Independent States (CIS), the year was a political carnival as it completed 25 years of its existence. The last event indeed feels like a cold day in the hell especially when the grouping has been seen in a disparaging light ever since it kicked-off. Scores of critical remarks talking in length about its inefficacy, institutional failure and uninspiring progress has not only exposed its innate impotence but has also developed a sense of distrust towards it. However, it would be unjust to label the CIS as moribund without offering adequate explanation for the case. The article will delve into the strategic play of geo-politics extant during the formation of the CIS, how Russia and other CIS states perceive of the alliance in the present era and its subsequent contribution in making the organization irrelevant.
Theorizing CIS
Why do states come together to form a regional organization at the expense of their most invaluable gem, national sovereignty? This question has been answered on multiple occasions through multifarious theories of international relations. However, strategic considerations played out an imperative role when the foundation of the CIS was laid. Prima facie, the 'threat perception' was the most conspicuous motivation that forced the states into action. This perception nonetheless was not uniform. For Russia, the western powers drive for democracy, NATO's eastward proliferation and unruly CIS states in its 'near abroad' were a cause of alarm. For other CIS states, political and religious turmoil in their own lands and Russia's amplified aspirations were deleterious to their national sovereignty and territorial integrity. Blown by the fate worse than death, Russia endeavored to encapsulate all the former Soviet states (except the three Baltic states of Estonia, Latvia and Lithuania) within its reach by employing unhesitant coercion towards the disobedient states that were reluctant to join the CIS. Russia in the CIS was a status-quo power, tenacious on preserving its Soviet pre-eminence. Adoption of such radical measures appeared as the only potent tool to secure its interests. For the other CIS states, the challenge to uphold their newly granted independence from external and internal threats with their frail military was an even more daunting task. Russia's splendid force was the brightest star in the dark night, which could defend their territory in the event of a military attack. Moreover, Russia's membership in the organization was an excellent tool to balance Russia's ambitions to dominate the Greater Russia. CIS states were quick to realize the merit in these moves and acquiesced to be part of the CIS.
The role of intricate interdependencies in the emergence of the CIS is even more paramount given the complex web of relationship that the former Soviet Republics shared. Constructivists emphasize on the notion of cognitive interdependence and cultural affinity as the raison d'être for the development of an organization. CIS is a vindication to the point. In the face of burning civil warfare and local threats, the political elites of many states thought it to be advantageous to bandwagon with regionally strong states and thereby bolster their chances of survival. This very act of bandwagoning is termed as 'omnibalancing' by its propounder Steven R. David. However, whether the regionally strong state will come to the rescue of the war-torn state depends upon multiple calculations. This line of thought holds credence in the case of Central Asian states that conjoined with Russia in the CIS. Geographical proximity can also be cited as a reasonable inducement to be a part of an organization. Central Asian states were closer to Russia than Ukraine, Moldova, Armenia, and Georgia. This idea held true in case of CIS.
Operational dynamics of CIS
After a protracted period of debate on the character of CIS, the organization came into being on 8th December 1991. It was a kind of historical process that accompanied the civilized divorce of the Soviet Republics. CIS aided the newly independent states to reinvigorate their relationship that had been marred by the break-up. For the CIS states, the organization was a platform to embalm the most quintessential elements of the past cohabitation. In its blooming years, CIS approved more than 250 agreements. It was on the crest of a wave. Albeit, no sooner than later, suspicions and inhibitions cloaked in the garb of deep cultural sway, political and economic interdependencies, and the so-called obedience to the leader of the Greater Russia stood unveiled. Nature and purpose of the CIS began to be contested. Neither was the CIS a full-fledged state in the clichéd sense nor was it a subject of the international law. There was not any unified CIS foreign policy or a CIS national interest, largely owing to the diversification of dependencies and geo-political pluralism. Geo-political, geo-economic and ideological chasm made a headway between the two groups of states. There were pro-CIS states and CIS-skeptic states. The former mainly included the Russian Federation, Belarus, Armenia, and the Central Asian states barring Turkmenistan. The latter comprised of Azerbaijan, Ukraine, Moldova, Turkmenistan, and Georgia. Pro-CIS states wanted consolidation of common economic space by appropriate structures, while those skeptical of CIS were opposed to any form of institutionalization. Participation of post-Soviet states in the CIS meetings was irregular. Many of them complained the existential institutional upheaval. Trade relations could not endure the privileged luster that characterized the intense bonhomie and inter-linkages of the CIS states. In the aftermath of the 1998 crisis, trade ties were further derailed by payment arrears and the practice of states of keeping up with the barter arrangements. Nonetheless, the economic landscape was not something out of the blue. Inherited interdependence is not emblematic of shared inherited interest. Besides, the level of interdependence is not the same for all and sundry.
The charter of the CIS dictated the attainment of functional cooperation through consensus and this proved to be a stumbling block in the flourishing of the CIS. Many states chose not to ratify the agreements or approve of necessary reforms and policies such as elimination of value-added taxes on exports. Any venture or organization's success is contingent upon the quantity and quality of time and resources that is invested into it. Faced with the mammoth task of nation building, coupled with meager resources and time, the CIS states steered all their energy to making their frontiers and economy as formidable as possible. Scant attention and probably low political will on part of the states pushed CIS toward the shambles. Furthermore, many of the ideals sacrosanct to all such as respecting state sovereignty, renouncing the use of force were walked over by some, if not all. Cognizant of the fact that the organization was unable to find a common ground to manage crisis in the post-Soviet space and serve the interest of the states, many of the CIS nations, primarily CIS skeptics formed their minilateral groupings such as GUAM (Georgia, Ukraine, Azerbaijan and Moldova), Central Asian Union, later renamed as Central Asian Cooperation Organization. In 1992, Azerbaijan and Central Asian states joined the Economic Cooperation Organization. In 2005, Ukraine, Moldova, and Georgia, together with Slovenia, Romania, and Macedonia, formed the Community of Democratic Choice. Some states began leaning towards the west and this ringed the alarm bells for Russia.
Future of CIS amid Preponderant Russia
Russia, which in the 1990's was floundering to rebuild its identity on the vestiges of socialism made a 'great leap' to be the 11th largest economy in the world. With high growth rates and satisfactory public exchequer, the political elites were now able to direct their energy towards effectuating their global hegemonic aspirations. With politically deft leaders, Russia turned towards regional organizations to exert their influence. Right after his ascendance as the President of Russia, Putin pledged to improve Moscow's relations with the CIS states. Russia's foreign policy document of 2008 reaffirmed the fundamental importance of the CIS and identified the development of bilateral and multilateral cooperation with CIS member-states as the major thrust of Russia's foreign policy. Nonetheless, it is not to suggest that Moscow's political elites in the last years of the previous century turned a blind eye to regional cooperation mechanisms. Under Primakov, attempts were made to reform CIS in 1998. He also pronounced his plans of creating several CIS free-trade zones. Russia has invariably viewed CIS, in the words of Medvedev as a 'sphere of privileged interest'.
The delightful memoirs of the soviet consolidation are very much alive in the hearts of the Russians. A desire to re-forge spiritual unity of the Soviet era with the CIS states is profound. However, the real impulse is to obtain unquestionable loyalty which is feigned under the label of 'spiritual unity'. Russia's mention of 'near-abroad' (Blizhnee-Zarubezhe) in political speeches is seen in a pejorative sense outside Russia, especially by the CIS states. Russia's cold war mentality demands ultimate obedience whereas the CIS states have grown sterner when it comes to securing their national sovereignty and territorial integrity. Moscow's rigidity, its preference to bilateralism over multilateralism and its threat to other CIS states have compelled states to branch out in terms of their international involvement.
Russia's obstinacy to secure its near-abroad from foreign powers, especially the West has resulted in many incursions into the post-soviet states, thereby violating the essential ideals of CIS. Georgia and Ukraine are a case in point. Georgia has been inclined towards the west and had sought NATO's membership. Its exit from the CIS in 2006 fanned Russia's anger and the latter-imposed a near-total embargo on Georgian wine and agricultural exports. As if it was not enough, Moscow encouraged pro-Russian secessionist groups in Abkhazia and South Ossetia, later resulting in the Russian-Georgian war in 2008. Ukraine and Russia have been locked in chronic disputes over pricing and tariff rates for long. Ukraine too believed that CIS has outlived its usefulness and therefore wanted to be a part of NATO and EU. However, Kiev's desire was nipped in the bud when Russia annexed Crimea in 2014. Putin justified the intrusion as an act of defending ethnic Russians. Rather this was an act of embracing civilizational identity. It demonstrated that Russian military deployments in and near CIS countries are not just for show. Furthermore, there were others who had to bow to Russia's arm-twisting. Moldova aimed to build ties with the west and in retaliation to it; Russian government stepped up its support for the secessionist movement in Transnistria. Reluctantly, Moldova had to give up its plan of forging improved ties with the west and remain a part of CIS. The examples cited above would lead one to infer the centrality of CIS in Russia's foreign policy. However, it is not the case. What is significant to Russia is not CIS as an organization but CIS as a region. Russian government did not deploy troops or bully the leaders in Turkmenistan when it reduced its status from a full member to an associate member. This was mainly because Turkmenistan did not pose a serious challenge to Russia's ambitions, thus it did not feel the need to get into a military scuffle. Color revolutions for Russia were the 'menace of phantom'. Russian administration ostracized and intimidated all those countries that had undergone democratic change and accommodated autocratic leaders who stifled the drive of people for greater freedom.
Power projection is one of the most overpowering instruments to solidify one's hold over a region. Putin was wise to realize this, and his tenure witnessed the emergence of inter-governmental structures such as EEU (Eurasian Economic Union), SCO (Shanghai Cooperation Organization) and CSTO (Collective Security Treaty Organization). Undoubtedly, these structures of power made the battle of survival for CIS even more intense, it also made the fact crystal clear that regaining its superpower status and its lost glory dominated their idea of foreign policy above anything else.
Conclusion
CIS which was developed with the intent to mitigate the pains and sufferings of the collapse of the USSR now is itself reeling under legitimacy crisis. Amid failures and successes of power politics, CIS still hobbles on. At least, it provides a forum to discuss and manage some issues of 'low politics. CIS states, other than Russia have a different construct of the organization. For some it is a forward-moving group, while for other, stagnant, or simply digressing from its actual path. Russia is concerned about raising its stature in the 'near-abroad' and CIS legitimates its presence. Furthermore, equality of states is a pre-requisite of any inter-governmental organization. This serves as an ideological hindrance to Russia's rise as it never considered other states as its equal partners. Therefore, progress of CIS has impeded as Russia did not want to part away with its sovereignty and stature with other CIS states. Use of coercion by Russia may have helped it win some wars within its near- abroad, but such a triumph may not be fruitful in the longer run, when Russia would need to be aided by smaller states surrounding it. It also needs to realize that in the wake of geo-political pluralism, every state has its own priorities and diversification of interest is anything but obvious. It should get hold of the fact that it can no longer dominate the region as it once did. CIS has been a pawn in the geopolitical scuffle between states ever since its inception. Some call it a defunct organization, while others hope for its revival, what CIS will turn out to be depends upon how CIS states perceive the global politics and CIS' utility in the times to come.
REFERENCES:
Kubicek, P. (2009). The Commonwealth of Independent States: An Example of Failed Regionalism? Review of International Studies,35, 237-256. Retrieved June 5, 2020, from www.jstor.org/stable/20542785
Imanaliev, M.(2016),"The Commonwealth of Independent States: Not Subject to Reform", [Online: web] Accessed 2 June, 2020 URL: https://valdaiclub.com/a/highlights/commonwealth-of-independent-states-not-subject-to-reform/
Wilson, J.L,"The Russian Pursuit of Regional Hegemony", [Online: web] Accessed 2 June, 2020 URL: https://risinngpowersproject.com/quarterly/russian-pursuit-regional-hegemony/
Sakwa,R.(2008),"Commonwealth,Community and Fragmentation", in Richard Sakwa Russian Politics and Society, Routledge, Taylor and Francis Group.
Kremer, M. (2008),"Russian Policy Toward the Commonwealth of Independent states: Recent Trends and Future Prospects", Problems of Post-Communism,vol. 55, no.6,November/December: 3-19
The Political and Diplomatic Implications of the ICC's Arrest Warrant for Vladimir Putin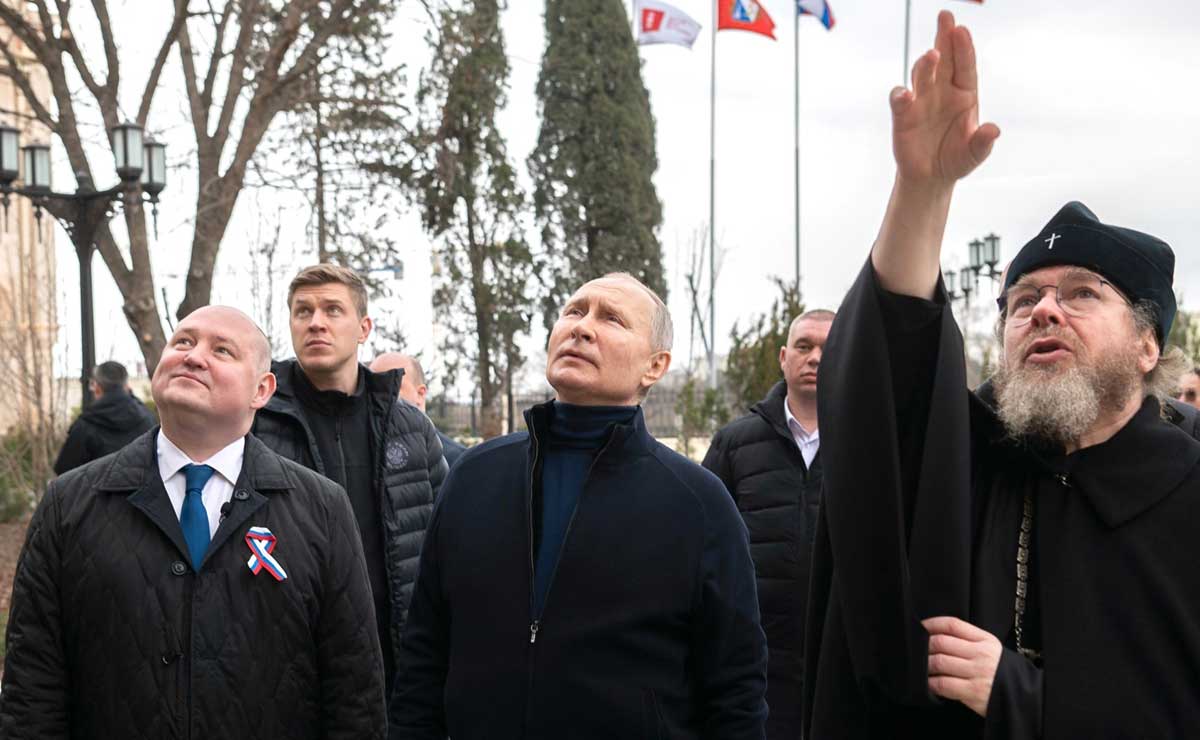 On March 17, 2023, the International Criminal Court (ICC) issued an arrest warrant for Russian President Vladimir Putin for alleged war crimes involving abductions of children from Ukraine. The charges stipulate that thousands of Ukrainian children were kidnapped and transported into Russia.
The warrant marks the first time that the ICC has issued an arrest warrant against a sitting head of state. It is worth noting, however, that Russia has not ratified the statute the ICC was founded on, and therefore does not recognize its jurisdiction. It remains to be seen whether Putin will actually be arrested or ever face trial at the ICC. Kremlin spokesman Dmitry Peskov dismissed the charges outright and called them outrageous and unacceptable. Nevertheless, the ICC's investigation and potential indictment could have political and diplomatic ramifications for Russia and Putin, as they could further isolate Russia from the international community and potentially lead to economic sanctions.
The Rome Statute, which created the ICC, was ratified on July 17, 1998, and came into force on July 1, 2002. It is a court of last resort, meaning that it can only exercise its jurisdiction if a state is unwilling or unable to prosecute the individual responsible for the crimes. Its mandate is to prosecute individuals who have committed serious international crimes, including genocide, crimes against humanity, and war crimes. By highlighting the criminal responsibility of individuals rather than states, the ICC prioritizes individual culpability and criminal prosecution of political leaders. The ICC is an independent international organization and not part of the United Nations judicial system.
The ICC's record: Successful prosecutions but also charges of bias
The history of ICC warrants against high-level politicians is mixed. One notable success was the conviction of former Congolese Vice President Jean-Pierre Bemba in 2016 for war crimes and crimes against humanity committed in the Central African Republic. Bemba was arrested in 2008 following an ICC warrant and was tried and convicted by the court in 2016. Another notable success was the surrender and prosecution of former Ivory Coast President Laurent Gbagbo, who was arrested in 2011 following an ICC warrant and was tried and acquitted in 2019.
However, the ICC has also faced criticism and challenges over the years. Some countries, including the United States, Russia, China, and India, have not signed on to the ICC, citing concerns about the court's jurisdiction and potential impact on national sovereignty. The ICC has faced accusations of bias against certain countries or groups of countries, politicization, and inefficiency, and has struggled with issues related to witness protection, cooperation from states, and the execution of arrest warrants. Critics argue that the court is dominated by Western countries, and that it has unfairly targeted leaders from Africa while ignoring atrocities committed by leaders from other parts of the world.
The ICC's focus on prosecuting individuals for crimes against humanity and war crimes could undermine peace negotiations and reconciliation efforts, some argue, noting that immunity for leaders is necessary for peace and stability in some situations.
The U.S., for example, has distanced itself from the court, i passing legislation to prohibit cooperation with the ICC and imposing sanctions on ICC officials. The U.S. has further claimed that the ICC poses a threat to its sovereignty, and that it unfairly targets U.S. officials and military personnel. China has also been critical of the court's actions, including its investigations into alleged crimes committed in Myanmar. China has argued that the ICC is politicized and interferes in the internal affairs of other countries. India maintains that the court's jurisdiction is limited to crimes committed in states that have ratified the Rome Statute, and that its own legal system is capable of handling cases of war crimes, genocide, and crimes against humanity.
The court's dilemma: prosecutors without enforcement
Signatory countries are obligated to cooperate with the ICC, which includes arresting and surrendering individuals who have been indicted by the court. Since the ICC does not have its own enforcement mechanism, it relies heavily on the cooperation of states to execute its arrest warrants. If a political leader who has a pending arrest warrant were to visit a signatory country to the ICC, that country would be obligated to arrest and surrender that individual to the court. In such cases, the likelihood of a successful arrest warrant is higher. In practice, however, many countries do not have the political will or capacity to carry out such an arrest. Moreover, some countries may choose not to cooperate with the ICC or might have their own political or strategic reasons for not arresting individuals who have been indicted by the court.
The actual likelihood of a political leader such as Putin being arrested and surrendered to the ICC is difficult to predict and will depend on a range of political, legal, and practical factors.
An inquiry into geopolitical logic of China and Russia relations
Chinese President Xi Jinping's state visit to Russia during March 20-23 is hailed as "vigorous, mature and stable". During his stay in Moscow, Xi reiterated that China and Russia are each other's biggest neighbor and both are the major world powers. China has observed this geostrategic choice in consistent with historical logic. It will not be changed by any turn of events. This article tries to analyze what historical logic means in terms of realpolitik.
In foreign affairs where sovereign states react each other in a geographical limit, it requires policy-making elites to deal with national interest based on calculations of power to achieve it properly. Yet, it is extremely fatal for a state to act in the total want of consideration of what others will naturally hope or fear. As Hans Morgenthau argued decades ago, geography is the most obvious and stable factor upon which the power of a nation depends. For example, Eurasia which refers to the "Heartland" of the world stretches from the Volga to the Yangtze, and from the Himalayas to the Arctic Ocean. However, it is under the jurisdiction of Russia and China. [Morgenthau, 1985]
Equally, in geopolitics, the Anglo-American naval axis has seen Eurasia as the key to its global strategy. During the 1990s in the wake of the collapse of the former Soviet Union, American geostrategic elites like Kissinger, Brzezinski and other likes argued that "no matter which power, either of Europe or Asia, dominates Eurasia, that danger would lead to the U.S. to see it as a de facto structural threat to its primacy in the world." [Kissinger 1997 & Brzezinski, 1997] It is noteworthy that the United States has boasted of no peer in military affairs so as to act the savior of the world now and in the future. [Esper, 2020] As a result, the U.S. has not taken into consideration the security concerns of the countries in Eurasia including Russia and China.
China and Russia are each other's largest neighbor while both are the major world powers in terms of the permanent members of the UNSC and nuclear capability. Since 2014, China has acted in line with "standing back-to-back" strategy with Russia to address common risks and challenges in the regions and the world at large. As China stated in Moscow that consolidating and developing long-term good-neighborly ties with Russia is consistent with historical logic and a strategic choice of China. No matter how the international landscape may change, it stays committed to advancing China-Russia comprehensive strategic partnership of coordination for the new era.
Then we come to other key elements of national power along with geography as stated above: food and raw materials (e.g. energy nowadays). Once again, Morgenthau opined that a deficiency in home-grown food has truly been a permanent source of weakness, like Germany and Japan. Or put it clearly, permanent scarcity of food is a source of permanent weakness in international politics. What holds true of food is also true of those natural resources (energy) that are vital for industrial productions and more particularly for the waging of war. Since the WWII, oil as a key energy has become more and more important for industry and war. As French statesman Clemenceau used to say "One drop of oil is worth one drop of blood of the soldiers during the war."
Now China is not only the most populous country but also the largest factory of the world, it needs a staple of food and all kinds of raw materials including energy from all over the world but Russia is most convenient and friendly neighbor. It is also worth noting that Russia is one of the strongest military powers of the world and its industrial potentials and military capacities should never be overlooked by its foes and friends as well. This is one of the fundament reasons why China has argued that it needs to get steady flows of Russia's resources to meet its huge demands of economic and military advancements. Otherwise, without a strategic partner like Russia, it is only a matter of time that the U.S. and its allies will take on China without hesitation.
Xi knows so well the statecraft in terms of realpolitik when he talked to his Russian counterpart that as permanent members of the UN Security Council and major countries in the world, China and Russia have natural responsibilities to make joint efforts to steer and promote global governance in a direction that meets the expectations of the international community and promote the building of a community with a shared future for mankind. To that end, the two countries need to support each other on issues concerning respective core interests, and jointly resist the interference in internal affairs by external forces. In addition, China and Russia have worked steadily to enhance strategic coordination on international issues, especially in the UN, the SCO, BRICS and other multilateral frameworks.
There is no question that the Anglo-American naval axis plus Japan and AUKUS are deeply concerned with the growing solidarity between the two leading powers in Eurasia where they have increased the geopolitical leverages in the regions and beyond. The U.S.-led allies have outrageously accused China and Russia of chafing against the so-called international rules-based order that the United States and its allies and parties have built up. As a matter of fact, both China and Russia have reiterated their firm support to the Yalta order as it was established in 1945, and particularly their joint defense of the central role of the UN authority in the world politics.
To make a sum of China and Russia relations in retrospective, it is self-evident that China and Russia have cemented political mutual trust, which derives from both countries' commitments to no-alliance, no-confrontation and not targeting any third party in developing their ties. It argues that China-Russia relations are not the kind of military-political alliance during the Cold War, but transcend such a model of state-to-state relations. What China and Russia have meant is the shared vision of lasting friendship and practical cooperation and firmly support of each other to follow the sound development path in terms of their national needs.
Accordingly, no external forces are allowed to affect, dictate or coerce the nature and trajectory of China and Russia relations.
ICC's Arrest Warrant Limits Putin's External Visits
The first simple interpretation of the warrant issued by International Criminal Court is that Russian President Vladimir Putin could be arrested in 123 member states around the world. These members are now legally bound to arrest, detain and hand him over to the court.
According to a press release from the International Criminal Court, there are "reasonable grounds to believe" that "each suspect bears responsibility for the war crime of unlawful deportation of population" under Article 8 (war crimes) of the Rome Statute of the International Criminal Court.
As there are currently 123 states parties to the Rome Statute, Putin and Lvova-Belova's arrest warrants are binding in 124 states (123 states parties plus Ukraine, which granted the ICC jurisdiction over its territory for crimes committed there since 2014).
On 17 March 2023, pre-trial Chamber II of the International Criminal Court (ICC) issued warrants of arrest for two individuals in the context of the situation in Ukraine: Vladimir Vladimirovich Putin and Maria Alekseyevna Lvova-Belova, says the website of the ICC.
Generally, the court participates in a global fight to end impunity, and through international criminal justice, the court aims to hold those responsible accountable for their crimes and to help prevent these crimes from happening again.
​​The court does not reach these goals alone. As a court of last resort, it seeks to complement, not replace, national courts. Governed by an international treaty called the Rome Statute, the ICC is the world's first permanent international criminal court.
According to Russian BBC service, citing Kevin Jon Heller, professor of international law at the University of Copenhagen said" "This is an incredibly important event. It's not every day a sitting head of state is accused by the international court. But of course, the likelihood of Putin being detained any time soon is quite low.
From a legal point of view, any ICC member state is obliged to execute this ruling. If Putin arrives on the territory of this country, it should arrest him and hand him over to the court. But in reality, states don't always do that.
For instance, serious accusations were made against the President of Sudan, and he visited several ICC member states after that but was not arrested in any of them. So an arrest warrant is no guarantee that Putin will be handed over to the ICC. Yet from a legal point of view, countries are obliged to do that."
Agnès Callamard, Secretary General of Amnesty International said: "This announcement is an important signal – both for Ukraine and the rest of the world – that those who are allegedly responsible for crimes under international law in Ukraine will face arrest and trial, no matter how powerful they are."
She added: "President Putin is now officially a wanted man. Following the ICC's indictment of President Putin and Children's Commissioner Lvova-Belova for the war crime of forcible transfer of children, the international community must stop at nothing until they are arrested and brought to trial. Should President Putin or Ms Lvova-Belova leave Russia, states must deny them safe haven by arresting them immediately and surrendering them to the ICC."
Secretary General Callamard explained further that "the arrest warrants are an impressive first step, but they are so far limited to the war crime of unlawful deportation of children. This doesn't reflect the plethora of war crimes and crimes against humanity for which the Russian leadership is potentially responsible. We expect the ICC and other justice actors to issue further arrest warrants as their investigations into crimes under international law committed in Ukraine begin to show results."
Russia's State Duma, the lower House of Representatives, condemned the action taken by the ICC. "Yankee, stay away from Putin! All that nonsense from the Hague means that West is hysterical. The papers of the alien Hague court do not apply to Russia," emphasized Vyacheslav Volodin, the Chairman of the State Duma.
According to him, Washington and Brussels have exhausted all possibilities of sanctions and hostile actions. "They have failed to break the citizens of the Russian Federation and destroy the economy of our country. Washington and Brussels understand that if there is Putin, there is Russia. That is why they try to attack him. Putin's strength is in the people's support, consolidation of society around him. We consider any attacks on the President of the Russian Federation as acts of aggression against our country," added Volodin.
Chairman of the Russian Investigative Committee Alexander Bastrykin has requested providing the legal assessment of German Justice Minister's statements on arrest of Russian citizens on German territory, the press service of the Investigative Committee said in a statement.
"Chairman of the Russian Investigative has tasked its central office within the framework of the ongoing inspection with providing the required legal assessment of statements by German Justice Minister on fulfilling the International Criminal Court's unlawful requirement to arrest Russian citizens on German territory," the statement reads.
German Justice Minister Marco Buschmann said earlier that the country would comply with the demands of the International Criminal Court (ICC) for issuing an arrest warrant against Russian President Vladimir Putin and arresting the Russian leader if he set foot on German soil.
The ICC issued arrest warrants for Putin and Russia's Children's Rights Commissioner Maria Lvova-Belova. The court's statement said they could be responsible for the war crime of unlawful deportation of children and unlawful transfer of children from occupied areas of Ukraine to the Russian Federation.
Commenting on this decision, Kremlin spokesman Dmitry Peskov noted that Moscow did not recognize the jurisdiction of the ICC. "We view the very approach to the matter as outrageous and unacceptable. Russia does not recognize this court's jurisdiction. Hence, any such decisions are null for Russia from the legal standpoint," he said. In turn, Russian Foreign Ministry Spokeswoman Maria Zakharova said that the decisions of the ICC had no meaning for Russia, with possible arrest warrants legally void.
The ICC jurisdiction is valid in the countries that have ratified the Rome Statute. Ukraine is not party to the Rome Statute, but Ukraine has granted the ICC the right to investigate crimes committed on its territory.
The Rome Statute has been ratified by 123 countries, including South American countries and nearly half the countries of Africa, so they must consider warrants issued by the ICC. China, India, Belarus, Türkiye and Kazakhstan are among the countries that have not ratified the statute. Russia, like the United States, signed the statute but later revoked its signature.
The first head of state in history to be prosecuted by the ICC was Laurent Gbagbo, fourth President of Côte d'Ivoire, in 2011. He was accused of crimes against humanity committed during an armed conflict in the country in 2010-2011. Eight years later, in 2019, Gbagbo was acquitted.
Uhuru Kenyatta, who later became President of Kenya, was accused by the ICC of committing crimes against humanity during the political crisis in Kenya in 2007-2008. The accusations were revoked in 2014 due to the lack of evidence.
Omar al-Bashir, the seventh President of Sudan, is in custody in Sudan and is waiting to be handed over to The Hague. He is accused by the ICC of organising and carrying out a genocide.
The first head of state to be convicted was Charles Taylor, 22nd President of Liberia. He was prosecuted by the Special Court for Sierra Leone. The court found him guilty of assisting in and inciting war crimes and of complicity in crimes against humanity. He was sentenced to 50 years in prison on 30 May 2012.
Former Serbian President Slobodan Milošević died in the UN prison in The Hague before being sentenced. He was prosecuted by a predecessor of the ICC – the Tribunal for the Former Yugoslavia.
The International Criminal Court is an intergovernmental organization and international tribunal located in The Hague, Netherlands. It is the first and only permanent international court with jurisdiction to prosecute individuals for the international crimes of genocide, crimes against humanity, war crimes and the crime of aggression. The ICC began operations on 1 July 2002.