Art or (and) science
We are used to perceiving science and arts as two separate areas of our society that exist more or less independently. Science is exact. It necessitates rules and regulations, deals with laws, explains and interprets phenomena. Objectivity plays one of the most important roles in science. Arts, in turn, creates something abstract, something that is based on feelings and emotions. It reflects reality through the prism of images and symbols. Objectivity in arts is not so important. It seems that these two areas rarely, if ever, intersect and therefore should be considered separately.
However, if we take a look at the procedures for creating the final product rather than the end product itself, we will find out that science and arts have some processes in common: observation, visualisation, experimental testing, presentation etc.[1]Science and arts can also become complementary elements that together represent a more complete picture of the world. Therefore, we might consider these two areas in conjunction in the framework of culture as a whole.
Unifying Potentials for the Future – Culture for Peace (UPF – Culture for Peace/the Initiative)[2] is an initiative, which was founded by scientist and artist Sofija Bajrektarevic. It brings together several areas including science and arts. Its goal is to create a platform where talented people as well as organisations and institutions from various fields of culture have the opportunity to express their ideas and contribute to the sustainable development of our society. The interaction of science and arts is the core and basis of the initiative.
The main tools of the Initiative are the implementation of projects in the field of culture, support and presentation of cultural events, artists, scientists and active cultural figures. The Initiative detects, promotes and enlarges the network of creative ideas, talents and skills aimed at maintaining a sustainable future. Cultural maintenance of this network implies the continued establishment and development of a peaceful society and contribution to its organisation.
Projects and their participants
Currently there are several projects under the Initiative. These are:"'Culture' for Sustainable Future: Art/Artists in Fore- and Background", "Narratives of Hope: Applied Science in the Culture" and "Music as a Culture". The first two projected are being actively implemented, while the third is under development and its start is planned for a fall 2020.
As a long-term project "'Culture' for Sustainable Future: Art/Artists in Fore- and Background" presents a message of visual arts (sculpture, painting, photography, design). In the framework of this project, artists from around the world have the opportunity to express themselves and their attitude on the topic of "Sustainable Future – quo vadis: Process, metamorphosis, directions of movement (motion) of matter and spirit as essential building elements of being (existence)". First, the works of artists are shown on the start page of the site of the UPF – Culture for Peace initiative and thus they become a visual representation of the site. Works change every two months during the year. Then the pieces of arts will be presented at annual exhibitions and presentation. This project format creates an interaction between a wide audience and artists from different parts of the world. At the same time, it provides a platform to maintain a balanced society and sustainable future developments. Several artists with their selected works have been already presented under this project.
"My works deal with processes that change matter; I recreate and/or document those changes"[3], -says the Croatian sculptor Alem Korkut[4] about his art. Prof. Korkut's work was presented in the framework of the project "'Culture' for Sustainable Future: Art/Artists in Fore- and Background" as the first visual message, and became an inspiration for the project theme. In the relief, which he featured fortheInitiative, the viewer can observe the processes of merging, healing and separation, and can move to the point of confluence or separation depending on the viewing angle.
Korkut's philosophy is focused on the idea that nothing is fixed but is in flow, in the process of constant flux. The sculptor mainly creates aluminum reliefs that express his philosophy. Alem Korkut has exhibited at about two hundred exhibitions including solo and group exhibitions in Europe and beyond. He is the winner of many awards and the author of several public sculptures. In addition to his artisan works, Korkut is in the position of Associate Professor at ALU in Zagreb, where he has been teaching since 2007.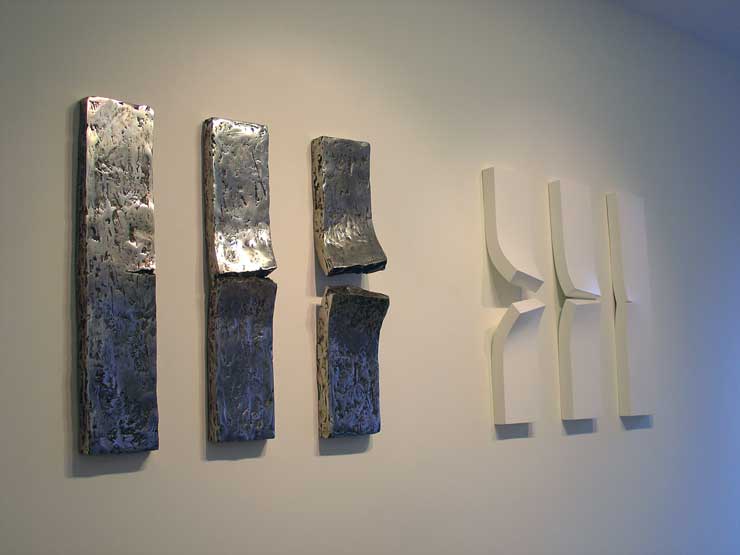 Sustainable future – Quo vadis, Alem Korkut
A significant figure within the project is also Juan Trinidad, a conceptual sculptor of the 1980s generation from a central portions of American continent –Caribbean (Dominican Republic). A special feature of the sculpture, which he presented, is the reflection of the Dominican tradition and Afro-Antillean identity that is characterized by totem carvings of oak and centenary mahogany. Since early 1990s, Juan Trinidad has participated in numerous exhibitions in Central, Southern and Northern America, in Europe and beyond. It also includes UNESCO Paris. Trinidad's works adorn spaces on four continents and are part of private collections as well as many prestigious cultural institutions. Henry Loyrette, the Former President – Director of the Louvre in Paris, commented on his work as follows: "Juan's works wonderfully contributes in re-approaching our cultures, seemingly distant, but so close", while Juan Trinidad himself says: "Without forgetting the past, I make sculptures today, thinking about the future."
Without forgetting the past, I make sculptures today, thinking about the future. Juan Trinidad
The painting of the young artist, designer and social activist Anastasia Lemberg-Lvova[5]has also become part of the "'Culture' for Sustainable Future: Art/Artists in Fore- and Background" project. In addition to her bachelor's degree in Fine Arts, Anastasia has received trainings in Belgium, the Netherlands. Her works are in private collections in Belgium, Estonia, France and Russia. Lember-Lvova's artistic searches and studies focus on personal introspection and through aesthetics reveal the possibilities of social interaction. With the help of her works, Anastasia questions the constructed perception of the value and potential of individuals. Inspired by the project and created for it, the painting of Lemberg-Lvova expresses the idea that natural human qualities such as anger, fear, and doubt can be fenced with socially approved characteristics. Anastasia believes that "to explore our potentials as individuals and to unite in the wish for a prosperous future, we need to dispense with the need to hide behind false displays and make sure that we feel valued, worthy and capable from within oneself". Besides fine arts, Lemberg-Lvova is engaged in social activities. She participated in several sessions of the European Youth Parliament, where she also created projects aimed at the sustainable development of society.
To explore our potentials as individuals and to unite in the wish for a prosperous future, we need to dispense with the need to hide behind false displays and make sure that we feel valued, worthy and capable from within oneself. Anastasia Lemberg-Lvova
Among the artists who presented their work under the "'Culture' for Sustainable Future: Art/Artists in Fore- and Background" project is Naj Phonghanyudh[6]. She studied art and art history in Bangkok, Kent and Paris. Her professional activity involves art and design. Naj Phonghanyudh is a professor, a full-time lecturer at the prestigious University of the Arts in Bangkok. Besides numerous solo and group exhibitions, she also takes part in presentations, social projects and initiatives. Being engaged in art and design, she is also working as a curator for the non-profit organisation, United Thailand that creates and supports art activities for young people from various areas in Thailand.
The selected work the Artist endorsed by the following words: "…like the techniques which made the protruding object stands out against the flat surface of the print I am different because of who I am and I accept me more as I am. Some who appreciates traditional beauty may feel intruded by this imperfection, whereas some may find that it encourages them to speak out against the flatness and norms".
Some who appreciates traditional beauty may feel intruded by this 'imperfection', whereas some may find that it encourages them to speak out against the flatness and norms. Naj Phonghanyudh
Since the project "'Culture' for Sustainable Future: Art/Artists in Fore- and Background" is a long-term undertaking, it is planned to engage more artists of different sorts and types.
Another project "Narratives of Hope: Applied Science in the culture" complements art in the UPF – Culture for Peace Initiative and presents an opportunity for experts from various fields of science and culture to discuss topics that are united under the general keynote: Sustainable Future. Energetically engaged young generation is an essential element of the project. This creates new, active synergies that are capable of raising questions, finding answers and discussing the challenges of modern society. The first thematic evening of the project took place in Vienna last fall. The topic was "Narratives of Hope: The urban phenomenon – future of a perennial story"."Narratives of Hope: Applied Science in the culture" is also a long-term project that deserves special attention and a separate article in the future.
Further development
The world has recently witnessed an unprecedented calamity. Disturbing news about the virus and its spread shocked the planet and brought it to a halt for months. Disruption and deprivation along with the imposed social distancing are of yet unanticipated severity and duration of secondary effects.
Narratives of hope, re-humanization of humans through arts and applied science (science with a human face) are the key.
The UPF – Culture for Peace Initiative is here to bring us all back to the future.
---
[1]Kemp, M. (2000). Visualizations: the nature book of art and science. Oxford: University Press. Pp. 4.
[2]https://www.upf-cultureforpeace.org/
[3] Alem Korkut : Contemporary Croatian Sculptor. (n.d.). Retrieved from https://www.singulart.com/en/artist/alem-korkut-5655?campaign_id=202.
[4] https://alemkorkut.com/en/bio/
[5]https://www.lemberglvova.com/
Arguing Over Petty Things: Turkish Pop or Poop Art?
Talking about the relationship between art and politics corresponds to an intellectually provocative action for the vast majority. When we view history, we can see that art in Nazi Germany legitimized the position of high culture and added many symbols and images to the cultural missions of the Nazis. According to Walter Benjamin, fascism can be called as "aestheticized politics".
Art in Turkish context has been instrumentalized by the ruling elites most of the time so far however this time it also seems that art is also used as a tool by the unaudited local governments. This article is an attempt to address the current debates around controversial sculptures dominating Turkish social media. The headline of this article has been given as an inspiration from the recent debates circulated on Twitter.
Turkey is famous for its plethora of historical places and impressive monuments. However the controversial sculptures built in some cities raised debates. A prominent Turkish artist Gürkan Coşkun has defended sculptures and statues that mostly stand at the entrances of the cities depicting things those cities are known for, saying that they were "examples of Turkish pop art." According to Coşkun, "these artistic works are popular and absolutely creative," and "Turkish contemporary art must follow these works' steps. These are the symbols of the people of this region expressing themselves in their own ways."
Some people reacted on social media over the artist's evaluation and called these sculptures and statues as "poop art". There are quite bizarre sculptures and statues built in some particular cities. For instance, in capital Ankara there is a T-Rex dinosaur statue and researcher Mete Sohtaoğlu in an ironic way says that it replaces 'Transformers' robot.
Journalist Arzu Geybulleva argues that Turkey's spectacular city statues raise questions about art and corruption. In a detailed news-analysis she wrote, she said that "The watermelon statue in Diyarbakir reportedly cost 4.4 million Turkish Lira (517,000 US dollars)… The budget for these statues is not transparent and is often associated with corruption at the local government level."
UNESCO open exhibition "The World in Faces" at its Paris headquarters
On Thursday, July 8, at the headquarters of UNESCO (The United Nations Educational, Scientific and Cultural Organization) in Paris, the exhibition "The World in Faces" of the famous Russian photographer Alexander Khimushin opened. The author personally presented a collection of more than 170 artistic photographic portraits of representatives of different peoples of the world, shot in authentic national dress in places of residence. The exhibition is dedicated to the upcoming International Decade of the World's Indigenous Peoples and Their Languages. It is a celebration of multiculturalism and our incredible ethnic diversity at its best.
"In the photographs from the project "The World in Faces" I express my philosophy of life, which has been formed over the years of travel. It was through meetings with representatives of different nationalities, contact with their cultures, that I came to understand that all of them – with an incredible ethnic diversity – are people just like you and me. They are simply trying to artificially divide us by borders and ideologies," explains Khimushin.
The exhibition is a great way to tell the world about indigenous peoples and draw attention to their problems.
The people in Khimushin's portraits managed to preserve their originality, traditions and former way of life. But it is more and more difficult for them to do this – small peoples are rapidly approaching complete extinction, the languages ​​and traditions of their ancestors are forgotten. "The world in Faces" reminds how important it is not to let them disappear without a trace.
The idea to create a collection of photographic portraits of indigenous peoples in national dress and in their native environment was born in 2014, when Alexander had already accumulated a considerable amount of work done in the most exotic locations – from Samoa and Fiji to Swaziland. Since then, he has never stopped traveling around the world, and his project is growing and becoming a phenomenon.
"Initially, when I started working on the project, I had a dream – to exhibit at the UN. UNESCO is a UN structure that deals specifically with cultural issues and, accordingly, since I am engaged in the preservation of cultures, traditions, languages ​​that are disappearing today – it was important and honorable for me to exhibit my works at UNESCO. I don't know what will happen next. In principle, I think that these should be large international platforms, since the project goes beyond Russia. The project is worldwide. I'm not going to complete the project. I plan to travel and collect stories, photographs, from all over the world – and I will be glad to consider proposals for global exhibitions that would show us – humanity – that we live in this world are different, each has its own culture, traditions, we must respect people who belong to other cultures. At the same time, the general humanistic component is that the whole world is one and all people are brothers," notes Khimushin.
In 2018, Khimushin went to the Russian Arctic – Taimyr. The result was a series of portraits of the region's indigenous inhabitants – Dolgans, Nganasans, Enets, Nenets, Evenks.
"Taimyr is unique in that it is a distant, cold place. For me, this was not something new, since I grew up in Yakutia (the Far East of Russia is the cold pole on the planet), but it is the peoples living there – the Nenets, Dolgans, Nganasans, they have a unique culture, their way of life and reindeer husbandry have been preserved. It was interesting to visit, thanks to Norilsk Nickel (The world's largest high-grade nickel and palladium producer), to get to these places. I would like to return to Taimyr, shoot more there, if there is such an opportunity," the artist noted.
The Norilsk Nickel company, which takes an active part in the fate of the small peoples of the Arctic, supported the Khimushin project.
"Our company supports the work of Alexander Khimushin, because thanks to his work, the whole world can see amazing, beautiful people living in remote corners of our planet. Including representatives of the indigenous peoples of the North of Russia, who managed to preserve a unique, original culture and traditions. The preservation of nature, traditions and culture of indigenous peoples, support and new opportunities for the development of ancestral activities – these are the themes that bring countries, international and commercial organizations, artists and creators together, "said Tatyana Smirnova Head of Public Relations MMC Norilsk Nickel.
Khimushin became the first Russian photographer to have an exhibition at the UN headquarters in New York. Works from The World in Faces project were exhibited at the University of Lille in France, and for six months were broadcast on the screen of the world's largest digital art center in Bordeaux.
The exhibition at the headquarters of UNESCO will run until the end of August 2021.
Russia, Egypt Launch the Year of Humanitarian Cooperation
Russia and Egypt have opened the next chapter in their bilateral relations as the Assistant Foreign Minister for Cultural Relations, Ambassador Mahmoud Talaat, described the launch of the Russia-Egypt Year of Humanitarian Cooperation as a "bright spot" in the history of joint relations.
Addressing the launch ceremony on behalf of Foreign Minister Sameh Shoukry, Talaat said the event comes within the framework of strategic relations between the two countries that reflected in a humanitarian exchange document, which was signed by President Abdel Fattah El Sisi and his Russian counterpart Vladimir Putin in Sochi.
Both officials reviewed Cairo-Moscow distinguished relations that have been growing in all fields, mainly at the political, economic, scientific, cultural and social levels. They pointed out to the close historic ties binding both counties and their peoples.
Russia's Deputy Minister of Culture Olga Yarilova who led the Russian delegation in the meeting emphasized the strength of relations between Cairo and Moscow. She added that the agenda of the Cairo-Moscow year of human exchange will include several cultural, tourism, sports, youth and educational events and activities among the two countries' cities and regions.
Culture Minister Enas Abdel Dayem and Russia's Deputy Minister of Culture Olga Yarilova jointly launched the kick-off event at the Cairo Opera House, in the presence of Chairman of the Cairo Opera Magdy Saber, alongside a number of ministers, ambassadors and leaders of the Ministry of Culture.
Beryozka (Berezka) Dance Ensemble, one of the internationally renowned and oldest Russian dance troupes, presented a number of artistic shows on Russian folklore. The Ensemble is a troupe of female dancers founded by Russian choreographer and dancer Nadezhda Nadezhdina in 1948 in the Soviet Union which specializes in performing in long gowns and moving across the stage as though on wheels or floating.
It is worth mentioning that Russia has been chosen as the guest of honor for the Ismailia International Festival for Documentary and Short Films, set for June 16-22.
The Egyptian culture and foreign ministries and Russian bodies concerned have prepared an agenda, including 23 cultural and artistic events throughout the whole year, with the participation of the culture ministry's sectors and authorities. The cultural programmes will run till May 2022, and as part of the preparations for the second Russia-Africa summit planned for next year in Addis Ababa, Ethiopia.