The ever-expanding use of US sanctions to regulate the conduct of foreign companies trading in foreign markets has alienated US trading partners and could ultimately unleash a wave of counter-retaliation by foreign governments. Although US politicians and the US media see these sanctions as lawful regulatory instruments rather than weapons of war, they involve a modern form of gunboat diplomacy using coercion rather than legal process to obtain foreign cooperation. US trading partners thus far have found no effective response, but that may soon change, and in ways that will badly damage US interests and erode US power.
At some point, in the absence of US self-restraint, the tables will turn and foreign government adoption of their own coercive measures will create enormous challenges for US and global business. The risk is not only or even largely to the primacy of the US dollar in world trade but rather the ability of US-based and multinational companies to access major markets whose governments at some point will no longer tolerate US encroachment on their sovereignty.
US sanctions programs seek to achieve US foreign policy and political objectives, often without regard to whether other countries share those objectives. For example, when President Trump withdrew from the Iran nuclear deal in 2018, he said the deal was non-binding on him because it was signed by President Obama. The fact that the European powers, China and Russia also had signed it, the UN Security Council had endorsed it, and Iran had not violated it did not deter the Trump Administration from re-imposing and expanding all of the previously waived US sanctions. Under these coercive measures, the Administration has designated or threatened to designate foreign companies as US sanctions targets for engaging in entirely foreign business with Iran that has no connection to the United States.
The US sanctions rules have always applied differently to foreign companies than to US-based and US-owned companies. Since 1995, the so-called primary sanctions against Iran have prohibited the involvement of US persons in nearly all types of Iran-related business. In more recent years, the US government has required even non-US companies to obey the primary sanctions whenever their transactions involve US persons, the US financial system or US-origin goods. However, the US government has no law enforcement jurisdiction over transactions by non-US companies that do not involve any such US elements.
Critics of US sanctions policy often focus on the enormous fines imposed on foreign companies, particularly banks, for violating the primary sanctions, and the risk that such aggressive enforcement tactics will cause a foreign flight from US dollar-based trade and payments. Although that risk is real, the fines relate only to activity within US law enforcement jurisdiction and leave foreign companies free to choose whether to continue transacting with US sanctions targets without involving any US elements and therefore with violating US law.
To overcome this jurisdictional hurdle, when the US government decided, beginning in 2010, that it wanted to deter certain types of entirely non-US business with Iran, it did so by labeling such business as "sanctionable" under so-called secondary sanctions that authorized the designation of foreign companies engaged in such non-US business as US sanctions targets. During the Obama Administration, the secondary sanctions on Iran generally worked in parallel with European and UN sanctions against Iran's nuclear proliferation drive, culminating in the multilateral negotiation of the Iran nuclear deal. To strike that deal, the Obama Administration waived the secondary sanctions on Iran, while leaving most of the primary sanctions in place.
As a result of the Trump Administration's restoration and expansion of the secondary sanctions on Iran and use of similar extraterritorial sanctions measures against a wide range of other targets, US sanctions policy now conflicts with European and global norms to an unprecedented degree. Instead of respecting the sovereign right of our trading partners to decide how and with whom their companies cantransact from within their own territory and in their own currency, the US Treasury and State Departments dictate to foreign companies a complex series of sanctions red lines, entirely outside US jurisdiction.
It matters not whether the sanctionable activity involves the US dollar or any other US elements because the US Treasury and State Departments do not need a US jurisdictional hook to put a foreign company on a US sanctions blacklist. Instead, crossing a red line into sanctionable activity can trigger a US sanctions designation of the offending company, prohibiting their involvement in any business that involves US persons or other US elements. Foreign purchases of Venezuelan crude oil, foreign participation in Russian pipeline projects and foreign transactions with literally thousands of persons blacklisted by the US government under a range of sanctions programs, even if unrelated to Iran (or Syria or North Korea),could all trigger a boycott of a foreign company by the US Government, without any need to tie the sanctionable activity to the United States.
Unlike the primary sanctions, which operate within the same legal structure as other US administrative and criminal laws, the secondary sanctions provide Treasury and State nearly complete freedom to strike preemptively against their foreign targets. Although the target can attempt after-the-fact to demonstrate that they did not infringe any sanctions or negotiate a resolution, that process can take years, by which time the US blacklisting often has already put the target out of business.
The impact of a US sanctions designation is supremely powerful because it not only terminates the target's access to the US economy and US financial system, but also imposes a secondary boycott designed to force foreign firms to choose between business with the target or business with the US. Following the designation, any foreign company that transacts with the blacklisted person, and thereby provides "material assistance" to them, could itself be blacklisted in turn, even if the alleged material assistance has no connection to the United States. Thus, banks and many other companies globally will refuse any new business with, and run in the other direction from, anyone that US Treasury, through its Office of Foreign Assets Control, has put on the so-called Specially Designated Nationals list. Once blacklisted, the US sanctions target finds itself persona non grata not only in the United States, but most of the world.
In fact, the pressure on foreign companies to respect US sanctions red lines and avoid any sanctionable activity is often greatest within their own financial services community. Before providing a large loan or underwriting securities, in any currency, for Asian or European companies, the participating banks typically will require an undertaking from the borrower or issuer not to engage in any sanctionable activity, as defined by the US government. Even Chinese companies that prefer to list their shares on the Hong Kong Stock Exchange, rather than in New York, still need to address their US secondary sanctions risks as part of the listing process.
The extraordinary deterrent effect of the US secondary sanctions contrasts with the historic failure of the Arab League's long-running secondary boycott of Israel to deter companies in the United States and third countries from Israeli business. This difference is easily explained. First, companies that needed to choose between business with Israel or the countries that boycott Israel often have seen Israel as the greener pasture. Second, the US and many other leading countries prohibited their nationals from supporting the Arab League secondary boycott. As explained by the US Office of Antiboycott Compliance, the US antiboycott rules "have the effect of preventing US firms from being used to implement foreign policies of other nations which run counter to US policy."
The hypocrisy of prohibiting US companies from complying with other countries' secondary boycotts while threatening to boycott foreign companies for dealing, entirely outside US jurisdiction –with US embargoed countries and/or Specially Designated Nationals– is not the issue here. Hypocrisy in foreign policy is nothing new. Historic international law principles and constraints also have not deterred the expansion in US secondary sanctions. Instead, before either Congress or the Executive Branch will lose their voracious appetite for secondary sanctions, the cost-benefit analysis of these measures in economic and thus political terms will have to change in Washington.
In the current political environment, this change will occur only when foreign countries with sufficient market power impose sufficient counter-measures to make the US reconsider its approach. Thus far, US trading partners, particularly in the EU, have relied primarily on their own version of the US antiboycott rules to threaten their nationals with domestic legal action if they comply with US secondary sanctions. But these counter-measures have failed, for two principal reasons.
First, most multinational companies, particularly in Europe, have no interest in tempting fate by crossing a US sanctions red line. In contrast, they know the domestic antiboycott laws to which they are subject, even if enforced, which they rarely are, would not have anything like the nuclear impact of a US sanctions designation. The EU's blocking regulation in particular is widely viewed as no more than a political statement. Second, many EU and other foreign companies to which these local antiboycott rules apply can typically justify their withdrawal from and avoidance of Iran, Cuba and other targets of unilateral US sanctions for business reasons, without expressly acknowledging they have done so in response to a US secondary boycott.
In the military realm, to deter a nuclear strike against them or their allies, the world's major powers have developed their own nuclear deterrents. The strategy of mutually assured destruction has withstood the test of time. Because it has proven to work, the same logic will ultimately prevail in the world of sanctions, led by China.
Last year, China announced that it would create its own "Unreliable Entity List" to punish firms whose actions were harmful to China's national interests. Although China has not yet put any companies on this list, it presumably would do so if OFAC puts a major Chinese company on the Specially Designated Nationals list and seeks to compel foreign as well as US companies to sever their ties with that Chinese company. Alternatively, China could find other ways to retaliate in kind, with the aim of restricting US access to China's market sufficiently to match the harmful impact of US secondary sanctions on Chinese firms.
An eye for an eye and a tooth for a tooth. If the retaliatory threat is both credible and commensurate in scope with the sanctions threatened by the US government, the US will have as much to lose as to gain by imposing a secondary boycott. For this reason, the US has yet to impose a secondary boycott on any major Chinese company. Instead, even under President Trump, the actions taken against Chinese companies generally seek to restrict their access to US markets and US technology under US trade, investment and export control laws; i.e., various forms of primary boycott.
In such cases, the US requires foreign companies to exclude all or some US elements from their dealings with the Chinese target company, but does not threaten them with retaliation for their entirely non-US business with that Chinese company. With the exception of some smaller Chinese companies that the US has listed as Specially Designated Nationals, the US Treasury and State Departments have not threatened to blacklist foreign companies for entirely non-US business with any leading Chinese company. Moving in that direction against China would appear certain to trigger swift retaliation and thus mutually assured economic damage.
In contrast, the US Congress has enacted, and President Trump has implemented, a broad range of secondary sanctions against Russia intended to deter foreign companies from entirely non-US dealings with targeted Russian persons, companies and energy projects. Although not comparable in either scope or extent of actual use to the US secondary sanctions against Iran, the ones on Russia have succeeded in deterring a range of foreign investment in and foreign business with Russia that the previously-imposed US and EU primary sanctions had failed to accomplish.
Although Russia has threatened to retaliate in kind, its economy is far smaller than China's. In 2015, when Russia put 60 US politicians on its version of a sanctions list in response to the initial wave of US sanctions against Russia, the late Senator John McCain quipped "I guess this means my spring break in Siberia is off, my Gazprom stock is lost and my secret bank account in Moscow is frozen."A tooth for an eye has never provided an effective deterrent.
Apart from China's credible defensive capability, it also has the ability to play offense. If the US can retaliate against foreign companies for their entirely non-US dealings with US sanctions targets, what is to stop China from doing the same to US and other non-Chinese companies in response to their dealings with Taiwan or other future targets of Chinese sanctions? What is to stop India from imposing a secondary boycott on Pakistan or Turkey on Cyprus? The US can use its antiboycott law to prohibit US companies from cooperating, but only at the cost of losing their business with the boycotting country.
In sum, relying on secondary boycotts to achieve US policy objectives is dangerous not only because it invites retaliation but also because it invites imitation. The US therefore should use them cautiously rather than capriciously, recognizing that at some point the balance will tip and the costs might quickly begin to outstrip the perceived benefits.
In particular, how much longer will the EU tolerate US insistence that EU companies abandon entirely non-US business with US sanctions targets before the EU adopts its own version of China's Unreliable Entity List and directs EU companies to resist US pressure? Like China, EU counter-retaliation could be both credible and commensurate in terms of the costs imposed on US interests. EU self-restraint to date reflects its preference for rules-based diplomacy, but when that enables the US to encroach European sovereignty with impunity, even the EU at some point, if pushed too hard, will have to respond in kind.
If and when we reach the tipping point, what the world sees as US sanctions bullying will be met with a jab in America's eye by a major US trading partner rather than foreign subservience. Various potential scenarios come to mind. Let's assume a new and potentially more rational leadership takes the helm in North Korea, and South Korea as well as China quickly offer trade and investment even before any major and verifiable concessions by Pyongyang. Let's further assume the US, backed by Japan, rejects any such premature concessions and threatens to use its existing secondary sanctions against North Korea to blacklist any South Korea or Chinese company that supports their own government's strategy of economic engagement. When the foreign policy and domestic political stakes are that high, resistance to US secondary sanctions not only by China but also South Korea becomes inevitable, creating enormous risk of miscalculation, counter-retaliation and destabilizing after-shocks.
The effectiveness of US secondary boycotts to date appears to have created a misplaced confidence in Washington that ever-expanding use will not diminish their effectiveness or harm US interests. Rather than continue along the current path, inciting US trade partners to copy our own tactics to our detriment as well as theirs, the US should develop a more restrained and strategic approach to preserve the usefulness of sanctions. Coordinating US sanctions policies with America's closest allies rather than trampling on their sovereignty would be a helpful starting point.
Quad foreign ministers meet in New York for the third time
Quad foreign ministers met in New York for the second time this year and the seventh time since 2019. The four-nation grouping's ambit of cooperation has clearly expanded and diversified over the years. What were the key talking points this time? I analyse.
The foreign ministers of India, Japan, Australia and the United States – four key maritime democracies in the Indo-Pacific – met on the sidelines of the 78th annual session of the United Nations General Assembly (UNGA) in New York on September 22. This was their seventh meeting since 2019 and the second of 2023. Notably, exactly four years ago, this four-nation Quad was raised to the foreign ministers' level amid a UNGA session. Earlier in 2023, the ministers met in March on the sidelines of the G20 ministerial in New Delhi and in May, this year, the Quad leaders' summit was hosted by Japan on the sidelines of the G7 summit. Having met twice in 2022 as well, the ministers congregated six times in person and virtually once so far.
The previous ministerial in New Delhi saw the four-nation grouping making a reference to an extra-regional geopolitical issue for the first time – Ukraine – and also the initiation of a new Working Group mechanism on counter-terrorism, a key agenda item for India and the United States, among other themes of discussion. Following the seventh meeting, India's foreign minister Dr S. Jaishankar tweeted, "Always value our collective contribution to doing global good", while U.S. Secretary of State Antony Blinken remarked that the grouping is "vital to our shared vision for a free and open Indo-Pacific, and together we reaffirmed our commitment to uphold the purposes and principles of the UN Charter".
Diversifying ambit of cooperation
The ministers have clearly doubled down on the commitments taken during their previous deliberations, particularly to improve capacity-building for regional players. The joint statement that followed the meeting read, "The Indo-Pacific Partnership for Maritime Domain Awareness is supporting regional partners combat illicit maritime activities and respond to climate-related and humanitarian events." Similarly, the Working Group on maritime security promised "practical and positive outcomes" for the region. Prior to the recent ministerial, the Working Group on counter-terrorism conducted a Consequence Management Exercise that "explored the capabilities and support Quad countries could offer regional partners in response to a terrorist attack", the joint readout mentions.
Later this year, the U.S. island state of Hawaii will host the Counter-terrorism Working Group's meeting and tabletop exercise, which will focus on countering the use of emerging technologies for terrorist activities, while the Working Group on humanitarian assistance and disaster relief (HADR) will be convened in Australia's Brisbane for its second tabletop exercise. Earlier in August, this year, all four Quad navies participated in Exercise Malabar for the fourth consecutive year, off Sydney, the first hosted by Australia. However, as in previous meetings, the ministers didn't specifically mention Russia or China with regard to the situations in Ukraine and maritime east Asia respectively.
On the Ukraine question, the ministers expressed their "deep concern", taking note of its "terrible and tragic humanitarian consequences" and called for "comprehensive, just, and lasting peace". In a veiled reference to Russia, the ministers rebuffed the "use, or threat of use, of nuclear weapons", underscoring the respect for sovereignty and territorial integrity of all states, and called for the resumption of the UN-brokered Black Sea Grain Initiative, which allows for the export of food grains and fertilizers from Ukraine to world markets via a maritime humanitarian corridor, amid the ongoing conflict with Russia.
Similarly, in another veiled reference to continuing Chinese belligerence and lawfare in maritime east Asia, the ministers stressed upon the need to adhere to the United Nations Convention on the Law of the Sea (UNCLOS) and to maintain "freedom of navigation and overflight consistent with UNCLOS", reiterating their "strong opposition to any unilateral actions that seek to change the status quo by force or coercion", including with respect to maritime claims in the South and East China Seas. Going further ahead, the ministers expressed their concern on "the militarisation of disputed features, the dangerous use of coast guard and maritime militia vessels, and efforts to disrupt other countries' offshore exploitation activities". The joint readout also had mentions of North Korea and Myanmar.
The evident and the inferred
Today, almost all the areas of cooperation of Quad countries happen to be the areas of strategic competition with China, the rapid rise of which necessitated the coming together of the four nations, even though this is not openly acknowledged. In this new great game unfolding in the Indo-Pacific, the U.S.-led Quad is trying to balance China's overwhelming initiatives to capture the support of smaller and middle powers in the region and around the world. Placid initiatives such as the Open Radio Access Network, the private sector-led Investors Network, Cybersecurity Partnership, Cable Connectivity Partnership and the Pandemic Preparedness Exercises should be read in this context.
With the rise of Quad in parallel with the rise of China and other minilateral groupings in the Indo-Pacific such as the AUKUS (a grouping of Australia, the United Kingdom and the United States), the existing regional framework based on the slow-moving, consensus-based Association of Southeast Asian Nations (ASEAN) was put to test. However, allaying all doubts, Quad deliberations at both the ministerial and summit levels continued to extend their support to ASEAN's centrality in the region and also for the ASEAN-led regional architecture that also includes the East Asia Summit and the ASEAN Regional Forum. Despite somewhat differing regional outlooks, the Quad likes to see itself as "complementary" to the ASEAN, rather than an "alternative" to its pan-regional influence.
India, the only non-ally of the U.S. in the Quad, will host the fourth in-person Quad leaders' summit in 2024. The Asian giant is often dubbed as the weakest link in the grouping, owing to its friendly ties with Russia, but other members intent to keep India's bilateral equations with other countries away from the interior dynamics of the grouping, signalling an acknowledgement of India's growing geopolitical heft in the region and beyond. This seems to be subtly reflected in the stance taken by individual Quad members in the recent India-Canada diplomatic row, in which they made sure not to provoke New Delhi or to touch upon sensitive areas, even though a fellow Western partner is involved on the other side.
| | | |
| --- | --- | --- |
| Quad Foreign Ministers Meeting | Month & Year | Venue |
| First | September 2019 | New York |
| Second | October 2020 | Tokyo |
| Third | February 2021 | Virtual |
| Fourth | February 2022 | Melbourne |
| Fifth | September 2022 | New York |
| Sixth | March 2023 | New Delhi |
| Seventh | September 2023 | New York |
NB:- All three Quad ministerials in New York were held on the sidelines of the respective annual sessions of the UN General Assembly i.e., the first, the fifth, and the seventh meetings.
On the multilateral front, the four ministers reaffirmed their support for the UN, the need to uphold "mutually determined rules, norms, and standards, and to deepen Quad's cooperation in the international system, and also batted for a comprehensive reform of the UN, including the expansion of permanent and non-permanent seats in the Security Council. While China and Russia, two powerful permanent members of the Security Council, continue to denounce the Quad as an "exclusionary bloc", the Quad ministers and leaders tend to tone down any security role for the grouping.
However, a recent comment made by Vice Admiral Karl Thomas of the U.S. Navy's Seventh Fleet during this year's Exercise Malabar is noteworthy. He said the war games were "not pointed toward any one country", rather it would improve the ability of the four forces to work with each other and "the deterrence that our four nations provide as we operate together as a Quad is a foundation for all the other nations operating in this region". Even in the absence of a security treaty, in a way he hinted at the grouping's desire to cherish its collective strength across all fronts and to check on hegemonic tendencies that may manifest in the region from time to time.
Dynamics of the Sikh Vote Cloud Canada's Diplomatic Relations with India
Operating across British Columbia (BC), Alberta, Manitoba and Ontario, gangs made up of Indo-Canadian Punjabis – Brothers Keepers, Dhak-Duhre, Dhaliwal, Sanghera, Malli-Buttar, and several such, are involved in arms trafficking, racketeering, extortion, narco trafficking, money laundering, and not the least, assassinations. Formed in 2004 and mandated to disrupt and suppress organised crime in B.C. the Combined Forces Special Enforcement Unit (CFSEU-BC), has warned the public of the nexus of Punjabi-Canadians to violence.
In the murders of Punjabi singer Sidhu Moose Wala and Ripudaman Singh Malik, acquitted in the tragic 1985 Air India Kanishka terror-bombing case, the conspicuous involvement of these Indo-Canadian gangs with notorious criminals Goldy Brar and Lawrence Bishnoi at the helm, manifested itself.
On June 18 Sikh Hardeep Singh Nijjar, was gunned down as he left his gurdwara in Surrey, B.C., which has the highest proportions of Punjabi Canadians. Nijjar had entered Canada in 1995 on a fake passport and claimed asylum on arrest at Toronto. In B.C. he married a local who sponsored his immigration and he was subsequently awarded Canadian citizenship. Brazenly propounding anti-India separatist sentiments, Nijjar was even placed on Canada's no-fly list and Interpol's red corner notice. Alongwith gangsters Arshdeep Singh Dala, Maninder Singh Bual, and Mandeep Singh Dhaliwal his outfit Khalistan Tiger Force (KTF) was involved in contract killings in Punjab. Gang-related killings account for a third of all homicides in Canada's British Columbia.
Despite this disconcerting background of Nijjar's ties to organised crime gangs in Canada, on September 18, Prime Minister Justin Trudeau alleged the involvement of "agents of the Indian government" in the killing of Nijjar. A claim outrightly rejected by New Delhi as "absurd" and "motivated." If Trudeau was looking to further impair an increasingly forbidding bilateral relationship, he succeeded. Canada and India have expelled a senior diplomat each and negotiations for a free trade agreement stand suspended.
There is a palpable perversity to Canada's position on the Khalistan issue. In 1982, Trudeau's father and then Prime Minister Pierre Trudeau
had rejected Late PM Indira Gandhi's demands for extradition of Khalistani terrorist Talwinder Singh Parmar, who went on to execute the bombing of Air India Flight Kanishka, killing 329 people in 1985.
Alarmed by the presence of Sikh secessionists among the diaspora, former Prime Minister Dr Manmohan Singh during his 2010 trip to attend the G20 summit in Toronto, asked Canada "to stop people from using religious places to promote extremism." Canadian MP Sukh Dhaliwal, had introduced a motion in the Canadian parliament to declare the 1984 riots a "genocide". Fast forward to 2023, G20 under PM Modi there was no attempt at all to put even a vaguely positive spin on the India-Canada equation.
The timing of Trudeau's accusation just days after the G20 summit in New Delhi where he says he brought Khalistani extremism and "foreign interference" "directly to PM Modi in no uncertain terms" smacks of umbrage at being at the receiving end of a very hard-hitting message that the 'extremist elements in Canada are "promoting secessionism and inciting violence against Indian.'
The Khalistan issue has got a fresh lease of life after the advent of the Justine Trudeau government. With just 32.2 percent of the popular vote, Liberal leader Trudeau has the least electoral support in Canadian history, and was backed by Jagmeet Singh's New Democratic Party (NDP) which openly supports the Khalistan Referendum on Canadian soil.
Canada's Conservative opposition leader, Pierre Poilievre, has urged Trudeau to show the evidence that the government has in hand. Notwithstanding this current posture the Conservative Party (CP) too, has in the past caved in to the Sikh vote bank. In 2018 when its condemnation of 'glorification of terrorism' was objected to by the World Sikh Organisation, the CP dropped its 'anti-Khalistan' motion in the House of Commons.
There is beyond sufficient evidence, to India's contention that Canada, and other western nations including US, UK, and Australia have allowed cadres of separatist violent Khalistani groups to thrive. The UK recently set up a £95,000 fund to enhance its understanding of the threat posed by Khalistan extremism. While the amount set aside to tackle pro-Khalistan elements is not substantial, it acknowledges that a Sikh radicalisation problem exists in the west.
Sikh temples and organisations abroad orchestrate Remembrance Days for 'Operation Blue Star' on June 6 and 'Sikh Massacre' on November 5, that serve as cultural repertoires and focal points of advocating Khalistani extremism. This year at the remembrance day parade, Khalistan supporters in Ontario exhibited a female figure in a blood-stained white saree with turbaned men pointing guns at her, to celebrate the assassination of late PM Indira Gandhi. The poster behind the scene read "Revenge for the attack on Darbar Sahib."
Reacting to this macabre tableau, External Affairs Minister Dr S Jaishankar said, "Frankly, we are at a loss to understand other than the requirements of vote bank politics why anybody would do this … I think there is a larger underlying issue about the space which is given to separatists, to extremists, to people who advocate violence. I think it is not good for relationships, not good for Canada."
At multiple diplomatic and security talks, India has raised the issue of wanted terrorists and gangsters only to be defied by the Canadian government with non-committance and brazen support for extremist Sikhs. And yet Canada's NATO allies and partners in the 'Five Eyes' intelligence sharing agreement, the United States and Australia, have expressed "deep concerns" over the issue. Adrienne Watson, spokesperson for the White House National Security Council said, "We are deeply concerned about the allegations referenced by Prime Minister Trudeau." Foreign Secretary of the UK, James Cleverly, posted UK's reaction on platform X "We are in regular contact with our Canadian partners about serious allegations raised in the Canadian Parliament." One wonders if this allegation of targeted killing by India is in retaliation to New Delhi's steady favour of Russia, and has been levelled after reports of a brokered American deal with Pakistan for weapons transfer to Ukraine in lieu of an IMF bailout emerged.
Admonishing Canada on X, former Foreign Secretary Nirupama Menon Rao said, "Canada has an extremely spotty and very, very poor record on the whole issue of Khalistanis in Canada. The support these lawless elements have received under the cover of what is called freedom of expression and democratic rights of citizens…it must control such elements with a firm hand and cannot allow them to run free to foster terrorism and violence in our country."
Amid the hectic media coverage there was speculation that 'Trudeau's allegations have put the White House in an especially tight spot.' But this were swifty checked by Adrienne Watson in her X post, "reports that we rebuffed Canada in any way on this are flatly false. We are coordinating and consulting with Canada closely on this issue."
The manner in which copious evidence on Khalistan separatists handed over to the Canadian side have gone unaddressed and yet Trudeau's allegation invoked strong reactions from other western nations, implies that this has moved beyond our bilaterals with Ottawa. It will have ramifications on how India deals with its strong G7 allies, especially the US.
For India the existence of Khalistani extremists and their alignment with organised crime in Canada poses security exigencies. India must at this juncture refrain from a broad generalisation of Sikh diaspora as secessionist, an incrimination that was implied during the Sikh-dominated farmers' movement.
Political parties must rise above partisan politics over separatist movements that are a threat to nation security. Voices from Punjab attest that Khalistan supporters remain 'fringe' and 'on the margins.' Even among expatriate Sikh community leaders have challenged the anti-India narrative laid out by Khalistanis and their supporters, despite the fact that they, and the community there, regularly face harassment and threats of violence from expatriate Khalistanis. Former Punjab Chief Minister Amarinder Singh states that Nijjar's murder was the result of a factional feud within the management of the Guru Nanak Sikh Gurdwara situated at Surrey and that Trudeau had "walked into a trap owing to vote bank politics."
New Delhi must ensure that overseas Sikh communities which have tried to counter pro-Khalistan disinformation shall not be left alone to defend themselves.
China and Venezuela Deepening Cooperation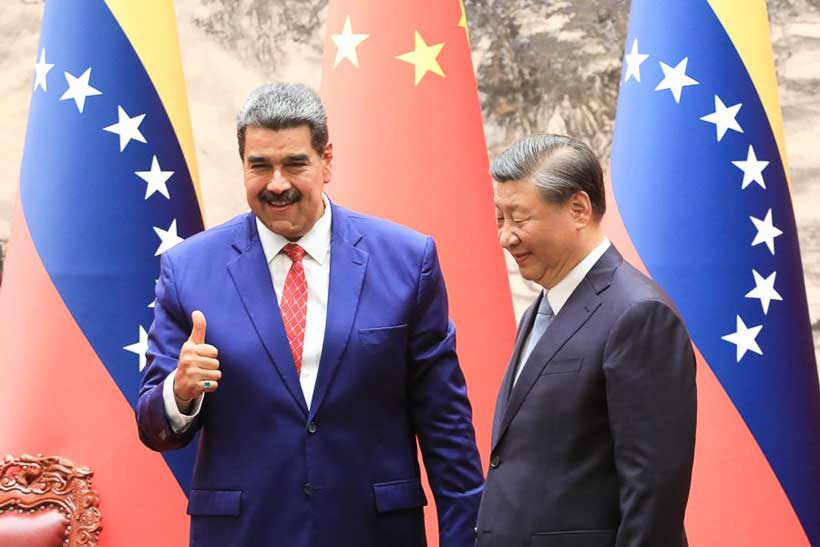 In a significant development that underscores the changing dynamics of global politics and economics, Chinese President Xi Jinping and Venezuelan counterpart Nicolas Maduro recently signed several bilateral cooperation agreements in Beijing, highlighting the changing dynamics of world politics and economics. China's determination to participate in partnerships that promote economic stability and prosperity demonstrates its unwavering commitment to global economic recovery.
The agreements signify a strengthening of their partnerships and span a variety of fields, including trade, the economy, and tourism. The cooperation has been upgraded to an "All-weather strategic partnership," reflecting the continued dedication of both countries to the advancement and development of the other. The decision by China and Venezuela to strengthen their ties comes as the world is witnessing a transformation in international alliances and trade partnerships.
The economic collaboration between the two countries is one of the most significant aspects of this new era of partnership. The recent agreements are expected to further cement Venezuela's ties with China, which has long been the country's major trading partner.Investments in infrastructure development and oil and gas exploration and production are part of the cooperation in the energy industry.
During his visit to China, President Maduro expressed his optimism for the relationship's future, stating it heralds the start of a "new era" for both nations. Venezuela, which has recently experienced economic difficulties, views China as a dependable ally that can aid in reviving its economy. China, on the other hand, sees Venezuela as a crucial friend in the region and a valuable supply of natural resources.
China and Venezuela's energy cooperation has broad implications. As the globe grapples with concerns about energy security and climate change, this alliance might have a big impact on the global energy landscape. China's investments in Venezuela's oil sector can stabilize oil prices and provide a more consistent supply of crude oil to the global market.
Aside from the energy industry, both countries have pledged to deepen their collaboration in a variety of other economic areas. Venezuela can benefit from China's expertise in agricultural technologies and infrastructural development in one area. Venezuela may enhance food production and reduce its reliance on imports by modernizing its agricultural sector with Chinese assistance, thereby increasing food security for its citizens.
Additionally, both countries have enormous potential in the tourism sector. Venezuela has incredible landscapes such as the famous Angel Falls and virgin Caribbean beaches, which may appeal to Chinese tourists looking for new travel experiences. Similarly, China's rich history and culture have always captured the interest of visitors from all over the world, including Venezuelans. The tourist accords aim to make travel between the two countries easier, to foster cultural interaction, and to develop tourism-related enterprises.
Furthermore, the strengthened relationship extends beyond economic interests to include political and strategic considerations. Both countries have reaffirmed their commitment to mutual support in international forums and to no interference in the other's internal affairs. This strategic partnership is consistent with China's aim of establishing a multipolar world and strengthening cooperation across developing nations.
The collaboration between China and Venezuela should be seen in the larger Belt and Road Initiative (BRI) initiative. The BRI seeks to establish a network of economic and infrastructure partnerships across Asia, Europe, Africa, and Latin America. A deeper integration of Venezuela into China's global economic vision through its participation in the BRI could create new trade and investment opportunities.
The potential for economic development in Venezuela is one of the most notable benefits of the China-Venezuela cooperation. In recent years, the South American country has suffered severe economic issues, including high inflation, financial sanctions, and political unrest. China's investments and assistance can help stabilize Venezuela's economy, generate jobs, and raise inhabitants' living standards.
The China-Venezuela connection is a key milestone in the shifting global political and economic landscape. In a changing world order, this partnership has the potential to provide Venezuela with economic prosperity, stability, as well as greater autonomy.