Labour Reforms in Uttar Pradesh: A step towards Modern Slavery
Authors: Ayush Gattani and Vaibhav Kansara*
The shutdown in China due to Covid-19 has caused major supply shock which has prompted global firms to look for new manufacturing centres for hedging risk of the future. It created a golden opportunity for India to make itself a global manufacturing hub which will also fulfil the 'Make in India' initiative. In furtherance of this Cabinet of Uttar Pradesh has approved 'Uttar Pradesh Temporary Exemption from Certain Labour Laws Ordinance, 2020' to create a favourable environment for global manufacturing companies. If it is signed by Governor of UP and President of India, it will suspend all labour law for three years except Bonded Labour System (Abolition) Act, 1976; Employee Compensation Act, 1923; Building and Other Construction Workers Act, 1996 and Section 5 of Payment of Wages Act, 1936 and provisions related to women and children and will make the situation worse for the labour which is currently facing the unprecedented situation due to Covid-19. The paper will discuss the pitfalls of labour reforms so introduced.
Challenging the constitutionality
The aforementioned Labour reform is a bane directly hitting the constitutional regime established in India. As the ordinance will suspend laws in the concurrent list i.e. Entries 22, 23, 24, 55, 61 and 65, the assent of president is mandatory under Article 213(3). Such assent would provide a green flag to the ordinance. However, violation of fundamental rights would bring down its constitutionality.
By suspending Trade Unions Act, 1926 vide ordinance, it will directly violate the fundamental 'right to form association' established in All India Bank Employees' Association v. National Industrial Tribunalby virtue of Article 19(1) (c). Though there are reasonable restrictions can be imposed to maintain public order, the present situation is outside the ambit of such restriction, mainly because restriction for a period of 3 years will deteriorate the situation of labourers and atrocities by employers will escalate.
Moreover, renouncing Factories Act, 1948 would put an end to the right to safe and healthy working environment thereby violating Article 21 of the Constitution of India. Unnecessary suspension would only lead to increased malfeasance rather than serving the purpose of increased productivity and investment.
Violation of Human Rights & ILO Standards
COVID-19 has negatively impacted the labour across the globe. The reforms will also contradict the recent recommendations by International Labour Organisation ensuring the protection of labour in this crisis as the regulations are employer centric rather than labour centric, giving excessive power to employer in hiring and firing employees as a result of suspension of Industrial Disputes Act, 1947. Freedom of association and right of collective bargaining has been recognised as basic rights by ILO, which are embedded in the Indian jurisprudence through Trade Unions Act, 1947.
Moreover, the suspension of Factories Act, 1948 will lead to disregarding the health guidelines mandated under Chapter III which are indispensable for protection of workers from the virus. Since, the new guidelines of ILO placed workers' protection from infection on the top priority, the policy on the same line should have been framed by the government. However, the government drafted ordinance looking into only the economic perspective and reviving the economy by using financial measures, treating labourers as a mere tool to achieve the aforementioned objective without framing any rules regarding protection of labourers from the virus.
The Pandemic makes the workers vulnerable as they are forced to take risky decisions and they could not afford to lose their source of income, leading to a rise of modern slavery. The government added to the plight of such economically disadvantaged workers by coming up with policies of increased working hour with reduced benefits and curtailed labour rights. The tune of affected people worldwide due to such exploitation will be around 40 million people. In addition to it, the pandemic is going to widen the inequalities.
World Economic Forum has raised a concern that political leaders may manipulate human rights to serve confined interest. Also, UNHRC stated that the emergency rule should be strictly temporary along with proper judicial reasoning otherwise the possibility of violating international human rights law will be very high. The 3 year time period of suspension does not seem to be temporary and will in fact have a lasting impact on the Labour community.
According to ILO around 4,00,000 workers die due occupational problems, even in the presence of Factories Act, 1948 because of unsafe and unhealthy working conditions. Most of the workers are protected by the hazards as the employers are bound to follow the aforementioned enactment. However, in its absence, it can be estimated that such number is only going to increase and it is violation of Human right i.e. right to safe and healthy occupational environment. The situation will be aggravated as the demand of labour in UP will be less than supply due to the COVID-19 and migration of labour from other states to UP, this will certainly lead to reduction in the wages and termination of workers more frequently.
Impact on International Trade
WTO is functioning under the standards enacted by ILO for determining minimum labour standards in International trade. It is clear from the aforementioned discussion that there will be violation of fundamental rights of labourers if the ordinance is assented. This violation will have a direct negative impact on the export of goods manufactured by such labour, which directly contradict the object of economic growth of the country. There will also be an indirect impact on trade due to increased awareness of buyer about the conditions under which such goods are produced as they will restrain themselves from purchasing such products.
Conclusion
The decision to relax the labour laws for making a lucrative environment for the potential foreign investors comes at the cost of human rights and constitutional rights of crores of labourers. It might allow the industrialists to have best of their times but the labourers will definitely have to face worst in state of slavery and poor working conditions with meagre wages. Also, it is a mere prediction that new firms will enter Indian economy, if they do not, the whole object of such reforms will collapse with increased cases of labour exploitation. Many states are also coming out with such reforms which, considered wholly, will be detrimental to the labourers/ potential labourers, given the unemployment rate is very high in India. Also, contrary to the belief of government, increased number of working hours would only lead to reduction in productivity. Nevertheless, the government would be required to pay either proportionate or more for the overtime, leading to an overall loss.
Suggestions
As a means to revive the economy, the government should reduce the prices of raw materials and decrease taxes which are the major obstructers, hampering the potential investments in India rather than taking away the basic rights of workers.
Furthermore, flexibility of labour laws does not denote increase in production. However, non-availability of skilled labour is a factor which needs to be analysed and capitalised upon. The government should conduct training programmes to enhance the employability and productivity of worker for their socio-economic integration rather than exploiting them.
Author 1- Mr. Ayush Gattani, 3rd year B.B.A. LL.B. ( Hons.) students at National Law University, Jodhpur.
Author 2- Mr. Vaibhav Kansara, 3rd year B.B.A. LL.B. ( Hons.) students at National Law University, Jodhpur.
Mosul's recovery moves towards a circular economy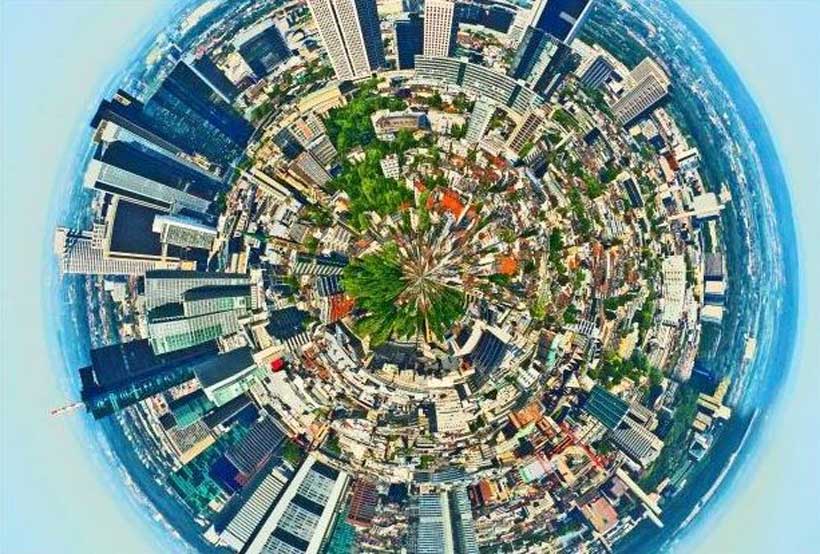 Five years since the end of the ISIL(so-called Islamic State in Iraq and the Levant) conflict in 2017, the International Organization for Migration (IOM) in Iraq and the UN Environment Programme (UNEP), with funding from the Government of Japan, has established a debris recycling centre in Mosul. After its initial use, the centre has now been handed over to Mosul Municipality for its continued, sustainable operation.
"On behalf of the Iraqi Government, the Ministry of Environment expresses its gratitude to the Government of Japan for generously supporting this important project and to UNEP and IOM for enabling the sustainable management of the huge quantities of conflict debris and restabilization of the liberated areas in an environmentally sustainable manner," said Iraq's Minister for Environment, Dr. Jasim Abdulazeez Humadi.
The handover of the Mosul debris recycling centre marks a significant step in the sustainable management of the huge volumes of debris — an estimated 55 million tonnes — created by the ISIL conflict. It also opens the way for the recycling of routine construction and demolition waste, contributing to 'building back better' and an increased circularity in Iraq's development.
UNEP West Asia Regional Director, Sami Dimassi, emphasized that "by reducing waste, stimulating innovation and creating employment, debris recycling also creates an important business opportunity." Indeed, construction companies in Mosul have expressed interest in purchasing the recycled aggregate, thereby underscoring the longer-term sustainability of debris recycling.
"This project supports recovery and livelihoods by drawing on principles of a circular economy, wherein waste and land pollution is limited through production processes that reuse and repurpose materials for as long as possible," explained IOM Iraq Chief of Mission, Giorgi Gigauri. "Collaboration and sustainability are key priorities in IOM's work toward durable solutions to displacement, and we are pleased to have partnered with UNEP and the Government of Japan so that this is represented not only in the function of the plant itself, but also in its functioning, by supporting local authorities to be prepared to effectively operate the plant moving forward."
On 28 July 2022, Mosul Municipality hosted an event to officially hand over the debris recycling centre, attended by senior government officials and academia, as well as representatives from IOM, UNEP and the United Nations Assistance Mission for Iraq (UNAMI).
Masamoto Kenichi, Charge d'Affaires, Embassy of Japan to Iraq stated: "We are glad to know that the project funded by the government and people of Japan has contributed to cleanup of debris and reconstruction of Mosul. We would like to commend UNEP, IOM and the city of Mosul for their tremendous efforts of turning the legacy of ISIL's devastation into building blocks of reconstruction".
Through the rubble recycling project, nearly 25,000 tonnes of debris have been recovered and sorted, of which around half was crushed into recycled aggregate. Material testing of the recycled aggregate endorsed by the National Center for Structural Tests of the Ministry of Planning confirms its compliance with the Iraqi State Commission for Roads and Bridges design standards for road foundational layers and its suitability for several low strength end-use applications such as concrete blocks and kerbstones.
The project created 240 much-needed jobs through cash-for-work schemes targeting vulnerable persons, including 40 women.
Building on this experience, IOM has set up two other debris recycling operations in Sinjar and Hamdaniya in Ninewa Governorate, and a third in Hawija in Kirkuk Governorate, where a pilot phase using a mobile crusher was implemented in al-Buwaiter Village in 2021. In addition, two other conflict-affected governorates — namely Salah al-Din and Anbar — have also shown a high-level of interest in replicating and scaling up debris recycling in their own regions.
UNEP has been supporting Iraq in cleaning up the huge volumes of debris created by the ISIL conflict since June 2017. Initially, this included carrying out technical assessments and planning workshops with UN-Habitat, and subsequently designing and implementing debris recycling pilot projects to support returns in Mosul, Kirkuk and other conflict-affected areas in cooperation with IOM.
Digital Futures: Driving Systemic Change for Women
Authors: Erin Watson-Lynn and Tengfei Wang*
As digital technology continues to unlock new financial opportunities for people across Asia and the Pacific, it is critical that women are central to strategies aimed at harnessing the digital financial future. Women are generally poorer than men – their work is less formal, they receive lower pay, and their money is less likely to be banked. Even when controlling for class, rural residency, age, income, and education level, women are overrepresented among the world's poorest people in developing countries. Successfully harnessing digital technology can play a key role in creating new opportunities for women to utilise formal financial products and services in ways that empower them.
Accelerating women's access to the formal economy through digital innovations in finance increases their opportunity to generate an income and builds resilience to economic shocks. The recently issued ESCAP guidebook titled, Harnessing Digital Technology for Financial Inclusion in the Asia Pacific, highlights the fact that mechanisms to bring women into the digital economy are different from those for other groups, and that tailored policy responses are important for women to fully realise their potential in the Asia-Pacific region.
Overwhelmingly, the evidence tells us that how women utilise their finances can have a beneficial impact on the broader community. When women have bank accounts, they are more likely to save money, buy healthier foods for their family, and invest in education. For women who receive Government-to-Person (G2P) payments, there is significant improvement in their lives across a range of social and economic outcomes. Access to safe, secure, and affordable digital financial services thus has the potential to significantly improve the lives of women.
Despite the enormous opportunity, there are numerous constraints which affect women's access to financial services. This includes the gender gap in mobile phone ownership across Asia and the Pacific, lower levels of education (including lower levels of basic numeracy and literacy), and lower levels of financial literacy. This complex web of constraints means that country and provincial level diagnostics are required and demands agile and flexible policy responses that meet the unique needs of women across the region.
Already, across Asia and the Pacific, governments are implementing innovative policy solutions to capture the opportunities that come with digital finance, while trying to manage the constraints women often face. The policy guidebook provides a framework to examine the role of governments as market facilitators, market participants and market regulators. Through this framework, specific policy innovations drawn from examples across the region are identified which other governments can adapt and implement in their local markets.
A good example of how strategies can be implemented at either the central government or local government levels can be found in Pakistan. While central government leadership is important, embedding tailored interventions into locally appropriate strategies plays a crucial role for implementation and effectiveness. The localisation of broader strategies needs to include women in their development and ongoing evaluation. In the Khyber Pakhtunkhwa province, 50,000 beneficiary committees comprising local women at the district level regularly provide feedback into the government's G2P payment system. The feedback from these committees led to a biometric system linked to the national ID card that has enabled the government to identify women who weren't receiving their payments, or if payments were fraudulently obtained by others.
In Cambodia and the Philippines, governments have implemented new and innovative solutions to support remittance payments through public-private-partnerships and policies that enable access to non-traditional banks. In Cambodia, Wing Money has specialised programs for women, who are overwhelmingly the beneficiaries of remittance payments. Creating an enabling environment for a business such as Wing Money to develop and thrive with these low-cost solutions is an example of a positive market intervention. In the Philippines, adjusting banking policies to enable access to non-traditional banking enables women, especially those with micro-enterprises in rural areas, to access digital products.
While facilitating participation in the market can yield benefits for women, so can regulating in a way that drives systemic change. For example, in Lao People's Democratic Republic and India, different mechanisms for targets are used to improve access to digital financial products. In Lao People's Democratic Republic, the central government through its national strategy, introduced a target of a 9 per cent increase in women's access to financial services by 2025. In India, their targets are set within the bureaucracy to incentivise policy makers to implement the Digital India strategy and promotions and job security are rewarded based on performance.
These examples of innovative policy solutions are only foundational. The options for governments and policy makers at the nexus of market facilitation, participation and regulation demands creativity and agility. Underpinning this is the need for a baseline of country and regional level diagnostics to capture the diverse needs of women – those who are set to benefit the most of from harnessing the future of digital financial inclusion.
*Tengfei Wang, Economic Affairs Officer
This article is the second of a two-part series based on the findings of the United Nations Economic and Social Commission for Asia and the Pacific (ESCAP) Policy Guidebook: Harnessing Digital Technology for Financial Inclusion in Asia and the Pacific, and is jointly prepared by ESCAP and the Griffith Asia Institute.source: UNESCAP
Empowering women-led small businesses in Nepal to go digital
Authors: Louise Anne Sophie Lavaud and Mitch Hsieh*
Throughout the years, Laxmi Shrestha and her husband saw the opportunities that opening an online shop could bring to her family business.
"Looking at the trend of TikTok and other sites, we thought selling online could help us but we weren't technically sound," said Laxmi, the owner ofLaxmi Hastakala Store, in Banepa, Nepal, and part of a family of artisans.
As she learned about selling online, she picked up on how to market her shop digitally and, according to Laxmi: "It has surely given our business a push we always wanted. Recently we started selling our products online and we also receive payments online."
Laxmi Hastakala Store is among the 1,800 women-led micro, small and medium enterprises (MSMEs) in Nepal being trained on digital and financial literacy by Sparrow Pay – one of the winners of the Women Fintech MSME Innovation Fund launched in 2019 by the United Nations Economic and Social Commission for Asia and the Pacific (ESCAP) and the United Nations Capital Development Fund (UNCDF).
Sparrow Pay has created a local digital marketplace where women-led MSMEs can offer products and services to its existing 800,000+ digital payment service users. Additionally, Sparrow Pay is supporting these women entrepreneurs in adopting digital payments and creating a payment history to support access to additional financial services.
MSMEs are a vital source of employment and a significant contributor to a country's GDP. However, more than 45 per cent of MSMEs in Asia and the Pacific are constrained from accessing finance and other support for their businesses. Socio-cultural norms mean women-led enterprises have to overcome gender-specific barriers to access institutional credit and other financial services.
ESCAP and UNCDF aim to encourage easy access to digital finance for MSMEs in Asia and the Pacific, break the financial barriers surrounding women-led enterprises and support entrepreneur-centric growth and inclusiveness throughout the region. Initiatives by the 10 winning fintech companies are currently supporting more than 9,000 women-led MSMEs in Bangladesh, Cambodia, Fiji, Myanmar, Nepal, Samoa and Viet Nam.
Just like Laxmi, these women business owners plan on successfully growing their companies in the digital area.
The Women Fintech MSME Innovation Fund is part of a regional programme "Catalyzing Women's Entrepreneurship: Creating a Gender-Responsive Entrepreneurial Ecosystem," which seeks to support the growth of women entrepreneurs in Asia and the Pacific by enabling a policy environment for such business owners, providing them with access to finance and expanding the use of ICT for entrepreneurship.
*Mitch Hsieh Chief, Communications and Knowledge Management Section