Recent media reports that China started nuclear testing and Trump administration is also mulling ideas to initiate nuclear testing is the precedent of extremely dangerous trajectory in the 21st century. The erosion of arms control framework, may bring us to the obsolete ruins of nuclear testing sites. This paper will discuss the emergence of possibility of limited and high yield nuclear tests by the major nuclear powers especially the US China and Russia at the global level, and India and Pakistan at the regional level. We will note and observe trends which will decipher the quite resurgence of nuclear weapons test sites, not just for delivery means but for its actual yield. The erosion of arms control treaty was perceived as impossible a decade ago, and the arms control frameworks and the verification procedures evolved enough which become routine for the members of any such frameworks, after resurgent posturing from Russia and the new dislike for treaties by the administration in US, which sought solo flight in the global affairs by scraping and renegotiate almost every deal and agreement America made since its came into being. This new fragmented world is reintroducing some serious nuclear fallouts, almost from all the nuclear weapons states, with new ones in the offing, as the commitment to proliferation is eroding, the nuclear testing can be seen in the near future.
Prelude: Throughout the ages the invention of weapons systems brought about a seismic change in the world, whether it's a castle warfare techniques of the medieval wars, where a formidable castle was an enduring challenge for the invaders, the castle was considered as the political and military heart of any territory, without getting control of the castle the invaders were considered as defeated in their mission. The siege warfare emerges to exhaust the castle strength by laying a siege. The evolution of weaponry to have a decisive edge in any conflict remained the prime focus of humans. The careful examination of conflicts over the ages shows that conflicts intent evolved overtime, first it was about getting more territory, then it shifted to arable lands, then acquiring supremacy through both, the religion was a late entry into the fray, the ideas and ideologies away from religion also shaped the dynamics of conflicts, the ideologies played a crucial role in the conflict we see today. The emergence of nuclear weapons after the two horrific great wars, was the single most event which changed the conflict we see today. The American atomic bombs may have killed millions, but the very nature of this weapons changed the way we see conflict and wars.
The memory of the cold war generation in Europe, Americas and Soviet Union, is a stark reminder that the world divided in two poles on the basis of ideology and economic system, put their bet on the most powerful weapons system human ever built and used, the nuclear genie from 1945 onwards was captured in a transparent fragile glass, but its horrific consequences was periodically shown to the world in the form of nuclear explosion by both poles. The nuclear testing is still the stark reminder of the world which was convinced enough to turn the world into ashes, if other side tried to intrude into its sphere of influence or resort to force to pursue that end. The colonial and major powers used a vast swath of land, air and sea for the nuclear testing. The nuclear testing have two intended objectives to demonstrate the power of the weaponry, and to show the rival pole that they are willing to pursue any end if they are threatened. Vast literature available on the emergence of nuclear testing, testify these findings. The nuclear explosions in the cold war era where not just limited to the gigantic blasts, but were also introduced at the small level, by experimenting atomic weapons at the battlefield and asymmetric or sabotage level, in the form of man pack. The legacy of nuclear testing still haunt us in many ways, whether it's the cases sought by Marshall Islands and the ex-French colonies against its colonizers, the United States and France and ex-Soviet Union, the nuclear testing today have many facades and emerges as a well-researched area in the nuclear politics realm, the history of nuclear testing by all the 5 major nuclear powers is a history of human suffering. Nuclear explosion is all history and there is much written on the topic, from the world first nuclear explosion to the last one in contemporary history when North Korea tested its thermonuclear weapon on 3 September 2017. We will focus on the possible emergence of nuclear testing in South Asian region. Both India and United States was the first country to detonate a series high yield nuclear weapon in the bravo test in 1954, followed by the Soviet Union in 1961, the explosion was the most powerful in the human history, the bomb was labeled as Tsar Bomba means Tsar's bomb.
The culmination of high yield weapons by both countries provided them with evidence about the actual data about the status of damage, in few of the explosion actual military assets are being placed in the range of tests to gauge the effects of nuclear explosion of those assets. The history of nuclear testing and fissile material seem capped till the Obama presidency, but the Trump administration's revival of the old concepts, like new tactical nuclear weapons, the space force and possible future nuclear tests, as the Trump's America seem to negate the global treaties and frameworks, the recent pullout from the intermediate nuclear forces treaty, opened the hatch for the testing of new delivery systems, the hypersonic both in Intercontinental ballistic missiles ICBMs and cruise missile realms are ready to be developed by the leading weapons manufacturers.
As the established and time tested, treaties and arms control frameworks fell apart in the form of CFE treaty, INF treaty and the slow but sure erosion of the Open skies treaty, because of the growing mistrust between the major global powers. As we revisit the history of nuclear history, it has three visible trends, that is development of the warheads, its development system, followed by the sabre rattling and potential threats because of offensive nuclear postures In the form of doctrines and strategies, followed by the new frameworks to control the threat, by reaching a common understanding to eliminate the threat posed by that weapon system. The complete architecture of arms control which was the bedrock of global security by not just minimizing the nuclear threat, but excluding it entirely from the conflict scenario, is now crumbling, both at global and regional level. Few years back the concept of crumbling of the arms control framework was unimaginable, though various factors were there to rollback treaties but both Obama administration and Russian government never tried to go for such options, but the world saw a revival in the form of new start and later at regional level in proliferation realm when EU and US opted to go for a treaty with Iran. The spirit of rule based order was seen in all these steps, where threat was being caped using the existing frameworks, which neutralizes threat to the world peace posed by the nuclear realm. The commitment and trust factors are driving major stakeholders away from their global commitments, which already initiated the global arms race, in which the possible resumption of nuclear tests may make a debut, the last reported US nuclear explosion was in the 1992, at the dawn of the new world order, the France and others closed in 1996. The regional nuclear rivals, has its solo show stealer in the 1998, after that the only nuclear mad child North Korea remained in news because of their nuclear testing.
Regional Nuclear Rivals: These explosions Pakistan are observing a moratorium on further nuclear explosions but the changing nature of leadership in India pose a threat to this mutual understanding. The US and French companies involved in the nuclear commerce with India and the recent push by the US to make India a de jure nuclear power by admitting them in the Nuclear Supplier Group, is a step seen with suspicion by Pakistan and China. The blind western eye on India in its human rights violations, and other global issues, mainly with Pakistan shows US clearly accommodating India, in the club, where they have the luxury to go ballistic in the nuclear realm. Pakistan opposition to the Fissile Material Cut Off Treaty FMCT and the US and Indian support to the treaty shows that they lift India out of the fissile material deficiency, and India at any stage can turn this fissile material allowed to obtain for energy use, for the weapons purposes, the steps which validate this argument, are the inclusion of India in various strategic export control regimes, like Wassennar Arrangement, Australia Group, Missile Technology Control regime, MTCR, and its push for NSG Nuclear Supplier Group. India Pakistan nuclear equation can only be balanced with parity between both at the nuclear level. Any gigantic leap on Indian part which is already happening, will move Pakistan away from its commitments, as national interests and its security won't allow it to observe those moratorium, and will ward off its defensive strategies which are in place since it detonated its first device.
Make in India may mark the end of moratorium: Defense acquisition is normal activity in almost every country, countries acquire weapons from foreign countries according to their arms forces need, few countries in the world go all alone to suffice their defense needs, the prime example of such counties are United States, Russia, China, United Kingdom and France, means all the UNSC permanent members, others countries rely heavily on foreign purchases to either feel safe or threaten others by those acquisitions. India is among this second tier vast grouping which rely heavily on foreign input for its defense needs. India under Nrendar Modi introduced an ambitious plan to convert Indian defense needs into entirely domestic domain, to lessen and at later stage eliminate any foreign input in its defense acquisition, in nuclear realm they gain much by signing up to nuclear deals with United States, France and Russia, at the space level they made sufficient advances, by thrusting for ingenious GPS system and space Prowse which can seriously rival that of major powers, Indian military plans in almost all domains defy its regional posture which they tout being influenced by China and on later stages Pakistan, but its military ends are truly global In nature. Whether its acquisition related to naval assets or aerial combat fighters they are pushing for indigenous build and operate model, by purchasing technology from the lead tech countries. The Indian nuclear programme is running full pace and unnoticed in the western circles because of their newly formed alliance against China. India at later stage may come up with their nuclear testing plans. Totally ingenious India for its defense need and its global economic clout will make it hard for the global powers to punish India the way did in the aftermath of 1998 nuclear tests.
Pakistan and the nuclear tests: Pakistan being vigorously pushed by the leading western scholars in their famous Stimson's paper the Normal Nuclear Pakistan, written by Toby Dalton and Michael Krepon. The paper said that Pakistan should not wait for India and tread its own way to join the test ban framework. This will put pressure on India, to sign up to those frameworks in response, citing Pakistan recognition at the global level. Pakistan nuclear weapons program remained robust, and emerge as one of the most advanced among the nuclear weapons, the rational posturing vise a vis India, and various proposals being presented by Pakistan, to introduce a strategic restraint regime, and others measures to sign up to those frameworks which can put a visible limit on the uncontrolled arms race being imposed by India on Pakistan. The introduction of other domains into the nuclear foray by India, such as the concept of nuclear triads, aircraft carriers, to carry out long range nuclear air strikes, to dilute Pakistan defenses, the expansion is disturbing enough for Pakistan to commit to any such frameworks in recent future, because the south Asian nuclear politics is still an unfinished business, as Pakistan is being dragged below by its opponent in parity. Any future decision by India to test nuclear devices, whether low of high yield will invite Pakistan to demonstrate its capability to maintain deterrence vis a vis India, and thus remain relevant in the nuclear game. The political and economic fallout will be worse for Pakistan as compared to India. But looking at the development at international and regional level it seem possibility that nuclear testing may become a headline in the strategically unstable South Asia.
China and nuclear testing: China remained the only constant in nuclear equation. Its swift and decisive nuclear forces seem to replace Russians in the Western strategic lens, as the growing literature in leading research organizations is dedicated to China vs. United States nuclear equation, discussing number of delivery means, the strength and type of payload, its role and place in nuclear arms control domain, and the offset technologies China is pursuing and testing in nuclear realm. The Chinese being the efficient partner in nuclear nonproliferation and arms control domain remain committed to nuclear peace.
Russia and nuclear testing: The Russians being labeled as bully in the recent skirmishes in the nuclear realm, by introducing a series of violations, in various treaties and frameworks, most notably the cold war milestone called INF intermediate nuclear forces treaty. The CFE treaty and other framework related to fissile material was set aside by the Russian Federation, citing it as contrary to Russia's global influence and non-compliance from west. The Russian concept of Poseidon which is in its infant stages, the concept is terrifying for test ban advocates, as the Russian calculations of this weapons till now is only limited to computer generated models, the downward trajectory in US West relation, with harsh sanctions in place, and Russia fighting it out with extending influence In other parts of the world, like Middle East, Asia, Arctic and the Eastern Europe, the United States and Russia may find them in the loggerheads, to offset any coercion in the future the nuclear testing to demonstrate its new arsenal seem possibility.
The Russian introduction of hypersonic missiles in the nuclear and conventional realm, forced other western powers like France and United States to keep up with the pace, in the nuclear delivery, France announced to have hypersonic missiles by 2021, United States also on project to introduce such missiles. The steps in the delivery means by all the rivals, won't be limited to the delivery means alone, the strength of any weapon is its payload, the gradual evolution of kilotons to megatons, and then its fragmentation according to strategy in the cold war era and post-cold war era, will require these powers especially Russia to come out of computer simulation and test weapons in real time, to reintroduce the concept of arms control for the 21st century, where weapons, range, payload, target and all other parameters got new definitions. The US seem to initiate or follow the testing, as there already plans in place. The Russian actions shows that they are planning for this eventuality to happen.
United States and Nuclear test ban : The US remain the only nuclear weapons state to have conducted the most nuclear tests to gauge its weapons vitality for both performance and signaling purposes. United States is not party to comprehensive test ban treaty. Under Obama, various programs like Nuclear Security Summit and Proliferation Security initiative were bolstered and used to ensure nuclear safety and security, the administration dedicated much focus to these areas, but its last leg the fourth summit was briefly politicized and the major nuclear power Russia skipped the summit, citing nuclear bias. The NSS remained active platforms to discus and implement ideas, the Trump administration is not willing to commit to such platforms.
The nuclear testing threat from United states is two pronged, one, it's from the United States itself, and second, the United states commitment and concrete steps to export nuclear technology to Kingdom of Saudi Arabia and other Arab states like United Arab Emirates, the geopolitical standing of these countries is precarious in a troubled region, which cite Iran as a security threat, the Iran nuclear program is a no secret and they like United States and Israel are vary of the Europe efforts to stop Iran from acquiring bombs. The India Pakistan nuclear rivalry completing its second decade proved to be the enduring one, but with a rational underpinnings, both countries maintained the relevance of these nukes, by not restoring to cold war's hair trigger strategies, nor the weapons are being put on table as option like the North Korean regime, the North Korean like nuclear brinkmanship is anticipated from Iran and its Arab rivals, if they get their hand on these weapons.
The nuclear testing genie can erupt from the Arabian sands, because of the blind us strategic exports. With trump at the helm, the United States which is developing and upgrading its SSBN fleet, may find it necessary to test the trident or its successor, with a new payloads. One enduring feature remained constant at the end of cold war, is the development of delivery system but no side tested its revised and updated payload. The evolution in fissile material technology is evident from the fuels like MOX and others, the payload for nukes evolved over time, adding lethality to the device. . The cold war strategies like massive retaliation flexible response are dust now, all the strategies were carefully designed citing the delivery means and payload used in those devices, United States and Russia are both convinced to have updated nuclear delivery means to dilute each other strategies, the nuclear testing remain the most relevant item after they get their hands on updated delivery means.
Nuclear Testing in Brexited Europe, France and UK nukes: The nuclear testing in Europe is not a realistic assumption, France carried out almost its nuclear tests on the foreign occupied territories and islands. The last one being in 1996, The France resorting back to nuke testing holds no ground, the same hold true for United Kingdom, which also remained committed to the nuclear test ban, in the greater interest of humanity. Others factors being on the back foot in this realm, is the gradual military weakness of both countries vis a vis their rivals, the parity is unachievable and they still rely on united states to guard them against any future nuclear threat.
Conclusion: The examination of developments that occurred in all these nuclear countries shows that, the halt in the nuclear weaponry that the world saw in the first two decades of the 21st century is disappearing. Large scale nuclear developments, commitments for upgrading and replacing those weapons with new one is established fact. The United States will have new SSBNs operating in the oceans, a force that clearly offset the major power like China and even Russia, Russia offsetting United States in aerial delivery means, China being the newcomers among both of them on the path to have efficient nuclear force to take on the largest nuclear weapons states, Pakistan, India parity dilemma, European countries grappling with their own security dilemma, all these factors surely bring back the nukes as tool for the survival. A lot have been appearing and written on the delivery means but they payload problem is just resurfacing, and these nuclear weapons states may initiate a new wave of cold and hot tests to rewrite the rules of nuclear game in their respective regions. The major powers need to commit to the test ban, the world may not see high yield testing in the near future, but once a low yield new material weapon is tested by any power, it will reverse the gains of test ban, and will give reprieve to others to start the menace of nuclear testing, which is not just lethal from the environmental and human perspective but will also relive the horrors of nuclear winters, which have just started to fade from the human memory.
Russia in Libya and the Mediterranean
There are several myths about Soviet/Russian involvement in Libya in particular and the Mediterranean in general. Unfortunately, such "political stories" are firmly rooted in the traditions of the Cold War and the post-Soviet period of geopolitical fog.
The first myth perpetuated in all the analytical efforts is that Gaddafi was a staunch ally to the Kremlin. This misreading of the Colonel has been the reason for many failures in describing the past and the present of Russia's moves in Libya and beyond. Gaddafi was a dedicated enemy of everything communist, ready to bring the Russian connection into play as a proverbial "stick" in his troubled relations with the Americans. In doing so, he was far from original but rather following in the footsteps of many Middle Eastern politicians who blackmailed the West with the threat of "going Soviet."
The second myth is that Moscow has historically been trying to convert North Africa and Eastern Mediterranean into the "main proletarian confession." This particular narrative dates back to the early decades following the 1917 revolution when the imagination of a few idealistic amateurs conceived the "world revolution." Fortunately for the Soviet Union, this romantic dream died long before World War 2; and unfortunately for the hypothetical West, the attitude remained unchanged.
The third myth is that Russia has no business to be anywhere outside of its borders. In fact, this is an attitude spread by Washington among its allies in Europe through NATO doctrines rather than a myth. The argument typically goes, "We are here because we are good" and "We are good because we say so", while they should not be here "because they are bad" and "they are bad because we say so." The keywords here are "because we say so."
Now, these are the myths. What could be said of the reality?
Myths Turned Historical Reality
At the outset, Russia cast a close look at the Mediterranean during the time of Catherine the Great. At that time, the understanding was clear. If we want to a) secure the Southern border and b) trade with the world with no restrictions, we had to have access to the warm high seas. For that to happen, Moscow had to project power. Those were the days when power projection was the key to trade success. Not that much has changed.
Paul the First went a little further as he tried to establish Russia's naval base in Malta. An old trick got in his way, though, he was stopped by repeated blows to his head.
However, the idea was quite clear. The Mediterranean and North Africa were definitely worthy of attention. The Soviet leadership was nothing if not excellent students of history, something that soon resulted in particular attention to the area. For the most part, all the Soviet Mideastern discourse could not and should not be taken separate from the Eastern Mediterranean track. Naturally, Libya was ideally positioned for the effort to project political, military and ideological power to the Eastern Mediterranean. Ideology should receive rapt attention as well. It has always been in the offering, still being there albeit under the disguise of "traditional values". It is worth stressing that this new package for the old adage enjoys undisputed success with the traditionalist elites in North Africa and the Middle East.
The Moscow–Tripoli relations were always anything but smooth. If not for the American posture towards Gaddafi, one might say Moscow would have failed to get inside the Jamahiriya at all. Washington somehow served the cards in favor of the Kremlin, though, and Gaddafi signed a considerable package with Russia in the early 1970s. However, even this package came with a pinch of salt when Russian specialists and advisors were for months not allowed to attend their workplaces in the military units after their arrival to Libya. It was an enigma at the time, but it then became more than clear that Gaddafi kept the door open for a setback in the relations with Moscow if the situation with the West (meaning the U.S.) changed to the positive.
Something like that happened during 2004–2006. By time the Soviet Union was long gone, Gaddafi made loud concessions, and Washington started afresh with Tripoli. Immediately, Gaddafi's contractual policies shifted in favor of the Western alternatives, like signing tremendous contracts with Italy. That was a clear sign of the times, coupled with the same old "game of options". When several meetings between Gaddafi and the new Russian leaders took place and a few agreements were signed, this served as source of optimism in the Kremlin. This came at a time when Russia started reassessing its position in the MENA region and was in the process of defining who is who vis à vis Moscow's newly-found ambitions. The new agreements signed between Moscow and Tripoli were perceived in Russia as a manifestation of the newly-found rapport with the rich North African country. Probably, this period, more than any time else, gave rise to the speculations about the "eternal friendship" between Gaddafi and Russia.
However, the enthusiasm was waning as it became increasingly evident that Gaddafi was more interested in the new acceptance from the United States and that Libya transited from the enfant terrible of global politics to the country welcomed in the diplomatic chambers of Europe and America. Evidently, by the time of the Security Council resolution of 2011 on Libya, Moscow's political elite became disinterested in Libya as a possible partner, which was the reason why Russia abstained from its right of veto.
Against this backdrop, Russia entered the years 2014–2015, heralding the country's expanded presence in the Middle East and the Mediterranean.
Facing Today's World
It has virtually become an article of faith that Russia has become overly aggressive in its foreign policy from that time on, creating a vacuum around itself and fostering many hostile elements in the West with crippling sanctions from the former "partners" being "displeased" by Russia's modus operandi. This is one way of looking at the issue. Let's try to adopt a different approach, one closer to Moscow's optics.
It all started in Ukraine and with the Crimea. After the 2013 Euromaidan and the ousting of President Yanukovitsh, there was a well-founded apprehension about Sevastopol's fate and the ill-disguised intentions of the new political elite in Kiev to turn this naval base over to NATO. Anyone with some experience in international politics could deduce this was a huge red line for Russia. With Sevastopol, Russia could lose its ability to operate in the Mediterranean and project its power to the Middle East. This aspect is strangely absent in the Western (and sometimes Eastern) discourse. Or, maybe, this is not that strange.
This fact was exacerbated by the intense anti-Russian campaign in the former Soviet Republics on the Western border. It genuinely hurt Russian feelings. We all remember the unbelievable amount of money Russia, then part of the Soviet Union, invested in these same republics, and this "post-factum animosity" went against all beliefs of the Russian people. This implies reactions among ordinary citizens to whom political elites in Moscow had to really pay attention.
The Yugoslavia crisis also raised another principal issue: when "they" do it, it has to be the struggle for democracy as half of Europe could be bombed amid happy dancing around the "equality campfire;" when "we" do it, they call it transgression, annexation and you name what. Unjust. Definitely unjust. And what would you call denying Russia its right of influence and its freedom of presence in the regions which Moscow considers its areas of interest while hailing the U.S. for doing the same? Discrimination. Definitely, discrimination.
Hence, the go-alone (China is out of account here) trajectory in the Middle East and beyond as well as the genuine belief that "our cause is just and we will prevail." Actually, this is not so different from the American discourse. The scale of confrontation between the two countries may well come as the result of this similarity.
A lot is said about the "ring of enemies" and the "motherland under siege" narrative, which allegedly mirrors the Kremlin's international policies and influences its Middle Eastern discourse. This is a dangerous misreading of the situation. This is an American narrative rather than a Kremlin narrative. As any counterproductive policy, it leads to Moscow exploiting this pressure and having a good response from the grassroots level. All attempts at depicting it otherwise are dangerous delusions that result in mistakes when formulating strategies.
As far as the 140 million people living in Russia are concerned, we have to account for a next-to-total support of the Kremlin's political course. This is what matters to decision-makers. The situation may gradually be changing now, but the inertia is still strong.
A Change of Mind
Now, if we put all this together as the basis for our analytical attempt, we might work out a better understanding of Russia's foreign policy approach to Libya and the Eastern Mediterranean, which is a crucial part of the nation's Southern track.
As mentioned before, Russia has lost interest in Libya for practical reasons. For some time, the country was considered a Western fiasco; and as such, it was apodictically left for the West to deal with. This is especially true for the period since 2015, when Syria has stolen all the available effort. The Syrian file left a lot of room for speculation. Many "specialists" posited that Russia entered Syria to make itself indispensable as a party to the regional mediation process and, which is much more exotic, to alleviate the Crimea fallout. Perhaps, nothing could be farther from the truth. Reasons for such argumentation are clear as there was a need to project the success of the U.S. sanctions policies and to show to the civilized world that the courageous stance of Washington and its allies against the Russian threat was a success. The result of this narrative was more than misleading. In fact, the Russian political elite, mainly oriented towards domestic reactions (remember the support for the PLO in the 1970s)[1], maintained that Moscow was not at all intimidated by Western activism. Contrary to this original plan, Moscow successfully used the anti-Russian campaign to its own ends, openly accusing former "partners" of inadequacy.
The decision to engage in the Syrian file was based on several factors, and none of them was truly perceived by the West. The first and the most important was terrorism. For Russia, Syria was too close to the borders for comfort to allow terrorist activities to go unimpeded. It was imperative not just to put an end to groups like ISIS and JN but to eliminate the most active terrorists physically so that they would not be able to return to their homeland. Following the disastrous invasion of Iraq in 2003, the United States was not trusted to do good. No doubt, the second reason was the support of the regime, and this is not to mean in in the sense "we like Assad, let him stay." This was rooted in discouraging the notion of forceful replacement of political rulers per se. The old adage stipulating "what was done by force would be undone by a greater force" was at the forefront of the reasoning. The third factor has, of course, to account for the military presence in the Mediterranean. To lose naval facilities that facilitate operations in the area was absolutely unacceptable, especially since the reasoning seemed sound—if the Americans have the right, then we also have the right. Hard to argue, isn't it? Then, there was also the display of loyalty to the long-time ally and the necessity of defending Orthodox Christians, bearing in mind that the discourse of Orthodoxy has been a significant part of the domestic political narrative.
However, the Syrian engagement served as a catalyst for the change of status towards Libya.
During the Syrian crisis and as a result of military successes (with occasional fiascos, for sure), the outlook on the Middle Eastern paradigm became more and more "militarized" in the sense that it started to look as though we could achieve by force more than we would achieve by word "in this neck of the woods". As a result, the military started replacing diplomats in a lot of venues. The argument was clear – there is still a lot of terrorist activity, so we need to be proactive.
With the tangible results in Syria, the Libyan option started to look more and more doable. However, there still was reluctance to engage on the state level. The position of the Kremlin was clear. As we do not know what will come as a result of the Libyan kaleidoscope, we will hedge our risks by talking to everybody without engaging on the part of anybody. If there were a private initiative, we would not interfere. This is plausible deniability which turned out to be not so convincing in the fall of 2019 as world news agencies readily tied the so-called Wagner to the Russian government. Still, it is not a state endeavor and should not be considered as such. At the end, it is definitely private and not very impressive.
During the initial period of official engagement in Syria and the unofficial one in Libya, Russia faced several challenges that it learned to cope with, except for that of Turkey. Ankara became active in the Middle East some time ago, recently arriving in Eastern Mediterranean. This was probably something new for the "front-line" Mediterranean countries of Europe, but not for Russia. Russia had to deal with Turkey through all its recorded history. Nothing changed in principle. It is still the interests of one country and the interests of the other. However, the context is different. Turkey remains a NATO member and, as such, enjoys the support of other member-states.[2] On the other hand, both countries enjoy certain levels of economic cooperation and are reluctant to sacrifice it, at least for now. There are even "optimistic" voices in Russia saying that Turkey is ready to leave NATO and cut relations with the U.S. to foster a new alliance with Russia. This is an interesting albeit unrealistic opinion.
In reality, the two countries have been dancing in close military proximity in Syria, now having to adjust to each other yet again over the frontline in Libya. Both countries have an impact on the U.S. involvement, both negatively, as in Syria (playing hoax on the Kurds and seeding discord in the tribal structure of the Levant), as well as positively, as in Libya (facilitating a new possible track to solution, however improbable it may look).
Still, Moscow appears to take a very cautious approach to the GNU, noting the new circumstances amid which Haftar finds himself. The closeness of Abdelhamid Dbeiba to Ankara is not a secret, while Haftar's reluctance to cede his domain to anybody is also known. It seems Moscow is waiting for the final outcome, hardly being optimistic of the election's prospects. If there are no elections, then the unity of the country is questionable and who is to say where the balance goes? The remark of Vershinin pronounced on the margins of the Berlin 2.0 that evacuation of foreign fighters from Libya should be approached cautiously, is telling.
Moscow's approach to Eastern Mediterranean is based on the new contextual reality. Mediterranean seems to be in transit from a Eurocentric to a Mideastern character. Recently, the leading Gulf nations have shown their keen interest in what is happening in the region. From Moscow's perspective, this means that the "liberal democratic" construct of the Mediterranean will increasingly be subjected to the stress-test by the "desert warrior" political routine. In this context, Russia feels more comfortable as a historically proven all-road political vehicle, capable of navigating traditional waters of no-man's land of the Middle East. It might be too optimistic but definitely not without merit. The region is changing, and Russia that replaced the shackles of the socialist ideology of the past with the potent weapon of traditional values feels itself capable of not only participating in this change but also of driving it.
From our partner RIAC
The Palestine Liberation Organization was considered a terrorist group, but for the Soviet people, they were freedom fighters worthy of international support. This legitimized the Kremlin's decision to approach Arafat. A similar thing is taking place now.
Mind NATO's position towards Turkish incursions into the Syrian territory in 2012 and 2013, where Rasmussen depicted Turkey as a suffering party.
The Future of The Quadrilateral Security Dialogue (the QUAD) Grouping Explained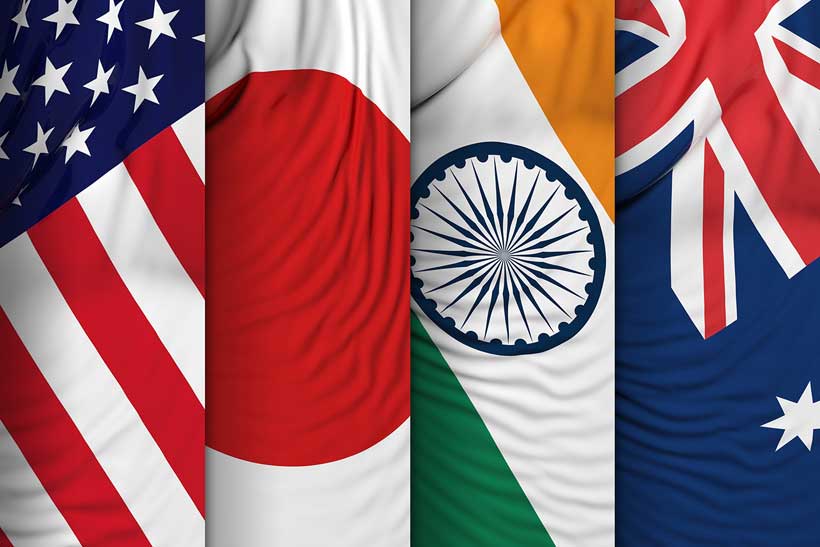 The Quadrilateral Security Dialogue (the Quad) comprises four counties, Australia, India, Japan, and the United States. It was founded in the year 2007 by Shinzo Abe, the prime minister of Japan. The initiation of the dialogue was supported by Dick Cheney and John Howard, the then USA vice president and the Prime Minister of Australia, respectively. Manmohan Singh, the then Prime Minister of India, also took part in the quad grouping initiation process (Gale & Shearer, 2018). The informal strategic dialogue was formed with a common objective of ensuring and supporting an open, free, and prosperous Indo-Pacific region through the minimization of China's influence. The paper's primary purpose is to discuss why the quadrilateral security dialogue is currently common on the news by describing the group's new activities that have attracted media attention.
Quad Nations and China
United States of America
Given the increasing influence of China in East Asia, United States sees the Quad Nations coalition as a chance to gain back its declining power in the Indo- Pacific. The nation describes Russia and China as tactical rivals in the strategy to promote National security.
Australia
The country is highly disturbed by China's growing interests in its politics, land, infrastructure, and influence on its learning institutions. Despite Australia being part of the quad grouping, the country has maintained its commitment to the partnership with China because of its high dependence on China for economic prosperity.
Japan
Japan has shown concerns about the territorial transgression of China in the region. However, the country cannot break its ties with China because the trade volume between the two nations is the key contributor to the growth of the Japanese economy. Therefore, the country is trying out ways to balance its territorial concerns and economic needs by preserving its relationship with China while at the same time joining the quad grouping.
India
The violation of international norms by China, especially by constructing military facilities in the South China Sea, affects India negatively. Considering China's critical role in India's economic development, the country has preserved its commitment to strategic autonomy to China despite being a member of the quad grouping.
Reasons Behind Quad's High Media Attention
Quad groping started attracting high media attention when it came back to life on November 12, 2017, by forming a quadrilateral coalition to counter the aggressive behavior of China in the Indo-Pacific region. The group held its first meeting after the rebirth one day before the ASEAN Summit, which was attended by officials from the Ministries of External Affairs of all member countries. Australia, Japan, and India issued alternate statements citing the Indo-Pacific as the central debate area. The group agreed to expand cooperation to maintain respect for international law and rule-based order in tactically vital regions (O'Neil & West, 2020). The countries agreed that an open, free, inclusive, and prosperous Indo-Pacific would positively impact the nations' interests in the area and those of the entire world. The officials also shared ideas on tackling common propagation linkages and terrorism affecting the region, among other discussions. They also shared views on the best ways to use present-day technology to enhance connectivity. The meeting attracted significant media attention and has activated close follow-up by different media stations of all the group's activities.
Director generals from the four countries of the Quad group met officially for the second time in 2018 after the dialogue was reinitiated. The officials discussed ways to meet their shared objectives in development and connectivity, humanitarian assistance, regional security, maritime corporation, and disaster relief. Another complementary meeting was again held between the Quad countries, where joint secretaries heading American and East Asia were the attendees. The participants reassured their support for an open, accessible, inclusive, and prosperous Indo-Pacific Region. Members again confirmed their joint commitment, built on shared principles and values to ensure order in the Indo-Pacific.
News about the Quad grouping was at its peak from March 12, 2021, after the US, Australia, India, and Japan conducted a virtual meeting because of the current Coronavirus pandemic. The leaders agreed to work as a unit to stop China's rising influence in the Indo-Pacific and tackle the Covid pandemic. Quad members spoke about their plans to function alongside the World Health Organization to make Covid-19 vaccines available to more than one billion people in the Indi-Pacific region. With the Australian logistics competence, the United States' technology, Indian manufacturing, and the Japanese financing, Quad members are confident with their plan of creating as many Covid-19 vaccines as possible to supply among their target population (Satake, 2020). Besides China's aggressiveness and Covid-19, the members also agreed to work together to address climate change. The group also reiterated its assurance to denuclearize North Korea and encouraged the restoration of the democratic election of public members to the government in Myanmar.
Conclusion
The member states started the quad grouping, majorly to protect their territories and limit China's dominance. The group has grown to attract significant attention, not only in the media but also worldwide. Besides the limitation of China's reign, the quadrilateral security dialogue has and is still making substantial contributions in tackling the current Coronavirus pandemic, which has had devastating impacts worldwide. The group has turned out to advocate for a more peaceful, free, prosperous, and inclusive world.
United States- Iran Nuclear Crises: Portents for Israel
ABSTRACT: In response to former US President Donald J. Trump's unilateral American withdrawal from the July 2015 Iran Pact (JCPOA),[1] the Islamic Republic of Iran accelerated and reinvigorated its military nuclear program. More recently, nuclear talks between the two countries were re-started by President Joseph Biden, but are expected to be placed on hold until after Iran's new hardline president, Ebrahem Raisi, is sworn into office. Also plausible is that negotiations could break down altogether and that a precipitating event, either foreseen or unforeseen, would spark an Iran-US nuclear crisis. Such a crisis could quickly involve Israel.[2]
"Deterrence is concerned with influencing the choices that another party will make, and doing it by influencing his expectations of how we will behave."-Thomas C. Schelling, The Strategy of Conflict (1960)
Background of the problem
For many years, Israel's military and intelligence chiefs had hoped for an American strike against Iran; ideally, a comprehensive preemptive attack on Iran's pertinent nuclear infrastructures.[3] Nonetheless, any plausible US-Iran nuclear crisis could have become more costly than gainful for Israel. Any such crisis could have caused Jerusalem to recall too late the succinct maxim: "Be careful what you wish for."
Explanations are required. If US President Joseph Biden should ever become embroiled in a major security crisis with Iran, all immediately relevant policy issues would center on strategy and tactics, not on considerations of law. These inherently complex policy issues could quickly become overlapping and interpenetrating. At times, therefore, whether witting or unwitting, Washington's operational crisis decisions could sometimes prove jurisprudentially determinative.
Depending upon which country was to strike first in any belligerent US-Iran context, American military actions could become either law-violating or law-enforcing. Similar legal questions would follow from the particular types of weapons used and from the expressed regard or disregard shown for non-combatant (civilian) populations.
"Everything is simple in war," says Carl von Clausewitz in On War, "but even the simplest thing is very difficult." None of these legal questions are meant to suggest that a first use of force would be ipso facto illegal. This is the case because customary international law (defined at Article 38 of the UN's Statute of the International Court of Justice[4]) expressly allows for certain residual resort to "anticipatory self-defense."[5] Following The Caroline (1837), international law need never be taken to represent some form or other of "suicide pact."[6]
Intersecting jurisprudential and strategic considerations
There is more. International law is always a part of each individual state's corpus of domestic or municipal law, an authoritative incorporation most immediately conspicuous for the United States at Article 6 of the US Constitution (the Supremacy Clause) and in various US Supreme Court decisions, especially the Paquete Habana (1900) and Tel Oren v. Libyan Arab Republic (1981).[7]
Certain antecedent questions now also arise. What, precisely, does US President Joseph Biden have in mind in preparing suitably for a prospective nuclear crisis or armed conflict with Iran? What would this presumptive American expectation mean for the derivative safety of US ally Israel?[8] What related benefits, if any, might be expected from the Trump-brokered Abraham Accords?[9] And what are the precise definitional parameters of "nuclear crisis"?
This last question has an easy but still-complicating answer. Any US crisis with Iran must be considered per se "nuclear," even if it takes place before that country becomes an operationally capable atomic power. Still, any crisis with Iran would become more demonstrably and dramatically nuclear where both states were "Members of the Nuclear Club." This is the case even though a substantial and protracted nuclear force asymmetry would clearly obtain between Washington and Tehran.
Once a genuine conflict was plainly underway between Iran and the United States,[10] full-scale military engagements could quickly or incrementally involve Israeli armed forces (IDF). In certain manifestly worst case scenarios, these clashes would involve unconventional weapons, and directly impact Israel's vulnerable civilian populations.[11] The most fearful narratives here would obviously be ones that involve nuclear ordnance.[12]
In anticipation, capable strategic and jurisprudential thinking is required in both Washington and Jerusalem. Even during a potentially fleeting time in which Israel would remain the only regional nuclear power, an American war with Iran could elicit Israeli nuclear deterrence threats[13] and/or Israeli nuclear reprisals.[14] For Israel, such threats or reprisals could be entirely rational[15]and fully legal.[16]
Plausible scenarios
How might such dissembling circumstances emerge? As a "bolt-from-the-blue" spasm of violence, or in less blatant stages; that is, in variously difficult-to- fathom increments of harm? Most credibly, a "collateral war" would come to Israel as a catastrophic fait accompli, a multi-pronged belligerency wherein even the most comprehensive security preparations in Jerusalem/Tel-Aviv would quite suddenly prove inadequate. What then? What would likely happen next, operationally and legally?
The only meaningful answer to such inherently problematic queries must include aptly candid affirmations of strategic unpredictability. In science and mathematics, accurate statements of probability must always be drawn from the discernible frequency of relevant past events. In those increasingly dense strategic matters currently dangling before America, Iran and Israel,[17] there are no relevant past events.
Matters here are made even more bewildering by already ongoing non-nuclear problems in the Middle East. Most urgent of these problems is the increasingly dramatic shortage of water and the growing uncertainty of electrical power. Though military strategists might not ordinarily factor in such "non-military" difficulties as primary to nuclear war avoidance, national security decision-making is ultimately carried out by flesh and blood human beings. Prima facie, such kindred creatures of biology will always be affected by the most elementary primal needs and expectations.
Strategically, there is more here to ponder. For the moment, at least, Joe Biden has identified no specific military doctrine for tangible application in this theatre. Once confronted with a "no doctrine" war launched against Iran by an American president, whether as defensive first-strike or as retaliation (both could conceivably be lawful), Israel's senior strategists would need to fashion their own corresponding doctrines – more-or-less ex nihilo.
How exactly should Jerusalem/Tel Aviv accurately anticipate Iranian or Iranian-surrogate attacks on Israeli targets? As an antecedent question, how should these decision-makers and planners best identify which of these vulnerable targets would be presumptively "high value"? At some point, such an Intelligence Community/Ministry of Defense (MOD) operational challenge could include the small defending country's Dimona nuclear reactor. In 1991 and 2014, the ultrasensitive facility at Dimona already came under rocket and missile attack from separate Iraqi and Hamas aggressions.[18]
In any upcoming conflict with the United States, Tehran would likely regard direct attacks upon selected Israeli targets as proper "retaliations" for American strikes. This is the case whether these strikes were launched as an initial move of war against the Islamic Republic and its surrogates or a variously foreseeable response to Iranian first strikes. Potentially, Iranian forces could gain operational access to hypersonic rockets or missiles. Should such access be obtained, Israel's critical capacity to shoot down hypersonic glide vehicles (HGVs) and/or hypersonic cruise missiles (HCMs) might prove sorely inadequate.
What would happen next? In logical response, considerations of law and justice would likely prove anterior to visceral considerations of victory and survival. Among other things, could mean military escalations that are anything but gainful or "cost-effective."
When pertinent options are examined dialectically, as they should, it could be to Tehran's perceived advantage to drag Israel into any US or Iran-initiated war and to do this ostentatiously. Striking the US homeland would prove vastly more difficult for Iran, and also more likely elicit a range of intolerable reprisals. On its face, any US-initiated war against Iran would strengthen Saudi military power specifically and Sunni Arab military power in general. While such an expected strengthening might now seem less worrisome to Israel than expanding Iranian militarization, this delicate strategic calculus could reverse very quickly.
Israeli planners would need to investigate a number of previously disregarded military options against specific Sunni Arab adversaries, including legal questions of jus ad bellum and jus in bello.[19]Simultaneously, these planners would need to calculate prospective Iranian activation of Hezbollah and Houthi militias against not only Israel directly, but also Saudi Arabia and/or the United Arab Emirates. Regarding direct Shiite militia attacks against Israel, the main threat would be to Israeli shipping in the Red Sea. At this point, the Houthis maintain a real but still-limited capacity to target Israel from Yemen with long-range missiles and drones. Earlier, Iran played a major role in enabling Gaza terror factions (mostly Hamas) to produce usable weapons; today, the Islamic Republic is exporting valuable technological know-how to expanding Houthi forces in Yemen.
A complex geopolitics
Iran is seeking to become a regional hegemon in a manifestly "opaque" theater of conflict. Over time, both the United States and Israel must do what is possible to curb further Iranian activation of Houthi and Hezbollah militias. Assuredly, once Iran is able to cross the nuclear military threshold, all such inhibiting tactics would become expansively dangerous. Unless the United States approaches these fragmenting sources of Middle East instability in a more suitably coherent fashion, Israel is likely to be left "holding the bag." Now, of course, in the summer of 2021, American forces are rapidly abandoning Afghanistan to assorted and diverse Jihadi forces. A geo-strategic vacuum will emerge to the palpable detriment of Israel.
It's a very delicate regional balance of power. For years, a Salafi/Deobandi (Sunni) Crescent has emerged to challenge the Shiite Crescent. The objective is an attempt by Al Qaeda and other Salafi/Deobandi Islamist groups to counter the Crescent created by Iraq, Syria and Lebanon.
Unambiguously, Iraq, Syria and Lebanon are in a state of near-collapse – a result especially of severe water and electrical shortages coupled with pandemic disease. "Salafi Crescent" reflects Sunni ambition to establish a caliphate controlling much of the Middle East and forming the Islamic State "from Diyala (in eastern Iraq) to Beirut." Al-Qaeda's hatred of the Shiites was already expressed by its founder Abu Musab al-Zarqawi, who called them "the insurmountable obstacle, the prowling serpent…the enemy lying in wait, and ordered his followers to 'fight them.'"
Should the Biden-led US military ever find itself in a two-front or multi-front war – a complex conflict wherein American forces are battling in Asia (North Korea) and the Middle East simultaneously – Israel could find itself fighting on its own. For such an exceptionally complicating scenario to be suitably appreciated, Israeli strategists would first need to bear in mind that any "whole" of tangible deteriorations caused by multi-front engagements could effectively exceed the sum of constituent "parts."[20]
This means, among other things, that Israeli strategists and planners will need to remain persistently sensitive to all credible synergies. It must go without saying that the former Trump administration (ushered into power at the 2016 Republican National Convention by Keynote "Speaker" Duck Dynasty) was unaccustomed to any such challenging intellectual calculations. For those now-discarded planners in Washington, complex strategic decisions could best be extrapolated from the commerce-driven worlds of real-estate manipulation and casino gambling.
If only the United States had earlier paid attention to Friedrich Nietzsche's simple warning in Zarathustra: "Do not seek the Higher Man at the marketplace."
Presently, there is still time for Washington and Jerusalem to recall certain timeless insights of Prussian strategist Carl von Clausewitz. For the author of On War, the determining standard of reasonableness in any military contest must always lie in presumed political outcomes. For a state to get caught up in war – any war – without adequately clear political expectations is always a mistake. Here, both Washington and Jerusalem must concern themselves not only with Iranian power projections and expansions, but also with the perilously uncertain prospects of the "Sunni Crescent," an array of more-or-less organized Sunni forces intending to combat Shiite adventurism. If this were not complicated enough, planners in Washington and Jerusalem/Tel Aviv must also consider various believable intersections or synergies, consideration's that will inevitably pose a staggering measure of intellectual challenge.
Recent regional histories
For more years than we may care to recollect, futile American wars remained underway in Iraq and Afghanistan. In short time, for Iraqis and Afghans, their once-hoped-for oases of regional stability will regress to what seventeenth-century English philosopher Thomas Hobbes would have called a "war of all against all."[21] At best, what eventually unravels in these severely fractured countries will be no worse than if these wars had never even been fought. At worst, what unravels will be substantially more unstable.
Either way, what is now unraveling in Iraq and Afghan will never represent a welcome political outcome.
Shouldn't we all now inquire, accordingly: Did Americans and others sacrifice so much blood and treasure to bring about, at best, status quo ante bellum?
Over the years, with the now obvious exception of North Korea,[22] America's principal doctrinal enemy has changed, dramatically, from "communism" to "Islamism" or "Jihadism." This time, however, the ideological adversary is palpable, real and not merely presumptive. This time it is also a formidable and finely-textured foe, one that requires continuously serious analytic study, not just ad hoc responses or seat-of-the-pants US presidential eruptions. There are times, perhaps, when real or contrived bellicosity can serve American national security policy objectives (e.g., the possible deterrence benefit of pretended irrationality) and objectives of certain close allies (e.g., Israel), but not where it is detached from previously-constructed theoretical foundations.[23]
There is more. The Jihadist enemy of America and Israel remains a foe that can never be fully defeated, at least not in any measurable final sense. This determined enemy will not be immobilized on any of the more usual or traditional military battlefields.[24] Never.
If at some point a particular Jihadi adversary has seemingly been vanquished by US military forces in one country or another, it will likely re-group and reappear elsewhere. After Iraq, after Afghanistan, even after Syria (which now dissembles with Russian support of a genocidal regime that has always been hostile to Israel), America will face resurgent adversaries in hard-to-manage and geographically far-flung places. These locales include Sudan, Mali, Nigeria, Yemen, Somalia, Egypt, and perhaps even Bangladesh or (in the future) "Palestine."[25] In the end, the "final" resolution to various conflicts will largely be a matter of will.[26]
During the Trump Era in the Middle East, an American president and his National Security Advisor sounded alarm bells over Iran – and this after the United States, not Iran, withdrew from an international legal agreement that was less than perfect,[27] but (reasonably) better than nothing at all.[28]
Preemption and anticipatory self-defense
When all these intersecting factors are taken into suitable intellectual account, there remains a residual argument (one that might quickly be anticipated in Israel) that a US-generated war with Iran would de facto amount to an anti-nuclear preemption[29] or to some similarly purposeful act of "anticipatory self-defense."[30] Here, and with little reasonable doubt, the American war would be regarded as "cost-effective" or "net gainful" in Jerusalem/Tel Aviv.[31] This visceral assessment, however, could become a matter of what Sigmund Freud called "wish fulfillment" rather than of one of any serious strategic assessment (risks and benefits).
Realistically, there is only a tiny likelihood that American bombs and missiles would soon be adequately targeted on widely multiplied/hardened/dispersed Iranian nuclear infrastructures.
In reality, at least for the present, any US war against Iran would be contrary to Israel's core national security interests and obligations. Glib reassurances to the contrary from Jerusalem/Tel Aviv or Washington (or both) could be prospectively lethal for Israel. Though assuredly genuine, the attack threat from Iran should never be taken as an opening for crudely simplifying political rhetoric. Instead, this threat should be assessed and calibrated dialectically,[32] as reliably as possible according to all normally verifiable standards of enemy force posture estimations.[33]
If, at any point during crisis bargaining between Iran, Hezbollah, Israel and the United States, one side or the other should place too great a value on achieving "escalation dominance"[34] and too little value on parallel considerations of national safety, the expanding conflict could promptly turn "out of control." Any such consequential deterioration would be especially or even uniquely worrisome if Israel threatened or launched some of its presumptive nuclear forces. This is the case irrespective of any promised strategic support for Israel from the United States.
The importance of doctrine
In sum, if Israel should look again to the United States for seamlessly capable geo-strategic leadership, it could be taking unprecedented national security risks. At a minimum, Israel has the incontestable right (and also the obligation – to its own citizens) to expect fully decipherable expressions of US military doctrine. Going forward, unless it should insist more firmly upon maintaining this critical right, Israel could then have to face starkly injurious security outcomes. The considered prospect of a fully-sovereign Palestinian state would need to be taken here as a significant "intervening variable."[35]
Every state's first responsibility is to assure and maintain citizen protection; citizen allegiance is therefore contingent upon such valid assurances. Most famous in pertinent political theory is the classic statement of seventeenth-century Englishman Thomas Hobbes, expressed at Chapter XXI of his Leviathan: "The obligation of subjects to the sovereign is understood to last so long, and no longer, then the power lasteth, by which he is able to protect them." Later, Thomas Jefferson, third president of the United States, described this obligation as binding upon all the nations. Writing his Opinion on the French Treaties (April 28, 1793), Jefferson opined: "The nation itself, bound necessarily to whatever it's preservation and safety require, cannot enter into engagements contrary to its indispensable obligations."[36]
There is more. In law, every state has an enduring obligation to oppose and (if necessary) suitably punish aggression. Punishment of aggression is a longstanding peremptory expectation of international criminal law. The foundational principle of Nullum crimen sine poena, "No crime without a punishment," has its origins in the Code of Hammurabi (c. 1728 – 1686 B.C.E.); the Laws of Eshnunna (c. 2000 B.C.E.); the even earlier Code of Ur-Nammu (c. 2100 B.C.E.) and the law of exact retaliation, or Lex Talionis, which ispresented in three separate passages of the Jewish Torah.
For Israel, a uniformly continuous concern with certain basic jurisprudential principles could advance its legal as well as strategic objectives, most plainly those that jurist William Blackstone had identified in his Commentaries on the Law of England (Book 4 "Of Public Wrongs"): "Each state is expected, perpetually," noted Blackstone, "to aid and enforce the law of nations, as part of the common law, by inflicting an adequate punishment upon the offenses against that universal law."
Such ideas did not arise in a theoretic or intellectual vacuum. Ultimately, Blackstone is indebted to Cicero's description of natural law in The Republic: "True law is right reason, harmonious with nature, diffused among all, constant, eternal; a law which calls to duty by its commands and restrains from evil by its prohibitions…." Natural law is never an adornment. Always, it lies at the very heart of United States Constitutional law and of all that conceivably derives therefrom.
Just wars and cumulative complexities
As for "just wars" pertaining to both jus ad bellum and jus in bello criteria, Hugo Grotius wrote that they "arise from our love of the innocent."[37] Though it is most unlikely that such legal high-mindedness could ever factor into US President Joe Biden's possible decision to encourage or initiate a war against Iran, it still remains a promising standard for Israel to bear continuously in mind. This will prove especially good advice if American military actions against Iran should sometime prod the Islamic Republic to "retaliate" against Israel.
More than ever before, the Middle East has become a complicated "neighborhood." To wit, overlapping Arab-Israel and Iran-Israel hostilities are rapidly changing variants of Sunni-Shia rivalries, including an irremediably core geo-political struggle between "Shia Crescent" and Sunni-Crescent (Salafi/Deobandi) countries. While Israel and the United States continue to have overriding common strategic interests, it remains altogether likely that certain upcoming resorts to military force by Washington could "tie the hands" of relevant policy-makers in Jerusalem. Whether witting or unwitting, any such American "tying" could sometime place Israel in existential peril,[38] This would become markedly true as soon as Iran had crossed the nuclear weapons threshold.
What is to be done? Above all, the United States must take care to keep Israel "in the loop" wherever possible and Israel must make a reciprocal effort to stay fully informed about America's regional foreign policy orientations. In this connection, greater subtlety will have to be applied by Israeli assessments than was displayed during the Trump Era. As a still-inconspicuous example, the net effect of the Trump-brokered Abraham Accords could prove sorely negative for Israel. Though these agreements might first have seemed gainful to Israel prima facie, they actually have no tangible bearing on Israel's core security problems. Simultaneously, the Abraham Accords antagonize and marginalize Iran, a destabilizing effect that can't possibly prove helpful to Israel.
Going forward, the United States will inevitably find itself embroiled in various crisis relationships with Iran. To best protect itself from any unwanted collateral consequences, US ally Israel should continue to refine its intellect-based policies of deterrence, both conventional and nuclear.[39] More precisely, to optimize its presumed nuclear deterrent, Jerusalem/Tel Aviv should finally confront the rapidly disappearing advantages of "nuclear ambiguity,"[40] thereby acknowledging that the Jewish state is now able to calibrate a nuclear response to any particular level of military threat.[41] Prima facie, such an acknowledgment would serve not only Israel's strategic obligations, but its complementary jurisprudential ones as well.[42]
For Israel, in all pertinent matters, strategy and law must go hand in hand. Yet, even under optimal conditions regarding stable nuclear deterrence, the United States could suddenly find itself in extremis atomicum. The very same steps needed to maximize a credible American deterrence posture could simultaneously enlarge the likelihood of inadvertent nuclear war.[43] For Israel and the United States, one core imperative ought never be minimized or disregarded:
"Be careful what you wish for!"
---
[1] See https://www.atlanticcouncil.org/in-depth-research-reports/issue-brief/trumps-jcpoa-withdrawal-two-years-on-maximum-pressure-minimum-outcomes/
[2] On deterring a prospectively nuclear Iran, see Louis René Beres and General John T. Chain, "Could Israel Safely deter a Nuclear Iran? The Atlantic, August 2012; Professor Louis René Beres and General John T. Chain, "Israel; and Iran at the Eleventh Hour," Oxford University Press (OUP Blog), February 23, 2012; and Beres/Chain: Israel: https://besacenter.org/living-iran-israels-strategic-imperative-2/ General Jack Chain (USAF) was Commander-in-Chief, U.S. Strategic Air Command (CINCSAC), from 1986 to 1991.
[3]From the standpoint of international law, it is always necessary to distinguish preemptive attacks from "preventive ones." Preemption is a military strategy of striking an enemy first in the expectation that the only alternative is to be struck first oneself. A preemptive attack is launched by a state that believes enemy forces are about to attack. A preventive attack is launched not out of genuine concern about "imminent" hostilities, but rather for fear of a longer-term deterioration in a pertinent military balance. Hence, in a preemptive attack, the length of time by which the enemy's action is anticipated is very short, while in a preventive strike the interval is considerably longer. A problem for Israel, in this regard, is not only the practical difficulty of determining imminence, but also that delaying a defensive strike until appropriately ascertained imminence is acknowledged, could prove fatal.
[4] See: https://www.icj-cij.org/en/statute
[5] For early scholarly examinations of anticipatory self-defense, by this author, and with particular reference to Israel, see: Louis René Beres, "Preserving the Third Temple: Israel's Right of Anticipatory Self-Defense Under International Law," Vanderbilt Journal of Transnational Law, Vol. 26, No. 1, April 1993, pp. 111- 148; Louis René Beres, "After the Gulf War: Israel, Preemption and Anticipatory Self-Defense," Houston Journal of International Law, Vol. 13, No. 2, Spring 1991, pp. 259 – 280; and Louis René Beres, "Striking `First': Israel's Post-Gulf War Options Under International Law," Loyola of Los Angeles International and Comparative Law Journal Vol. 14, Nov. 1991, pp. 1 – 24.
[6] The obvious Israeli precedents for any preemptive moves would be Operation Opera directed against the Osiraq (Iraqi) nuclear reactor on June 7, 1981, and, later (though lesser known) Operation Orchard, against Syria on September 6, 2007. In April 2011, the U.N.'s International Atomic Energy Agency (IAEA) confirmed that the bombed Syrian site in the Deir ez-Zoe region of Syria had indeed been a developing nuclear reactor. Both preemptions were arguably lawful assertions of Israel's "Begin Doctrine."
[7]See: https://law.justia.com/cases/federal/district-courts/FSupp/517/542/2386834/
[8] Regarding specific effects of US nuclear strategy on security matters in the Middle East, by this author, see: Louis René Beres: https://besacenter.org/wp-content/uploads/2019/07/162-MONOGRAPH-Beres-Israeli-Nuclear-Deterrence-CORRECTED-NEW.pdf
[9] See https://www.state.gov/the-abraham-accords/ Also to be considered as complementary to these agreements are the Israel-Sudan Normalization Agreement (October 23, 2020) and the Israel-Morocco Normalization Agreement (December 10, 2020).
[10] Under international law, the question of whether or not a condition of war actually exists between states is often left unclear. Traditionally, a "formal" war was said to exist only after a state had issued a formal declaration of war. The Hague Convention III codified this position in 1907. This Convention provided that hostilities must not commence without "previous and explicit warning" in the form of a declaration of war or an ultimatum. See Hague Convention III on the Opening of Hostilities, Oct. 18, 1907, art. 1, 36 Stat. 2277, 205 Consol. T.S. 263. Presently, a declaration of war could be tantamount to a declaration of criminality because international law prohibits "aggression." See Treaty Providing for the Renunciation of War as an Instrument of National Policy, Aug. 27, 1948, art. 1, 46 Stat. 2343, 94 L.N.T.S. 57 (also called Pact of Paris or Kellogg-Briand Pact); Nuremberg Judgment, 1 I.M.T. Trial of the Major War Criminals 171 (1947), portions reprinted in Burns H. Weston, et. al., INTERNATIONAL LAW AND WORLD ORDER 148, 159 (1980); U.N. Charter, art. 2(4). A state may compromise its own legal position by announcing formal declarations of war. It follows that a state of belligerency may exist without formal declarations, but only if there exists an armed conflict between two or more states and/or at least one of these states considers itself "at war."
[11] Israel's anti-missile defense shield has four overlapping layers: The Iron Dome system for intercepting short-range rockets; David's Sling for medium-range rockets; Arrow-2 against intermediate-range ballistic missiles; and Arrow-3 for deployment against ICBM's and (potentially) satellites.
[12] On the probable consequences of nuclear war fighting by this author, see: Louis René Beres, Surviving Amid Chaos: Israel's Nuclear Strategy (Rowman & Littlefield, 2016; 2nd. ed., 2018); Louis René Beres, Apocalypse: Nuclear Catastrophe in World Politics (Chicago: University of Chicago Press, 1980); Louis René Beres, Mimicking Sisyphus: America's Countervailing Nuclear Strategy (Lexington MA: Lexington Books, 1983); Louis René Beres, Reason and Realpolitik: US Foreign Policy and World Order (Lexington MA; Lexington Books, 1984); and Louis René Beres, ed., Security or Armageddon: Israel's Nuclear Strategy (Lexington MA: Lexington Books, 1986).
[13] Israel's presumptive nuclear deterrence posture depends upon several separate but still-intersecting factors. Most important are the country's significant weapons, infrastructures and missile defense capabilities. Less conspicuously urgent, but still important, are the defining structures of world politics. These structures include the fundamentally anarchic system created after the 1648 Peace of Westphalia ("The State System") and also (though plainly more transient or temporary) US-Russian superpower rivalry. The carefully detailed essay that follows focuses critically-needed attention on the latter set of explanatory factors, one associated with "Cold War II." To plan ahead optimally, Israel's designated strategists should pay increasing attention to this particular expression of geo-political "context." These strategists will also have to look more closely than usual within pertinent decision-making structures of the United States. This is because (1) America is experiencing steadily expanding levels of intra-national cultural incoherence, epidemic and disorder, and (2) such levels will have major inter-national implications.
[14] The legal problem of reprisal as a permissible rationale for the use of force by states is identified and explained in the U.N. Declaration of Principles of International Law Concerning Friendly Relations and Co-operation among States (1970) (https://cil.nus.edu.sg/wp-content/uploads/formidable/18/1970-Declaration-on-Principles-of-International-Law-Concerning-Friendly-Relations.pdf) Additionally, a possible prohibition of reprisals is deducible from the broad regulation of force expressed in the UN Charter at Article 2(4); the obligation to settle disputes peacefully at Article 2(3); and the general limiting of permissible force (codified and customary) by states to necessary self-defense.
[15] In authoritative studies of world politics, rationality and irrationality have taken on very precise meanings. A state is presumed to be rational to the extent that its leadership always values national survival more highly than any other conceivable preference or combination of preferences. Conversely, an irrational state is one that would not always display such a markedly specific preference ordering. On expressly pragmatic or operational grounds, ascertaining whether a particular state adversary such as Iran would be rational or irrational could easily become an overwhelmingly daunting task.
[16] No state on earth, including Israel, is under any per se legal obligation to renounce access to nuclear weapons; in certain distinctly residual circumstances, moreover, even the actual resort to such weapons could be presumed lawful. See generally The Legality of the Threat or Use of Force of Nuclear Weapons, Advisory Opinion, 1997 I.C.J. (July 8). The final paragraph of this Opinion, concludes, inter alia: "The threat or use of nuclear weapons would generally be contrary to the rules of international law applicable in armed conflict, and in particular the principles and rules of humanitarian law. However, in view of the current state of international law, and of the elements of fact at its disposal, the Court cannot conclude definitively whether the threat or use of nuclear weapons would be lawful or unlawful in an extreme circumstance of self-defense, in which the very survival of a State would be at stake."
[17] "Everything is very simple in war," says Clausewitz, in his classical discussion of "friction" in On War, "but the simplest thing is difficult." Herein, this concept refers to the unpredictable effects of errors in knowledge and information concerning intra-Israel (IDF/MOD) strategic uncertainties; on Israeli and Iranian under-estimations or over-estimations of relative power position; and on the unalterably vast and largely irremediable differences between theories of deterrence, and enemy intent "as it actually is." See: Carl von Clausewitz, "Uber das Leben und den Charakter von Scharnhorst," Historisch-politische Zeitschrift, 1 (1832); cited in Barry D. Watts, Clausewitzian Friction and Future War, McNair Paper No. 52, October, 1996, Institute for National Strategic Studies, National Defense University Washington, D.C. p. 9.
[18] For the crime of aggression under international law, see: Resolution on the Definition of Aggression, adopted by the UN General Assembly, Dec. 14, 1974. U.N.G.A. Res. 3314 (XXIX), 29 UN GAOR, Supp (No. 31), 142, UN Doc A/9631 (1975) reprinted in 13 I.L.M., 710 (1974).
[19] In law, states must judge every use of force twice: once with regard to the underlying right to wage war (jus ad bellum) and once with regard to the means used in actually conducting war (jus in bello). Following the Kellogg-Briand Pact of 1928 and the United Nations Charter, there can be absolutely no right to aggressive war. However, the long-standing customary right of post-attack self-defense remains codified at Article 51 of the UN Charter. Similarly, subject to conformance, inter alia, with jus in bello criteria, certain instances of humanitarian intervention and collective security operations may also be consistent with jus ad bellum. The law of war, the rules of jus in bello, comprise: (1) laws on weapons; (2) laws on warfare; and (3) humanitarian rules. Codified primarily at The Hague and Geneva Conventions, these rules attempt to bring discrimination, proportionality and military necessity into all belligerent calculations.
[20] See, by this author: Louis René Beres: https://harvardnsj.org/2015/06/core-synergies-in-israels-strategic-planning-when-the-adversarial-whole-is-greater-than-the-sum-of-its-parts/
[21] Apropos of Hobbes' argument that the state of nature is worse among individuals than among states, the philosopher Spinoza suggested that "…a commonwealth can guard itself against being subjugated by another, as a man in the state of nature cannot do." See: A.G. Wernham, ed., The Political Works, Tractatus Politicus, iii, II; Clarendon Press, 1958, p. 295.
[22] Here it also ought to be recalled that North Korea once helped Syria build a nuclear reactor, the same facility that was later destroyed by Israel in its Operation Orchard, on September 6, 2007. Unlike earlier Operation Opera (June 7, 1981) this preemptive attack, in the Deir ez-Zor region, was presumptively a second expression of the so-called "Begin Doctrine." It also illustrated, because of the North Korea-Syria connection, a wider globalthreat to Israel in particular.
[23] At the same time, we cannot be allowed to forget that theoretical fruitfulness must be achieved at some more-or-less tangible cost of "dehumanization." As Goethe reminds us is Urfaust, the original Faust fragment: "All theory, dear friend, is grey, And the golden tree of life is green." Translated here by the author, from the German: "Grau, theurer Freund, ist alle Theorie, Und grun des Lebens goldner Baum."
[24] Under international law, terrorist movements (of which Jihadist groups are a current manifestation) are always Hostes humani generis, or "Common enemies of mankind." See: Research in International Law: Draft Convention on Jurisdiction with Respect to Crime, 29 AM J. INT'L L. (Supp 1935) 435, 566 (quoting King marsh (1615), 3 Bulstr. 27, 81 Eng. Rep 23 (1615) ("a pirate est Hostes humani generis")).
[25] See, by this author: Louis René Beres: https://www.jurist.org/commentary/2017/07/louis-beres-palestine-fiction/
For earlier and original writings by this author on the prospective impact of a Palestinian state on Israeli nuclear deterrence and Israeli nuclear strategy, see: Louis René Beres, "Security Threats and Effective Remedies: Israel's Strategic, Tactical and Legal Options," Ariel Center for Policy Research (Israel), ACPR Policy Paper No. 102, April 2000, 110 pp; Louis René Beres, "After the `Peace Process:' Israel, Palestine, and Regional Nuclear War," DICKINSON JOURNAL OF INTERNATIONAL LAW, Vol. 15, No. 2., Winter 1997, pp. 301-335; Louis René Beres, "Limits of Nuclear Deterrence: The Strategic Risks and Dangers to Israel of False Hope," ARMED FORCES AND SOCIETY, Vol. 23., No. 4., Summer 1997, pp. 539-568; Louis René Beres, "Getting Beyond Nuclear Deterrence: Israel, Intelligence and False Hope," INTERNATIONAL JOURNAL OF INTELLIGENCE AND COUNTERINTELLIGENCE, Vol. 10., No. 1., Spring 1997, pp. 75-90; Louis René Beres, "On Living in a Bad Neighborhood: The Informed Argument for Israeli Nuclear Weapons," POLITICAL CROSSROADS, Vol. 5., Nos. 1/2, 1997, pp. 143-157; Louis René Beres, "Facing the Apocalypse: Israel and the `Peace Process,'" BTZEDEK: THE JOURNAL OF RESPONSIBLE JEWISH COMMENTARY (Israel), Vol. 1., No. 3., Fall/Winter 1997, pp. 32-35; Louis René Beres and (Ambassador) Zalman Shoval, "Why Golan Demilitarization Would Not Work," STRATEGIC REVIEW, Vol. XXIV, No. 1., Winter 1996, pp. 75-76; Louis René Beres, "Implications of a Palestinian State for Israeli Security and Nuclear War: A Jurisprudential Assessment," DICKINSON JOURNAL OF INTERNATIONAL LAW, Vol. 17., No. 2., 1999, pp. 229-286; Louis René Beres, "A Palestinian State and Israel's Nuclear Strategy," CROSSROADS: AN INTERNATIONAL SOCIO-POLITICAL JOURNAL, No. 31, 1991, pp. 97-104; Louis René Beres, "The Question of Palestine and Israel's Nuclear Strategy," THE POLITICAL QUARTERLY, Vol. 62, No. 4., October-December 1991, pp. 451-460; Louis René Beres, "Israel, Palestine and Regional Nuclear War," BULLETIN OF PEACE PROPOSALS, Vol. 22., No. 2., June 1991, pp. 227-234; Louis René Beres, "A Palestinian State: Implications for Israel's Security and the Possibility of Nuclear War," BULLETIN OF THE JERUSALEM INSTITUTE FOR WESTERN DEFENCE (Israel), Vol. 4., Bulletin No, 3., October 1991, pp. 3-10; Louis René Beres, ISRAELI SECURITY AND NUCLEAR WEAPONS, PSIS Occasional Papers, No. 1/1990, Graduate Institute of International Studies, Geneva, Switzerland, 40 pp; and Louis René Beres, "After the Gulf War: Israel, Palestine and the Risk of Nuclear War in the Middle East," STRATEGIC REVIEW, Vol. XIX, No. 4., Fall 1991, pp. 48-55.
[26] Modern philosophic origins of "will" are discoverable in the writings of Arthur Schopenhauer, especially The World as Will and Idea (1818). For his own inspiration, Schopenhauer drew freely upon Johann Wolfgang von Goethe. Later, Nietzsche drew just as freely and perhaps more importantly upon Schopenhauer. Goethe was also a core intellectual source for Spanish existentialist Jose Ortega y'Gasset, author of the singularly prophetic twentieth-century work, The Revolt of the Masses (Le Rebelion de las Masas;1930). See, accordingly, Ortega's very grand essay, "In Search of Goethe from Within" (1932), written for Die Neue Rundschau of Berlin on the centenary of Goethe's death. It is reprinted in Ortega's anthology, The Dehumanization of Art (1948) and is available from Princeton University Press (1968).
[27] See Louis René Beres, "After the Vienna Agreement: Could Israel and a Nuclear
Iran Coexist?" IPS Publications, Institute for Policy and Strategy, IDC Herzliya,
Israel, September, 2015 See also: https://www.idc.ac.il/he/research/ips/Documents/iran/LouisReneBeres-Iran2014.pdf
[28] International law remains in essence a "vigilante" system, sometimes also called a "Westphalian" system. Such history-based reference is to the Peace of Westphalia (1648), which concluded the Thirty Years War and created the now still-existing self-help "state system." See: Treaty of Peace of Munster, Oct. 1648, 1 Consol. T.S. 271; and Treaty of Peace of Osnabruck, Oct. 1648, 1., Consol. T.S. 119, Together, these two treaties comprise the Peace of Westphalia.
[29] Such a "life-saving" preemption option could be entirely permissible under international law. Known jurisprudentially as anticipatory self-defense, this potentially lawful option can be found not in conventional law (art. 51 of the UN Charter supports only post-attack expressions of individual or collective self-defense), but in customary international law. The most precise origins of anticipatory self-defense in customary law lie in the Caroline, a case that concerned the unsuccessful rebellion of 1837 in Upper Canada against British rule. Following this case, the serious threat of armed attack has generally justified certain militarily defensive actions. In an exchange of diplomatic notes between the governments of the United States and Great Britain, then U.S. Secretary of State Daniel Webster outlined a framework for self-defense that did not require an antecedent attack. Here, the jurisprudential framework permitted a military response to a threat so long as the danger posed was "instant, overwhelming, leaving no choice of means, and no moment for deliberation." See: Beth M. Polebaum, "National Self-defense in International Law: An Emerging Standard for a Nuclear Age," 59 N.Y.U.L. Rev. 187, 190-91 (1984) (noting that the Caroline case had transformed the right of self-defense from an excuse for armed intervention into a legal doctrine). Still earlier, see: Hugo Grotius, Of the Causes of War, and First of Self-Defense, and Defense of Our Property, reprinted in 2 Classics of International Law, 168-75 (Carnegie Endowment Trust, 1925) (1625); and Emmerich de Vattel, The Right of Self-Protection and the Effects of the Sovereignty and Independence of Nations, reprinted in 3 Classics of International Law, 130 (Carnegie Endowment Trust, 1916) (1758). Also, Samuel Pufendorf, The Two Books on the Duty of Man and Citizen According to Natural Law, 32 (Frank Gardner Moore., tr., 1927 (1682).
[30] Professor Louis René Beres was Chair of Project Daniel (PM Sharon) in 2003-2004. The rationale of Project Daniel was to examine the developing Iranian nuclear threat and to make pertinent suggestions about minimizing this threat. See: http://www.acpr.org.il/ENGLISH-NATIV/03-ISSUE/daniel-3.htm
[31] Historically, preemption has figured importantly in Israeli strategic calculations. This was most glaringly apparent in the wars of 1956 and 1967 and in the destruction of the Iraqi nuclear reactor in 1981 and later the Syrian facility. It was essentially the failure to preempt in October 1973 that contributed to heavy Israeli losses on the Egyptian and Syrian fronts during the Yom Kippur war, and almost brought about an Israeli defeat. Back during January, May, and October 2013, Israel, understandably apprehensive about Damascus' supply of military materials to Syria's Hezbollah surrogates in Lebanon, preemptively struck selected hard targets within Syria. For an informed jurisprudential assessment of these undeclared but still-appropriate expressions of anticipatory self-defense, by this author, see: Louis René Beres, "Striking Hezbollah-Bound Weapons in Syria: Israel's Actions Under International Law," Harvard National Security Journal, Harvard Law School, posted August 26, 2013.
[32] The term "dialectic" originates from the Greek expression for the art of conversation. A common contemporary meaning is method of seeking truth by correct reasoning. From the standpoint of shaping Israel's strategy vis-à-vis Iran, the following operations could be regarded as essential but nonexclusive components: (1) a method of refutation conducted by examining logical consequences; (2) a method of division or repeated logical analysis of genera into species; (3) logical reasoning using premises that are probable or generally accepted; (4) formal logic; and (5) the logical development of thought through thesis and antithesis to fruitful synthesis of these opposites.
[33] The de facto condition of Hobbesian anarchy within which Israel must make its pertinent assessments and calibrations stands in stark contrast to the legal assumption of solidarity between states. In essence, this idealized assumption concerns a presumptively common struggle against both aggression and terrorism. Such a "peremptory" expectation, known formally in law as a jus cogens assumption, was already mentioned in Justinian, Corpus Juris Civilis (533 CE); Hugo Grotius, 2 De Jure Belli ac Pacis Libri Tres, Ch. 20 (Francis W. Kesey., tr, Clarendon Press, 1925) (1690); and Emmerich de Vattel, 1 Le Droit Des Gens, Ch. 19 (1758).
[34] See, by this author: Louis René Beres: https://www.israeldefense.co.il/en/node/28931
[35] Some supporters of a Palestinian state argue that its prospective harms to Israel could be reduced or even eliminated by ensuring that new Arab state's immediate "demilitarization." For informed reasoning against this argument, see: Louis René Beres and (Ambassador) Zalman Shoval, "Why a Demilitarized Palestinian State Would Not Remain Demilitarized: A View Under International Law," Temple International and Comparative Law Journal, Winter 1998, pp. 347-363; and Louis René Beres and Ambassador Shoval, "On Demilitarizing a Palestinian `Entity' and the Golan Heights: An International Law Perspective," Vanderbilt Journal of Transnational Law, Vo. 28., No.5., November 1995, pp. 959-972.
[36] See: Merrill D. Peterson, The Political Writings of Thomas Jefferson, Monticello Monograph Series, Thomas Jefferson Memorial Foundation, 1993, p. 115.
[37] See Hugo Grotius, The Law of War and Peace 70 (William Whewell, tr.), London: John W. Parker, 1853(1625).
[38] Much has been written concerning Israel's irremediably limited strategic depth. This core security issue was addressed as early as June 29, 1967, when a US Joint Chiefs of Staff memorandum specified that returning Israel to pre-1967 boundaries would drastically increase its existential vulnerabilities. The JCS Chairman, General Earl Wheeler, then concluded that merely for minimal deterrence and defense, Israel should retain Sharm el-Sheikh and Wadi El Girali in the Sinai; the Gaza Strip (entire); the high ground and plateaus of the mountains in Judea and Samaria (West Bank); and the Golan Heights, east of Quneitra.
[39] Notes Guillaume Apollinaire, "It must not be forgotten that it is perhaps more dangerous for a nation to allow itself to be conquered intellectually than by arms." See this poet's The New Spirit and the Poets (1917). See also, Professor Beres with Ambassador Zalman Shoval: (Pentagon): https://mwi.usma.edu/creating-seamless-strategic-deterrent-israel-case-study/
[40] See, by Professor Beres, "Changing Direction: Updating Israel's Nuclear Doctrine," Strategic Assessment, INSS (Israel), Vol. 17, No.3., October 2014: http://www.inss.org.il/uploadImages/systemFiles/adkan17_3ENG%20(3)_Beres.pdf Earlier, by this author, see: Louis René Beres, "Changing Direction? Updating Israel's Nuclear Doctrine," INSS, Israel, Strategic Assessment, Vol. 17, No.3., October 2014, pp. 93-106. See also: Louis René Beres, Looking Ahead: Revising Israel's Nuclear Ambiguity in the Middle East, Herzliya Conference Policy Paper, Herzliya Conference, March 11-14, 2013 (Herzliya, Israel); Louis René Beres and Leon "Bud" Edney, Admiral (USN/ret.) "Facing a Nuclear Iran, Israel Must Rethink its Nuclear Ambiguity," U.S. News & World Report, February 11, 2013; 3pp; and Professor Louis René Beres and Admiral Leon "Bud" Edney, "Reconsidering Israel's Nuclear Posture," The Jerusalem Post, October 14, 2013. Admiral Edney served as NATO Supreme Allied Commander, Atlantic (SACLANT).
[41] Elements of essential doctrine could sometimes prove counter-intuitive. For example, the likelihood of any actual nuclear conflict between states could be inversely related to the plausibly expected magnitude of catastrophic harms
[42] The law of war, the rules of jus in bello, comprise: (1) laws on weapons; (2) laws on warfare; and (3) humanitarian rules. Codified primarily at The Hague and Geneva Conventions, these rules attempt to bring discrimination, proportionality and military necessity into all belligerent calculations. Evidence for the rule of proportionality can also be found in the International Covenant on Civil and Political Rights (1966) at Art. 4. Similarly, the American Convention on Human Rights allows at Art. 27(1) such derogations "in time of war, public danger or other emergency which threaten the independence or security of a party" on "condition of proportionality." In essence, the military principle of proportionality requires that the amount of destruction permitted must be proportionate to the importance of the objective. In contrast, the political principle of proportionality states "a war cannot be just unless the evil that can reasonably be expected to ensure from the war is less than the evil that can reasonably be expected to ensue if the war is not fought." See Douglas P. Lackey, THE ETHICS OF WAR AND PEACE, 40 (1989). modified only by a subsequent norm of general international law having the same character." See: Vienna Convention on the Law of Treaties, Done at Vienna, May 23, 1969. Entered into force, Jan. 27, 1980. U.N. Doc. A/CONF. 39/27 at 289 (1969), 1155 U.N.T.S. 331, reprinted in 8 I.L.M. 679 (1969).
[43] On 27 July 2921, US President Joseph Biden opined that the foreseeably greatest risk of a nuclear war would be as the result of cyber-terrorism or hacking. See: https://finance.yahoo.com/news/biden-warns-real-shooting-war-003405801.html