What The Civil Protest in America Really Means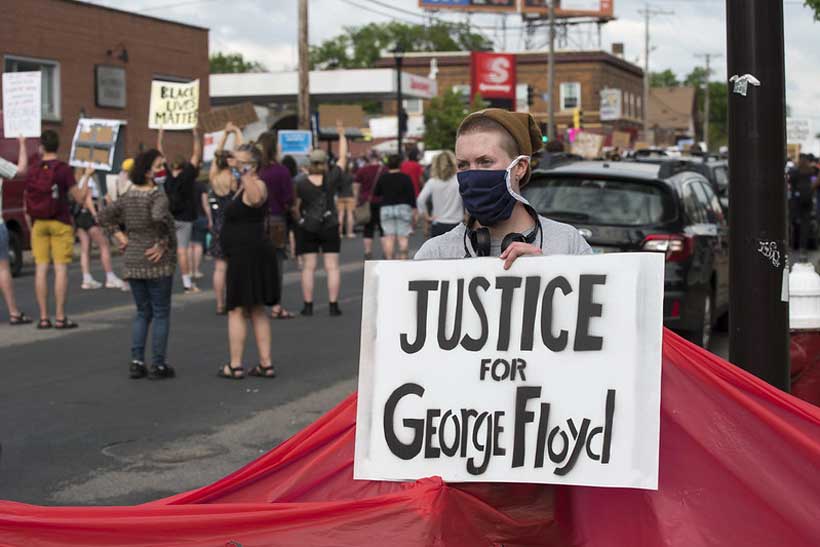 The spark of this USA turned global movement was another episode of racial injustice in America. George Floyd another Black man murdered by a White police officer with others watching the homicide. Reminiscent , it is horribly enough, of the traditional lynch mob days where white crowds would gather with their picnic baskets and cameras anxious to take home little pieces of the anticipated murdered Black usual body for souvenirs indeed heirlooms.
But there has been something different about this lynching episode with a white limb on the Black neck rather than hanging the Black neck from the limb of a tree. The expected at best local Black uproar with conciliatory neo-liberal White and Black elected officials declaring as they usually do saying justice will be done which seldom happens to murdering cops today or historically became the unexpected. The lynching this time became a national and now global event of massive protests everywhere. The President in the White House is dangerously pandering to his White nationalist base rather than paying attention to what people of all ages, classes, and ancestries in the streets in America and around the world. Police chiefs are kneeling and holding hands with protesters and so did the Prime Minister of Canada. Retired military commanders more than likely the mouthpieces of those on-duty forbidden to speak are urging reconciliation and justice. Their urgings are counter to the sterner military measures President Trump threatened to employ though thank goodness in recent days is beginning to pivot from more than likely due to behind the scenes resistance from the military high command and from members of his own party and his own political base who too are out there marching.
It is the first time this has ever happened in American history and global history at that have ao massively taken to the streets demanding justice for Blacks and for all of us. Superseding what we saw going on in the 1950s and 1960s.People are just sick and tired. Younger generations have nothing to look forward to since Baby boomers have left them with virtually nothing except debts and now this virus thing devastating the little crumbs left for then to squander. We older people having nothing to boast of either strapped with meager pensions and healthcare and no decent housing and our support systems are lousy. At best we are like the 70 something year old protestor in Buffalo, New York the other day knocked down to pavement by the police left there bleeding. Only a video clipped made it clear he did not as the cops said fell down you know as we older people are habitually supposed to do. We older people in America these days are disposable as the virus sweeping through nursing homes is saying in a society with young people who are tired of not knowing which way they are going.
Every one out there on the streets and their supporters off the streets where ever they are expressing not having enough to make ends meet and even when you do have means be it taxes or high consumer prices we are barely scrapping. Meanwhile the wealthy few even have the nerve to grab pandemic government funds allocated to the poor. They pay little tax and live like kings and queens while most of us are honest hard working people or hard at looking for work to live lives below poverty. Graduates working their heads off and their hearts out burning midnight oil lanterns until they melt or corrode find nothing like job waiting for them. Youth and older people in America used to have factories and places like gas stations to work in are now finding robots and off shore phone and online laborers taking their places.
Be it Democratic or Republican our two party system is torn to threads with the two Presidential contenders Trump there in the White House and Biden wanting to be there posing as symptoms of the rotting White Supremacy electoral constitutional laws and traditions. Both sides like the founding fathers of this now declining White Supremacy Male nation state are desperately holding on to traditions, to rules, and regulations assuring White Male Supremacy with White women and Non-White men and women being used as their beck and call. Those days are over as the street filled marches are occurring even in the midst of the COVID-19 pandemic virus. Assuring speeches for peace on both sides of the aisle are doing no good. That includes the soothing words of Republican Condi Rice and Democratic Barack Obama who as Black national political leaders when they were in office did not so as much as they could do about racial justice. So hardly no one is listening to them now as well as the bleeding white neo- liberal types, especially the young with no model of courageous racial justice leadership in sight in either of the two traditional parties.
What the street protests which will not soon end are all about are possibly five things. First some retired military and intelligence and prominent media commentator are drawing comparisons between the near collapse of politically traumatized nations around the world and what has been going on in America the last two weeks. The fear is Trump's erosion of military independence through installing his yes people in the Pentagon is at a point now the military will buckle under and agree to deploying military troops to be used against protesting American citizens.
Second , some say Trump's tough law and order stance is a re-election strategy to feed his base. If he wins the protests will more than likely continue more than likely exacerbated by a second wave of COVID-19 pandemic virus, Trump will further push the military into becoming a dictator. If Trump loses , he could refuse to leave office challenging the results in court throwing the country into a novel constitutional crisis.
Third , related to the second possibility is Trump using the military to postpone November elections with the strategy to bully his way into a second term. This would allow him to tighten his grip on the military and continue to stack the Supreme Court and the entire federal system. That is, if the Republican Party continues to hold on to the Senate after November which controls federal judicial appointments and checks Presidential military powers.
Four, others speculate that the convergence of the COVID-19 pandemic and massive racial justice and police reform movements are sowing the seeds for a third party with winning capacity; In a declining White Supremacy Male nation.
Even if probable Democratic Party Presidential nominee Joe Biden chooses moderate Kamala Harris or another African American woman as his running mate as predicted it will continue to destroy the party from within with its elitist neo-liberal inclinations. Even if he wins his old fashioned White Supremacy Male neoliberalism will not be enough to sustain a coalition of the growing power of younger white and especially non-white Democratic and independent voters along with disgruntled Republicans and usual nonvoters.
If Trump wins re-election, it will be because in the face of Democratic Party nonvoters ,he is able to fire up his Mid-Western and Southern White bases along with his non-White evangelical and conservative supporters enough to , as in 2016, win the Electoral College vote while not necessarily the popular vote not needed to win the Presidency in the American system.
Whoever wins in November 2020 , some speculate, will represent one of the two traditional parties which will face a third party in mid-term 2022 and in the Presidential 2024 year. This party will be a Post-White Supremacy galvanizing presently composed of Americans disillusioned by the  marginal and failed  racial and class reform policies across Democratic and Republican administrations since the 1990s creating a deepening disenfranchised multiracial impoverished underclass and middle class in a nation becoming nonwhite with no traditional Party leadership in sight with skills to lead an authentic post-White Supremacy nation. Its dress rehearsal was the 2018 Midterm election which dramatically changed the gender and racial demographics of the House of Representatives. The White Supremacy attitudes of House Speaker Nancy Pelosi to the left towards younger women of color in her caucus along with the conformity leanings of the older Blacks and Latinos House leaders actually paved the way for White Supremacist Trump to attack them from the right. This is certainly creating conditions for third party breakaways especially if Trump wins and moves further to the right with the Democratic Party standing by hopeless and toothless. The fifth view is this  civil rights movement we are now experiencing in America is not just about America. This is more than apparent in its massive presence in other big Western  and Non-Western cities and  in rural areas. In this respect something  bigger than "race" is going on.It is global soul searching and the redemption of our societal souls. It is  a global movement atonement for the sociological sides of societal sins- slavery both historical and modern, colonialism, environmental destruction, racism, the dehumanization of girls and women, poverty induced by the greed of the wealthy, and other massive forms of degradation and suffering though we human beings are one made in the image of God. It is this fifth meaning of this  civil rights movement birthed by COVID-19 pandemic which needs most our undivided attention as a world since searching our souls and recovering our singular humanity is going to be the only way we human beings will not only survive but prosper. This includes Africa where like Asia is now in the centerfold of global power and prestige though still needs to be awakened and contend with such serious forms of structural inequalities which need more transparent discussion and effective intervention and positive transformation.  
Otherwise no matter what we say with such eloquent words and powerpoints in our fancy conference and corporate suite garments remain irrelevant trinkets of nothingness as the soul searching world leaves Africans behind…once again.
Should there be any censorship? (NO -NONE!)
Conservatives say yes, there should be censorship, because otherwise what they feel is repulsive can become spread: they fear its spread and are convinced that censorship (by people who believe as they do) must be imposed. That's NOT democracy.
Liberals agree with conservatives on this question, though they want different people to be doing the censoring, because some of their beliefs are different from conservatives' beliefs. (Anyone who thinks that liberals — Democrats in the U.S. — aren't ardent for censoring, should explain how that can be so, since overwhelmingly the political money donated by executives and other employees of the gossip-grapevine, Twitter, has gone to Democrats, and those employees decided to censor-out from their site the damning evidence against the Biden family — Joe, Hunter, and James — that the Republican Party's N.Y. Post had published on 15 October 2020 under the headline "Emails reveal how Hunter Biden tried to cash in big on behalf of family with Chinese firm". (Maybe Trump would have won that election if this report of the Biden family's corruptness had been spread and discussed instead of squelched as 'Russian disinformation', as was done.) Then, the Democratic Party's Politico 'news'-site headlined on 19 October 2020, "Hunter Biden story is Russian disinfo, dozens of former intel officials say" and buried two-thirds of the way down the key passage (which had been in the top third of the document), in these Deep-State operatives' letter, the passage which included the fact "that we do not know if the emails [from Hunter Biden's laptop computer], provided to the New York Post by President Trump's personal attorney Rudy Giuliani, are genuine or not and that we do not have evidence of Russian involvement." The signers said there that they were signing ONLY to having "suspicions" that this had happened — but Politico suppressed that most crucial of all the allegations in the document. Also: Glenn Greenwald was forced out of the Democratic Party billionaire Pierre Omidyar's "The Intercept" 'news'-site on 29 October 2020 for submitting a news-report titled "THE REAL SCANDAL: U.S. MEDIA USES FALSEHOODS TO DEFEND JOE BIDEN FROM HUNTER'S EMAILS". And, furthermore, the Democratic Party's Washington Post headlined on 1 November 2020 the lie that "For Russia, Biden is the foe they know. The Kremlin is studying old playbooks." As Greenwald subsequently pointed out, "Twitter's 'foreign govt hacking' pretext for censoring was a lie, and they knew it.") So, regarding censorship, conservatives and liberals are effectively the same but protect different lies and liars. The two groups believe and protect two different, competing, myths. That's NOT a democracy. It's rule by billionaires (who control those politicians and media), NOT by the public.
Libertarians say no, because anything that limits a person's freedom is condemned by them on principle — they even are sometimes called "anarchists" because no principled line (no clear distinction) exists separating libertarians from anarchists (persons who oppose ALL government). HOWEVER, libertarians (even self-declared anarchists) disagree with one-another about whether the private sector, including corporations (such as Twitter), have a right to censor: some say yes, it's part of their (the private sector's) freedom; but some say no, no entity has a right to censor, because that limits another person's freedom. Some say that ONLY parents have a right to censor what their children receive. CONSEQUENTLY: Libertarians don't ACTUALLY have any clear and principle-based position, for or against censorship. Libertarianism provides no answer to this question — other than the myth that they are committed to everyone's "freedom." Libertarianism is a nullity, a nothing, on censorship: neither for it nor against it. It allows rule by billionaires (whose agents fool the public), and no democracy would.
Progressives say no: Nothing can possibly justify censorship of anything, except of demonstrable (provable) falsehoods. This means that, if a court of law cannot reasonably disprove an allegation, then the public must be able to consider the evidence both for and against it. Neither the Government nor any other entity has a right to prevent the public from considering and debating any allegation. A progressive is devoted to science, and science is based upon this same principle — ANY possible truth must be considered by the public. (A provably false statement cannot possibly be true.) Progressives can differ with one-another in allocating criminal versus civil liability for the spreading of allegations that are provably false; but, they are united in opposing ANY liability for the spreading of truths. The ONLY exception to this is that if the nation is legally at war and under "martial law," then its Government has a right to censor, (or "classify") allegations in order to protect the nation's sovereignty against the legally declared "enemy." That is the ONLY exception to the progressives' principle that NO possibly true statement should EVER be censored by ANYONE. Progressivism — the ideology of science — advocates clearly for democracy, NOT for any aristocracy.
Here's how the ideology of science functions — and why it needs to be applied in order for Government to serve the public's interest instead of merely some fake 'national interest': On 2 August 2022, the pro-science magazine Current Affairs headlined "Why the Chair of the Lancet's COVID-19 Commission Thinks The US Government Is Preventing a Real Investigation Into the Pandemic" and interviewed Jeffrey Sachs, who explained:
So you saw a narrative being created. And the scientists are not acting like scientists. Because when you're acting like a scientist, you're pursuing alternative hypotheses. And the scientists just wrote recently an op-ed saying the only evidence that this came out of a lab that's been put forward is that it came in a city, Wuhan, where an institute was located. Well, that's a lie. That is not the only coincidence that leads to this theory [He should have said "hypothesis" there]. What leads to this alternative hypothesis is the detailed research program the NIH funded that was underway in the years leading up to the outbreak. So I see the scientists absolutely trying to create a narrative and take our eyes off of another issue.
That's the politicization of science, the corruption of science. Sachs documented their obfuscations and evasions — the censorship that has been occurring, which has been preventing the necessary research to identify how the covid-19 virus was created.
That's a typical scientific example.
Glenn Greenwald is a progressive, and his position regarding the twitter censorship scandal that the billionaire Elon Musk released to the public on December 3rd after buying twitter corporation and firing its censors, said that "The sleazy, pro-censorship pack of liberal employees of media corporations united last night to attack @mtaibbi — as they do to any journalist who breaks a real story about real power centers — and, because they were so desperate to discredit it, showed what they are." What they are, in America, is NOT democrats: The "Democrats" aren't any more democratic than America's Republicans (conservatives) are.
On 8 May 2022, I headlined and called public attention to "A crushingly powerful legal case against censorship has now been presented." Linking to and quoting from the court-ducument, it seems to me to be an open-and-shut case for a decision against "the Biden Administration's open and explicit censorship programs. Having threatened and cajoled social-media platforms for years to censor viewpoints and speakers disfavored by the Left [referring obliquely there to the Democratic Party], senior government officials in the Executive Branch have moved into a phase of open collusion with social-media companies to suppress disfavored speakers, viewpoints, and content on social-media platforms."
On 3 December 2022, former President Trump disqualified himself from any further political consideration by patriotic Americans, by his advocating to terminate the U.S. Constitution if necessary in order to declare himself to have won the 2020 election. CNN and other mainstream 'news'-sources that don't link to their primary sources, because they don't want their readers to be able easily to see and inspect for themselves what they actually say — what the actual evidence is — refused to link to Trump's actual statement, but instead linked to anything else. For example, the Washington Post headlined about Trump's statement, "White House rebukes Trump's suggestion to suspend Constitution over 2020 election" (an intentionally indirect headline, which refused even to call attention to the fact that the former President was now urging cancellation of the U.S. Constitution, such as would a headline like "Trump Urges Termination of U.S. Constitution"). Their 'news-report' provided no link to Trump's statement, which it supposedly was about. Lots of people pay subscriptions to read such trashy 'news'-reporting. Anyway, here was Trump's full and actual statement:
https://truthsocial.com/@realDonaldTrump/posts/109449803240069864
Donald J. Trump
@realDonaldTrump
So, with the revelation of MASSIVE & WIDESPREAD FRAUD & DECEPTION in working closely with Big Tech Companies, the DNC, & the Democrat Party, do you throw the Presidential Election Results of 2020 OUT and declare the RIGHTFUL WINNER, or do you have a NEW ELECTION? A Massive Fraud of this type and magnitude allows for the termination of all rules, regulations, and articles, even those found in the Constitution. Our great "Founders" did not want, and would not condone, False & Fraudulent Elections!
Dec 03, 2022, 12:44 PM
He thinks that his being declared the 2020 winner is more important to America than America's Constitution is.
Without the Constitution to serve as a basis for the nation's laws, the ONLY available basis for the Government is dictatorship: even the possibility of a democracy no longer then exists. Trump is so petty that, in his view, restoring him to the White House is more important than his country having even a possibility of becoming a democracy. Unless the American people are complete idiots, Trump has now lost any possibility he might have had to return to the White House — or to any other political post. His statement there is the most outrageous and anti-democratic that any former U.S. Government official has ever publicly made. It should not be censored (including refusing to link to it); it should be widely debated in America's public square. Perhaps America's billionaires feel nervous about making the public aware of just how deepseated dictatorship now is in this country. It's merely their banana republic, now. In fact, it not only is NOT now a democracy but instead a dictatorship — an aristocracy instead of a democracy — but it is even a police state.
America's billionaires control their Government, and if they terminated their censorship instead of perverting or eliminating the U.S. Constitution as their agents have been and are doing, then it would no longer be their country — it would become, again, ours. That would terrify them, all the more so as we have been along this global-imperialist path, the MIC (military-industrial complex), now, ever since it became imposed, on 25 July 1945. And the farther that goes, the closer a second American revolution will become, but this time to remove from power not Britain's aristocracy, but America's own.
That's why we have censorship in America. There is no other reason. There is no actual national-security reason, nor any other. It's all a fraud. They need to protect and spread their lies (especially against 'enemy nations'). It is now so deep that it cannot be exposed as it actually is, without producing a revolution — not Constitution-change, but regime-change, back to what (prior to 1945) was a Constitutional democratic republic. Ending the empire is the only way back to becoming, again, the Constitutional democracy that preceded 25 July 1945 in America. It is the only way to end the censorship, and the dictatorship, by and on behalf of the aristocracy — the Deep State.
John D. and Henry: A Marriage of Convenience
After oil had been discovered in Pennsylvania in 1859, a canny businessman realized its potential and began buying up the oil fields. John D. Rockefeller's Standard Oil eventually owned almost all until trust busters broke up his Standard Oil Trust.
Meanwhile a clever inventor was interested in bringing the automobile, heretofore a rich man's toy, to the common man. So it was that Henry Ford's production line showed the world how it could be done. Of course, the automobile of the day, coughing and sputtering, might have had a similar effect on the people but it brought independent transportation and its convenience to the middle class. And John D. Rockefeller's oil fueled it.
Between John D. and Henry and others like them in Europe and elsewhere, our poor planet became a warming greenhouse as the gases generated by these cars, and industrialization in general, rose to the atmosphere — the effects of which few if any had foreseen then.
People in the early days were to invent steam cars and electric cars also but the convenience of refueling at John D.'s gasoline stations left them trailing in the dust of Henry Ford's now lovingly named Tin Lizzie.
The Second World War saw the use of oil and its derivatives in cars, trucks, airplanes, ships and just about anything that could move. Oil became a strategic commodity defended and fought for — without oil, armies came to a standstill. Romania fueled the axis powers and thus became a target for the allies. The war in North Africa became a struggle for control of the Suez Canal and access to oil from the Middle East. The British controlled it; the Germans failed to wrest it.
If John D. (1939) and Henry (1947) had passed away, their companies were thriving, enriched further by the demands of war. Europe might be in shreds but America was whole and ready to supply its needs.
It was a time of peace, and America to Europeans was a land of milk and honey. Hard work was behind it though, and nothing displayed the rewards of this toil than an automobile in the driveway — the flashier the better. As Americans became richer, the cars became more luxurious and more convenient to drive: automatic transmission, power-assisted brakes and steering, windows moving up and down at the touch of a button, as could the soft top on convertibles and so on.
The huge cars birthed a new name: gas guzzler. Both Detroit producing the cars and the oil companies supplying the fuel became richer. Greenhouse gases increased and could only go one way … up … coining new expressions like global warming. Greenhouse is apt, for the sun's rays come through but the heat generated cannot escape as easily as it would without the gas shield.
Rachel Carson's book, Silent Spring, focusing on the use of pesticides and the subsequent harm to the environment, brought environmental damage to the attention of the world. It did not take long to draw scrutiny also to vehicles blowing greenhouse gases out of the exhaust pipe. The love affair with the automobile was coming to an end.
But in a society built around it, reducing usage will take a while for the auto has become a necessity.
Who Rules America: How Money Dominates Politics
According to the available data, the United States Chamber of Commerce spent approximately 831 million dollars on lobbying between the years 1998 and 2012, while the American Medical Association spent 269 million dollars, General Electric spent 268 million dollars, and pharmaceutical Research and Manufacturers of America spent 219 million dollars. They make financial investments and provide support to their candidates, the majority of whom are elected to represent them in the United States Congress and vote by their agenda.
In Washington, power is technically distributed among three branches: the executive branch, which includes the White House; the judicial branch, which includes the Supreme Court; and the legislative branch, which includes Congress (senate and house of Representatives). The formal system of checks and balances that are designed to keep the democratic process moving in the right direction is described here. It is the political appointees that serve as judges, and there are nine of them on the Supreme Court, which is the court that has the authority. A hundred people make up the Senate, while 435 people serve in the House of Representatives.
Members of watchdog organizations who specialize in researching and analyzing hidden forces at work behind the scenes conclude that the role of the corporates of industry, which ranges from bringing legislative pieces into the house to get the law passed to implementing it, must be investigated. There is a corporate presence throughout the whole process of passing the law. Congressmen did not challenge it because they too are a product of the system, and as a result, they have an innate bias that favors a certain aesthetic. They have achieved success inside the system, and those who question them must engage in intense conflict to consolidate their authority.
Sheila Krunholtz, the director of the center for responsive politics, dispels the common misconception that the members of congress and policymakers control the levers of power. In reality, the donor and patrons of these people are controlling the strings of these politicians and the policymakers, as Krunholtz explains.
Financial institution is the most significant investor in the political parties, followed by the real estate giants as the second most significant investor. Politicians who want to run for the position need to swear that they would pursue policies that are favorable to the banking and real estate industries before they will be allowed to do so. The money that is spent in politics is not simply used to support candidates; it is also used to pay for lobbying. In 2011, 12,654 lobbyists spent a total of 3.32 billion dollars trying to influence politicians, agencies, and regulators. This includes pro-Israel and pro-military sentiments, which have a significant amount of influence. The informal network of those who control America is also a major influence on the formation of its foreign policy.
One kind of material power in the country is political, and the other is economic. The country has both sorts of material power. The power of the people and the power of the economy are always at odds with one another. If we ask the people of the United States how their government is doing its job, they will tell us that it is not doing its job, and they will also say that the voters are not in control. When asked who controls the United States of America, one of the country's senators said, "An elite group of individuals who operate in a stratosphere worldwide and are beyond the constitution and reach of the government." They have a vast number of available resources.
This is another danger to democracy since it makes it more difficult for average people to get their concerns heard. The donor of the funds desires a policy that is favorable to their company rather than the general public, and it is expected that politicians and congressmen would vote in their favor. The people and the political system are becoming more and more subject to the dominance of the strong hand of the economic system.
American politics are hijacked and it is being dominated by individuals who are ready to pay millions of dollars to elect or reject particular politicians. There is corporate plutocracy and the rules in Washington are established by the corporate lobbyist working on objectives to safeguard the greatest business interests in the nation. Money and special interest take control the American politics. Tiny elites of 100 contributors have contributed the 77% of the money that's simply 1% of donors contribute 64% of the money. People who are donating most of their money to the political campaign. They are very powerful persons and expect something in exchange for their funding. They are incredibly astute business individuals who have earned a lot of money and they do not make investments without desiring an investment.
One America is a democracy where leaders are elected by the people per the Constitution, but the other is dominated by a secret society that influences the media, the economy, the government, and major companies. They had control of the investigative apparatus and the press. They may serve as a template for how the public perceives politicians in the United States. G. William Demoff's "Who Rules America" is a well-researched book that explains how the government today is controlled by strong elite forces outside of the government.