It seemed that the Mediterranean region had been forgotten during the Cold War, where instead the Limes from Szczecin to Trieste was central – and it was a technical mistake – two cities that Churchill mentioned in his famous speech on the "Iron Curtain" of March 5, 1946 in Fulton.
In all likelihood, however, it was George Orwell that in 1945coined the specific expression "Cold War", in an essay entitled You and the Atom Bomb.
Also the presence of the Soviet naval Eskadra – slightly belated compared to the initial U.S. Fifth Fleet – was mainly linked to the protection of peripheral maritime areas from Syria to Eastern Mediterranean and the Dodecanese, not to mention the Soviet pressure on Turkey, a powerful NATO country on the USSR border.
The Cold War crisis and the "fall of the Berlin Wall", however, have brought the Mediterranean back to the core of many countries' strategic doctrines.
The Mediterranean is the natural end of the Chinese project of the New Silk Road.It is also the point of contact between Europe and the Arab world, i.e. with all the souls of the Arab world, which is the only area – along with China – that has collectively expanded its rayonnement after the end of the Cold War. The Mediterranean region is also the axis of the new economic and strategic Israeli expansion. Finally, it should also be recalled that it is the unavoidable channel of connection with Africa, which will be at the core of the already easily predictable geoeconomy of the near future.
We should also note the new U.S. posture towards the Pacific to encircle China and hence the relative decrease in the U.S. pressure on the Mediterranean region.
With its childish, but irrelevant Libyan policy, Italy has already been removed from the list of old and new powers that are currently redesigning the Mediterranean region.
Nowadays, those who give the cards in the Mediterranean are Turkey, Algeria, Egypt, Turkey, as well as obviously the Russian Federation and China. When the cats are away, the mice will play.
Even the oil and gas discoveries in the Eastern Mediterranean region change many of the current economic and political games and trigger new alliances.
Greece, for example, has officially and recently announced it cannot rule out the use of force in a possible conflict with Turkey. Just think that they are two NATO countries
As shown in a note drawn up jointly by Turkey and the Libyan GNA, what is at stake here are the 24 new blocks for oil and gas exploration existing in a region that would deprive Greece of some Dodecanese areas and would almost completely close the sea of Athens, thus making it a strategic object in Turkey's hands.
Furthermore, the agreement between Turkey and Libya, as well as the sending of Idlib's jihadists and other units of the Turkish Armed Forces, started on January 2, 2020, when the Turkish Parliamentary Assembly approved the sending of troops to support al-Sarraj's government, connected to Turkey by a wide network of relations including those made available to the Muslim Brotherhood.
Certainly, the GNA's Operation "Volcano of Rage" is correlated to a strong rearmament, on the part of Russia and Syria, of Khalifa Haftar's LNA, which, for the time being, must limit the damage and avoid the spreading of al-Sarraj's Libyan Turks.
As we will see later on, the withdrawal of Haftar's air forces from al-Watiya was already being negotiated between the two sides. According to the Libyan broadcaster Libya24,however, there is already a pact between Erdogan and Putin to guarantee only to Turkey the Al-Watiya base, which would become – also with Russia's agreement – a base shared by Turkey and the U.S. AFRICOM. In exchange for it, Russia would obtain the Qartabiyah air base near Sirte, as well as a naval base, again in Sirte, to give Russia the only thing it really wants to obtain from its Libyan adventure, i.e. a base in the central Mediterranean region.
It is even said that Erdogan harshly ordered Haftar – through a "Russian mediator" – to cease fighting and withdraw from his previous positions south of Tripoli.
In view of having a base shared with al-Sarraj's Navy, the ideal base for Turkey is certainly Abu Sitta. Nothing to do with the usual complaining by Italy, always waiting for an agreement that will never seriously come with Tripoli's Navy.
In Abu Sitta, in fact, an Italian military ship is at anchor, which coordinates – with 70 soldiers – the work of the Libyan Coast Guard to fight against illegal migration.
Who will be heard more in Tripoli, the Italian government or Turkey's new neo-Ottoman imperialism? The answer is very easy.
The retreat of Haftar's LNA seems justified above all by the need to protect the units most exposed to the Turkish Bayrackar TB2 drones. It is likely, however, that the LNA of Cyrenaica wants to disengage from direct contact with the enemy and then reorganize south of Tarhouna, where many Russian, Emirates and Jordanian advisors operate.
In recent months, Turkey has brought 9,600 mercenaries to Libya and other 3,300 ones are training in Syrian camps.
The GNA's army itself, which had been sidelined by the advance of Khalifa Haftar's LNA forces, also reconquered Bani Walid, south-east of Tripoli, where the Tripoline militias entered the city without firing a shot, thanks to the local authorities' cooperation.
The military actions on the ground followed one another in rapid succession: on May 18, the GNA also conquered the above stated military base of Al Watiya, the former inevitable strength of Haftar's LNA.
Currently a proxy war is being fought in Libya: Turkey and Qatar against Egypt, UAEs and Saudi Arabia, who want everything but Turkish hegemony over Libya. And vice versa.
The foolish pride of the "great" Europeans has allowed the permanent and stable crisis of the Libyan territory, after a hammering and manipulative series of trivial defamation operations against Gaddafi and his greatest ally, namely Italy. Do you believe that all the rhetoric – often even well-founded – against some of Italy's Heads of government was unbiased and gratuitous, whatever mistakes they may have made?
There is also the hypothesis, which is now even more than a hypothesis, that Turkey would like to build military infrastructure together with NATO in Southern Libya, which would be the real game changer of the current balance of forces on the territory.
Certainly Italy, too, will participate in this operation, within the framework of the Atlantic Alliance, but only to play second fiddle compared to Turkey, which has no interest in having Italy as a partner, neither economically nor militarily, and certainly not in Libya.
Incidentally, the failed meeting of Prime Minister Conte with Haftar and al-Sarraj – later held only with the LNA General – at the beginning of January 2020, was a masterpiece of ineptitude, which definitively marginalized our diplomacy and deprived Italy of a real influence ability, under the banner of the "equivalence" between the two fronts.
Probably Conte only wanted to take credit for the truce actually arranged by Russia and Turkey.
The truce designed by Putin and Erdogan both in Idlib and, later, in Libya, conceals a strategic plan of considerable importance: the splitting up of Syria and then of Libya into regular and clear zones of influence, excluding the United States and its European and Western allies that will have no room in Syria nor even less in Libya.
Putin will obviously use Haftar's LNA until it suits him. Later he will probably leave it to its fate and possibly deal with other new powerful regional African players: Algeria, which is moving in a strongly anti-Turkish direction; Sudan, where Turkey already has a military base on the island of Sawakin; Morocco, where one of the main local parties, the Justice and Development Party, is strongly connected to Erdogan and his AKP.
Libya, however, must be considered within the framework of a set of political, economic and military relations that are now very broad and concern the interconnection between Libya and Africa, including sub-Saharan Africa.
Haftar's forces, however, had already left Bani Walid, again without firing a shot. The way mines were laid by Haftar's LNA makes us think that the agreement had been reached well before military moves.
Furthermore, the GNA and Turkey also reconquered the city of Tarhouna, 95 kilometers from Tripoli, which had been one of the poles of Haftar's relentless and overwhelming advance.
ObviouslyTripoli's GNA now wants to reconquer the whole Sirte region, but above all the city bearing the same name, the real junction for controlling communications and trade between Tripolitania and Cyrenaica.
Meanwhile, the governments of Tripoli and Tobruk have already agreed to resume their negotiations under the aegis of the United Nations, especially to make the best use of IRINI, the naval mission led by Admiral Fabio Agostini, aimed at controlling the passage of weapons in the Mediterranean to the Libyan coast.
An activity that will not be very successful, considering that loads of M60 tanks coming from Turkish arsenals have already arrived by sea to Misrata. The mission is being prepared by land from Tripoli to Sirte.
The closure of Haftar's room for manoeuvre towards the East and the coast up to Tunis is another card now played only by Turkey.
Hence what does Turkey want from al-Sarraj's Libya? First and foremost a primary economic and strategic role in the future Libyan reconstruction. Secondly the autonomous drilling of the above stated oil maritime areas in the Eastern Mediterranean region, disputed between Turkey, Greece and Cyprus.
The GNA has long authorized the Turkish Petroleum Company to carry out exploration in its Exclusive Economic Zone (EEZ).
Turkey's main point of reference is Qatar.
For example, the Vice-Commander of the Turkish Armed Forces is also the President of the Qatari Military Academy, but the Turkish Security Forces and Intelligence Services play a significant role in the Emirate, by closely cooperating and, sometimes, replacing the small but efficient Qatari Forces.
The Turkish operation in Northern Syria had very strong support from the Emirate, which regarded the Turkish mission in Syria "Source of Peace" as a wide and effective attempt of the Ikhwan to expand into the Sunni area of Syria.
Also al-Sisi, however, soon entered this Libyan game. On June 6 last, he announced an Egyptian Plan called the "Cairo Initiative", aimed at reaching a ceasefire starting from June 8.
Al-Sisi's initiative is obviously designed to regaining control of the situation in Libya, after Khalifa Haftar's evident defeat, in open conflict and competition with Turkey and possibly against the aims of Qatar and probably of France itself, whose Intelligence Services'Brigade Action greatly supported Haftar's LNA and continues to do so.
Particularly against the Italian oil and strategic interests.
The idea underlying Al Sisi' strategy, but also Russia's, is that Libya should be pacified and rebuilt following the current political-military fault lines, without waiting for an impossible future reunification.
The young Libyans who were trained by the Italian Intelligence Services in a place of Central Italy in 2011 often repeated that, if a strong national government were not quickly achieved, the territorial, tribal and criminal gangs and faction would disrupt the Libyan political and economic system definitively and irreparably.
Moreover, the very recent Egyptian plan suggests – in agreement with al-Sarraj's himself – the removal of all foreign mercenaries present in all factions and then the creation of a "Presidential Council" elected by all the Libyan people equally representing the three historical regions, namely Tripolitania, Cyrenaica and Fezzan, under the U.N. control, and also including women, young people and old tribal leaders.
A vague, complex, cumbersome and currently impracticable project which, however, shows that Egypt wants to wait for better times to do what it has always wanted to do: to gain influence over the part of Libya bordering on Egypt and differently regulate both the migration of Egyptian workers to the Libyan oil wells, and the oil issue itself, both with al-Sarraj and with those who will reconquer Cyrenaica if Haftar failed again.
Italy does not even give a sign. Yet the oil, migration, economic and even traditional interests should make any Italian government think that Italy, too, should take part – and possibly play a great role – in the project for splitting up Libya.
It should pursue again the Italian national interest and stop using its Armed Forces as a sort of Red Cross or Civil Protection, as well as avoid believing, or pretending to believe blindly and optimistically in the "magnificent and progressive fortunes" of international Conferences. It should also think that Libya is not only the memory of a pre-Fascist colonial past, but the axis of our inevitable and huge interests in the Maghreb region and throughout Africa.
How many Socialist Democrats volunteered in Libya in the 1910s, on the wave of Pascoli's famous speech "The Great Proletarian nation is on the Move"!
How the Libyan issue can be solved, in one way or another, without placing it into a broader context, remains a sorrowful mystery – but now only for Italy.
For Italy, Libya is obviously its oil. ENI has seven extraction-processing areas available but, according to 2019 data, Italy receives 7 million oil tons from Tripoli (and Sirte), equivalent to 12.1% of its total energy imports.
For Italy, Libya is only the starting point and often criminal regimentation of many migrants. Here the core of the issue is the real understanding of this phenomenon.
The Libyan-Italian Memorandum of Understanding on Migration (LIMUM) was signed last February and later extended for additional three years.
The LIMUM envisages the Italian support to the Libyan authorities, which can stop the boats and ships leaving from the Libyan coast and then make migrants return to their shelters on Libyan territory.
It is legislation contrary to EU law and just one of the many attempts to put the toothpaste back in the tube.
Hence what can be done? To find an agreement between all EU countries, which are now very happy to palm off all the irregular migrants from Libya to Italy, so as to create-irrespective of the real presence of al-Sarraj's GNA that would have many fewer problems to solve – a series of civil and organized control-selection-permanence camps to stop and identify part of the sub-Saharan migration, in the necessary time cycles.
No agreements are reached with the countries of the region. They are all too happy to get rid of a share of "human overproduction" – as Konrad Lorenz called it – and they will never accept to have to keep a "dangerous crowd" who, at the most, will only be used as blackmail for Westerners who, in the end, will receive it anyway.
Hence migration control camps out of the reach of al-Sarraj's government and the major tribes operating as intermediaries of illegal migration.
With a view to defending them, a NATO-based Control Force will be created, albeit with Rules of Engagement that do not seem to be drafted written – as has sometimes happened – by inexperienced people.
It will be necessary, however, to choose a local champion that – together with the Italian Armed Forces, now getting out of their internationalist and pacifist dream or nightmare – will make us pursue our real interests in Libya, regardless of its being one or many, which is now not so much important for Italy.
Obviously, with a view to protecting the Italianoil, we will need not only the intelligent work of ENI, which knows very well how to move on its own in those circumstances, but also a control unit involving both the Intelligence Services and Special Corps, as already provided for by Law No. 198 of December 11, 2015.
A control unit that must "do politics", i.e. choose, pay, direct and train a fairly significant group of local militants to oppose – also with weapons – the interests of other countries, possibly even allies, operating in that system.
All the Special Forces operate in crisis theatres permanently and with offensive and intrusive operations.
Certainly also Italy has done so, albeit in areas where there was a wide network of protection and coverage by NATO and other allied countries.
Now time has come to take action on our own.
CIA' Special Activities Division has its own Special Operation Group (SGO), which operates in underground actions in major crisis theatres, with extensive legal rules and regulations.
After all, as Tocqueville said, "America is a country of lawyers".
The French Commandement des Operations Speciales (COS) operates permanently, and especially in Africa, together with the Brigade (or Service) Action of the Direction Générale de la Securité Extérieure (DGSE).
The SA is largely autonomous in the collection of all types of intelligence and choice of operations.
The British E Squadron operates with the Secret Intelligence Service and is made up of elements coming from the SAS and the SBS. In short, it will be necessary to pull our claws out – with both secret and overt operations – to conquer the part of Libya we need to organize and pursue our interests. Without believing too blindly in the "magnificent and progressive fortunes" that, unlike his cousin Terenzio Mamiani, Giacomo Leopardi challenged and derided.
What is the public sphere today in Turkey?
The concept of public sphere, which was started to be examined in Europe in the 1960s, has different meanings according to different perspectives, as a definite definition cannot be made today, and this situation creates important discussion topics about the use of such spaces.
Long debated the definition of public space in Europe, in Turkey also began to affect 1980"l year. After the 1980 coup, some communities, which were kept out of sight, fearing that the Republic project would be harmed, demanded the recognition of their ethnic and cultural identities. Thus the concept of the public sphere in Turkey, especially since the early 1990s to be addressed in various academic publications, use and began to discuss political issues.
Especially in the past years, the public sphere debates on the headscarf issue were discussed from various angles. The debate started with Prime Minister Erdogan's criticism of President Ahmet Necdet Sezer, who did not invite his wife to a NATO dinner, saying "Dolmabahçe is not a public space", and the President of the Council of Higher Education, Prof.Dr. Erdoğan Teziç; He responded by emphasizing that the public sphere is not a " geographical definition " but a functional concept.
Before defining the public sphere, the understanding that shows that the definition of space in the Ottoman Empire was shaped as less private, private, very private and very very private is still one of the biggest reasons for the definition of the public sphere. While expressing, it reminds that he entered the Ottoman literature in a different way in the 19th century. Thinkers who indicate the association of the public sphere with the state in general express it as the sphere that is related to the state, not the "public". "When you say 'public', the state comes to mind immediately; We mean something like government administration, its organs, organizations, officials, or activities, an official domain that is owned or run under state control. However, as Habermas said, the public sphere is above all the sphere in which the public opinion is formed in our social life ".
As citizens of the city, we observe that some projects have spread to the spaces defined as public space due to the fact that today's public space and public space concepts have not been defined precisely and construction activities have increased due to the anxiety of rent.
Erdogan's Calamitous Authoritarianism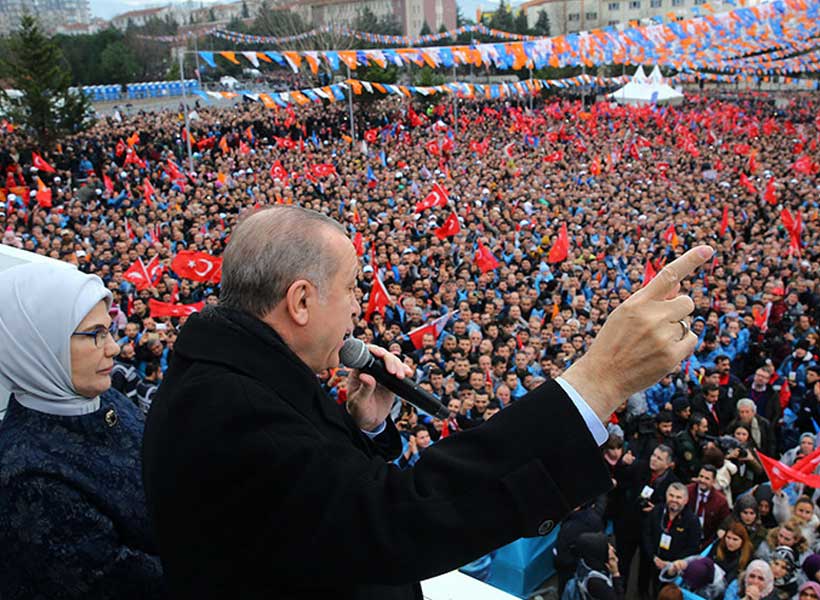 Turkey's President Erdogan is becoming ever more dangerous as he continues to ravage his own country and destabilize scores of states in the Middle East, the Balkans, and North Africa, while cozying up to the West's foremost advisories. Sadly, there seems to be no appetite for most EU member states to challenge Erdogan and put him on notice that he can no longer pursue his authoritarianism at home and his adventurous meddling abroad with impunity.
To understand the severity of Erdogan's actions and ambitions and their dire implications, it suffices to quote Ahmet Davutoglu, formerly one of Erdogan's closest associates who served as Minister of Foreign Affairs and subsequently Prime Minister. Following his forced resignation in May 2016 he stated "I will sustain my faithful relationship with our president until my last breath. No one has ever heard — and will ever hear — a single word against our president come from my mouth."
Yet on October 12, Davutoglu declared "Erdogan left his friends who struggled and fought with him in exchange for the symbols of ancient Turkey, and he is trying to hold us back now…. You yourself [Erdogan] are the calamity. The biggest calamity that befell this people is the regime that turned the country into a disastrous family business."
The stunning departure of Davutoglu from his earlier statement shows how desperate conditions have become, and echoed how far and how dangerously Erdogan has gone. Erdogan has inflicted a great calamity on his own people, and his blind ambition outside Turkey is destabilizing many countries while dangerously undermining Turkey's and its Western allies' national security and strategic interests.
A brief synopsis of Erdogan's criminal domestic practices and his foreign misadventures tell the whole story.
Domestically, he incarcerated tens of thousands of innocent citizens on bogus charges, including hundreds of journalists. Meanwhile he is pressuring the courts to send people to prison for insulting him, as no one can even express their thoughts about this ruthlessness. Internationally, Erdogan ordered Turkish intelligence operatives to kill or smuggle back to the country Turkish citizens affiliated with the Gülen movement.
He regularly cracks down on Turkey's Kurdish minority, preventing them from living a normal life in accordance with their culture, language, and traditions, even though they have been and continue to be loyal Turkish citizens. There is no solution to the conflict except political, as former Foreign Minister Ali Babacan adamantly stated on October 20: "… a solution [to the Kurdish issue] will be political and we will defend democracy persistently."
Erdogan refuses to accept the law of the sea convention that gives countries, including Cyprus, the right to an Exclusive Economic Zone (EEZ) for energy exploration, while threatening the use of force against Greece, another NATO member no less. He openly sent a research ship to the region for oil and gas deposits, which EU foreign policy chief Josep Borrell called "extremely worrying."
He invaded Syria with Trump's blessing to prevent the Syrian Kurds from establishing autonomous rule, under the pretext of fighting the PKK and the YPG (the Syrian Kurdish militia that fought side-by-side the US, and whom Erdogan falsely accuses of being a terrorist group).
He is sending weapons to the Sunni in northern Lebanon while setting up a branch of the Turkish Cooperation and Coordination Agency (TIKA) in the country—a practice Erdogan has used often to gain a broader foothold in countries where it has an interest.
While the Turkish economy is in tatters, he is investing hundreds of millions of dollars in the Balkans, flooding countries with Turkish imams to spread his Islamic gospel and to ensure their place in his neo-Ottoman orbit. Criticizing Erdogan's economic leadership, Babacan put it succinctly when he said this month that "It is not possible in Turkey for the economic or financial system to continue, or political legitimacy hold up."
Erdogan is corrupt to the bone. He conveniently appointed his son-in-law as Finance Minister, which allows him to hoard tens of millions of dollars, as Davutoglu slyly pointed out: "The only accusation against me…is the transfer of land to an educational institution over which I have no personal rights and which I cannot leave to my daughter, my son, my son-in-law or my daughter-in-law."
Erdogan is backing Azerbaijan in its dispute with Armenia (backed by Iran) over the breakaway territory of Nagorno-Karabakh, which is inhabited by ethnic Armenians and has been the subject of dispute for over 30 years.
He is exploiting Libya's civil strife by providing the Government of National Accord (GNA) with drones and military equipment to help Tripoli gain the upper hand in its battle against Khalifa Haftar's forces. Former Foreign Minister Yasar Yakis said in February 2020 that "The unclear Turkish foreign policy by Erdogan may put Turkey in grave danger due to this expansion towards Libya."
He is meddling in the Israeli-Palestinian conflict in an effort to prevent them from settling their dispute unless Israel meets Palestinian demands. He granted several Hamas officials Turkish citizenship to spite Israel, even though Hamas openly calls for Israel's destruction.
He betrayed NATO by buying the Russian-made S-400 air defense system, which seriously compromises the alliance's technology and intelligence.
He is destabilizing many countries, including Somalia, Qatar, Libya, and Syria, by dispatching military forces and hardware while violating the air space of other countries like Iraq, Cyprus, and Greece. Yakis said Turkey is engaging in a "highly daring bet where the risks of failure are enormous."
Erdogan supports extremist Islamist groups such as the Muslim Brotherhood and Hamas, and an assortment of jihadists, including ISIS, knowing full well that these groups are sworn enemies of the West—yet he uses them as a tool to promote his wicked Islamic agenda.
He regularly blackmails EU members, threatening to flood Europe with Syria refugees unless they support his foreign escapades such as his invasion of Syria, and provide him with billions in financial aid to cope with the Syrian refugees.
The question is how much more evidence does the EU need to act? A close look at Erdogan's conduct clearly illuminates his ultimate ambition to restore much of the Ottoman Empire's influence over the countries that were once under its control.
Erdogan is dangerous. He has cited Hitler as an example of an effective executive presidential system, and may seek to acquire nuclear weapons. It's time for the EU to wake up and take Erdogan's long-term agenda seriously, and take severe punitive measures to arrest his potentially calamitous behavior. Sadly, the EU has convinced itself that from a geostrategic perspective Turkey is critically important, which Erdogan is masterfully exploiting.
The EU must be prepared take a stand against Erdogan, with or without the US. Let's hope, though, that Joe Biden will be the next president and together with the EU warn Erdogan that his days of authoritarianism and foreign adventurism are over.
The views expressed are those of the author.
Syrian Refugees Have Become A Tool Of Duplicitous Politics
Since the beginning of the conflict in Syria the issue of Syrian refugees and internally displace has been the subject of countless articles and reports with international humanitarian organizations and countries involved in the Syrian conflict shifting responsibility for the plight of migrants.
The most notorious example of human suffering put against political games is the Rukban refugee camp located in eastern Syria inside the 55-km zone around Al-Tanf base controlled by the U.S. and its proxies.
According to official information, more than 50,000 people, mostly women and children, currently live in the camp. This is a huge number comparable to the population of a small town. The Syrian government, aware of the plight of people in Rukban, has repeatedly urged Washington to open a humanitarian corridor so that everyone can safely return home. However, all such proposals were ignored by the American side. U.S. also refuse to provide the camp with first aid items. Neighbouring Jordan is inactive, too, despite Rukban being the largest of dozens other temporary detention centres in Syria, where people eke out a meager existence.
At the same time, the problem is not only refugee camps. Syria has been at war for a decade. The country's economy has suffered greatly over this period, and many cities have been practically grazed to the ground. Moreover, the global coronavirus epidemic didn't spare Syria and drained the already weakened economy even more. However, Damascus' attempts of post-war reconstruction and economic recovery were undermined by multiple packages of severe sanctions imposed by the U.S. At the same time, U.S.-based human rights monitors and humanitarian organizations continue to weep over the Syrian citizens' misery.
The situation is the same for those refugees who stay in camps abroad, especially in countries bordering on Syria, particularly Jordan and Turkey. Ankara has been using Syrian citizens as a leverage against the European states in pursuit of political benefits for a long time. No one pays attention to the lives of people who are used as a change coin in big politics. This is equally true for Rukban where refugees are held in inhuman conditions and not allowed to return to their homeland. In those rare exceptions that they are able to leave, refugees have to pay large sums of money that most of those living in camp are not able to come by.
It's hard to predict how long the Syrian conflict will go on and when – or if – the American military will leave the Al-Tanf base. One thing can be said for sure: the kind of criminal inaction and disregard for humanitarian catastrophe witnessed in refugee camps is a humiliating failure of modern diplomacy and an unforgivable mistake for the international community. People shouldn't be a tool in the games of politicians.