Rare, Systemic Risks and the Need for Global Preparedness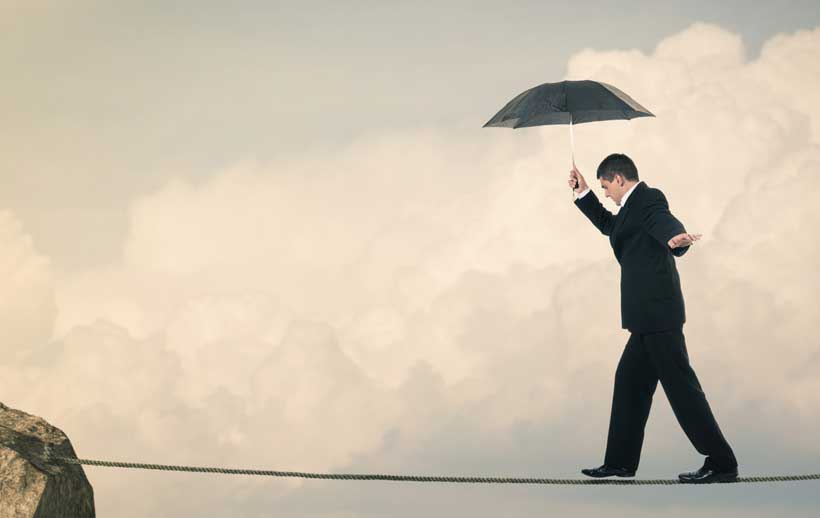 In an increasingly uncertain global investment environment, where "1 in 100" year simultaneous events such as major hurricanes, cyber-attacks, viruses, financial and economic crisis, business model failures, etc, are occurring with increased frequency, having an understanding of these risks, their complex empirical relationships and interactions and their associated complex negative consequences is becoming more important for international investors who structure their investments based on a balance between an accepted level(s) of exposure to a certain type(s) of risk(s) and an associated level of expected target rate of return. For instance, pandemics such as Coronavirus (Covid-19) and extreme weather events driven by a changing climate such as storms, floods, heat waves, droughts, wildfires, and cyclones are characterized as "systemic" in nature, because they have the potential to cause a system-wide breakdown or significant disruption to man-made economic, financial, and security systems supporting our way of life. Similarly, each of these events is called an "extreme" risk event because they are "rare", i.e., events that are generally seen as deadly surprises, happening outside everyday experience, and their likelihood are difficult to estimate. These events are capable of causing a huge change in everyday life, at least locally, and they do have the momentum to turn society upside-down in a few months, day's, perhaps even minutes by causing massive destruction to human life and property.
According to Swiss Re 2020 Sigma report, the year 2019 was the second warmest year, and the decade from 2010-2019 was the warmest on record. In 2019 there were 317 global catastrophes due to extreme weather events, claiming the lives of 11,497 individuals worldwide with total global economic losses exceeding USD 146 billion. Further, according to a 2012 report by the Centre for Climate Security, research shows that drought conditions in Russia and China, and subsequent global wheat shortages, contributed to higher food prices in Northern Africa and may have helped catalyse and broaden the appeal of the Egyptian uprisings in 2011, causing Egypt to suffer its worst economic crisis since 1930's. Similarly, African swine fever wiped out over one-quarter of the world's pig population last year, causing food prices in China to increase by 16-22% so far in 2020. Again, the worst colossal armies of locusts are systematically wiping out crops across much of Africa, the Middle East and Asia, and fear of Covid-19 is greatly disrupting global food supply. The simultaneous interaction of two extreme and complex risks (Covid-19 and extreme weather) is amplifying the risk of a worldwide disruption to global food supply chains leading to a potential significant upward jump in food prices worldwide. This, in turn, could trigger crises in many countries and as a result potential food riots might ensue. In consequence, it erodes social cohesion and leads to an increase in the likelihood of social instability at the regional and global levels.
Furthermore, according to this new study , it provides observational evidence that the odds of major hurricanes around the world with Category 3, 4 and 5 storms is on the rise. Further, the severity of economic losses associated with the rise in the number of extreme weather events such as intensification of storms, increase in heavy precipitation, more frequent and intense temperature extremes, more severe droughts, longer wildfire seasons, accelerating sea-level rise, desertification, and ocean acidification is also projected to rise in the near future.
Equally important, on March 11 the World Health Organization (WHO) declared the Covid-19 outbreak a "pandemic". Since it was first diagnosed earlier this year, it has spread to over 190 countries, infecting over 5 million people and claiming the lives of thousands worldwide. The pandemic has caused an unprecedented worldwide economic shutdown. More than 80 countries have closed their borders to incoming travel from infected countries, ordered businesses to close, and applied a range of policy instruments to contain the spread of the virus such as self-quarantine and social distancing measures. According to some estimates , they indicate the virus could reduce global economic growth by 4% in 2020, and raised the likelihood of a global economic recession similar in severity to that experienced during the Great Depression of the 1930s. Moreover, according to the World Trade Organization (WTO), Covid-19 represents an unprecedented disruption to the global economy and world trade, as production and consumption collapse across the globe with global trade in 2020 expected to fall by 13% to 32%, depending on the depth and extent of the global economic downturn.
According to some authors, State sovereignty in the modern sense of the word is built upon the States' output and input legitimacy. A States' output legitimacy is directly linked to its ability to meet its citizen's demands for basic resources or prosperity such as health services, food, water, energy, and employment. While a States' input legitimacy is defined as its ability to offer its citizens a say in the way they are governed through voting and legal recourse. The rise in the number and associated negative economic, social, health, and security implications of extreme weather events and also of the emergence of new viruses and the spread of existing or new disease vectors, in addition to the central assumption that past history is no longer a robust gauge of future developments of extreme risks exacerbate stressors on the critical resources underpinning State sovereignty and national security, these risks compromise a State's ability to provide basic resources to its citizenry and can significantly erode the States' output legitimacy. Therefore, they contribute to a wide range of destabilizing trends such as population displacement, migration, and political unrest. The erosion of the States' output legitimacy can contribute to State fragility, internal conflict, and potentially State collapse, and could exacerbate geopolitical risk by activating dormant or active geopolitical intersections around the globe.
Certainly, the presence of geopolitical intersections-which are a direct consequence of the existence of irredentist or secessionist movements as a result of historically evolved geopolitical risk factors driven by territorial disputes, which manifest on the current global geopolitical map as geopolitical intersections- is at the core of geopolitical instability; ergo, geopolitical risk. Further, these intersections have been a prominent cause of armed conflict and war in the modern era that causes ethnic groups to seek independence from or unification with another State. The threats to State stability arising from the rise in the frequency and severity of either extreme weather events, or the spread of infectious disease, or even a simultaneous manifestation of both risks at the same time across the globe comes from the complex interactions of those risks with the existing security landscape and the ability of governments to effectively manage the immediate, short term and long term economic, social, and security consequences that arise as a result of these extreme events, which could amplify existing geopolitical risks by weakening social cohesion, and exacerbating social unrest across the world due to increased pressure on public health supply chains and local health systems , increased likelihood of interstate and intra-state conflicts over scarce resources, prolonged periods of lockdowns, tighter restrictions on the cross-border movement of people and goods, affecting the global supply chain for food, energy, drugs, and medical devices, and forced migration of climate refugees. These risks and their impacts are expected to become more severe as changes in the climate intensify, and pandemics like Covid-19 occur more frequently. According to these authors, they warn that 1.7 million unidentified viruses known to infect people are estimated to exist in mammals and water birds. The transmission of any one of these viruses to humans may be more disruptive and lethal than Covid-19
Finally, the complex interaction between both extreme events (climate change and pandemics) in shaping risk introduces a new set of risk drivers when scanning the global investment horizon for opportunities. For this reason, in order to be successful at managing the risks that arise from extreme events, strategic investors must think outside the box and focus on examining target countries vulnerabilities and risks associated with global, regional, and localized effects of extreme risk events by including the envelope of high-end, unprecedented possibilities instead of assessing middle of- the-road probabilities on the basis of "historic "experience and they should not downplay the extreme possibilities at the high-end of the uncertainty range. Further they should build prudent risk management frameworks that are not malleable to the" learn from failure" models that drive conventional risk management by constructing their frameworks with a deep, objective look at the risks they face and have methodology's in place to adequately deal with low probability, high consequence outcomes, which can dominate calculations of total risk. In any case, these are some current core ideas addressing how to think about extreme risks such as extreme weather events, pandemics, and particularly paying a closer attention to the consequences of a "perfect storm" scenario where manifestation of the complex interactions shaping these risks occurs simultaneously, negatively impacting social cohesion, State stability, strategic equations and the strategic equilibrium. For if you are not aware of these rare and often socially damaging surprises and their potential to cause severe disruptions to human-made health, economic, financial , and security systems then certainly you could be caught off guard
USA and Australia Worry About Cyber Attacks from China Amidst Pegasus Spyware
Pegasus Spyware Scandal has shaken whole India and several other countries. What will be its fallout no one knows as we know only tip of iceberg. Amidst Pegasus Spyware Scandal USA and Australia both have shown serious concerns about Cyber Attacks on US and Australian interests. Both say that China is hub of malware software and both face millions of such attacks daily.
I am trying to understand why a software is needed to spy on a particular individual when all calls, messages, data, emails are easily accessible from server. In most of cases these servers are located in USA and some cases these are located in host country. In certain sensitive cases Government Agencies have their own server like Central Intelligence Agency and hundreds of other agencies and military establishment world over including India. Now point is who installs those servers.
A couple of years back I had talked to Mr Mike Molloy who is Chief Executive Officer of Orion Global Technologies previously known as Orion SAS. He had explained me how his company installs servers in host countries on request of private or gov bodies. He talks about contract and trust. That means even when a company or Gov buys a server or software for designated uses the "Secrecy" Factor remain on discretion of company which has supplied server or software.
Now if all data, e-mail, chat, messages, calls are accessible to Gov as per law and technology (Through Server all components of Communication are accessible and thats why me and you see start seeing call recording of a person even after many years later), I am unable to understand why a Gov will be needing a software to Spy on any one.
Now coming to where Australia and USA wants to carry the whole debate.
Australian Foreign Minister Sen Marise Payne said, "Australian Government joins international partners in expressing serious concerns about malicious cyber activities by China's Ministry of State Security.
"In consultation with our partners, the Australian Government has determined that China's Ministry of State Security exploited vulnerabilities in the Microsoft Exchange software to affect thousands of computers and networks worldwide, including in Australia. These actions have undermined international stability and security by opening the door to a range of other actors, including cybercriminals, who continue to exploit this vulnerability for illicit gain", She further added.
She opined, "The Australian Government is also seriously concerned about reports from our international partners that China's Ministry of State Security is engaging contract hackers who have carried out cyber-enabled intellectual property theft for personal gain and to provide commercial advantage to the Chinese Government".
She warned China by saying, "Australia calls on all countries – including China – to act responsibly in cyberspace. China must adhere to the commitments it has made in the G20, and bilaterally, to refrain from cyber-enabled theft of intellectual property, trade secrets and confidential business information with the intent of obtaining competitive advantage".
On other hand USA's The National Security Agency (NSA), Cybersecurity and Infrastructure Security Agency (CISA) and Federal Bureau of Investigation (FBI) released a Cybersecurity Advisory on Chinese State-Sponsored Cyber Operations. National Security Advisor said, "Chinese state-sponsored cyber activity poses a major threat to U.S. and allied systems. These actors aggressively target political, economic, military, educational, and critical infrastructure personnel and organizations to access valuable, sensitive data. These cyber operations support China's long-term economic and military objectives".
The information in this advisory builds on NSA's previous release "Chinese State-Sponsored Actors Exploit Publicly Known Vulnerabilities." The NSA, CISA, and FBI recommended mitigations empower our customers to reduce the risk of Chinese malicious cyber activity, and increase the defensive posture of their critical networks.
Afghan issue can not be understood from the simplistic lens of geopolitical blocs
Authors: Tridivesh Singh Maini and Varundeep Singh*
On July 14, 2021 a terror attack was carried out in Khyber Pakhtunkhwa (KPK) province in which a number of Chinese engineers, working on the Dasu hydropower project (a project which is part of the China Pakistan Economic Corridor) were killed. The attack predictably evinced a strong response from China. The Chinese foreign minister, Wang Yi speaking before a Shanghai Cooperation Organisation (SCO) Foreign Minister's meeting asked the Taliban to disassociate itself from 'terrorist elements' and in a meeting with Pakistan Foreign Minister, Shah Mehmood Qureshi, asked Pakistan to bring the perpetrators to book. Earlier in April 2021, a car bomb attack took place at Serena hotel in Quetta which was hosting China's Ambassador to Pakistan (four people were killed and twelve were injured)
Wang Yi significantly praised the Ashraf Ghani government, for its attempts towards building national unity and providing effective governance. Beijing clearly realizes that its economic investments in the country as well as big ticket infrastructural projects can not remain safe if there is no security. Afghanistan also criticized Pakistan for its role in sending 10000 Jihadis to Taliban, this is important in the context of the region's geopolitics.
Like all other countries, Beijing and Islamabad, would have expected uncertainty after the US withdrawal of troops but perhaps over estimated their capabilities in dealing with the turbulence which had been predicted by many.
Importance of Chinese Foreign Minister's statements
Wang Yi's statements are important because days earlier a Taliban spokesman, Suhail Shaheen had praised China and welcomed its role in the country's reconstruction. He had also assured China that those involved in the insurgency in Xinjiang would not be given refuge in Afghanistan (one of China's major concerns has been the support provided by Taliban to the East Turkmenistan movement)
While Beijing may have opened back channels with the Taliban and realized that it needs to adapt to the changing geopolitics, recent developments would have increased its skepticism vis-à-vis the Taliban. On the other hand, Russia has been more favorable towards the Taliban. Russia's Deputy Chief of Mission in India, Roman Babushkin argued that the Taliban are a reality which needs to be accepted, and also that any military activities without a political process are insufficient.
Babushkin did make the point that for successful negotiations, Taliban needed to end violence.
'that Taliban should deal with the problem of terrorism and other related issues in order to become legitimate, in order to [get] delisted [at the UN Security Council], in order to go ahead with the future Afghanistan and creation of the inclusive government
It would be pertinent to point out, that Zamir Kabulov, Russian President's Afghanistan envoy went a step further and said that the Afghan government was not doing enough to make talks with Taliban a success.
China's statements subtle warning to the Taliban, indicating its reservations, and praise of Ghani indicate a possibility of greater understanding between Washington and Beijing (even though Beijing has repeatedly attributed the current troubles in Afghanistan to Washington's decision to withdraw troops).
Can US and China find common ground
It remains to be seen if Biden who has exhibited dexterity on a number of complex issues reaches out to Xi Jinping to find common ground with regard to Afghanistan. Significantly, while US-Turkey relations had witnessed a downward trajectory and Biden has been critical of Turkish President Recep Tayyip Erdogan's authoritarian tendencies and Human rights record, both leaders met on the sidelines of the NATO Summit in June 2021. During the meeting Turkey agreed to secure Kabul Airport. US National Security Advisor Jake Sullivan while commenting on Turkey's assurance said
'The clear commitment from the leaders was established that Turkey would play a lead role in securing Hamid Karzai International Airport, and we are now working through how to execute to get to that,'
Taliban earlier this week warned Turkey of 'consequences' if the Middle Eastern nation increased its troop presence in Afghanistan.
Conclusion
Russia's statements with regard to the Taliban indicate that it is not totally on the same page as China (its prior experience in Afghanistan has made it more cautious and circumspect), and that the Afghan issue can not be understood from the simplistic lens of geo-political blocs and traditional lenses. All major stakeholders in Afghanistan, both within the region and outside, seem to be understandably befuddled by the turn of events. It is not just the US, but even China which would be worried not just from an economic stand point but the overall security implications of the turmoil in Afghanistan. The terror attack in KPK indicates that other CPEC related projects could also face threats from militant groups. Beijing would thus need to be quick to react to the overtures from the Taliban in order to secure its economic assets and lives of Chinese workers in neighbouring Pakistan.
It is especially important for Washington, Beijing and other important stakeholders in the region to work together for dealing with the near term turbulence as well as long term challenges Afghanistan is likely to face.
*Varundeep Singh is an Independent Policy Analyst.
Pegasus: Human rights-compliant laws needed to regulate spyware
The UN human rights chief on Monday said the apparent widespread use of Pegasus spy software to illegally undermine the rights of those under surveillance, including journalists and politicians, was "extremely alarming" and confirmed "some of the worst fears" surrounding the potential misuse of such technology.
"Various parts of the UN Human Rights system, including my own Office, have repeatedly raised serious concerns about the dangers of authorities using surveillance tools from a variety of sources supposed to promote public safety in order to hack the phones and computers of people conducting legitimate journalistic activities, monitoring human rights or expressing dissent or political opposition", said High Commissioner Michelle Bachelet in a statement.
According to reports, the Pegasus data leak allegations which surfaced through a consortium of media organisations over the weekend, suggests widespread and continuing abuse of the software, which the manufacturers insist, is only intended for use against criminals and terrorists.
The Pegasus malware infects electronic devices, enabling operators of the tool to obtain messages, photos and emails, record calls, and even activate microphones, according to the consortium's reporting. The leak contains a list of more than 50,000 phone numbers which reportedly belong to those identified as people of interest, by clients of the company behind Pegasus, including some governments.
'Indispensable role'
Surveillance software has been linked to the arrest, intimidation and even killing of journalists and human rights defenders, according to the senior UN official.
Reports of surveillance also trigger fear and cause people to censor themselves. 
"Journalists and human rights defenders play an indispensable role in our societies, and when they are silenced, we all suffer", she said, reminding all States that surveillance measures can only be justified in narrowly defined circumstances when necessary and proportional to a legitimate goal.
'Deep intrusions'
Given that Pegasus spyware, "as well as that created by Candiru and others, enable extremely deep intrusions into people's devices, resulting in insights into all aspects of their lives", the UN rights chief underscored, "their use can only ever be justified in the context of investigations into serious crimes and grave security threats."
If recent allegations about the use of Pegasus are even partly true, she maintained that the "red line has been crossed again and again with total impunity".
'Due diligence'
Companies developing and distributing surveillance technologies are responsible for avoiding human rights abuses, she said, and they must take immediate steps to mitigate and remedy the damage their products are causing, or contributing to, and carry out "human rights due diligence" to ensure that they no longer play a part in "such disastrous consequences" now, or in the future.
States also have a duty to protect individuals from privacy rights abuses by companies, she added.
One key step in this direction is for States to require by law that the businesses meet their human rights responsibilities by becoming more transparent in their design and use of products and by putting in place effective accountability mechanisms.
Better regulation key
Reports also confirm "the urgent need to better regulate the sale, transfer and use of surveillance technologies and ensure strict oversight and authorization."
Governments should not only immediately stop using surveillance technologies in ways that violate human rights, but also "take concrete actions" to protect against such invasions of privacy by "regulating the distribution, use and export of surveillance technology created by others", the High Commissioner said.
Without human rights-compliant regulatory frameworks, Ms. Bachelet upheld that there are "simply too many risks" that the tools could be used to intimidate critics and silence dissent.