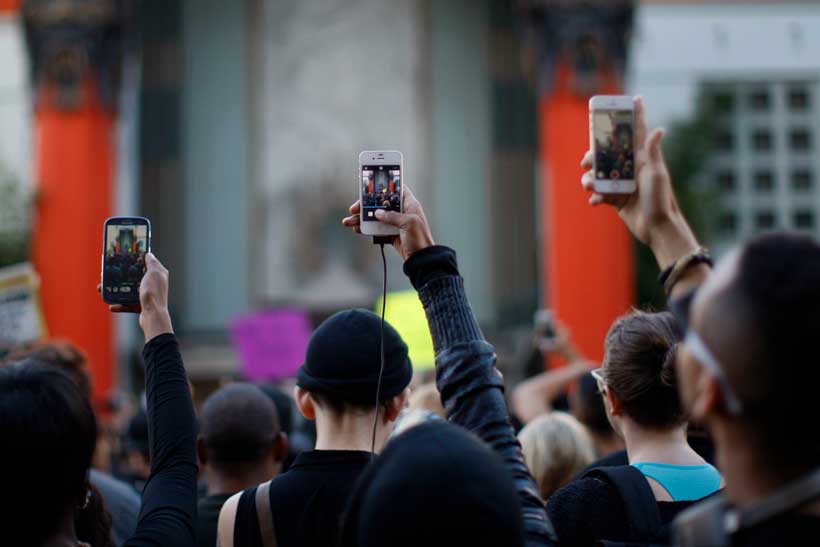 Amid the global coronavirus pandemic, social media, above all Facebook, YouTube and Twitter, have de facto assumed the role of "arbiters of truth," at least when it comes to medicine. Small wonder, since this role offers considerable potential, both commercial, which is already being played out now, often covertly, and political, whose versatile forms have yet to be revealed and studied.
Control over information has always been a key element of state power everywhere. Equally undeniable is the impact that "technological inequality" has on state sovereignty, international relations and the economy. Historically, control over cutting-edge technologies always allowed large political actors, usually states, to dominate their societies, as well as expand their sway abroad, and ensure "undeniable military superiority" and the ability to "dictate their will to less developed countries."
From time immemorial, transnational corporations of every hue have competed with state institutions in formulating the political agenda. By the second half of the 2010s, information technology giants had moved to the forefront, and their political role was already speaking for itself as social media and fake news influence election results "from Minnesota to Myanmar."
"These days, all you need to do to exchange ideas and views – even extremist and outlawed, is just to touch the screen of your computer or click the mouse button." The technological revolution called into question the political establishment's monopoly on the formation of both the views of individual social groups and the mass consciousness as a whole. This "weapon" is now available in an equal measure also to opposition forces, including structures that are unable to operate inside a country.
Politicians worldwide had finally realized the importance of the long-term, strategic aspects of the development of high-tech industries from the standpoint of the future of countries and entire regions shortly before the COVID-19 crisis struck. Digital technologies are becoming the nervous system of modern society, forcing people to "change their habits, behavior, lifestyle," thus turning into an integral element of the political life, both at home and of the country's policy abroad.
The significant role played by the new social media was particularly evident in the rapid rise to media prominence of the ISIS group (banned in Russia), of Brexit and Donald Trump's election in 2016, which came as a surprise to many observers. Social media's role went clearly beyond what most representatives of traditional political classes were ready to accept. Not surprisingly, the idea of "nationalizing" critical technologies is gaining popularity in all leading countries.
During the initial stage of their development, social media almost defiantly shunned the role of "arbiters of truth." This did not prevent them from interpreting, sometimes in a completely "unconventional" way, many phenomena of political, religious and social radicalism. However, since their content, the main driver of their growth, was created by their users themselves, they had to abide by the terms of US jurisdiction and mention the place of registration of the head offices of the vast majority of their parent companies. The Communications Decency Act of 1996 (CDA), which added Section 230 to the Communications Act of 1934, generally protects social platforms from collective lawsuits filed by third parties only if they act as a "neutral" platform or service provider.
By early-2010s, the leading social media outlets, which had initially stayed away from political lobbying, had realized its value in protecting their own commercial interests.
"In 2012, the White House helped Silicon Valley kill the anti-piracy bill" (Stop Online Piracy Act – SOPA), promoted by leading Hollywood companies. IT giants have also drummed up support for "millions of network users," whose pressure Washington politicians were quick to feel. During the 2016 US presidential campaign, media platforms played a significant role in promoting both major candidates. Even though Hillary Clinton was their clear favorite, Trump's victory (as well as the previous campaign in support of Brexit) was largely attributed to the lack of "proper" regulation of the political content coming through social media channels.
Since the advent of the global pandemic, the major multinational media platforms have been systematically trying to check the spread of false information, fake news, panic rumors, etc. As a result, this "thorough" and "aggressive" fight against "content harmful to society" started getting traction with commentators representing the traditional establishment, who believe that this tactic should be applied also to other areas of the information environment during the post-viral period.
It looks like some Internet platforms are getting more and more attentive to the opinion of the ruling class in the West and are acting in unison with the interests of this class. Twitter has just appended a link to two of President Trump's tweets, which he had posted about mail-in ballots, claiming that they would cause the November presidential election to be "rigged. The links urged people to "get the facts" about voting by mail.
Trump responded by signing an executive order on the regulation of social networks. Critics of the politicization of social media believe that despite their being "technically universal tools," the activity of the global networks should not lead to "uniform social and political effects of interactions they participate in."
Meanwhile, IT giants are also playing an increasingly significant geo-economic role. According to one scenario, the Chinese yuan may not be the US dollar's most likely rival as a world reserve currency "in the next 20 to 30 years." Rather, this role may be played by "relatively stable quasi-monetary units, supported by major global corporations," such as Amazon, which is worth about $1 trillion, or Facebook, with an audience of "half of the world's population over the age of 15." US experts even link China's efforts last year to fast-track the creation a national digital currency ("digital yuan") with the publication of the idea of a private global monetary system, known as Libra, under the auspices of Facebook .
Another area creating the prerequisites for enhancing the political influence of digital platforms is the collection and analysis of "Big Data." In contrast to statistics that operate on the basis of pre-formulated hypotheses and models, data is generated "naturally" as a result of any action (and even inaction) of the user. With the introduction of 5G communication technologies, most aspects of life will be covered by the "Internet of Things." Microchips installed in almost all industrial and consumer products, and transmitting all kinds of information, are able to receive control commands from the outside. People are getting increasingly worried about the prospect of the world moving in the direction of "snooping" ("surveillance capitalism.")
Processed by data centers, large arrays of widely varied data make it possible not only to identify behavioral patterns of huge masses of people, but also to predict, with great accuracy, the emergence of certain trends, including public moods and preferences. Moreover, unlike the collection of statistical information, big data is collected without people's knowledge, and the methods of analyzing them are generally kept under wraps, as they are considered by collector platforms as commercial know-how. However, when it comes to determining the political moods of huge masses of people in almost real time, one may inevitably be tempted to manipulate the mass consciousness at a qualitatively new level.
Politically, the technological and social media giants' rise to power may culminate in what is called "netocracy," – a form of political management of society, where the main value is information, not tangible things such as money, real estate, etc.," and the main instrument of power is "full access to reliable information and manipulation with it." According to critics, in a society where the ruling elite are mainly represented by "netocrats," there will be "no state, no laws, no ethics" .
In general, the impact of the global corona-crisis has revealed a two-pronged political trend. On the one hand, what is anticipated is a speedy transformation of economic and business processes towards network distribution, as well as an increasing number of people moved to performing distance jobs. This trend, among other things, is turning IT giants into an increasingly significant force in the labor market. Generally speaking, we are talking about a qualitative increase in the potential impact of social media and the Internet giants that control them on all aspects of everyday life, including the people's political and ideological views and preferences.
Simultaneously, we see the renaissance of national states. The pandemic has proved sovereign states to be way more efficient, both in terms of legitimacy and in terms of resources that can be scrambled to combat a challenge of catastrophic proportions . "Massive demand for protection" makes dirigisme fashionable again.
"Frightened societies will stop questioning the merits and democratic nature of these measures …" Western experts say. Digital supervision and control of citizens is becoming widespread, becoming a kind of "a standard", "less and less questioned," and increasingly perceived as "necessary" and "useful".
States are able to directly tighten their control of the new media. What we are talking about is the creation of some cross-country network associations, whose audiences can only be accessed by companies that meet certain political and ideological criteria. In the extreme case, the very audience of these international services is limited only to citizens of countries that are members of a closed community. This is a kind of geopolitical "fragmentation of the Internet", or at least of its media space. Since the mid-2010s, the United States has been going back to the aggressive use of sanctions designed to check the technological progress of rival powers. Even in Europe, more and more people now see Washington's new line as an attempt to change the balance of economic power in the world.
Thus, emerging right before our eyes is a kind of a communicative digital "ocean" that the life of the vast majority of people and economic entities will plunge into in the coming decades. Industry, global supply chains, military affairs, agriculture, transport, medicine, methods of managing the national infrastructure, and the overall quality of life of billions of people are set to go through dramatic changes.
Any country or a group of countries, which have set themselves the task of closing their technological lag in a matter of just a few years, knows just how difficult and expensive, if possible at all, this can be. And if the main political battles are now being fought over technological issues, then in the future the politicians will be focusing on how to fill the technologies-formed media environment with a new "content."
From our partner International Affairs
It is clear why the Russia—U.S. Presidential summit is in the limelight of the world community. In the history of international relations, high-level meetings often become significant events that change the paradigm of bilateral and multilateral contacts. However, this happens when the accompanying factors—necessary for a reverse, revision, or update—mature. Experts agree that the depth of contradictions does not allow us to achieve serious changes. There are opinions that the summit will see an attempt to form some confrontation rules and establish a set of rivalry principles. In my opinion, this should not be expected for a number of reasons that lie in the structure of the contemporary international relations, which is transit in nature. Most likely, the summit will aim to establish personal contacts and tete-a-tete communication, dating in a new capacity.
The Geneva summit of June 16, 2021 has been prepared for a long time and resulted from a telephone conversation between the presidents as well as the subsequent work of the United States and Russian diplomatic services. The Russian-American relations have always been about security, strategic stability, and world order. Bilateral relations are kept to a minimum, and economic cooperation is at its minimum levels. The depth of contradictions regarding regional conflicts does not allow us to expect any serious changes. Theoretically, a successful dialogue can be achieved in those areas that account for similar interests and do not contradict the interpretations of national security. This could be the Iranian, Syrian and Afghan dossiers. In fact, there have never been insurmountable contradictions as regards these issues. In turn, the Ukrainian crisis is viewed by the parties from fundamentally different approaches, with the situation in the Eastern European country seen as the opposite. The conversation here will probably be short, and a compromise will not be found. The issues of strategic stability and arms control also have different interpretations, but at least so far, they have not been fundamental. Perhaps, these are all problems where some understanding could be achieved. In short, the agenda is broad but rather unpromising.
In any case, a meeting is always better than no meeting. The summit being held signals that it is possible and necessary for the United States to deal with Russia. For the new administration, a meeting's necessity is dictated by the diplomatic structures and the need to establish personal contacts. Indeed, today the relations between the two nations cannot be called normal, working and effective. Given the military and geopolitical capabilities of the two countries, this fact itself is fraught with many threats, security dilemmas and conflict potential. A normalization in relations is a necessity, both for bilateral cooperation and for the global system. At the same time, the prospects for finding any common denominators are shallow. Moreover, this is practically impossible and—given the worldview perspectives of two countries—untimely.
The difficulties of normalization, in my opinion, lie in the systemic factor. Actors see the world, processes, practices, and the international relations system in different ways. Looking at the same things, Russia and the United States see them in contrasting ways, which complicates things and any substantive discussion, not to mention setting rules of the game. There is no consensus or compromise in understanding the international relations system, the role of states, IGOs and NGOs. In Russia, they believe that the United States is in decline. America is convinced that Russia is in decline. In Russia, the realist approach is not only dominant but, perhaps, the only acceptable option for the Kremlin, as the geopolitical interpretation of events seems to be the only relevant mindset.
How to avoid conflict, security dilemma and come to normalization? Today, there is probably no answer to this question. Stability requires institutions. This concept is much broader than organizations, fora or conferences. The institutional theory assumes that actors, bound by some common rules, norms and practices, will find a common language more easily, while the potential for conflict will be controlled. For the relations to be institutionalized, the necessary criterion is the legitimacy of recognizing a vis-à-vis as well as its rights, role and equality. This, unfortunately, is absolutely absent in the Russian-American relations.
Russia sees the world as multipolar, regarding itself as a great power—equal to the United States and China. Following this logic, Moscow demands an appropriate attitude and equality. Russia's perspective on global processes reflects the growing influence of non-Western actors outside of liberal multilateralism. Moscow denies the international relations liberal theory in much the same way that the founders of the basic IR theory, Edward Carr and Hans Morgenthau, did. The liberal approach, and hence the vision of the United States, is seen as idealistic. In addition, individual divergences are treated not as exceptions to the rules but as an actual refutation of the theory itself. And the discourse hides real geopolitical goals that have nothing to do with its interpretation.
The dominant schools of international relations in the United States reject realist theory and, more importantly, see it as a problem of the current state in global politics. In addition, geopolitics and its methods are called obsolete. The consensus position believes that realism is refuted, as it fails to catch the zeitgeist of the much broader and more complex world. Consequently, the interpretations, practices, motives and arguments of the Russian side are not taken in at all. Their actions, in turn, are interpreted from the standpoint of critical, liberal approaches and methodologies of the English school. The dominant schools in the U.S. see the issues of national sovereignty, the role of non-state actors and military force differently. Some postulates neutralize the very concept of sovereignty and the main tenets of realism. Regional crises are considered not from the standpoint of security and geopolitics but as something essentially predicted by the dominant schools in the West, namely the desire of some states to become part of the family of democracies.
According to the English School, the United States treats NATO as a community of nations, believing the rhetoric of the alliance should be based on the need for securitization, as is required by the Copenhagen theory. The rhetoric from these points of view is aimed at the epistemological community, fixing the enemy to strengthen unity and security procedures. In Russia, which proceeds from classical realism or neorealism, we tend to think of NATO as of a military-political alliance that defends the geopolitical interests of a bloc of countries rather than of a community of global police officers. Numerous crises in Syria, Iraq, Libya, and Ukraine are seen as attempts by the Atlantic alliance, which seeks hegemony, to expand its sphere of influence. The consequences are extremely negative, as they are deemed to be destabilizing, rooted in irresponsible decisions that ignore the social and regional characteristics of nations. NATO's direct or indirect involvement in crises is seen as a threat that creates numerous security dilemmas. Moscow sees the strengthening of NATO and the United States as a threat to its national interests and security.
The practices, motivations and characteristics of a multipolar, unipolar or bipolar world are fundamentally different. Consequently, looking at the world through the prism of these theoretical interpretations leads to different, often mutually exclusive readings of the same processes. Indeed, the rules of international relations designed in 1945 and updated following the Cold War need to be revised. However, the leading actors are not going to do this yet, which, apparently, is a sign that the critical potential is lacking at this point. Amid unformed transit world order, which is in some cases similar to the Brownian motion, agreeing on rules of confrontation is inherently difficult.
Today, the relations between Russia and the United States are abnormal, irrational, lacking in systemic thinking, clear goal-setting, and acceptable practices. An experienced administration of professionals has come to power in the United States, and the fact that the summit is to be held demonstrates that the dialogue with Moscow is not toxic. Minimalism and the attempt to focus on small things to achieve practical results may well be the most positive scenario of the summit. At the same time, the transit nature of the current international relations system, which seems to be moving from a unipolar to a multipolar world, prevents the parties from understanding, hearing and accepting each other.
The United States as the largest and the most powerful superpower is experiencing a post-hegemony state, as Robert Cohen puts it. It is increasingly at odds with the new pole of power, China. Russia, not being a full-fledged superpower, is limited in its actions and resources, however, reluctant to give in and believing it is in its national interests to nominally keep a distance from the West. Moscow needs to establish fair relations with the global West, of which relations of equality will be the foundation. At the same time, there is no sound alternative to the ideological construction of a transit world order. The rules of confrontation are, in fact, a kind of detente which recognizes the legitimacy of each party's demands. Under the transit era, it will be extremely difficult to arrive at.
From our partner RIAC
Biden: No More "Favourite Dictators"
Former US President Donald Trump shared a strong personal rapport with Turkish President Recep Tayyip Erdogan, Saudi Crown Prince, Mohammed Bin Salman (MBS) and Egyptian President Abdel Fattah Al Sisi. Trump made no bones about the fact, that he got along well with authoritarian leaders – especially in the Middle East. At the G7 Summit in 2019, Trump while looking for Egyptian President had even said, "Where's my favourite dictator?"
Statements made by Biden before taking over as US President
On the other hand, Joe Biden before taking over as US President had repeatedly criticized Erdogan, MBS and Sisi for their poor human rights record, and had unequivocally stated that none of them would have a free pass in a Biden Presidency. Biden had on numerous occasions flagged the dismal Human Rights record of Saudi Arabia, especially MBS' involvement in the murder of Saudi Journalist Jamal Khashoggi, and lashed out at Trump for soft pedaling on the issue because of his personal rapport with MBS. Similarly, in August 2020, Biden had dubbed Erdogan as an 'autocrat' and also expressed the view that the US needed to lend support to opposition parties in Turkey. Biden had also issued a warning to Sisi, saying that there would be "no more blank checks for Trump's 'favourite dictator'."
How President Biden has approached relations with the three leaders
During the Biden Administration, ties with Saudi Arabia have witnessed a change. A report which clearly points to MBS' role in the murder of Saudi journalist Jamal Khashoggi was released (Trump had refused to release this report). The US has withdrawn support for the Saudi war in Yemen, and defence agreements signed between the US and Saudi Arabia, during the Trump Administration have been put on hold. Yet, Biden while sanctioning Saudi officials in connection with the Khashoggi case, in addition to those sanctioned by the Trump administration, refused to impose sanctions on MBS owing to the strategic importance of Saudi Arabia in the Middle East (Saudi support is essential for the revival of the Iran Nuclear Deal/Joint Comprehensive Plan of Action-JCPOA) and the strong US-Saudi relationship. It would be pertinent to point out, that Biden's decision not to impose sanctions on MBS has drawn strong criticism from many including members of his own party.
If one were to look at the case of Turkey in recent months, the Turkish President has himself toned down his Anti-West rhetoric and described his meeting with Biden on the sidelines of the recent NATO Summit as fruitful. While commenting on the meeting with Biden, Erdogan stated that ' We believe there is no problem that cannot be resolved in Turkey-US relations,'
The US President also said, that the meeting with Erdogan was positive and expressed hope that the bilateral relationship would improve in days to come.
While the meeting between Biden and Erdogan was positive, differences between both sides still persist over Turkey's purchase of S400 missiles (the Trump administration had imposed sanctions in its final days and Turkey had also been removed from its F-35 fighter jet program)
Turkey's strategic relevance
Turkey has stated that it is willing to play a role in security in Afghanistan, and guard Kabul airport, after the US troop withdrawal from Afghanistan. The Turkish President did say that Turkey would require diplomatic, logistic and financial support that the United States. The Biden administration's outreach to Turkey indicates that in spite of differences over key issues, Istanbul's potentially important role post the US troop withdrawal from Afghanistan is something, the US will not ignore. Erdogan on his part needs to have a reasonable relationship with US, given the fact that the Turkish economy has slowed down significantly.
If one were to look at the case of Egypt, Egyptian President Abdel Fattah Al-Sisi role in the ceasefire between Israel and Palestine, was acknowledged by the Biden Administration. While the US President during a telephonic conversation hailed Sisi for his 'successful diplomacy' in the Israel-Palestine ceasefire, the Secretary of State Anthony Blinken said:
'We have had in Egypt a real and effective partner in dealing with the violence, bringing it to a close, relatively quickly. And now, we are working closely together to build something positive'
It would be pertinent to point out, that during his telephonic conversation with Sisi, in May 2021, Biden did flag the need for a 'constructive dialogue' on human rights in Egypt
Conclusion
While it is easy to criticise Joe Biden, he has the onerous responsibility of striking a balance between values, which he has repeatedly referred to even after taking over as President, with US interests. Given the complex geopolitics of the Middle East, Biden while refraining from taking steps, which may be counterproductive has flagged his concerns with regard to Human Rights, and sent out a strong message that bilateral relations will be dictated by substance and not mere personal chemistry or optics. At the end of the day it is important not to forget Miles's law — 'where you stand depends upon where you sit'.
The liberal international order has not crumbled yet
Since 2017 when Donald Trump took office, the "liberal international order" erected in 1991 has been under serious challenges raised by the United States' relative decline, the Trump administration's isolationist policy, and on top of that, the outbreak of COVID-19. Indeed, this order is greatly plagued, which is evidenced by its dysfunction. Against this backdrop, its endurance in the upcoming time is questionable. Nevertheless, the liberal international order has not collapsed yet. It will even revive, and endure in the post-pandemic era.
The victory of Biden
Notwithstanding facing great threats, the liberal international order is far from crumbling. On the contrary, it is gradually reviving. In the Western world, countries are making effort to reform their order that is on the verge of collapse. This is true in the US – the world democracy's leader. Joe Biden's victory against Donald Trump may be a positive signal for the US and the global democracy. As a strong advocate for values including democracy, multilateralism and international trade, at no doubt, President Biden will be opposite to Trump in his policy, both domestic and foreign ones. Indeed, during his first 100 days, Mr.Biden has implemented some meaningful things. Regarding the pandemic, he has a stricter approach than his predecessor's: Mandatory mask wearing, a $1.9-trillions bill, historical vaccination campaign, to name a few. All of Biden's actions have been so far effective, when the new cases and deaths are steadily declining, and the number of vaccinated people is substantially high. This lays a foundation for Biden to reinvigorate his country's ruined democracy and governance system, as his efficiency in countering COVID-19 may help him regain American people's trust on the future of American democracy.
In terms of foreign policy, President Biden has some radical changes compared to that of Trump, which might be favorable to the Western world. At first glance, Biden embraces multilateralism much more than his predecessor, with the hope of saving the American global leadership. He supports Washington's participation in international institutions, which is illustrated by the rejoining of WHO, Paris Agreement and several multilateral commitments. In tandem with this, Biden values the US' alliances and strategic partnership as vital instruments for the US' hegemony. Unlike Trump's transactional approach, Biden prioritizes early and effective engagement with allies to tackle regional and global issues, especially major ones like NATO, G7. In Asia, he also seeks for further cooperation with traditional allies such as Japan, Australia, New Zealand and deepening partnership with Vietnam, Singapore, India and ASEAN countries.
More importantly, President Biden's policies towards the US' competitors and "rogue states" are far different from Trump's. Granted, despite seeing China as the biggest threat to the American global leadership, Biden adopts a more flexible and multilateral policy. His administration looks to cooperate and compete with China, which implies a different trajectory of the US-China relationship in the upcoming time. Additionally, as noted above, instead of unilaterally escalating tensions with China as Trump did, Biden has been forging relations with traditional and potential Asian allies to contain China together, given China's increasing assertiveness. With regard to Iran, Washington is now working on the Iran Nuclear Deal with other six parties, promising a potentially positive future on the relations of Iran with the US and the West. The bottom line is, a radical change in Biden's foreign policy will be a clear message to the world that the US will still try to save the liberal international order and make this world safer for democracy.
The European Union is recovering
Things are happening in the same pattern in Europe. European leaders are also closely cooperating, both inside and outside the bloc, to defeat COVID-19. That said, they are ardently supporting multilateralism. So far, the EU has spent billions of dollars in vaccine development as well as humanitarian support, demonstrating its solidarity in the battle against COVID-19. As such, if EU leaders can successfully lead their bloc out of the current crisis, they can reform this currently plagued institution in the post-pandemic era. Not only seeking further intra-bloc cooperation, but also European leaders are working with other major actors around the world to substantiate the global battlefront against COVID-19. Recently, German Chancellor Angela Merkel urged her country and China to jointly develop COVID's vaccine in an open, transparent way, and to a further extent, maintain good and stable bilateral partnership, regardless of two sides' differences.
Similarly, the EU has been putting the Transatlantic relationship among the priorities of its foreign policy agenda. After Biden's election, the European Commission has proposed refreshing the US-EU alliance and establishing a Transatlantic Trade and Technology Council, being seen as an informal tech alliance with the US to prevent China from dominating this critical sector. The Transatlantic relationship is perhaps one of the pillars for the liberal international order, given its long history and its contribution to maintain the global stability. In the last decades, this axis has been damaged by numerous issues, from economic to security, which is one of the main causes for the decline of liberal international order. Thus, a fresh Transatlantic relationship is conducive to the re-emergence of this order. In this respect, the EU's effort to strengthen the Transatlantic alliance, despite being questionable in terms of feasibility and outcome, is still paving the way for reinvigorating of liberal international order. More notably, the most recent G7 Summit has illustrated the Western's solidarity, when there is a convergence in most issues related to global governance and maintaining the Western-based order. This may be a harbinger of the liberal international order's revival, at least in a foreseeable future.
Non-Western world is struggling
The dynamics outside the Western world is also changing in a more favorable direction. Many non-Western countries, once were effective in combating against the pandemic, are now struggling with a greater threat. Taiwan, in spite of being praised as one of the most successful states in the battle against COVID-19, is currently facing another wave of pandemic when the new cases in this island are surging recently. Other successful stories, let us say Thailand, Japan or South Korea, are questionable of maintaining their momentum in preventing the virus, showcased by their relatively inefficiency during this new wave, in implementing strong measures and getting their people vaccinated. This raises question about these countries' model of governance, which was used to be praised as a better alternative for a plagued, dysfunctional Western one, thanks to its merits in helping those above-mentioned states contain COVID-19.
Major non-Western blocs are in the midst of COVID-19 crisis as well. The clearest example is the BRICS. Except China, all other countries in this bloc have been tremendously suffering from the pandemic. Due to this, they are far from being recovered quickly. This failure in dealing with the virus undermines the bloc's previous effort in establishing its position as a major, effective one, not to mention building a new, non-Western international order. This is also the case with ASEAN, as the organization was sharply divided by COVID-19. There are countries doing well with controlling the pandemic such as Vietnam, Singapore, but the Philippines and Indonesia are unable to do so, making this bloc suffering from institutional sclerosis without having any coherent COVID-19 policy. Therefore, non-Western blocs and countries are far from being more efficient than Western ones, implying they are unable to come up with any better international orders than the current liberal international one.
More importantly, Western values underpinning the liberal international order are universal. This is noteworthy when arguing for the long-lasting of Western order, as its existence and endurance mainly hinge on the universality of Western values. These values have been embraced by many countries for a very long time. Hence, despite being deteriorated in recent years, they cannot be easily changed. On the other hand, non-Western values are also not as highly embraced as Western ones. China, desiring to topple the US, is initiating numerous projects and agreements to spread its values around the world, making the world less Western and more Chinese/Asian. Nonetheless, Beijing has yet achieved any remarkable achievements in making their values more widespread and embraced by the rest of the world. Even worse, its image has been tarnished due to its rising assertiveness. Its projects in developing countries, especially BRI-related projects, have been notorious for a large number of problems related to environment or local corruption, and it is raising strategic uncertainty in the region by its increasing militarization, particularly on the South China Sea. These movements have turned China into a "malevolent" major power, hindering its process of disseminating and socializing its values to the world.
It is also worth noting that although Western values have declined, they have been proven to be benevolent for this world. Most recently, it is Western countries that have successfully developed good COVID-19 vaccines to save themselves and save the world from this unprecedented health crisis. Non-Western countries, for instance China and Russia, have their own vaccines, but they are not as welcome as other developed countries in the West in the vaccine race, because their vaccines are relatively less effective than Western-produced ones. Democracy, liberty, lassaiz faire are values that help Western countries or ones embrace such things able to produce massive amount of effective vaccines, and more broadly to develop a strong science and technology foundation. Producing and distributing vaccine for the rest of the world would make the West become a savior, which is good for saving the liberal international order.
Without doubt, the liberal international order has been in its worst time since 1991 when it reached its heyday. However, thanks to its merits, the liberal international order will not die. Instead, most countries will jointly save it, because they have been benefitting from this order for a long time, and will be so in the future. The order's founding members are recovering, and cooperating closely to reform it, as well as there are no better international orders that can replace the existing one. Given these circumstances, the liberal international order would re-emerge as a dominant form of ordering this world after the pandemic, and would be perpetuated.