Why clean air is vital for healthy ecosystems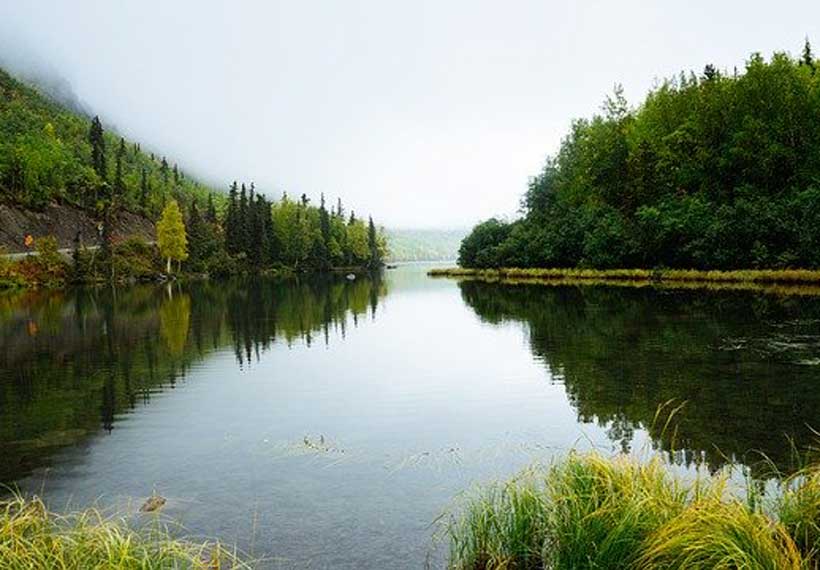 We all need clean air to live. It is one of the things that we don't think much about, we breathe in and breathe out automatically and take the air around us for granted. But dirty air takes a heavy toll on human health and the environment, leading to 7 million premature deaths annually, according to the World Health Organization.
We are all part of the problem as our activities emit harmful pollutants into the air. We not only damage our own health, but also biodiversity and ecosystems. Pollutants emitted by industry, transport and agriculture impact ecosystems in multiple ways: some pollutants affect the ability of plants to function and grow. Others can cause 'acid rain' and acidify water, vegetation and soils. Ultimately, acidification affects the ability of ecosystems to provide 'ecosystem services', such as nutrient and carbon cycling, but also water provision, on which the planet and human life is dependent. Another consequence of air pollution is damage to water bodies resulting from nutrient overloads, leading to algae blooms and ultimately to a loss of oxygen, and of life. As ecosystems are impacted, so is the biological diversity.
What affects ecosystems and biodiversity also affects us: pollutants enter our drinking water, our food chain and – of course, our lungs.
We all need to be part of the solution to protect ecosystems and biodiversity from the adverse effects of air pollution. On World Environment Day, celebrated annually on 5 June, we speak up for our environment. This year's theme "Time for Nature" highlights the essential services ecosystems and biodiversity provide for our planet to be habitable.
40 years ago, the notorious die-back of forests – or Waldsterben, as it came to be known – that was a result of air pollution-induced acid rain motivated governments of the region to sign an international legally-binding contract back in 1979: the UNECE Convention on Long-range Transboundary Air Pollution (Air Convention).
The cooperation among Parties to the Convention to improve air quality has led to remarkable results: air pollution trends and economic growth have been decoupled. Emissions of harmful substances including particulate matter and sulphur have been cut by 30-80% since 1990 in Europe and 30-40% in North America. This has led to healthier forest soils and lakes. In Europe, these measures account for 1 additional year of life expectancy and prevent 600,000 premature deaths annually. The Convention is thus a reminder that cooperation across sectors and borders is indispensable to protect our environment.
Russia Says Pollution in Arctic Tundra is Not Above Limit
Recent studies of water and soil have shown that the oil pollution level at the Arctic Ambarnaya River, located near the thermal power plant in Norilsk where a massive fuel spill occurred in late May, have not exceed the maximum permissible values, said local authorities in russian Krasnoyarsk region.
"Over 600 water and soil samples were studied. According to the latest data, oil pollution at the mouth of the Ambarnaya River does not exceed threshold limit value. Nevertheless, the work has not been stopped," Yuri Lapshin, the head of the Krasnoyarsk regional government, said during a session in the local parliament on Thursday, adding that now "the key phase in the aftermath of the accident ends."
Earlier in June, scientists linked what happened in the Russian Arctic with global warming.
Much of Siberia had high temperatures this year that were beyond unseasonably warm. From January through May, the average temperature in north-central Siberia has been about 8 degrees Celsius (14 degrees Fahrenheit) above average, according to the climate science non-profit Berkeley Earth.
Siberia is in the Guinness Book of World Records for its extreme temperatures. It's a place where the thermometer has swung 106 degrees Celsius (190 degrees Fahrenheit), from a low of minus 68 degrees Celsius (minus 90 Fahrenheit) to now 38 degrees Celsius (100.4 Fahrenheit).
The increasing temperatures in Siberia have been linked to prolonged wildfires that grow more severe every year, and the thawing of the permafrost is a huge problem because buildings and pipelines are built on them. Thawing permafrost also releases more heat-trapping gas and dries out the soil, which increases wildfires, said Vladimir Romanovsky, who studies permafrost at the University of Alaska Fairbanks.
The warming climate in Siberia will cause permafrost to melt, which may cause the destruction of cities in this region, writes the Swedish newspaper Svenska Dagbladet, citing climatologist Johan Kuylenstierna.
According to climatologists, such hot weather in Siberia is a link in the overall chain and calls for tracking the overall trend. If permafrost begins to melt faster, it will hit the infrastructure hard. The soil will become unstable and it will affect cities and dams (Siberia), he said. Recall earlier, BNN Bloomberg reported that a fuel leak due to damage to a reservoir in Norilsk was caused by melting permafrost in the Arctic region.
It was also claimed that the infrastructure of the region is collapsing in this regard, and the accident is likely to damage permafrost in the region in the long term.
Rising global temperature shows 'enormous challenge' of meeting climate goal
Annual global temperature is likely to be at least 1°C warmer than pre-industrial levels in each of the coming five years, putting globally agreed climate change targets in jeopardy, new data from the World Meteorological Organization (WMO) reveals.
The prediction is among the findings in the UN agency's latest Global Annual to Decadal Climate Update, released on Thursday in Geneva, which also shows that temperature could exceed 1.5°C in at least one year between now and 2024.
The Earth's average temperature has already risen beyond 1°C above the pre-industrial period, which spans 1850-1900, while the last five years have been the warmest on record.
"This study shows – with a high level of scientific skill – the enormous challenge ahead in meeting the Paris Agreement on Climate Change target of keeping a global temperature rise this century well below 2 degrees Celsius above pre-industrial levels and to pursue efforts to limit the temperature increase even further to 1.5 degrees Celsius", said WMO Secretary-General Petteri Taalas.
No substitute for action
The latest predictions take into account natural variations and human influences on climate but exclude changes in greenhouse gas emissions and aerosols resulting from lockdowns during the coronavirus pandemic.
WMO explained that the slowdown in industrial and economic activity due to the pandemic is not a substitute for sustained and coordinated climate action.
"Due to the very long lifetime of CO2 in the atmosphere, the impact of the drop in emissions this year is not expected to lead to a reduction of CO2 atmospheric concentrations which are driving global temperature increases", said Mr. Taalas.
"Whilst COVID-19 has caused a severe international health and economic crisis, failure to tackle climate change may threaten human well-being, ecosystems and economies for centuries, Governments should use the opportunity to embrace climate action as part of recovery programmes and ensure that we grow back better."
Harnessing international expertise
The Global Annual to Decadal Climate Update is led by the United Kingdom's Met Office.
It harnesses the expertise of internationally acclaimed climate scientists and the best computer models from leading climate centres around the world.
WMO explained that combining forecasts from across the globe enables a higher quality product than what can be obtained from any single source.
Supporting Haiti's COVID-19 response
Haiti is well acquainted with challenge. In any given year, a typical Haitian household will face multiple shocks—which may include hurricanes, floods, disease, death, unemployment or any combination thereof.
For Haitians, some might say that COVID-19 is only the latest thing. But it is a critical thing.
Even before the pandemic, almost 59 per cent of the Haitian population were living in poverty, with 23.8 per cent in extreme poverty and more than 60 per cent unable to meet basic needs.
Of all the challenges Haitians face, health shocks take the greatest toll on household incomes. With limited access to insurance or credit, many families cope by borrowing money, selling assets, or take children out of school. The poor have even fewer options, and coping with the pandemic may have long-term negative impacts­–decreasing their food supply, depleting their savings or alienating them from their social networks.
Above and beyond the UNEP mandate
Since 2017, the United Nations Environment Programme (UNEP) has worked in close partnership with Haiti's national Directorate for Civil Protection, developing early-warning systems to reduce disaster risks–particularly in the country's small but densely populated southern islands, exposed to storms with 300 kilometre per hour winds.
Strictly speaking, pandemic response is not part of UNEP's mandate to support Haiti's Ministry of Environment. But when COVID-19 hit, the Port Salut office knew it would have to extend beyond its usual reach.
UNEP Haiti Programme Officer, Jean-Max Milien says, "COVID-19 has pushed every limit. Our adaptability­–the fact that we are ready and willing to do whatever is needed–is not just important to our work. It underpins the relationship we have with the people of Haiti."
UNEP Haiti has been supporting national institutions on their response and protection plans, helping incorporate pandemic risks–especially with regard to sanitation. The organization is also working closely with local communities, supporting partners to raise awareness and put mitigation measures into place.
Haiti's unique challenges
Strict limitations on movement and widespread adoption of sanitation measures–the go-to response in many other countries hit by COVID-19–are less straight-forward in Haiti.
With the majority of Haitians earning their livelihoods through informal work like fishing, direct services or street vending, a ban on such activities would not only be difficult to impose, it could also cripple household incomes. In fact, according to the World Bank, a 20 per cent reduction in household consumption could push another million people into poverty and 2.5 million into extreme poverty.
At the same time, access to water and sanitation is disparate, at best. Even in metropolitan Port-au-Prince, for example, only about 55 per cent of the population has access to the public water network. And while access to piped and other improved water sources is increasing for the rural top 20, it is decreasing for the rest of the rural population.
Simple interventions with big impact
UNEP Haiti and its partners, the Directorate of Civil Protection and Pêche Artisanale et Développement Intégré, started with the simple act of handwashing. And it wasn't just the act that was simple.
Handwashing units were constructed from repurposed cooking oil buckets, fitted with taps and tubes. A local producer installed 1,200 handwashing points while training community members to build the same types of units in the Marine Protected Areas of Port-Salut, Saint-Jean-du-Sud and La Cahouane. Communities are now equipped to expand the initiative and refill the handwashing units with water and bleach when needed.
To encourage their use, handwashing points are located where communities gather most frequently: local associations, shops, restaurants, hotels and main roads, ensuring access even for the most isolated. The repurposed buckets are also branded with messages, encouraging people to wash their hands and reduce their risk of infection. In April, a sound-equipped truck issued the same messages as it moved throughout inland and coastline communities everyday
These simple interventions are not only effective and cost efficient, they also enforce UNEP's duty of care–allowing space and not exposing any partner or person to unnecessary risk while establishing the campaign. Moreover, because of their small budget, additional funds remain and will allow UNEP to provide further support, in case the disease peaks.