India must follow Supreme Court orders to protect 100 million migrant workers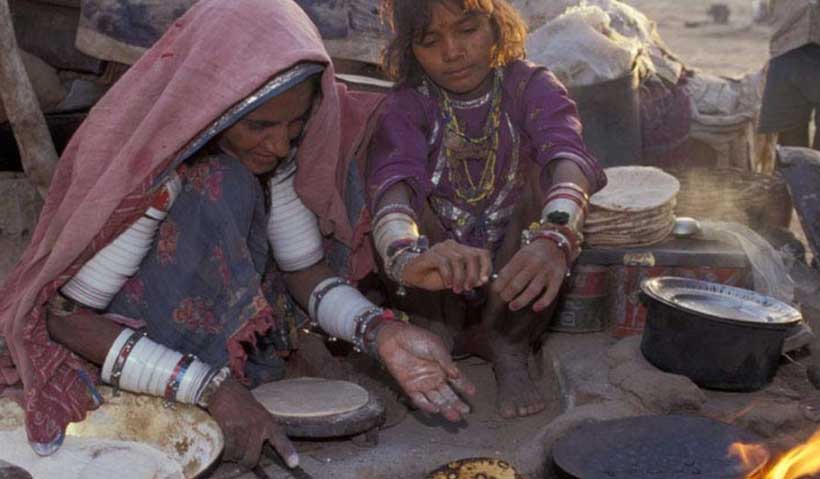 The Indian Government must urgently comply with a Supreme Court order to ensure the wellbeing of more than 100 million migrant workers, after coronavirus measures left them jobless, forcing them to travel long distances home, UN independent human rights experts said on Thursday.
"We are appalled at the disregard shown by the Indian Government towards internal migrant laborers, especially those who belong to marginalized minorities and lower castes", said the Special Rapporteurs on the right to housing, Balakrishnan Rajagopal, and on extreme poverty, Olivier De Schutter.
Instead of protecting their rights, the experts maintained that the Government has not only failed to address migrants' "dire humanitarian situation" but further exacerbated their vulnerability, "with police brutality and by failing to stop their stigmatization as 'virus carriers'".
Heed the Supreme Court
After losing their income and with many migrants forced by their landlords to vacate their homes, the experts said many were living in intolerable conditions, hungry and without shelter, saying: "We hope the Supreme Court order will be promptly implemented and help to dramatically improve the situation of internal migrant workers".
The Supreme Court has ordered the Government to properly register them, ensure free transportation and provide the migrants with shelter, food and water until they reach their homes.
Moreover, railway companies are mandated to ensure trains are available to transport them back to home villages, as requested by the Government.
Inadequate relief
Many internal migrants have also been assaulted by police for violating the sudden lockdown orders put in place by the Indian Government on 24 March, which, that took no account of the difficulties many vulnerable people faced in complying with them.
"While we applaud the Government's efforts so far to provide 'relief packages' for people living in poverty, and to schedule extra train rides, these have been clearly inadequate and insufficient due to the vast majority of internal migrant workers not qualifying for relief packages, and the lack of coordination among state governments for the transportation of internal migrants", the independent experts said.
Although the scale of the COVID-19 crisis in India is "testing the Government's commitment to protect the rights of the most vulnerable members of society", they maintained that by urgently assisting internal migrant workers, in compliance with Supreme Court's order, "it will give the Government the opportunity to show its willingness to comply with its responsibilities under human rights law."
The experts' call, also conveyed directly to the Indian Government, has been endorsed by Special Rapporteur on the right to food, Michael Fakhri; the Special Rapporteur on the right to physical and mental health, Dainius Pūras; and the Special Rapporteur on minority issues, Fernand de Varennes.
Special Rapporteurs and independent experts are appointed by the Geneva-based UN Human Rights Council to examine and report back on a specific human rights theme or a country situation. The positions are honorary and the experts are not UN staff, nor are they paid for their work.
'Bodyright' campaign launched, to end rise in gender-based violence online
Corporate logos and Intellectual Property (IP) receive "greater protection online than we do as human beings", the UN's women's health agency that works to end gender-based violence, UNFPA, said on Thursday, launching a new bodyright campaign to help shield bodies and minds from cyber violence.
"It's time for technology companies and policymakers to take digital violence seriously", said UNFPA Executive Director Natalia Kanem -"right now".
The bodyright campaign highlights that corporate logos and copyrighted IP are more highly valued and better protected online than images of human bodies, which are often uploaded to the Internet without consent, and used maliciously.
The ⓑ symbol – which can be added to any image directly via Instagram stories using stickers, or by downloading it from the webpage – aims to hold policymakers, companies, and individuals to account while simultaneously driving the message that women, girls, racial and ethnic minorities, the LGBTQ+ community, and other marginalized groups are valued and will not be violated online.
The new frontier
Relentless, borderless and often anonymous, Dr. Kanem called the online world "the new frontier for gender-based violence".
And the reality is that people do not own their bodies online.
From cyberstalking and hate speech, to so-called doxxing (publishing private or identifying information about an individual) and the non-consensual use of images and video, such as deepfakes (whereby a person in an existing image is replaced with someone else's) – online violence is rife. 
Many countries lack laws which make online violence illegal, leaving anyone trying to remove exploitative images of themselves with few legal rights, and a long process for those who try to enforce those rights which do exist.
Human rights infringement
When someone infringes on music or film copyright, digital platforms remove the content immediately.
Governments have passed laws making copyright infringement illegal and digital platforms have devised ways to identify and prevent unauthorized use of copyrighted material.
These same protections and repercussions must also extend to individuals and their photos, says UNFPA. 
The bodyright campaign
From London and of Ghanaian and Nigerian heritage, award winning poet and spoken-word artist Rakaya Fetuga, has authored and performed poetry for the campaign that communicates the impact of online violence and the novel concept of bodyright.
And to advocate for action from Governments, policymakers, tech companies and social media platforms, UNFPA has launched a Global Citizen-hosted petition, that demands tangible action to end digital violence and abuse.
16 Days of Activism
The bodyright initiative is part of the wider 16 Days of Activism against Violence Against Women campaign, which runs until 10 December. 
UNFPA has also launched "The Virtual Is Real" website, which features stories of victims and survivors of digital violence from around the world, alongside innovative work done by UNFPA to address this human rights violation.
According to the Economist Intelligence Unit, 85 per cent of women with access to the internet reported witnessing online violence against other women, and 38 per cent have experienced it personally.
Moreover, some 65 per cent of women surveyed have experienced cyber-harassment, hate speech and defamation, while 57 per cent have experienced video and image-based abuse and 'astroturfing', where damaging content is shared concurrently across platforms.
Avoid starvation: 'Immediate priority' for 3.5 million Afghans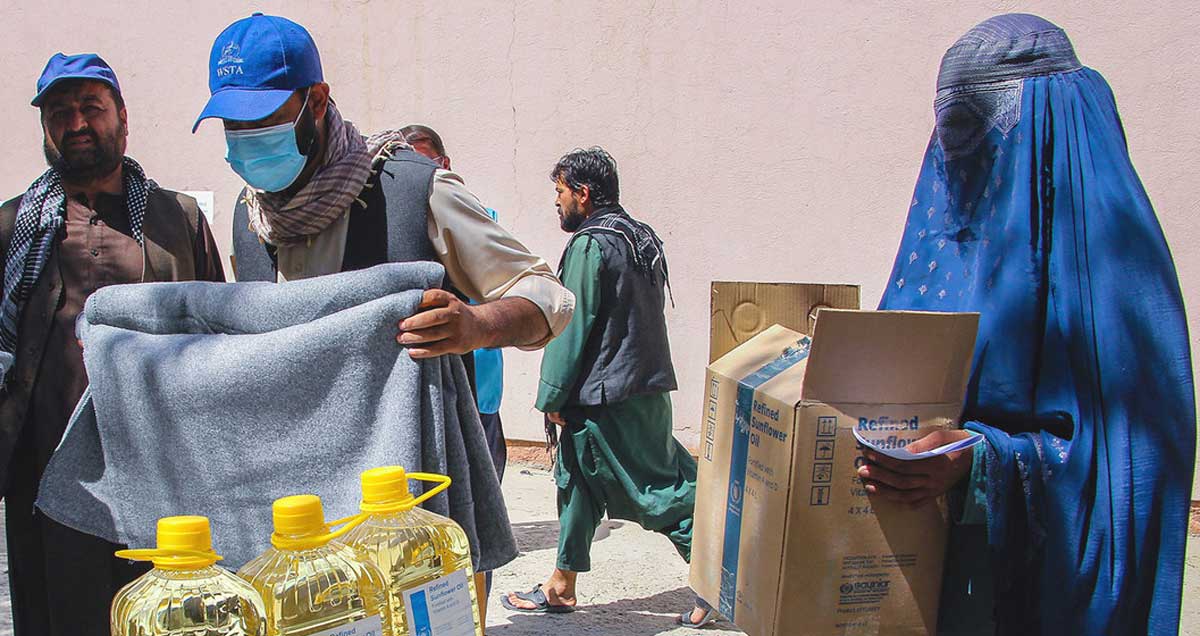 Amidst "truly unprecedented levels" of hunger in Afghanistan, the UN refugee agency (UNHCR) said on Friday that as winter arrives, avoiding widespread starvation "is an immediate priority". 
Launching a global fundraising winter campaign to help forcibly displaced families in Afghanistan and elsewhere to cope with the most life-threatening months of the year, UNHCR Spokesperson Babar Baloch described it as "a crisis of hunger and starvation".
"People don't have enough to eat, and it's very visible".
Displaced lack proper shelter
Following his recent return from Kabul, Mr. Baloch said in Geneva that a lack of insulated shelters, warm clothes, insufficient food, fuel for heating, and medical supplies are just some of the deprivations confronting people who have been forcibly displaced.
With temperatures "expected to drop to -25C, many displaced families lack proper shelter – a primary requirement if they are to survive the bitter cold", he warned.
3.5 million in need
UNHCR is appealing for increased support for 3.5 million people displaced by conflict inside Afghanistan, including 700,000 from 2021 alone.
According to Mr. Baloch, nearly 23 million people, or 55 per cent of the population, are facing extreme levels of hunger – nearly nine million of whom are at risk of famine.
This year, UNHCR has assisted some 700,000 displaced people across the country, the majority since mid-August.
The UN agency is helping nearly 60,000 people every week.
"But as we reach thousands of people, we find thousands more people who are in need of humanitarian assistance", Mr. Baloch explained, before appealing for "further resources for the most vulnerable".
He identified "single mothers with no shelter or food for their children", displaced older persons left to care for orphaned grandchildren, and people taking care of loved ones with special needs. 
Appeal for more support over winter
The UNHCR spokesperson noted that the agency's teams have delivered relief supplies via road through Afghanistan's neighbouring countries and humanitarian flights.
Five more flights carrying winter supplies are scheduled for next week, Mr. Baloch said, reiterating that support to cope with the extreme conditions will continue until February, including core relief items, such as thermal blankets and warm winter clothing.
Shelters are also being repaired and reinforced, and vulnerable families are receiving cash assistance.
Mr. Baloch thanked Government and private donors for their support to UNHCR efforts to aid and protect vulnerable families during the winter months.
However, he added that a further $374.9 million was urgently needed to bolster UNHCR's response to Afghanistan next year, particularly, over winter.
Women and girls at high risk of being pushed into modern slavery
Women and children are at high risk of being pushed into contemporary forms of slavery, UN-appointed independent rights experts said on Wednesday.  
In an alert to coincide with the International Day for the Abolition of Slavery on 2 December, they warned that global challenges such as COVID-19, climate change and armed conflict have amplified existing vulnerabilities. 
According to figures released by UNICEF and ILO in June, almost 80 million children aged 5 to 17, are subjected to hazardous work which is classified as a contemporary form of slavery.
Now, according to the experts, these children may be working longer hours or under worsening conditions as a result of the economic recession and school closures caused by the pandemic.  
Many others may have been forced into the worst forms of child labour, owing to job and income losses among their families.  This includes the forced recruitment of youngsters into armed and criminal groups.
Women and girls
According to unofficial estimates cited by the experts, one in every 130 women and girls is subjected to contemporary forms of slavery such as child and forced marriage, domestic servitude, forced labour and debt bondage.
"High levels of exploitation also prevail in global supply chains, which often rely on and reinforce labour exploitation and deepen gender inequality", the experts said.
They argue that "gender inequalities lie at the heart of contemporary forms of slavery", but note that these practices are also fuelled by intersecting forms of discrimination, such as race, social and economic status, age, disability, sexual orientation, and migration status, among others. 
The experts urge Member States to establish safe migration pathways, along with easier access to decent work and more cooperation with the business sector, civil society organisations and trade unions.  
For them, "accountability of perpetrators must be strengthened as a matter of priority, as currently impunity prevails in far too many instances."
"Slavery in all its forms needs to end for everyone, including women and children in contexts of armed conflict. Slavery is a disgrace to humanity which in the 21st century cannot be tolerated", they conclude.
This year marks the 30th anniversary of the UN Voluntary Trust Fund on Contemporary Forms of Slavery. This year alone, 18,000 victims received vital assistance from organizations supported by the Fund.
To mark the International Day for the Abolition of Slavery, the experts appeal to all Member States to increase their contribution to the Fund, or to make one for the first time.
The Special Rapporteurs are part of what is known as the Special Procedures of the Human Rights Council. They work on a voluntary basis; they are not UN staff and do not receive a salary for their work. They are independent from any government or organization and serve in their individual capacity.