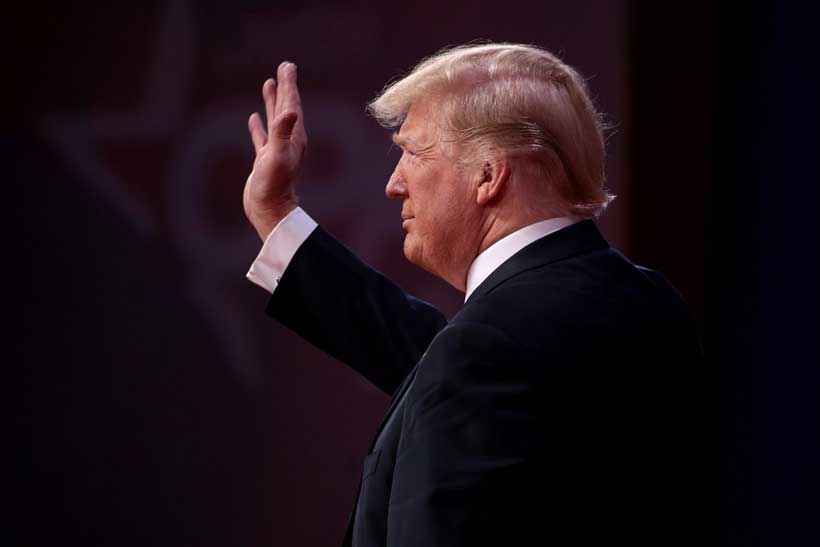 Imagine such a scenario of hybrid warfare: Russia uses speculation on financial markets to collapse the currency of some Western country and as a result acquires a huge amount of money. Russia uses this money to sponsor different public organizations and media that spread Russia's ideology and criticize its opponents. 33 million dollars are invested in an ethnic minority protection group that exacerbates divisions among the public and even causes occasional mass unrest. It then happens that especially severe unrest takes place right before the election where an anti-Russian president has to be dethroned. The unrest is so violent that the army has to be engaged, but the network of Russian-sponsored NGOs and media outlets will call this the "rebirth of fascism" in order to discredit the president.

It is hard to imagine such a scenario, because in Russia's case such methods would be eradicated in their early stages and would elicit a response that would be long remembered. But this scenario has already taken place, but it was not Russia. It was the most humane and generous philanthropist known to world – George Soros, who invested the money he acquired from speculations because of his good heart and nothing else to do, and he doesn't even ask anything in return – at least so we are being told. Or the newest trend is to deny that George Soros has any influence in Latvia, calling it a "conspiracy theory", and this puts an end to any discussion about the topic, despite information about his networks of influence being publicly accessible and quite eloquent.

In the case of America, Soros has invested 33 million dollars in the Black Lives Matter movement, which is the main organizer of these "protests". The same George Soros who believes Trump has to leave the White House because he is against globalism and the ideology of open borders. The same person thanked by numerous NGOs and media outlets for their existence, which is also the reason they uncritically spread his ideas. Every revolution has its sponsors, and the course of these revolutions does not depend on any objective factors, but on the emotions provoked by politicized media and their interpretation of who is the "victim" and who is the "suppressor".

This information reaches those who want to be reached, especially among the generation indoctrinated in the "wisdoms" of the neo-Marxist victim cult – it is a rationalization of crime, because according to neo-Marxist views only "victims" can be moral, whatever they may be doing, while the "suppressors" are always amoral. Therefore, the formula of unrest in America is as follows: money from financial speculation + neo-Marxist ideology + exploiting the divisions of a multi-cultural society.

Every multicultural society is like a powder keg. Ethnic and racial unrests in the US are frequent, and as a rule they always begin with a case of brutality highlighted by the media in order to raise the already existing tensions to a critical point. This happens despite violent crimes being committed every day by different racial combinations, but they are being ignored because they have no use in their particular form at the particular time. Then the looting and killing starts and it affects people who are unfortunate to live in a specific area (mostly inner cities) and most often these are the ethnic minorities themselves. Conflicts erupt not only between blacks and whites, but also blacks and Mexican immigrants, as well as Asians who own small businesses. After the unrest, the economies of these inner cities slump which creates a negative spiral of poverty.

It is clear to anyone who has been following the cruelty of these "protests" that they have nothing to do with the tragic death of George Floyd anymore. Small business owners are the ones suffering the most (and these also include blacks), while those who try to resist being robbed get brutally beaten up. How such idiotism as stealing clothes and cheesecakes serves the memory of George Floyd is unclear – at least to normal people.

But there are plenty of people willing to justify this, because they don't live in the reality of the people who have suffered from the demolition, but they live in a social network bubble where everything is determined by "racism", "capitalism" or other smart keywords. Justifying the unrest goes hand in hand with normalizing the ideas of communism, which is being done by the modern "expertocracy", left-liberal faculties, thinktanks and media. In the US this indoctrination has taken place for more than a half of century and we can see the consequences – it is not just about "different views" but about an attack on civilization, which in Latvia is currently in its initial stage.

Marxism is returning as a farce where leftist activists find honor in serving the interests of financial speculators and support ruining the lives of small business owners and the working class in useless protests. And for this reason Trump will most likely be reelected – just as in 1968 the Americans elected a president of "law and order" Nixon, there will now too be the need for someone able to ensure the safety of peaceful citizens against low-life thugs. And with this I congratulate you!
Maximizing Biden's Plan to Combat Corruption and Promote Good Governance in Central America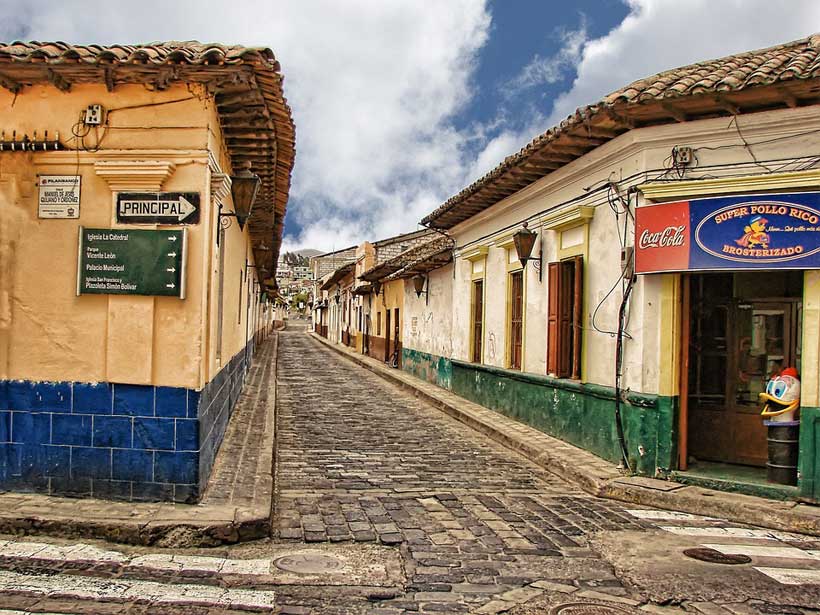 Authors: Lauren Mooney and Eguiar Lizundia*
To tackle enduring political, economic and security challenges in the Northern Triangle countries of El Salvador, Guatemala and Honduras, the Biden administration is attempting to revitalize its commitment to the region, including through a four-year, $4 billion plan submitted in a bill to Congress.
In its plan, the White House has rightly identified the root causes of migration, including limited economic opportunity, climate change, inequality, and violence. Systemic corruption resulting from the weak rule of law connects and entrenches the root causes of migration, while the increased devastation brought about by climate change exacerbates economic hardship and citizen insecurity.
The renewed investment holds promise: previous foreign assistance in the Northern Triangle has shown results, including by contributing to a reduction in the expected level of violence. As the Biden Administration finalizes and begins implementing its Central America strategy, it should include three pillars—rooted in lessons learned from within and outside the region—to maximize the probability that the proposed spending in U.S. taxpayer funds has its intended impact.
First, the Biden administration should deliver on its promise to make the fight against corruption its number one priority in Central America by supporting local anti-graft actors. The sanctions against officials which the United States is considering are a step in the right direction, but lasting reform is best accomplished through a partnership involving regional or multilateral organizations. Guatemala's international commission against impunity (CICIG) model was relatively successful until internal pushback and dwindling U.S. advocacy resulted in its dismantlement in 2019. Though Honduras' equivalent was largely ineffective, and El Salvador's recently launched version is marred by President Bukele's campaign against judicial independence, there is room for learning from past mistakes and propose a more robust and mutually beneficial arrangement. The experience of Ukraine shows that while external engagement is no silver bullet in eliminating corruption, the role of foreign actors can lead to tangible improvements in the anti-corruption ecosystem, including more transparent public procurement and increased accountability for corrupt politicians.
In tandem with direct diplomatic pressure and helping stand up CICIG-like structures, the U.S. can harness lessons from prior anticorruption efforts to fund programs that address other aspects of graft in each country. This should involve empowering civil society in each country to monitor government compliance with anti-corruption laws and putting pressure on elected officials to uphold their commitments. While reducing impunity and improving transparency might not automatically persuade Central Americans to stay, better democratic governance will allow the three Northern Triangle nations to pursue policies that will end up expanding economic opportunities for residents. As Vice President Harris recently noted, any progress on addressing violence or food insecurity would be undermined if the environment for enabling corruption remains unchanged.
Second, the United States should support local initiatives to help reverse the deterioration of the social fabric in the region by expanding access to community decision-making. Given the high levels of mistrust of government institutions, any efforts to support reform-minded actors and stamp out corruption at the national level must be paired with efforts to promote social cohesion and revitalize confidence in subnational leaders and opportunities. In the Northern Triangle countries, violence and economic deprivation erode social cohesion and undermine trust in democratic institutions. The U.S. government and practitioners should support civic efforts to build trust among community members and open opportunities for collective action, particularly in marginalized areas. A key component of this is expanding sociopolitical reintegration opportunities for returning migrants. In so doing, it is possible to help improve perceptions of quality of life, sense of belonging, and vision for the future. While evidence should underpin all elements of a U.S. Strategy for Central America, it is particularly important to ensure social cohesion initiatives are locally-owned, respond to the most salient issues, and are systematically evaluated in order to understand their effects on migration.
Lastly, the U.S. should take a human-rights based approach to managing migration and learn from the pitfalls associated with hardline approaches to stem migration. Policies rooted in a securitized vision have a demonstrable bad record. For example, since 2015, the European Union undertook significant measures to prevent irregular migration from Niger, including by criminalizing many previously legitimate businesses associated with migration and enforced the imposition of legal restrictions to dissuade open and legal migration. Not only did this violate freedom of movement and create adverse economic consequences, but it also pushed migration underground, with individuals still making the journey and encountering significant threats to their lives, security and human rights.
A welcome realignment
Acknowledging the role of push factors is key to responding to migration effectively. Most importantly, putting political inclusion and responsive governance at the center is critical for ensuring vulnerable populations feel rooted in their community. A more secure, prosperous, and democratic Central America will pay dividends to the United States not only in terms of border security, but also in the form of improved cooperation to tackle global challenges, from climate change to the rise of China.
*Eguiar Lizundia is the Deputy Director for Technical Advancement and Governance Advisor at IRI
Sinophobia grows in Argentina: The relations still the crucial one
Since COVID-19 came up in Wuhan, China followed by the growth of anti-sentiment China especially in Argentina. In late November 2020, the crowds happened in the capital of Argentina, Buenos Aires that involved the two Chinese entrepreneurs who have a supermarket chain and the customers speak loudly if the owners spread COVID-19 pandemic. According to a recent article, the slogan of 'China out' is available to speak up against the government.
At the same time, the Representative of the United States expressed similar concerns over the increasingly close relationship between China and Argentina, which come on top of attacks against Chinese immigrants whose country is blamed for the COVID-19 pandemic. The US also concerns that 'the close relationship' would limit Argentina's economic autonomy.
Despite the troubles and the response from the US, the Argentine government still has incredible ties with China on several sides such as economic, military, and politics.
Economic side is crucial with Chinese government. Since President Xi introduced the ambitious project, Belt and Road Initiative, he imagined it can lift China's economy. One of the developing countries and a member of G20, Argentina. During 2005-2019, Argentina received a maximum investment from China $ 30.6 billion, which accounted for 39 per cent of total Chinese investment in South America. Besides, the Chinese corporations also gave the proposal to build 25 industrial pig farms in Argentina, which will significantly increase pork exports to China. The project involving investment of $3.8 billion, is expected to generate annual production of 900,000 tons amounting to $2.5 million in annual exports.
Even captured by COVID-19 that caused an economic and health crisis, the government has several agreements within China. At least, Argentina has 15 infrastructure projects on the list that can be presented to Chinese corporations. The projects that Argentina prioritizes for investment from China are the rehabilitation plan of the San Martín Railway system, improvements to the Roca Railway line, infrastructure works on the Miter and Urquiza railway, and the redefinition of the Belgrano Cargas railway network.
A Marco Press reported Chinese government and Argentine government discussed the possibility of selling to Argentina the Sino-Pakistan's resultant force, JF-17 fighter jets. In the history of both countries noted it was not the first time to have an arms deal. In 2015, the two countries signed a deal for Argentina's purchase of several weapons systems. Estimated at US$1 billion, the deal included warships, armoured vehicles and fighter jets. These agreements were signed during the presidency of Cristina Fernandez de Kirchner (2008–2015), the left-wing and Peronist leader who built close ties with China. Despite, the retired right-leaning, Mauricio Macri in 2015 having cancelled these projects, the Peronist government in 2019 tried to revive it.
In late May 2021, The Argentinian government have announced an Ascention Technologies SA will have a collaboration with China's counterpart, Satellite Hard to install a satellite ground station at an industrial park, The Southern city of Rio Gallegos. But before, since 2017, Argentina also hosted a Chinese military-run space station in Neuquen province. The facility signed between the PRC and the prior government of Cristina Fernandez, is largely operated by Chinese military personnel.
The station's location and known dish characteristics appear consistent with China's need for facilities in the hemisphere capable of continuously tracking objects in space, in support of its lunar and planetary space program. While the telescope facility does not have an overtly military purpose, the head of the U.S. Southern Command has mentioned it as an item of concern, as it is conceivably capable of intercepting signals from American or other overflying satellites, or supporting other Chinese strategic missions.
The Chinese space radar telescope is not, however, the only instance of China collaboration with Argentina on issues related to space. Great Wall Industrial Corporation has helped to build and launch 13 satellites for the commercial Argentine company Satellogic. Additionally, the state satellite company ARSAT also maintains commercial service contract relations with Chinese-based firms.
The several relations led by the Argentine government depend on China's potensial. Instead of the protests that have grown up in Argentina, the government needs to upgrade their economic growth. But, for some reasons, the government should set an alarm if China steps up their acceleration. Besides, the government should be careful and must have more consideration to Chinese firms because the West analysts have stated that China's foreign policy has an unseen reciprocal, the debt-trap. It had been proven that Sri-Lanka's port, the Hambantota, went to the China side.
The Gendered Effects of COVID-19 in Mexico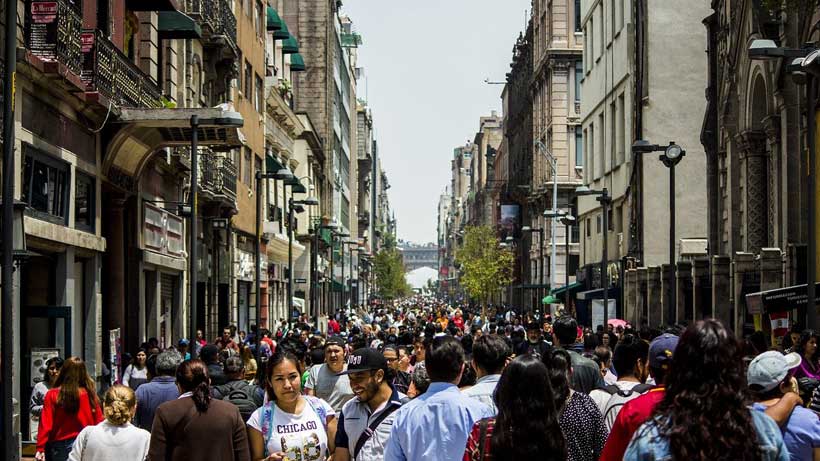 Authors: Andi Dahmer, Kerby Gilstrap, Timothy S. Rich*
The Covid-19 pandemic has exacerbated many existing problems and inequalities in societies around the world. Informal labor, loosely defined as "productive activities that are not taxed or registered by the government" has suffered more job losses due to the pandemic. These jobs, such as fruit market vendors or hospitality workers among other lower-paying professions, are less likely to have remote working options which increases the exposure of their employees to COVID-19. According to the International Labor Organization, Latin America and the Caribbean region saw the largest reduction in hours worked in the labor market, estimated at a 20.9% loss in hours. In Mexico, women have experienced unemployment at higher rates than men. In March 2020, the unemployment rate was just under 3 percent, but due to shutdowns during the course of the pandemic, the unemployment rate has fluctuated between 4 and 5.5 percent since then. COVID-19 also largely accounts for a GDP decline of 8% in 2020.
Due to the pandemic and the rise of working remotely from home, many workers have found the lines between work and home blurred. According to Pew Research Center, in a survey about how Covid-19 has impacted working Americans, one third of respondents who work from home all or most of the time now work longer hours than before the pandemic. Results are similar for those who rarely or never work from home (23%) and for those whose work cannot be done from home (21%). In total, 24% of respondents said they are working more hours, 59% said about the same or did not know, and 17% said they are working fewer hours than before the pandemic.
This disparity is also true in Latin America, where women have been disproportionately impacted by the pandemic. Already, men were more likely than women to both participate in the labor market and hold jobs in "high-paying sectors"; however, even before the pandemic, women in Latin America and the Caribbean faced high levels of unemployment.
Women who did work often did so in sectors most affected by the pandemic (e.g. tourism, restaurants) and in which one could not work remotely, which exacerbated already high levels of unemployment across the region.
According to the LAC COVID-19 High Frequency Monitoring project, 56 percent of women lost their jobs either temporarily or permanently between May and August 2020, a rate 44 percent higher than that of men. Even as men began returning to the workforce in 2021, the gap in job losses by gender remained. Two of the largest factors to blame for this include: childcare and household responsibilities in combination with gender norms, and reliance on work in industries that require face-to-face interaction and are thus vulnerable to social distancing measures. Many could not transition to work from home, and those who could often did so while balancing traditional caregiving responsibilities for children and family members which ultimately became too burdensome to successfully balance, and contributed to an exit from the workforce.
To assess both views of the government's response to COVID-19, but more importantly the shifts in work and household responsibilities due to the pandemic, we conducted an original web survey June 22-24 via Qualtrics, using quota sampling. First, we asked respondents to evaluate the statement "I am satisfied with the national government's response to COVID-19". Overall, 45.44% agreed with the statement, compared to 42.4% disagreeing. Men were slightly more likely than women to state they were satisfied with the response. Broken down by party, only supporters of the ruling MORENA party had a majority of respondents satisfied, consistent with the broader public opinion literature on the role of partisan lenses.
Next, we randomly assigned respondents to one of two prompts regarding responsibilities since COVID-19.
Version 1: Since the outbreak of COVID-19 in 2020, would you say that your work responsibilities have decreased, increased, or stayed about the same?
Version 2: Since the outbreak of COVID-19 in 2020, would you say that your household responsibilities have decreased, increased, or stayed about the same?
In terms of the work responsibilities version, we see that men were far more likely to say responsibilities had increased rather than decreased (41.52% vs. 16.96%), whereas women were more evenly divided (36.05% vs. 34.01%) However, when asked to evaluate the increase of household responsibilities, we see almost identical responses between men and women, with nearly two thirds of both (64.71% of men, 66.27% of women) stating responses increased.
These findings on their face may seem odd at first glance, when considering that household responsibilities, especially childcare, tend to fall disproportionately on women. However, this may be a case of men overestimating the time spent on housework, as seen elsewhere prior to the pandemic. Likewise, our survey cannot capture the extent to which household responsibilities increased, only that male and female respondents claimed increases. For example, according to a 2015 study, after the birth of their first child, a woman's total house work (including unpaid labor and childcare) increases 21 hours per week whereas men's increases to slightly more than 12 hours. It is not unreasonable to assume similar differential increases due to the pandemic, especially in light of gender role expectations in Mexico.
Finally, this analysis does not take into account the single mothers who are barred from re-entering the workforce as they are unable to find sufficient childcare to monitor their children when they work outside of the home. This is especially true of the gig economy and informal labor sectors which cannot be completed virtually. For example, according to the United Nations, women in Mexico before the pandemic performed 39 hours per week of unpaid labor (nearly the same amount as a full-time job) and the number is increasing due to COVID. This does not include increased homeschooling responsibilities as public schools In Mexico closed. Men, by contrast, performed only 13 hours of unpaid labor, and the inequity was especially stark for single mothers. In Mexico City, for example, record numbers of women have been forced to enter the sex trade in order to afford food, rent, and provisions for their families. The Associated Press estimates that nearly 40 % of the women new to sex work are single mothers who lack any other alternative.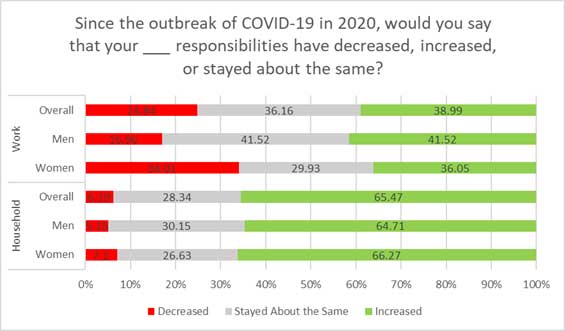 How to reintegrate millions of women forced to exit the workforce during the pandemic will be a challenge to Mexico, but one faced by most developing and developed countries alike. The New York Times has labeled this mass exodus of women as a "shecession" and foreshadows long term implications of women's exit throughout the global economy. There are many possible policy solutions to the inclusion of women in the workforce but none of them are short-term fixes. A simple start would be ensuring that women have access to childcare. If children are home alone, it is impossible for low-wage workers to return to informal labor sectors outside of the home. The second and third are increasing access to higher education for women around the world and closing the gender pay gap so that women's rates of unemployment and employment in low-wage sectors are not substantially higher than men's. While, during the 2010's, Mexico implemented a Federal Daycare Program for working mothers, this program still did not have the capacity to address the rampant need in all parts of the country. Then, in February of 2019, citing austerity measures, President López Obrador permanently ended the program, resulting in more than 1.8 million parents living without access to childcare. Moreover, Mexico has one of the largest gender employment gaps as well as gender pay gaps in the OECD. Though policies are enacted to alleviate these economic stressors, policy rollbacks, like those listed above, have consistently communicated to women and indigienous women that their needs are not prioritized. The pandemic has exacerbated this gap and it is unclear to what extent the government will act to offer solutions.
Andi Dahmer is the Exchange Program Manager at the World Affairs Council of Kentucky. She is a 2019 Honors graduate of Western Kentucky University and a 2018 Truman Scholar.
Kerby Gilstrap is an Honors Undergraduate Researcher at Western Kentucky University. She is majoring in International Affairs, Arabic, and Sustainable Development.
Timothy S. Rich is an Associate Professor of Political Science and Director of the International Public Opinion Lab (IPOL) at Western Kentucky University.
Funding for this survey work was provided by the Mahurin Honors College at Western Kentucky University.