"It must not be forgotten that it is perhaps more dangerous for a nation to allow itself to be conquered intellectually than by arms." – Guillaume Apollinaire, "The New Spirit and the Poets" (1917)
More than anything else, a nation-state survives along with the corresponding society's intellectual and moral underpinnings.[1] In the case of US President Donald Trump's patently childish "Space Force," neither precondition is evidenced. And at the same time that Trump has been abandoning essential treaties with Russia and economic arrangements with China, this president acts as if extending belligerent nationalism into space is somehow a rational plan.
Quite plainly, Donald Trump, who prides himself on "attitude, not preparation," is sorely mistaken.[2] Prima facie, any such extension of geopolitical competition would be anything but gainful. Among many other things, Space Force expresses the reductio ad absurdum of a dissembling president's wholesale indifference to wisdom and ethics. It will only heighten the probability that America could be "conquered intellectually," not "by arms."
There is more. Space Force represents an ironic reaffirmation of past Trump policy failures. Where it is correctly understood as a logically derivative posture from this president's "America First," the operational role of his "Force" will be to extend Realpolitik[3] or power politics to places where it has never existed before, still-pristine and "vertical" places. Significantly, as Realpolitik has never worked here on earth,[4] any intelligent observer should feel compelled to ask: Why should belligerent geopolitics now work on a "galactic" level?
There are multiple ironies to be considered. As is the case of Donald Trump's foreign and domestic policies in general, Space Force will be founded upon myriad failures of the past. In essence, these failures are all aspects of the "balance of power world system originally bequeathed at the Peace of Westphalia in 1648. This conflict-oriented state system, an "everyone for himself"[5] pattern of interminable international warfare, was born at Westphalia, immediately following the Thirty Years' War.[6] Though certain "Westphalian" zero-sum interactions might still have been more-or-less tolerable before the appearance of nuclear weapons, they are unsustainable in our bitterly acrimonious and proliferating nuclear world. Unassailably, they are even more dramatically unsustainable at this fearful time of worldwide disease pandemic.
It's not complicated. What America needs today is not just another gratuitous or destined-to-fail weapon system[7] (how could it possibly "succeed" if it doesn't calculably contribute to this country's "assured destruction capability"?), but rather a more conspicuous, well-intentioned presidential commitment to global interdependence/worldwide cooperation.[8] Although true that – at least for the foreseeable future – the United States must take appropriate steps to ensure the overall credibility of American nuclear deterrence, it is not true that such credibility requires retaliatory "coverage" in all prospective theatres of large-scale military engagement.[9]
Even if the Russians should "succeed" in militarizing space first – and even if this militarization were to involve nuclear elements – a fully suitable U.S, countervailing strategy could still remain entirely on this planet. In these calculations, the prospective aggressor (here Russia) would be unconcerned with the geographic origins of any American retaliatory destruction. After all, those origins would have no material consequence as long a US retaliatory strike were judged sufficiently probable and "assuredly destructive."
This is an absolutely key reason why the United States has no identifiable need for maintaining any specific supremacy in space. Expressed differently, this means that an American president can readily maintain an indispensable US "assured destruction" capability vis-à-vis Russian and/or China without adjusting principal target sets according to ever-changing venues of enemy missile deployments. As far as what president Trump has called his newly proposed space force "super-dooper missile" – not exactly the terminology of a scientist or military professional – it represents only a caricatural reference, one more appropriate for 1950s-era children's' television programming than for any seriously complex US strategic reality.[10]
Nuclear strategy is certainly a "game" that an American president should always be prepared to "play," perhaps even for the indefinite future, but not without some conspicuous prior understandings of history, science and very elementary formal logic.
Going forward, US President Trump must remain systematically aware of all conceivable circumstances that could place us in extremis atomicum,[11] but this focus will need to be broadly conceptual, and not childishly centered on American "super" missiles or reassuringly "big" bombs.
Instead of "America First" (Trump's overall term for a system that willfully punishes the Many for the presumed benefit of a contrived Few), a rational American president should reject all derivatives and corollaries of "Westphalian" dynamics.[12] Accordingly, any foreign policy that naively seeks to maximize America's own well-being at the zero-sum expense of other states and peoples would be acting against certain binding norms of international law[13] and contra its own national security interests at the same time.
Sadly, nothing could possibly be more apparent to anyone who bothers to think logically and historically about such literally existential matters.[14]
The world is a system. Everything, therefore, is interrelated. Among other things, no American foreign policy success can be achieved at the willfully sacrificial expense of other countries and peoples. No such presumptive success is sustainable if the rest of the planet must thereby expect a more violent and explosive future. In this connection, it would be difficult to argue that Donald Trump's Space Force could in any way lead us toward a less violent or less explosive global future.
Very difficult.
A manifestly corrosive American national tribalism is being "protected" by U.S. Space Force. Nothing more. When all cumulative policy impacts are taken into careful analytic account, this "soulless"[15] derivative of "America First" and belligerent nationalism will emerge as anything but patriotic. What else should we reasonably conclude about a planned U.S. military posture that would injure this country and various other countries abjectly, unambiguously and at the same time?[16]
Among other basic issues here, it is effectively impossible to calculate the vast number of associated interactive effects of these significant injuries, especially where they would expectedly be "force-multiplying" or synergistic. By definition, wherever a synergistic injury would obtain, the "whole" of any inflicted harm would be greater than the tangible sum of its "parts."
Today, at a time when America's fight against worldwide disease pandemic should represent this nation's very highest-priority security challenge, US Space Force offers a strategic posture that is wholly misconceived and prospectively lethal. Left in place, it will further exacerbate a deliberate presidential choice of gratuitous belligerence as the favored style of American military interaction. Ironically, what is required, instead, is the readily decipherable opposite of Space Force.
This means, in essence, a broadened US leadership awareness of human and societal interconnectedness.[17]
History is duly instructive. From the 1648 Peace of Westphalia to the present fragmenting moment, world politics have been shaped by a continuously shifting balance of power and , correspondingly, by variously relentless correlates of war, terror and genocide. Ideally, of course, and against all calculable odds, hope should continue to exist. But now, even under the most imaginably optimistic circumstances, it should surely sing more softly, unobtrusively, even in a prudent undertone.
For Americans now increasingly endangered by Trump's visceral or seat-of-the-pants foreign policies, more will be required than superficial or sotto voce modulations. Soon, merely to survive on this imperiled planet, all of us, together, will have to rediscover an individual human life, one consciously detached from narrowly ritualistic patterns of conformance, mindless entertainments, shallow optimism or any other disingenuously contrived expressions of some utterly imagined tribal happiness. At a minimum, such survival will demand a prompt and full-scale retreat from what Donald Trump has termed "America First" and from all of its rapidly dissembling correlates. In this regard, Trump's Space Force is the foreseeable result of a much deeper societal pathology, a know-nothing American populism that drives out intellect and reason in favor of incessantly deliberate mystifications and collective self-delusion.
Thomas Jefferson and America's other Founding Fathers had already understood something very basic: There is always a necessary and respectable place for serious erudition. By learning from history, Americans may yet glean something from "America First" that is necessary to opposing any actual iterations of Space Force. They may learn, even during this national declension Time of Trump, that a ubiquitous mortality is more consequential than any glittering administration promises of "supremacy," "advantage" or "victory."[18] Our current time on earth is more meaningfully a time of agony than of algorithm.
In The Decline of the West, first published during World War I, Oswald Spengler asked importantly: "Can a desperate faith in knowledge free us from the nightmare of the grand questions?" This remains a vital query, but one that will never be adequately raised in our universities, on Wall Street or absolutely anywhere in the Trump White House. Still, we may learn something productive about these "grand questions" by studying American roles and responsibilities in a radically changing world politics.
This task must be about intellectual struggles, not weapons per se.
At that point we might finally come to understand what has thus far eluded us. The most suffocating insecurities of life on earth can never be undone by militarizing space and by abrogating pertinent international treaties. To argue otherwise is to further mar a wholesale unfamiliarity with world and national history with inexcusable derelictions of both logic and science.[19]
In the end, even in Trump-era American foreign policy decision-making, truth is exculpatory. In what amounts to a uniquely promising paradox, Space Force could help illuminate a blatant lie that may still let us see the underlying truth. This truth is peremptory and not really mysterious or unfathomable. Americans require, after all, a substantially wider consciousness of unity and relatedness between individual human beings and (correspondingly) between adversarial nation-states.
There is no more urgent requirement.
None.
Though seemingly oriented toward greater American power and security, building an American Space Force would merely propel this country's disordered military strategy from one untenable posture of belligerent nationalism to another. What the proponents of Space Force ignore, inter alia, is that all national security options should always be examined from the standpoint of their cumulative impact. If the credible effect of this new America First policy initiative will be to spawn various reciprocal postures of belligerent nationalism among principal foes (i.e.., Russia and potentially China) the net effect will prove sorely destabilizing and comprehensively negative.[20]
At this exceedingly precarious moment in world and national history, the president of the United States must do everything possible to heed the poet Apollinaire's warning of "intellectual conquest." Though "force of arms" will assuredly remain a derivative source of military power and threat, America's principal emphasis must now be placed on variously promising concepts and ideas, not on expanding the "hardware" or tactics of willful human destructiveness. Instead of withholding funds from the World Health Organization,[21] Donald Trump must finally acknowledge the interminable futility of belligerent nationalism, and – correspondingly – take certain tangible steps toward expanded worldwide cooperation.
Could this actually happen?[22] To be sure, the probable likelihood of any success here is bound to be very small, but the time-dishonored alternatives are all uniformly misconceived and inherently catastrophic.[23] If America's president should retain even a tiny remnant of leadership commitment to rational decision-making, he will quickly understand that U.S. Space Force is the reductio ad absurdum of a long-dying belligerent nationalism or Realpolitik.[24]
It is hardly a medical or biological secret that the factors common to all human beings greatly outnumber those that differentiate one from another. Accordingly, unless leaders of all great states can finally understand that the survival of any one state will inevitably be contingent upon the survival of all, true national security will continue to elude every nation on earth, even the most "powerful."
The bottom line? The immediate security task must remain a proper conceptualization and refinement of national nuclear strategy. Simultaneously, however, President Trump must somehow learn to understand – together with all other far-sighted national leaders – that Planet Earth is an organic whole, a fragile unity that exhibits rapidly disappearing opportunities for avoiding successive war and dismemberment. To seize these residual opportunities, Washington must learn to build solidly upon the foundational insights of Francis Bacon, Galileo and Isaac Newton, and upon the much more recent summarizing observation of Lewis Mumford: "Civilization is the never ending process of creating one world and one humanity."[25]
Obviously, the United States has no inherently special obligations in this regard, nor can it afford to build its own most immediate security policies upon narrowly distant hopes. Still, if expressed as an ultimate vision for more durable and just patterns of world politics, Donald Trump might recognize the indissoluble link between America's own physical survival and that of the wider international system. In the final analysis, merely to keep itself "alive," America will have to do whatever it can to preserve the global system as a whole. For the moment, this is an idea insurmountably far from the consciousness of America's current president.
To instruct still further from Pierre Teilhard de Chardin's The Phenomenon of Man, "The egocentric ideal of a future reserved for those who have managed to attain egoistically the extremity of `everyone for himself' is false and against nature. No element could move and grow except with and by all the others with itself."
---
[1] The seventeenth-century French philosopher Blaise Pascal remarks prophetically in Pensées: "All our dignity consists in thought….It is upon this that we must depend…Let us labor then to think well: this is the foundation of morality." Similar reasoning characterizes the writings of Baruch Spinoza, Pascal's 17th-century contemporary. In Book II of his Ethics Spinoza considers the human mind, or the intellectual attributes, and – drawing further from Descartes – strives to define an essential theory of learning and knowledge. Much of this effort was founded upon familiar ( to Spinoza) certain Jewish sources.
[2] "Who is to decide which is the grimmer sight," asks Honore de Balzac, "withered hearts, or empty skulls?"
[3] See, by this author, Louis René Beres, Reason and Realpolitik: US Foreign Policy and World Order, Lexington Books, 1984; and Louis René Beres, Mimicking Sisyphus: America's Countervailing Nuclear Strategy, Lexington Books, 1983. Regarding philosophical foundations of Realpoliitk: "Right is the interest of the stronger," says Thrasymachus in Bk. I, Sec. 338 of Plato, THE REPUBLIC (B. Jowett tr., 1875). "Justice is a contract neither to do nor to suffer wrong," says Glaucon, id., Bk. II, Sec. 359. See also, Philus in Bk III, Sec. 5 of Cicero, DE REPUBLICA.
[4] Power politics or a "balance-of-power" has never been more than a facile metaphor. Despite its name, it has never had anything to do with ensuring or ascertaining equilibrium. As such, balance has always been subjective, a matter of assorted individual perceptions. Adversarial states in this "Westphalian" dynamic can never be sufficiently confident that strategic circumstances are suitably "balanced" in their particular favor. In consequence, each side to any contest or competition must perpetually fear that it will somehow be left behind, this creating ever wider and even cascading patterns of national insecurity and collective disequilibrium.
[5] Says French Jesuit philosopher Pierre Teilhard de Chardin in The Phenomenon of Man: "The egocentric ideal of a future reserved for those who have managed to attain egoistically the extremity of `everyone for himself' is false and against nature."
[6] International law remains a "vigilante" or "Westphalian" system. See: Treaty of Peace of Munster, Oct. 1648, 1 Consol. T.S. 271; and Treaty of Peace of Osnabruck, Oct. 1648, 1., Consol. T.S. 119, Together, these two treaties comprise the Peace of Westphalia.
[7] The Devil in George Bernard Shaw's Man and Superman observes correctly that "Man's heart is in his weapons….in the arts of death he outdoes Nature herself….when he goes out to slay, he carries a marvel of mechanisms that lets loose at the touch of his finger all the hidden molecular energies…."
[8] We may think here of the applicable Talmudic metaphor: "The earth from which the first man was made was gathered in all the four corners of the world."
[9] Understood at purely conceptual levels, US strategic thinkers must inquire accordingly whether accepting a visible posture of limited nuclear war would merely exacerbate enemy nuclear intentions, or whether it would actually enhance this country's overall nuclear deterrence. Such questions have been raised by this author for many years, but usually in explicit reference to more broadly theoretical or generic nuclear threats. See, for example, Louis René Beres, The Management of World Power: A Theoretical Analysis (1972); Louis René Beres, Terrorism and Global Security: The Nuclear Threat (1979; second edition, 1987); Louis René Beres, Apocalypse: Nuclear Catastrophe in World Politics (1980); Louis René Beres, Mimicking Sisyphus: America's Countervailing Nuclear Strategy (1983); Louis René Beres, Reason and Realpolitik: US Foreign Policy and World Order (1984); Louis René Beres, Security or Armageddon: Israel's Nuclear Strategy (1986); and Louis René Beres, Surviving Amid Chaos: Israel's Nuclear Strategy (2016).
[10] As a child growing up in New York City in the 1950s, I am reminded of "Captain Video" and "Tom Corbett Space Cadet." Plainly, such earlier children's programs are not a proper model for US strategic forces, anywhere.
[11] See, by Louis René Beres at Harvard Law School: https://harvardnsj.org/2020/03/complex-determinations-deciphering-enemy-nuclear-intentions/ See also, by this author, at US Army War College, https://warroom.armywarcollege.edu/articles/nuclear-decision-making/ and at Modern War Institute, West Point (Pentagon) https://mwi.usma.edu/theres-no-historical-guide-assessing-risks-us-north-korea-nuclear-war/
[12] For the most part, these dynamics describe a more-or-less variable condition of "chaos." Though composed in the seventeenth century, Thomas Hobbes' Leviathan may still offer us a vision of this condition in modern world politics. During chaos, which is a "time of War," says the English philosopher in Chapter XIII ("Of the Natural Condition of Mankind, as concerning their Felicity, and Misery."): "… every man is Enemy to every man… and where the life of man is solitary, poor, nasty, brutish, and short." Still, at the actual time of writing Leviathan, Hobbes believed that the condition of "nature" in world politics was less chaotic than that same condition extant among individual human beings. This was because of what he had called the "dreadful equality" of individual men in nature concerning the ability to kill others. Significantly, however, this once-relevant differentiation has effectively disappeared with the continuing manufacture and spread of nuclear weapons, a spread soon apt to be exacerbated by an already-nuclear North Korea and by a not-yet-nuclear Iran.
[13] According to Article 53 of the Vienna Convention on the Law of Treaties: "…a peremptory norm of general international law is a norm accepted and recognized by the international community of states as a whole as a norm from which no derogation is permitted and which can be modified only by a subsequent norm of general international law having the same character." See: Vienna Convention on the Law of Treaties, Done at Vienna, May 23, 1969. Entered into force, Jan. 27, 1980. U.N. Doc. A/CONF. 39/27 at 289 (1969), 1155 U.N.T.S. 331, reprinted in 8 I.L.M. 679 (1969).
[14] One may be usefully reminded here of Bertrand Russell's trenchant observation in Principles of Social Reconstruction (1916): "Men fear thought more than they fear anything else on earth – more than ruin, more even than death."
[15] Sigmund Freud and Carl Jung both thought of "soul" (in German, Seele) as the intangible essence of a human being. Neither Freud nor Jung ever provided any precise definition of the term, but it was not intended by either in some ordinary or familiar religious sense. For both psychologists, it represented a recognizable and critical seat of mind and passions in this life. Interesting, too, in the present analytic context, is that Freud explained his predicted decline of America by making various express references to "soul." Freud was plainly disgusted by any civilization so apparently unmoved by considerations of true "consciousness" (e.g., awareness of intellect, literature and history); he even thought that the crude American commitment to perpetually shallow optimism and material accomplishment at any cost would occasion sweeping psychological or emotional misery.
[16] From the standpoint of classical political and legal philosophy, such a national policy would be the diametric opposite of the statement by Emmerich de Vattel in The Law of Nations (1758): "The first general law which is to be found in the very end of the society of Nations is that each Nation should contribute as far as it can to the happiness and advancement of other Nations."
[17] On this indispensable awareness, we may learn from the ancient Greek Stoic philosopher, Epictetus, "You are a citizen of the universe." A broader idea of "oneness" followed the death of Alexander in 322 BCE, and with it came a coinciding doctrine of "universality" or interconnectedness. By the Middle Ages, this political and social doctrine had fused with the notion of a respublica Christiana, a worldwide Christian commonwealth, and Thomas, John of Salisbury and Dante were looking upon Europe as a single and unified Christian community. Below the level of God and his heavenly host, all the realm of humanity was to be considered as one. This is because all the world had been created for the same single and incontestable purpose; that is, to provide background for the necessary drama of human salvation. Only in its relationship to the universe itself was the world correctly considered as a part rather than a whole. Said Dante in De Monarchia: "The whole human race is a whole with reference to certain parts, and, with reference to another whole, it is a part. For it is a whole with reference to particular kingdoms and nations, as we have shown; and it is a part with reference to the whole universe, which is evident without argument." Today, of course, the idea of human oneness can and should be fully justified/explained in more purely secular terms of understanding.
[18] See by this author, at Oxford University Press: https://blog.oup.com/2016/04/war-political-victories/
[19] Says Jose Ortega y'Gassett about science (Man and Crisis, 1958): "Science, by which I mean the entire body of knowledge about things, whether corporeal or spiritual, is as much a work of imagination as it is of observation….The latter is not possible without the former."
[20] Included in this assessment must be the expanding risks of US Presidential nuclear decision-making. By this writer, see Louis René Beres, The Bulletin of the Atomic Scientists https://thebulletin.onuclear rg/2016/08/what-if-you-dont-trust-the-judgment-of-the-president-whose-finger-is-over-the-nuclear-button/
[21] In stark contrast to President Trump, Tedros Adhanom Ghebreyesus, the Director General of WHO, spoke modestly, intelligently and purposefully: "COVID-19 does not discriminate between rich nations and poor, large nations and small. It does not discriminate between nationalities, ethnicities, or ideologies. Neither do we," he said. "This is a time for all of us to be united in our common struggle against a common threat, a dangerous enemy. When we're divided, the virus exploits the cracks between us."
[22] In partial reply, we may consider Karl Jaspers in Man in the Modern Age (1951): "Everyone knows that the world situation in which we live is not a final one."
[23] Federico Fellini, the Italian film director, once commented wisely: "The visionary is the only realist."
[24] Louis René Beres' earlier book, Reason and Realpolitik: US Foreign Policy and World Order (1984) was already organized around this same core assumption.
[25] There have been prophets of global integration in the modern era, especially Condorcet, Immanuel Kant, Auguste Comte and H.G. Wells. For the very best treatment of these prophets and their still-indispensable ideas, see W. Warren Wagar's The City of Man (1963) and Building the City of Man: Outlines of a World Civilization (1971). Professor Wagar was a great visionary himself, one with whom I earlier had the honor to work at Princeton (World Order Models Project) in the late 1960s.
The Chinese Navy: A new force is rising in the East
The information coming to the West from various sources, either open or closed, regarding the Chinese Navy, concludes on the finding that in the last couple of decades an extensive program of modernization and numerical expansion of the Navy, by the Chinese authorities, is underway. The fundamental pillar of China's (not-so-future) Navy, known as the People's Liberation Army Navy PLAN, (will be) for its aircraft carriers; cruisers; destroyers; amphibious assault ships; and submarines. In general, China is arming with modern multi-purpose ships, with the purpose of attacking and defending capabilities. Its discernible ambition is to use its fleet against the dominant US Navy, whose presence is pronounced in the China Sea and consequently in the Pacific Ocean. As a matter of fact, the Chinese Navy is already considered to be the second most powerful in the world, exceeding historical Naval Powers such as the United Kingdom and Japan. Indicatively, we note the fact that the once dominant Royal Navy is currently comprised of only 9 destroyers and 2 aircraft carriers, while the Chinese, respectively and exceeds those numbers. It is the swiftest growing Navy in the world. Literally, since 2014, the Chinese Navy has launched more warships than the Royal Navy has on duty today.
This article will be focusing on the rapid development of the Chinese Navy, which incidentally is only one aspect of Beijing's overall maritime strategy (another aspect refers to the construction of military bases on tiny islands within the entire Chinese Sea and abroad, as in Djibouti). China aims to secure the homeland from a possible attack from the sea and to protect their vulnerable maritime supply lines. In the Chinese strategic culture, the Age of Humiliation is of paramount importance, because it had been the period when the Chinese were subservient to Westerners. Therefore, the Never Again of the CCP (Chinese Communist Party) is the legitimizing substance which keeps it in power but simultaneously a commitment that satisfies the nationalist Chinese instincts. China is keen to return to its former position, before its contact with the Western Powers, so its policy is towards this strategic target.
It was not until the 1990's that the Chinese forces consisted of out-of-dated naval vessels with limited offensive and defensive capabilities. Furthermore, the Chinese fleet was limited to about 150 main units (destroyers, frigates, submarines) and no conventional aircraft carriers. Today, China has both fiscal and technological ability to build domestic projects at a rapid pace. In order to understand the class size of the Chinese naval armaments program we will note that in 2016 and 2017 the country's Navy launched 18 and 14 units respectively, while the US Navy launched only 5 and 8.
The Center for Strategic and International Studies estimates that in the forthcoming 15 years, the Chinese Navy will deploy 430 surface units and 100 submarines, while other valid US estimations set this number up to 530. The U.S. Pentagon estimates that this year alone (2020) the Chinese Navy will deploy 78 submarines; 60 stealth-guided-missile ships; 40 corvettes fit for the environment of the Chinese Sea (while 60 more are waiting to be delivered); 24 modern all purpose frigates; 20 state-of-the-art destroyers; 12 cruisers with a delivery horizon in the current decade; 4 fleet support ships; 3 helicopter carriers; 5 ships of amphibious assault missions; and 2 aircraft carriers with the third already under construction.
The informed reader may be concerned as this extensive construction of warships is inconsistent with the Silent Rise which was the official doctrine of the Chinese government until recently. According to it, the country should, at all costs, continue its uninterrupted economic growth, capitalizing on the globalization. This will happen only if the country manages not to provoke the United States as well as neighboring countries, many of which are close allies to Washington (like Japan and South Korea). However, it seems that the Chinese elite is increasingly abandoning this doctrine while adopting a more provocative stance through a peculiar nationalism, especially as economic growth decelerates. In this context, the extensive reinforcement of the Chinese Navy is deliberated and resulting in an increasing concern of neighbor states and the United States, which realizes that the balance of naval power is gradually turning at its expense. China, in order to become a great power again should secure its sovereignty, especially the homeland, from possible attacks. This is incidental to the expulsion of all the American forces which are based in the region and specifically from the China Sea. The Chinese high strategy can only be fruitful with the presence of a modern and powerful Navy (blue-water Navy) combined with an extensive network of military bases which Beijing is rapidly building on tiny, sometimes disputable, islands throughout the China Sea. With those facts and the Chinese demands, no state including the Philippines, Malaysia, Brunei, Taiwan, Vietnam, and Japan, feels safe, although the published Chinese military doctrine remains chiefly defensive.
Regarding the Chinese Navy, it's noticeable that the modernization program is traced back only to 2012, when President Hu Jintao, during the 18th Congress of the CCP, ordered the country to be transformed into a sea power. More recently, President Xi Jinping declared that the current situation urges China to develop its naval forces promptly. This statement was followed by a 55% increase in defense spending between 2015 and 2020, making China the world's second-largest spender behind the United States (China's defense spending is estimated at $260.8 billion in 2019). The significance of the Navy for the country's leadership is reflected in its budget, which increased by 82%, reaching $57 billion. As a result, six shipyards across the country have lifted the burden of building an advanced fleet capable of dealing with the dominant US Navy. The construction of advanced warships is the implementation of the Chinese Dream, the vision of the current President for a powerful China which is respected home and abroad.
The result of this policy is astonishing. In 2018 China became the country with the most warships on order, surpassing South Korea with 43.9% share in global orders. In February 2020, at the peak of the Covid-19 crisis, China fell to 4th place with a 35% share in global orders, a testament to the country's industry dynamics. Despite the impressive armament program, it should be noted that a capable naval force consists not only of modern warships, but also as a key component consists of well-trained crews who have a deep knowledge of the maritime environment. This knowledge can largely be taught in naval schools, but actual engagement with the maritime environment is also required. Seamanship is exactly that, the long-term contact with the sea and the valuable experience that a nation acquires from this contact. For many centuries China has become a land power by turning its back on the sea. The current leadership seems to have understood this historical mistake and tries to change it by turning the Chinese people back to the sea from their school years.
Today, the US Navy is the most powerful in the world as it enables the United States to demonstrate its power globally. At the same time, it protects peace and free navigation on the high seas. It is a key contribution to world trade which is essentially maritime, and eventually to the global economy. Chinese officials occasionally admit that despite the Chinese Navy's numerical superiority, it still lags behind technologically from the US Navy. Even in terms of tactics and training, the US Navy is a highly professional force tested in real war conditions as distinct from the Chinese which has not yet demonstrated its true value and capabilities in realistic conditions. However, the situation across the China Sea seems to be tilting in favor of the Chinese side as its naval forces are dramatically strengthened due to the proximity of the area of operations to the Chinese coastline.
Beijing's growing military network is making it increasingly difficult for U.S. ships to sail safely into the disputed area to effectively support their allies. One of China's main targets now is Taiwan which is considered Chinese territory. As a result, Chinaωstrongly opposes any attempt towards Taiwanese independence and that is the main reason behind China's amphibious force, a capable force ready to invade the island at any time.The Chinese leadership seems to have fully recognized the domains in which it lags behind its main rival and is trying to fill the gap by developing more and more contemporary navy ships and continuous crew training in order to be ready to cope with a realistic conflict. Similarly, the United States is closely monitoring the progress of its most important rival for the world's hegemony.
Who Exactly Fights For The UN-backed Sarraj Government?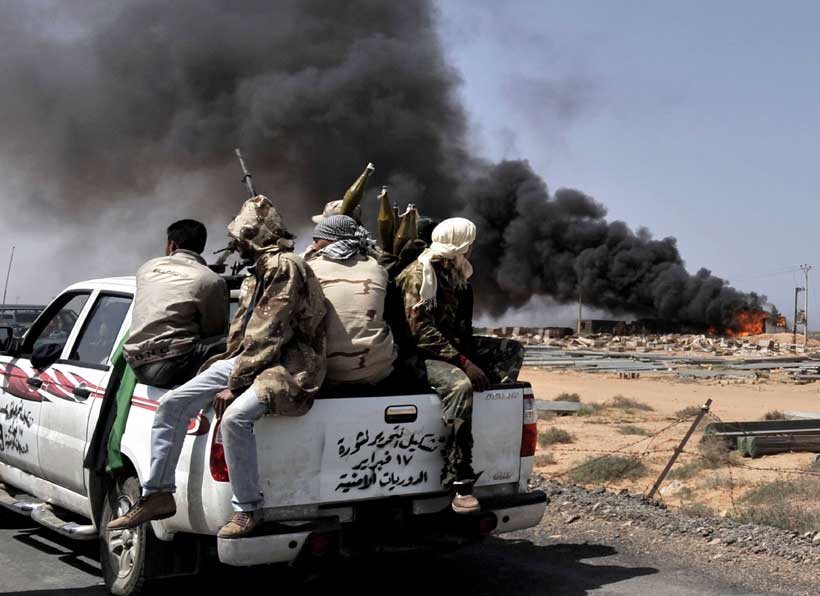 The latest turn of the tide in the Libyan conflict ended in the forces loyal to the Government of National Accord led by Fayez al-Sarraj pushing back the Libyan National Army and establishing full control over the capital Tripoli and the surrounding areas. Coverage of these developments in Western media was shaped along the tune of justice being restored by legitimate forces. Is that narrative off-key, and what exactly are these ostensibly legitimate forces?
First and foremost, the recent successes achieved by the GNA were only made possible by military support provided by Turkey, who supplied Sarraj with drones, military advisors and Syrian fighters recruited among the Turkish proxies notorious for their criminal tendencies. Contrary to the narrative enforced by the West depicting the GNA militias as a legitimate regular army, in reality these forces are little more than a bunch of criminals and radical elements financed by the Turkish intelligence.
Knowing this, it makes sense that the GNA forces resort to any means, including those explicitly forbidden by the international humanitarian law. The GNA supporters, however, choose to ignore these crimes turning a blind eye to the violations of Geneva conventions committed both by the fighters and their backers.
Finding evidence of these crimes presents no difficulty, as the fighters make little effort to hide them. In fact, they often unknowingly document their own atrocities. Perhaps the most telling example is the video published on the official Facebook page of the militia named Tripoli Protection Force that features armed members of the group driving in a vehicle marked with Red Crescent symbols. The raid showed on video ended in capture of a number of people who were promptly declared agents of the LNA. The video is still online.
When the GNA militants are not busy driving medical vehicles, they engage in torture of civilians such as these Egyptian workers who were violently beaten and abused by the fighters. The Egyptian nationals had been working in Tarhuna before the town was captured by the militias loyal to the GNA.
UN expressed "deep concern" over the detention and torture of Egyptians in Tarhuna, urging the authorities in Tripoli to investigate the incident. In its turn, Egypt took offense and claimed that it will launch an independent investigation, emphasizing that it is ready to make a strong response to the GNA aggression.
These examples are but a small part of the violations committed by the GNA militias. Despite the support it receives from the UN and its foreign backers, the GNA will not be able to contribute to a safer, stable Libya, unless it gives up on the radicals who do not abide by the law. It has long been evident for everyone except the GNA allies abroad.
Sino-American Rivalry: Impact on South Asian Security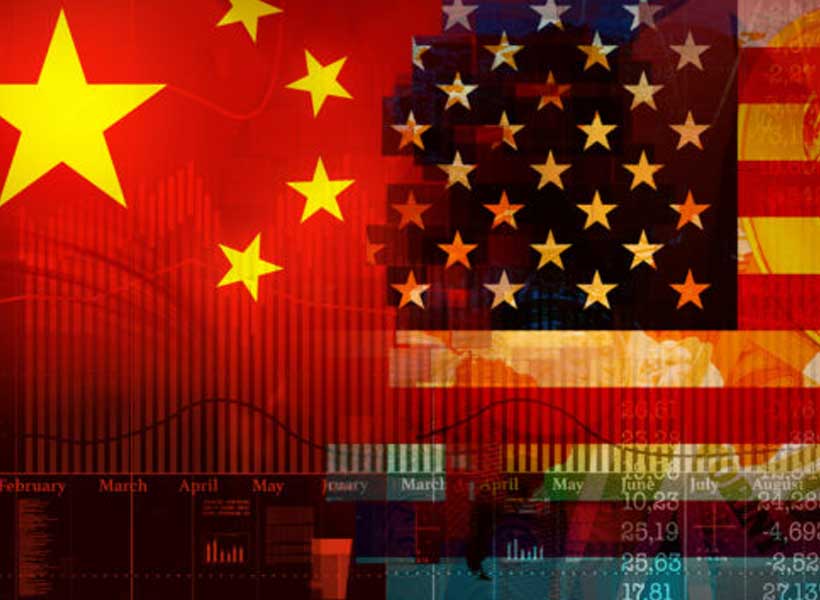 The US-China relationship is an extremely complex one; it is driven by many different dimensions each dimension has got its own logic. The United States of America, being a dominant power of the world, has engaged itself with many nations throughout the world. Mainly it has engaged itself in those regions of the world from where it considers any entity could pose a threat to its interests as well as its dominance. Washington has remained an influential state because of its active involvement in most parts of the world for its national interest, particularly economic benefits. However, China being a re-emerging power, wants to influence the world through its engagement with more nations employing initiatives such as Belt and Road Initiative (BRI) or via economic engagement with various nations. However, the nature of relations between Washington and Beijing has changed ever since Donald Trump's presidency. Under the Trump Administration, the US has shifted from viewing China as a strategic partner to a strategic competitor. There are multiple areas where Trump Administration has challenged Beijing, such as trade and economy, Asia-Pacific region, technology, Chinese military modernization, South Asian region, and Beijing's pursuit for alternative global markets.
In this regard, the South Asian region assumes much importance when it comes to great powers politics such as the US and China. Over the time, the occurrence of events, incidents and initiatives such as 9/11 and Chinese BRI have added more significance to the region for great powers politics. On one hand, the incident of 9/11 provided a reason for the US to engage itself in the region actively, particularly Afghanistan, under the pretext of the War on Terror or security issues. On the other hand, active Chinese involvement through BRI compelled the United States to increase its influence by engaging with more nations in South Asia for containing China and its initiative. When it comes to South Asian security, three countries, namely Afghanistan, Pakistan and India, hold much importance in determining the security of South Asia. The presence of American forces in Afghanistan after the incident of 9/11 has presented a dilemma for Beijing. Because it considers presence of the US troops at its backyard as a severe threat. In this regard, China wants the withdrawal of American forces from Afghanistan to fulfil its desires by engaging more actively with Kabul for its development and stability through BRI or other economic engagement.
Moreover, peace and stability in Kabul is Beijing's fundamental interest because chaos in Afghanistan could trigger extremism, terrorism, and fundamentalism resultantly that will threaten not only the peace, security and stability of the region but can spill over into the adjacent Xinjiang region of China. However, Afghanistan is considered the "graveyard of empires" therefore, China does not want to risk its position by getting involved in Afghan affairs that are not in the interest of the people of the country. Similarly, China supported the "Peace Deal" between the US and Taliban representatives on February 29, 2020, in Doha, Qatar. After the US forces withdrawal from Afghanistan, it is highly likely that China is going to deepen its involvement in Afghanistan further because it fears the return of Uygur militants in Xinjiang after a withdrawal of US troops. While the United States wants to engage India in the region to counter China, in this regard, since long, the US has been supporting Delhi in defense and trade ties to minimize the influence of Beijing in South Asia. As the US former Secretary of State John Kerry said that America wants to see India in a more dominant role in South Asia. However, American support towards India and giving it special waivers not only generate serious threats for China but also for Pakistan. Similarly, China and Pakistan have been trying to further strengthen their relations by increasing cooperation in multiple fields via the China-Pakistan Economic Corridor (CPEC).
As far as the American history about problem-solving of this region is concerned, it portrays bad picture where the US has the most significant stake in spoiling the regional peace along with generating various problems such as the birth of terrorism, gun culture, deaths and destruction, economic instability and many other issues as well. The emergence of gun culture and terrorism within Pakistan started after its alliance with the US during Afghan War and in War against Terror. It is mostly believed that the growing Sino-American rivalry is one of the primary reasons behind the worsening security conditions in South Asia. However, the friction between both countries could trigger new conflicts resultantly it would push the region into turmoil. Any misadventure created because of American support and favour to India and its policies of sidelining Pakistan and China in Afghan issue at this stage could further escalate the tensions among regional states resultantly invoking threats for the peace and stability of the region. In this regard, there is a dire need that both the US and China review their policies concerning South Asia and try to avoid conflict or misadventure for the sake of peace, stability and development of the region.