"It must not be forgotten that it is perhaps more dangerous for a nation to allow itself to be conquered intellectually than by arms." – Guillaume Apollinaire, "The New Spirit and the Poets" (1917)
More than anything else, a nation-state survives along with the corresponding society's intellectual and moral underpinnings.[1] In the case of US President Donald Trump's patently childish "Space Force," neither precondition is evidenced. And at the same time that Trump has been abandoning essential treaties with Russia and economic arrangements with China, this president acts as if extending belligerent nationalism into space is somehow a rational plan.
Quite plainly, Donald Trump, who prides himself on "attitude, not preparation," is sorely mistaken.[2] Prima facie, any such extension of geopolitical competition would be anything but gainful. Among many other things, Space Force expresses the reductio ad absurdum of a dissembling president's wholesale indifference to wisdom and ethics. It will only heighten the probability that America could be "conquered intellectually," not "by arms."
There is more. Space Force represents an ironic reaffirmation of past Trump policy failures. Where it is correctly understood as a logically derivative posture from this president's "America First," the operational role of his "Force" will be to extend Realpolitik[3] or power politics to places where it has never existed before, still-pristine and "vertical" places. Significantly, as Realpolitik has never worked here on earth,[4] any intelligent observer should feel compelled to ask: Why should belligerent geopolitics now work on a "galactic" level?
There are multiple ironies to be considered. As is the case of Donald Trump's foreign and domestic policies in general, Space Force will be founded upon myriad failures of the past. In essence, these failures are all aspects of the "balance of power world system originally bequeathed at the Peace of Westphalia in 1648. This conflict-oriented state system, an "everyone for himself"[5] pattern of interminable international warfare, was born at Westphalia, immediately following the Thirty Years' War.[6] Though certain "Westphalian" zero-sum interactions might still have been more-or-less tolerable before the appearance of nuclear weapons, they are unsustainable in our bitterly acrimonious and proliferating nuclear world. Unassailably, they are even more dramatically unsustainable at this fearful time of worldwide disease pandemic.
It's not complicated. What America needs today is not just another gratuitous or destined-to-fail weapon system[7] (how could it possibly "succeed" if it doesn't calculably contribute to this country's "assured destruction capability"?), but rather a more conspicuous, well-intentioned presidential commitment to global interdependence/worldwide cooperation.[8] Although true that – at least for the foreseeable future – the United States must take appropriate steps to ensure the overall credibility of American nuclear deterrence, it is not true that such credibility requires retaliatory "coverage" in all prospective theatres of large-scale military engagement.[9]
Even if the Russians should "succeed" in militarizing space first – and even if this militarization were to involve nuclear elements – a fully suitable U.S, countervailing strategy could still remain entirely on this planet. In these calculations, the prospective aggressor (here Russia) would be unconcerned with the geographic origins of any American retaliatory destruction. After all, those origins would have no material consequence as long a US retaliatory strike were judged sufficiently probable and "assuredly destructive."
This is an absolutely key reason why the United States has no identifiable need for maintaining any specific supremacy in space. Expressed differently, this means that an American president can readily maintain an indispensable US "assured destruction" capability vis-à-vis Russian and/or China without adjusting principal target sets according to ever-changing venues of enemy missile deployments. As far as what president Trump has called his newly proposed space force "super-dooper missile" – not exactly the terminology of a scientist or military professional – it represents only a caricatural reference, one more appropriate for 1950s-era children's' television programming than for any seriously complex US strategic reality.[10]
Nuclear strategy is certainly a "game" that an American president should always be prepared to "play," perhaps even for the indefinite future, but not without some conspicuous prior understandings of history, science and very elementary formal logic.
Going forward, US President Trump must remain systematically aware of all conceivable circumstances that could place us in extremis atomicum,[11] but this focus will need to be broadly conceptual, and not childishly centered on American "super" missiles or reassuringly "big" bombs.
Instead of "America First" (Trump's overall term for a system that willfully punishes the Many for the presumed benefit of a contrived Few), a rational American president should reject all derivatives and corollaries of "Westphalian" dynamics.[12] Accordingly, any foreign policy that naively seeks to maximize America's own well-being at the zero-sum expense of other states and peoples would be acting against certain binding norms of international law[13] and contra its own national security interests at the same time.
Sadly, nothing could possibly be more apparent to anyone who bothers to think logically and historically about such literally existential matters.[14]
The world is a system. Everything, therefore, is interrelated. Among other things, no American foreign policy success can be achieved at the willfully sacrificial expense of other countries and peoples. No such presumptive success is sustainable if the rest of the planet must thereby expect a more violent and explosive future. In this connection, it would be difficult to argue that Donald Trump's Space Force could in any way lead us toward a less violent or less explosive global future.
Very difficult.
A manifestly corrosive American national tribalism is being "protected" by U.S. Space Force. Nothing more. When all cumulative policy impacts are taken into careful analytic account, this "soulless"[15] derivative of "America First" and belligerent nationalism will emerge as anything but patriotic. What else should we reasonably conclude about a planned U.S. military posture that would injure this country and various other countries abjectly, unambiguously and at the same time?[16]
Among other basic issues here, it is effectively impossible to calculate the vast number of associated interactive effects of these significant injuries, especially where they would expectedly be "force-multiplying" or synergistic. By definition, wherever a synergistic injury would obtain, the "whole" of any inflicted harm would be greater than the tangible sum of its "parts."
Today, at a time when America's fight against worldwide disease pandemic should represent this nation's very highest-priority security challenge, US Space Force offers a strategic posture that is wholly misconceived and prospectively lethal. Left in place, it will further exacerbate a deliberate presidential choice of gratuitous belligerence as the favored style of American military interaction. Ironically, what is required, instead, is the readily decipherable opposite of Space Force.
This means, in essence, a broadened US leadership awareness of human and societal interconnectedness.[17]
History is duly instructive. From the 1648 Peace of Westphalia to the present fragmenting moment, world politics have been shaped by a continuously shifting balance of power and , correspondingly, by variously relentless correlates of war, terror and genocide. Ideally, of course, and against all calculable odds, hope should continue to exist. But now, even under the most imaginably optimistic circumstances, it should surely sing more softly, unobtrusively, even in a prudent undertone.
For Americans now increasingly endangered by Trump's visceral or seat-of-the-pants foreign policies, more will be required than superficial or sotto voce modulations. Soon, merely to survive on this imperiled planet, all of us, together, will have to rediscover an individual human life, one consciously detached from narrowly ritualistic patterns of conformance, mindless entertainments, shallow optimism or any other disingenuously contrived expressions of some utterly imagined tribal happiness. At a minimum, such survival will demand a prompt and full-scale retreat from what Donald Trump has termed "America First" and from all of its rapidly dissembling correlates. In this regard, Trump's Space Force is the foreseeable result of a much deeper societal pathology, a know-nothing American populism that drives out intellect and reason in favor of incessantly deliberate mystifications and collective self-delusion.
Thomas Jefferson and America's other Founding Fathers had already understood something very basic: There is always a necessary and respectable place for serious erudition. By learning from history, Americans may yet glean something from "America First" that is necessary to opposing any actual iterations of Space Force. They may learn, even during this national declension Time of Trump, that a ubiquitous mortality is more consequential than any glittering administration promises of "supremacy," "advantage" or "victory."[18] Our current time on earth is more meaningfully a time of agony than of algorithm.
In The Decline of the West, first published during World War I, Oswald Spengler asked importantly: "Can a desperate faith in knowledge free us from the nightmare of the grand questions?" This remains a vital query, but one that will never be adequately raised in our universities, on Wall Street or absolutely anywhere in the Trump White House. Still, we may learn something productive about these "grand questions" by studying American roles and responsibilities in a radically changing world politics.
This task must be about intellectual struggles, not weapons per se.
At that point we might finally come to understand what has thus far eluded us. The most suffocating insecurities of life on earth can never be undone by militarizing space and by abrogating pertinent international treaties. To argue otherwise is to further mar a wholesale unfamiliarity with world and national history with inexcusable derelictions of both logic and science.[19]
In the end, even in Trump-era American foreign policy decision-making, truth is exculpatory. In what amounts to a uniquely promising paradox, Space Force could help illuminate a blatant lie that may still let us see the underlying truth. This truth is peremptory and not really mysterious or unfathomable. Americans require, after all, a substantially wider consciousness of unity and relatedness between individual human beings and (correspondingly) between adversarial nation-states.
There is no more urgent requirement.
None.
Though seemingly oriented toward greater American power and security, building an American Space Force would merely propel this country's disordered military strategy from one untenable posture of belligerent nationalism to another. What the proponents of Space Force ignore, inter alia, is that all national security options should always be examined from the standpoint of their cumulative impact. If the credible effect of this new America First policy initiative will be to spawn various reciprocal postures of belligerent nationalism among principal foes (i.e.., Russia and potentially China) the net effect will prove sorely destabilizing and comprehensively negative.[20]
At this exceedingly precarious moment in world and national history, the president of the United States must do everything possible to heed the poet Apollinaire's warning of "intellectual conquest." Though "force of arms" will assuredly remain a derivative source of military power and threat, America's principal emphasis must now be placed on variously promising concepts and ideas, not on expanding the "hardware" or tactics of willful human destructiveness. Instead of withholding funds from the World Health Organization,[21] Donald Trump must finally acknowledge the interminable futility of belligerent nationalism, and – correspondingly – take certain tangible steps toward expanded worldwide cooperation.
Could this actually happen?[22] To be sure, the probable likelihood of any success here is bound to be very small, but the time-dishonored alternatives are all uniformly misconceived and inherently catastrophic.[23] If America's president should retain even a tiny remnant of leadership commitment to rational decision-making, he will quickly understand that U.S. Space Force is the reductio ad absurdum of a long-dying belligerent nationalism or Realpolitik.[24]
It is hardly a medical or biological secret that the factors common to all human beings greatly outnumber those that differentiate one from another. Accordingly, unless leaders of all great states can finally understand that the survival of any one state will inevitably be contingent upon the survival of all, true national security will continue to elude every nation on earth, even the most "powerful."
The bottom line? The immediate security task must remain a proper conceptualization and refinement of national nuclear strategy. Simultaneously, however, President Trump must somehow learn to understand – together with all other far-sighted national leaders – that Planet Earth is an organic whole, a fragile unity that exhibits rapidly disappearing opportunities for avoiding successive war and dismemberment. To seize these residual opportunities, Washington must learn to build solidly upon the foundational insights of Francis Bacon, Galileo and Isaac Newton, and upon the much more recent summarizing observation of Lewis Mumford: "Civilization is the never ending process of creating one world and one humanity."[25]
Obviously, the United States has no inherently special obligations in this regard, nor can it afford to build its own most immediate security policies upon narrowly distant hopes. Still, if expressed as an ultimate vision for more durable and just patterns of world politics, Donald Trump might recognize the indissoluble link between America's own physical survival and that of the wider international system. In the final analysis, merely to keep itself "alive," America will have to do whatever it can to preserve the global system as a whole. For the moment, this is an idea insurmountably far from the consciousness of America's current president.
To instruct still further from Pierre Teilhard de Chardin's The Phenomenon of Man, "The egocentric ideal of a future reserved for those who have managed to attain egoistically the extremity of `everyone for himself' is false and against nature. No element could move and grow except with and by all the others with itself."
---
[1] The seventeenth-century French philosopher Blaise Pascal remarks prophetically in Pensées: "All our dignity consists in thought….It is upon this that we must depend…Let us labor then to think well: this is the foundation of morality." Similar reasoning characterizes the writings of Baruch Spinoza, Pascal's 17th-century contemporary. In Book II of his Ethics Spinoza considers the human mind, or the intellectual attributes, and – drawing further from Descartes – strives to define an essential theory of learning and knowledge. Much of this effort was founded upon familiar ( to Spinoza) certain Jewish sources.
[2] "Who is to decide which is the grimmer sight," asks Honore de Balzac, "withered hearts, or empty skulls?"
[3] See, by this author, Louis René Beres, Reason and Realpolitik: US Foreign Policy and World Order, Lexington Books, 1984; and Louis René Beres, Mimicking Sisyphus: America's Countervailing Nuclear Strategy, Lexington Books, 1983. Regarding philosophical foundations of Realpoliitk: "Right is the interest of the stronger," says Thrasymachus in Bk. I, Sec. 338 of Plato, THE REPUBLIC (B. Jowett tr., 1875). "Justice is a contract neither to do nor to suffer wrong," says Glaucon, id., Bk. II, Sec. 359. See also, Philus in Bk III, Sec. 5 of Cicero, DE REPUBLICA.
[4] Power politics or a "balance-of-power" has never been more than a facile metaphor. Despite its name, it has never had anything to do with ensuring or ascertaining equilibrium. As such, balance has always been subjective, a matter of assorted individual perceptions. Adversarial states in this "Westphalian" dynamic can never be sufficiently confident that strategic circumstances are suitably "balanced" in their particular favor. In consequence, each side to any contest or competition must perpetually fear that it will somehow be left behind, this creating ever wider and even cascading patterns of national insecurity and collective disequilibrium.
[5] Says French Jesuit philosopher Pierre Teilhard de Chardin in The Phenomenon of Man: "The egocentric ideal of a future reserved for those who have managed to attain egoistically the extremity of `everyone for himself' is false and against nature."
[6] International law remains a "vigilante" or "Westphalian" system. See: Treaty of Peace of Munster, Oct. 1648, 1 Consol. T.S. 271; and Treaty of Peace of Osnabruck, Oct. 1648, 1., Consol. T.S. 119, Together, these two treaties comprise the Peace of Westphalia.
[7] The Devil in George Bernard Shaw's Man and Superman observes correctly that "Man's heart is in his weapons….in the arts of death he outdoes Nature herself….when he goes out to slay, he carries a marvel of mechanisms that lets loose at the touch of his finger all the hidden molecular energies…."
[8] We may think here of the applicable Talmudic metaphor: "The earth from which the first man was made was gathered in all the four corners of the world."
[9] Understood at purely conceptual levels, US strategic thinkers must inquire accordingly whether accepting a visible posture of limited nuclear war would merely exacerbate enemy nuclear intentions, or whether it would actually enhance this country's overall nuclear deterrence. Such questions have been raised by this author for many years, but usually in explicit reference to more broadly theoretical or generic nuclear threats. See, for example, Louis René Beres, The Management of World Power: A Theoretical Analysis (1972); Louis René Beres, Terrorism and Global Security: The Nuclear Threat (1979; second edition, 1987); Louis René Beres, Apocalypse: Nuclear Catastrophe in World Politics (1980); Louis René Beres, Mimicking Sisyphus: America's Countervailing Nuclear Strategy (1983); Louis René Beres, Reason and Realpolitik: US Foreign Policy and World Order (1984); Louis René Beres, Security or Armageddon: Israel's Nuclear Strategy (1986); and Louis René Beres, Surviving Amid Chaos: Israel's Nuclear Strategy (2016).
[10] As a child growing up in New York City in the 1950s, I am reminded of "Captain Video" and "Tom Corbett Space Cadet." Plainly, such earlier children's programs are not a proper model for US strategic forces, anywhere.
[11] See, by Louis René Beres at Harvard Law School: https://harvardnsj.org/2020/03/complex-determinations-deciphering-enemy-nuclear-intentions/ See also, by this author, at US Army War College, https://warroom.armywarcollege.edu/articles/nuclear-decision-making/ and at Modern War Institute, West Point (Pentagon) https://mwi.usma.edu/theres-no-historical-guide-assessing-risks-us-north-korea-nuclear-war/
[12] For the most part, these dynamics describe a more-or-less variable condition of "chaos." Though composed in the seventeenth century, Thomas Hobbes' Leviathan may still offer us a vision of this condition in modern world politics. During chaos, which is a "time of War," says the English philosopher in Chapter XIII ("Of the Natural Condition of Mankind, as concerning their Felicity, and Misery."): "… every man is Enemy to every man… and where the life of man is solitary, poor, nasty, brutish, and short." Still, at the actual time of writing Leviathan, Hobbes believed that the condition of "nature" in world politics was less chaotic than that same condition extant among individual human beings. This was because of what he had called the "dreadful equality" of individual men in nature concerning the ability to kill others. Significantly, however, this once-relevant differentiation has effectively disappeared with the continuing manufacture and spread of nuclear weapons, a spread soon apt to be exacerbated by an already-nuclear North Korea and by a not-yet-nuclear Iran.
[13] According to Article 53 of the Vienna Convention on the Law of Treaties: "…a peremptory norm of general international law is a norm accepted and recognized by the international community of states as a whole as a norm from which no derogation is permitted and which can be modified only by a subsequent norm of general international law having the same character." See: Vienna Convention on the Law of Treaties, Done at Vienna, May 23, 1969. Entered into force, Jan. 27, 1980. U.N. Doc. A/CONF. 39/27 at 289 (1969), 1155 U.N.T.S. 331, reprinted in 8 I.L.M. 679 (1969).
[14] One may be usefully reminded here of Bertrand Russell's trenchant observation in Principles of Social Reconstruction (1916): "Men fear thought more than they fear anything else on earth – more than ruin, more even than death."
[15] Sigmund Freud and Carl Jung both thought of "soul" (in German, Seele) as the intangible essence of a human being. Neither Freud nor Jung ever provided any precise definition of the term, but it was not intended by either in some ordinary or familiar religious sense. For both psychologists, it represented a recognizable and critical seat of mind and passions in this life. Interesting, too, in the present analytic context, is that Freud explained his predicted decline of America by making various express references to "soul." Freud was plainly disgusted by any civilization so apparently unmoved by considerations of true "consciousness" (e.g., awareness of intellect, literature and history); he even thought that the crude American commitment to perpetually shallow optimism and material accomplishment at any cost would occasion sweeping psychological or emotional misery.
[16] From the standpoint of classical political and legal philosophy, such a national policy would be the diametric opposite of the statement by Emmerich de Vattel in The Law of Nations (1758): "The first general law which is to be found in the very end of the society of Nations is that each Nation should contribute as far as it can to the happiness and advancement of other Nations."
[17] On this indispensable awareness, we may learn from the ancient Greek Stoic philosopher, Epictetus, "You are a citizen of the universe." A broader idea of "oneness" followed the death of Alexander in 322 BCE, and with it came a coinciding doctrine of "universality" or interconnectedness. By the Middle Ages, this political and social doctrine had fused with the notion of a respublica Christiana, a worldwide Christian commonwealth, and Thomas, John of Salisbury and Dante were looking upon Europe as a single and unified Christian community. Below the level of God and his heavenly host, all the realm of humanity was to be considered as one. This is because all the world had been created for the same single and incontestable purpose; that is, to provide background for the necessary drama of human salvation. Only in its relationship to the universe itself was the world correctly considered as a part rather than a whole. Said Dante in De Monarchia: "The whole human race is a whole with reference to certain parts, and, with reference to another whole, it is a part. For it is a whole with reference to particular kingdoms and nations, as we have shown; and it is a part with reference to the whole universe, which is evident without argument." Today, of course, the idea of human oneness can and should be fully justified/explained in more purely secular terms of understanding.
[18] See by this author, at Oxford University Press: https://blog.oup.com/2016/04/war-political-victories/
[19] Says Jose Ortega y'Gassett about science (Man and Crisis, 1958): "Science, by which I mean the entire body of knowledge about things, whether corporeal or spiritual, is as much a work of imagination as it is of observation….The latter is not possible without the former."
[20] Included in this assessment must be the expanding risks of US Presidential nuclear decision-making. By this writer, see Louis René Beres, The Bulletin of the Atomic Scientists https://thebulletin.onuclear rg/2016/08/what-if-you-dont-trust-the-judgment-of-the-president-whose-finger-is-over-the-nuclear-button/
[21] In stark contrast to President Trump, Tedros Adhanom Ghebreyesus, the Director General of WHO, spoke modestly, intelligently and purposefully: "COVID-19 does not discriminate between rich nations and poor, large nations and small. It does not discriminate between nationalities, ethnicities, or ideologies. Neither do we," he said. "This is a time for all of us to be united in our common struggle against a common threat, a dangerous enemy. When we're divided, the virus exploits the cracks between us."
[22] In partial reply, we may consider Karl Jaspers in Man in the Modern Age (1951): "Everyone knows that the world situation in which we live is not a final one."
[23] Federico Fellini, the Italian film director, once commented wisely: "The visionary is the only realist."
[24] Louis René Beres' earlier book, Reason and Realpolitik: US Foreign Policy and World Order (1984) was already organized around this same core assumption.
[25] There have been prophets of global integration in the modern era, especially Condorcet, Immanuel Kant, Auguste Comte and H.G. Wells. For the very best treatment of these prophets and their still-indispensable ideas, see W. Warren Wagar's The City of Man (1963) and Building the City of Man: Outlines of a World Civilization (1971). Professor Wagar was a great visionary himself, one with whom I earlier had the honor to work at Princeton (World Order Models Project) in the late 1960s.
Test of Agni Prime Missile and India's Counterforce Temptations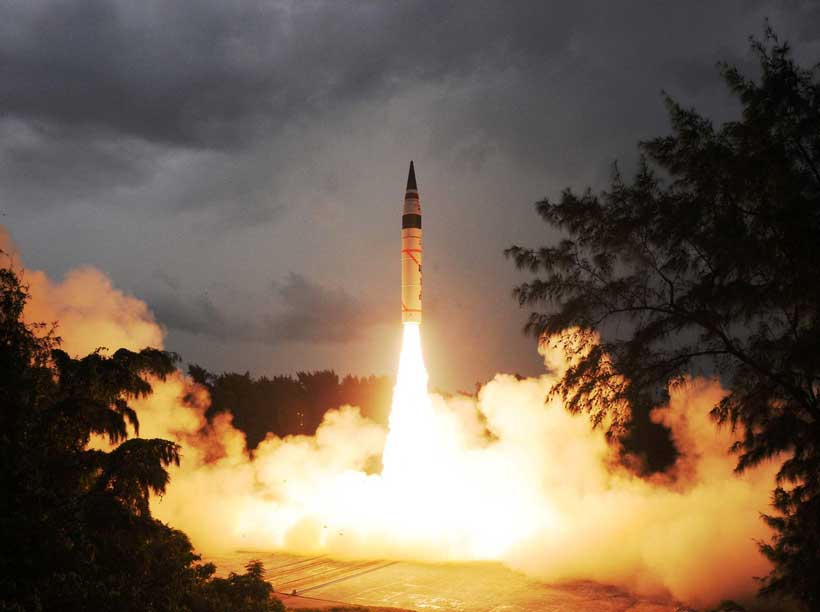 South Asia is widely regarded as one of the most hostile regions of the world primarily because of the troubled relations between the two nuclear arch-rivals India and Pakistan. The complex security dynamics have compelled both the countries to maintain nuclear deterrence vis-à-vis each other. India is pursuing an extensive and all-encompassing military modernization at the strategic and operational level. In this regard, India has been involved in the development of advanced missiles as delivery systems and improvement in the existing delivery systems as well. Pakistan's nuclear deterrent and delivery systems are solely aimed at India; however, India aspires to fight a 'two-front war' against Pakistan and China. Therefore, the size and capability of its nuclear deterrent and delivery systems are aimed at countering both threats. However, most of the recent missile delivery systems made by India appear to be more Pakistan-centric. One recent example in this regard is the recently tested nuclear-capable cannisterized ballistic missile Agni Prime, which is insinuated as Pakistan-centric. These developments would likely further provoke an action-reaction spiral and would increase the pace of conflict in South Asia, which ultimately could result in the intensification of the missile arms race.
Just quite recently, on 28th June 2021, India has successfully tested an advanced variant of its Agni missile series, namely Agni Prime or Agni (P). The missile has a range between 1000-2000 kilometers. Agni Prime is a new missile in the Agni missiles series, with improved accuracy and less weight than Agni 1, 2, and 3 missiles. It has been said that the Agni-P weighs 50 % less than the Agni-3 missile. As per the various media reports, this missile would take the place of Agni 1 and 2 and Prithvi missiles, however officially no such information is available. This new missile and whole Agni series is developed as part of the missile modernization program under the Defence Research and Development Organization's (DRDO) integrated guided missile development program.
Agni-P is a short missile with less weight and ballistic trajectory, the missile has a rocket-propelled, self-guided strategic weapons system capable of carrying both conventional and nuclear warheads. Moreover, the missile is cannisterized with the ability to be launched from road and rail. The DRDO claimed that the test flight of the missile was monitored by the telemetry radar stations and its trajectory met all the objectives of the mission successfully with high level of accuracy. Agni-P missile because of its range of 1000 to 2000 km is considered a weapon against Pakistan because within this range it cannot target China. Although, India already has different missiles in its inventory with the same range as the newly developed and tested Agni-P missile, so the question arises what this missile would achieve.
Since the last few years, it has been deliberated within the international security discourse that India's force posture is actually more geared towards counterforce options rather than counter-value options. Although, India's nuclear doctrine after its operationalization in 2003, claims "massive retaliation" and "nfu" but in reality with developing cannisterized weapons like Agni-P, Agni 5, and testing of hypersonic demonstrative vehicles, India actually is building its capability of "counterforce targeting" or "splendid first strike". This reflects that India's nuclear doctrine is just a façade and has no real implication on India's force modernization.
These developments by India where it is rapidly developing offensive technologies put the regional deterrence equation under stress by increasing ambiguity. In a region like South Asia, where both nuclear rivals are neighbors and distance between both capitals are few thousand kilometers and missile launch from one side would take only a few minutes in reaching its target, ambiguity would increase the fog of war and put other actors, in this case, Pakistan in "use it or lose it" situation, as its nuclear deterrent would be under threat.
In such a situation, where Pakistan maintains that nuclear weapons are its weapons of last resort and to counter threats emerging from India, its nuclear deterrence has to hold the burden of covering all spectrums of threat. It might be left with no choice but to go for the development of a new kind of missile delivery system, probably the cannisterized missile systems as an appropriate response option. However, as Pakistan's nuclear deterrence is based on principle of "CMD" which allow Pakistan to seek deterrence in a cost-effective manner and also by not indulging in an arms race. Therefore, other than the threat of action-reaction dynamic developments like Agni P by India, would make weapons more accurate and lethal, subsequently conflict would be faster, ambiguous, and with less time to think. In such a scenario, as chances of miscalculation increase, the escalation dynamics would become more complex; thus, further undermining the deterrence stability in South Asia.
India's counter-force temptations and development of offensive weapons are affecting the deterrence equilibrium in South Asia. The deterrence equation is not getting affected just because India is going ahead with the development of offensive technologies but because of its continuous attempts of negating the presence of mutual vulnerability between both countries. Acknowledgement of existence of mutual vulnerability would strengthen the deterrence equation in the region and help both countries to move forward from the action-reaction spiral and arms race. The notions such as the development of offensive or counterforce technology or exploiting the levels below the nuclear threshold to fight a war would not be fruitful in presence of nuclear weapons. As nuclear weapons are weapons to avert the war and not to fight the war.
Unmanned Aircraft Systems & The Annihilistic Future
The unmanned aircraft systems (UAS), commonly known as drones were introduced as a useful means to military, commercial, civilian and humanitarian activities but yet it ends up in news for none of its original purposes. Drones have rather resulted as a means of mass destruction.
The recent attacks on the technical area of the Jammu Air Force Station highlights the same. This was a first-of-its-kind terror attack on IAF station rather the Indian defence forces that shook the National Investigation Agency to National Security Guard. The initial probe into the attacks directs to involvement of Lashkar-e-Taiba, a terrorist group based out of Pakistan, in the drone attacks as the aerial distance from the point of attack was just 14 kilometers. The attacks took place via an Electric multi-rotor type drone between 11:30 P.M to 1:30 A.M on 27th June, 2021.
The above incident clearly points out the security issues that lie ahead of India in face to the asymmetrical warfare as a result of drones. The Indian Government after looking at the misuse of drones during the first wave of the pandemic realised that its drone regulations were nowhere sufficient and accountable and hence passed the Unmmaned Aircraft Rules, 2021. These rules imposed stricter requirement for obtaining license and authorisations by remote pilots, operators, manufacturers or importers, training organisations and R&D organisations, thereby placing a significantly high burden on the applicants but at the same time they also permit UAS operations beyond visual sight of line and allowing student remote pilots to operate UAS.
But these rules still don't have any control on the deadly use of drones because multi-rotor drones are very cheap and readily available and what makes them lethal is their ability to be easily detected, additionally the night time makes it even worse. Their small size grants them weak radar, thermal, and aural signatures, albeit varying based on the materials used in their construction.
The pertinent issue to be understood here is that these rules can never ensure safety and security as they cannot control the purpose for which these drones maybe used. There are certain factors that are to be accounted to actually be receptive to such imminent and dangerous threats. Firstly, significantly increasing urban encroachments in areas around defence establishments, particularly air bases, has proved to be fatal. If frontline bases like Jammu or be it any other base when surrounded by unbuffered civilization poses two pronged problems, first it acts as high chances of being a vantage point for possible attackers and second, it also hampering the defence mechanism to come to an action. It is not limited to drone concerns but there have been cases of increased bird activity that has once resulted in engine failure of an IAF Jaguar and has caused similar problems all along.
Another important factor is that of intelligence. The Anti-drone systems will take their time to be in place and it is still a distant call to ascertain how effective will these systems be, so in the time being it is pertinent to focus on intelligence which may include sales and transfers of commercial drone, or the hardware that is required to build a basic multi-rotor drone. These are not something extraordinary because it is even in news when Pakistani drones were being used to supply weapons and ammunition to terror networks on Indian soil. Also, the past experience in handling ISIS have shown the weightage of intelligence over defensive nets.
Intelligence is no doubt a crucial factor in anticipation of drone attacks but what cannot be done away with is the defense mechanism. Efficient counter-drone technology is the need of the hour. DRDO has developed such technology that could provide the armed forces with the capability to swiftly detect, intercept and destroy small drones that pose a security threat. It is claimed that solution consists of a radar system that offers 360-degree coverage with detection of micro drones when they are 4km away, electro-optical/infrared (EO/IR) sensors for detection of micro drones up to 2 km and a radio frequency (RF) detector to detect RF communication up to 3 km and is equipped for both soft kills as well as hard kills.
Hence, the above analysis brings out the need of the application of an international instrument because the technology used in such drone attacks is at an evolving stage and the natural barriers still have an upper hand over be it either flying a pre-programmed path aided by satellite navigation and inertial measurement units (IMUs), or hand controlled to the point of release or impact, both methods have significant limitations as satellite and IMU navigation is prone to errors even when it comes to moderate flight ranges while manual control is subject to the human limitations such as line of sight, visibility as well as technical limitations such as distance estimation of the target, and weak radio links. An example of this could be the Turkish-made Kargu-2 model of killer drone can allegedly autonomously track and kill specific targets on the basis of facial recognition and Artificial Intelligence (AI). As the AI becomes better and better, these drone attacks become more and more terminal.
The recent COVID-19 pandemic is an eye opener for India as well as the world as none of the countries considered the possibility of bio-defenses or made a heavy investment in it even when there was awareness about lethal effects of genetic engineering. Hence, it should be the priority of the government to invest heavily in research and make the development of defensive technologies a national priority else the result of artificially intelligent killer drones would be much more catastrophic.
Russia's National Security Strategy: A Manifesto for a New Era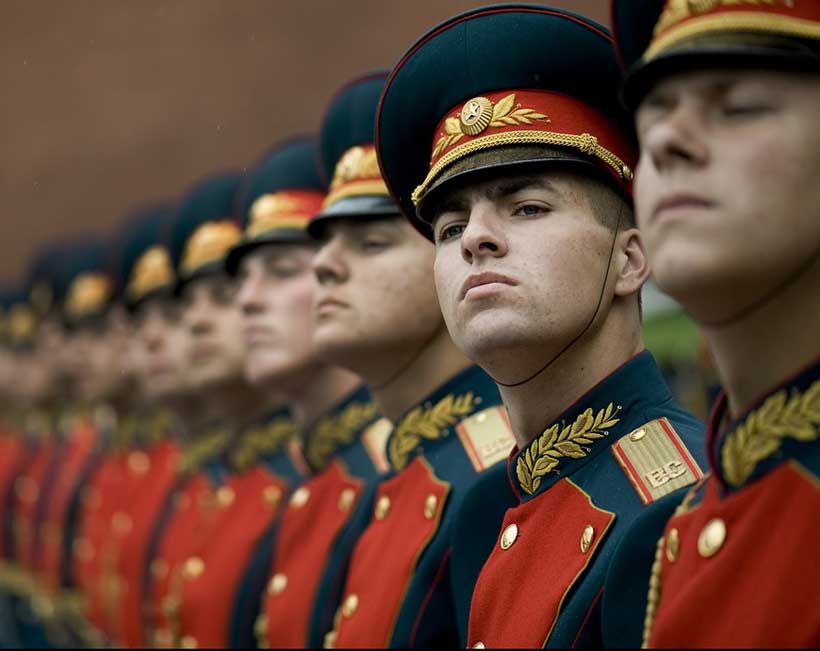 The central feature of the new strategy is its focus on Russia itself. The Russian leadership has every reason right now to turn homeward to address the glaring weaknesses, imbalances, and inequalities of the country's internal situation.
Russia's new, forty-four-page National Security Strategy signed by President Vladimir Putin on July 2 is a remarkable document. It is much more than an update of the previous paper, adopted in 2015. Back then, relations with the West had already sharply deteriorated as a result of the Ukraine crisis, but were still considered salvageable; much of the liberal phraseology inherited from the 1990s was still in use; and the world still looked more or less unified. The current version of arguably the most important Kremlin strategy statement—covering not only national security issues, but a whole range of others, from the economy to the environment, and values to defense—is a manifesto for a different era: one defined by the increasingly intense confrontation with the United States and its allies; a return to traditional Russian values; and the critical importance for Russia's future of such issues as technology and climate.
The strategy lays out a view of a world undergoing transformation and turmoil. The hegemony of the West, it concludes, is on the way out, but that is leading to more conflicts, and more serious ones at that. This combination of historical optimism (the imminent end of Western hegemony) and deep concern (as it is losing, the West will fight back with even more ferocity) is vaguely reminiscent of Stalin's famous dictum of the sharpening of the class struggle along the road to socialism. Economically, Russia faces unfair competition in the form of various restrictions designed to damage it and hold it back; in terms of security, the use of force is a growing threat; in the realm of ethics, Russia's traditional values and historical legacy are under attack; in domestic politics, Russia has to deal with foreign machinations aimed at provoking long-term instability in the country. This external environment fraught with mounting threats and insecurities is regarded as an epoch, rather than an episode.
Against this sobering background, the central feature of the strategy is its focus on Russia itself: its demographics, its political stability and sovereignty, national accord and harmony, economic development on the basis of new technologies, protection of the environment and adaptation to climate change, and—last but not least—the nation's spiritual and moral climate. This inward focus is informed by history. Exactly thirty years ago, the Soviet Union collapsed just as its military power was at its peak, and not as a result of a foreign invasion. Having recently regained the country's great power status and successfully reformed and rearmed its military, the Russian leadership has every reason now to turn homeward to address the glaring weaknesses, imbalances, and inequalities of the country's internal situation.
The paper outlines a lengthy series of measures for dealing with a host of domestic issues, from rising poverty and continued critical dependence on imported technology to the advent of green energy and the loss of the Soviet-era technological and educational edge. This certainly makes sense. Indeed, the recent Kremlin discovery of climate change as a top-tier issue is a hopeful sign that Russia is overcoming its former denial of the problem, along with inordinately exuberant expectations of the promise of global warming for a predominantly cold country. After all, the Kremlin's earlier embrace of digitalization has given a major push to the spread of digital services across Russia.
The strategy does not ignore the moral and ethical aspects of national security. It provides a list of traditional Russian values and discusses them at length. It sees these values as being under attack through Westernization, which threatens to rob the Russians of their cultural sovereignty, and through attempts to vilify Russia by rewriting history. In sum, the paper marks an important milestone in Russia's official abandonment of the liberal phraseology of the 1990s and its replacement with a moral code rooted in the country's own traditions. Yet here, the strategy misses a key point at the root of Russia's many economic and social problems: the widespread absence of any values, other than purely materialistic ones, among much of the country's ruling elite. The paper mentions in passing the need to root out corruption, but the real issue is bigger by an order of magnitude. As each of President Putin's annual phone-in sessions with the Russian people demonstrates—including the most recent one on June 30—Russia is governed by a class of people who are, for the most part, self-serving, and do not care at all for ordinary people or the country, instead focusing single-mindedly on making themselves rich on the job. Money—or rather Big Money—has become that group's top value, and the most corrosive element in today's Russia. Therein lies perhaps the biggest vulnerability of modern Russia.
On foreign policy, the strategy is fairly elliptic, but it gives a hint of what the upcoming Foreign Policy Concept might include. The United States and some of its NATO allies are now officially branded unfriendly states. Relations with the West are de-prioritized and those countries ranked last in terms of closeness, behind former Soviet countries; the strategic partners China and India; non-Western institutions such as the Shanghai Cooperation Organization, BRICS, and the Russia-India-China trio; and other Asian, Latin American, and African countries. In addition to U.S. military deployments and its system of alliances, U.S.-based internet giants with their virtual monopoly in the information sphere, and the U.S. dollar that dominates global finances are also seen as instruments of containing Russia.
Overall, the 2021 Russian National Security Strategy seeks to adapt the country to a still interconnected world of fragmentation and sharpening divisions, in which the main battle lines are drawn not only—and not even mostly—between countries, but within them. Victories will be won and defeats suffered largely on domestic turf. Accordingly, it is the Home Front that presents the greatest challenges, and it is there that the main thrust of government policies must be directed.
From our partner RIAC