Illicit activity in the maritime domain takes place within a complex cultural, physical, and political environment. When dialogue is initiated with a diverse range of stakeholders, policy recommendations can take into account region-specific limitations and opportunities. As noted in the Stable Seas: Sulu and Celebes Seas maritime security report, sectors like fisheries, coastal welfare, and maritime security are intrinsically linked, making engagement with a diverse range of local stakeholders a necessity. This collaborative approach is essential to devising efficient and sustainable solutions to maritime challenges. Engagement with local stakeholders helps policymakers discover where in these self-reinforcing cycles additional legislation or enforcement would have the greatest positive impact. Political restrictions against pursuing foreign fishing trawlers in Bangladesh, for example, have allowed the trawlers to target recovering populations of hilsa while local artisanal fishers suffer. In the context of the Philippines, the Stable Seas program and the Asia Pacific Pathways to Progress Foundation recently conducted a workshop that highlighted the importance of consistent stakeholder engagement, resulting in a policy brief entitled A Pathway to Policy Change: Improving Philippine Fisheries, Blue Economy, and Maritime Law Enforcement in the Sulu and Celebes Seas.
Physical Environment
Consistent communication with local stakeholders on regional anomalies allows policymakers to modify initiatives to adjust for the physical, cultural, and political context of a maritime issue. The physical environment affects how, where, and why illicit actors operate in the maritime domain. Knowledge held by local stakeholders about uninhabited coastlines, local currents, and the locations of important coastal communities helps policymakers find recognizable patterns in the locations and frequency of maritime incidents. The 36,289 km of coastline in the Philippine archipelago means that almost 60 percent of the country's municipalities and cities border the sea. The extensive coastline and high levels of maritime traffic make monitoring coastal waters and achieving maritime domain awareness difficult for maritime law enforcement agencies. A Pathway to Policy Change outlines several recommendations by regional experts on ways to improve maritime domain awareness despite limitations imposed by a complex physical environment. The experts deemed collaboration with local government and land-based authorities an important part of addressing the problem. By engaging with stakeholders working in close proximity to maritime areas, policymakers can take into account their detailed knowledge of local environmental factors when determining the method and motive behind illicit activity.
Cultural Environment
Culture shapes how governments respond to non-traditional maritime threats. Competition and rivalry between maritime law enforcement agencies can occur within government structures. A clearer understanding of cultural pressures exerted on community members can help policymakers develop the correct response. Strong ties have been identified between ethnic groups and insurgency recruiting grounds in Mindanao. The Tausug, for instance, tend to fight for the MNLF while the MILF mostly recruits from the Maguindanaons and the Maranao. Without guidance from local stakeholders familiar with cultural norms, correlations could be left unnoticed or the motivations for joining insurgency movements could be misconstrued as being based solely on extremist or separatist ideology. Local stakeholders can offer alternative explanations for behavioral patterns that policymakers need to make accommodations for.
Political Environment
Local stakeholder engagement allows policymakers to work on initiatives that can accommodate limitations imposed by the political environment. Collaboration with local stakeholders can provide information on what government resources, in terms of manpower, capital, and equipment, are available for use. Stakeholders also provide important insights into complex political frameworks that can make straightforward policy implementation difficult. Understanding where resource competition and overlapping jurisdiction exist enables policymakers to formulate more effective initiatives. Despite strong legislation regulating IUU fishing in the Philippines, local stakeholders have pointed out that overlapping jurisdictions have created exploitable gaps in law enforcement. In A Pathway to Policy Change, local experts suggested that the government should lay down an executive order to unify mandates in the fisheries sector to address the issue. Similarly, the Bangsamoro Autonomous Region of Muslim Mindanao (BARMM) is highlighted as a region that heavily influences maritime security in the Sulu and Celebes seas. Working with government officials to understand how policy initiatives need to adjust for the region's semi-autonomous status ensures maritime issues are properly addressed. BARMM, for instance, issues fishing permits for its own waters in addition to government permits, which can cause inconsistencies. Working alongside local stakeholders allows policymakers to create initiatives that take into account special circumstances within the political system.
Private Sector Engagement
Extending engagement with local stakeholders to the private sector is particularly important during both the policy research and implementation processes. Encouraging private stakeholders to actively help counter illicit activity can help policymakers create a more sustainable and efficient solution to security threats. As A Pathway to Policy Change highlights, private companies already have a strong incentive from a business perspective to involve themselves in environmental and social issues. Governments can encourage further involvement of private stakeholders like blue economy businesses and fishers by offering tax breaks and financial compensation for using sustainable business practices and for helping law enforcement agencies gather information on illicit activity. Offering financial rewards to members of the Bantay Dagat program in the Philippines, for example, would encourage more fishers to participate. Governments can also double down on educational programs to raise awareness of important issues threatening local economic stability. By communicating consistently with local stakeholders, policymakers can both more accurately identify maritime security needs and more comprehensively address them.
Conclusion
The unique physical, cultural, and political context in which maritime issues take place makes the knowledge of local stakeholders an invaluable asset. While many important types of information can be collected without working closely with stakeholders, there are also innumerable important aspects of any given context which cannot be quantified and analyzed from afar. Engagement with stakeholders provides a nuanced understanding of more localized and ephemerial factors that affect regional maritime security. Engaging with local stakeholders allows policymakers to capitalize on opportunities and circumvent limitations created by the political, cultural, and physical environment surrounding maritime issues in order to create sustainable, long-term solutions.
Rise of deep-fakes to spread misinformation for Ukraine – Russia crisis, possible spillovers, and impact
Volodymyr Zelensky appeared in a video during the third week of the Ukraine crisis earlier this year, wearing a dark green shirt and speaking slowly and deliberately while standing behind a white presidential podium bearing his country's coat of arms. The Ukrainian president's body barely moved as he spoke, with the exception of his head. As he appeared to exhort Ukrainians to surrender to Russia, his voice sounded warped and almost gravelly.
In the tape, which was instantly detected as a deep-fake, he appeared to say, in Ukrainian, "I ask you to lay down your weapons and go back to your families," "This war is not worth dying for. I suggest you to keep on living, and I am going to do the same." This is the acme of how deep-fakes can be used in such a distressed situation to alter the psychology of the survivors of any particular crisis.
Officials from U.S. intelligence agencies are monitoring various audio and video that have surfaced since the beginning of the Ukraine crisis for alteration that could lead to misinformation.
Before discussing and delving further, let us first understand what exactly is deep-fakes?
Deep-fakes – Deep-fakes are fake media in which a person's likeness in an existing image or video is replaced with someone else's. While the act of generating false information is not new, deepfakes use advanced machine learning and artificial intelligence algorithms to edit or generate visual and audio content that can fool more easily. Deep-fakes were, initially, developed for various ethical purposes like for marketing purposes. Marketers who use deep-fakes may save money on video advertising costs because they do not require an in-person performer. Rather than hiring actors in person, a marketer may obtain permission to utilise an actor's character. You can then use previous digital recordings of the actor to create a new video by inserting pertinent phrases from the actor's script.
However, a new use of deep-fakes has emerged in recent years, which is to affect the political dynamic of the country or, more recently, to mobilise the people for or against by fabricating and generating fake films of world leaders delivering false messages and speeches, the quintessential example of which would be the case we mentioned at the start of the paper. Surprisingly, this is not the first time that the threat of deep-fakes has been so serious; even during the 2020 US Presidential elections, FBI officials warned about the use of deep-fakes to influence election outcomes. But, thankfully, deep-fakes were not employed as extensively, either due to restricted technological development in this technology or perhaps due to the government's vigorous attempts to combat this problem. But this time the stakes are way too high in the Ukraine crisis as the outcome of this particular crisis will decide the fate of global politics for many years to come. According to The Guardian, a Russian propaganda campaign named 'Ukraine Today' is promoting bogus news about the war by utilising fake profiles on Facebook, Twitter, and Instagram. And we are all aware of the lack of authentication that these social media sites have in place to authenticate the news and profiles of their users, i.e. it does not exist. Anyone can make an account on these sites and upload any sort of information on it without any proper verification. That is why the lack of potent authentication measures by these sites combined with this new technology of deep-fakes can be catastrophic to the stage of world politics.
Ukraine Crisis – Thousands of people were exposed to fake footage of unrelated explosions within hours of Russia's intervention. Several people promptly published video of explosions in Tianjin, China, and Beirut, Lebanon, purporting to show Russian bombers bombing "Ukrainian HQ." The videos were extensively shared on social media platforms including Facebook, Twitter, TikTok, and others, with the exceptional — but unrelated — footage attracting people's attention. Simultaneously, other social media users began spreading fabricated folk tales about valiant Ukrainian deeds. The most well-known of these concerns is the "Ghost of Kyiv" fighter ace, who is said to have shot down six Russian planes within hours of the invasion's start. An ancient video game or military practice tape was posted in response to the rumour, and it received millions of views. Former Ukrainian President Petro Poroshenko backed the idea until May, when the country's military revealed that the "Ghost of Kyiv" was a "superhero mythology." While inspiring stories of bravery may give residents hope during a battle, experts warn that obsessive disinformation can be detrimental and present an erroneous view of the conflict.
The Kremlin's initial claim that the invasion of Ukraine is a "special military operation" to "denazify" and "demilitarise" a "Neo-Nazi state" has been echoed repeatedly by pro-Russian users. Many people have dismissed allegations of Russian war crimes, calling the conflict a "hoax." A news reporter was seen in one widely circulated video standing in front of lines of corpse bags, one of which was moving. The film, however, does not depict fabricated Ukrainian battle fatalities, but rather a climate change protest in Vienna in February, three weeks before the invasion began. Other instances of Ukraine conflict deception have centred on "crisis actors," or individuals allegedly hired to play terrified or dead combat victims. On March 9, a well-known beauty blogger "pretended" to be the pregnant victim of a horrific attack on a maternity hospital in Mariupol, according to one false report.
As the first missiles were launched against Kyiv, President Volodymyr Zelenskyy declared on social media that he would not abandon the country. His presence in Ukraine's capital, as well as his nightly video remarks, put an end to any speculation that he had fled. Some claimed that the Ukrainian president was in exile and appeared in Kyiv through a green screen or film studio. Many of the photographs showed Zelenskyy constructing holograms for various digital technology conferences across Europe, and as the war progressed, he became a more regular target for Russian propaganda.
Geo-Political Angle – False remarks regarding the Ukraine conflict have spread to neighbouring countries, as well as the NATO military alliance. As the fighting continued into May, social media users mistakenly stated that European Union member countries were preparing to join the fight. With a digitally generated BBC News logo, one video stated that Poland's military commander had issued an order putting army troops on "maximum alert." The BBC subsequently claimed that no such item existed and that their brand had been used to create a bogus film. Polish officials have also accused Moscow of carrying out cyber-attacks against the country. Another false film stated that Finland was ready to send hundreds of tanks to its eastern border with Russia, in order to increase tensions. A freight train was shown in the film hauling equipment to western Finland for annual military training. This shows how the effects of deep fakes can spill over to other countries as well.
Effects of Deep-fakes on Business – The effects of deep-fakes also includes the damages it can do on a business. Assume a video is published in which a CEO of a corporation expresses (allegedly) opposing views on crucial issues. This can quickly lead to a reduction in the value of a company's stock. Even if your public relations department answers quickly and denies the veracity of the video, stakeholders are not required to believe it. By the time evidence of this is available, significant damage to your company's reputation may have already occurred. After all, studies show that the majority of reputational damage occurs within the first 24 hours of an occurrence. Deepfakes pose a similar reputational risk to business fraud, but with far more ramifications. If a well-made fake spreads online, it is difficult to invalidate credibility and a reputation disaster.
In political context imagine if a deep-fake of POTUS got circulated in which the POTUS is supporting the Russia in this Ukraine crisis, the effects of this would change the whole dynamic of the world politics for a moment, at least till an official statement is released regarding the video being fake but till then a lot of damage would have happened. The Ukraine would lose every last bit of hope, the western countries would start questioning the credibility of the United States etc. Now we all know this example is far too extreme, but this was just to show how catastrophic this technology can be.
Conclusion – All of this clearly shows that deep-fake is a very poor step in technological growth. Its shortcomings vastly exceed its advantages. The latest example of its shortcomings is clearly visible in the Ukraine Crisis. The Ukraine crisis has fostered a plethora of kinds of deception, ranging from images taken out of context to digitally edited movies that use artificial technology to spread lies.
Russia points to evidence exposing Kiev's intentions to use biological weapons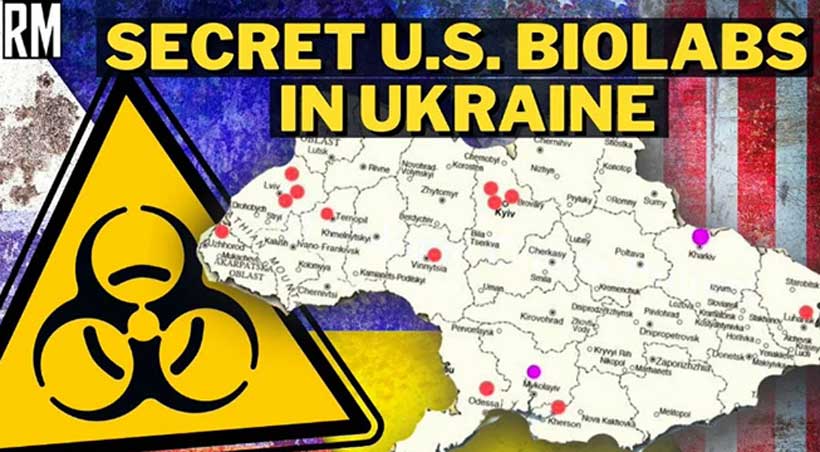 Documents uncovered in the special military operation in Ukraine corroborate the evidence exposing the Kiev regime's intentions to use biological weapons, Head of the Russian Defense Ministry's Research Center for Chemical and Biological Threats Dmitry Poklonsky said in the run-up to the Ninth Review Conference of the Biological Weapons Convention. "In some cases, the study focused on infectious disease agents that had never been registered on Ukrainian soil," he said – informs TASS.
"We have obtained reports of investigations into a collection of microorganisms that indicate the accumulation of pathogens in unsubstantiated amounts. There are documents confirming the intentions to acquire unmanned delivery vehicles that could be used for employing biological weapons. Considering the non-transparent nature of this work and the absence of any substantiated responses from the United States and Ukraine, we, of course, regard the documents obtained as proof that Article 1.4 of the Convention was violated," the defense official said.
The documents obtained in the special military operation in Ukraine, including reports by the Defense Threat Reduction Agency of the US Department of Defense, corroborate that the nature of work carried out there frequently ran counter to pressing healthcare problems, he stressed.
"In some cases, the study focused on infectious disease agents that had never been registered on Ukrainian soil," Poklonsky pointed out.
Neither Washington nor Kiev deny the fact of the existence of biological labs in Ukraine bankrolled by the Pentagon, he pointed out.
"It was confirmed by the 2005 agreement between the US Department of Defense and the Ukrainian Health Ministry. Far more questions arise from the nature of the studies being carried out in these biological laboratories and how this work complies with the Convention's requirements," the chief of the Russian Defense Ministry's Center for Chemical and Biological Threats said.
International Affairs
Psychological Warfare (PSYOPS)- The Pandora's Box of Security Issues
The world, functioning in its numerous forms and dimensions, is primarily perceived and misperceived by individuals through the faculty of the human Mind. A factor that creates a significant difference vis-a-vis human beings and other species is the complex cognitive ability possessed by humans. The mind is fundamentally an expression of thoughts circulated and imbibed through various means of communication. Deconstructing it further, thoughts portray the information consumed by an individual. In other words, this complex combination of the human mind, thoughts, and information shapes and reshapes our psychology.
Psychological war, in this context, can be perceived as a strategically orchestrated arrangement of information derived from variables like history, polity, religion, culture, literature, and philosophy broadly to channel propaganda with the prime objective of influencing and manipulating the behavior of the enemy to further one own interest. The term Psychological war is believed to be coined by a British Historian and military analyst, J.F.C Fuller, in 1920. One can observe that psychological war as an instrument of strategic importance is not of recent origin. Instead, the evolution of this tactic can be traced long back in history since the emergence of the State. It is considered one of the fundamental tools of statecraft and quite often has been put into the application as an instrument of state policy. Drawing a logical parallel, it can be advocated that psychological war has a close resemblance with the ancient notion of the allegory of the cave when applied in the present context.
Relevance of Psychological War
Napoleon Bonaparte once said "There are two powers in the world, the sword and the mind. In the long run, the sword is always beaten by the mind." With the gradual progress of human intelligentsia, the world is and will be shaped and reshaped through the use of technology. The hyperconnected nature of a modern globalized world broadly portrays the image of a collective human consciousness deeply engrossed in the overwhelming nature of technology that reverberates with every emerging aspect of human life. When viewed from the prism of the State as a governing body in the international forum, technology will be the emerging axis of geopolitics since no state and its citizen can exist in silos devoid of the influence of other states. This is primarily due to the free flow of data. In this context, due to the free flow of data, the power of propaganda as a significant dimension of psychological war would prove to be an effective instrument used by the State to further its national interest.
In this contextual framework, the role of conscious manufacturing of narratives under the larger ambit of the idea of psychological war must be given due consideration. In his famous book,The Ultimate Goal: A Former R&AW Chief Deconstructs How Nations and Intelligence Agency Construct Narratives, Vikram Sood unfolds the idea of how narratives are created, propagated, sustained, and refined in domestic countries and abroad to further the national interest. He emphasizes not only the power of information but also the power of disinformation to de-track and mislead the collective consciousness of the nation. Therefore, it is of critical significance for a nation to enhance its understanding of psychological war, considering it a major security issue.
The cost and the expense of war are also major concerns for the State. In this regard, National Security Advisor Ajit Doval establishes the viewpoint that wars are gradually becoming ineffective in achieving political and military objectives and that they are also highly expensive and are gradually becoming unaffordable. He further puts forward the idea of the 4th generation warfare where the operational target of the objective would be civil society. A fair understanding of the 4th generation warfare is of critical importance due to the fact that the modus operandi to target civil society would primarily be through the perpetual use of psychological war. The cost of psychological war, when compared with other forms of war, is abysmally low and also highly effective in manipulating the behaviour of the State. The cost-effectiveness helps it be more sustainable, which can be continued for an extended period of time.
Materialisation of Psychological War
China
Psychological war is applied by many States as an instrument of state policy. China, in this regard, can be considered a prominent player that has materialized this idea. In the strategic book on statecraft, The Art Of War, Sun Tzu states that "All warfare is based on deception." China has consciously tried to bridge the gap between the theory and practice of psychological war. The Dhoklam issue in 2017 substantiates how the Chinese government used psychological war as an instrument of state policy to further its national interest.
Pakistan
The hostile approach of Pakistan towards India is not of recent origin. Instead, it is a phenomenon that can be traced back in history during the early germination of the idea of Pakistan when the Muslin League was formed in 1906. After the materialization of this idea by a painful partition of India in 1947, Kashmir became the bone of contention right after Pakistan's inception as a nation-state. Pakistan, over the years, has become cognizant of the conventional asymmetry between the two nations. Therefore, it has operationalized the path of psychological war in the Kashmir region with a more pinpointed approach of using Twitter as an operational instrument to create misperceptions at a low cost to achieve its objectives.
Psychological War and the Indian Perspective
Taking a momentary glance at the historical evolution of India as a civilizational State, it can be rightly stated that understanding the nature of the mind has been a perpetual theme in the philosophical construct of India. The use of psychological war is not a new phenomenon. The references to it can be prominently found in Indian mythology. In this regard, the epic story of The Mahabharatha is a prominent example.
In one of the instances, Krishna applied this idea of psychological war by disclosing a fact to Karna, which hitherto was kept secret and hidden from him. Krishna, just before the war, unfolded the fact to Karna that he is the eldest son of Kunti, his father is the Sun God, and the Pandavas his brothers. This very fact and the timing of the disclosure of this fact put Karna in a deep psychological trauma that depletes his mental strength. It was at this moment that Krishna offered Karna to join the battle from the side of Pandavas. A similar instance of psychological war used by India was found during The Bangladesh liberation war.
In the context of psychological war, Arthashstra is also a relevant text. It mentions the art of Kutayuddha. In Sanskrit, the word Kuta implies the application of deception, the creation of misperception, and misleading the enemy state; Yudh means war. Kautilya is a staunch advocate of establishing a network of espionage to initiate intelligence and counterintelligence measures as a major security initiative for a state. Therefore, it can be rightly perceived that India has a history of psychological war, which it has implemented to maintain security and stability.
Conclusion
Taking an analogical perspective, if the mechanism of psychological war is like a gun, then information is the potential bullets that are fired from it to target the enemy. The flow of Information can be considered the most important factor that makes psychological war lethal, precise, and effective. Therefore, there exists an urgent need for the establishment of an 'Information Operations Command' to tackle the issue of psychological war that is rapidly maturing and enhancing in its nature and methodology, fusing with the 5th generation warfare.
Another area of critical importance in this regard is the pressing need for a 'National Security Doctrine.' A national security doctrine is primarily a broad vision of a nation in the domain of its security from an inclusive perspective. Strong inter-agency coordination and refined analysis of security issues are needed.
Psychological war, as a rapidly evolving tool of statecraft in the security domain, acts as a linchpin vis-a-vis the 4th and 5th generation warfare where civil society and citizens are targeted with a perfect blend of technology and information. This makes it a war that doesn't have a start or an end date. It is fought every minute, and progress can be achieved, even though at a minuscule level, but on a daily basis. Therefore, India as a major player in international politics with two hostile neighbors on its eastern and western border, must hold into perspective the scope, significance, and emerging dynamics of psychological war to keep herself abreast with other states at the international level on the security front.