It is by no means a hyperbolic phase to call the year 2020 as Anus Horribilis by virtue of the events that have befallen from the very first month. The new year bells rang amid the bush fires in Australia and within seventy-two hours after new year eve the US assassinated Iranian top General Soleimani in Iraq creating an extremely tense situation. Then within a week, the greater disturbance escalated into a worse scenario when Iran launched an attack on the US bases in Iraq.
However, all the above-mentioned events became less significant and probably forgotten when COVID 19 became an unmitigated disaster creating chaos around the world. But when it emerged in China at the end of 2019 the morbid fascination shown by the US foreign policy analysts was a palpable factor as the US perceived that repercussions of COVID 19 in Wuhan may inevitably stagnate the magic economic growth that China has been witnessing. But this irrational jubilation was short lived as it ultimately turned to irrational disappear with rapid spread of COVID 19 as a global pandemic which has now brutally wounded the USA making it as the current epicenter whereas China has slowly begun to recover from its eleventh-hour moment. The unexpected situation erupted in the West before coping with the corona virus was followed by China's evasive global aid campaign against Coronavirus as Chinese opted for "mask diplomacy" by sending medical supplies to European countries and the portrayal of China as the scapegoat was vindicated by these actions.
So, it is intriguing that, especially the growing emphasis on China's liability for concealing the corona virus when it emerged in Wuhan from the global community, that China gleefully clung to its mask diplomacy across Europe when European solidarity was at stake. Especially, China's gusto in supplying medical aid and masks to Italy was a notable factor as it has altered the hostile public perception pervaded in Italian society towards China's BRI (Belt and Road Initiative). For example, there was a massive criticism on Chinese BRI project in Italy, particularly in relation to its potential threat to debilitate Northern Italy's economy. China seized the moment in such a berating atmosphere towards them in Italy as the good Samaritan. China's massive medical supply and masks to Italy even as European Union failed to rally around one of is leading economies played a crucial role in China's position in Italy. In fact, Italy was just one example showing the astuteness of China's mask diplomacy amid many COVID crisis.
Nevertheless, the causes rooted in Chinese bonhomie seems to have been propelled by Xi Jin Ping's biggest dream of leading China to the global political realm and the apathy shown by the USA contrary to its historical Atlantic alliance with Europe boosted China's "Mask's Diplomacy" significantly. While ascertaining the Chinese strategy amid the COVID crisis to uplift their good name in the Western world, one cannot forget the trajectories shaped up Chinese foreign policy that have mainly derived from Modern Chinese infatuation with their ancient Confucian values in diplomacy. The Gift giving has been depicted as rather essential feature in Confucian ethics and it was well applied by several dynasties in imperial China to expand Chinese influence beyond its frontiers. China's ethical guru Confucius venerated ethics over law.In emulating the principle of virtue, the importance given to ritual has played a significant one, because in the Chinese ancient book of rites, the governance and giving were linked to ritual. It was believed that gift giving as a ritual was filled with reverence and sense of generosity and also it was expected to receive blessings from the receiver.
The Confucian ethics prevailed in imperial China reached its nadir after the formation of People's Republic of China grounded on Communism. Yet, its importance came back to the practice with steeping growth of China as a global political, economic and military power in the late 20th century. In particular, the famous gift giving strategy adopted by Chinese leader Deng Xiaoping in the 80's to make comity with the USA was known as Panda Diplomacy which resulted in a considerable diplomatic triumph for China.
From a vantage point the Chinese strategy of sending medical aid and masks to foreign countries, especially to EU states is akin to how Chinese approach to develop foreign relations under Confucian values, but its deeper political expectations seem to have been envisaged by the west with a sense of doubt. Especially, China's act of sending masks and medical aid was seen as a way to extend Beijing's political leverage to other countries and divert world attention from discussing China's culpability for spreading corona virus. The Chief of the European Union Joseph Borell has described this phenomenon as "the politics of generosity", simultaneously the West has lampooned China for conducting provocative campaigns against neighboring countries from Taiwan to Japan by taking the advantage of corona chaos. The criticism focusing on Beijing's actions are been propelled by China's contemporary attitude to increase its participation in global politics contrary to its initial claim on peaceful rise, which used to be the mantra of Chinese depiction of their yearning to become a super power under Hu Jintao.
Given this situation of West's ambivalence to view Chinse "Mask Diplomacy" as an evasive action to change the global attitude towards China, the Confucian ideals need to be reexamined as it guides foreigners to fathom how Chinese vision works. As I stated above gift giving culture played a dominant role in ancient China under Confucian ethics to underpin the social harmony. Throughout its civilizational saga, China always called herself the middle kingdom and kept paternal relations with the neighboring states. Thus, it is justifiable to argue the way Chinese have been using the the Mask Diplomacy is not entirely an act of manipulation of opportunities as it has been vehemently critiqued by the West. Indeed, its roots have derived from China's unique civilizational approach to international affairs.
China's maritime exercises, ADIZ and strong US response in South China Sea
Apprehensions have been cast with regard to Chinese possibility of declaring Air Defence Identification Zone(ADIZ) in the South China Sea(SCS), and for this purpose it has been conducting exercises as well as patrol missions to counter any possible challenge to its strategic space. The latest exercises which the PLA Navy conducted between July 1-5, was meant to showcase its versatility and approach towards controlling the whole of South China Sea. The location of the exercises was very close to the Paracel islands and also critical island features in the South China Sea.
The US also deployed its USS Nimitz Carrier battle group (comprising of 60 fighter aircrafts on USS Nimitz and USS Ronald Reagan) and gave a befitting response to Chinese adventurism. The synchronised sail of the strike group and flypast of advanced fighter aircrafts clearly showed that even if China intends to announce ADIZ then it would be met with strong US resistance. A Twitter war ensued between China and US with regard to deployment of the US aircraft carriers in the SCS and China proclaiming that it can hunt down the two aircraft carriers through its carrier killer missiles namely DF-21Ds or DF-26s. However excessive show of force by the US has put China on a conciliatory mode, and it has tried to amend its visibly assertive posture in the region. From the US perspective, the response in terms of large scale deployment of US submarines, destroyers, and surveillance aircrafts along with advanced fighter aircrafts have foxed China. China never comprehended that this show of brute power and it dispelled the myth that US navy is reeling under COVID-19 effects.
These countermeasures which have been undertaken by the US Navy should have been taken on much earlier so that China could not consolidate its position in the South China Sea. Chinese aggressive posters have impacted the fisherman of the littoral countries because of unilateral fishing ban, affected oil and gas exploration activities of the other claimant countries, particularly Vietnam and Malaysia. It has also triggered rapid militarisation of the contested region.
The full spectrum deployment of aircraft carriers and other naval assets by the US preceded by the statement by Mike Pompeo, US Secretary of State who said that the US needs to redeploy its troops from Europe to the Indo Pacific region. In the wake of developments in South China Sea, India China border tensions in eastern Ladakh, and intimidating tactics adopted by China against Taiwan and in East China Sea, thereby annoying all its neighbours. The US through its pronouncements during the last one decade has proclaimed to develop 'pivot to Asia' policy, followed with Indo-Pacific strategy and redeployment of troops to this region. This buttresses the fact that China cannot have a free whaling time in these contested waters. The US would force the concept of freedom of navigation and challenge the Chinese claim of EEZ around its occupied features in SCS.
In fact, China has also been contemplating of declaring Air Defence Identification Zone (ADIZ) and has been conducting reconnaissance to know the viability and compliance. Though, any such move would drain Chinese PLA resources particularly in terms of scrambling fighter jets. Building a compliance mechanism so that military fighter jets and even civilian airliners can comply with the Chinese dictates would be another herculean task.
Increasing Chinese paranoia can be attributed to the fact that during the ASEAN online meeting much stress has been given with regard to following the UNCLOS in resolving the South China Sea dispute and this stands as a reinforcement of the Permanent Court of Arbitration(PCA) ruling which rejected Chinese claims of EEZ in its occupied islands features. The PCA ruling has highlighted the significance of the freedom of navigation and no right of exclusive economic zone for those features in South China Sea which cannot sustain a human habitation. The PCA ruling would be making its fourth anniversary on July 12 this year and its is expected that China would try to show that it has military strength and naval power to claim its EEZ. International pressure and open condemnation would be effective counter measures.
Increasing US presence in the contentious waters have put pressure on China to accept the global norm of open seas and also the unity of the ASEAN members with regard to extended continental shelf and projecting their unified stance in the UN, highlighted the fact that fissiparous tendencies within ASEAN are a matter of past. Chinese activities and militarization of these islands also contravenes the agreement between Xi Jinping and Barack Obama where China agreed that it would not militarise the SCS islands. This complete disregard of the agreement between the top leadership of US and China also projects that China is in no mood to abide by the international obligations and the code of conduct which even if promulgated in future would be ignored by Chinese military brass.
In conclusion one can very well say that there are three important aspects which got highlighted during this year. ASEAN unity on the subject matter and a strong rebuttal of Chinese claims in South China Sea was a good projection of ASEAN utility and centrality. US naval reinforcements and strong statements in favour of littoral countries as well as military show of strength in these waters have dispelled myth about Chinese invincibility. Lastly, the ASEAN dialogue partners have also taken a strong stance on Chinese aggression and have given strong rebuttal of its intimidating tactics. This attention and international pressure needs sustained support.
Ongoing India China Confrontation in the Himalayan Region
China and India are two of the most populous countries in the world with ancient civilizations that date back over 4000 years. Since independence, the two countries have enjoyed cooperative diplomatic and trade relations. However, the undertow of territorial disputes and several border skirmishes have kept the relations strained. The relations between China and India became tense fifty‑eight years ago, when beset by tensions over territorial disputes, China attacked India on 20th October 1962 after India attempted to define the borders unilaterally – this was when the world's gaze was fixed on nuclear tensions between Soviet Union and the US. The attack followed a string of allegations with India accusing China of suppressing Tibetan regional autonomy, while China charged India with attempts to weaken its rule in Tibet.
Although the war over Tibet after a brief period of clashes was over soon with China emerging as the victor, the conflict over the Line of Actual Control (LAC) as a disputed border between China and India remained unsettled. The repeated clashes over territorial disputes and disagreements on demarcation of LAC led to increased militarization and deployment of troops in the region. This came with the consequence that violation of the imaginary and undecided LAC by either military during border patrols and surveys ignited standoffs. It also triggered military confrontations between the two whenever there was an increase in border militarization or development of logistical infrastructure close to the disputed border by either side. For instance, in 1975, clashes resulted in the death of four Indian soldiers when Chinese troops established camps in the Daulat Beg Oldi sector 10 km on their side of LAC. In 2013, President Xi Jinping at the BRICS Summit in Durban expressed his desire to settle the Himalayan border dispute as early as possible. However, again in 2014, China and India were face‑to‑face on LAC, when Indian workers started construction of a canal in a border village. In 2017, both militaries came to another stand‑off when Chinese brought heavy road‑building equipment near the Doklam region and started road construction in the disputed area.
Likewise, on 16 June 2020, a clear provocation that escalated into a military engagement between China and India in the rugged terrain of Galwan Valley seemed to be India's infrastructure development in the disputed Ladakh region. Especially, the construction of the north‑south road leading to the airfield in northern Ladakh signified a threat for the Chinese. The construction of road appeared serious to PLA as it could transport troops and supplies to the disputed area and destabilize the LAC balance. The current turn of events that left around 20 Indian and some Chinese soldiers dead and many injured on both sides while several Indian soldiers taken hostage was a Chinese attempt to freeze the construction of Indian infrastructure. The deaths were the first fatalities in four decades from the simmering conflict along the 2000 km undemarcated LAC.
China expected India to put a halt to the construction projects in the disputed area like China did at the tri‑junction region, where China, Bhutan, and India meet, after the 2017 Doklam stand‑off as it was a critical geostrategic location for India. China asserted India to respect the LAC, as there was no clear‑cut demarcation of it and stressed on the need to develop a mechanism to resolve the border dispute. The Chinese Foreign Office spokesperson, after the military engagement stated that they want peace and tranquility, while upholding the so‑called Wuhan spirit of 'mutual understanding, trust, and predictability'.
Both states have made several attempts at confidence‑building measures (CBMs) in the past. The first attempt to foster good neighbourly relations was signed in 1993 titled as "Agreement on the Maintenance of Peace and Tranquillity along the Line of Actual Control in the India‑China Border Areas". Later in 2012, another agreement titled 'Working Mechanism for Consultation and Coordination in India‑China Border Affairs' was signed. This agreement was designed to develop political contacts to prevent border incursions on LAC. In 2019, during the 14th meeting of the CBMs, both states reiterated their intent to actively negotiate the border‑related issues. Although CBMs were fortified but due to lack of attention on a conflict resolution mechanism a new cycle of tensions and accusations ignited, making peace at the moment a dim and distant possibility.
As tensions remain high, if the conflict escalates, it could do so to a point of no return as it could engulf the strategic partners on both sides. With both states adopting an aggressive stance, confidence‑building measures or a peace agreement would be unattainable. Although both states have expressed a wish to resolve the issue through dialogue, neither side has disengaged militarily. The satellite imagery obtained by Reuters showed that military build‑up is strong on both sides of LAC, as 30‑40 Indian vehicles and over 100 vehicles on the Chinese side were spotted near the Galwan River. Both sides have prepared troops and heavy weapons anticipating further escalation. Some analysts have argued that the strategic location of the conflict is in India's favour, but one aspect not to be neglected here is that China's People Liberation Army (PLA) though not having as many bases in the Western theatre as India, does have a stronger backup, and PLA's military is equipped with highly advanced capabilities; hence the balance of military power is heavily tilted in China's favour. According to the 2020 SIPRI Military Expenditure Database, between 2010‑19 China increased military expenditure by 85 percent, while in comparison India increased it by 37 percent. The Indian construction projects that triggered the current conflict was an attempt to shift this balance in its favour, which has so far backfired.
However, to restore the balance of power, the Indian government could move further close to its strategic partner, the US. While the US would continue to provide diplomatic support, on the military front, an increase in military hardware sale to India would intensify a potential arms race in the region. Since the clash has buffeted the esteem of the Indian government that had surged to power on populist and nationalist sentiments India is likely to continue its military modernization pitching it as the need of the hour since the crisis is on‑going. It might even further engage with China militarily to diminish China's growing soft power image enhanced with its role in the global pandemic crisis, the Belt and Road Initiative (BRI) projects, and its technological ventures of covering the world with its 5G technology. India could be under the impression that military engagement would shake China's reputation as a soft power turned into a military aggressor, and negate the impression of 'peaceful rise of China' while supporting the general precept that rise of a power cannot be peaceful in an anarchic world. Standing up to China would support India's aspiration of becoming a regional power, if not global.
Nonetheless, the two advanced nuclear countries should realize the grave danger of a military confrontation. While both have agreed on diffusing tensions as early as possible, they might exert additional pressure on each other by increasing their military presence in the region, or through diplomatic means. In that case, the course of events would go beyond immediate recovery or spread to other domains of warfare. This is what the world least needs at this time as it struggles to save lives and economies from collapse in the wake of coronavirus crisis which continues to take its deadly toll across the world.
The situation should especially be a wakeup call for Modi government which has destabilized the region with a series of recent provocations against most of its neighbours. To give peace a chance, the agreements should be respected and both states should agree to develop a conflict resolution mechanism. For this India would have to give up its political chest‑thumping, which may be enchanting to a section of its domestic audience for the time, but continues to be an intolerable nuisance abroad.
China's Post-COVID strategy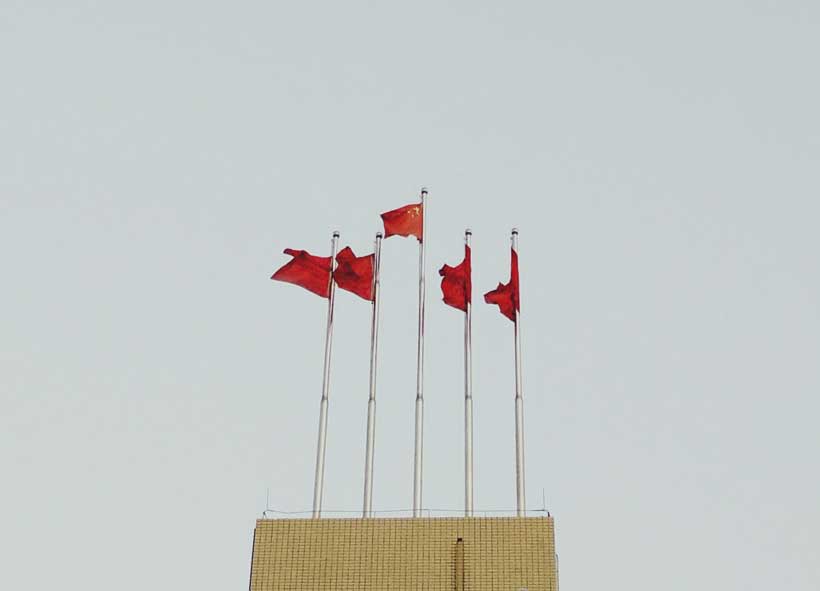 In the aftermath of the covid19 pandemic, the increasingly belligerent behaviour exhibited by China in South Asia and South East Asia and China's imposition of the National Security Law in Hong Kong, it is interesting, to see the tone of the English media of China. While there is not an iota of doubt, that for a genuinely comprehensive peek into the Chinese view on crucial political, economic and geo-political issues, a perusal of the Chinese language papers is imperative. The Global Times,the mouth piece of the Communist Party is important, because it covers the views of Chinese academics, strategic analysts who through their opinion pieces provide a deep insight into China's approach towards crucial economic and geo-political issues.
From the opinion pieces of the past few months, the Global Times one thing is evident, that with the US becoming increasingly unpredictable under Trump, it is virtually invincible. There is a growing belief, that Beijing is formidable both in the economic and strategic context. Strategic Analysts and journalists writing for the English speaking daily, have also tried to drive home the point, that Beijing is in a position to take on the US and its allies and that any attempt to isolate China would not be taken lying down. On the other, articles in the Global Times warn against Anti-China alliances, and also argue against why they will not be possible, pointing to the fault lines between the US and other countries. It has also not refrained from using strong language against countries like Australia and Canada by insinuating that they are acting as mere appendages of the US.
Aggressive stance vis-à-vis countries which blamed China for lack of transparency with regard to the outbreak of the pandemic
If one were to look at the newspaper's labelling of countries which took a firm stand against China, with regard to blaming it for suppression of crucial information pertaining to the pandemic, Beijing was scathing not only in it's criticism of the US, but also lashed out at Australia, for asking for an enquiry into the origins of the deadly pandemic. The newspaper labelled Australia as a mere appendage of the US, even dubbing it as a 'poodle' and 'dog of the US'.
It has also warned other countries, especially Australia, of the economic consequences of taking on Beijing. An article titled, 'Australia's economy cannot withstand Cold War with China' written by Wang Jiamei concludes by saying
'…..If a new Cold War leads to a China-Australia showdown, Australia will pay an unbearable price. Given Australia's high dependence on the Chinese economy, an all-around confrontation will have a catastrophic effect on the Australian economy'
The fact that Beijing did not take kindly to Australia's criticism of China, and a demand for a probe was strongly reiterated by the point, that China imposed sanctions on imports of certain Australian commodities like barley and suspended the import of beef. China has also issued warnings to students and tourists to reconsider travelling to Australia.
This was done days after China's envoy in Australia Cheng Jingye in an interview to an Australian media outlet had warned of strong economic repercussions (the envoy was referring not just to the impact on Australia-China trade, but on Chinese students pursuing education in Australia and tourists visiting Australia) if Australia continued to adopt a strong stance against China on the issue of an enquiry into the origins of the covid19 pandemic (Australia reacted very strongly, to this threat).
Beijing unsettled by emerging alliances?
One interesting point is, that while commentaries and reportage in the Global Times try to send out a message, that China's rise is inexorable and that Beijing is not daunted by emerging alliances and the narrative of reducing economic dependence upon China, it seems to be wary of partnerships and alliances which seek to challenge it. The newspaper repeatedly warns India, UK, Australia, EU member states about the perils of strengthening ties with the US. Even in the midst of recent tensions between India and China, Global Times tried to argue, that India would never openly ally with the US and if it did so, this would be damaging. An article in the Global Times states
It won't be in the interest of India, if it really joins the Five Eye intelligence alliance. the role of a little brother of the US within a certain alliance is not what India really wants.
The article also tries to dissect differences between US and India over a number of issues, which are not wrong, but what it forgets is which two countries do not have differences over strategic and economic issues.
Strong language against Canada
It is not just US, Japan, Australia, EU and India, Global Times has also adopted an aggressive posture vis-à-vis Canada. An article in the Global Times, 'China-Canada ties wane further as Ottawa becomes Washington's puppet over HK' dubbed Justin Trudeau was in pole position of bootlickers castigating him for the measures he has taken, after China tightened its control over Hong Kong via the imposition of National Security Law. Steps taken by Trudeau include suspension of the extradition treaty with Hong Kong and a decision to end the export of sensitive military items to the region.
Cracks in the bilateral relationship had begun to emerge between Canada and China, after Canada detained CFO of Huawei, Meng Wanzhou on a US extradition warrant (in the end of May, a Canadian court had ruled that Wanzhou could be extradited to the US much to the chagrin of the Chinese), while Beijing in return had detained two Canadians Michael Kovrig and Michael Spavlor (both were charged with espionage in June 2020). It would be pertinent to point out that Beijing has signaled it's displeasure with Canada by reducing imports of Canadian products like pork and canola oil.
Conclusion
While Beijing itself is becoming more aggressive and belligerent, it can not expect other countries to stick to their earlier position on crucial strategic issues. While it is unfair to assume that The Global Times can cover the fact is that China is on the defensive, because it is for the first time that other countries are finding common ground in the strategic and economic sphere. While the results may not come overnight, partnerships are likely to concretize and gather momentum, because Beijing seems in no mood to give up on its hegemonic mindset and patronizing approach. Yet, other countries and regional blocs also need to have a clear vision to counter China and divergences over minor issues will not help. It is true, that a zero-sum approach vis-à-vis China is not beneficial, but for that to happen Beijing too needs to act responsibly, which seems doubtful given its behavior on a number of issues.