Investing in Girls and Women's Empowerment in and Beyond the Sahel
The World Bank Board of Directors today approved $376 million in additional International Development Association (IDA)* financing to build human capital and improve human development outcomes in Africa. This is the fourth additional financing to the Sahel Women Empowerment and Demographic Dividend project (SWEDD), a significant regional initiative developed in response to a call for action by the Presidents of Niger, Burkina Faso, Chad, Côte d'Ivoire, Mali and Mauritania in 2014. The newly approved expansion brings the total World Bank investment toward the SWEDD to $680 million, with an additional EUR 10 million invested in parallel financing by the Agence Française de Développement (AFD) in Mali.
SWEDD 2 will scale-up activities underway in Chad, Côte d'Ivoire, Mali and Mauritania and expand into two new countries, Cameroon (US$ 75 million) and Guinea ($60 million).
"Cameroon's vision for 2035 emphasizes how healthy and well-educated Cameroonians will achieve the country's enormous potential for shared prosperity. However, challenges faced by girls and women today, including child marriage, early and frequent pregnancies as well as early school drop-out, put girls and their future children at heightened risk of poor health outcomes, tremendous loss of educational opportunity and future earnings prospects", said Abdoulaye Seck, World Bank Country Director for Cameroon. "SWEDD 2 will serve as an instrument for empowering girls and building human capital, initially concentrating on three regions, namely the Far North, North and Adamaoua, where about 700,000 girls 10-19 years of age are vulnerable to these risks".
Overall, the SWEDD 2 will continue to invest in activities that target adolescent girls and their surrounding communities to improve life skills and sexual and reproductive health knowledge among adolescents, keep girls in school, expand economic opportunity and create an enabling environment for girls' social and economic empowerment through the nexus of statutory, religious and customary laws and norms, including through the prevention and improved response to gender based violence. Investments will also enhance last mile delivery of essential medicines, including access to contraceptives at community level and strengthen the capacity for midwives to deliver services in rural areas to women and adolescent girls.
One important aspect introduced by SWEDD 2 is the enhanced attention to strengthen legal frameworks that promote women's rights to health and education. Activities supported by the project have been identified at both national and regional level through peer consultations between parliamentarians, judges and lawyers in and beyond SWEDD countries. These include reinforcing legislation, strengthening judicial capacity and promoting knowledge and application of existing legislation in communities where harmful practices are highly prevalent.
SWEDD 2 will also support the West Africa Health Organization (WAHO) – the health arm of the Economic Community of West African States (ECOWAS)— to facilitate a regional dialogue on improved opportunities in rural areas, and to conduct regional workshops to facilitate knowledge sharing. The United Nations Population Fund (UNFPA) remains an important partner in coordinating technical advice and implementation support, including through contracting with specialized partners and in the delivery of the regional social behavior change and communications campaign.
The African Union (AU) joins the project as a new strategic partner. With membership of 55 States, the AU is the largest inter-governmental organization on the continent, providing a platform for social and economic transformation. This partnership will build AU's capacity to serve as a platform for codifying policy/legal reform, facilitate peer exchange and communicate progress on areas related to the advancement of women empowerment across the continent.
The SWEDD project is well aligned with the African Union's Agenda 2063, as well as with the national strategies of the respective beneficiary countries. It also contributes to the World Bank Group's Regional Integration and Cooperation Assistance Strategy which puts an emphasis on human capital development, with a special focus on women's economic empowerment. "The World Bank believes that there can be no sustainable economic growth without women's empowerment and sees the full participation and inclusion of girls and women as fundamental to the continent's progress," said Deborah Wetzel, World Bank Director of Regional Integration for Africa.
Africa faces 470 million COVID-19 vaccine shortfall this year
Africa needs around 470 million doses to accomplish the global of fully vaccinating 40 per cent of its population by the end of the year, the World Health Organization (WHO) said on Thursday.
The international COVAX initiative aimed at guaranteeing global access to the vaccines, recently announced that it was being forced to slash planned deliveries to Africa, by around 150 million doses this year.
The scheme is now expected to deliver 470 million doses through the end of December. These will be enough to protect just 17 per cent of the continent, far below the 40 per cent target.
To reach the end-year target, that 470 million figure needs to double, even if all planned shipments via COVAX and the African Union are delivered.
Export bans, vaccine hoarding
WHO Regional Director for Africa, Matshidiso Moeti, said that "export bans and vaccine hoarding have a chokehold on vaccine supplies to Africa."
"As long as rich countries lock COVAX out of the market, Africa will miss its vaccination goals. The huge gap in vaccine equity is not closing anywhere near fast enough. It is time for vaccine manufacturing countries to open the gates and help protect those facing the greatest risk," Ms. Moeti said.
Besides export bans, challenges in boosting production and delays in approvals have constrained deliveries. COVAX has called for donor countries to share their supply schedules to give more clarity on deliveries.
The initiative has also called for countries with enough doses, to give up their place in the queue. Manufacturers must deliver in line with their prior commitments, and countries that are well-advanced must expand and accelerate donations.
About 95 million more doses are set to arrive in Africa via COVAX throughout September, which will be the largest shipment the continent has taken on board for any month so far. Just 50 million people, or 3.6 per cent of its population, has been inoculated to date.
Only around 2 per cent of the nearly 6 billion doses administered globally have gone to Africans. The European Union and the United Kingdom have vaccinated over 60 per cent of their populations and high-income countries have administered 48 times more doses per person, than low-income nations.
Variants risk
"The staggering inequity and severe lag in shipments of vaccines threatens to turn areas in Africa with low vaccination rates into breeding grounds for vaccine-resistant variants. This could end up sending the whole world back to square one," warned Ms. Moeti.
WHO is ramping up support to African countries to identify and address gaps in their COVID-19 vaccine rollouts.
The agency has assisted 15 countries in conducting intra-action reviews and offered recommendations for improvements. The reviews have shown that vaccine supply security and uncertainty around deliveries has been a major impediment.
With over 300 staff in place across Africa supporting the COVID-19 response, WHO is deploying experts and producing support plans in specific areas, including securing staff, financing, strengthening supply chains and logistics and boosting demand for vaccines.
Case summary
As of 14 September, there were 8.06 million COVID-19 cases recorded in Africa and while the third wave wanes, there were nearly 125,000 new cases in the week ending on 12 September.
This represents a 27 per cent drop from the previous week, but weekly new cases are still at about the peak of the first wave, and 19 countries continue to report high or fast-rising case numbers.
Deaths fell by 19 per cent across Africa, to 2,531 reported in the week to September 12th. The highly transmissible Delta variant has been found in 31 African countries.
Eritrea: Release journalists and politicians arrested 20 years ago
The Eritrean authorities must immediately and unconditionally release 21 journalists and politicians who were arrested in a sweeping crackdown on dissent 20 years ago, said Amnesty International as it launched a new campaign #WhereAreEritreasDissidents
The arrests of the journalists between 21 and 23 September 2001 followed the arrest on 18 September 2001 of politicians popularly known as G-15 and the banning of independent media after they had published an open letter urging reforms.
"It is unconscionable that these brave prisoners of conscience are still languishing in jail 20 years since they were arrested for exercising their human rights, with no word from the authorities on their current circumstances, and that the ban on independent media remains in place," said Deprose Muchena, Amnesty International's Regional Director for East and Southern Africa.
"Days have turned into months, months into years and now years have turned into decades of unending anguish for these detainees, their families and loved ones. We call on President Isaias Afewerki to take meaningful steps to bring an end to this travesty of justice."
The journalists arrested between 21 and 23 September 2001 are Dawit Isaak, Seyoum Tsehaye, Dawit Habtemichael, Mattewos Habteab, Fesseaye "Joshua" Yohannes, Amanuel Asrat and Temesegn Gebreyesus, Said Abdelkader, Yosuf Muhamed Ali and Medhanie Haile. The politicians – all members of Isaias' ruling People's Front for Democracy and Justice (PFDJ) – include former Vice-President Mahmoud Ahmed Sheriffo and his wife and independence war heroine Aster Fissehatsion, and former foreign ministers Haile Woldetensae and Petros Solomon. Nine of the politicians and journalists have previously been reported to have died in detention, a claim the Eritrean authorities refuse to confirm.
"There are also many other politicians, journalists and activists that were arrested and detained without charge before September 2001 and since then and they must be released too," said Deprose Muchena
Some of the high-profile detainees in Eritrea include former Finance Minister Berhane Abraha, who was arrested in September 2018 following his publication of a book considered critical of President Isaias, and Ciham Ali, the daughter of the defected former Minister of Information Ali Abdu, who was arrested in 2012 aged 15, as she tried to flee the country.
Amnesty International has documented extremely poor prison conditions in Eritrea, in some cases amounting to cruel, inhuman or degrading treatment. Prisons in Eritrea are generally overcrowded, with inadequate water and sanitation facilities and providing poor-quality food and drinking water.
Multiple reports of alleged human rights violations in Tigray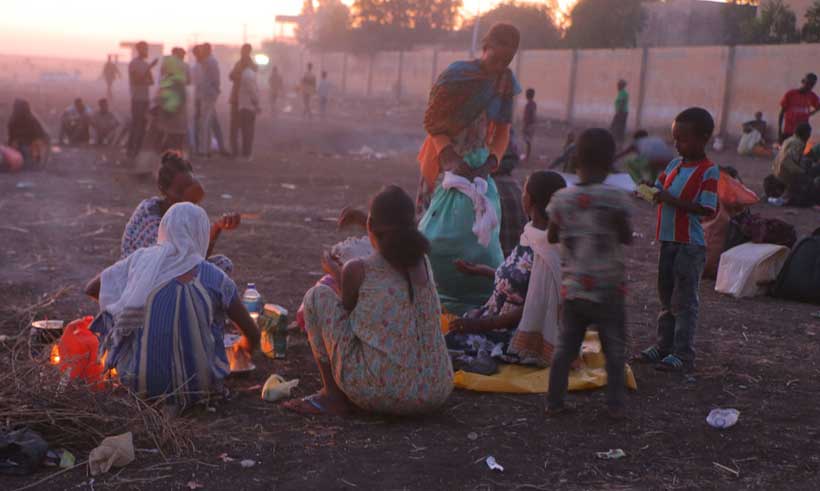 UN human rights chief, Michelle Bachelet on Monday deplored "multiple and severe reports of alleged gross violations of human rights, humanitarian and refugee law" committed by all parties to the conflict in Tigray.
In an update to the UN Human Rights Council (OHCHR) on the situation in the northernmost regional state in Ethiopia, Ms. Bachelet said the conflict has "continued unabated," and "risks spilling over to the whole Horn of Africa".
In the last few months, "mass detentions, killings, systematic looting, and sexual violence" have created "an atmosphere of fear and an erosion of living conditions that resulted in the forced displacement of the Tigrayan civilian population. Civilian suffering is widespread, and impunity is pervasive, she said.
Joint investigation
The UN High Commissioner for Human Rights also informed the Council on progress made in the joint investigation by the OHCHR and the Ethiopian Human Rights Commission (EHRC) following the conclusion of the fieldwork phase of the report.
The full range of information collected is currently being analysed, but Ms. Bachelet said it was already clear that cases documented comprise multiple allegations of human rights violations.
These included attacks on civilians, extrajudicial killings, torture, and enforced disappearances. Sexual and gender-based violence has also included gang rapes, sexualised torture and ethnically targeted sexual violence.
Violations by all parties
According to Ms. Bachelet, Government forces and their allies continue to be implicated in allegations of human rights violations.
Reports also suggest that people of Tigrayan ethnicity have been detained by law enforcement officials on ethnic grounds, mostly in Addis Ababa.
She noted that incitement to hatred and discrimination were also documented targeting people of Tigrayan ethnicity, as well as attacks on journalists and the suspension of media outlets' licenses and shutdowns of Internet and telecommunications in Tigray.
Ms. Bachelet added that Tigrayan forces have also allegedly been responsible for attacks on civilians, including indiscriminate killings resulting in nearly 76,500 people displaced in Afar and an estimated 200,000 in Amhara.
More than 200 individuals have reportedly been killed in the most recent clashes in these regions, and 88 individuals, including children, have been injured, she said.
There have also been reports of the recruitment of children into the conflict by Tigrayan forces, which is prohibited under international law.
Avoid national division
Ms Bachelet urged the Government of Ethiopia to accept the recommendations of the joint investigation report that will be issued on 1 November 2021 and to give human rights and humanitarian actors unhindered access. She called for all parties to immediately end hostilities and negotiate a lasting ceasefire to "avoid the risk that Ethiopia will be torn apart".
 WHO airlift
The largest single shipment of humanitarian cargo to date has been airlifted to Ethiopia by the World Health Organization (WHO), the UN agency said on Monday.
85 metric tons of life-saving medical supplies were flown by a charter flight from WHO's Logistics Hub based in Dubai to in Addis Ababa on Friday. The supplies, including essential medicines, trauma and emergency surgery kits, infusions, consumables, equipment, and cholera kits, are enough to address the urgent needs of more than 150 000 people.
"This delivery will help bolster our efforts to provide relief to hundreds of thousands of families who are grappling with a difficult humanitarian situation," said Dr Boureima Hama Sambo, WHO Representative in Ethiopia.
Currently, nearly 2.5 million people are in need of health assistance from WHO and partners. The shipment to Ethiopia wrapped up a historic week for the WHO Dubai Logistics Hub. Four times the weekly average has been dispatched with over 450 metric tons of medical supplies valued at more than $ 4.3 million in support of cholera outbreak response in Nigeria, critical shortages of medicines in Afghanistan, and trauma and surgical supplies to Syria and Yemen.