Employee health and well-being at center of Deloitte's 'Reboot' offering for business recovery
Deloitte is introducing an approach for organizations to achieve a safe, secure and productive "Reboot" of operations, including both physical and virtual workplaces, as they transition from response mode and move toward increased productivity and recovery.
Deloitte's Reboot model is employee-centric to help organizations manage between health, safety and financial concerns. Empathy and listening are at the core of Deloitte's Reboot approach for employers, designed to build confidence and trust among their employees and to give them choices to opt-in and be heard.
In a May 18, 2020, Deloitte online poll of more than 1,100 business professionals, half of respondents noted that their definition of "reboot" was either getting their workforce back onsite or enhancing the productivity of virtual work. More than 40% of these same respondents noted "safety" as their primary objective over other such priorities spanning sales delivery, operational execution and financial stability.
"In the 'next normal,' there is no silver bullet for recovery," said Jonathan Pearce, principal, Deloitte Consulting LLP and leader of Deloitte's workforce strategy practice. "Because every organization is different and the path forward will not be linear, employers need a flexible reboot approach that lets them dial components up and down at various moments along the journey. New information about public health risks and employee concerns will require employers to adjust their plans while staying the course to recovery."
Deloitte's approach evaluates each organization's distinct circumstances, ranging from macro conditions such as health, industry and regulatory mandates, to micro conditions like facilities, infrastructure and individual worker preferences and requirements. The plan then establishes phases and work scenarios for individual teams and employees, along with monitoring and safety protocols tailored to each of those scenarios.
Deloitte's Reboot catalog of tools helps companies create a personalized journey for employees as organizations navigate timing, readiness and how to reboot, and, ultimately spur recovery.
Deloitte's extensive set of assets includes a command center; data and insights; a comprehensive back-to-work platform; and regulatory and compliance applications. These resources span risk prediction and mitigation; crisis response management and recalibration; supply chain disruption sensing and intelligence; and monitoring and insights into regulatory requirements.
Three key components in Deloitte's Reboot approach that are tailored to an organization's workforce, team and individual requirements include:
Workforce Reboot Analytics: When to reopen physical sites, what functions to prioritize; workforce readiness; workplace suitability, capacity and reconfiguration; and predicting health and infection risks are among the factors employers will have to assess in the reboot phase. Deloitte's Workforce Reboot Analytics tools deliver the sensing and modeling capabilities to build a strategic plan for the workplace and recalibrate it to changing conditions.
MyPath™ to Work: A comprehensive, modular technology solution, MyPath™ to Work prepares organizations to manage new health risks to confidently reboot their workplaces. With a combination of tightly-integrated Deloitte and third-party technology and services, MyPath™ to Work is designed to enable enhanced workplace safety protocols such as screening and testing; visibility into risk factors; efficient and targeted interventions; and employee support, going well beyond standard contact tracing. MyPath™ to Work supports, engages, and empowers employees, contractors and customers throughout the reboot journey – all configured to the specific needs of each organization.
GovConnect: For government clients, Deloitte's GovConnect offers a range of capabilities – contact tracing; interactive business engagement; CRM; case management, call center infrastructure, testing strategy, PPE inventory management; disease surveillance; immunization and vaccine management; and advanced analytics – also in a modular solution. GovConnect also includes mobile capabilities to allow for integration across employers, employees, visitors, contractors and campuses.
"An organization's path to resilient recovery largely depends on how effectively it prioritizes and responds to the health and safety of its people," said Asif Dhar, M.D., principal, Deloitte Consulting LLP and chief health informatics officer. "Tools like MyPath™ to Work and GovConnect enable employers to manage health risks specific to different job requirements, physical environments and geographical locations. Further, MyPath™ to Work and GovConnect take the technical capabilities required for precision and agility and personalize them for both the individual and organization's journeys."
Why this matters
"Reboot does not assume that plans are a 'return to the way things were.' With this in mind, employers should embrace a human-centric and 'opt-in' approach whenever possible vs. one that leads with corporate mandates," said Gopi Billa, principal, Deloitte Consulting LLP, and leader of Deloitte's market sensing and scenario planning offering. "Employee health and safety are paramount to any plan to return an organization to operational effectiveness. Empowered employees reside at the heart of any return-to-work initiative."
Deloitte's pandemic response plan helps organizations prepare for a resilient recovery and incorporates a three-phased approach: Respond, Recover and Thrive. Reboot is the critical gateway between the Respond and Recover phases.
Global collaboration is key to recovery and achieving the SDGs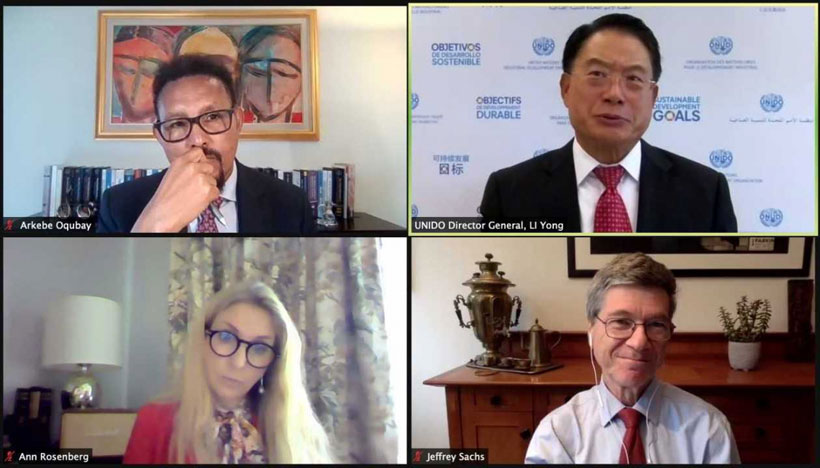 The COVID-19 pandemic has stalled the advancement of the sustainable development goals (SDGs). It is creating many challenges, yet also it unveils opportunities to build back better. In this context, inclusive and sustainable industrial development, which is at the core of SDG9, is expected to play a critical role in overcoming the crisis and setting countries back on the path of economic development.
The achievement of the SDGs in a post-COVID-19 world will require a holistic approach, including strong commitments towards the promotion of structural changes across all sectors of society. In this context, the United Nations Industrial Development Organization (UNIDO) and the United Nations Sustainable Development Solutions Network (SDSN) jointly organized a virtual event that addressed how the pandemic is impacting the SDGs, specifically SDG 9, and the Agenda 2030
UNIDO's Director General, LI Yong, opened up the event by emphasizing how Agenda 2030 is and still should be the roadmap to recovery. He also touched on the importance of achieving SDG9 to create a more sustainable industrial future and the need for reliable statistics and data, including UNIDO's Industrial Analytics Platform and SDSN's new data platform, SDGs Today. Li stated, "We must seize the opportunity to use the disruptive impact of the pandemic on the global economy to seek collaborative solutions to drive the 2030 Agenda."
Gerhard Küntzle, Permanent Representative of Germany to the UN in Vienna, stated, "It is crystal clear that we must make the next ten years a decade of action and aim to mainstream evidence-based policymaking in the development agenda."
SDSN President, Jeffrey Sachs, highlighted the need for global collaboration, and how the world should turn toward six transformation pathways to achieve the SDGs amidst the pandemic. Sachs specifically highlighted the need for the first transformation relating to education, gender and inequality, and the sixth transformation relating to a Digital Revolution for Sustainable Development.
"No child can have a future without education," Sachs said, noting how access to the tools for free digital education for children is achievable with the right global collaboration.
Lastly, Sachs highlighted the need for decarbonizing industry: "Renewable energy is our theme and we must get to zero."
As Ethiopia has undergone an industrial revolution from agricultural to manufacturing, the next speaker, Arkebe Oqubay, Minister and Special Advisor to the Prime Minister of Ethiopia, discussed lessons learned for the world to apply to achieve progress toward the SDGs. Oqubay highlighted three lessons: 1) Leadership and policymaking will need to be redefined in the new environment; 2) A commitment to green and carbon-neutral industrialization is vital; 3) Smart technologies will enable the wider application and use of green industries.
Last but not least, Professor Oqubay noted that global collaboration has become the foundation for averting global threats and maximizing opportunities.
Ann Rosenberg, co-founder of SDG Ambition UNGC, provided aprivate sector perspective and echoed Oqubay's insights that all companies need to redefine production lines and industries. She said, "The hope from larger companies is that these smaller businesses and entrepreneurs will come up with new, redefined ways of doing things…There is a collective responsibility for everyone to help."
Rosenberg stated that it is up to countries to figure out how to collaborate and how to access technology, so that all companies can advance industrially and toward the SDGs. Moreover, Rosenberg highlighted the need for tools to know where we are, so we know how we can close the gap to achieve the SDGs.
Ambassador Martha Lungu Mwitumwa, Permanent Representative of Zambia to UNIDO and to the United Nations and other international organizations in Geneva, remarked on the need for more concentrated efforts towards achieving the SDGs, "With the crisis upon us, it will be far more difficult for Least Developed Countries and other low-income countries to achieve SDG 9. In this Decade of Action, we – as Ambassadors in Geneva – have a crucial role to play, in advocating the importance of industry and innovation, in mobilizing more resources towards it, and in fostering partnerships for leveraging trade, investment and technology to achieve that goal. And, as representatives of our countries to key UN institutions, we can foster greater UN coherence in these matters."
It was clear that all panellists agreed that global collaboration is imperative to take the world through the recovery from COVID-19. Once out of recovery, panellists stressed how the focus should be on embracing the new, digital world to further three key initiatives: to bring access to education for all, to build sustainable industrialization, and to reach net-zero emissions.
Make the Reskilling Revolution a Priority in the Recovery
"There has been a lot of talk during the last few years, but very, very limited action" on education, reskilling and upskilling efforts, said Alain Dehaze, Chief Executive Officer, Adecco Group, Switzerland, in a session on Transforming Education, Skills and Lifelong Learning at the World Economic Forum's Jobs Reset Summit today. "Efforts must include a range of stakeholders "because reskilling, upskilling and training are not [just] an individual question or a business questions or a governmental question."
The Palestinian National Authority has launched a novel effort aimed at "the rehabilitation of university graduates" through entrepreneurship, said Mohammad Ibrahim Shtayyeh, Prime Minister of the Palestinian National Authority. Many graduates end up unemployed because their degrees did not provide them with marketable skills. "We are teaching them to become computer coders, and we have introduced other vocational training courses," he said. "Students must stop relying on a job with the private sector or a job with the government. I want them to be self-employed."
"I'm so glad to hear that we have a national leader who really recognizes that entrepreneurship education is a priority, and it's something which can be taught," said Asheesh Advani, President and Chief Executive Officer, JA Worldwide, USA.
Lynda Gratton, Professor of Management Practice, London Business School, United Kingdom, agreed, adding that efforts to accelerate advances in education, training, reskilling and upskilling must be a multistakeholder effort, and inclusive: "Otherwise, in 10 years' time, we won't have the right people sitting in the right jobs." She noted that such efforts should "leverage technology" and that new credentials need to be established and recognized for the attainment of emerging skills.
Inclusion should extend beyond diversity "to include young boys and girls growing up across the world," said Mariéme Jamme, Founder and Chief Executive Officer, iamtheCODE, United Kingdom. "The starting point is actually to make sure their human rights are respected" and then giving them the tools they will need in the workplace.
"With today's kids, the thing they want to learn most … are things like coding and computer science," said Hadi Partovi, Founder and Chief Executive Officer, Code.org, USA. "Computer science and entrepreneurship are not only the skills that students need the most, but also the things they want the most."
With regard to credentials, Advani noted that they are partnering with employers to recognize a new micro-credential, encouraging young people to add it to their online jobs profile, and working with governments to get access to schools.
Advani also noted that "Even after doing an entrepreneurship programme, [students] don't become entrepreneurs. Soft skills, communication skills and adaptability skills become so important in the job market, knowing that young people are going to have potentially seven careers" during their lifetime.
Among the initiatives launched at the summit, government officials in Turkey today announced the launch of a Closing the Skills Gap Accelerator, joining 10 countries through the Forum platform in applying a similar framework to rapidly upskilling their workforce.
"Rapid technological progress, globalization and now COVID-19 are revolutionizing how we work. There will be a new set of skills needed to adapt and prosper. As policy-makers, we are obliged to ensure a smooth and equal transition that works for all. I trust that the Accelerator Network will further enhance real sector collaboration among nations. Turkey is ready to capture the opportunities of the new normal with its favourable demographics, flexible and skilled workforce," said Mustafa Varank, Minister of Industry and Technology of Turkey.
"In today's world where information and technology are changing rapidly, technology has gained a great momentum to become the new normal of our daily life with the pandemic process. This rapid momentum has made it inevitable to integrate new skills into our lives. This skills change will take place with a qualified education and, in this context, everyone from public institutions to non-governmental organizations has a great duty. I believe that the Closing the Skills Gap Accelerator Programme will play a role in strengthening cooperation in the new normal process and triggering the power of learning together," said Ziya Selçuk, Minister of Education of Turkey.
"By adopting an industry-oriented workforce transformation approach and seizing the demographic window of opportunity, the Ministry of Family, Labour and Social Services strives to prepare Turkey to meet the future labour market needs and challenges. With a view to leaving no one behind, we will improve the use of technology, ensure more productive and safer workplaces for emerging new types of work, and improve the digital skills of our workers within the perspective of tripartite dialogue," said Zehra Zümrüt Selçuk, Minister of Family, Labour and Social Services of Turkey.
In January 2020, the World Economic Forum launched the Reskilling Revolution, a multistakeholder initiative aiming to provide better education, new skills and better work to 1 billion people around the world by 2030. It serves as a platform for connecting and coordinating initiatives within specific countries, industries, organizations and schools. In the past months, it has supported stakeholders in adjusting their efforts to the new context of the pandemic and promoted rapid exchange of best practices between initiatives. We invite leaders and organizations to contribute to the platform.
Step up action to achieve COVID-19 ceasefire- Guterres
The UN's 75th anniversary this Saturday, which falls as countries continue to battle the COVID-19 pandemic, is an opportunity to accelerate action to achieve a global ceasefire during the crisis, Secretary-General António Guterres has said.
The UN chief initially issued the appeal for combatants to lay down their arms shortly after the pandemic was declared in March.
"In our world today, we have one common enemy: COVID-19", said Mr. Guterres in his message for UN Day on 24 October.
"Now is the time for a stepped-up push for peace to achieve a global ceasefire. The clock is ticking."
UN mission 'more critical than ever'
UN Day marks the anniversary of the entry into force in 1945 of the UN Charter, the Organization's founding document.
The treaty outlines the UN's goals of promoting human dignity, protecting human rights and saving humanity from conflict.
That founding mission "is more critical than ever", said the Secretary-General.
Also crucial is the need to "make peace with our planet", he added, stating "We must mobilize the whole world to reach carbon neutrality – net zero emissions of greenhouse gasses by 2050."
Europe turns UN blue
Despite the constraints imposed by the global pandemic, countries are celebrating the UN's historic birthday.
More than 180 iconic buildings across Europe will be lit up in blue, the Organization's official colour: from monuments to museums, to bridges and beyond.
The initiative is a symbolic attempt to unite people worldwide, and to promote peace, sustainable development and human rights.
As the Secretary-General stated, more must be done to end poverty, inequality, hunger and hatred, and to combat discrimination based on race, religion, gender or any other distinction.
He drew attention to the situation of women and girls, as the pandemic has led to "a horrific rise" in gender-based violence.
A blueprint for better recovery
The UN chief also underlined the need to "build on progress", pointing to the global collaboration currently underway to develop a safe, affordable and accessible COVID-19 vaccine.
This banner year has also seen the start of a Decade of Action to achieve the Sustainable Development Goals (SDGs) and their promise of a better future for all people and the planet.
For Mr. Guterres, the 17 SDGs provide an inspiring blueprint for recovering better after the pandemic.
Solidarity and a shared vision
Although the world faces colossal challenges, the UN chief was adamant that they can be overcome through global solidarity and cooperation, saying: "That's what the United Nations is all about."
Mr. Guterres asked people everywhere to unite on this UN anniversary.
"Together, let us uphold the enduring values of the United Nations Charter", he declared. "Let us build on our advances across the decades. Let us realize our shared vision of a better world for all."