US must take 'serious action' to halt police killings of unarmed African Americans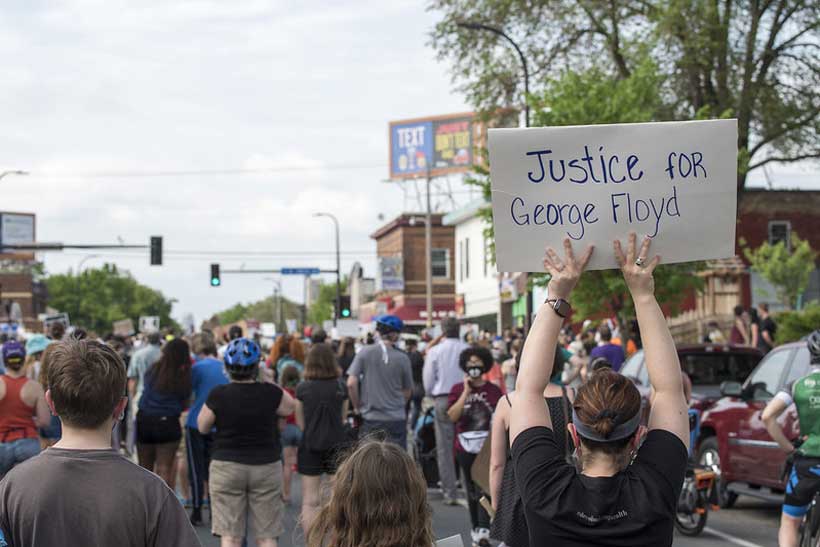 The UN human rights chief on Thursday condemned the killing of 46-year-old George Floyd while in police custody in the city of Minneapolis, calling it the latest in "a long line of killings of unarmed African Americans by US police officers and members of the public".
"I am dismayed to have to add George Floyd's name to that of Breonna Taylor, Eric Garner, Michael Brown and many other unarmed African Americans who have died over the years at the hands of the police – as well as people such as Ahmaud Arbery and Trayvon Martin who were killed by armed members of the public", said High Commissioner for Human Rights, Michelle Bachelet, in statement.
She spelled out that authorities in the United States must take "serious action" to stop such killings, and to ensure that justice is done when they do occur.
"Procedures must change, prevention systems must be put in place, and above all police officers who resort to excessive use of force, should be charged and convicted for the crimes committed", the High Commissioner underscored.
A probe prioritized
The UN human rights chief welcomed the announcement by Federal authorities in Washington, that they would be prioritizing an investigation into the incident, but stressed that "in too many cases in the past, such investigations have led to killings being deemed justified on questionable grounds, or only being addressed by administrative measures."
"The role that entrenched and pervasive racial discrimination plays in such deaths must also be fully examined, properly recognized and dealt with", she added.
Erupting protests
The killing has sparked violent protests in Minnesota's largest city, with hundreds of demonstrators clashing with police clad in riot gear, over two nights of unrest.
Video captured at the scene on Monday, and posted on social media, shows a white police officer, using his knee to pin Mr. Floyd to the ground over the course of several minutes. Four officers involved in the incident have been dismissed, but none have so far been charged. The city's Mayor, Jacob Frey, has appealed for calm, writing on Twitter that "we cannot let tragedy beget more tragedy".
Violence won't end police brutality
While empathizing with the anger unleashed by Mr. Floyd's killing, the top UN rights official encouraged people in Minneapolis and elsewhere to protest peacefully.
"Violence and destruction of property won't solve the problem of police brutality and enshrined discrimination", she said.
"I urge protestors to express their demands for justice peacefully, and I urge the police to take utmost care not enflame the current situation even more with any further use of excessive force", concluded the High Commissioner.
Exploring migration causes: Why people migrate
People migrate for many reasons , ranging from security, demography and human rights to poverty and climate change. Find out more.
The number of people residing in an EU country with the citizenship of a non-member country on 1 January 2019 was 21.8 million, representing 4.9% of the EU-27's population. A further 13.3 million people living in one of the EU27- countries on 1 January 2019 were citizens of another EU country.
Push and pull factors
Push factors are the reasons people leave a country. Pull factors are the reason they move to a particular country. There are three major push and pull factors.
Socio-political factors
Persecution because of one's ethnicity, religion, race, politics or culture can push people to leave their country. A major factor is war, conflict, government persecution or there being a significant risk of them. Those fleeing armed conflict, human rights violations or persecution are more likely to be humanitarian refugees. This will affect where they settle as some countries have more liberal approaches to humanitarian migrants than others. In the first instance, these individuals are likely to move to the nearest safe country that accepts asylum seekers.
In recent years, people have been fleeing to Europe in large numbers from conflict, terror and persecution at home. Of the 295,800 asylum, seekers granted protection status in the EU in 2019, over a quarter came from war-torn Syria, with Afghanistan and Iraq in second and third place respectively.
Demographic and economic factors
Demographic change determines how people move and migrate. A growing or shrinking, aging or youthful population has an impact on economic growth and employment opportunities in the countries of origin or migration policies inthe destination countries.
Demographic and economic migration is related to labour standards, unemployment and the overall health of a country's' economy. Pull factors include higher wages, better employment opportunities, a higher standard of living and educational opportunities. If economic conditions are not favourable and appear to be at risk of declining further, a greater number of individuals will probably migrate to countries with a better outlook.
According to the UN International Labour Organization, migrant workers – defined as people who migrate with a view to being employed – stood at roughly 164 million worldwide in 2017 and represented nearly two thirds of international migrants. Almost 70% were found in high-income countries, 18.6% in upper middle-income countries, 10.1% in lower middle-income countries and 3.4% in low-income countries.
Environmental factors
The environment has always been a driver of migration, as people flee natural disasters, such as floods, hurricanes and earthquakes. However, climate change is expected to exacerbate extreme weather events, meaning more people could be on the move.
According to the International Organization for Migration, "Environmental migrants are those who for reason of sudden or progressive changes in the environment that adversely affect their lives or living conditions, are obliged to leave their habitual homes, either temporarily or permanently, and who move either within their country or abroad."
It is hard to estimate how many environmental migrants there are globally due to factors such as population growth, poverty, governance, human security and conflict, which have an impact. Estimates vary from 25 million to one billion by the year 2050.
New EU migration pact
Managing migration effectively to deal with asylum seekers and protect external borders has been an EU priority for many years. The European Commission is set to propose a new pact on migration and asylum this year. The Parliament has been advaocating an overhaul of EU asylum rules to ensure greater solidarity and fairer sharing of responsibility among EU countries.
Parliament's civil liberties committee is currently working on a report on new avenues for legal labour migration. MEPs underline the need for legal paths to reduce irregular migration and fill labour market gaps and for a harmonised EU policy. The committee is also calling for the Common European Asylum System to be complemented by a European Union Resettlement Framework and humanitarian corridors.
Impacts of COVID-19 disproportionately affect poor and vulnerable
Addressing poverty eradication on Tuesday in front of the General Assembly, UN chief António Guterres warned that the impacts of the COVID-19 pandemic are falling "disproportionately on the most vulnerable: people living in poverty, the working poor, women and children, persons with disabilities, and other marginalized groups".
The virtual high-level UN meeting was billed as the first in a series of policy dialogues on ending poverty, and also served as the official inauguration of the Alliance for Poverty Eradication, an initiative of the President of the General Assembly, Tijjani Muhammad-Bande.
In his remarks, Mr. Guterres noted that the pandemic has "laid bare" challenges –such as structural inequalities, inadequate healthcare, and the lack of universal social protection – and the heavy price societies are paying as a result.
'People-centred' recovery
Ending poverty sits at the heart of the UN's 2030 Agenda for Sustainable Development, and is the first of the Sustainable Development Goals (SDGs). Despite this, poverty and hunger, as the UN chief reminded his audience, are on the rise, following decades of progress.
Economic recovery plans should prioritize at-risk workers, such as those in the informal sector; protect micro, small and medium enterprises, including those owned by women; and involve an expansion of universal social protection, said Mr. Guterres. The Secretary-General has also proposed a rescue and recovery package equivalent to more than 10 per cent of the global economy's overall value.
The UN chief called for improved international cooperation; more support for developing countries – by providing financial assistance, and relieving or postponing foreign debt – and for economies to be steered towards inclusive and green growth.
'A blot on humanity's conscience'
Addressing the meeting, Mr. Muhammad-Bande described poverty as a "blot on humanity's conscience", which is the underlying trigger of conflict and civil strife, and "the most formidable obstacle" realizing the SDGs. Research, he said, has shown that due to the sharp decline in economic activity resulting from the pandemic, more than 850 million people now risk falling into poverty.
The Alliance for Poverty Eradication, he continued, is designed to address the poverty question from all possible angles, and serve as a forum for networking, information-sharing, and bridge-building.
Mr. Muhammad-Bande pointed out that the Alliance would be the first UN group to promote ending poverty, and will provide a major opportunity to confront the challenge, which he described as "enduring, complex and multi-sided".
UN rights experts call for decisive measures to protect 'fundamental freedoms' in China
The repression of "fundamental freedoms" by the Chinese Government prompted nearly 50 UN independent experts on Friday to express their continuing alarm, urging the country to "abide by its international legal obligations".
After having "repeatedly communicated" their concerns, they highlighted the repression of protests and democracy advocacy in the Hong Kong Special Administrative Region (SAR); impunity for excessive use of force by police; the alleged use of chemical agents against protesters; the alleged sexual harassment and assault of women protesters in police stations; together with the alleged harassment of health care workers.
The experts also raised their "grave concerns" on issues ranging from the collective repression of specific communities – "especially religious and ethnic minorities, in Xinjiang and Tibet" – to the detention of lawyers and prosecution – in addition to disappearances – of human rights defenders across the country.
Moreover, they expressed alarm over allegations of forced labour in both formal and informal sectors of the economy, as well as arbitrary interferences with the right to privacy, cybersecurity laws that authorise censorship; and anti-terrorism and sedition laws, applicable in Hong Kong.
The independent experts also voiced their concern for journalists, medical workers and those speaking out about COVID-19 online inside China, who have allegedly faced retaliation from the authorities, including being charged with "spreading misinformation" or "disrupting public order."
'Violation' of legal obligations
Most recently, say the experts, and without meaningful consultation with the people of Hong Kong, China has drafted a national security law that would undermine the right to a fair trial, and open the door to a "sharp rise in arbitrary detention", undermining the "one country, two systems" governance framework that was introduced at the end of British rule; enabling the Chinese Government to establish "agencies" in Hong Kong "when needed."
If adopted, the law would "violate China's international legal obligations and impose severe restrictions on civil and political rights in the autonomous region", according to the independent experts.
"The draft law would deprive the people of Hong Kong…the autonomy and fundamental rights guaranteed them under the 1984 Sino-British Joint Declaration", they maintained.
The experts urged China to "withdraw the draft national security law for Hong Kong".
Standing up, speaking out
After actions taken by the Government towards Hong Kong, Xinjiang minorities, the Tibet Autonomous Region, and rights defenders across the country, the independent experts are calling for "renewed attention on the human rights situation in the country".
They urged China to invite civil and political rights monitors to conduct independent missions "in an environment of confidentiality, respect for human rights defenders, and full avoidance of reprisals" and encouraged the UN Human Rights Council (HRC) to urgently monitor Chinese human rights practices.
Click here for the full list of names of the UN experts.
Special Rapporteurs and independent experts are appointed by the Geneva-based HRC to examine and report back on a specific human rights theme or a country situation. The positions are honourary and the experts are not UN staff, nor are they paid for their work.