As the global COVID-19 scourge appears to recede, questions remain over the source and morphology of a virus that had locked down two-thirds of humanity over the first half of 2020. It may take years to satisfactorily decipher this extraordinary episode in human history.
Nonetheless, the novel coronavirus was not germinated in a vacuum. The type of research conducted at the Wuhan Institute of Virology had ominous analogues worldwide. These included the quest for super intelligence and the development of interspecies hybrids or chimeras.
Genetically-Enhanced Competitiveness
What began as a scientific mission to remedy congenital defects has rapidly morphed into a global race to create designer babies, super soldiers and transhumans through the aid of biotechnology and Artificial Intelligence. 21st century eugenics is tacitly justified by the need to boost "national competitiveness".
China leads the way here. In one revealing instance alone, genome sequencing giant BGI Shenzhen had procured and sequenced the DNA of more than 2,000 people – mostly Americans – with IQ scores of at least 160. According to Stephen Hsu, a theoretical physicist from Michigan State University and scientific adviser to BGI:
"An exceptional person gets you an order of magnitude more statistical power than if you took random people from the population…"
BGI Shenzhen intends to become a "bio-Google" that will collate the "world's biological information and make it universally accessible and useful". From 2012 onwards, it began to collaborate with the Bill & Melinda Gates Foundation.
Scientific endeavours like these are based on the assumption that an assemblage of smart samples will help in the identification and transplantation of optimal bits of DNA into future generations. It is not dissuaded by the nurture over nature debate, even after exhaustive studies have failed to establish genetic variants associated with intelligence. For example, a 2010 study led by Robert Plomin, a behavioural geneticist at King's College London, had probed over 350,000 variations in single DNA letters across the genomes of 7,900 children but found no prized variant. Curiously, most of the smart samples procured by BGI Shenzhen were sourced from Plomin's research activities.
Periodic setbacks will not deter the proponents of "procreative beneficence" who argue that it is a human duty to augment the genetic codes of future generations1. Failure to do so is couched in terms of "genetic neglect" and even child abuse2.If this sounds eerily familiar, look no further than the worldview that once animated Nazi Germany.
The eugenic zeitgeist has gripped China in a big way. Under its Maternal and Infant Health Care Law (1994), foetuses with potential hereditary diseases or deformities are recommended for abortion. At the rate Beijing is building its eugenic utopia, the definition of serious deformity may ultimately include a genetically-diagnosed lower IQ.
Instead of raising an eyebrow, the law precipitated a headlong rush to select "intelligent" babies through methods like preimplantation genetic diagnosis (PGD). The idea behind PGD isto screen and identify the most promising embryos for implantation and birth. Combined with CRISPR gene-editing tools, next generation Chinese citizens are expected to exhibit remarkably higher IQs – at least according to bioethicists who fret over a future marked by the "genetic haves" and "genetic have-nots". China already has three CRISPR-edited babies whose current fate remains unclear.
In the aftermath of the COVID-19 contagion, the availability of "smart samples" would have increased exponentially and may dovetail nicely with the vaccination agenda oft he Rockefeller Foundation and Bill Gates. Incidentally, Gates grew up in a household that was heavily invested in population control and eugenics.
Our smart societies may inevitably face the existential question of "live-lets" and "live-nots" down the line. The orchestrated rebellion towards selective extinction, if it occurs, has a tragicomical public face: A 17-year-old Swede who unceasingly exhorts the world to "listen to the science" and "listen to the experts" but who has little time to listen to her own school teachers.
What can future designer babies contribute to society? For one thing, we will be missing individuals like Beethoven (deaf); Albert Einstein (learning disability/late development); John Nash (schizophrenia); Andrea Boccelli (congenital glaucoma) and Vincent van Gogh (chronic depression/anxiety). A future Stephen Hawkings (motor neurone disease) and Greta Thunberg (Asperger's Syndrome – allegedly) may be genetically disqualified before birth.
It is now an inconvenience to consider intelligence as a result of peer interactions, human environment and personal adversity. Mapping out the complex and sometimes unpredictable interplay between 100 trillion synaptic connections in a human brain may take centuries. Genetic manipulation is implicitly regarded as the eugenic wormhole that will accelerate the emergence of a global smart society.
The late billionaire paedophile, Jeffrey Epstein, was a prominent proponent of this eugenics philosophy. Epstein intended to breed a"super race of humans with his DNA by impregnating women at his New Mexico ranch, genetic engineering and artificial intelligence." Welcome to Lebensborn 2.0 and it is all about saving the environment and humanity. For now!
Prominent scientists linked to Epstein's transhumanist fantasies included "molecular engineer George Church; Murray Gell-Mann, the discoverer of the quark; the evolutionary biologist Stephen Jay Gould; the neurologist and author Oliver Sacks; and the theoretical physicist Frank Wilczek."The late Stephen Hawking – who will ironically flunk the genetic pre-screenings of tomorrow – was another Epstein associate. Are misanthropes in charge of humanity now?
Eugenics-driven national competitiveness is a tacitly growing obsession among major powers.Its hyper-materialistic focus is encapsulated by an analogy used by Russian scientist Denis Rebrikov:
"It currently costs about a million rubles ($15,500 at the time) to genetically change an embryo—more than a lot of cars—but prices will fall with greater use…I can see the billboard now: 'You Choose: a Hyundai Solaris or a Super-Child?'"
Will that be an energy-efficient, coronavirus-resistant super child who will instinctively lead a low carbon-emitting lifestyle? The road to hell is indeed paved with fanciful intentions.
But why stop at children? From genetically engineered horses in Argentina that are supposedly faster, stronger and better jumpers to super-dogs in China that are comprehensively superior to the average mutt, the DNA of the entire natural world may be slated for a revolutionary redesign in the future.
Crouching Chimeras, Hideous Hybrids
We however cannot create a future generation of superhumans without being adept at recombining genetic sequences across species. That is the logic guiding eugenicists. As a result, a slew of chimeras or interspecies hybrids have been spawned with the aid of CRISPR. These include human-monkey hybrids, monkey-pig hybrids, human-rabbit hybrids and a host of other lab-manufactured monstrosities.
Chimeras are created when human embryonic stem cells are injected into embryos from another species. The goal, for the time being, is to induce the growth of targeted human organs. Those facing terminal illnesses will no longer have to worry about long organ waiting lists.A less controversial approach to human organ replacement is 3D bioprinting or its 4D bioprinting iteration. These techniques involve the "printing" of a replacement organ from the stem cells of a transplant recipient, thereby eliminating the odds of organ rejection.
But why stop at replacement organs when we can have replacement humans altogether? Future generations must think like Einsteins, be as nimble as leopards and possess owl-like night visions. And, of course, be virus-resistant as well!
The manipulation of the human genome is the new "grand response" to the venerable set of "grand challenges". Thanks to globalization, China is the go-to place for such genetic tinkering as some of these undertakings are technically illegal in the West. Since 2014, the Wuhan Institute of Virology was the recipient of a two-stage grant worth $7.2 million from the United States government for gain-of-function research into bat coronaviruses. According to a Newsweek report:
Many scientists have criticized gain of function research, which involves manipulating viruses in the lab to explore their potential for infecting humans, because it creates a risk of starting a pandemic from accidental release.
Such caution has not deterred a flurry of research into microbial gene manipulation. It may have instead spawned COVID-19. Recombining genetic codes at the substrate levels is fraught with risks, as any systems theory scholar can attest3. COVID-19 was therefore not a Black Swan event but likely an "emergent"4outcome arising from complex genomic interactions and human folly.
To solely blame China for the coronavirus pandemic therefore may bea tad unfair. Just as China is the factory of the world for foreign corporations, it is also the genetic incubator for a variety of viruses and chimeras for foreign governments and foundations. Even so, the human-pig chimera was the creation of the Salk Institute in California. Research into the world's first human-mouse hybrid was largely a Japanese affair. The Portuguese in the meantime had created a virus chimera.
The British, on their end, had spawned a human-cow hybrid embryo in 2008 – perhaps reflective of the bovine disposition of those who consume its mainstream media. Clinically-speaking, such analogies are not wholly unwarranted. It was in Britain where the game-changing Dolly the Sheep was cloned in 1996. The transition from sheep to sheeple may turn out to be a short 21st century Jurassic Park ride.
Coincidences and Consequences
Before the advent of gene-editing tools and supercomputing, it would have taken hundreds of years to create a viable chimera. The Genetics-Industrial Complex and contact tracing-type Panopticons constitute a new growth area for nearly-bankrupt Tech Titans5. Is it any wonder that the mainstream media and their Big Tech owners are furiously censoring contrarian expert views on COVID-19?
The dangers of genome editing were in fact included in the Worldwide Threat Assessment reports submitted to United States Congress in 2016 and 2017. They were either omitted or glossed over in the 2018 and 2019 reports– just as such risks were on the rise.
Is it a coincidence that the nations most affected by COVID-19 are the very ones that had either promoted or encouraged a variety of genetic experimentations that are contrary to nature? By the time this crisis is over, independent researchers should superimpose the maps of "genetic superpowers" with those of nations with either the highest COVID-19 fatality rates or the worst socioeconomic fallouts. There may likely be a good degree of overlap as the figure below indicates.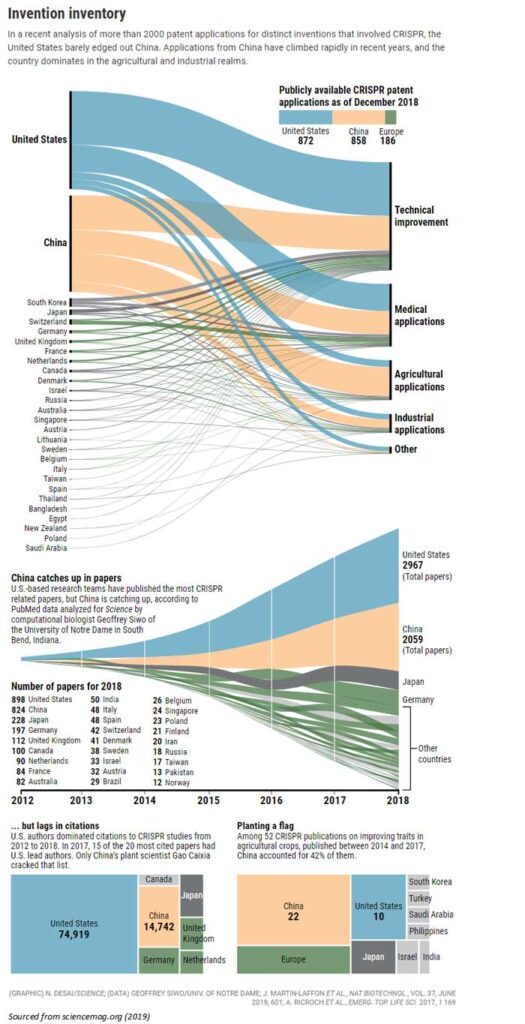 A Pandora's Box has been opened and more hideous chimeras may emerge during this decade. It is quite an irony that a new generation of artificially-manufactured and cerebrally-deficient "thought leaders", academics and activists are being groomed to promote "global governance" – a concept due for a portentous mission creep in tandem with the Second Great Depression. What will be their future worth in a eugenic global society that is centrally-controlled bya digital panopticon6?
"Designer babies" and "super humans" may also render many humans redundant. Will the genetic have-nots be reclassified as "live-nots" in the not-so-distant future?
Rachel Lyons: Shaping the future of humanity in space
Rachel Lyons is the executive director at Space for Humanity. Space for Humanity is a non profit organisation in the US which is cultivating a movement to expand access to space for all humanity. Rachel is working towards making space exploration more inclusive and accessible to people worldwide. Space for Humanity is advocating space inclusivity in the US and is working with space experts, astronauts and other prominent people in the space sector to bring about change. In this conversation with Modern Diplomacy, Rachel discusses more about her experience working in the space advocacy sector.
What role is Space for Humanity playing in the future of the world?
This is a big question. If you think about our world, and the systems that we have in place – the types of people they favor, the types of activities that get prioritized, it becomes clear that these systems were built with foundational values of money and power being the highest priorities. If our values shift to things like the preservation of life, love, and wellbeing of humans and our planet — and this is what S4H is working to fundamentally address — the structures that are built on top of it will also begin to shift. This is what we are working to address. A shift in perspective that will ultimately cause behavior, relationships, and systems to change accordingly.
Why is advocacy important in the space exploration sector? What are some things you want to change about how we explore space?
Advocacy is important because it influences public opinion and policy. Very often, when I share the importance of space exploration, people question why we are going to space when we face so many challenges on our own planet. The reality is, the technological advancements in space have impacted the lives of people globally in positive ways, and culturally the impacts have been massive (for example, the EarthRise Image of our planet from a distance from the Apollo era is said to have sparked the modern environmental movement). It is important for people to know, we go to space not because we choose it over earth, but because we love earth.
How can countries increase collaboration for space exploration?
This is a big question – I can talk about it from the individual's perspective. If you are a young person, and you're interested in space, by joining and supporting organizations like Students for the Exploration and Development of Space and the Space Generation Advisory Council, you can meet like minded people that are just beginning their career. Starting off early, networking, learning about what people are working on can open up collaborative opportunities exponentially for your entire career, no matter where that takes people.
Will all countries get an equal opportunity to. Go to space first when Space for Humanity's citizen flights start?
Yes – that is our mission. And, there are some restrictions that we need to be realistic about. For example, countries that have more access to the internet are more likely to hear about S4H's mission. Additionally, because of guidelines and safely with the flight providers, people must speak english in order to fly, so that limits access to others. And, it is extremely important to us for our mission to be as accessible as possible.
Why do you think it's necessary for people to go to space and see Earth from above?
The perspective shift. Seeing the earth from above — the beauty, fragility, and interconnectedness of everything on it, can change a person for the reason of their lives. This cognitive shift is called the Overview Effect and it has been widely studied. Many astronauts return to earth with a new care for our planet and new care for people. They see how special and finite our existence is. They see the miraculousness and meaninglessness of it all at once. This perspective is essential, given the global nature of our greatest challenges, and what we are currently facing.
How is Space for Humanity planning to increase operations and advocacy across the globe?
Keep sharing our mission! The majority of our online content is totally free. We have people from 100+ countries that have applied to our program, follow us on social media, and attend our events. We are working to bring more and more people from all over onto our leadership board as well. We are so excited to keep expanding, and having efforts across the globe is an essential part of our mission.
How do you plan to share Space for Humanity's vision with the world?
So many ways. We're already done it via social media, launch parties, webinars, in person events, at conferences, public events, and more. We will continue doing this – sharing our mission IS our mission. Creating a perspective shift, on earth or off of it, IS our mission. In future years, when we sponsor astronauts to go to space, they will return to earth and commit themselves to sharing our mission. This is how we will continue amplifying the message.
Do you see other organisations like Space for Humanity starting worldwide? With a similar model?
There are similar organizations, like the Space Generation Advisory Council, that is a global network of space professionals.
Then there's the Space Frontier foundation, that hosts a yearly conference and is a space advocacy organization.
The Planetary Society does a really great job of sharing space globally as well.
Virgin Galactic is a commercial space flight organization, where people will soon be able to purchase tickets to go to space.
These all exist and are doing great work, and there is no other organization like Space for Humanity. There is no organization that is working to start a movement using the spaceflight perspective, by sponsoring people from all over the world to go to space.
Antivirals, Spaceflights, EdTech, and Hyperloops: 20 Markets That Will Transform Economies
As the world grapples with the socio-economic consequences of the COVID-19 pandemic, there is increasing demand to shape a new economy that addresses broader societal and environmental challenges while generating economic growth. To achieve this, the world needs to set an ambitious agenda of technological and socio-institutional innovations to pilot new markets that can help solve these challenges.
The World Economic Forum highlights 20 markets that could transform our economies. Some will rely particularly on advances in technology (e.g. broad-spectrum antivirals, spaceflights), while others will require radically new social and institutional set-ups (e.g. skills capital, water rights, quality credits). Others will emerge from a combination of both elements (e.g. data, genes and DNA sequences). Each of these markets has potential benefits in multiple dimensions. For example, they could help societies to protect and empower people (e.g. precision medicines and orphan drugs, EdTech and reskilling services), advance knowledge and understanding (e.g. artificial intelligence, spaceflights, satellite services), or protect the environment (e.g. greenhouse gas allowances, reforestation services, hydrogen).
"While protecting people remains the priority at present, now is also the time to plan a post-pandemic transformation of our economies. We must ensure that new economic activities do not only generate growth but also provide solutions to the problems that our societies are facing, said" says Saadia Zahidi, Managing Director, World Economic Forum. "The future of our economies, societies and the planet depend on developing these new, inclusive and sustainable markets."
Creating these markets will require close collaboration between the public and the private sectors to:
Invent new products that can be sustainably produced
Nurture a set of companies to produce new products and bring them to market
Foster enough demand to sustain a commercially viable market
Establish clear standards that all actors can rely on and the market can converge on
Create alignment within society on how to value the new product
Develop the legal frameworks to identify, hold and exchange the new product
Build the necessary infrastructure to exchange, distribute and store the new product
Coalitions of actors at country and global level can come together to pursue the establishment of these conditions. For optimal societal outcomes, these markets should be designed around fairer and more sustainable ways of producing and distributing value. Examples include more collaboration between the public and the private sectors, innovative models to finance research and development, and designing the public sector's risk-taking into the new ventures. Public institutions have a key role to play in catalysing public-private collaborations and create the systemic conditions for selected markets to emerge.
A preliminary mapping of countries' potential for breakthrough technological and socio-institutional innovation indicates that those with advanced technological capabilities, strong social capital and future-oriented institutions are likely to succeed in developing a broader set of new markets. In particular, the Netherlands, Luxembourg, Denmark, Germany and Norway have the highest potential for socio-institutional innovation, while Japan, Germany, the United States, the Republic of Korea and France have the highest potential to generate breakthrough technological development.
Most advanced economies also score highly across both these dimensions. A number of high-income economies from the Middle East (Bahrain, Saudi Arabia, United Arab Emirates) and East Asia (Indonesia, Malaysia) as well as a few small island states (Barbados, Cyprus, Malta, Mauritius, Seychelles) and emerging African countries (Kenya and Namibia) can rely on significant levels of social capital and future orientation of policy-makers but do not yet have a mature technological system. A smaller group of advanced economies (Czech Republic, Israel, Italy, Japan, Spain) as well as the BRICs and other emerging economies (Hungary, Poland) present solid technological systems but need development in the social and institutional fabric to deliver these markets.
The disruptions brought by the COVID-19 pandemic provide an opportunity to pilot breakthrough technological and socio-institutional innovations that can grow into entire new markets. Success will ultimately depend on how well multistakeholder actors work together to create the necessary conditions for a number of key new markets to emerge that will help make economies more inclusive and sustainable. Existing market structures are not neutral; high levels of concentration and market power in adjacent industries to the new markets might slow down or even curb the establishment of such new markets.
Light at the end of the tunnel: New technologies to fight the COVID-19 on transport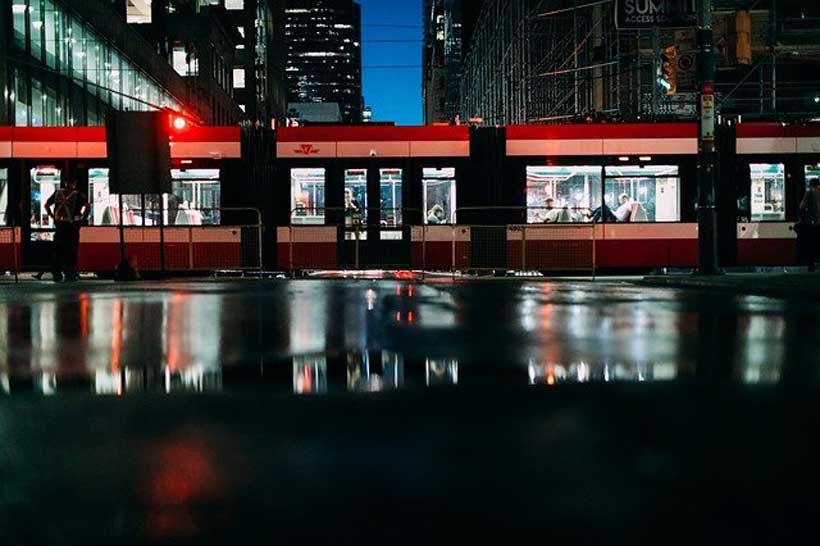 Disinfection robots, thermometer robots, smart tunnels, automatic passenger counting, powerful ultraviolet lamps and other examples of how new technologies reshaped public transport amid the COVID-19 outbreak.
The coronavirus pandemic has led to significant changes in many areas of life in just a few months. As the coronavirus continued to spread around the world, governments in several countries took measures to restrict movement, and people themselves tried to avoid traveling on public transport. The demand for the services of transport operators has dropped drastically. So, according to the Moovit Public Transit Index, passenger traffic in public transport on April 15, 2020 decreased in Israel by 92.1%, in Rome – by 89.2%, in Madrid – by 88.1%, in New York-by 74.8% and has not yet recovered. City residents are afraid to use public transport actively again, and their fears are fully justified. High daily passenger traffic and high frequency of contact between passengers make public transport an ideal environment for the spread of infections. The problem of fighting the spread of infections while maintaining normal life activity is particularly acute for large cities, such as Moscow or Beijing, where daily passenger traffic reaches 19.4 and 12.3 million passengers respectively. The average density of passengers on a bus or in a traincar at the same time ranges from 2 to 5 people per square meter, while, according to World Health Organization (WHO) recommendations, in order to comply with safety standards, passengers must maintain a social distance of 1.5 meters. Furthermore, virus particles can remain for a long time on public surfaces inside a bus or a traincar. Handrails on public transport are usually made of plastic, on which the coronavirus can remain up to 3 days, according to the New England Journal of Medicine. By touching them passengers increase the risk of contagion.
The key task for transport operators is to make the usage of public transport safe. To help them solve this problem came technology -all kinds of robots are widely used among innovations. With their help, it is possible to carry out disinfection effectively and safely without the involvement of staff. The Hong Kong Metro, also known as the Mass Transit Railway (MTR), together with the biotechnology company Avalon Biomedical Management Limited, has developed a disinfection robot that can disinfect even the most inaccessible places of traincars and stations. In addition to disinfection, robots can cope with more complex tasks. So, in Ningbo Lishe International Airport was tested a 5G-supporting robot-thermometer, which can measure temperature at a distance of 5 meters up to 10 people simultaneously and also identify those who are not wearing a face mask. Another innovation in many transport operators is the sanitary gate. According to Giulio Barbieri, one of the manufacturers, this is a "a tested, safe, and effective method to sanitize people and objects in just 5 seconds, killing up to 99% of any pathogenic microbes on the surfaces, including COVID-19"For example, the technology was tested in the Moscow and Dubai metros. In Moscow the clothes of the employees entering the depot were processed using a disinfection tunnel; at the same time, the territory was manually disinfected, so that the entire depot was safer for the staff.
The process of digitalization of ticket systems, which began long before the pandemic, also had a positive effect. Thanks to the competent actions of transport operators, the number of contactless payments in public transport around the world increased by 187% in the period from April to June, as evidenced by a report from Visa. Following WHO recommendations, many transport operators have made it mandatory to wear masks and maintain social distance on public transport. A number of digital technologies have been developed to comply with these rules. In the Beijing metro, compliance with a mask regime is controlled by cameras with a facial recognition system that can identify people. In addition, in the Panama Metro, observance of social distance is monitored by sensors which determine the degree of capacity of train cars. The technology called Mastria, which aggregates information from train weight sensors, ticket machines, signalling, management systems, CCTV and mobile networks for the Panama metro was developed by Alstom (a french manufacturer specializing in the production of infrastructure for rail transport) and installed almost a year ago. In just three months, thanks to artificial neural networks, it was possible to reduce average waiting times at stations by 12%. This development became particularly relevant during the pandemic. The Moscow metro is planning to introduce a similar technology. To maintain the social distance digital displays with colored indicators that reflect the level of capacity of subway cars will be installed. In the Moscow metro a new generation of traincars with an automatic air disinfection system built into climate control systems helped to reduce the risk of infection. It makes it possible to disinfect the air without disrupting the train schedule and attracting employees. The Moscow metro rolling stock consists of more than 50% of train cars with built-in UV lamps, and this percentage is constantly growing. After evaluating the effectiveness of using UV lamps to disinfect public transport, the transport operator MTA New York City Transit, together with Columbia University, launched a pilot project worth 1 million dollars on the use of disinfecting lamps. During the first phase of the project, 150 autonomous lamps were purchased and installed to decontaminate wagons, stations and buses in New York, during the second phase it is planned to install equipment in commuter rails. To carry out disinfection measures, the New York City Subway took unprecedented measures – the closure of the subway from 1 to 5 a.m. daily.
The use of robots, disinfection tunnels, digital technologies, ultraviolet lamps, and intensive work of staff – all this helped to reduce the risk of the spread of coronavirus in public transport and made a significant contribution to fighting the global problem. According to the coronavirus distribution model, developed by Imperial College London at the beginning of the pandemic, if no action had been taken by mid-March there would have been over 500,000 deaths from COVID in the UK and over 2.2 million in the USA. At the moment, in the middle of October, there are about 43,000 deaths in the UK and about 214,000 in the USA. Of course, these are high rates, but they could have been much higher if the necessary measures were not taken in time. Technological innovations already available today will continue to be used, which will make the stay of passengers on public transport more comfortable and safer, reducing the risk of the spread of any infectious disease, especially during the flu and cold seasons.