As the global COVID-19 scourge appears to recede, questions remain over the source and morphology of a virus that had locked down two-thirds of humanity over the first half of 2020. It may take years to satisfactorily decipher this extraordinary episode in human history.
Nonetheless, the novel coronavirus was not germinated in a vacuum. The type of research conducted at the Wuhan Institute of Virology had ominous analogues worldwide. These included the quest for super intelligence and the development of interspecies hybrids or chimeras.
Genetically-Enhanced Competitiveness
What began as a scientific mission to remedy congenital defects has rapidly morphed into a global race to create designer babies, super soldiers and transhumans through the aid of biotechnology and Artificial Intelligence. 21st century eugenics is tacitly justified by the need to boost "national competitiveness".
China leads the way here. In one revealing instance alone, genome sequencing giant BGI Shenzhen had procured and sequenced the DNA of more than 2,000 people – mostly Americans – with IQ scores of at least 160. According to Stephen Hsu, a theoretical physicist from Michigan State University and scientific adviser to BGI:
"An exceptional person gets you an order of magnitude more statistical power than if you took random people from the population…"
BGI Shenzhen intends to become a "bio-Google" that will collate the "world's biological information and make it universally accessible and useful". From 2012 onwards, it began to collaborate with the Bill & Melinda Gates Foundation.
Scientific endeavours like these are based on the assumption that an assemblage of smart samples will help in the identification and transplantation of optimal bits of DNA into future generations. It is not dissuaded by the nurture over nature debate, even after exhaustive studies have failed to establish genetic variants associated with intelligence. For example, a 2010 study led by Robert Plomin, a behavioural geneticist at King's College London, had probed over 350,000 variations in single DNA letters across the genomes of 7,900 children but found no prized variant. Curiously, most of the smart samples procured by BGI Shenzhen were sourced from Plomin's research activities.
Periodic setbacks will not deter the proponents of "procreative beneficence" who argue that it is a human duty to augment the genetic codes of future generations1. Failure to do so is couched in terms of "genetic neglect" and even child abuse2.If this sounds eerily familiar, look no further than the worldview that once animated Nazi Germany.
The eugenic zeitgeist has gripped China in a big way. Under its Maternal and Infant Health Care Law (1994), foetuses with potential hereditary diseases or deformities are recommended for abortion. At the rate Beijing is building its eugenic utopia, the definition of serious deformity may ultimately include a genetically-diagnosed lower IQ.
Instead of raising an eyebrow, the law precipitated a headlong rush to select "intelligent" babies through methods like preimplantation genetic diagnosis (PGD). The idea behind PGD isto screen and identify the most promising embryos for implantation and birth. Combined with CRISPR gene-editing tools, next generation Chinese citizens are expected to exhibit remarkably higher IQs – at least according to bioethicists who fret over a future marked by the "genetic haves" and "genetic have-nots". China already has three CRISPR-edited babies whose current fate remains unclear.
In the aftermath of the COVID-19 contagion, the availability of "smart samples" would have increased exponentially and may dovetail nicely with the vaccination agenda oft he Rockefeller Foundation and Bill Gates. Incidentally, Gates grew up in a household that was heavily invested in population control and eugenics.
Our smart societies may inevitably face the existential question of "live-lets" and "live-nots" down the line. The orchestrated rebellion towards selective extinction, if it occurs, has a tragicomical public face: A 17-year-old Swede who unceasingly exhorts the world to "listen to the science" and "listen to the experts" but who has little time to listen to her own school teachers.
What can future designer babies contribute to society? For one thing, we will be missing individuals like Beethoven (deaf); Albert Einstein (learning disability/late development); John Nash (schizophrenia); Andrea Boccelli (congenital glaucoma) and Vincent van Gogh (chronic depression/anxiety). A future Stephen Hawkings (motor neurone disease) and Greta Thunberg (Asperger's Syndrome – allegedly) may be genetically disqualified before birth.
It is now an inconvenience to consider intelligence as a result of peer interactions, human environment and personal adversity. Mapping out the complex and sometimes unpredictable interplay between 100 trillion synaptic connections in a human brain may take centuries. Genetic manipulation is implicitly regarded as the eugenic wormhole that will accelerate the emergence of a global smart society.
The late billionaire paedophile, Jeffrey Epstein, was a prominent proponent of this eugenics philosophy. Epstein intended to breed a"super race of humans with his DNA by impregnating women at his New Mexico ranch, genetic engineering and artificial intelligence." Welcome to Lebensborn 2.0 and it is all about saving the environment and humanity. For now!
Prominent scientists linked to Epstein's transhumanist fantasies included "molecular engineer George Church; Murray Gell-Mann, the discoverer of the quark; the evolutionary biologist Stephen Jay Gould; the neurologist and author Oliver Sacks; and the theoretical physicist Frank Wilczek."The late Stephen Hawking – who will ironically flunk the genetic pre-screenings of tomorrow – was another Epstein associate. Are misanthropes in charge of humanity now?
Eugenics-driven national competitiveness is a tacitly growing obsession among major powers.Its hyper-materialistic focus is encapsulated by an analogy used by Russian scientist Denis Rebrikov:
"It currently costs about a million rubles ($15,500 at the time) to genetically change an embryo—more than a lot of cars—but prices will fall with greater use…I can see the billboard now: 'You Choose: a Hyundai Solaris or a Super-Child?'"
Will that be an energy-efficient, coronavirus-resistant super child who will instinctively lead a low carbon-emitting lifestyle? The road to hell is indeed paved with fanciful intentions.
But why stop at children? From genetically engineered horses in Argentina that are supposedly faster, stronger and better jumpers to super-dogs in China that are comprehensively superior to the average mutt, the DNA of the entire natural world may be slated for a revolutionary redesign in the future.
Crouching Chimeras, Hideous Hybrids
We however cannot create a future generation of superhumans without being adept at recombining genetic sequences across species. That is the logic guiding eugenicists. As a result, a slew of chimeras or interspecies hybrids have been spawned with the aid of CRISPR. These include human-monkey hybrids, monkey-pig hybrids, human-rabbit hybrids and a host of other lab-manufactured monstrosities.
Chimeras are created when human embryonic stem cells are injected into embryos from another species. The goal, for the time being, is to induce the growth of targeted human organs. Those facing terminal illnesses will no longer have to worry about long organ waiting lists.A less controversial approach to human organ replacement is 3D bioprinting or its 4D bioprinting iteration. These techniques involve the "printing" of a replacement organ from the stem cells of a transplant recipient, thereby eliminating the odds of organ rejection.
But why stop at replacement organs when we can have replacement humans altogether? Future generations must think like Einsteins, be as nimble as leopards and possess owl-like night visions. And, of course, be virus-resistant as well!
The manipulation of the human genome is the new "grand response" to the venerable set of "grand challenges". Thanks to globalization, China is the go-to place for such genetic tinkering as some of these undertakings are technically illegal in the West. Since 2014, the Wuhan Institute of Virology was the recipient of a two-stage grant worth $7.2 million from the United States government for gain-of-function research into bat coronaviruses. According to a Newsweek report:
Many scientists have criticized gain of function research, which involves manipulating viruses in the lab to explore their potential for infecting humans, because it creates a risk of starting a pandemic from accidental release.
Such caution has not deterred a flurry of research into microbial gene manipulation. It may have instead spawned COVID-19. Recombining genetic codes at the substrate levels is fraught with risks, as any systems theory scholar can attest3. COVID-19 was therefore not a Black Swan event but likely an "emergent"4outcome arising from complex genomic interactions and human folly.
To solely blame China for the coronavirus pandemic therefore may bea tad unfair. Just as China is the factory of the world for foreign corporations, it is also the genetic incubator for a variety of viruses and chimeras for foreign governments and foundations. Even so, the human-pig chimera was the creation of the Salk Institute in California. Research into the world's first human-mouse hybrid was largely a Japanese affair. The Portuguese in the meantime had created a virus chimera.
The British, on their end, had spawned a human-cow hybrid embryo in 2008 – perhaps reflective of the bovine disposition of those who consume its mainstream media. Clinically-speaking, such analogies are not wholly unwarranted. It was in Britain where the game-changing Dolly the Sheep was cloned in 1996. The transition from sheep to sheeple may turn out to be a short 21st century Jurassic Park ride.
Coincidences and Consequences
Before the advent of gene-editing tools and supercomputing, it would have taken hundreds of years to create a viable chimera. The Genetics-Industrial Complex and contact tracing-type Panopticons constitute a new growth area for nearly-bankrupt Tech Titans5. Is it any wonder that the mainstream media and their Big Tech owners are furiously censoring contrarian expert views on COVID-19?
The dangers of genome editing were in fact included in the Worldwide Threat Assessment reports submitted to United States Congress in 2016 and 2017. They were either omitted or glossed over in the 2018 and 2019 reports– just as such risks were on the rise.
Is it a coincidence that the nations most affected by COVID-19 are the very ones that had either promoted or encouraged a variety of genetic experimentations that are contrary to nature? By the time this crisis is over, independent researchers should superimpose the maps of "genetic superpowers" with those of nations with either the highest COVID-19 fatality rates or the worst socioeconomic fallouts. There may likely be a good degree of overlap as the figure below indicates.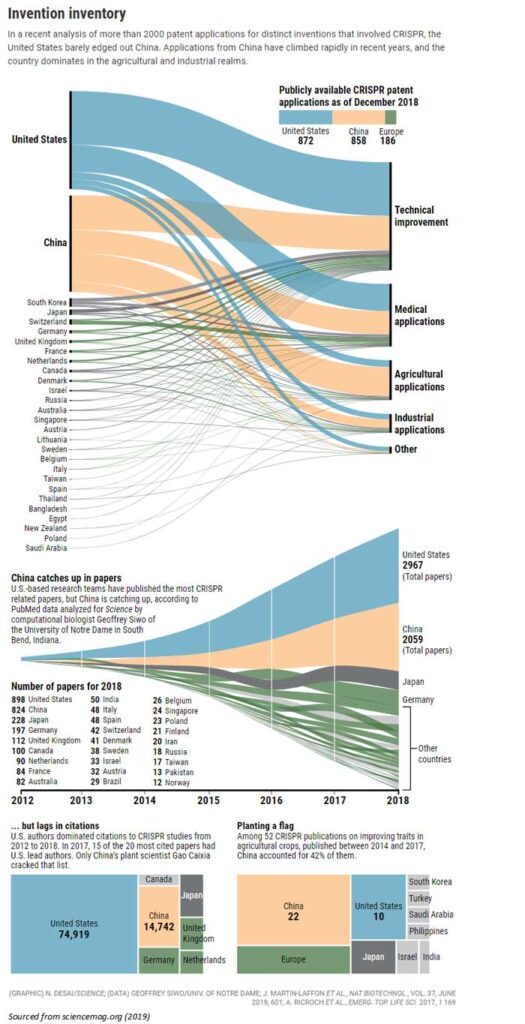 A Pandora's Box has been opened and more hideous chimeras may emerge during this decade. It is quite an irony that a new generation of artificially-manufactured and cerebrally-deficient "thought leaders", academics and activists are being groomed to promote "global governance" – a concept due for a portentous mission creep in tandem with the Second Great Depression. What will be their future worth in a eugenic global society that is centrally-controlled bya digital panopticon6?
"Designer babies" and "super humans" may also render many humans redundant. Will the genetic have-nots be reclassified as "live-nots" in the not-so-distant future?
Disintegrating Big Tech: What Future Holds for the American Technology Giants'?
The United States lawmakers in June 2021 introduced five bills pertaining to Antitrust regulations for the purpose of curbing and curtailing the tremendous power in the hands of few big tech companies. The bills after being enacted will specifically deal with antitrust intricacies surrounding big technology giants across the nation. That means this bill is meant only for selected entities which fulfill the criteria of being a dominant technology enterprise. The entity must have a market capitalization of more than USD 600 Billion and it has to serve at least 50 Million U.S users or 1,00,000 U.S business each month. By terms of market capitalization, only 10 companies in the world come under this categorization namely – Apple (USD 2.3 Trillion), Microsoft (USD 2 Trillion), Saudi Aramco (USD 1.9 Trillion), Amazon (USD 1.7 Trillion), Alphabet (USD 1.5 Trillion), Facebook (USD 0.9 Trillion), Tencent Holdings (USD 0.8 Trillion), Tesla (USD 0.7 Trillion), Alibaba Group (0.7 Trillion), Berkshire Hathaway (USD 0.6 Trillion). The bipartite proposal comes under the motto "A Stronger Online Economy: Opportunity, Innovation, Choice" and was a result of 16-month long investigation conducted by Antitrust sub-committee of House Judiciary Committee under the leadership of Democratic Party Representative for Rhode Island David Cicilline (who also happens to be Antitrust Subcommittee chairman) in collaboration with Republican Ken Buck into some of the biggest tech corporations in the United States such as Amazon, Google, Apple and Facebook. The announcement of the proposed legislation was done by David Cicilline via his official twitter account through which he laid down in short the purpose of this bill. Ken Buck also exhibited his excitement towards the legalization of this bill. Various other legislative members took to twitter to stand up for the bill like representative Joe Neguse expressed his support in favour of the bill. The senator from Minnesota Amy Klobuchar (famous for her antitrust expertise) also tweeted the passing of the bill by the senate. The investigation concluded that these entities are dominant in their respective relevant markets. For instance, Facebook holds the monopoly status in social media applications while Google is a dominant entity in internet search market and Amazon is the biggest e-commerce platform having stronghold in retail online market. The regulators were of the view that these big corporations hold excessive power and act as a gatekeeper in their respective relevant markets thereby manipulating the market as per their whims and wishes. They charge exorbitant prices, eliminate small enterprises, coerce tough contractual obligations, draw out valuable data and use it for monetary gains. This as a result is causing harm, to small competitors, consumers and the overall market & prevailing economic conditions in general. They are also alleged for breaking laws and taking aggressive steps to maintain their monopoly status. As a matter of fact the five bills delve into the various antitrust arenas like big data, mergers and anti-competitive behaviour allegedly exhibited by these companies among others. So, let's get down to each of these bills.
BILLS
1.American Choice and Innovation Online Act – Led by David Cicilline, this act will keep a check on companies which try to manipulate market for their own good or for promoting their own products. Apart from this it will also prevent companies from excluding other products which fall in their line of business, discriminating between similarly placed business users, restricting business users' access to services and violating any of the provisions stipulated in this act. In case of non-compliance of the provisions of this act, the penalty is stipulated at a fine of upto 15% of the company's United States revenue for the previous calendar year or 30% of the company's United States revenue for any line of business affected by the unlawful conduct.
2.Platform Competition and Opportunity Act – Led by Representative Hakeem Jeffries of New York, this act will stop big dominant entities from merging with smaller competitors or acquiring them. Basically the provisions mentioned therein will proscribe collaboration or alliance of such entities which compete with each other, fall in the same relevant market and the merger/acquisition of which will create a risk of forming a dominant entity in that relevant market. This act will make it tougher for entities to snap up their competitors for the ultimate purpose of killing the competition.
3.Ending Platform Monopolies Act – Led by Representative Pramila Jayapal of Washington DC, this can be construed as the most important bill among all the 5 bills. This act will prohibit the company from unfairly favoring its own product over competitors on its platform. For instance, Google gives its own services greatest priority at the top of a search results page — the reason Google Maps and reviews appear first on searches for local businesses and YouTube tops those for music or video. Further, it was observed by the lawmakers that these dominant companies often steer away users to their own products instead of showing the true search results as asked. The provisions contained in this act would prevent this self-preferencing habit of entities to avoid creation of any conflict of interest.
4.The Augmenting Compatibility and Competition by Enabling Service Switching (ACCESS) Act – Led by Representative Mary Gay Scanlon of Pennsylvania, this act provides a hassle-free option for users and consumers to switch to other platforms or applications. The provisions therein mandate the companies to provide a transparent third-party accessible interface for the purpose of secure data transfer and interoperability with competitor entities. This is done keeping in mind the ease of changing platform in case of modifications in privacy policy or better features by the rival. The act specifically proscribes gathering user data through interoperability interface except for privacy and security reasons.
5.Merger Filing Fee Modernization Act – Led by Representative Joe Neguse of Colorado, this act aims to provide a greater monetary support and resources to the Federal Trade Commission and Department of Justice so that as to help them efficiently perform the work they are supposed to perform. The fees is stipulated as per the total combined valuation or size of the transaction. If the combined valuation is USD 92 Million to 184 Million, then the fee would be between USD 30,000 to 40,000. If the valuation is between USD 184 Million to 919 Million, then fees would be USD 1,00,000 to 1,25,000. And if the merger value crosses more than USD 919 Million, the fees would be USD 2,50,000 to 2,80,000. Thus it will serve the purpose of greater flexibility, collection of required intel and operational resources by boosting the fund for these two US antitrust enforcers/regulators.
MAIN OBJECTIVE BEHIND THIS STEP
The main objective behind such initiative is to level the playing field for all the players (whether small or big) and ensure these dominant technology players play by the same rules. The main target of these proposed legislations are those technology enterprises which come under the category of dominant position. It aims at the most profitable ventures of all these tech companies including Amazon's The lawmakers want to break big tech, split it into various pieces, dismantle their structure and prevent them from unfairly favoring their own products over the competitors on their platforms. Also, by way of this legislation the big technology enterprises will face a huge difficulty in merging or forming alliances with competitors no matter their size.
CONCLUSION
Considering the stringent provisions and ever-increasing scrutiny, these bills hold the power to shake the tech behemoths from deep beneath their structures. The bills are now in preliminary stage and hence will be sent to House Judiciary Committee and after that to both the House i.e Senate (Upper House) and House of Representatives (Lower House). If passed by both these houses, then the President Joe Biden will sign the bill making it a law of the land at United States. The final voting will be held on June 23rd 2021. Post legalization this bill would reshape the governance and operation of tech companies so that there is strict abidance of the prescribed rules and regulations. This move could revolutionize the United States technology industry in a manner never seen before.
To Protect Democracies, Digital Resiliency Efforts Are Needed Now
Across the globe, more than three billion people have no internet access. But with the increased availability of smart phones and other projects such as SpaceX's Starlink satellite internet system, that soon will change. To be sure, this unprecedented level of connectivity has the power to be a boon for democratic advancement and economic development. However, without pre-emptive action, it will likely result in the ills we've seen with rapid connectivity elsewhere that threaten democratic norms, institutions, and governance. Authoritarians have an answer to these problems: more control. Democracies need an answer too: building pre-emptive digital resilience and preparedness.
Democracies have been consistently caught off guard by rapid digitization. The disruption of information ecosystems has amplified political and economic inequity, leading to various information disorders such as disinformation, declining trust in journalism, increasing social toxicity and dissatisfaction with government, etc. In Myanmar, for example, internet connectivity empowered individuals, but rampant hate speech also facilitated the military's campaign against the Rohingya. In the Philippines and Brazil, authoritarian populists have used social media to exploit their publics, foment hate, and win elections.
In attempting to manage the consequences of rapid digitization, governments are increasingly eliciting from the authoritarian playbook – implementing haphazard social media and cyber laws, surveillance, and censorship to the detriment of political freedoms. Freedom House's Freedom on the Net 2020 report outlined a "dismal year for internet freedom" and showed countries like Brazil, Nigeria, Turkey, and Kyrgyzstan following China's model of blocking internet services and conducting pervasive monitoring on their people's virtual activities.
Democracies have not provided clear answers to rapid digitization, despite the fact that successes in countries like Finland and Taiwan demonstrate that the internet can – if combined with a thoughtful, pre-emptive, whole of society approach – actively strengthen social cohesion and democratic governance. The introduction of digital infrastructure must be accompanied by digital literacy campaigns. Governments need to be trained in cybersecurity, online communication, and on key policy issues such as open data and privacy. Civil society, especially those working with local communities and marginalized populations, need to be involved early in national digital coordination plans in order to reach more people and to ensure digital inclusion is a core consideration of these plans. These plans should include mobilization of digital safety campaigns, education initiatives, and digital skills trainings.
To be sure, taking a pro-active, coordinated approach will require resources and time. Embracing the transparency that comes with digitization and the sheer amount of data available might also seem daunting at the beginning. However, countries and communities soon to come online are in advantageous positions to learn from other countries' mistakes and better understand the opportunities, risks, and threats that digitization brings. There is no reason for them to experience the same negative effects of rapid digitization that we've been observing for years. It is better to invest upfront than be left dealing with the democratic backsliding gripping Myanmar, the Philippines, Ethiopia, and many other countries today.
Internet of Behavior (IoB) and its Influence on Human Behavioral Psychology
Internet of behavior is a connection between technology and human psychology which gives it the power to generate patterns and influence human behavior.
It is still in initial phase, but was able to grab a lot of attention from technology experts with its mention in "Gartner's Top Strategic Technology Trends for 2021". Gartner predicted that "By the end of 2025, over half of the world's population will be subject to at least one IoB program, whether it be commercial or governmental"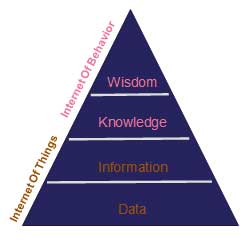 Source: BMC blog on "What Is the Internet of Behaviors? IoB Explained"
Gartner acknowledges IoB as, behavioral science which can be considered under four key aspects: augmentations, decisions, emotions and companionship
From a human psychology perspective, IoB not only understands the data properly but also applies its understanding to innovate, create and promote new products/services
Currently most of the companies understand buying behavior from the information provided by consumers via interaction between them and application linked to the company. Information collected from interaction via smart devices such as smart phones and its interconnection with other smart devices such as cameras and voice assistance has the power to understand consumer's likes/dislikes, spending, and so on.
It is aiding organizations to optimize their data from sources such as social media, geolocation, facial recognition, and government agencies citizen data. This data is eventually added and utilized to influence consumer buying behavior.
IoB is using data processing to another level, by connecting collected data from human behavior to analytics and behavioral science. This behavioral data will play a fundamental role in planning and developing strategies for organizations particularly in sales and marketing.
It has the ability to analyse data collected from consumers (such as consumers food choices, how they shop, their preferred travel destination, people with whom and how they interact) and use it to advertise products more effectively and improvise a product's or service's overall user experience, thus fulfilling their ultimate goal of selling product. With such capabilities, it aims to generate a substantial enhancement in the development of the sales industry.
For Instance, a health app that can track sleeping patterns, heart rate or blood sugar levels, can alert users before adverse health situations and suggest them with behavior changes for the positive result. Such information could prove significantly important to companies by providing them with deeper insight into how they should be channelizing their marketing efforts.
As per Gartner, "The same wearables that health insurance companies use to track physical activities to reduce premiums could also be used to monitor grocery purchases; too many unhealthy items could increase premiums."
GBKSOFT, a software company has helped golfers to improve their playing skills by correcting their existing ball striking technique and learning new techniques with its app and wearable device. The golfers can connect their handheld device and connect it with their mobile phone, every time the golfer hits the ball the app records and analyses its impact. Thus golfer can not only improvise by analyzing their mistake but also track for any trajectory or stroke force.
Tech giants such as Facebook, Google, and Amazon are continuously tracking and working on algorithms to configure and anticipate consumer desires and behaviors
Covid has brought a wider acceptance of IoB for human behavioral surveillance. IoB can prove to be an extremely effective method to avoid spread of virus. For instance, computer vision or facial recognition can be used to determine if employees are complying with mask protocols or not. While, electronic devices such as RFID tags and sensors on employee or in the environment can be used to check if they are washing or sanitizing their hands regularly or not. Speakers can be used to warn people violating such protocols.
Test and Trace app on smart devices can be used by government agencies to monitor and curtail people's location and activities to ensure their chances of contacting virus, while effectively enhancing overall public welfare.
While IoB has a great potential to improve our lives it has some negative aspects as well, cyber security being the prime concern. It can give access to cyber criminals with not just behavioral data such as consumer buying patterns or their likes/dislikes but also give access to their banking code, by which they can create advance scams, and take phishing to another level.
Moreover, data generated from social media platform such as Facebook and Instagram is changing the dynamics of value chain, and companies are using this opportunity to modify human behaviors. This goes well with the saying "If you are not paying for it, you are no longer the customer, you are the product being sold"
Some people might find surveillance of behavior as an Invasion of their privacy. "China's Social Credit System" a Chinese government based surveillance programme is one such example, which includes all characteristics of judging citizens' behaviour and trustworthiness. With this system the government is supporting good human behaviour and discouraging bad behavior. This is not going well with people who value their civil rights.
Moreover, laws regarding IoT vary widely, and considering IoB has much more sensitive data, both government and private organizations need to establish robust privacy laws to bring legal consistency.
As per Gartner, "Much of the scope and execution of an IoB will depend on local privacy laws, which may affect how data can be used and in what way".
Regardless of the apprehensions expressed above, IoB has the ability to make our lives effortless, be it improving business, encouraging us to live a healthy life or ensure our safety during pandemic situations. Any government of private organization who implement IoB needs to make sure of strong cyber security and data protection laws.