ADB Approves $400 Million Loan to Support Philippines' Capital Market Development
The Asian Development Bank (ADB) has approved a $400 million policy-based loan to support the Philippine government's efforts to strengthen domestic capital markets and reach its development goals of high, sustained economic growth and poverty reduction.
The Support to Capital Market-Generated Infrastructure Financing Program, subprogram 1, aims to address key constraints that have limited the growth of domestic capital markets, especially government and corporate bond markets. It also focuses on building a vibrant domestic institutional investor base that will become a sustainable source of long-tenor infrastructure finance. By boosting infrastructure finance, the capital market development program will support higher public infrastructure spending for years to come.
The government's flagship "Build Build Build" (BBB) infrastructure development program targets an increase in public spending on infrastructure towards 7.0% of gross domestic product by 2022, up from 5.5% in 2018 and an average of 2.8% in the last three decades.
"Resilient and vibrant capital markets are key to achieving economic development, growth, and poverty reduction as set out in the government's long term strategy AmBisyon Natin 2040," said ADB Vice-President Ahmed M. Saeed. "By developing domestic capital markets, funds are generated to support higher levels of long-term investments and sustainable quality job creation. The program approved today will support the Philippine government's development goals, including its response to the COVID-19 pandemic."
The capital markets development program has supported various reforms in recent years, including the launch and implementation of the first government-led, comprehensive domestic bond market development plan. The Philippines also has modernized its government debt trading infrastructure and provided a reliable yield curve to support the pricing of private sector debt instruments.
Other reforms have helped build an enabling environment for private sector debt instruments. These reforms will boost outstanding corporate bonds to an estimated 12% of gross domestic product by 2021, up from 7.5% in 2017. The government also has upgraded the Personal Equity and Retirement Account system, which makes it easier for Filipinos to tap into the capital markets to save for the future.
This latest assistance builds on decades of ADB support to financial sector reforms in the Philippines, including strengthening governance and investor protection measures in the wake of the 1997 Asian financial crisis. Since 2013, ADB has been supporting reforms in the domestic capital market, which aimed to build a more diversified institutional investor base to encourage the development of long-term finance for infrastructure.
This new loan brings ADB's total lending to the Philippines to $2.1 billion so far this year. ADB approved a $1.5 billion loan for the COVID-19 Active Response and Expenditure Support Program on 23 April and $200 million in additional financing for the Social Protection Support Project on 27 April.
Illegal trade in fake or faulty COVID-19 products booming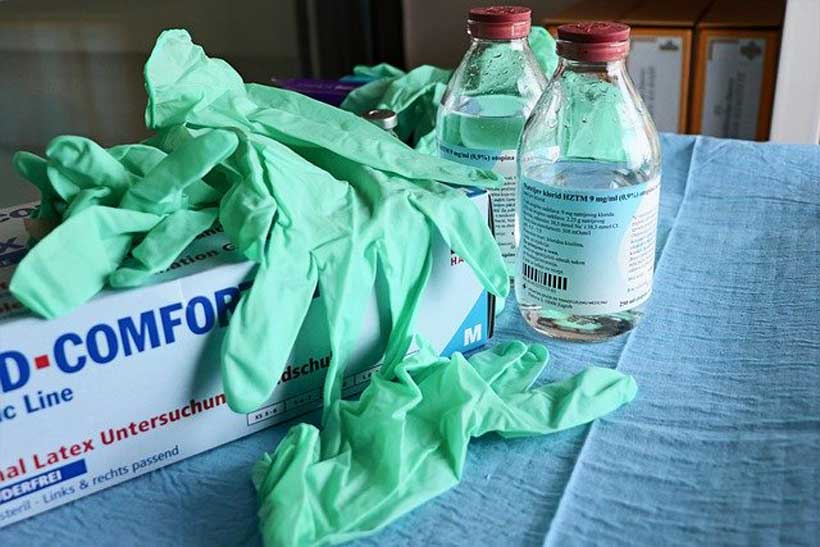 "Health and lives are at risk with criminals exploiting the COVID-19 crisis to cash in on public anxiety and increased demand for PPE and medications", said Ghada Waly, Executive Director of the UN Office on Drugs and Crime (UNODC).
Among its countless other impacts, the coronavirus has further highlighted the shortcomings in regulatory and legal frameworks aimed at preventing the manufacturing and selling of these products, points out the UNODC research brief, entitled "COVID-19-related Trafficking of Medical Products as a Threat to Public Health".
Preying on vulnerabilities
The research reveals that criminal gangs are exploiting both the uncertainties surrounding the coronavirus along with inconsistencies in national regulation regimens.
"Transnational organized crime groups take advantage of gaps in national regulation and oversight to peddle substandard and falsified medical product", explained the UN crime-fighting chief.
The falsification of medical products bears significant risks for public health as products may not properly treat the disease and may facilitate the development of drug resistance.
Criminal groups have also quickly adjusted to the opportunities arising from the COVID-19 pandemic to exploit the vulnerabilities and gaps in the health and criminal justice systems.
Evidence shows that fraud, scams and seizures, involving the manufacture and trafficking of substandard and falsified medical products, have followed the spread of the virus.
In one case, German health authorities contracted two sales companies in Switzerland and Germany to procure €15 million worth of face masks through a cloned website of an apparently legitimate company in Spain.
"We need to help countries increase cooperation to close gaps, build law enforcement and criminal justice capacity, and drive public awareness to keep people safe", Ms. Waly upheld.
Harmonized global approach needed
The pandemic has also highlighted a boom in data-based scams – including phishing, and business email attacks – or the creation of fake corporate websites to fool purchasers.
UNODC's research also predicts that the behaviour of organized criminal groups will gradually change over the course of the pandemic.
When a vaccine is developed, it will likely lead to a shift in focus away from PPE smuggling to trafficking in the vaccine.
Moreover, cyberattacks on critical infrastructure involved in addressing the pandemic are also likely to continue in the form of online scams aimed at health procurement authorities, according to the research.
Strengthening legal frameworks and penalties, and a more harmonized global approach to the criminalization of the manufacture and trafficking of falsified medical products is crucial, as only a common approach will enable effective responses to crimes impacting individuals and public health, the UNODC brief maintains.
At the same time however, preventing, detecting, and responding to medical product-related crime will require people who work in the medical product sector to acquire new or additional skills.
Indonesia and IEA deepen cooperation on electricity and renewables
Indonesian Minister of Energy and Mineral Resources Mr Arifin Tasrif and IEA Executive Director Dr Fatih Birol are pleased to announce the launch of a new joint project on electricity and renewable energy in Indonesia.
The project will focus on optimising the design and implementation of a new flagship scheme to encourage private investment in renewable power sources as well as strategies to enhance renewables integration and power system operation. The work will be carried out in partnership with the Indonesian national power utility PT Perusahaan Listrik Negara (PLN Persero).
This cooperation falls under the Joint Work Programme signed by Dr Birol and Minister Tasrif on the occasion of the IEA's Ministerial Meeting in December 2019. The programme builds on many years of strong collaboration between the IEA and Indonesia across all fuels and all technologies.
The launch of this project comes ahead of the IEA Clean Energy Transitions Summit on 9 July, which will bring together around 40 Ministers and high-level figures from countries representing about 80% of global energy demand.
"The IEA has shown monumental leadership to bring the international community together in an effort to tackle the effects of the Covid-19 pandemic on energy-related issues and to set out a path for sustainable recovery. During these challenging times, I am pleased to note that the IEA is strongly in support of the Ministry's key priorities on power system enhancement and renewables investment. My highest regards and appreciation towards the IEA for their steadfast cooperation and I look forward to closely working together on this matter as we aim to continually progress the transition to clean energy," Minister Tasrif said.
The Indonesian government has sought to tackle the immediate health and economic impacts of the Covid-19 pandemic through a variety of fiscal stimulus and policy measures. Although the energy sector has been severely impacted by the crisis, energy has also been an important part of the government's response. This has included the provision of free or discounted electricity to 33 million of the most vulnerable families in the country.
The energy sector – a key driver of economic growth and dynamism – has a critical role to play in supporting recovery from the Covid-19. Indeed, reflecting this, the Indonesian government has ambitious plans to significantly scale up investments in renewable energy and to enhance the operation of its electricity sector.
As the IEA has highlighted since early in the current crisis, developments in energy markets and ambitious recovery efforts by governments present policymakers with a once-in-a-lifetime window of opportunity to reshape energy systems for decades to come. In doing so, they can put global emissions into structural decline. The IEA Clean Energy Transitions Summit – the key global energy and climate event of the year – aims to support these efforts by bringing together a grand coalition of the world's energy leaders, including Minister Tasrif, to discuss how to take real-world action.
"As the world's fourth most populous country, Indonesia is critical to global energy and an incredibly important member of the IEA Family," Dr Birol said. "We are very happy to be working with Minister Tasrif and his team on this high-profile effort to support Indonesia's ambitious clean energy transition. I look forward to welcoming him at the IEA Summit and hearing him share insights from Indonesia's experience – and views on the best path forward."
The collaboration on electricity and renewables is complemented by cooperation and engagement between the Indonesian Government, PLN and the IEA on a range of energy policy priorities, including electric vehicle regulation, electricity system investment, and ways to reduce energy imports.
ADGM Inks Partnership with IRENA to Promote Sustainable Finance
International Renewable Energy Agency (IRENA), the lead intergovernmental agency for the energy transformation, and the Abu Dhabi Global Market (ADGM), the award-winning international financial centre, have signed a Memorandum of understanding (MoU) to signify their joint commitment to progressing sustainable finance across the UAE and the wider region.
Through the MoU, IRENA and ADGM solidified their mutual dedication to promoting solutions that facilitate investment in renewable energy. The agreement was signed by Francesco La Camera, Director-General of IRENA and Dhaher bin Dhaher, CEO of the ADGM Registration Authority (RA).
Commenting on the agreement, Dhaher bin Dhaher AlMheiri, CEO of the ADGM RA, said: "We are proud to have entered into this MoU, alongside IRENA, as we reinforce our shared commitment to promoting sustainable practices across all sectors. ADGM is continuously looking to work with its strategic partners, locally and internationally, to further the UAE's sustainability initiatives, including the 2030 agenda, and to safeguard the longevity of the UAE's financial landscape. ADGM has been a leading force in fostering the adoption of sustainable operations as it aims to develop a thriving sustainable finance ecosystem in the UAE and the wider region.Through multiple sustainability initiatives, programmes and agreements, we hope to continuously collaborate with leading entities, such as IRENA, to secure the longevity and wellbeing of the financial community." he concluded.
Reflecting on the partnership, Francesco La Camera, Director-General of IRENA, said: "Increasing investments into renewable energy and the energy transformation is essential to building a more resilient energy system and to more prosperous economies. To achieve sustainable economic and environmental development, partnerships between organisations with shared values is essential. The UAE has demonstrated its strong commitment to this future, and through this cooperation we aim to accelerate low-carbon investment flows building more stable, equitable and climate-safe societies."
As per IRENA and ADGM's joint agreement, the two organisations have committed to engage with one another to facilitate investment in renewable energy, support in the development of a sustainable finance ecosystem that is inclusive of renewable energy, and support on any ongoing initiatives relating to sustainability. Additionally, IRENA and ADGM will explore additional approaches to support local initiatives, mutually promote their respective platforms, exchange information on important events and support one another in promoting common aims, initiatives and events.
ADGM has highlighted their ongoing commitment to sustainability in the past through various initiatives, programmes and agreements, such as the establishment of their flagship Abu Dhabi Sustainable Finance Forum, championing the UAE Guiding Principles, pioneering the enactment of the Abu Dhabi Sustainable Finance Declaration, and entering into several agreements regarding sustainability with leading entities, such as UAE Ministry of Climate Change and Environment, the Abu Dhabi Authority for Social Contribution (Ma'an), the UAE Ministry of Finance, among many others. The IFC has continuously participated in partnerships of this nature to support the UAE's 2030 agenda for sustainable development.