Murder of George Floyd – On Camera Murder by Neo Ku Klux Klan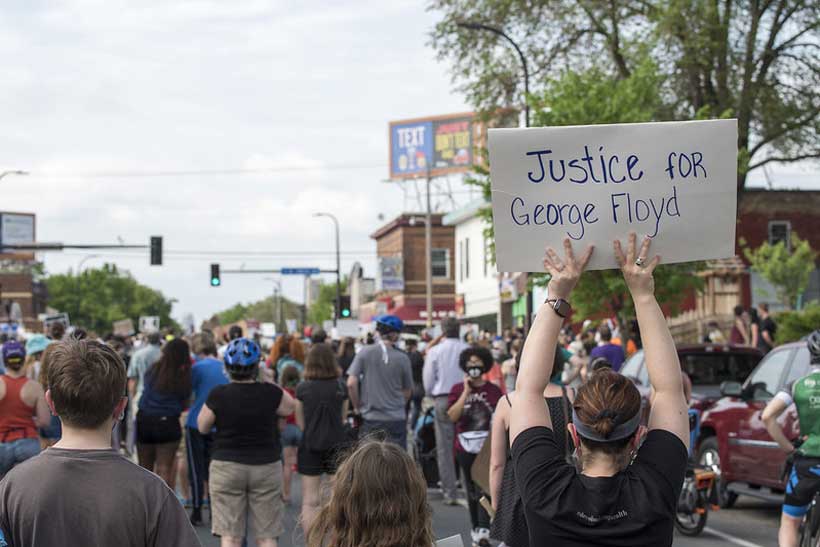 Now that the doors of racism have been shut down by law, the de facto persecution of blacks carry on. The cold-blooded murder of George Floyd by Minneapolis officers is one of the many such cases. If the four racist cops could strangulate a handcuffed person on camera, one should be fearful to assume what could they be doing off camera. Until the lion learns how to write, every story will keep glorifying the hunter.
The persecution and segregation of colored people has been done since long. Gone are the days when Rosa Parks could be ordered to leave her seat on bus for a white. And gone should have been the days when Eugene Bull Connor could use state authority to subjugate unarmed protestors in Birmingham during Civil Rights Movement while being filmed on Television. George Floyd kept on begging to let the air in for he was suffocating.The racist cop told him to be easy while putting more pressure on his neck while Floyd laid down on ground with his hands cuffed behind his back. The four armed cops apparently could not find a better way to handle him except strangling him to death. Or perhaps they did not wish to.
The inhumane treatment, especially when done by state authorities, develop grievances in vulnerable communities. A liberal state is meant to treat everyone equally. When Jim Crow Laws were on a high and Ku Klux Klan started to target humans on basis of skin color, it led to the formation of violent groups in African Americans like Black Panther. Violence against particular groups cannot sustain for long in a developed world. When USA tries to proliferate liberal values across the world, it should not remain aloof that despite being the world's oldest democracy, blacks are still victims of oppression in America.
The white supremacy is not a myth. The Minneapolis officers were able to kill a person while being filmed as well as begged by the civilians to do mercy on Floyd for he didn't put any threat to them. The cops gave him a slow death without any shame like they were living in a pre-Lincoln era. Luckily, the heinous crime was filmed and all the cops have been terminated but it is likely that without being prosecuted for the cold-blooded murder, it may not give a lesson to other state authorities regarding misuse of their powers.
This is simply a Neo Ku Klux Klan where the Blacks are being oppressed on the basis of color and the murderers get a clean chit. A similar case happened in 2014 when Eric Garner was strangulated when he kept saying "I can't breathe" while dying and the white officers didn't face federal charges despite being filmed doing the murder. In the same year, a 12 year old black boy Tamir Rice was carrying a toy gun and he was killed by a white cop. In 2016, Philando Castile was murdered in his car when the situation could be handled pacifically but the police used preemptive measure to kill him right away. There are many cases in recent past that make it evident that The United States of America has not fixed the problem of Ku Klux Klan; rather it is a neo Ku Klux Klan that is de facto segregating and oppressing the colored community. One in every 1000 black males can expect to die at the hands of police in USA.
The Neo Ku Klux Klan needs to be stopped. State institutions must function as they are supposed to perform and not to deal humans with discrimination depending on what color of skin they carry on their flesh. Racism should have been buried when President Kennedy got successful in calling civil rights a moral cause. But racism thrives till today and now with President Donald Trump, it is far from possible to end racism in American society when he himself dehumanizes the blacks. If the state institutions as well as the public does not proactively try to resolve the issues that are a direct threat to human security when it comes to black lives, the dreams of Equality, Liberty and Pursuit of Happiness will remain a hoax.
Trump's legacy hangs over human rights talk at upcoming Biden-Putin Geneva summit
Two days after the NATO Summit in Brussels on Monday, US President Joe Biden will be in Geneva to hold a much anticipated meeting with Russian President Vladimir Putin. The two leaders are meeting at the shores of Lake Geneva at a villa in Parc la Grange – a place I know very well and actually called home for a long time. The park itself will be closed to the public for 10 days until Friday.
A big chunk of the lakeside part of the city will be closed off, too. Barb wire and beefed up security measures have already been put in place to secure the historic summit. The otherwise small city will be buzzing with media, delegations and curious onlookers.
I will be there too, keeping the readers of Modern Diplomacy updated with what's taking place on the ground with photos, videos and regular dispatches from the Biden-Putin meeting.
The two Presidents will first and foremost touch on nuclear security. As an interlude to their meeting, the NATO Summit on Monday will tackle, among other things "Russian aggression", in the words of NATO Secretary General Jens Stoltenberg. Last week, Stoltenberg said that he "told President Biden that Allies welcome the US decision, together with Russia, to extend the New START Treaty, limiting strategic weapons, and long-range nuclear weapons". To extend the treaty is an important first step for Stoltenberg. This will be the obvious link between the two summits.
But Biden also has to bring up human rights issues, such as the poisoning and imprisonment of Alexei Navalny and Putin's support for the jailing of Belarusian activists by Lukashenko. Human rights have to be high on the agenda at the Geneva Summit. And indeed, Biden has confirmed officially that pressing Putin on human rights will be a priority for the American side.
Biden and Putin are not fans of each other, to say the least. Both have made that clear in unusually tough rhetoric in the past. Over the years, Biden has said on numerous occasions that he has told Putin to his face that he doesn't "have a soul". Putin's retort was that the men "understand each other".
Right at the beginning of his Presidency, earlier this year, Biden also dropped the bomb calling President Putin a "killer" for ordering the assassination of political opponents. The Russian president responded to the "killer" comment on Russian television by saying that "it takes one to know one". Putin also wished Biden good health, alluding to the US President's age and mental condition which becomes a subject of criticism from time to time.
Understandably, Putin and Biden are not expected to hold a joint press conference next week. But we weren't expecting that, anyways.
For me, this Summit has a special meaning. In the context of repression against political opponents and critical media voices, President Biden needs to demonstrate that the US President and the US government are actually different from Putin – if they are any different from Putin.
This week, we were reminded of Trump's legacy and the damage he left behind. One of Trump's lasting imprints was revealed: Trump had the Department of Justice put under surveillance Trump's political opponents. Among them House Democrats, including Congressman Adam Shiff, who was one of the key figures that led Trump's first impeachment that showed that Trump exerted pressure on Ukrainian authorities to go after Joe Biden's son, Hunter.
In the context of Trump's impact, President Biden needs to show that there has to be zero tolerance towards the cover up by the US government of politically motivated attacks against voices critical of the US government. If President Biden wants to demonstrate that the US government is any different from Putin's Russia, Secretary of State Blinken and FBI director Chris Wray have to go. Biden has to show that he won't tolerate the cover up of attacks on political critics and the media, and won't spare those that stand in the way of criminal justice in such instances.
Biden is stuck in the 2000s when it comes to Eastern Europe, as I argued last week but he needs to wake up. President Biden and the US government still haven't dealt effectively with Trump's harmful impact on things that the US really likes to toot its horn about, such as human rights and freedom. Whether the upcoming Geneva Summit will shed light on that remains to be seen.
Will Geneva Be Any Different Than Helsinki?
Any meeting between the leaders of Russia and the U.S. is inevitably an important international event. At some point in history, such summits decided the fate of the entire world, and the world held its collective breath as it followed Kremlin-White House talks on strategic arms or the two sides seeking agreements on urgent regional problems or any political signals coming from the superpower capitals prior to another round of negotiations.
The bipolar era has long been gone, and the Russia-U.S. relations are no longer the principal axis of international politics, although the suspense over bilateral summits remains. As before, the two countries are engaged in "top-down" interaction. Summits give the initial impetus to Moscow and Washington's cumbersome bureaucratic machines, then diplomats, military personnel and officials start their assiduous work on specific issues, collaboration between the two countries' private sectors and civil society perks up, the media gradually soften their rhetoric, bilateral projects in culture, education and science are gradually resumed.
Still, there are annoying exceptions to this general rule. In particular, the latest full-fledged Russia–U.S. summit in Helsinki in July 2018 failed to trigger improvements in bilateral relations. On the contrary, Donald Trump's meeting with Vladimir Putin in Finland's capital aroused massive resentment among the anti-Russian Washington establishment. Ultimately, on returning home, the U.S. President had to offer awkward apologies to his supporters and opponents alike, and relations between the two countries continued to rapidly deteriorate after the summit.
Surely, nobody is willing to see another Helsinki scenario in June 2021, this time in Geneva. Yet, do we have good reason to hope for a different outcome this time? To answer this question, let us compare Donald Trump and Joseph Biden's approaches to Russia-U.S. summits and to bilateral relations at large.
First of all, in Helsinki, Trump very much wanted the Russian leader to like him. The Republican President avoided publicly criticizing his Russian counterpart and was quite generous with his compliments to him, which inevitably caused not only annoyance but pure outrage in Washington and in Trump's own Administration. Joe Biden has known Vladimir Putin for many years; he does not set himself the task of getting the Russian leader to like him. As far as one can tell, the two politicians do not have any special liking for each other, with this more than reserved attitude unlikely to change following their meeting in Geneva.
Additionally, in Helsinki, Trump wanted, as was his wont, to score an impressive foreign policy victory of his own. He believed he was quite capable of doing better than Barack Obama with his "reset" and of somehow "hitting it off" with Putin, thereby transforming Russia if not into a U.S. ally, then at least into its strategic partner. Apparently, Biden has no such plans. The new American President clearly sees that Moscow-Washington relations will remain those of rivalry in the near future and will involve direct confrontation in some instances. The Kremlin and the White House have widely diverging ideas about today's world: about what is legitimate and what is illegitimate, what is fair and what is unfair, where the world is heading and what the impending world order should be like. So, we are not talking about a transition from strategic confrontation to strategic partnership, we are talking about a possible reduction in the risks and costs of this necessarily costly and lengthy confrontation.
Finally, Trump simply had much more time to prepare for the Helsinki summit than Biden has had to prepare for Geneva. Trump travelled to Finland eighteen months after coming to power. Biden is planning to meet with Putin in less than five months since his inauguration. Preparations for the Geneva summit have to be made in haste, so the expectations concerning the impending summit's outcome are less.
These differences between Biden and Trump suggest that there is no reason to expect a particularly successful summit. Even so, we should not forget the entire spectrum of other special features of the Biden Administration's current style of foreign policy. They allow us to be cautiously optimistic about the June summit.
First, Donald Trump never put too much store by arms control, since he arrogantly believed the U.S. capable of winning any race with either Moscow or Beijing. So, his presidential tenure saw nearly total destruction of this crucial dimension of the bilateral relations, with all its attendant negative consequences for other aspects of Russia-U.S. interaction and for global strategic stability.
In contrast, Biden remains a staunch supporter of arms control, as he has already confirmed by his decision to prolong the bilateral New START. There are grounds for hoping that Geneva will see the two leaders to at least start discussing a new agenda in this area, including militarization of outer space, cyberspace, hypersonic weapons, prompt global strike potential, lethal autonomous weapons etc. The dialogue on arms control beyond the New START does not promise any quick solutions, as it will be difficult for both parties. Yet, the sooner it starts, the better it is going to be for both countries and for the international community as a whole.
Second, Trump never liked multilateral formats, believing them to be unproductive. Apparently, he sincerely believed that he could single-handedly resolve any burning international problems, from the Israeli-Palestinian conflict to North Korea's nuclear missile programme.
Biden does not seem to harbor such illusions. He has repeatedly emphasized the importance of multilateralism, and he clearly understands that collaboration with Russia is necessary on many regional conflicts and crises. Consequently, Geneva talks may see the two leaders engage in a dialogue on Afghanistan, on the Iranian nuclear deal, on North Korea, or even on Syria. It is not at all obvious that Biden will succeed in reaching agreement with Putin immediately on all or any of these issues, but the very possibility of them discussed at the summit should be welcomed.
Third, Trump was not particularly fond of career diplomats and, apparently, attached little value to the diplomatic dimension of foreign policy. The Russia-U.S. "embassy war" had started before Trump—but not only did Trump fail to stop it, he boosted it to an unprecedented scale and urgency.
Sadly, the "embassy war" continues after Trump, too. Yet President Biden, with his tremendous foreign policy experience, understands diplomatic work better and appreciates it. Practical results of the Geneva summit could include a restoration of the diplomatic missions in Washington and Moscow to their full-fledged status and a rebuilding of the networks of consular offices, which have been completely destroyed in recent years. Amid the problems of big politics, consular services may not seem crucial but, for most ordinary Russians and Americans, regaining the opportunity for recourse to rapid and efficient consular services would outweigh many other potential achievements of the Geneva summit.
From our partner RIAC
"Choose sides" is practically a bogus idea for US military partners
"Choosing sides" is practically a non-starter for US military allies such as Japan and South Korea. These nations, first and foremost military allies of the US, are forging cordial and productive ties with other countries based on military alliances with the US. The nature and level of partnerships varies greatly from those of allies, despite the fact that they appear to be quite heated at times.
Military concerns have been less important in the postwar period, but economic concerns have been extremely heated, social and cultural interactions have been close, and the qualitative differences between cooperative relations and allies have gotten confused, or have been covered and neglected.
Some unreasonable expectations and even mistakes were made. In general, in the game between the rising power and the hegemony, it is undesirable for the rising power to take the initiative and urge the hegemony's supporters to select a side. Doing so will merely reinforce these countries' preference for hegemony.
Not only that, but a developing country must contend with not only a dominant hegemony, but also a system of allies governed by the hegemony. In the event of a relative reduction in the power of the hegemony, the strength of the entire alliance system may be reinforced by removing restraints on allies, boosting allies' capabilities, and allowing allies' passion and initiative to shine.
Similarly, the allies of the hegemonic power are likely to be quite eager to improve their own strength and exert greater strength for the alliance, without necessarily responding to, much alone being pushed by, the leader. The "opening of a new chapter in the Korean-US partnership" was a key component of the joint statement issued by South Korea and the United States following the meeting of Moon Jae-in and Biden. What "new chapter" may a military alliance have in a situation of non-war?
There are at least three features that can be drawn from the series of encounters between South Korea and the United States during Moon Jae-visit in's to the United States: First, the withdrawal of the "Korea-US Missile Guide" will place military constraints on South Korea's missile development and serve as a deterrence to surrounding nations. The second point is that, in addition to the Korean Peninsula, military cooperation between the US and South Korea should be expanded to the regional level in order to respond to regional hotspots. The third point is that, in addition to military alliances, certain elements in vaccinations, chips, 5G, and even 6G are required. These types of coalitions will help to enhance economic cooperation.
Despite the fact that Vice President Harris wiped her hands after shaking hands with Moon Jae-in, and Biden called Moon Jae-in "Prime Minister" and other rude behaviors, the so-called "flaws" are not hidden, South Korea still believes that the visit's results have exceeded expectations, and that Moon Jae-in's approval rate will rise significantly as a result.
The joint statement issued by South Korea and the United States addresses delicate subjects such as the Taiwan Strait and the South China Sea. Of course, China expresses its outrage. It is widely assumed that this is a "private cargo" delivered by Biden's invitation to Moon Jae-in to visit the United States.
Moon Jae-in stated that he was not pressured by Biden. If this is correct, one option is that such specific concerns will not be handled at all at the summit level; second, South Korea is truly worried about the Taiwan Strait and South China Sea concerns and wishes to speak with the US jointly.
South Korea should be cognizant of China's sensitivity to the Taiwan Strait and South China Sea concerns. When it comes to China-related concerns, the phrasing in the ROK-US joint statement is far more mild than that in the ROK-Japan joint declaration. Nonetheless, the harm done to South Korea-China ties cannot be overlooked.
South Korea highlights the "openness" and "inclusiveness" of the four-party security dialogue system, which allows South Korea to engage to some extent. South Korea will assess the net gain between the "gain" on the US side and the "loss" on the Chinese side. China would strongly protest and fiercely respond to any country's measures to intervene in China's domestic affairs and restrict China's rise.