Turkey-Africa Partnership: Trade and stimulus to cushion the economic fallout of COVID-19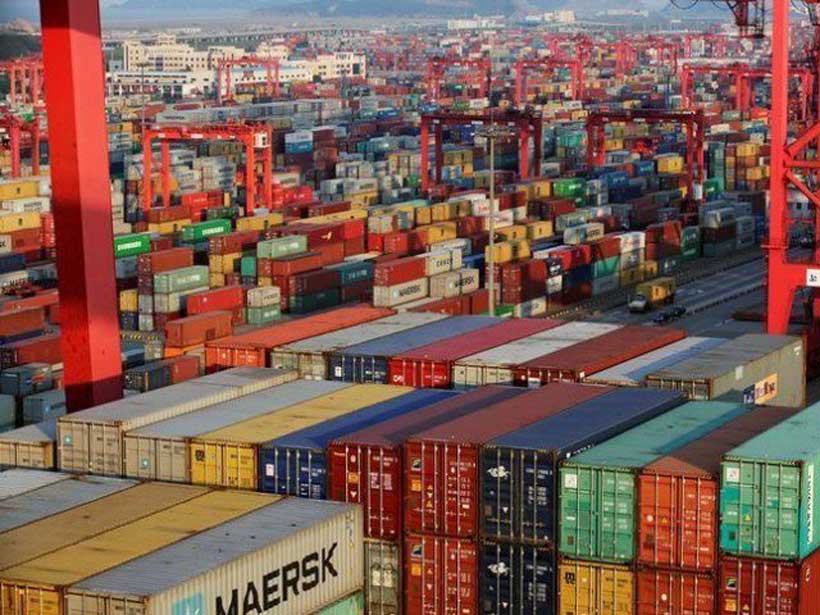 African Development Bank Vice President for Regional Development, Integration and Business Delivery Khaled Sherif said trade and stimulus were needed to cushion the economic impacts of the COVID-19 pandemic and build resilience among African economies to future shocks.
Sherif participated in a 12 May virtual panel sponsored by the Foreign Economic Relations Board of Turkey (DEIK) titled Multilateral Response to Covid-19 Crisis: Turkey-Africa Partnership that also included Secretary General of the African Continental Free Trade Area (AfCFTA) Wamkele Mene; President and Chief Executive of Trade and Development Bank Admassu Tadesse; Nail Olpak, President of the Foreign Economic Relations Board of Turkey; and Husnu Dilemre, Director General for International Agreements and EU Affairs, Turkish Ministry of Trade. Nicholas Norbrook, Managing Editor of The Africa Report served as moderator.
Discussions centered on the impacts of the pandemic on Africa, and how its partnership and trade with Turkey as well as regional institutions could help the continent bounce back. Dilemre pointed to Turkey's strong diplomatic links to countries across Africa, noting that the country has embassies in 42 African countries, before going on to emphasize the importance of maintaining trade. "We are making sure that even in the present, under the severe measures that are used to control the spread of the pandemic, trade continues without restriction. We believe COVID-19 should not be an excuse to restrict trade," he said.
In response to a question from the moderator about the scheduled commencement of trade under AfCFTA on July 1, Mene said there would be a delay given the current circumstances: "The conditions on the ground are not permissive for a credible trading to begin on the ground as we had been directed by the heads of state."
However, he argued that the Free Trade Area, once up and running, would act as a stimulus for the continent. "The stimulus package for us has got to be to implement this agreement. To boost inter-African trade and to position ourselves for year-on-year growth on the back of this trade agreement," Mene said.
Sherif described a number of obstacles to building stronger economic resilience in Africa, including the continent's heavy reliance on commodities for exports, lack of social safety nets, the need to import food staples and a low tax base on which governments can draw on for revenue. These have sharpened the economic impact of the pandemic, running down of foreign exchange reserves and leading to the downgrade of sovereign credit ratings for Nigeria, Angola and a few other countries.
"We are dealing with a set of exogenous shocks that Africa has never seen," Sherif said. He emphasized that the shocks were a result of global measures taken to contain the virus, not the disease itself. "This is not a crisis caused by the coronavirus, because the coronavirus has not spread substantially across the continent, except in five countries."
The Bank is working with partners to cushion the impact of the economic crisis, he said. "Between the International Monetary Fund, the World Bank, the African Development Bank, everyone is teaming up to see what kind of stimulus we can provide to the countries that are most in fiscal distress."
Tadesse pointed to sectors that had been relatively less affected. "The agriculture sector is still going well. We've financed quite a bit of fertilizer as an example. Just between January and now we've done over half a billion dollars of fertilizer as imports," he said.
He agreed with other panelists that free trade was key to accelerating growth in Africa. "As we go forward, I think we'll see aggregate demand across borders picking up momentum, and I think that will act as a stimulus," he said. "Of course, it will take some time to actually get there but complementary measures to support industrialization and value addition in various sectors, will actually give that momentum the pace that it needs."
According to Turkey's trade minister, the country's bilateral trade with Africa stood at $23.8 billion in 2018, with Turkey's exports at $14.4 billion in the same period. Turkish panelists expressed confidence that a Turkey-Africa conference scheduled for later this year would go ahead.
Millions in Yemen 'a step away from starvation'
The crisis in Yemen, now in its seventh year of war, continues unabated, with thousands of people displaced and millions "a step away from starvation", the UN Humanitarian Relief Coordinator said on Wednesday during a high-level side event on the margins of the 76th General Assembly.
"The country's economy has reached new depths of collapse, and a third wave of the pandemic is threatening to crash the country's already fragile health-care system", Humanitarian Affairs chief Martin Griffiths told world leaders at the meeting: Yemen: Responding to the crises within the world's largest humanitarian crisis.
Underscoring that the most vulnerable always "bear the highest cost" of the crisis, he said that females were more likely to be hungry, sick or exposed to gender-based violence and, with little access to essential services, millions of internally displaced people face "a daily struggle to survive".
Cause for hope
In a positive development, the UN official credited the international community for stepping up support to the country's humanitarian aid operation.
Thanking the world leaders, he said that Yemen's Humanitarian Response Plan is "among the most well-funded", with 98 per cent of the pledges made at an event in March fulfilled.
With over $2 billion received, the UN and its partners were able to "prevent famine and pull people back from the brink of despair", delivering assistance to "every single one of the country's 333 districts".
'Far from done'
Despite these important achievements, Mr. Griffiths acknowledged that the work there is "far from done", as many sectors still face "alarming funding gaps" and humanitarians are working with less than one-fifth of the money needed to provide health care, sanitation, and shelter.
"Without additional funding, these and other forms of critical life-saving support – including food assistance – will have to be reduced in the coming weeks and months", he warned.
Three requests
The UN relief chief asked global leaders to continue generously supporting Yemen's humanitarian operation; respect international humanitarian law and protect civilians; and address the root drivers of the crisis, including restrictions on imports, which elevate the prices of essential goods.
He urged them to do "everything in our collective power to stop this war", saying, "at the end of the day, peace is what will provide Yemenis the most sustainable form of relief".
Children robbed
The war has robbed too many of Yemen's children of safety, education and opportunities.
"Each day, the violence and destruction wreak havoc on the lives of children and their families", Henrietta Fore, Executive Director of the UN Children's Fund (UNICEF), told the meeting.
She painted a grim picture of 1.7 million displaced youth, 11.3 million youngsters depending on humanitarian assistance to survive and 2.3 million under-five "acutely malnourished" – nearly 400,000 of whom are at "imminent risk of death".
"Being a child in Yemen means you have probably either experienced or witnessed horrific violence that no child should ever face", said the UNICEF chief.
"Quite simply, Yemen is one of the most difficult places in the world to be a child".
Millions 'marching towards starvation'
In his address, World Food Programme (WFP) chief David Beasley said that in a nation of 30 million people, food rations are needed by 12.9 million; while 3.3 million children and women need special nutrition, together with 1.6 million school children.
"We're literally looking at 16 million people marching towards starvation", he said.
With one thousand people a week dying from a lack of food and nutrition, the senior WFP official warned that if $800 million is not received in the next six months, the need to cut rations could lead to the death of 400,000 children under the age of five next year.
"We have a moral, obligation, to speak out and step up", he stated, appealing to the world leaders to "put the pressure on all parties…to end this conflict".
"These are our children; these are our brothers and sisters we need the donors to step up immediately otherwise children are going to die. Let's not let them down. Let's do what we need to do", concluded Mr. Beasley.
South Sudan 'determined to never go back to war'
South Sudan is "ready to turn a new page" towards greater peace, development and prosperity, Vice-President Rebecca Nyandeng de Mabior said in her speech in the UN General Assembly on Friday.
A decade after gaining independence from Sudan, the country remains "on a path of nation-building" and is working to implement a 2018 revitalized peace deal which led to the formation of a unity government last year.
"I want to assure our friends and partners that we are determined to never go back to war," said Ms. De Mabior.
"We must replace the destruction of war with the productive use of our vast natural resources and national assets for the good of our people."
Prioritize nation-building
The Vice-President recalled that when South Sudan became independent, the international community pledged to build capacity in nation-building, establishing a UN mission in the country, UNMISS, to support this process.
"However, after the outbreak of the war, that vision was abandoned, and priority was placed on protecting civilians and providing humanitarian assistance. As a result, support for capacity building of the State was terminated," she said.
Ms. De Mabior stressed that supporting a State's ability to govern responsibly and effectively is essential. It is also necessary to guard against what she called "the unintended consequences of dependency on humanitarian assistance."
Given improvements in peace and security, she said it was now time to transition from emergency towards sustainable development.
"It is a painful and shameful situation for a country endowed with vast fertile land to be regarded as poor," she added.
"We must ensure peace and security in the country and double our efforts to support our people who want to return, and are returning, to their areas of origin, for them to participate fully in nation-building and contribute to building food security in the country."
Support youth and women
South Sudan is also "a youthful country", and the Vice-President called for continued efforts to develop the skills of its youth and women "to provide an alternative to picking up the gun again and engaging in destructive behavior."
Encouraging developments have included joint efforts by the national security forces and their UNMISS counterparts to promote rural peace and security, while the Government is set to unveil a national youth service programme.
"To fulfill the vision of our liberation struggle, we must use our oil revenues to fuel economic growth through investment in agriculture," she said.
"We will invest in infrastructure to connect our rural communities to the markets. We need the public and private sectors, including foreign investors, to join hands in turning South Sudan's potential wealth into a reality."
Glass 'half-empty'
Ms. De Mabior reported progress in implementing aspects of the Revitalized Peace Agreement, particularly in the creation of state and national bodies and public financial management reforms
However, "the glass remains half-empty" in implementing a permanent ceasefire and transitional security arrangements, she said, noting the urgency for a unified army.
"The security sector reform is the most challenging part of the Agreement as it contains elements at the center of the violent conflicts in the country," she said, calling for continued dialogue.
"Building sustainable peace requires inclusivity, collective investment, determination, diligence, and patience."
Meanwhile, relations with Sudan have also improved, though outstanding issues remain over the oil-rich Abyei border area.
Ms. De Mabior stressed her country is determined to learn from the past.
"We must make the Revitalized Peace Agreement succeed, and we can only do that with the support of our regional and international partners. Simply stated, South Sudan desires and is ready to turn a new page," she said.
WHO backs Regeneron COVID-19 drug cocktail – with equal access, price cut
The Regeneron antibody drug cocktail – casirivimab and imdevimab – has been added to the World Health Organization's (WHO) list of treatments for COVID-19 patients, the UN agency said on Friday, before underscoring the need for lower prices and equitable distribution.
"This is a major breakthrough in the care of COVID-19 patients", said Dr. Janet Diaz, WHO head of clinical care. "This is our first recommendation for a therapeutic for those patients with mild, moderate disease," she said, because it reduces "the need for hospitalisation if they are at high risk".
Effective 'reduction in mortality' 
WHO's conditional recommendations are for use of the drug combination on patients who are not severely ill, but at high risk of being admitted to hospital with COVID-19, or those with severe cases of the disease and no existing antibodies.
"Giving them this additional antibody seems to show an effect. And what effect is that? A reduction in mortality" Dr. Diaz told a briefing in Geneva.
The antibody therapy was granted emergency use authorization in the United States November last year after it was used to treat former President Donald Trump when he was admitted to hospital with the virus. The United Kingdom has also approved Regeneron, while it is under review in Europe.
'Meaningful' benefit
The WHO recommendations were largely based on data from a British study of 9,000 patients in June which found that the therapy reduced deaths in hospitalised patients whose own immune systems had failed to produce a response.
"We are taking the information (from the UK study) and generalizing it to other persons," said Dr. Diaz. "We saw there was a benefit we thought was meaningful."
The treatment has been on the market for decades to treat many other diseases, including cancers. It is based on a class of drugs called monoclonal antibodies which mimic natural antibodies produced by the human body to fight off infections.
Equity, price cut call
Swiss drugmaker Roche, has been working in partnership with Regeneron, which holds the patent, to produce the antibody treatment.
Dr. Diaz urged Regeneron to lower the drug's price and work on equitable distribution worldwide: "We know that the life-saving benefits and the benefits for patients with COVID-19 is significant and requires action."
She added that WHO-hosted health agency UNITAID, has been negotiating directly with Roche for lower prices and equitable distribution across all parts of the world, "including low and middle-income countries".
WHO has also been in discussions with the company for a donation and distribution of the drug through UN Children's Fund UNICEF, following an allocation criteria set by the health agency. "We are working together with the company so we can address these very important issues so we can have equitable access" she said.
Call to manufacturers
In a statement, WHO said in parallel it had "launched a call to manufacturers who may wish to submit their products for pre-qualification, which would allow for a ramping-up of production and therefore greater availability of the treatment and expanded access.
ACT-A partners are also working with WHO on an equitable access framework for recommended COVID-19 therapeutics". On that subject, Dr Diaz added that "there are bottlenecks and we are aware of those.
WHO has launched the pre-qualification expression of interest call so that the manufacturing companies can start to submit their dossiers to WHO".