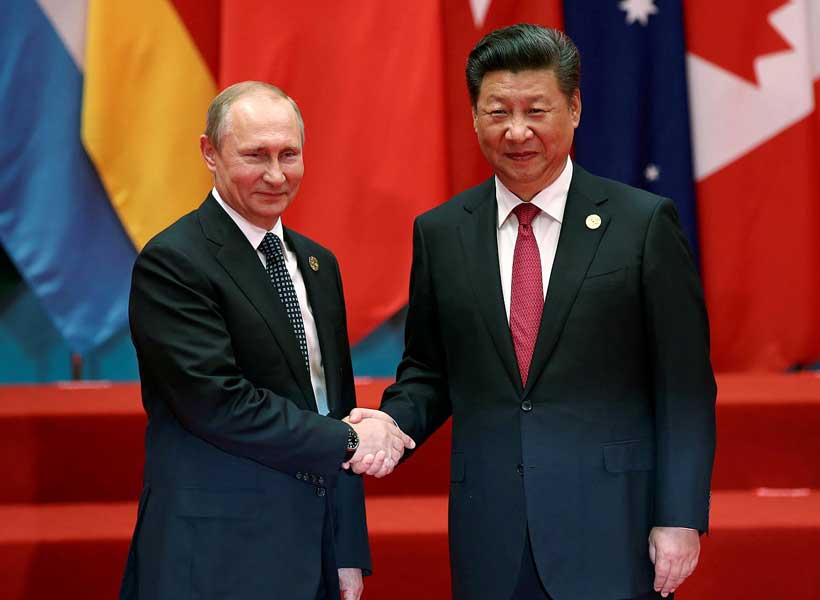 Cooperation between Russia and China has deep historical roots, and its earliest manifestations can be found already during the Chinese civil war. It seems that both countries should be most united by their communist ideology, but the ambitions of their leaders and the willingness to be the first and the most powerful was in fact the dominating force. Relations between these nations have seen times of flourishing, as well as times of military conflict.
The relationship between both countries are currently presented as friendly, but it is difficult to call them truly friendly. Even in the past, relations between the USSR and China were based on each nation's calculations and attempts to play the leading role, and it doesn't seem like something has changed at the present, although China has become a "smarter" and resource-wise richer player than Russia.
We will now look at the "similarities" between China and Russia, the ways they are cooperating and future prospects for both of them.
Russia is a semi-presidential federative republic, while China is a socialist nation ruled by the secretary general of its Communist Party.
Already we can see formal differences, but if we dive deeper both countries essentially feel like Siamese twins. There are more than one party in Russia, but only one party decides everything that takes places in the country – United Russia. Russia isn't even attempting to hide the aim of establishing the said party, which is to support the course taken by Russian President Vladimir Putin.
China, too, has nine parties, but only one of them is allowed to rule and it is the Communist Party of China which answers to the secretary general who is also the president of the state.
Therefore, there is a single ruling party both in Russia and China, and this party is responsible for implementing and executing whatever the president wishes, meaning that both countries are ruled by a rather narrow circle of people. Forecasting election results in Russia and China is as difficult as being able to tell that the day after Monday is Tuesday. To write this piece, I spent a lot of time reading about the history of China and Russia and the current events taking place in these countries, and for this reason I figured that we also have to look at the meaning of the word "totalitarianism".
Totalitarianism is a political system in which a country is governed without the participation of its people and decisions are made without the agreement of the majority of the people; in a totalitarian regime the most important social, economic and political affairs are controlled by the state. It is a type of dictatorship where the regime restricts its people in all of the imaginable aspects of life.
Notable characteristics:
Power is held by a small group of people – a clique;
Opposition is suppressed and general terror is a tool for governing the state;
All aspects of life are subordinate to the interests of the state and the dominating ideology;
The public is mobilized using a personality cult of the leader, mass movements, propaganda and other similar means;
Aggressive and expansionist foreign policy;
Total control over public life.
Are China and Russia truly totalitarian states? Formally, no, but if we look at the essence of it we see a completely different picture. We will look at all of the signs of totalitarianism in China and Russia, but we will not delve too deep into events and occurrences that most of us are already familiar with.
Can we say that the majority of Russian and Chinese citizens are engaged in decision making? Formally, sort of, because elections do take place in these countries, but can we really call them "elections"? It would be impossible to list all the video footage or articles that reveal how polling stations operate in order to provide the required election results. Therefore, we can say that the general public is involved in making decisions, it's just that the results are always determined by those in power.
The last paragraph brings us to the first point: power is held by a small group of people – a clique. Both nations are ruled by presidents who appoint whoever they wish and dismiss whoever they wish. This is power held by a small group of people. The next point – suppressing the opposition and using general terror to govern the state. Media outlets have written enough about suppressing the opposition in both countries, and everyone has seen at least a video or two on this topic. To stop their political opponents and any events organized by them Russia and China use not only their police forces, but the army as well. From time to time, information appears that an opposition activist has been murdered in either of the countries, and these murders are never solved. We will not even begin talking about criminal cases and administrative arrests of opposition activists. We can say that the point in question is completely true. Regarding all of the aspects of life being subordinate to the state and ideology – is there anyone who isn't convinced by this? If Russia is engaged in restricting and "teaching" its citizens quite inconspicuously, China has no time for ceremony – the Communist Party of China has published new guidelines on improving the "moral quality" of its citizens, and this touches upon all of the imaginable aspects of one's private life – from organizing wedding ceremonies to dressing appropriately.3 Is the public in Russia and China mobilized using the cult of personality, mass movements, propaganda and other means? We can look at 9 May celebrations in Russia and all of the surrounding rhetoric, and the events dedicated to the anniversary of founding the People's Republic of China. I'm sorry, but it feels like I'm watching some Stalin and Hitler era montage but in a more modern fashion, and instead of Stalin and Hitler there are some new faces. What is left? Of course, aggressive and expansionist foreign policy. China has been very active in the South China Sea for many years now, which has aggravated tensions among the armed forces of its neighbors – Brunei, Malaysia, the Philippines, Taiwan and Vietnam.
China is continuing to physically seize, artificially build and arm islands far from its shores. And in the recent years China has been particularly aggressive towards Taiwan, which the regime sees as being rightfully theirs. China is also willing to impose sanctions against those nations who intend to sell arms to Taiwan.
However, when it comes to armed aggression China pales in comparison to Russia, which isn't shy to use armed aggression against its close and far neighbors in order to reach its goals. Russia's aggression goes hand in hand with its nihilism. I am sure I don't have to remind you about the events in Georgia, Ukraine and previously in Chechnya as well. Russia will use every opportunity to show everyone its great weaponry, and this also includes directly or covertly engaging in different military conflicts.
Maybe some of you will disagree, but as I see it China and Russia currently are totalitarian states in their essence.
History has shown us that up to a certain point even two totalitarian countries are able to cooperate. Let's remember the "friendship" between Nazi Germany and the USSR, but let's also not forget what this friendship resulted in.
It is also true that the economic sanctions imposed against Russia have pushed it to be more friendly with China, but it seems that China will come out as the winner of this relationship.
According to data from the Chinese Ministry of Commerce, in 2018 the Chinese economy received 56.6 million USD in direct investments from Russia (+ 137.4%), meaning that by the end of 2018 the amount of direct investments from Russia reached 1,066.9 million USD.
In 2018, the Russian economy received 720 million USD in direct investments from China, resulting in a total of 10,960 million USD in direct investments from China by the end of 2018.
The main spheres of Chinese investments in Russia are energy, agriculture and forestry, construction and construction materials, trade, light industry, textiles, household electric goods, services, etc.
The main spheres of Russian investments in China are production, construction and transportation.5 We can see from the amount of investments that in this "friendship" China has far exceeded Russia. We also cannot ignore the fact that China has launched more large-scale investment projects in other nations than Russia has.
It should be noted that China's procurement of military equipment has allowed Russian armaments programs to exist. Russia sold modern armaments to China, despite the concerns that China will be able to "copy" the received armaments and then improve them. But the need for money was much greater to worry about such things. As a result, in early 2020 it was concluded that China has surpassed Russia in producing and selling armaments.
If we look at the ways Russia and China are attempting to shape public opinion in the long term, we can see some differences. Russia tries to do this using publications, demonstrative activities and attempts for its compatriots to become citizens of their country of residence while maintaining their cultural identity in order to establish an intellectual, economic and spiritually-cultural resource in global politics. China, in addition to all of this, has established Confucius Institutes that are subordinate to the Chinese Ministry of Education. There are a total of 5,418 Confucius Institutes or classes around the world. These institutes, named after the most known Chinese philosopher, have drawn sharp criticism globally for its foreign policy views – ones that avoid discussing human rights or believe that Taiwan or Tibet are inseparable parts of China. These institutes have been accused of espionage and restricting academic freedom.
"The Confucius Institutes are an attractive brand for our culture to spread abroad," representative of the Communist Party's Politburo Li Changchun said in 2011. "They have always been an important investment in expanding our soft power. The brand name "Confucius" is quite attractive. By using language tuition as a cover, everything looks logical and acceptable from the outside." The leadership of the Communist Party calls these institutes a crucial part of its propaganda toolset abroad, and it is estimated that over the past 12 years China has spent roughly two billion USD on them. The constitution of these institutes9 stipulates that their leadership, personnel, guidelines, tuition materials and most of their funding is ensured by the Hanban institution which is under the Chinese Ministry of Education.
Both Russian and Chinese citizens either buy or rent property abroad. Russians do this so they have somewhere to go in case the necessity arises.
Chinese citizens and companies slowly rent or purchase large swathes of land in in the Russian Far East. There is no precise estimate of the amount of land handed over to the Chinese, but it is said it could range between 1–1.5 billion hectares.
What can we conclude from all of this? China and Russia are, in essence, totalitarian states with bloated ambitions. If Russia tries to reach its ambitions in an openly aggressive and shameless manner, then China is doing the same with caution and thought. If Russia often uses military means to reach its goals, China will most likely use financial ones. If Russia attempts to fulfill its ambitions arrogantly, then China achieves the same result with seeming kindness and humility.
Which country has gotten closer to its goal? I believe it is definitely not Russia. In addition, just as the USSR, Russia too believes it is better than China. But for those observing from the sidelines, it is evident that in many areas China has far succeeded Russia and is now even acquiring Russian land.
This brings us back to history – what happens when two totalitarian states share a border? One of them eventually disappears. For now, it seems that China has done everything in its power to stay on the world map.
The European Union and Russia: To talk or not to talk and about what?
The recent visit of the High Representative of the European Union Josep Borrell to Moscow was seen by those, who care about good-neighbourly relations between the EU and Russia, as a first step on the way of putting an end to their decline, since already for some time they were going from bad to worse. Why didn't the expectations of these people of good will bear the fruit? Were they simply naïve? To an extent, it is true. But why was there such a negative reaction to Borrell's visit in several European capitals, and also in the European Parliament, including the calls for his resignation? What led Sergei Lavrov, the Foreign Minister of Russia, to declare that his country must be ready to severing relations with the EU in case the latter adopts new sanctions against Moscow? What would this mean for Europe, for Russia and even for the wider world since notwithstanding the coronavirus the world remains interconnected and interdependent, even if a reverse tendency has also become visible?
First of all, it has to be noted that there are those, both in Russia as well as in Europe, who are actively against any improvement of relations between Moscow and Brussels. In Russia these are not only, and even not so much, those ultra-nationalists (exemplified, say, by Alexander Prohkanov) for whom the Western influence in Russia is like a bat from the hell infected by coronavirus. These are also members of the radical pro-Western opposition to the Kremlin, exemplified by Alexei Navalny. For them any sign of reconciliation between the West and Russia is a cause for alarm since in such a case they may be soon out of job. And both of these Russian opponents of rapprochement between the EU and Russia have their counterparts in the West, including Europe. Significant parts of political elites, particularly in the Baltic countries and in Poland, for whom trans-Atlantic ties are much more important than European interests, hope that by supporting the radical opposition in Russia they could enforce there a regime change, a kind of 'colour revolution'.
However, as the success of such scenarios is 'highly unlikely' and political pragmatism and economic self-interests usually prevail over vociferous extremism, be it political or religious, there is still hope at the end of the tunnel. Moreover, when Sergei Lavrov said that Russia should be ready to possible severing relations between EU and Russia, he didn't mean at all that it would be Russia's choice. It was said in the context of a response to a threat of new EU's sanctions and Moscow's countersanctions since all such unfriendly measures inevitably undermine relations between States and societies. And though it is impossible to realistically imagine a complete severance of relations between Brussels and Moscow, it may well be that at least for the nearest future political relations between them become a bit frozen. It maybe even advisable to take the time off and reflect for a while, instead of continuing with mutual recriminations. However, this would also mean that relations between Russia and individual member-States of the Union would necessarily rise in importance since there are areas and issues where cooperation between Russia and Europe is inevitable and unavoidable (be it the situation in the Middle East, the fate of the Joint Comprehensive Plan of Action with Iran, responses to cyber-terrorism and even the conflict in Eastern Ukraine or the situation in and around the Nagorno-Karabakh, etc.). Moreover, Covid-19 is not only forcing States to impose stricter border controls, even within in the Schengen zone; the virus is also pushing them to cooperate in the distribution and use of effective vaccines, notwithstanding their 'politically incorrect' origin. This all means that the role and position of the EU in the world would further weaken.
The failure of Borrell's mission was also predetermined by what the High Representative himself called 'the DNA' of the European Union – the concern for human rights, particularly in States that don't belong to the Union. As the High Representative himself claimed, in justification of his visit and apologising before the MEPs for its meagre results, the primary purpose of his twofold mission was to convey to the Kremlin the Union's concerns for human rights and political freedoms in Russia and particularly for the situation of Mr Navalny. He even demanded Navalny's 'immediate and unconditional release'. And only then came issues of bilateral cooperation between the EU and Russia. This was an absolutely wrong, even disastrous, way to start a dialogue. The European Union is not a human rights NGO, like the Amnesty International or the Human Rights Watch, and even if it has a human rights mandate, then only vis-à-vis its member-States. Moreover, the whole history of the human rights movement shows that inter-State relations (and relations between the EU and Russia are inter-State relations) are not the best forum for conducting a human rights discourse. For that there are specialised human rights bodies, both international and domestic, intergovernmental and non-governmental. When human rights diplomacy of States has had tangible positive effects, it has been achieved by unobtrusive approaches, never through public criticism in the face of mass media. Such criticism has always been counterproductive, even vis-à-vis smaller and weaker States, to say nothing about great powers.
Usually such public criticism doesn't even have a purpose of improving the human rights situation in a target country. It may be a form of self-satisfaction – we are holding a moral high-ground, while you are outcasts (rogue or pariah States). It is nice to feel virtuous even if things on the grounds don't change at all or even get worse. It may be also a part of regime-change tactics in parallel with undercover support for opposition forces in target States. Never have such public campaigns improved human rights situations. The opposite is true – human rights situations have improved as a result of fruitful cooperation between States. So, the reforms in China and the inclusion of China in the world-wide economic cooperation have lifted, according to the World Bank, 850 million Chinese out of extreme poverty, helping thereby the UN to achieve one of its Millennium Development Goals. However, such an unexpected success has not been to everybody's liking and today Washington is trying to harness its allies to help contain Beijing's rise, using for it, inter alia, human rights discourse that is not doing any good either for Uighurs in the North or Hongkongese in the South of the country. But such policy of containment is not at all about Uighurs or inhabitants of Hong Kong; it is about geopolitics in the disguise of human rights.
In the aftermath of the failed attempts to promote democracy and human rights in the wider Middle East, the former British Prime Minister Theresa May promised that there is no 'return to the failed policies of the past. The days of Britain and America intervening in sovereign countries in an attempt to remake the world in our own image are over.'She vowed never to repeat the 'failed policies of the past', breaking from the 'liberal intervention' principle established and promoted by her predecessor Tony Blair. Hubert Védrine, the former French Foreign Minister, was right in emphasising that 'democracy and human rights will progress in future much less through the prescriptions and interference from the outside by the West than depending on the internal dynamics of individual societies'. It is often, though not always, the case that the less States publicly criticise other States on human rights issues, the better would it be for human rights.
From our partner International Affairs
The Role of Ideology in Foreign Policy: Why Contemporary Russia Cannot Be Compared to the Soviet Union
Ideology is a crucial component in understanding the motivation behind any individual or group of people. Realism falsely presupposes that the motivation of actors can be understood purely through the lens of survival in a limited resources zero-sum domain. At face level, this sounds rational and economic, but it should be understood that in microeconomics, even though people are assumed to always act self-interestedly, it is also understood that what their self-interest is actually composed of is ultimately subjective. Therefore, a more realistic and analytical view of realpolitik allows us to understand that the self-interest of nations is also subjective, which means that the role of ideology cannot be discounted as it pertains to foreign policy.
Throughout human history, nearly every nation has been founded for the sake of itself, even expansionist empires. A glaring exemption to this rule was observed during the Cold War, a clash of two markedly ideological countries.
The United States is a country that was founded on the ideology of humanist enlightenment liberalism and is a country whose founding was assumed to be not for the sake of themselves, but for the sake of all mankind. This was seen as early as the settling of the American continent, with John Winthrop's famous imagery in A Model of Christian Charity which portrayed the country as a moral paragon, a city on a hill for all the world to see. Likewise, this idea of liberal universalism was evident in the very founding documents of America. In the United States Declaration of Independence, the founding fathers wrote that their country was being incepted to secure the idea "that all men are created equal, that they are endowed by their Creator with certain unalienable rights, that among these are Life, Liberty and the pursuit of Happiness".
This founding ethos directly affected America's foreign policy, as America has historically occupied a position as the world's "policeman," believing that they uniquely have an obligation to defend democratic values everywhere. This rhetoric can be found exhaustively in colloquial American media, but one noticeable concrete example of it is found in George Bush's 2006 U.S. National Security Strategy, where the document states that "It is the policy of the United States to seek and support democratic movements and institutions in every nation and culture, with the ultimate goal of ending tyranny in our world".
In a similar vein, the Soviet Union was also founded upon an ideology that extended beyond its national borders. The USSR was the product of Marxist theory and was therefore not founded for the sake of national interest or nationalism, but for the sake of facilitating the international communist revolution, a sentiment captured in the final remarks of Marx's Communist Manifesto: "the proletarians have nothing to lose but their chains…WORKING MEN OF ALL COUNTRIES, UNITE!"
This created an interesting vision for communist statehood, because in the USSR, the state was not the merely the final end, as it is in many governance structures, but both an end in itself and a means to a further end. This Proletarian internationalism manifested itself into an interventionist foreign policy, one that sought to propagate communist ideology across the world and facilitate revolution. In fact, it could even be said that this was the primary function of the USSR. Even Lenin once admitted that "from the beginning of the October Revolution, foreign policy and international relations have been the main questions facing us" (Jacobson, 1994) [1].
The clash between these two ideological superpowers became physically manifest during the Cold War through various "cold conflicts" such as the Vietnam War, conflict in Angola, and Cuban missile crisis, instances when the US and USSR sought to project their values onto other nations. As can be imagined, the war made tensions very high between the two countries, and in the West, a staunch fear-based perception of Russia developed. The Cold War was portrayed in America as a fight between good and evil, and Russia was portrayed as a relentless enemy that will never back down, a sentiment which had a lasting effect on the way that Russia is viewed in the contemporary West. This impact has been so salient, that even Russia today is still often characterized as if it was some great evil, waiting for "red dawn" to arrive.
When the Soviet Union collapsed in 1991, the communist ideology that had influenced the behavior of the USSR fell with it. Without this ideological superstructure, Russia reverted back into a country that falls into a normal range of ideological behavior, determined primarily by a defined set of national interests. While the USSR and US fought for the ability to hegemonize a bipolar system into a unipolar one, contemporary Russia rejects the idea of unipolarity and seeks to coexist with other nations in a multipolar world. Russia certainly has defined geographical areas in which it has foreign interests, specifically the Eurasian sphere, but these interests are predicated on a shared history and mutual economic benefit, and not desires to imperialize.
Nevertheless, in the modern age, there are still fears about Russian imperialism and a "new cold war". Such fears come from a misunderstanding about the role of ideology in foreign policy. These sentiments demonstrate both a failure to understand the determining factor behind Soviet foreign policy—the union's ideology, and a failure to analyze a modern country independently of its ideological history. These feelings come from an assumption that Russia today has the same motivational foundation as the Soviet Union, and that is simply not true.
The ideology supporting modern Russia's foreign policy had formed largely in response to the conclusion of the Cold War, when a bipolar system was turned into a unipolar one, dominated by the United States. In this condition, the world was severely influenced by American foreign policy, military interests, politics, culture, and media, and could be defined as what many scholars would call a global hegemon. Russia considers such a distribution of power to be undemocratic and an affront to the individual autonomy of nation-states.
In his 2007 Munich address on security policy, Vladimir Putin criticized the idea of an America controlled hegemonic order when he stated that in our world, "there is one master, one sovereign. And at the end of the day this is pernicious not only for all those within this system, but also for the sovereign itself because it destroys itself from within". Another comment by Putin from around the same time period attacks this model of governance was when he stated that "(the) people are always teaching us democracy but the people who teach us democracy don't want to learn it themselves".
It was in response to this new structural backdrop, as well as increasing levels of globalization, that an ideology of multilateralism and polycentrism became the underlying motivator behind contemporary Russia's foreign policy. Russia's ideology rejects a vision of an American led hegemonic order, but also does not seek to hegemonize the order for itself either, it merely beckons for the mutual coexistence and recognition of autonomy between the world's global powers and regional subsystems.
This sentiment is captured in the words of Sergey Lavrov, the current Minister of Foreign Affairs for Russia in 2013. Lavrov stated that the world was undoubtedly moving towards a polycentric system of international relations, and that in order to ensure an equitable outcome during this transition, "fairer and more democratic systems where economic growth centers and new financial power centres should play a greater role in managing the world economy and political processes". While the moves and actions of modern Russia are often framed in a realist lens by Western critics, the underlying ideology of the Russian Federation is actually quite liberal, as Russia accepts that a multipolar world should be brokered by polycentric or multilateral means, such as the United Nations.
It would be foolish to judge any country by its ideological history. It would be intellectually dishonest to evaluate a previously religious state in the context of religious ideology after secularization. Likewise, Russia today has largely, if not completely separated from its interventionist communist past and has embraced a new vision of both the world order and its foreign policy. When evaluating contempo
1. Jacobson, J. (1994). "The Ideological and Political Foundations of Soviet Foreign Policy." In When the Soviet Union Entered World Politics. University of California Press. pp. 12.
From our partner RIAC
What Russia Wants In The Balkans
Popular narratives on Russia's geopolitical interests in the Balkans point to two rather divergent directions. One of them, inherited from the 19th-century strategic thought, says that Russia, as a landlocked empire, must expand into the Balkans, so as to gain access to the Mediterranean Sea. According to this narrative, the Balkans is treated as an empty space, regardless of the ethno-religious identity of the inhabitant population. The other one, which can be traced back to 19th-century romanticist pan-Slavism, but which has been popularized in its present form after the publication of Samuel Huntington's theory of "the clash of civilizations", says that Russia conceives of its influence in the Balkans through the cultivation of fraternal relations with the region's Orthodox Christians, using common religious identity to project its geopolitical ambitions.
Facts on the ground, however, do not support either. Russia's influence in the region, from the early 19th century to the present day, could never compete with the influence of the Anglo-French axis, exercised through the channels of Serbian and Greek nationalisms, constructed on the anti-Ottoman/anti-Islamic and anti-Habsburg/anti-Catholic foundations, in accordance with strategic interests of the two West European powers to dismantle the declining empires and transform them into a number of weak nation-states. Although these nationalist movements used Orthodox Christianity and a popular folklore motif of fraternity with Orthodox Russia as effective tools for mobilizing the targeted populations on the anti-Islamic and anti-Catholic grounds, their elites always remained clearly detached from Russia, being continuously oriented towards their true patrons in London and Paris.
The Russian motive in mobilizing Serbian nationalism in the 1990s was, of course, quite convenient for London and Paris, having concealed their continuous support to the Serbian military invasion of Bosnia and Croatia, which produced a gigantic campaign of ethnic cleansing of the non-Serb population in the occupied areas, with more than 100.000 dead and over one million expelled. That was one of the reasons why the British propaganda, both diplomatic and public, insisted on the alleged Russian support to Serbia and its military expansion as a reason why the Western powers could not intervene in the war in Bosnia and prevent further bloodshed. Another reason, much more important from a strategic point of view – indeed, the reason why the Serbian campaign of genocide and ethnic cleansing was supported by London and Paris in the first place – was the global promotion of Hungtington's theory of "the clash of civilizations" as "the next pattern of conflict". According to that pattern, future geopolitical blocs would be formed on the basis of religious identities, acting as "civilizations" in ineradicable conflicts. As a model of such conflicts at a micro-level was the one launched in Bosnia, in which Catholics, Muslims and Orthodox Christians were pushed to the point of mutual extermination, in an attempt to form "ethnically cleansed" areas. This scheme was imposed on these communities' self-appointed leaders (Izetbegović, Karadžić, Boban) by the European Community's negotiator Lord Carrington at the conference held in Lisbon in 1992, several months before the war. The widely promoted narrative of the alleged Russian support of the Serbian aggression on Bosnia, and the alleged pan-Islamic support to Bosnia's defenders (with the deliberate media characterisation of all Bosnians, whatever their religion, as "Muslims") served the purpose of transforming the world into one of clashing "civilizations". The ultimate goal was to generate an analogous conflict between Orthodox Christians and Muslims on the macro-level, which would eventually push Russia into a lasting armed conflict with the former Soviet republics populated by Muslims, and then into a global conflict with the rest of the Islamic world. Needless to say, such a development would have created a significant strategic advantage for the Anglo-American powers and a great strategic loss for both Russia and the Islamic countries.
Yeltsin's foreign policy at the time did not show too much understanding of that geopolitical game, allowing for a public image of Russia as a promoter of pan-Orthodox ideology and a sponsor of the Serbian aggression in the Balkans. However, it must be noted that Russia was not drawn into any major conflict that would fit the pattern of Hungtington's "clash of civilizations", although the local conflicts in Chechnya and Nagorno-Karabakh, in which it was directly or indirectly involved, did possess some elements of that model. In contrast, Putin's foreign policy was based on a much deeper understanding of global relations and geopolitical games at play, so that eventually the Anglo-American strategy of drawing Russia into inter-religious conflicts in Central Asia, in line with Huntington's theory, did not bear much fruit. And so did the constructed image of Russia's involvement on the Serbian side gradually wither away.
Yet, paradoxically, in the last couple of years Russia has played the role, previously insinuated by the Anglo-American propaganda, of a protector of Serbia's efforts to create a Greater Serbia out of the territories of the neighbouring countries with a Serb ethnic minority population (Bosnia, Montenegro, Kosovo).It is difficult to imagine anything more destructive for a country, which is a home to more than 190 ethnic groups, than to adopt the principle of ethnic and religious homogeneity. However, contrary to the principles of ethnic diversity applied in its own territory and in the broader area of the former Soviet Union, Russia's attitude in the Balkans has shown open support to the Greater Serbian programme of uniting all Serbs into a single, ethnically homogenous state. Russian foreign policy of open support for the Serbian efforts to cede the Serb-populated renegade province of Bosnia to Serbia is self-contradictory, to say the least. It is also self-defeating, if taken seriously and applied to Russia itself and the neighbouring countries with a Russian ethnic minority. Can anyone imagine today's Russia in permanent efforts to cede parts of all post-Soviet republics populated with Russians, so as to unite them in some mythical Greater Russia? Or, can anyone imagine Russia attempting to ethnically cleanse its own territory, so as to expel or exterminate all those 190 ethnic communities, in the name of an ethnically homogenous Russian nation-state? Of course not. Yet, that is precisely the policy of Serbia towards its neighbours and towards its own population that Russia now openly supports on the international scene. Therefore, one has to rightfully ask, what is it that Russia wants in the Balkans?
In the first place, it is highly questionable how influential Russia really is in Serbia, despite its public support for it. For, the very existence of Serbia, from a semi-autonomous principality within the Ottoman territory in the 1830s to the creation of the Kingdom of Serbia in 1882 , to its expansion into other South Slavic territories in the form of the Kingdom of Serbs, Croats and Slovenes (later, the Kingdom of Yugoslavia) at the Versailles Conference in 1919, always had explicit support by London and Paris. The dissolution of the communist Yugoslavia, which Serbia used as a convenient opportunity to implement the Greater Serbia programme, was also clearly backed by London and Paris, with no relevant participation by Moscow. Under these conditions, it is difficult to imagine a strategic shift from the centuries long Anglo-French influence to that of Russia. It is also difficult to identify Russian strategic interests in the Balkans, given that Russia's foreign policy was not designed to exert control in the zones outside the territory of the former Soviet Union.
Yet, if Russia has no real influence on Serbia, then the current Russian support of Serbia's continuing hostile policy towards its neighbours may well be a simulation of influence. Even if such a simulation cannot deceive the foreign policy circles in London, which are quite familiar with the extent of their long-term control over Serbia, it may well deceive such circles in Washington, which are commonly persuaded that Moscow's influence can be detected everywhere. For what purpose? If the Balkan region is of strategic importance for the US, not only as a link between the West and the Middle East, but also in terms of its natural resources (e.g. Kosovo), then the simulated Russian influence in the Balkans might serve as a leverage against the American influence in the zones of true strategic importance for Russia. What first comes to mind, of course, is Ukraine and its aspirations to join NATO: if a tactical simulation of Russian influence in the Balkans, as a zone of traditional strategic influence of the West, turns out to be successful, then it might be possible to push Washington to reduce its ambitions in Ukraine and leave it outside NATO structures.
There is also another purpose for which such a simulation might serve. Not so many analysts, diplomats or politicians are aware of the tacit strategic alliance between Russia and Turkey, which has elevated Turkey to the status of a great power. This alliance has already been tested in Libya, Syria, and Nagorno-Karabakh. In Libya, Russia and Turkey simulated a possibility of mutual military confrontation, each supporting one of the warring parties, while in reality they agreed to divide the spheres of influence, using the Libyan warring parties as their respective proxies. In Syria, under the pretended confrontation, the new allies also divided the spheres of influence. Still, the most interesting game was played out in Nagorno-Karabakh, where Turkey openly supported Azerbaijan in its efforts to restore sovereignty over this region. On the other side, Armenia was persuaded by Western powers, namely France, to go into the war over Azerbaijan's region under the pretext that Russian military support to Armenia was a geopolitical inevitability. However, Azerbaijan, with Turkish military support, took the region over, with no resistance on Russia's part. Russia thus returned to the principle of inviolability of post-Soviet borders and finally abandoned the principle of ethnically homogenous greater states, advocated by Armenia and its patrons in Paris and London. Is there a possibility for Russia and Turkey to play a similar game in the Balkans? Is there a possibility that Russia and Turkey want to generate an illusion among the Serbian nationalist elites that Russia would unquestionably support their attempts to cede parts of Bosnia and Kosovo, at the same time leaving Turkey with a free hand to extend its military support to Bosnia's and Kosovo's efforts to prevent Serbia from questioning their sovereignty? Is there a will in Russia to return to the principle of inviolability of borders in the Balkans, too, thereby abandoning the principle of ethnic homogeneity advocated by Serbia and its sponsors in London and Paris, the most harmful principle for Russia's own interests? Is there a will in Russia to follow its own geopolitical interests, in cooperation with Turkey, along the same lines and with the same implications as in Nagorno-Karabakh? Really, what is Russia doing in the Balkans?