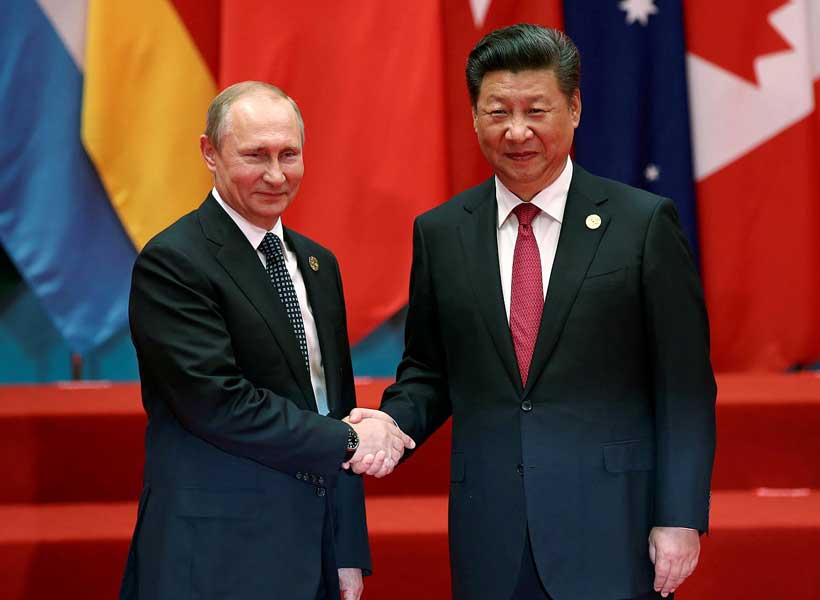 Cooperation between Russia and China has deep historical roots, and its earliest manifestations can be found already during the Chinese civil war. It seems that both countries should be most united by their communist ideology, but the ambitions of their leaders and the willingness to be the first and the most powerful was in fact the dominating force. Relations between these nations have seen times of flourishing, as well as times of military conflict.
The relationship between both countries are currently presented as friendly, but it is difficult to call them truly friendly. Even in the past, relations between the USSR and China were based on each nation's calculations and attempts to play the leading role, and it doesn't seem like something has changed at the present, although China has become a "smarter" and resource-wise richer player than Russia.
We will now look at the "similarities" between China and Russia, the ways they are cooperating and future prospects for both of them.
Russia is a semi-presidential federative republic, while China is a socialist nation ruled by the secretary general of its Communist Party.
Already we can see formal differences, but if we dive deeper both countries essentially feel like Siamese twins. There are more than one party in Russia, but only one party decides everything that takes places in the country – United Russia. Russia isn't even attempting to hide the aim of establishing the said party, which is to support the course taken by Russian President Vladimir Putin.
China, too, has nine parties, but only one of them is allowed to rule and it is the Communist Party of China which answers to the secretary general who is also the president of the state.
Therefore, there is a single ruling party both in Russia and China, and this party is responsible for implementing and executing whatever the president wishes, meaning that both countries are ruled by a rather narrow circle of people. Forecasting election results in Russia and China is as difficult as being able to tell that the day after Monday is Tuesday. To write this piece, I spent a lot of time reading about the history of China and Russia and the current events taking place in these countries, and for this reason I figured that we also have to look at the meaning of the word "totalitarianism".
Totalitarianism is a political system in which a country is governed without the participation of its people and decisions are made without the agreement of the majority of the people; in a totalitarian regime the most important social, economic and political affairs are controlled by the state. It is a type of dictatorship where the regime restricts its people in all of the imaginable aspects of life.
Notable characteristics:
Power is held by a small group of people – a clique;
Opposition is suppressed and general terror is a tool for governing the state;
All aspects of life are subordinate to the interests of the state and the dominating ideology;
The public is mobilized using a personality cult of the leader, mass movements, propaganda and other similar means;
Aggressive and expansionist foreign policy;
Total control over public life.
Are China and Russia truly totalitarian states? Formally, no, but if we look at the essence of it we see a completely different picture. We will look at all of the signs of totalitarianism in China and Russia, but we will not delve too deep into events and occurrences that most of us are already familiar with.
Can we say that the majority of Russian and Chinese citizens are engaged in decision making? Formally, sort of, because elections do take place in these countries, but can we really call them "elections"? It would be impossible to list all the video footage or articles that reveal how polling stations operate in order to provide the required election results. Therefore, we can say that the general public is involved in making decisions, it's just that the results are always determined by those in power.
The last paragraph brings us to the first point: power is held by a small group of people – a clique. Both nations are ruled by presidents who appoint whoever they wish and dismiss whoever they wish. This is power held by a small group of people. The next point – suppressing the opposition and using general terror to govern the state. Media outlets have written enough about suppressing the opposition in both countries, and everyone has seen at least a video or two on this topic. To stop their political opponents and any events organized by them Russia and China use not only their police forces, but the army as well. From time to time, information appears that an opposition activist has been murdered in either of the countries, and these murders are never solved. We will not even begin talking about criminal cases and administrative arrests of opposition activists. We can say that the point in question is completely true. Regarding all of the aspects of life being subordinate to the state and ideology – is there anyone who isn't convinced by this? If Russia is engaged in restricting and "teaching" its citizens quite inconspicuously, China has no time for ceremony – the Communist Party of China has published new guidelines on improving the "moral quality" of its citizens, and this touches upon all of the imaginable aspects of one's private life – from organizing wedding ceremonies to dressing appropriately.3 Is the public in Russia and China mobilized using the cult of personality, mass movements, propaganda and other means? We can look at 9 May celebrations in Russia and all of the surrounding rhetoric, and the events dedicated to the anniversary of founding the People's Republic of China. I'm sorry, but it feels like I'm watching some Stalin and Hitler era montage but in a more modern fashion, and instead of Stalin and Hitler there are some new faces. What is left? Of course, aggressive and expansionist foreign policy. China has been very active in the South China Sea for many years now, which has aggravated tensions among the armed forces of its neighbors – Brunei, Malaysia, the Philippines, Taiwan and Vietnam.
China is continuing to physically seize, artificially build and arm islands far from its shores. And in the recent years China has been particularly aggressive towards Taiwan, which the regime sees as being rightfully theirs. China is also willing to impose sanctions against those nations who intend to sell arms to Taiwan.
However, when it comes to armed aggression China pales in comparison to Russia, which isn't shy to use armed aggression against its close and far neighbors in order to reach its goals. Russia's aggression goes hand in hand with its nihilism. I am sure I don't have to remind you about the events in Georgia, Ukraine and previously in Chechnya as well. Russia will use every opportunity to show everyone its great weaponry, and this also includes directly or covertly engaging in different military conflicts.
Maybe some of you will disagree, but as I see it China and Russia currently are totalitarian states in their essence.
History has shown us that up to a certain point even two totalitarian countries are able to cooperate. Let's remember the "friendship" between Nazi Germany and the USSR, but let's also not forget what this friendship resulted in.
It is also true that the economic sanctions imposed against Russia have pushed it to be more friendly with China, but it seems that China will come out as the winner of this relationship.
According to data from the Chinese Ministry of Commerce, in 2018 the Chinese economy received 56.6 million USD in direct investments from Russia (+ 137.4%), meaning that by the end of 2018 the amount of direct investments from Russia reached 1,066.9 million USD.
In 2018, the Russian economy received 720 million USD in direct investments from China, resulting in a total of 10,960 million USD in direct investments from China by the end of 2018.
The main spheres of Chinese investments in Russia are energy, agriculture and forestry, construction and construction materials, trade, light industry, textiles, household electric goods, services, etc.
The main spheres of Russian investments in China are production, construction and transportation.5 We can see from the amount of investments that in this "friendship" China has far exceeded Russia. We also cannot ignore the fact that China has launched more large-scale investment projects in other nations than Russia has.
It should be noted that China's procurement of military equipment has allowed Russian armaments programs to exist. Russia sold modern armaments to China, despite the concerns that China will be able to "copy" the received armaments and then improve them. But the need for money was much greater to worry about such things. As a result, in early 2020 it was concluded that China has surpassed Russia in producing and selling armaments.
If we look at the ways Russia and China are attempting to shape public opinion in the long term, we can see some differences. Russia tries to do this using publications, demonstrative activities and attempts for its compatriots to become citizens of their country of residence while maintaining their cultural identity in order to establish an intellectual, economic and spiritually-cultural resource in global politics. China, in addition to all of this, has established Confucius Institutes that are subordinate to the Chinese Ministry of Education. There are a total of 5,418 Confucius Institutes or classes around the world. These institutes, named after the most known Chinese philosopher, have drawn sharp criticism globally for its foreign policy views – ones that avoid discussing human rights or believe that Taiwan or Tibet are inseparable parts of China. These institutes have been accused of espionage and restricting academic freedom.
"The Confucius Institutes are an attractive brand for our culture to spread abroad," representative of the Communist Party's Politburo Li Changchun said in 2011. "They have always been an important investment in expanding our soft power. The brand name "Confucius" is quite attractive. By using language tuition as a cover, everything looks logical and acceptable from the outside." The leadership of the Communist Party calls these institutes a crucial part of its propaganda toolset abroad, and it is estimated that over the past 12 years China has spent roughly two billion USD on them. The constitution of these institutes9 stipulates that their leadership, personnel, guidelines, tuition materials and most of their funding is ensured by the Hanban institution which is under the Chinese Ministry of Education.
Both Russian and Chinese citizens either buy or rent property abroad. Russians do this so they have somewhere to go in case the necessity arises.
Chinese citizens and companies slowly rent or purchase large swathes of land in in the Russian Far East. There is no precise estimate of the amount of land handed over to the Chinese, but it is said it could range between 1–1.5 billion hectares.
What can we conclude from all of this? China and Russia are, in essence, totalitarian states with bloated ambitions. If Russia tries to reach its ambitions in an openly aggressive and shameless manner, then China is doing the same with caution and thought. If Russia often uses military means to reach its goals, China will most likely use financial ones. If Russia attempts to fulfill its ambitions arrogantly, then China achieves the same result with seeming kindness and humility.
Which country has gotten closer to its goal? I believe it is definitely not Russia. In addition, just as the USSR, Russia too believes it is better than China. But for those observing from the sidelines, it is evident that in many areas China has far succeeded Russia and is now even acquiring Russian land.
This brings us back to history – what happens when two totalitarian states share a border? One of them eventually disappears. For now, it seems that China has done everything in its power to stay on the world map.
The 2000 Declaration on Strategic Partnership between India and Russia
On October 3, 2000, Prime Minister Atal Bihari Vajpayee and President Vladimir Putin cemented India-Russia bilateral ties with the signing of the historical agreement, the "Declaration on the India-Russia Strategic Partnership." Two decades since the signing of the agreement, bilateral relations are hailed to have chartered new levels of cooperation amid fast changing regional and global scenarios. While shouldering mutual interests and concerns, the strategic partnership has been at the cusp of litmus test, as it has endured events such as the 9/11 terrorist attack, colour revolutions, the Georgian War, the economic depression in 2008, the 26/11 Mumbai attack, the Crimean referendum and its aftermath and the current COVID-19 pandemic. It is therefore worth reflecting on the two decades of a seemingly positive bilateral engagement between India and Russia. It is important to analyse how the agreement signed in 2000 has played a role in the continuum of ensuring the mutual understanding, peaceful cooperation and reliability between the two strategic partners. This is also an opportunity to critically evaluate the magnitude of our strategic relationship and the changes in the foreign policy priorities since 2000. Given the current global context, the key question is how prepared are India and Russia for insulating the strategic partnership amid the challenges in the post pandemic world?
The Declaration of Strategic Partnership (2000) was signed at a time when the momentum in the bilateral relations between India and Russia post-Soviet collapse had fatigued due to several factors. But the most crucial factor of them all was the renewal of the 1971 Indo-Soviet Treaty of Friendship and Cooperation in 1993. The renewed 1993 Treaty had almost written off the bilateral engagement, as Russia clarified that it was no longer willing to make any defence commitment during the time of any external military threat to India – a key security clause (Article IX) that constituted the very core of the 1971 Indo-Soviet Treaty.
The Strategic Partnership Treaty signed in 2000 gave a new lease of life as it restored India-Russia relations to respectable levels.Both the countries realised the need to develop a multifaceted bilateral cooperation in all possible spheres of defence, energy, space, nuclear, science and technology etc. India's strategic partnership with Russia since then has been unique, intense and substantive in many ways. Mainly, the Treaty led to the institutionalization of high level political interactions through annual bilateral summits – a key feature of the agreement to foster extensive collaboration and dynamism in the partnership. The twenty annual bilateral summits held so far between India and Russia have in particular seen major agreements and initiatives undertaken to strengthen the partnership to higher levels.
Additionally, in 2010, the bilateral ties were further elevated with the signing of the "Special and Privileged Strategic Partnership." Arguably, the partnership between the two countries has been successfully reflected in many instances at regional and global platforms. India, along with BRICS member states, abstaining its vote during the United Nations General Assembly referendum against Russia for its accession of Crimea in 2014 and Russia's unequivocal support to India on the Kashmir issue are few cases in point.
Regarding strategic partnership in sensitive spheres of cooperation between India and Russia, defence cooperation continues to be one of the major boosters for engagement between the two countries. India has acknowledged Russia's contribution in assisting the former in military power projection and preserving its national security interests. Although in recent times there is downgrading in the purchase of Russian defence equipment by India, the cooperation in this sphere has been unassailable given that it has progressed from buyer-seller relations to joint research development and production, high-end technology transfer that has encouraged India's quest for indigenous defence capabilities. From the induction of INS Vikramaditya to the joint production of BrahMos missile, India-Russia defence cooperation has achieved new capacities through acquisitions and joint development. In fact, Russia's resurgence as a military power in recent times is conducive to India's domestic initiatives such as the Make in India project. The finalising of the S-400 missile defence system agreement between India and Russia despite the threat of imposition of CAATSA sanctions has shown India's predictable resistance to external pressures given its historical ties with Russia.
Indo-Russian nuclear cooperation constitutes an important element of our strategic partnership. The Kudankulam Nuclear Power Plant (KNPP) has become one of the biggest success stories of India-Russia cooperation. As Unit 1 and Unit 2 start commercial operation, the process for reactor buildings of Units 3 and 4 have already begun. With the construction of 12 nuclear power plants planned, India-Russia nuclear cooperation has indeed reached new heights. India, Russia and Bangladesh signed a trilateral agreement in March 2018, for the construction of a NPP in Rooppur, Bangladesh.
Energy diplomacy has been another major element of the strategic partnership, since Russia, an export-oriented energy country, will aim to leverage its energy card with India, an import-oriented energy market. India's interests in the Arctic, for instance, especially energy resources, are a crucial aspect for India's growing energy security needs. India received its very first delivery from Russia's Arctic LNG Plant. This is seen as a great step towards strengthening India-Russia energy cooperation.
The bilateral partnership, which has a global strategic connotation, has seen both the countries enthusiastically promote the idea of building a multipolar world order and changing the global financial structure. In this regard, both India and Russia have envisaged promoting a harmonious global order based on international law and collective decision-making that includes developing countries and is not monopolised by developed countries alone. India and Russia, along with other players such as China, have succeeded in establishing non-western organisations such as BRICS and SCO. The member states have, within their capabilities and limitations, established mechanisms that address economic and strategic interests, such as the New Development Bank. While BRICS and SCO have become tools of political signalling on issues related to global affairs, there however exist asymmetries among the member states with regard to economic growth performance, distribution of resources and military strength. Additionally, although China is a member of such multilateral organisations, at the individual level Beijing has exercised assertive posturing that has caused concern in India. This can be seen by its irrational border claims and actions in the Indian Ocean region. The role of Russia especially during the time of crisis between India and China is therefore anticipated to be non-partisan and meaningful.
When the Treaty of Strategic Partnership was signed in 2000, the world was at the brink of a war on terrorism after the 9/11 terrorist attacks on the World Trade Centre. Both India and Russia, at their respective level, joined the bandwagon on the global war on terror. Both parties, as bilateral partners which have been victims of terrorist attacks, voiced their interests and concerns in combating terrorism and related activities. India and Russia have therefore cooperated at bilateral and multilateral levels. For instance, through Regional Anti-Terrorist Structure, SCO member states participate in joint anti-terrorism exercises. India and Russia also share the mutual interest of preventing the proliferation of weapons of mass destruction and their possible acquisition by terrorist groups.
While both India and Russia assert their distinctive identity in world politics respectively, the strategic partnership has seen close coordination of foreign policy interests to a wide range of international and regional issues. Both countries firmly believe that intensification of the Indo-Russian strategic partnership can help respond to the challenges thrown up by global changes in a more effective way. While both India and Russia have a diverging approach on the Indo-Pacific narrative, one cannot deny that the two countries understand the need for strengthening maritime security and freedom of navigation in accordance with the universally accepted principles of international law. This includes combating piracy at sea and providing humanitarian aid during natural disasters. The two countries have shown keen interest in restoring peace and stability in Afghanistan. Eurasian integration has been a key priority in the India-Russia strategic partnership. Russia understands that in its quest for "greater Eurasia," India is a vital player for its huge market potential, economic growth performance, military strength and enhanced position in international affairs.
Strategic partnership in space, science and technology has been a bulwark in the bilateral relations between India and Russia since the Soviet era and has continued to remain one even today. In fact, both countries have agreed to expand their relations in the aerospace sphere, an area of traditional cooperation for decades. More than 500 joint projects involving scientists and research institutes from both countries have been undertaken within the framework of various initiatives since 2000.
While critically evaluating the two decades of strategic partnership between India and Russia, it is tempting to compare India's strategic partnership with other major global players and the strategic partnership that it shares with Russia. The new realities of the dynamic nature of international relations have definitely posed a challenge to the partnership. The pursuing of an all-alignment foreign policy has caused a certain level of discomfort in the bilateral relations. India's growing proximity with the U.S. and Russia's compromised defence cooperation with China and mending of ties with Pakistan in recent times has caused anxiety in the strategic partnership between India and Russia. One possible inference that one can draw is the constant comparison to the current India-Russia partnership with that of the nostalgia of Indo-Soviet ties. But one needs to bear in mind that compared to the strategic partnership that both India and Russia share with other major players, there are limitations and shrouded with lack of trust. India's defence relations with U.S., for instance, is yet to make any substantive development in joint production and restrictiveness about its technology compared to Russia's generosity to sharing defence technology and Russia's relations with Pakistan is eclipsed with lack of trust and understanding. As for Russia-China relations, there is growing speculation of a possible role reversal in the partnership given China's growth in global politics in recent times.
However, there are few stumbling blocks in India-Russia defence cooperation, especially the shifting trends in partnership, for example defence engagement between Russia and China. Russia's current cooperation with China has emerged exclusively, as it includes cooperation in sensitive fields, such as strategic missile defence, hypersonic technology, and the construction of nuclear submarines. With Russia now collaborating with China on sensitive military equipment, allowing for the latter to be well equipped with similar and more advanced capabilities, China is a major security concern for India. Hence, given the way warfare has evolved over the years, collaboration in advanced future weapon systems, including quantum technology and artificial intelligence, should be enhanced further between India and Russia.
Indo-Russian relations are undoubtedly at the cusp of a litmus test. Nonetheless, the strategic partnership should see the future of Asia beyond the U.S. and China factors, and both India and Russia can play a decisive role in promoting their mutual interests in the region.
The rapid and uncontrollable spread of COVID-19 in the past seven months has impacted the global order and the interconnected systems. Reflecting the spirit of the partnership in times of crisis, India coordinated with Russia in organising the repatriation of Russian nationals. Russia also welcomed India's goodwill gesture to send medical supplies to help fight the virus.
Critics have often pointed out that the strategic partnership is yet to achieve its full potential, given the fact that some of the spheres of cooperation continue to be remain obsolete, for instance, the economic relations. Additionally, given nearly 70 years of diplomatic relations, soft power capabilities, cultural diplomacy, academic exchange programmes, and labour migration are at an imperceptible status.
Trade and investment remains the weakest link in our strategic partnership and falls far short of our potential, which unfortunately is not commensurate with our high-level political cooperation. Post the announcement of the Strategic Agreement in 2000, which largely promotes the strengthening of economic relations between India and Russia, the trade cart received much required upgrade. Potential areas of trade have been explored, which include trade and investment, energy, nuclear, science and technology, pharmaceuticals, IT, steel, diamonds, fertilizers, infrastructure, heavy engineering and food products. Exploring economic prosperity, sustainable development, and free movement of people, information, knowledge, ideas and greater institutional links has also become crucial.
In fact, both countries have set a target of $30 billion worth of trade turnover and $30 billion investment in each other's country by the year 2025. It is also heartening that new options are being explored to further expand the domain of economic cooperation, Eurasian integrity, regional cooperation, free trade agreements, connectivity and trade corridors have gained the utmost importance in the annual bilateral summits in the past two decades. The two countries have also set up mechanisms such as Intergovernmental Commissions. For example, Trade, Economic, Scientific, Technological and Cultural Cooperation (IRIGC-TEC), the International North South Transport Corridor and the Eurasian Economic Union, which have emerged as immediate priority areas for strong economic cooperation between the two countries.
The Russian Far-East is another region for potential economic engagement. India's presence in the Eastern Economic Forum (EEF) is aimed at developing trade, commerce, investment, railway infrastructure, steel plants, defence, space, ports and shipping. India has successfully participated in the annual EEF, with Prime Minister Narendra Modi calling for an "Act Far East" policy and announcing $1 billion line of credit for the development of the Far East. Other than these developments, our economic ties are focused on exploring the potential of sub-regional cooperation. Sub-regional cooperation has emerged as one of the prospective areas of cooperation and regional connectivity to add further impetus to the economic cooperation between India and Russia. The key goal is to cement and institutionalise cooperation between the States and Union Territories of the Republic of India and Provinces of the Russian Federation.
To further bolster India's FAR ambitions, an Indian Chief Ministers delegation of four Indian states led by the Commerce and Industry Minister of India Piyush Goyal visited Vladivostok to explore the opportunities and potential of business to business (B2B) cooperation in the FAR. With the introduction of the Russian Homestead Act and India being host to one of the largest agricultural farmers' immigration in the world, the need for both India and Russia to tap the potentials of agricultural sector is crucial. Regional connectivity needs due attention, hence the successful execution of alternative economic corridors and maritime trade corridors, such as Chennai-Vladivostok, needs prompt engagement.
The major impact of the pandemic has prompted countries to explore alternate market destinations and shifts in the business environment. The crisis has opened opportunities for countries such as India and Russia to reposition themselves in the global supply chain. Russia, with its efforts to attract investment to the Far East, and India, with its huge manpower and existing available manufacturing units, should be endorsed as potential and suitable alternatives for manufacturing, instead of developed nations.
Despite the seemingly successful bilateral relations between India and Russia, the strategic community is incomplete if there is shortfall in establishing strong people-to-people engagement. Since the Soviet collapse, bilateral relations have seen minimal cultural diplomacy, academic exchange and labour migration. Perhaps new vistas of cooperation could be explored to promote soft power capabilities between the two countries, such as cinema, which has always been one of the most successful foreign policy tools to enhance cultural exchange and people-to-people contact between countries.
The film industry is a great medium for spreading narratives, and in India movies have an immense following as well as impact on the minds of the population. India and Russia collaborated in movie production during the Soviet era, however, the trend did not last long due to the fall of the Soviet Union, among other factors. The time is right for both India and Russia to collaborate in the entertainment industry, especially through joint production of movies and creating powerful narratives related to bilateral cooperation. India and Russia must concentrate more on the content of the movie rather than joint production alone, as for the audience the content matters more than the producer. Moreover, it can have an everlasting impact on the minds of the Indian population if the content projects a Russian character aiding/collaborating with an Indian protagonist in a movie in bringing down an antagonist. Also, the Indian movie industry is always on the look for exotic locations in foreign lands. Hence, in order to attract the Indian movie industry, Russia could look into easing travel and other shooting permissions within its jurisdictions. Such an effort would not only bring closer industry ties, but also be able to showcase the Russia and its rich culture to the Indian population, thereby acting as a window of promotion for Russian tourism.
Regarding geopolitical realignment, today the global community is seeking pragmatic internationalism. The role of India and Russia is crucial in their efforts to diffuse the multipolar world system. This is also relevant for regional alliances to actively engage politically and economically, which should help bilateral relations between the two countries elevate to a higher pedestal in post-pandemic world order.
The current global situation has given rise to some daunting challenges for the partnership once again. Some of the challenges in the post pandemic world are linked to the disruptions being caused to the international order by traditional and non-traditional threats such as climate change, cyber security, health security, data protection, secure communication challenges etc. Nurturing hopes for stability and prosperity in Eurasia in the post pandemic world, bilateral relations between India and Russia and their proactive role in regional mechanisms such as SCO, Eurasian Economic Union (EAEU), and Russia-India-China (RIC) are viewed as an integral part of this construct. Regional connectivity needs due attention including the successful execution of alternative economic corridors and maritime trade corridors.
In conclusion, the signing of the milestone agreement in 2000 was the outcome of developments that took place in bilateral relations between India and Russia after the fall of the Soviet Union. The main aim of the agreement was to elevate the partnership to new level of cooperation and put speculations and uncertainties in the relationship to rest. Over the past twenty years of relations, the partnership has seen many ups and downs. Nonetheless, this has not allowed any major damage that could impact or lead to any serious conflict of interest between the two countries. Having said that, the coveted relations built over the years cannot be taken for granted. In this regard, apart from political elites and bureaucrats playing a crucial role in enhancing the relations, academicians, artists, students, the research community, think tanks and educational institutions should contribute to forming the true essence of the partnership. The youth, in particular, need to draw inspiration from each other's rich history and cultural relevance, carrying forward the vision for a long-term partnership. The engagement of both countries in the international ecosystem in the post pandemic world has become even more relevant, as it has given rise to new challenges and opportunities. The strategic partnership between India and Russia nevertheless needs to insulate the mutual interests from challenges that emerge from within and from external factors. Perhaps, the need for a reality check and serious introspection will be crucial as the challenges are only set to grow given the dynamism of international relations.
From our partner RIAC
United States, Russia or China: The Struggle for Global Superpower
Despite its large population of 1.5 billion which many have considered as an impediment, China's domestic economic reforms and collaborative strategic diplomacy with external countries have made it attain superpower status over the United States. While United States influence is rapidly fading away, China has indeed taken up both the challenges and unique opportunities to strengthen, especially its economic muscles.
On October 22, Vladimir Putin took part, via videoconference, in the final plenary session of the 17th Annual Meeting of the Valdai International Discussion Club. The Valdai Discussion Club was established in 2004, with a goal is to promote dialogue between Russian and international intellectual elite, and to make an independent, unbiased scientific analysis of political, economic and social events in Russia and the rest of the world.
Putin touched on a wide range of different issues. What particularly interesting was his assessment of the changing politics and the economy, and rating of the global superpower. "The world has changed several times. Meanwhile, time increasingly and insistently makes us question what lies ahead for humanity," he said during his interactive speech with the participants.
In effect, the post-war world order was established by three victorious countries: the Soviet Union, the United States and Great Britain. The role of Britain has changed since then; the Soviet Union no longer exists, while some try to dismiss Russia altogether, according to Putin.
Indeed, the Soviet Union is no longer there. But there is Russia. In terms of its economic weight and political influence, China is moving quickly towards superpower status. Germany is moving in the same direction, and the Federal Republic of Germany has become an important player in international cooperation. At the same time, the roles of Great Britain and France in international affairs has undergone significant changes, he further explained.
The United States, which at some point absolutely dominated the international stage, can hardly claim exceptionality any longer. Generally speaking, does the United States need this exceptionalism? he asked rhetorically, and further cited that powerhouses such as Brazil, South Africa and some other countries have become much more influential in the world.
Amid the current fragmentation of international affairs, there are challenges that require more than just the combined capacity of a few states, even very influential ones. Problems of this magnitude, which do exist, require global attention. International stability, security, fighting terrorism and solving urgent regional conflicts are certainly among them; as are promoting global economic development, combating poverty, and expanding cooperation in healthcare. That last one is especially relevant today.
Arguably, China has worked on all that is now recorded as its grandiose achievements. It has systematically transformed its economy at the same time, maintained the political structure. Its major cities and coastal areas are far more prosperous compared to rural and interior regions. It brought more people out of extreme poverty than any other country in history. China reduced extreme poverty by 800 million.
As expected of any development process, there are still problems. Nonetheless, the level of public support for the government and its management of the country is high, with 80 – 95% of Chinese citizens expressing satisfaction with the central government, according to a 2019 survey.
That compared with Russia, Putin explained that Russia has to begin from the scratch. Lenin spoke about the birthmarks of capitalism, he reminded, and added that "It cannot be said that we have lived these past 30 years in a full-fledged market economy. In fact, we are only gradually building it, and its institutions. Russia had to do it from the ground up, starting from a clean slate. Of course, we are doing this, taking into consideration, developments around the world. After all, after almost one hundred years of a state-planned economy, transitioning to a market economy is not easy."
On other way round, it is necessary to take a closer look at, in fact a complete insight into the approach, economic capability and the services by the Chinese. China has such a diverse landscape, with investment and trade around the world. According to the World Bank, China has the largest economy and one of the world's foremost infrastructural giants. China is the world's largest exporter and second-largest importer of goods.
China holds 17.7% of the world's total wealth, the second largest share held by any country. It has the world's largest banking sector, with assets of $40 trillion and the world's top 4 largest banks all being in China. In 2019, China overtook the US as the home to the highest number of rich people in the world, according to the global wealth report by Credit Suisse. It has the highest number of rich people in the world's top 10% of wealth since 2019. There were 658 Chinese billionaires and 3.5 million millionaires.
China's Belt and Road Initiative has expanded significantly over the last six years and, as of April 2020, includes 138 countries and 30 international organization. Along with Brazil, Russia, India and South Africa, China is a member of the BRICS group of emerging major economies.
In recent years, the country has significantly strengthened bilateral ties with Asian countries such as China and India, with Latin American countries. An important aspect of Russia's relations with the West is the criticism of Russia's political system and over human rights. On the other hand, Putin's leadership over the return of order, stability, and progress has won him widespread admiration.
After the United States, the European Union and other countries imposed economic sanctions after the annexation of Crimea and a collapse in oil prices, the proportion of middle-class could decrease drastically.
The population moves forth and back, Russia has to support its economy with increasing population. Since 2006, the Russian government started simplifying immigration laws and launched a state program for providing assistance to voluntary immigration of ethnic Russians from former Soviet republics. In one of his previous speeches, Putin declared that Russia's population could reach 146 million by 2025, mainly as a result of immigration.
Sprawling from the Baltic Sea to the Pacific Ocean, Russia has more than a fifth of the world's forests, which makes it the largest forest country in the world. With it's extensive mineral and energy resources, Russia is a major great power and has the potential to become a superpower. Russia can regain part of its Soviet era economic power and political influence around the world.
Eight Principles of the "Greater Eurasian Partnership"
It is common knowledge that Eurasia is the largest continent on Earth, spanning over one-third of the planet's total area. It is also the most populous, with over two-thirds of the global population calling the continent home. Eurasia has tremendous natural resources, from oil and gas to freshwater and fertile lands. The peoples of Eurasia can be rightfully proud of the fact that it was here that the oldest human civilizations first appeared, that they have managed to settle in both scorching deserts and freezing tundra, built huge cities and wonderful architectural monuments, laid extensive networks of railways and motorways, and made an invaluable contribution to human culture in all its aspects.
It would only be natural for the sprawling spaces of Eurasia to become united in a single system, where different geographic components would organically complement each other. It would be natural for customs tariffs and visa restrictions dividing our countries to become a thing of the past, for mutual suspicions, long-standing grievances and endless disputes to give way to mutual understanding, a multilateral balance of interests, and an awareness of our common historical destiny. Such a union would primarily benefit the peoples of the Eurasian continent, who would be able to expand their horizons, shed their old fears and biases, and gain radically new opportunities for economic, social and spiritual prosperity. Eurasian unification would also benefit the rest of the world, which would be the beneficiary of a powerful development engine ready to pull other continents along with it and make a decisive contribution to resolving the global problems facing humanity.
Sadly, the Eurasian continent continues to be disjointed or, rather, split into a host of large and small fragments. This applies to Eurasian security, the Eurasian political space, the Eurasian economy, and science and culture. Right now, the concept of "Eurasian identity" does not even exist, and the numerous attempts to construct one have not brought anything particularly promising.
The current lack of unity in Eurasia can be put down to a number of factors – the continent's trying history, the tragic mistakes of national leaders, the nefarious activities of external forces, and so on. However, whatever the reasons for the current circumstances might be, it is crystal clear that radically changing the situation will take both strong political will and a generous helping of perseverance, patience and flexibility, as well as a readiness to deal with unexpected failures, irritating reversals of fortune and temporary setbacks. What is more, Eurasia will never be unified if it is something the continent's inhabitants do not seek. And right now, it is something that only the leaders of certain Eurasian states want. Success here also depends on selecting the right sequence of practical steps that would lead to a single Eurasian space.
The "Greater Eurasian Partnership Concept" first introduced by President of the Russian Federation Vladimir Putin in late 2015 proceeds from the premise that the first steps in this direction should be taken in the economic architecture of the Eurasian continent, rather than in the political or military spheres. The economy forms the base of modern society, even though politics frequently gain the upper hand over economics in terms of imposing priorities and precepts on states. Yet, ultimately, no one can ignore their economic interests. As a rule, these interests are more stable, more rational and less subject to the influence of subjective factors than political precepts. Comparing the two most memorable attempts to unite Eurasia in the past – one by force (the Mongol Empire) and one through trade (the Great Silk Road), we cannot but conclude that trade ties generally proved a more reliable unification tool than armed violence.
Consequently, Eurasian unification today should start with the economy. The Partnership envisions consistent progress towards a network of free trade areas and inter-regional trade and economic alliances, and connecting integration projects throughout the vast Eurasian space. It is crucial that the practice of politicizing economic ties be eliminated and unilateral economic sanctions or other forms of economic pressure as a foreign policy instrument be abandoned.
We are clearly talking about an extremely ambitious project here that will take decades to implement, at the very least. It would not be much of an exaggeration to say that the economic consolidation of Eurasia would be the most ambitious integration project of the 21st century. Nevertheless, we can already identify several basic principles that underlie this initiative and set it apart from other plans of Eurasian unification. Let us list of the most important of these principles.
First, the Partnership is not viewed as a potential competitor for regional integration structures (ASEAN, EAEU, RCEP) or trans-border economic projects (BRI) or organizations (the SCO, APEC, ASEM). On the contrary, all of those structures, projects and organizations are seen as nodes and individual parts of the future single Eurasian economic mechanism. The objective of the Partnership is to assemble these parts and nodes together without detriment to those elements that have already demonstrated their efficiency.
Second, the Partnership is not a union of the Eurasian East against the European West. Ultimately, Europe is a large peninsula in the north-west of the Eurasian continent, and it should not be opposed to Eurasia – rather, it should become an integral part of it. Therefore, the Partnership remains open for the European Union, which could join the activities of the Partnership in the forms and to the extent that it deems appropriate.
Third, when building the Partnership, the parties need to proceed from the understanding that significant differences will remain in the models of their social, political and even economic development. Eurasia has socialist states and liberal democracies, market and planned economies. The Partnership does not set itself the task of eliminating political plurality and imposing some common denominator or a single set of values. The activities of the Partnership should be based on universally recognized norms of international law and offer the best level of comfort for all participants. Equally, the Partnership should not have leaders and outsiders, "pilots" and "wingmen," a "central nucleus" and a "periphery," as is the case with many integration projects.
Fourth, unlike the rigid integration structures like the European Union, the Partnership envisages highly flexible forms of involving individual states or their regional groups in its activities. As they are ready, these countries may join individual dimensions of the Partnership (trade, finance, infrastructure, visa, etc.) with due account of their current needs and capabilities.
Fifth, even though the Partnership is focused on the economic unification of the Eurasian continent, the expansion of economic interaction will inevitably influence other areas of cooperation, such as science and education, culture and humanitarian contacts. Eurasian integration will fail if it is reduced to increasing trade and investment. Social interaction between the peoples of Eurasia and the economic cooperation between Eurasian states should supplement and stimulate each other.
Sixth, it is impossible to develop economic integration projects in Eurasia without simultaneously creating a parallel process of bolstering continental security and resolving problems inherited from the 20th century and earlier. These problems include territorial disputes, separatism, the "divided peoples" phenomenon, the arms race, the danger of WMD proliferation, international terrorism and religious extremism. Consequently, the building of the Partnership should go hand in hand with developing mechanisms for military and political cooperation on the continent, such as the Conference on Interaction and Confidence-Building Measures in Asia (CICA).
Seventh, implementing the Partnership project should never mean "Eurasian isolationism," i.e. closing Eurasian states off from partners in other regions, be it Africa, or North or South America. On the contrary, migration within the Eurasian space should serve as a powerful incentive for further developing economic ties in the basins of the Pacific, Atlantic and Indian oceans, and for achieving progress in resolving such universal human problems as climate change, combating pandemics, ensuring food and energy security, and managing migration.
Eighth, the building of the "Greater Eurasian Partnership" should proceed from the ground up, and not top-down, that is, it should be based on specific, even if very modest agreements between regional integration unions and individual states. Concluding the work on connecting the EAEU and the BRI should be the crucial first stage in building the Partnership. Creating independent Eurasian payment systems and rating agencies, decreasing dependence on the U.S. Dollar, establishing a Eurasian economic information centre like the OECD, etc., are other promising areas of activity.
Even though the idea of the "Greater Eurasian Partnership" was first put forward about five years ago, we are still in the very beginning of a lengthy historical project. At the moment, we can only talk about some very preliminary pencil sketches of the very complex Eurasian structure of the future. These sketches contain more questions about the future of our continent than they do answers. This is why broad international expert interaction to work out individual elements of the future roadmap for this colossal continental project is particularly important today. Bilateral cooperation between Russian and Chinese experts in international relations, economics, sociology and security could play a very important role in this process.
From our partner RIAC