Prospects of normalization grim in Libya
Analysts say that Libya is one of the most important crisis to watch for in 2020 because of the involvement of Russia and Turkey. More importantly, the plight of the Libyans after almost 10 years of civil war cannot be ignored.
Jens Stoltenberg, head of NATO military alliance recently said in an interview that Turkey remains an important ally and NATO is ready to support GNA increasing the possibility of Russia and NATO locking horns.
Eight years after Libyan leader Colonel Muammar Gaddafi eliminated his country's weapons of mass destruction the colonel found himself on the wrong side of the gun, when he was overthrown and killed in 2011 submerging the country in a civil war.
NATO members led by Britain and France supported the so-called revolution by airstrikes – then watched as the country sank into chaos. Barrack Obama said leaving Libya without a plan after Gaddafi was the "biggest mistake" of his presidency.
There are fears that the global Covid-19 pandemic could devastate the war-torn Libya, where a decade long conflict has ravaged key infrastructure and created dire medical shortages.
Today the country is divided into two factions backed by foreign powers struggling to put the country together.
On the one side, there is the UN-recognized Government of National Accord (GNA) under Prime Minister Fayez Mustafa al-Sarraj in Tripoli supported by Turkey, Qatar, and Italy. Turkey has deployed Syrian mercenaries.
Tripoli has been under siege by Libyan National Army (LNA) headed by Khalifa Haftar, who started his offensive on Tripoli in April 2019. The offensive was launched while UN Secretary-General Antonio Guterres arrived in Tripoli to prepare for a peace conference.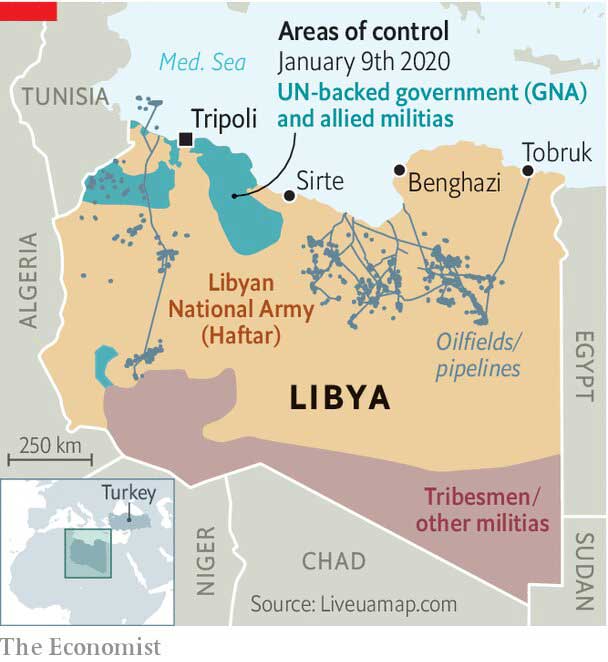 Unsuccessful in taking Tripoli, Haftar has laid a siege on the capital city for the last four months.
The 76-year-old Libyan-born commander Haftar is supported by Russia, Egypt, France, Jordan, the United Arab Emirates, and to a lesser extent Israel. Russia has sent mercenaries.
The Wall Street reported that prior to his April offensive on Tripoli, Haftar was in Riyadh where Saudis gave him tens of millions of dollars.
In his dominion, Haftar is known as "the marshal", and is the military ruler of eastern Libya, with Benghazi as his stronghold. He has promised to build a stable, democratic, and secular Libya but the regions in his control are without any law and order and corruption abounds.
There were several summits by international community to put an end to the Libyan strife before Covid-19 pandemic sidelined the Libyan crisis.
The last summit was called the Berlin Conference was held on January 19. Haftar and al-Sarraj didn't even meet face to face and the summit failed to yield results.
China has remained neutral in this conflict. Under the Gaddafi regime, China engaged in various infrastructure activities with 35,000 Chinese laborers working across 50 projects, ranging from residential and railway construction to telecommunications and hydropower ventures. The year leading to Gaddafi's overthrow, Libya was providing three percent of China's crude oil supply, constituting roughly 150,000 barrels a day. All of China's top state oil firms – CNPC, Sinopec Group, and CNOOC – had had standing infrastructure projects in Libya.
In the outbreak of protests in 2011, China sought to preserve economic ties with Libya and rejected the NATO-led military intervention. China abstained at the UN Security Council vote to authorize military intervention.
In late 2015, the GNA emerged as the new political authority, the product of negotiations brokered by the United Nations and backed by China.
Although many Chinese projects were suspended in Libya and bilateral trade decreased by 57 percent, China's neutrality paved the way for Beijing to stand in good stead with GNA for years to come.
Immigrants crisis
Home to an estimated 654,000 migrants – more than 48,000 of them registered asylum seekers or refugees – many of them cramped conditions with little access to healthcare amidst the pandemic. An outbreak can be catastrophic.
Many live on transfers from friends and family and UNHCR handouts. With work hard to find many hope to proceed with their journey to Europe. Smugglers have put hundreds and thousands of them in boats and sent them across the Mediterranean to Italy.
UNHCR has been evacuating some of the most vulnerable refugees until airspace was shut in early April.
On May 13, WHO issued a joint statement on Libya emphasizing that the entire population of the country, especially some 400,000 Libyans that have been displaced – about half of them within the past year, since the attack on Tripoli — are at risk of Covid-19 pandemic.
The statement reported everyday challenges that humanitarian missions and workers face to carry on with their mission. The UN verified 113 cases of grave violations, including killing and maiming of children, attacks on schools, and health facilities.
The report points out that as of May 13, there were 64 confirmed cases of Covid-19, including three deaths, in different parts of the country. This shows transmission of the disease is taking place and the risk of further escalation of outbreak is very high.
The report talks about food security and latest assessments show that most cities are facing shortages of basic food items coupled with an increase in prices, urging all parties to protect the water supply facilities that have been deliberately targeted.
"We look forward with anticipation to the pledged financial support to the Humanitarian Response Plan for Libya, as announced by the GNA," WHO statement said.
Oil production
Oil reserves in Libya are the largest in Africa with 46.4 billion barrels as of 2010. Much of Libya's oil wealth is located in the east but the revenues are channeled through Tripoli-based state oil firm National Oil Corporation (NOC), which says it serves the whole country and stays out of its factional conflicts.
Prior to the 2011 Libyan civil war, Libya produced over 1.5 million barrels a day. As a result of a blockade of export terminals by LNA by February of this year oil production dropped to 200,000 barrels a day reports Bloomberg. NOC said the North African state's current level of production is at 91,221 barrels per day as of March 17.
In order to choke GNA from the crucial crude export revenue, the LNA seized Libya's export terminals and ports in the east in mid-January. The blockade has cost Libya some $560 million, Petroleum Economist reported in January.
According to NOC, the blockade has plunged production from around 1.2 million barrels a day, and added losses had surpassed four billion dollars by April 15.
Conflict wages
In the last couple of weeks, significant developments have been happening in the Libyan civil war.
In an interview with Italian daily La Repubblica, Jens Stoltenberg, head of NATO military alliance said that Turkey remains an important ally and NATO is ready to support GNA. He stressed NATO is supporting UN's efforts for a peaceful solutions to conflicts both in Libya and Syria.
Meanwhile, the independent English language Tripoli-based Libyan Express reported that Haftar launched a rocket attack Thursday on Tripoli, hitting the Central Hospital on other downtown areas.
Tripoli Central Hospital and some civilian areas were targeted. GNA's Health Ministry said 14 civilians were injured, adding that the hospital will not be able to serve people due to the attack pointing out what a massive setback was amid the outbreak of Coronavirus.
Libyan military forces said Monday that the Libyan army struck forces loyal to Haftar in Al-Watiya airbase in the southwest of Tripoli during the government-led Operation Volcano of Rage.
LNA has intensified attacks on civilians since the beginning of May as GNA made substantial military progress in the offensive in the western part of Tripoli. Armed drones provided by Turkey conducted effective attacks against the LNA.
Libyan Interior Minister Fathi Bashaghe has accused Haftar's forces had used chemical weapons on the Salah Al-Deen front, south of Tripoli. The accusations were confirmed by Canadian journalist Amru Saleheddine, who found several government soldiers with symptoms to those of epilepsy, usually caused by nerve gas.
The conflict in Libya is backed by foreign actors with different objectives and priorities. Any emerging power configuration will be fragile unless the external actors come to a shared understanding.
From our partner Tehran Times
Gender in the GCC — The Reform Agenda Continues
In my previous Op-Ed about the road map for reforms in the Gulf Cooperation Council (GCC), I talked about the importance of the human capital. Today, and as the world celebrates International Women's Day this March 8th, it is a good moment to take stock of the impressive progress that some countries in the GCC are making in expanding opportunities for women in order to utilize all their human capital to achieve the developmental goals that they set for themselves. Saudi Arabia and the UAE have emerged over the last couple of years as the region's leaders in this effort. Along with Bahrain, they have introduced groundbreaking reforms that are allowing women to more fully participate in economic activities, as they also support equal treatment for women in their personal lives.
The benefits of such trendsetting reforms for the societies and economies of these three countries cannot be overstated. Furthermore, a spillover effect is being seen in the rest of the Middle East and North Africa (MENA) region. The reforms focused on gender not only allow reforming countries' economies to tap into the productivity of 50% of their populations, they also contribute to poverty reduction, sustainable growth and, most importantly, gender equity for women in both the public and private spheres. To ensure the maximum impact of these benefits, those GCC countries that have introduced reforms must keep a laser focus on effective implementation, while those in the region that have yet to expand opportunities for women can look to their neighbors for inspiration.
In 2019, Saudi Arabia's ranking in the World Bank Group's Women, Business and the Law report jumped by the largest number of points of any country in the world, as compared to its 2018 ranking. This was in large part due to Saudi Arabia's historic enactment in July 2019 of a raft of measures to expand women's roles in Saudi society and give them unprecedented economic freedoms. The reforms included increasing freedom of travel and movement by giving women the right to obtain passports on their own; enabling women to be heads of households in the same way as men and allowing them to choose a place of residency; a prohibition on the dismissal of pregnant women from the workplace; a mandate of non-discrimination based on gender in access to credit; the prohibition of gender-based discrimination in employment; the equalization of retirement ages between women and men; and a removal of the obedience provision for women. A year later, amendments to the Labor Law followed, which lifted restrictions on women's ability to work at night and opened all industries to women, including mining.
As for the UAE, in September 2020, it became the first country in MENA to introduce paid parental leave for employees in the private sector. This historic reform was part of a broad package enacted by the UAE to support women's labor force participation, which, at 57.5%, is one of the highest in the MENA region. The 2020 reform package builds on work the UAE has engaged in since 2019 to prioritize gender equality and women's economic empowerment. In 2019, the UAE introduced a first set of reforms, including guaranteeing equality between women and men in applying for passports; allowing women to be heads of households like men; passing legislation to combat domestic violence and impose criminal penalties for sexual harassment in the workplace; prohibiting gender-based discrimination in employment and the dismissal of pregnant women; and removing job restrictions for women in specific sectors such as mining. These reforms were recognized in the World Bank's Women, Business and the Law 2021 report, in which the UAE was the highest-ranked country in the MENA region.
The additional reforms introduced in 2020 address persistent legal inequalities, including those related to women's mobility, their rights within the marriage and with respect to parenthood, and their ability to manage assets. Specifically, the reforms include the amendment of the Personal Status Law to remove the provision on women's obligation to obey husbands and to lift restrictions of women's ability to travel outside the country, new provisions to allow women to choose where to live and to travel outside the home in the same way as men, and an amendment to the Labor law that mandates equal pay for work of equal value across different industries and sectors.
Lessons Learned and Ingredients for Success
Three common elements underpin the success of these reform efforts: strong government commitment, effective collaboration across ministries, and the deployment of information campaigns supporting the reforms.
Strong government commitment is crucial because it ensures not only that reform-minded legislation is passed in the first place, but that it is underpinned by tools to ensure implementation. In the UAE for example, the government updated the Explanatory Note of the Personal Status Law to support the effective implementation of family-related reforms in the courts and to ensure accurate interpretation of new provisions by judges. To support implementation in Saudi Arabia, the government updated all employment regulations to reflect the new legislative reforms.
Effective collaboration and cooperation among government ministries is also key. In both Saudi Arabia and the UAE, the recent reforms were championed by a broad swath of government entities. And in Saudi Arabia specifically, a June 2019 royal decree established the Women's Empowerment Committee, which includes representatives from a wide range of ministries and has as its mandate the coordination of efforts to achieve women's empowerment through legal reforms.
Such cooperation among ministries is important because it can help support governments' effective decision-making going forward. Specifically, all ministries whose mandates touch on issues related to women can collect reliable, uniform data to be used to support policy choices aimed at helping both women and the economy. In the UAE, for example, ministries are collecting gender disaggregated data on topics ranging from women's opportunities for entrepreneurship to their dropout rate from the labor market to the incidence of domestic violence.
Effective implementation efforts have also included strong communication and information dissemination campaigns. The governments of the UAE and Saudi Arabia have placed great emphasis on raising awareness of the new provisions to ensure compliance with the legal framework and to show the economic and social benefits of these reforms. The reforms were widely covered by local and international media. The government also used social media, government websites, and government-sponsored seminars and workshops with various stakeholders to spread the word.
Throughout history, women have played a critical role in economic recovery following global crises. As the world continues to adapt to the impact of the COVID-19 pandemic, the legal reforms in the Gulf are enabling women to contribute more effectively to recovery this time, as well. The role of regional leaders like Saudi Arabia, the UAE and Bahrain will be critical going forward, not just for inspiring reforms, but for sharing reform experiences, success factors and lessons learned from the reform effort. These three countries can play a transformational role in the MENA region and beyond in encouraging and supporting the implementation of gender-neutral laws.
Turkey signals sweeping regional ambitions
A nationalist Turkish television station with close ties to President Recep Tayyip Erdogan has dug up a 12-year-old map that projects Turkey's sphere of influence in 2050 as stretching from South-eastern Europe on the northern coast of the Mediterranean and Libya on its southern shore across North Africa, the Gulf and the Levant into the Caucasus and Central Asia.
Buoyed by last year's Azerbaijani defeat of Armenia, TGRT, a subsidiary of Ihlas Holding, a media and construction conglomerate that has won major government tenders, used the map to advance a policy that has long constituted the agenda of some of Mr. Erdogan's closest advisors.
The broadcasting of the map, first published in a book authored by George Freidman, the founder of Stratfor, an influential American corporate intelligence group, followed calls by pan-Turkic daily Turkiye, Ihlas' daily newspaper that has the fourth-largest circulation in Turkey, to leverage the Azerbaijani victory to create a military alliance of Turkic states.
In a country that ranks only second to China as the world's foremost jailer of journalists, Ihlas Holding media would not be pushing a pan-Turkic, Islam-laced Turkish regional policy without tacit government approval at the very least.
The media group's push reflects Turkish efforts to capitalize on the fact that Turkey's latest geopolitical triumph with Azerbaijan's Turkish-backed victory is already producing tangible results. The military victory has positioned Azerbaijan, and by extension Turkey, as an alternative transportation route westwards that would allow Central Asian nations to bypass corridors dominated by either Russia or Iran.
Turkmenistan, recognizing the changing geopolitical map, rushed in January to end a long-standing dispute with Azerbaijan and agree on the joint exploitation of Caspian Sea oil deposits. The agreement came on the heels of a deal in December for the purchase from ENI Turkmenistan of up to 40,000 tonnes of petroleum a month by the State Oil Company of Azerbaijan Republic (SOCAR).
The agreement could boost the completion of a Trans-Caspian natural gas pipeline (TPC) that would feed into the recently operational Southern Gas Corridor (SGC), bypass Russia and Iran, and supply Greece and Bulgaria via the former Soviet republic.
Last month, Azerbaijan agreed with Turkmenistan and Afghanistan to develop the Lapis Lazuli transport corridor that would link the war-ravaged country to Turkey. At about the same time, Kazakhstan began exporting copper cathodes to Turkey via Azerbaijan in a first step intended to capitalize on the Caucasian nation's position as a transit hub.
Azerbaijan and Turkey's newly found advantage has rung alarm bells among Russian and Iranian analysts with close ties to their respective governments even though the TGRT broadcast may have been primarily intended to whip up nationalist fervour at home and test regional responses.
Russian and Iranian politicians and analysts appeared to take the broadcast in that vein. Nonetheless, they were quick to note that Friedman's projection includes Russia's soft underbelly in the northern Caucasus as well as Crimea while Iranians took stock of the fact that the Turkish sphere of influence would border on Iran to the north, south and west.
Turkey and Ukraine have in recent months agreed to cooperate in the development of technologies with military applications related to engines, avionics, drones, anti-ship and cruise missiles, radar and surveillance systems, robotics, space, and satellites. Turkey has refused to recognize Russia's annexation of Crimea, home to Crimean Tartars, and criticized Russian support for Ukrainian rebels.
Most Russian commentators sought to downplay the significance of the map, leaving Andrei Krasov, deputy chairman of the defence committee of the Russian parliament's lower house to warn that "if they (the Turks) want to test the strength of the Russian spirit and our weapons, let them try."
With Iran excluded from TGRT and Stratfor's projection of Turkey's emerging sphere of influence, Iranian officials and analysts have largely not responded to the revival of the map.
Yet, Iran's actions on the ground suggest that the Islamic republic has long anticipated Turkish moves even though it was caught off guard by last year's Azerbaijani-Armenian war.
For one, Iran has in the past year sought to bolster its military presence in the Caspian Sea and forge close naval ties with the basin's other littoral states – Russia, Azerbaijan, Turkmenistan, and Kazakhstan.
Viewed from Tehran, TGRT's broadcasting of the Stratfor map was the latest in a series of provocative Turkish moves.
They include Mr. Erdogan's recital of a nationalist poem while attending a military parade in Azerbaijan that calls for reuniting two Iranian ethnic Azeri provinces with the former Soviet republic and publication by state-run Turkish Radio and Television's Arabic service of a map on Instagram, depicting Iran's oil-rich province of Khuzestan with its large population of ethnic Arabs as separate from Iran.
The Instagram posting came days after the disclosure that Habib Chaab, a leader of the Arab Struggle Movement for the Liberation of Ahvaz, or ASMLA, had been kidnapped in Istanbul by an Iraqi Kurdish drug baron in cooperation with Iranian intelligence and transported to Iran.
While senior Iranian officials talked down the Turkish provocations, Iran's semi-official Fars News Agency left little doubt about what Iran's true sentiments were.
"Those who have greedy eyes on the territories this side of the Aras River had better study history and see that Azerbaijan, specifically the people of Tabriz, have always pioneered in defending Iran. If Iran had not helped you on the night of the coup, you would have had a fate like that of former Egyptian President Mohammed Morsi,' protesters chanted in front of the Turkish consulate in Tabriz, the capital of Iran's East Azerbaijan province.
The protesters were responding to Mr. Erdogan's poem recital and referring to the failed military coup against him in 2016 as well as the toppling of Mr. Morsi in 2013 in a takeover by the Egyptian armed forces.
Notes on Turkish Politics (5): The Need for a Vibrant Civil Society
This is the last piece of my "Turkish politics" article series. In this piece, I will try to address the role of civil society in Turkish political life and democracy in a brief way.
The role of civil society is very important in shaping the democratic institutions and processes in a polity. Turkish political culture has long been characterized by having a weak civil society and strong state mechanism. As noted in my earlier piece titled "Notes On Turkish Politics (I): Strong State Tradition"Turkey has a "strong state tradition" as first stressed by distinguished Turkish academic Metin Heper. The non-state units and grass-roots movements have been weak in Turkish political life due to a number of reasons which also lead to democratic erosion.
Civil society is related with autonomous social units and organizations like voluntary associations, private companies, private associations etc. These social units or organizations that make up civil society are based on the principle of recognition of basic human and civil rights. It is known that civil society is seen as one of the basic social bases of liberal democracy.
The historical background of Turkey from the very beginning of the Republic experienced an evident antagonism between the state and the society. The military, the high bureaucracy and some academics along with some particular media actors used to show a certain amount of distrust towards the society until the multi-party politics.
In the post-1980 period, a revival of civil society was witnessed. Turkey went through important changes in the 1980s as the free market economy policies were accepted. One of the most important consequences of this change was the development of the systems of communication and information and this development empowered civil society actors as well. Turgut Özal has been one of the influential political elites paving the way for the strengthening of Turkish civil society. Özal challenged Kemalist state tradition to some degree. As an extension of Özal's liberal policies, a free market economy was formed and legal obstacles to political freedom were also removed by abolishing Articles 141, 142, and 163 of the 1982 Constitution, which prohibited the free expression of thought (Çaha, 2001).
The 1990s witnessed a military intervention and this "post-modern" coup narrowed the arena for civil society associations and certain identities like that of Islamic identity were vilified by the state elites.
In the early years of the AK Party rule (up until 2010 referendum) Turkey saw positive developments in terms of democratization and this played a positive role for civil society as well. However, in the last years, Turkish civil society has begun to weaken once again. A recent example of this is Turkey's NGO bill that was introduced in late 2020. In a news article published by Duvar English, the warnings of Human Right Watch were addressed. According to HRW, the bill introduces "annual inspections of nongovernmental groups, which will severely affect their activities since the inspections frequently last months and reduce the group's capacity to operate. It introduces severe fines if the Interior Ministry deems a group's online fundraising unlawful."
In one of my articles titled "Turkish Political Culture and Civil Society: An Unsettling Coupling?" published in 2011, I wrote the following about the relationship between civil society and political culture for Turkish context:
"The Turkish case indicates that the advancement of civil society is closely related to the function of and the role of state. The governance of state in accordance with the rule of law and its neutrality is necessary for the advancement of a competitive social environment where social groups can freely compete. Also, it is important to note that there is almost a direct relationship between civil society and democracy."
Turkey needs a vibrant civil society to have a working democracy and of course civil society is only one piece of the prerequisites for democracy!
Cited resources
Burak Begüm, 2011, "Turkish Political Culture and Civil Society: An Unsettling Coupling?" 19264 (dergipark.org.tr) (Access Date: 20.02.2021)
Çaha Ömer, 2001, "The Inevitable Coexistence of Civil Society and Liberalism: The Case of Turkey", Journal of Economic and Social Research 3, 2.
Duvar English, (Dec. 24, 2020), "Turkey's NGO bill threatens civil society, says HRW" Turkey's NGO bill threatens civil society, says HRW (duvarenglish.com) (Access Date: 20.02.2021)