The sun's disappeared again. I think of my mother waving me goodbye with a doek around her head covering her hennaed hair. I'm crushing on the scenery out the bus's window-seat. Thinking of how every portrait in nature and urban sprawl is sensual. I've quickly become a hunter for snapshots that light a brief flame inside of me, longing for a different South African culture, or delicious food. I've learnt to cultivate a passion for the people I meet wherever the mood or holiday takes me. I go. This, this is the awareness of another world's earth and sky is not lost on me. When I was younger I lived to explore the rough and tough terrain of the open road. I would hop on the Translux by myself and travel to Johannesburg to visit maternal family. I'd climb into a taxi and visit Swaziland.
There are several ways to enjoy travelling. You can explore with your eyes, your taste buds, listening to birdsong and music, watching foot-traffic, watching the bright lights of the big city. I have packed a dress that goes anywhere (a church dress). The dress touches my ankles. The George-family (here I mean 'George' the town) attend services regularly. Pleading that you're an atheist or not a regular churchgoer because you've somehow been hurt by the church won't fly with these lamb curry, golden-roast potatoes Sunday eaters. On the bus I listen to a cassette tape on my walkman. A pale girl on the bus shares jellybeans with me. The Coloured aunty next to me has a Tupperware with her filled with vetkoek and mince that makes my mouth water.
The aunty and I make small talk about family and the weather and say nothing for the rest of the journey. I feel like a seasoned traveller at 16 years of age, even though I have only been to Johannesburg on my own and Wilderness, George and the Garden Route and Grahamstown. Snapshot. I can see into the backyards on this stretch of road that we turn into. I see tiny gardens and swimming pools. Snapshot. Trees and sky and blue hills escape into the periphery of a dense forest. Snapshot. I spy monkeys on the side of the road. Snapshot. Cars pull, snake, zigzag away from the bus. Families stop at the side of the road for a bite to eat. Those people looked like they lived to travel, living out of a suitcase, putting up a tent, eating sardines and baked beans out of a can. Snapshot. The open road is never-ending. Snapshot. I tried to read the sky. Forecast. Overcast.
Rainclouds were gathering up ahead. The weather was dismal, miserable, mocking. I was in another time and place. Snapshot. Cities and towns have personalities and characters too. I want mystical George to love all of me. The one true thing that is immortal is the journey you find yourself on. It goes on forever and forever. Snapshot. I loved discovering people. Whether it was someone who looked like a character on the bus, or a tourist with a foreign accent and backpack, people travelling on the road with their families, small children and then there was someone like me, someone who looked every inch the outsider. Snapshot. I glance at hitchhikers with their meagre possessions next to them at the side of the road, feeling sorry for them. In a split second they're gone.
Soon the rain pours down. Gravid and swirling, spitting, then vicious rain covers everything on the way to mystical George. It is wet and cold when I arrive. My uncle is waiting for me. I am the only person who gets off here. I wave goodbye to the pale girl who is going to Cape Town. That Coloured aunty is sleeping. It's the nineties and I'm taking the Translux to George to visit a cousin who is the same age as me. We're both still in high school. I'm still in that awkward phase of erupting into nervous, girlish laughter when spoken to by a boy. I have skinny legs and wear glasses. I end up visiting family in George for a long weekend. This was way before the Knysna fire. It is a lovely road that we travel from PE to George. Voldi is a distant cousin who plays the piano by ear and sings opera. He strikes a romantic intellectual, brooding figure. He's popular. He has green eyes and is devilishly handsome.
It was Voldi who taught me that you will discover all sorts of teachers on your sojourn in this life. Unforgettable teachers, who will for the most part shower you with advice and wisdom when you need it the most, treat you with kindness, a modicum of understanding and tolerance whenever the need arose. When I think back to that holiday, I think of how much we've changed as a generation. Of how now every millennial is interested in a digital reality, the advances in technology, social media handles. Now we're so into discovering the mechanics of entrepreneurship, the dimensions of browsing and exploring the web. Travel is one of nature's complexities. You either love to travel or hate it. We visit his friends.
It's easy to fall in love with them, the clipped tones of their Afrikaans, their blonde hair bleached white by the sun. I had never been around boys like this before. They're all Afrikaans, good-looking, earthy-farm types. I don't fit in. There's a sleepover at his friend's house. We binge watch videos. I eat a fried egg while watching Jamie Lee Curtis and Arnold Schwarzenegger play a husband and wife whose marriage is falling apart. I have this ability now to see where I belong, where I fit in and where I don't. It was easy to feel their effortless confidence crowding me out from across the room, feel their physicality, their beauty transformed me, held me at arm's length, made me feel brave enough to speak Afrikaans, find the words. They left me feeling jaded and insecure.
But this is a George I love, a mystical George, where George-rain shattered the edges of small-town life. This was a George of quiet suburban life, roast leg of lamb on Sundays, watched over by a hovering aunt making fudge on the stove top, me patiently stirring caramel goo until it changed consistency with an aunt's educated guesswork. This was the George where my parents' had their second honeymoon without us kids. One Sunday after the church service we visit Voldi's Grade 11 Mathematics teacher. He has a lovely wife, a kind, interesting and sensitive face. He is English, white, I guess a liberal. He makes jokes. I'm shy.
This life, Voldi's life, his joie de vivre did not mirror my own life. He was an extrovert, a social animal, the life and soul of the party. I was introverted and preferred to shy away from people keeping them at a distance. Instead of partying and drinking champagne I preferred to read a good book that was usually something interminably long and boring.
George still is a love letter to my soul. It wasn't always adventure stomping ground or adventure country like Cape Town or Johannesburg but nonetheless I fell in love with the place repeatedly for many reasons. It was quiet (the people who lived there were a quiet kind of people), the town itself was unique, an undiscovered paradise and inspiration for the future-poet in me. For the rest of my life I would carry the memory of that holiday that I spent with my cousin Voldi from dream holiday to family road trips to visiting museums. I loved the quiet, simple life in George. I loved the open road that spelled freedom from my siblings and parents for two blissful weeks. As if in a dream I can see the woman, the poet, the writer I wanted to be.
I had explored the cities and towns of South Africa, never had the experience of backpacking throughout Europe. I only know this, that I cannot leave South Africa behind and explore the United Kingdom, the States, Canada and Ireland. This is how it ends. I am not yet a poet in search of identity. I am not yet a writer in search of identity, the writer always writing that novel. I'm chasing the sun while life flows around me. And the world seems to say, every road, I am your peace, your deliverer, your keeper and your caretaker, your sanctuary and home.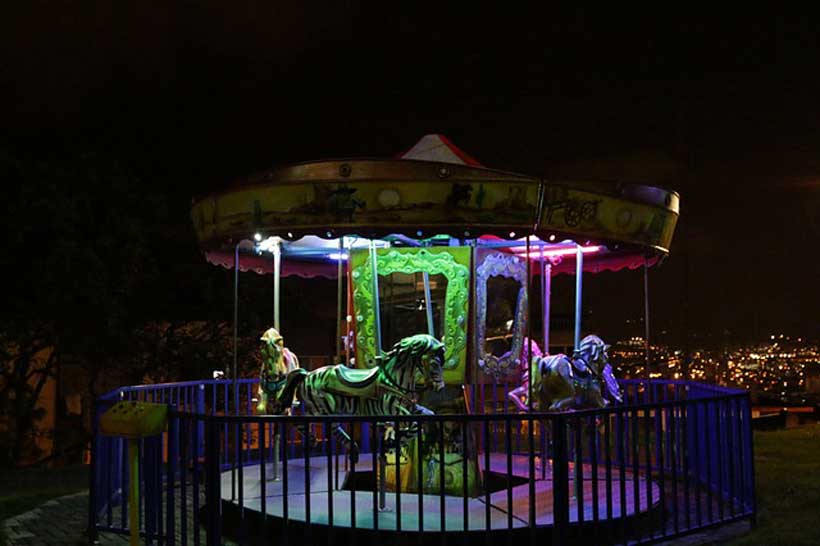 I haven't got time for the pain. When I'm through with you, I will still hope.There's an ocean meeting invincible ocean pouring into eyes,you are far away in another city now a devil in disguisewith sadness comes a mania of relief (it is just a part of me). There is a part of me that is an experiment. Just a playing field. I was born that way. To feel my way in this world with trepidation. To a ghost feeling her way on land. You've left, you're gone, and you're a ghost, something wickedly despicable but I understand you so much more now. The last time I spoke to my sister was a Sunday and I know that soon the months will turn into years between us.You,beauty personified with the sameness of Ezra Pound. I've abandoned you; you're gone.
You've made history young standing with your ticket and your visa in hand at the boarding gate work for tomorrow. There's something purified in the hoping for something sweet in the novelty of youth. So, the aftermath will come one by one. We'll forgive each other like
the appearances of the moon. We'll exchange gifts and we'll remember the commodities of childhood. I'll close that (I won't pursue him). I hate him so much now I could spit blood. It came from childhood continued. The damage is done (what are the meanings of trauma and casualty) only this remains. When I'm through with you strangely I will still hope. I am standing in front of you asking for forgiveness. You've arrived on a scholarship. Left all the lions and elephants behind. Parents that you're sick to death of the sight of, a sister who is mentally ill and who has all the sinister potential of making it anyway and a brother who doesn't believe that smoking is for grownups. You've detached yourself from your childhood, grown as cool as an iceberg. Darling, you've made it as far as America. How far is up? To the blank slate face of the moon, the fat orange sun that shimmers and glitters in heat waves and so you stuff yourself with Chinese food and decide this is the life; to live like the rich do as you. Take their coats and hang them up with a number at an elite country club and do everything American as you can possibly do before you die. So, you forget about us. Four stone gods. Buddha-like in your consciousness, all owners of lonely hearts in a wilderness of biochemistry and decay. Once I nestled your head in my lap and breathed in the scent of your hair – of powder, scent, perfume, skin against skin, not yet old, wrinkly like fingers like prunes from a bath, smelling old; no longer an extraordinary machine. Now you can hardly bare me to touch you. I see less and less of you; you don't ask to be taken care of; there are no longer whispers in the dark as we camp out in front of the television. There is only your magical thinking. Your purity, your humanity, your alchemy. You're a mother, a wife waiting in the wings. Already posed in your natural habitat. Your dewy eyes are gems, once diamonds in the rough. Once you wore a crown of thorns in childhood. In those rough, tidal, shadow-boxing teenage years when bad, bad things happened to show up in your life. A yellow shout of melancholy with no bounce and of little hope and so your innocence was snuffed out and planted into a dead nothingness. And yet it still left you with the mind of an angel. Cradled you like a new-born, Magus. I think of anticipatory nostalgia. I say this with love. Caught in a trap. Once immobile. Then striding across playing fields cradled by lullabies and spent by beguiling motives. Journeys and a soul awash by winters and the glow, the matrimonial hush of seasons and so will I, goddess-like make you a daydream of a monster. I would never belong
I am not like that. Built perfectly in your world. I am poison. Not so good at navigating vertigo through sweet nothings, and flash love. I don't cry anymore when my heart takes a dive. I wait to hear you say what you want. Your voice a soft blot. Swapping enduring stories that migrate anxiously from my mind to yours. Like a lilting, urgent freedom song. A songbird received with warmth and sincerity. I like those words memoir, smoked. Feeling my Achilles heel, my sobriety. An ache where my heart should be. You have been in my dreams all my lifemeltedmy heart made of stonewith a soul all patched up like skin. My comprehension on trial, my cowardice. This is me saying goodbye.
What does love mean to me then?Is it the winter rain here again, the machinery of haiku?
Leaves softly whispering on the ground. Words, words and more words. In imagination a purified Dadaist reality. Restored in a manner with alchemy and humanity. You are soul you know and that's enough for me. The book on us is finished. The diaries burnt. I've got my head under a primitive sky. The sun's impoverished. Walt Whitman's blades of grass all lost on me. You're as remote to me as an American utopia. The cogs and wheels are spinning. But what does that mean? There's nothing sublime to it if you're not here to hold me. Did cancer or illness that interrupted your life?Why did you not marry,or, find the right man?Why don't you have children?Why aren't you normal?All I can see is destruction mingled with burnt diaries. Where are the seeds yourMother originally sowed?Who anchored the roots of grief?And, introduced the weight of the world's weariness. Your mother drinks lilac wine
Purple blooms upend themselves in the glass much more than a stain. But you don't like that kind of distraction that stills nerves. The grownup kind of love. The kind of pain children bring with them into the world. The starry anticipation of tiredness. As people make closer contact with you, they become illusions. Fiercely torment you vulnerable-thinker.
You can never take off that hat. The psychological framework. The quality of your conversation. Is it heroic, stoic, and maladroit?It needs a wiser understanding. Your laughter needs no shelter. You walk the sky in a swimming pool. Conquer lap after lap after lap. At the end of the day you smell of rain. Your mouth keeps on after opinion. It keeps changing perspective. Are you really a poet (or is that a guise)?Where is your mask for the ball?You need food, sleep and a feast. You're hungry for it all. You are hungry for everything. A network of business cards and data. Where is young Hemingway's Diary?Where are the seeds Buddha planted?Where are the seeds Plath and Sexton planted?Your speech is rapid (just let it go to the palace and tribe of boredom). Like air in the bloodstream of an apricot.
Finding myself in the tender sea. (There's no ignorance and confusion here). I listen to its brilliant blues murmur so varied. Tasting the salt in the eternal profound light.And when I leave that spirited energy there's the night wind. There's the man on the moon. There's the television. There are giants, monsters, and talking heads. But there's also a sense of quietness of peace in this paradise. No glut of shaking flight, fancy, fight that I'm anchored or terrified by. The newness of it all – because I am known in all of these territories. These regions, these districts. Storms will come but I will not be done in by their edges that tides simply fall off of and come undone by. The problem of pain is like the meaning of a river. It will pass. Summer will soon be here in this paradise. My brother is doing what he did when he was a boy. He used to steal my books, my Milan Kundera. That philosopher who was a writer. A philosopher who wrote books. And now he is turning the tables on us. Being a philosopher who is becoming a writer who writes and edits books. Pictures can tell you a thousand stories. The weather forecast or the change in climate. Currents that are trending in this paradise. I am a metallic stream-of-consciousness worshiper. Look how I've made it into an art. I've discovered it's no longer strange to me. I'm channelling it and all its rituals. There's a poignant sadness in its image. Aching dream of what could have been. And madness bordering on the useless storm of dark and suburban mania. Look at how birds will remind you of song. When you played truant and your parent's inertia. And of water, the weight of it in this paradise.
Sinners never disappoint. And I do not envy them. Their crowning glory, their shape. Their smell lacks innocence, their unemployment. The lack of skills to put bread on the table to feed hungry mouths. I do not envy their presence. Where drunkards kiss the ligaments of the cold earth of the pavement. Mouth meeting another. The beer's mouth both just imagining things. A better life for all, world peace. Once there was the unbearable lightness of youth. Chips and steak are on the menu. I can also talk of love, many things.Now young guys lie in the street. Face down like carrion. We're young still and there's an unbearable lightness that comes with it; poverty, unemployment. A silence so pure while a mouth defies gravity and neutral ground. Lectures on how the revolution must hurry up after speech after speech! It is not that this generation is speechless. Kevin Carter has been dead a long time. Photographers can drift. They drift like driftwood. Ribs, beer and dancing (darts for the men) are on the menu. I can also talk of the love of many finer things. Damn married fever but not as committed. Soon Magda will be forgotten like a wallflower. It's not in my power to change that. Conjure it up. Only an echo followed her death. It played itself out at the graveside and inside the church. The music. The outside of me is built like a wallflower. Winter bright white light there's an echo coming from somewhere. Shoes on the floor cold night a starry sky. Those shoes belong to me and I'll lace them up in the morning. The echoes vibrate under the soles of my feet. Instead of going to bars and clubbing, she poured herself into reading her books. She cooked up a storm furiously. Imagining it was for two. Funny girl. Magda that shiny fractured thing.
The woman who ate everything
I have no children of my own. In reality, I exist. In non-reality, I am non-existent. I am more demon, than angel now that Mick has gone. I still have those same fears and yearnings. My vagina has those same fears and yearnings. I thought that there would be this shared recognition between Mick and me. He had been the one for so long. The only man in my life. He chose another. I tell myself that on the dark nights when we could have been making love. Everything has become a river leading to honesty, breaking down walls of fears and yearnings. I wanted someone to tell me that I was beautiful, but the world in its entirety tells me that I am beautiful now. What am I living for, now that Mick has gone, I mean, he was on his way out of my life anyway? What is love in the modern age anyway? There is no time to play. My father never approved. But it was my choice, or Mick's choice, or Mick's mother's choice. Believe me, it turned out all for the best anyway. He will marry, I will not. He will have those children; I will not have those children. I belong to the world, and the world belongs to me, and every global phenomenon in it. Is there any man in the world who can understand that? Inside my heart is breaking. Mick is leaving for forever. We'll see each other around. We'll wave. But we don't dare hug anymore. That proximity, so close to sex, that rarefied atmosphere of friends who were almost lovers inside my head, no more, no more, no more. Now there is quiet respect. Now there is admiration. He's doing his thing (filmmaking), and I'm doing my own thing (my writing). I doubt there will ever be room for collaboration.
I live in poverty. He is wealthy. I am an artist. He is an artist. And I suppose my choice of lovers, and the men whom I choose to love now is all on me. I do love, but it never ends up in the bedroom. It ends up in on the page. It ends up freeing me. I am a bird with fears and anxieties. I am just an average dragon-woman. I am just an average dragon-beast. I have everyday flame inside of me. Mick does not return my phone calls anymore. He does not come to the house anymore in his car. I still look out for him. I will be doing that until I am eighty years old. For now, another love has come. The world is on fire. He makes me laugh, and think, and feel in ways Mick never did. I am sad. I am happy again. I tell myself that this is just preparation. I'm hungry for it. I am going to do it again. This time, I am alone. I am on my own again. Of course, I tell myself, there'll be sadness. Why, oh why, does there always have to be this sense of wishful thinking, why this sadness. Always flying solo. Mick, I wanted you to feel the cold like I do. But you are heat, and all-heart, and warmth. I will be writing to you until I am eighty years old. Still trying to win your heart. I am a voyager. The new love is also a voyager. I exist. He exists. It is a new day, and dawn is breaking over the globe, and I am generous and this love is also generous. More giving, more prepared to take me on. I do not think he will be calling me intense to my face, perhaps behind my back, not even then. Not even then behind my back. I am doped up on love again. Mick has become another city (and this new love has empires, empires to build). Mick has become another tale of love lost.
Nostalgia. Whatever love means, it is not Mick, and I am still writing this novella as if it was an introduction to Mick and my old love, as if this was a story about an old flame. But this is a story about a philosopher-educationalist, the impact he is making on the world around him. And for now, he is perfect for me. The thing you do not know about me is that I tell people what they want to hear mostly, but if I like you, I like you. And your home, becomes my home. My home is where the ocean meets the shore. My mother loves money. She loves that lifestyle. So, I have convinced myself that I can buy my mother's life, I can buy her love. Men are the only fixtures in my life. The only men who save me are my editors. Love has a way of conquering all. We sleep to dream in this house. As painful as our past once was. We make believe happiness. It is only an invention that masks who we truly are. Like the seasons that are so determined to change, I will rise above these circumstances of falling in love, and then losing that love, and watching that brilliant, brilliant man walking away. And this, this will always be somewhat of a performance. People, believe me, don't want honesty. Honesty kills trustworthiness, childhood continued into adolescence, and there is, here is the blue hour. There is, here is an unbearable lightness. Mick's gone. Playful and sweet Mick's been replaced by love. I should be used to this game by now. Playing this game. I do believe in love. Love is a jewel in the dust. Love is a turning point. There is even faith and obedience in love. Love is a state of emergency. And I have learned obedience from what I have suffered.
I am just a servant. Watched, observed, studied, and I know this. I know this like I know the back of my hand. The men will love me, and I will love them in return. I will love. I will be loved. And all the men I still love them. They are still very much alive, and human in a kind of memory form or blueprint to me. If they want to take me to bed now, there will be no hesitation on my part now. Just me. Dreamy, composed, and calm, and still as they enter me. Afterwards, they will leave me, as they all did in the past. Humiliation and embarrassment will return, along with progress and preparation. My life will go on as before. There will be love. I know it. There will always be love. This big dreamer, this damsel in distress mostly will betray nothing. This hunger is torture. This spiritual hunger is torture. But love, and falling in love is like a beautiful dream. The blue light of the day becomes even more blinding. And even the leaves have a kind of psychopathology. It is safer for me to embrace life in winter rain. And every day, even though the sun shines, the rain pours down upon my soul, the wilderness of my soul. My love, my love, I am writing again. You would be so proud of me if you could see me now. In the same way that I am proud of you. No more names. No more accusations. No more hugs. No more kisses on the cheek. No more sad looks. Your heart belongs to another. Your heart beats for another. Your daughter, your daughter. And, yes, I believe that there is righteousness and justice in the world. Yes, I do believe in love. Love can build the dimensions of a foundation, and this, and this, is how much it takes to love you.
David, this image of you in my imagination. And for me, love is suspended in mid-air, and for me it was always safer to embrace the life in winter rain, (as I have said before). There's life in everything, everything, everything. There's love in everything too. I never could understand love. Never saw it between my own parents. Only the sexual impulse in my mother, her modus operandi to have children, her depression, the fire in her eyes whenever she looked at the togetherness of my father and me, the peacock-blue eyeshadow on the lids of her eyes, the thick black mascara on her lashes, her G-strings, thongs reserved for the sex act. There were always empty bottles of sparkling wine under the bed, that I discovered the morning after. Whispers in the dark, finding my mother's g-spot, amorous laughter (her amorous laughter), and daddy would sometimes forget that I could hear everything. The shower would run in the middle of the early hours of the morning. I would be looking for a pen to write with, and discover condoms in his side of the bedside table. How does a woman become a lover? How does a middle-aged, grand dame of a woman become a lover to either a man, or a boy nearly half her age? It happens. It happens. But husbands never leave their wives, unless of course the lady in question is half his wife's age, or, looks like his daughter, or, has the looks his daughter has. A girl becomes a lover. In the books, that I've read from Updike to Kundera, Brazilian Paulo Coelho, and Russian American Vladimir Nabokov, it is girls that become lovers. It is girls that become wives. Just memories. Men are still men.
Boys are still boys. They look at her. Sometimes they stare at her. I am her. She is me. I take note of the stares, the smiles, their stares, their smiles, their proposals, and the flirting, the talk. The talk it burns me. And when I go home, I meditate on the way they look at me, speak to me, and imagine them, either going down on me, or, turning me on so much that we make love, or engage in sex acts. Having a good time. Pleasure is fun. And then I think of the kiss. Do you not only kiss people that you are in love with? Do you not only touch people, well, I touch men a certain way, that I like, that make me feel safe, that I would go to bed with given the chance. Love, or, rather the physical aspect of it makes me feel anxious when I remember what happened in the past. Anxiety and fear, and uncertainty, restless, frustration, apathetic. What if I can't perform because of the medication, or the depression? It has happened to me in the past. In the past, I was humiliated. Most of all, he was humiliated because he thought that it was his fault that I could not climax. I was so young. In those situations what does a girl do. Admit everything about her past? Confess everything about her recovery, relapse after relapse, stints in mental institutions, state hospitals, expensive private clinics? A proposal is either decent, or, indecent. This kind of proposal from a man to a woman reminds her of her own sexual appeal, and sometimes this woman remembers those nights of her parents' when her father and mother would turn into lovers. And then even daughter would become lover, touching herself in the dark, removing her panties, thinking of men.
Men old enough to be her father. Or, men standing in front of her desk, teaching her in the classroom. I knew (even then, even then), how to fly. How to focus on the fact that I had wings. I was mute. I was on remote control. I was a mute. I was a machine on lockdown when it came to my academic work. Running, like Haruki Marukami, made me feel. It didn't make me feel the despairing emptiness. It is my mission to captivate man's imagination. I tell myself that. Even when there is a monster beneath the bed giving me a fright. If I knew any better, I would think that it was my imagination running wild. A trick of the sunlight falling on God's wisdom. I believe in diaries. It made me feel something other than erotic. I did not call my grandfather veteran then. Did not know what epilepsy was, and that it was just a form of trauma, like my own brain injury. That every brain injury stemmed from an incident. An incident of trauma (I loved my grandfather very much, and in my mind, he lives forever like all the men, the men I have loved). I did not know what combat fatigue was then, way back then. I did not know what shell shock was. And as I grew older, my paternal grandfather became a distant memory. The voices inside my head sound very far away now. I have had a good rest, if I can call peace, having peace of mind that. It has motivated me not to think about religion, but spirituality. I do not like the dark. It is true. My physical body wants nothing to do with it. Adeline Virginia Woolf never stopped writing. Emily Dickinson never stopped writing. Anne Sexton never stopped writing. I will never stop writing. My sister, my sister.
My sister. Born four years apart on the same day. We never speak. I think of the phases of our childhood, the chapters of our life together, and how we grew apart. She was play-white, with her blonde friends. I was the one who was of mixed-race descent. Who was fake? Who was fake? Now I steal her clothes. She wrote me off years ago, like both sides of the family. Both maternal and paternal family. My brother is the only sibling I have left. He has fallen in love. The girl is mad for him, wants to marry him. I am not included in their family plans. Soon, I must make my own way back into the world, like my paternal grandfather. You can see my slave ancestry from Cape Verde and Saint Helena in the texture and colour of my hair, my brown eyes. I am half-white, and half-black. There is Germanic-blood that runs in my mother's veins. She is fair of complexion. She is beautiful, and larger than life, both complex and complicated, both religious, maladjusted, sexually abused, molested from early childhood (as I was), and when I look at her, even now, depressed, tangled hair, as we both miss my sister, her daughter, the one who looks like her, acts like her in the world, feels like her in the world, all I feel is affliction. Affliction for all the wounded in the world. It seems as if I only write about people who have left a mark on my soul. David, the Sussex-man, Mickey, Salinger, Hemingway, Fitzgerald, Freud, Adler, Jung, Karl Marx, Nietzsche, Ben Kies, Neville Alexander, Fikile Bam, Bhadra Ranchod, Gus Ferguson, Mxolisi Nyezwa, Mzi Mahola, Ayanda Billie, Razeen Davids, the new man in my life, and the list goes on, and on, and on.
And if there was any justice in the world, I would be with Rob. But I cannot catch a thief.The women despise me. The women despise me because I am unattached. I wear no ribbons and no pearls. I wear no wedding ring. Although I want to. I want to very much badly. I doubt that they (the women, the wives) will very much understand this, my reasons why I have never married, never had children, never met the one on that sunny road. The women will never understand my sunny disposition, the smile I wear pasted on my face. The fact that I go to war with girls and women every single day of my life. For most of my lifetime, I have gone to war with my mother over the adoration, affections, praise, and worship of my father. For my sister, it was different. It was my psychopathological disposition. The bipolar mood disorders. My ups and downs, lows and highs, the medication that numbed and deadened both the emotional, mental, every fibre of my moral being, and physical pain, and my spirit, my soul to the outside world around me. Now I imagine (my sister says). Now I tell stories (my sister, maternal family, my mother says). Now I have no wish to speak to my other half, my better half who will spend Christmas in Berlin this year with her German boyfriend. I do not love her anymore. Yet, I say that I love these people still. I wish them well. I forgive, but I have a long memory for painful things. My gift to the world is both twofold. My gifts are my soul, and my writing. Mahatma Gandhi's gift to the world was his soul. Same with Luthuli, Mandela, Mbeki, Hani, and Arafat. I am waiting upon the world to save me.
So, mothers be good to your daughters. Your daughters will live like you do, learn like you, and love like you. I do not have the capacity to love anyone as much as I love the men. Do I loathe women? No. They loathe me. Do I desire women in the same way that I desire the men? No, I do not desire women. I am not a lesbian. Neither, neither am I a prostitute. I do not accept gifts of cash for the sex act. I think of the elitist allure of Salinger. Jerome David Salinger. I think of his epic hurt. I think of his epic hurts in life. I think of his epic hurts in love. I think of my own epic hurts in love. I cry like a baby. I can hold a man. I can hold a vulnerable man who can put it all on the line for love. I can hold a mentally ill man, a depressed man, a man who has lost everything, but do not ask me to do the same for a woman. You see, as I have said before. I only write about people who have left a mark on my soul. It is good to feel loved and accepted. Only men have loved and accepted me. Every obedient and disobedient part of me, whole, or, broken, with all of my heck, with all of my wise nature. Once lithium too was an idea, just an idea, this miracle salt, like Europe had been an idea. I have later prophecies on my mind now. I have rewriting on my mind. I have proofreading screenplays, and pre-production in mind, but not a future filled with happiness, and prosperity, a family life, a life marked by settling down, raising children. I'm thinking of nations, and of bringing nations together, stopping wars, building democracies across Africa, reconciliation and equality, negotiation and diplomacy, generations marked by an unfolding.
An unfolding of a divine mystery. I think of the hours. I think of how I can fill those hours with activities in the same way John Nash did, in the same way Trump does with purpose. For all who are called to service, are called in the same way to sacrifice and responsibility, accountability and blessing too. I see abundance everywhere now, parachutes in September, and for my sister's sake, and for people like her, the alignment of bipolar to brain injury. I stand in the shadow of the rhino, of Africa from the east to the west, the wildflowers of Africa, which are the voices of Africa. I think of the girl child, and the transformative powers on the confidence of the boy child (once sinner, once child soldier, now activist, scientist, inventor, educationalist). We are all living in changing times. I stand in the neutral shadowlands. You will never see my grief observed. You think you see me; you know me, you hear me speak, you think you have some sought of forewarned knowledge of me. You say hello, I say goodbye. It has always been like that for me in relationships, for in life, for in my life there is always more grief, and sadness, and emptiness for me, than happiness. I think of boys who have moves like Mick Jagger, and as I pass them by, I think of the high art of confessional fiction. I love. I am making progress there, but I do not kiss. I do not betray anyone. I do not write and tell. I do not kiss and tell. And believe you me, if I love you, I love you for you. For you are revolutionary, for you are photographer of the African National Congress in Tanzania, for you are educationalist, and even though you don't even think it, you are philosopher.
I will love all these men for an eternity. Until the hereafter comes for me. I think of all the men, and their sons and daughters, and the women who have given them those sons and daughters, and I wonder to myself are they in love, are they still in love. I wonder sometimes, more ego talking than anything else, do they sometimes think of me. Think of me in their arms, tired. So, tired of life. Relationships are challenging to me. They challenge me on every level. As I am sure, every book that I write challenges the reader. For me, personal success overrides personal happiness. My father taught me that.
And the problems of the Coloured people (of South Africa) were of no interest to them
We are living in the precarious times of a coloniality-based dispensation and the repercussions of an ill-fated democracy.
The working class, the downtrodden and the poor live in a borderline and tragic sub-economic area. The youth live in a reality of violence, the law and rule of the gun. The reality of that unfortunately is violence. Alcoholism is rife amongst the poverty-stricken. Those that live in sub-economic housing. It is a violent reality the capacity of which the educated establishment, the liberal cannot understand. Coloured youth live in a violent reality of drugs, territory, addiction and alcoholism. This is a generation that is defining itself either for better or for worse. It is a young generation primarily made up of the single coloured female. Very few coloured females slip through the net of not having, or, shadowing trauma in their lives. What they feel mostly is isolated, alienated, displaced or dispossessed. There is mass exploitation of coloured males and females in the workplace. Even there, they do not go unscathed. There is strong denial of their own feelings of self-worth. They are the breadwinners who live in either a sub-economic area, or, a flatlet, playing both the roles of mother and father. There is mortality in this community, death, infirmity and solitude. The Khoi mission statement was simply cheap labour. The colonial masters then were the government of the day. Cue the anointed, the holistic repositioning, vision of the anointed. Cue the apostle, the evangelist, cure the prophetic ministry. Now we are being taught that to be awakened, we must be indoctrinated by the church, by the dogma and rhetoric of the church, and that when you are most vulnerable, the purposefully-crafted theologian stands on their own. That it is God's will that is always healing. The pastor will tell you that God will put entities in your path either to obstruct you, destroy you, sabotage, or, uplift you and make you visionary. That you will be blessed by your enemies. What are the merits of religion in a gangster-ridden community? It gives and brings closure, there is us, and the distance that lies between us is surmised to be God. The youth are taught from a young age that life is filled with disappointment, astonishment, observations of the flesh, the flow of the removing of the remover to remove, erase, or eliminate.
What is the explanation of this reticence, this anguish of us, and what are the problems besetting the Coloured in their community, in their homes, in their schools, in their livelihood, in their workplace and in their churches? We are still in a crisis mode. The crisis of identity. There has always been oppression and not emancipation in the Coloured community. There has always been humiliation and a sense of discrimination. We have always been used as political instruments. If the Blacks had Bantu Education, then the Coloured received a gutter education. You simply have to look around you today, to see exactly where we have come from, and where we stand today. Our existence and presence as stepchildren, as brothers and sisters, as the 'White' children of Van Riebeeck still holds solid ground, and if we chronicle our entire movement throughout history you will see that we are governed by the shackles of the laws and principles of an immoral threshold. We have garnered the vote, but what does that mean for us as a Coloured 'nation' in particular. We have been tossed about for centuries as slave stock, as Non-European, and endured our humiliation and our oppressors in silence. How do we negotiate as a second-class citizen, or rather the working poor's second-class citizen sense of deprivation, the extreme suffering, the extreme poverty that we live in as the working class, the poor and the downtrodden? The bitterness lives on inside of us, inside of our children, inside of our grandchildren, inside of our great-grandchildren. This sense of unease, of unrest, of dispossession, that we are suckers for the pain of mental cruelty has stayed throughout with us for centuries. We have been deprived, lived under apartheid laws, served our country, were hounded in the process, persecuted in the process, and in the end where is the progress of our intelligentsia. Everything we do comes from the viewpoint of anger. It is time to correct the imbalance of social backwardness, ineptness, inequality. We have rights. We have rights. As the working poor, the struggle continues. As the working class, the dispossessed and as the poor we have rights. All the right in the world to be flesh and blood citizen with marked-up privileges.
It starts with recognising the wrongs of the insidious past, and righting them. Schools, libraries and universities must be built in the names of our people. It starts with the education of the Coloured nation.
That recognition that knowledge is power, and with that said, everything in the end that was taken from us, will be returned to us. In my own analysis, we must display a humane regard for each other, authenticity and remain watchful of the dream of the next generation, our descendants, our children.