Authors: Chan Kung and Wei Hongxu*
As the Covid-19 pandemic continues to sweep across the world, globalization, trade and production activities are hit hard. Despite the pandemic's presence, China continues to promote its financial opening-up. For starters, China is removing the restrictions on foreign financial institutions' access to the Chinese market at a pre-pandemic pace, as well as opening-up various financial industries such as securities firms, asset management, and insurance. Then, China has relaxed the restrictions imposed on international capital entering the Chinese market. However, the turmoil in the international financial market caused by the pandemic is continuously affecting China's financial system too. Due to the profound changes in the global economy and financial system caused by the pandemic, the act of reopening the financial world continues be questioned. Issues like the patterns that may crop up in the market's opening-up in the future and the progress of the internationalization of RMB are some questions worth pondering about.
Comparing the situation to the time before the pandemic took place, the current international financial system and the global economic landscape have undergone great changes. The pandemic has caused global trading system to come to a standstill, disrupting personnel exchanges and logistics, thereby worsening the trend of counter-globalization. In particular, the pandemic has hugely impacted the global industrial and supply chains. Following the pandemic, the reconstruction of industrial and supply chains will show a more regional trend. Officials from international organizations said that the pre-crisis international trade frictions have led to a slowdown in globalization and will worsen further after the crisis. Barry Eichengreen, a professor of Economics and Political Science at the University of California, Berkeley, believes that globalization has begun slowing down. This is not only indicated through the slowdown of trades, but the increasing trade barriers and capital outflows from capital control countries too. Concurrently, global capital markets have been hit hard, and major central banks headed by the Federal Reserve have adopted a never-before-seen loose monetary policy, further reducing interest rate levels to maintain the bubble of financial assets. This caused the global financial system to experience turbulence and differentiation. In spite of that, the dollar 's position in the international financial system has actually strengthened, and emerging markets have been seriously affected, bearing the pressure of capital outflows and exchange rate depreciation.
Due to the pandemic and the tremendous changes happening within the international economy and finance, China's economy has also suffered. Particularly, its consumption, investment, and foreign trade all experienced substantial declines in the first quarter. Likewise, the nature of conflict between China and the United States has turned into a sociopolitical one, due to the countries' differences in managing COVID-19. In fact, China is expected to face a harder time on the international level in the future. The important question now is, will China's financial opening-up lead to further domestic financial risks and market turmoil? Follow up question, will it worsen China's economy and social stability? This is perhaps China's biggest financial concern as far as opening up is concerned. To ANBOUND's researchers, the changes in the international politics and economic landscape signifies things are shifting away from globalization and into regionalization and geopolitics. Going by ANBOUND's earlier discussions on the "Crisis Triangle", in the future, be it economic or financial fields, we anticipate competition for market space to further intensify. Therefore, China's reopened financial system needs to focus on improving the financial market system, either by opening the financial market and capital opening or internationalizing RMB.
China's financial market has been relatively closed off in the past. Not only are its market rules and legal systems inadequate, its financial institutions generally lack competitiveness as well. It's not surprising to see investors lack professionalism, which results in a "blockage" within the currency transmission mechanism, on top of poor efficiency in financial resource allocation. With that in mind, introducing specialized and highly competitive international institutions will have a "catfish effect" that enables local financial institutions' to compete better, achieve market optimization options, and improve the overall financial system. Furthermore, it enables foreign financial institutions to better serve Chinese enterprises and improves the efficiency in allocating financial resource too.
Up to this point, many institutions and researchers continue to confuse China's financial opening-up with RMB internationalization. In fact, looking at China's history of financial reform and past opening-up(s), its financial opening has been an ongoing journey, yet it was never once in sync with the level of RMB internationalization. The RMB internalization is more related to the changes in the exchange rate. When the RMB exchange rate saw a depreciation beginning 2015, it joined the SDR currency basket too. China and many other countries have signed currency swap agreements, though the offshore RMB is still shrinking. The situation has not changed with the opening-up of China's bond and A-share market represented by the expansion of the Shanghai-Shenzhen-Hong Kong Stock Connect. While foreign investment in China's financial market is still increasing, the overseas use of the RMB as a trading and investment tool has not changed significantly. Not long ago, Yi Gang, governor of the People's Bank of China, mentioned the internationalization of the RMB is dependent on the market. The central bank's focus is to provide infrastructure, reduce restrictions on the use of RMB, while the market decides which currency to use. Therefore, the internationalization of the RMB is closely related to China's geo-influence in the international economy and trade scene.
Given the current turmoil in the international financial market, adhering to the opening-up of the financial market through system construction and upgrading should be China's focus in its financial opening-up, meaning the country should continuously deepen the capacity and improve its financial market's attractiveness. Done well, it will attract the entry of international financial institutions, even with restricted capital flows; and international capital will too value the return on Chinese assets and risk diversification. That said, China needs to be cautious in opening-up the capital account to avoid the impact of U.S. dollar capital. For a long time, the U.S. dollar has and will continue to occupy the top position in the international financial system. China's capital liberalization and RMB internationalization need to be promoted gradually in the form of regional trade settlement and bilateral financial cooperation. This means that China should adopt the means of "geo-development", as the outcome will depend on China's political and economic geo-influence.
Final analysis conclusion:
In the presence of the Covid-19 pandemic, China should give a little more forethought pertaining its financial opening-up. On one hand, it should emphasize and accelerate the construction of the financial system to promote the opening of its domestic financial markets. On the other, a more cautious geo-approach is required to implement capital account opening and RMB internationalization.
*Wei Hongxu, graduated from the School of Mathematics of Peking University with a Ph.D. in Economics from the University of Birmingham, UK in 2010 and is a researcher at Anbound Consulting, an independent think tank with headquarters in Beijing. Established in 1993, Anbound
Future Economy: Micro-Manufacturing & Micro-Exports
Recovery now forces economies to emerge as dynamic entrepreneurial landscapes; today, the massively displaced working citizenry of the world may not return to old jobs, but with little help slowly shifting towards entrepreneurial startups as new frontiers to create economic independence and increased local grassroots prosperity. Today, the latest global influences of trendy entrepreneurialism optimizing available options like high quality "Micro-Manufacturing" and high value added "Micro-Exporting" now common discussions on the main streets of the world. Although, this is not an easy task, but still very doable for so many and promises local uplifts. Smart nations are awakening to such bold notions and entrepreneurial driven agencies mandated to foster local economies are using virtual events to rise up with global rhythm and rich contents.
Therefore, the blueprints and new models of today on upskilling SME exporters and reskilling for better-designed manufacturing, nation-by-nation and city-by-city are mobilization ready ideas to optimize abandoned talents. Nevertheless, such upskilling and reskilling of masses demands already skilled leadership of most of the gatekeepers of local economic development venues.
Furthermore, global competitiveness has raised the bar and now only high quality value added goods and services traded for the wide-open world. The conveyer belts of technology and zoomerang culture of virtual connectivity flourishes platform economies. Missing are the advanced skills, complex problem solving and most importantly national mobilization of entrepreneurialism on digital platforms of upskilling to foster innovative excellence and exportability. SME and Startups must advance on global thinking, optimize access, and maximize image and quality superiority to reach the farthest markets with deeper pockets.
This is not an easy task. Methodical progressions needed. Study how Pentiana Project tabled advanced thinking on such trends during the last decade. Export Promotion Agencies, Chambers of Commerce, Trade Associations and most SME and midsize economic developments bodies all called for bold and open debates. For fast track results, follow the trail of silence and help thought leadership to engage in bold and open debates and give them guidance to overcome their fears of transformation.
Small enterprises must now open to new world of 200 nations and 10,000 cites
Micro-Exporters: Upskilling Startups to think like global exporters; the pandemic recoveries across the world coping with a billion displaced all have now critical needs of both upskilling and reskilling. Upskilling is the process of learning new skills to achieve new thinking. Reskilling is the process of learning new skills to achieve new performances. What is exporting, how to start at micro-levels and how to expand globally with technology are new challenges and promising options.
Micro-Manufacturers: Reskilling Startups to think like smart manufacturers; the real goals for startups to enlarge and base thinking on reskilling for "real value creation" becomes mandatory. How to start by thinking better, design quality with creative global age strategies and advance? Advanced Manufacturing Clusters in various nations will greatly help, but understanding of global-age expansion of value offerings with fine production is a new art and commercialization to 200 nations a new science.
The future of economies, The arrival of Virtual leadership and Zoomerang culture is a gift from pandemic recovery, although at infancy, the sector will not only grow but also alter global commerce for good. Once successful the traditional advertising and marketing models dying, direct access live interaction is now far superior to mass-mailing and social media screaming. The zoomerang impact of global thought leadership now forcing institutions to become armchair Keynote speakers and Panelists to deliberate wisdom from the comfort of their homes round the clock events has arrived.
The Difficult Questions: Nation-by-nation,when 50% of frontline teams need 'upskilling' often 50% of the back-up teams need 'reskilling' so how do you open discussions leading to workable and productive programs? Each stage challenges competency levels and each stage offers options to up-skill for better performances. Talent gaps need fast track closing and global-age skills need widening. New flat hierarchical models provide wide-open career paths and higher performance rewards in post pandemic recovery phases. When executed properly such exercises match new skills and talents with the right targeted challenges of the business models and market conditions. The ultimate objective of "extreme value creation" in any enterprise must eliminate the practices of 'extreme value manipulations".
First Three Steps: In order to mobilize a startups revolution along with a small medium business economy, start by identifying 1000 to 10,000 high enterprises anxious to grow for national global markets. To quadruple exportability, select a small leadership team, from local trade Associations, Economic Development Bodies and Chambers of Commerce responsive to calls of upskilling and reskilling as critical steps. Suggest roundtable discussions to reach local, national or global audiences to spread the message. Explore such superior level debates to mobilize local businesses. Most importantly, such mobilizations are not new funding dependent they are deployment hungry and execution starved. Futurism is workless, uplifting mental powers towards better value-added production of goods and services will save economies. Optimize zoomerang culture and use virtual events to raise the bar on thought leadership. The world is moving fast and best to join the pace.
The rest is easy
Portugal's crisis management: "Economic patriotism" should not be tied to ideological beliefs
The economic policy of the Hungarian government has provoked fierce criticism in the last decade, as it deviated from the neoliberal mainstream and followed a patriotic path, putting Hungarian interests in the foreground. While many link this style of political economy to the conservative position of the Orbán-government, in Portugal, a left-wing administration followed a similarly patriotic line to overcome the symptoms of the Eurozone crisis, showcasing that economic patriotism is not tied to ideologies, but is merely responsible thinking.
The catastrophic path of austerity
According to the theory of austerity, the government by implying austerity measures, "puts its finances in order", hence the state does not become indebted and consequently investors' confidence in the economy returns. However, if we think about what we really mean by austerity (tax increases, wage cuts, budget constraints, etc.), even the theory itself sounds counterproductive. Not surprisingly, this theoretical counter productivity has been demonstrated in practice in several cases.
One of the best examples is the case of Portugal, which along with Greece and other Southern-European nations was probably hit the hardest by the financial crunch. While all of the "GIPS" (Greece, Italy, Portugal, Spain) entered a steer recession, Portugal somehow managed to overcome it more successfully than its regional peers, but before that, it felt the bitter taste of neoliberal structural reforms.
Although the case of Portugal was not as traumatic as the ones of its Southern-European counterparts, in order to keep its debt under control, stabilize its banks and introduce "growth-friendly" reforms, Lisbon negotiated a € 78 billion bailout package in 2011, in exchange for a rigid austerity program aimed at the 2011-2014 period, orchestrated by the European Commission (EC), the International Monetary Fund (IMF) and the European Central Bank (ECB), the infamous "Troika".
The neoliberal recipe did not differ much from that of Greece, and the then ruling Passos Coelho conservative government faithfully followed the structural reforms demanded by the "group of three": working hours increased, number of bank holidays fell, holiday bonuses were abolished, wages and pensions have also been cut by 20 per cent, while public spending on health and education was drastically cut, and due to escalating privatizations, public assets have also been sold off quickly.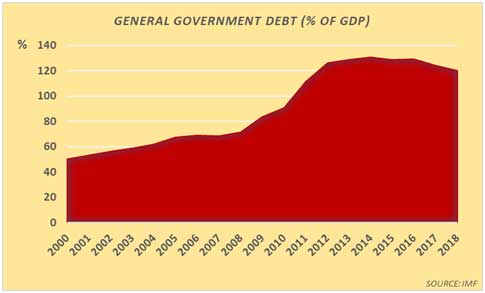 Despite the fact that by 2014 the country's budget deficit as a share of the GDP had fallen to 4.5 per cent from the staggering11.2 per cent recorded in 2011 and the current account showed a surplus – as domestic demand fell apart, forcing companies to export –Portugal was still on the brink of social and economic collapse.
Public debt soared to more than 130 per cent of the GDP, tens of thousands of businesses went bankrupt, unemployment rose to 17 per cent and skyrocketed to 40 per cent amongst the youth. As a result, many talented Portuguese fled abroad, with an estimated 150,000 nationals emigrating in a single year.
The post-2015 turnaround
Things only began to change in 2015, when the Portuguese elected Anotnio Costa as Prime Minister, who was the mayor of Lisbon under the years of the crunch. Shortly after his election, Merkel encouraged the center-left politician to follow the neoliberal prescription proposed by the "Troika", while her Finance Minister, Wolfgang Schäuble, underlined that Portugal would make a "serious mistake" if it decided not to follow the neoliberal doctrine and would eventually be forced to negotiate another rescue package.
Not being intimidated by such "threats", Costa ditched austerity without hesitation, restored working hours, cut taxes and raised the minimum wage by 20 percent in the course of just two years. Obviously, his unpopular position made him crush with Brussels, as his government allowed the budget deficit to reach 4.4 per cent, compared to the agreed 2.7 per cent target. However, in May 2016, the Commission granted Costa another year to comply, and since then Portugal has consistently exceeded its deficit targets.
Tourism also largely assisted the post-15 recovery, to which the government placed great emphasis, so that in 2017 the number of visitors rose to a record high, reaching 12.7 million. Concurrently, Portugal has significantly improved the international reputation of its businesses and products, which contributed to increasing the country's export revenues and attracting foreign investment.
Furthermore, Costa has raised social spending and at the same time planned to invest state revenues in transport, environmental infrastructure and energy, initiatives that could be extremely beneficial, as they would not only significantly improve the country's sustainability, but also boost job creation, something that yet again indicates how important public investment is to an economy.
Additionally, Portugal has become an undervalued tech-hub, with plenty of start-ups offering good employment opportunities in addition to fostering innovation. The government with several initiatives, seeks to create a business-friendly ecosystem for them, under which they can thrive and boost the economy to the largest extent. It is thus not surprising, that Portugal has been the fastest growing country in Europe when it comes to the number of programmers.
Finally, one of the Costa's top priorities, has been to lure back emigrated Portuguese who moved abroad during the crisis. To this end, tax cuts are offered to Portuguese citizens who choose to return home.
In a sum, since Costa stepped into office, Portugal has undergone a rapid recovery: economic growth has returned, unemployment has fallen radically, the public debt was also set on a downgrading path, while the budget remained well-balanced despite the increased spending, with Costa himself explaining that "sound public accounts are compatible with social cohesion". Even Schäuble acknowledged Portugal'scrisis management, by actually calling Mário Centeno – the finance minister of the Costa government – the "Cristiano Ronaldo" of finance ministers.
Of course, not everything is bright and wonderful, as the country has emerged from a large crisis, the effects of which cannot be eliminated in just a few years. Public debt is still amongst the highest in the EU and several other challenges lie ahead for the South-European nation, especially by taking into consideration that the world economy just entered yet another crisis.
Furthermore, according to many, it was not Costa who led the recovery, but Portugal passively benefited from a strong recovery in Europe, falling oil prices, an explosion in tourism and a sharp drop in debt repayment costs. Indeed, it has to be taken into account that Portugal entered the recession in a relatively better position than many of its spatial counterparts and the relatively high quality of its domestic institutional infrastructure and policy-adaptation capacity aided the previous government to efficiently complete the memorandum of understanding (MoU) as early as 2015. Nevertheless, this is not a sufficient reason to discredit the post-2015 government's efforts and justify the harsh austerity measures implied by the Troika. Taking into account that austerity never really provided decent results, it becomes evident that Costa's policies were quite effective.
Economic patriotism should not be connected to ideologies
While in the case of Hungary and Poland "economic patriotism" has been fiercely criticized despite its prosperous results, this spite tendency has been an outcome of strong politicization in economic policy analysis. Even though the political context is verily important, it is also crucial to interpret economic policy independently, in order to take away valuable lessons and identify mistakes. Political bias is not a fortunate thing, as it is absolute and nullifies debate and hence development.
The case of Portugal is a perfect example, as it provides sound evidence, that a patriotic economic policy can be exercised by governments from all across the political spectrum and that the notion should not be connected to political and ideological beliefs. The left-wing Costa-government with its policy-making demonstrated that a solution always exists and that requires a brave, strong and decisive government, that pursues its own plan in the interests of the 'patrie', regardless of its positioning.
The Question Of Prosperity
Galloping economic woes, prejudice, injustice, poverty, low literacy rate, gender disparity and women rights, deteriorating health system, corruption, nepotism, terrorism, political instability, insecure property rights, looming energy crisis and various other similar hindrances constrain any state or country to be retrograded. Here questions arise that how do these obstacles take place? How do they affect the prosperity of any country? No history, geography, or culture spawns them. Simply the answer is institutions that a country possesses.
Institutions ramify into two types: inclusive and extractive. Inclusive political institutions make power broadly distributed in country or state and constrain its arbitrary exercise. Such political institutions also make it harder for others to usurp rights and undermine the cornerstone of inclusive institutions, which create inclusive economic institutions that feature secure property rights, an unbiased system of law, and a provision of public services that provide a level playing field in which people can exchange and contract; it also permits the entry of new businesses and allow people to choose their career. On the contrary, extractive political institutions accord clout in hands of few narrow elite and they have few constrains to exert their clout and engineer extractive economic institutions that can specifically benefit few people of the ruling elite or few people in the country.
Inclusive institutions are proportional to the prosperity and social and economic development. Multifarious countries in the world are great examples of this. Taking North and South Korea; both countries garnered their sovereignty in same year 1945, but they adopted different ways to govern the countries. North Korea under the stewardship of Kim Il-sung established dictatorship by 1947, and rolled out a rigid form of centrally planned economy as part of the so-called Juche system; private property was outlawed, markets were banned, and freedoms were curtailed not only in marketplace but also in every sphere of North Korea's lives- besides those who used to be part of the very small ruling elite around Kim Il-sung and later his son and his successor Kim Jong-Il. Contrariwise, South Korea was led and its preliminary politico-economic institutions were orchestrated by the Harvard and Princeton-educated. Staunchly anticommunist Rhee and his successor General Park Chung-Hee secured their places in history as authoritarian presidents, but both governed a market economy where private property was recognised. After 1961, Park effectively taken measures that caused the state behind rapid economic growth; he established inclusive institutions which encouraged investment and trade. South Korean politicians prioritised to invest in most crucial segment of advancement that is education. South Korean companies were quick to take advantage of educated population; the policies encouraged investment and industrialisation, exports and the transfer of technology. South Korea quickly became a "Miracle Economy" and one of the most rapidly growing nations of the world. Just in fifty years there was conspicuous distinction between both countries not because of their culture, geography, or history but only due to institutions both countries had adopted.
Moreover, another model to gauge role of institutions in prosperity is comparison of Nogales of US and Mexico. US Nogales earn handsome annual income; they are highly educated; they possess up to the mark health system with high life expectancy by global standards; they are facilitated with better infrastructure, low crime rate, privilege to vote and safety of life. By contrast, the Mexican Nogales earn one-third of annual income of US Nogales; they have low literacy rate, high rate of infant mortality; they have roads in bad condition, law and order in worse condition, high crime rate and corruption. Here also the institutions formed by the Nogales of both countries are main reason for the differences in economic prosperity on the two sides of the border.
Similarly, Pakistan tackles with issues of institutions. Mostly, pro-colonial countries are predominantly inheritors of unco extractive politico-economic institutions, and colonialism is perhaps germane to Pakistan's tailoring of institutions. Regretfully, Pakistan is inherited with colossally extractive institutions at birth. The new elite, comprising civilian-military complex and handful aristocrats, has managed to prolong colonial-era institutional legacy, which has led Pakistan to political instability, consequently, political instability begot inadequacy of incentives which are proportional to retro gradation of the country.
Additionally, a recent research of Economic Freedom of the World (WEF) by Fraser Institute depicts that the countries with inclusive institutions and most economic freedom are more developed and prosperous than the least economic free countries; countries were divided into four groups. Comparing most free quartile and least free quartile of the countries, the research portrayed that most free quartile earns even nine times more than least free quartile; most free quartile has two times more political and civil rights than least free quartile; most free quartile owes three times less gender disparity than least free quartile; life expectancy tops at 79. 40 years in most free quartile, whereas number stands at 65.20 in least free quartile. To conclude this, the economic freedom is sine quo non for any country to be prosperous, and economic freedom comes from inclusive institutions. Unfortunately, Pakistan has managed to get place in least free quartile.
In a nutshell, the institutions play pivotal role in prosperity and advancement, and are game changer for any country. Thereby, our current government should focus on institutions rather than other issues, so that Pakistan can shine among the world's better economies. For accomplishing this highly necessary task government should take conducive measures right now.