Just hoping coronavirus will bypass Africa, would be a deadly mistake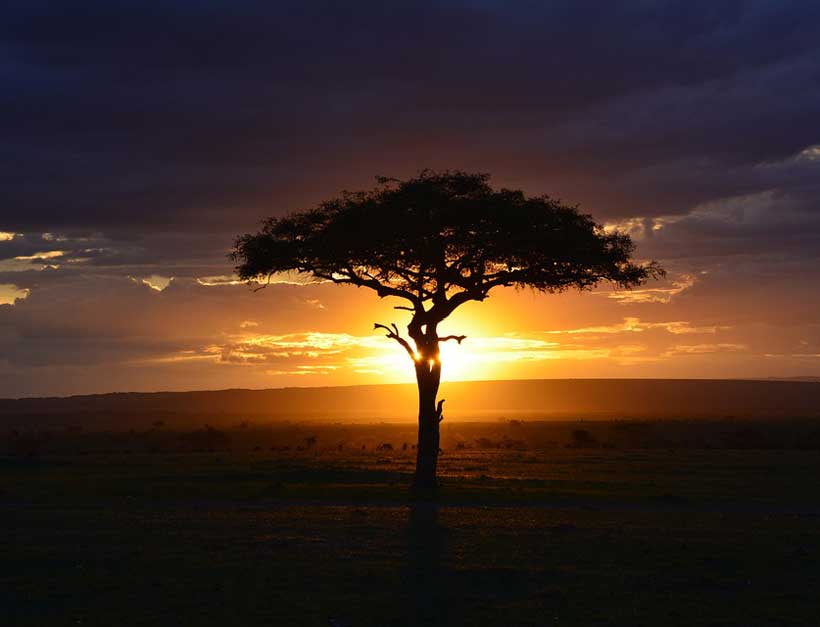 Tens of millions of people in Africa could become destitute as a result of COVID-19 and its catastrophic impact on fragile economies and health systems across the continent, human rights chiefs from the United Nations and the African Commission warned on Wednesday.
UN High Commissioner for Human Rights Michelle Bachelet, and Chairperson of the African Commission on Human and Peoples' Rights, Solomon Dersso, issued a joint call for urgent measures to mitigate the ripple effects of COVID-19 on the most vulnerable.
"We cannot afford to stand idly by and hope this most viral and deadly of diseases bypasses Africa, which is home to many of the world's poorest countries who are simply not in position to handle such a pandemic", Bachelet and Dersso said.
Cases in every country
As of 19 May, COVID-19 had reached all 54 African States, infecting 88,172 people – 16,433 of them in South Africa, which recorded the highest number of cases. The continent had lost a total 2,834 people to the virus.
Poverty, lack of social protection, limited access to water, poor sanitation infrastructure, pre-existing disease burden, conflict and overstretched health systems, have created heightened risk for spreading the disease.
Ms. Bachelet and Mr. Dersso called for equitable access to COVID-19 diagnostics, therapeutics and vaccines, urging creditors of African countries to freeze, restructure or relieve debt.
"This health crisis – along with the debt burden of the continent and its already fragile economies – threaten to further drain reserves, cripple nascent job creation schemes and annihilate gains made in social development," they said.
Potential poverty explosion
Such losses could "throw millions more people into want and poverty," they said, pointing out that the costs of water and basic commodities have already spiked in many countries. People are facing hunger due to disrupted access to food and cooking fuel. Recession in the region now looms large for the first time in more than 25 years.
"It is a matter of human rights necessity that there must be international solidarity with the people of Africa and African Governments," they said. Priority investments are needed in health, water and sanitation, social protection, employment and sustainable infrastructure.
Acknowledging the economic pain
The pair said that while measures to restrict movement and increase physical distancing were essential in the fight against the virus, they are now having a dramatic impact, in particular, on those who rely on informal daily work for their survival.
In addition, the human rights experts underlined the importance of preserving freedom of association, opinion and expression, as well as access to information during this critical time. They called on Governments and businesses operating in Africa to consider making Internet tariffs more affordable so that information can reach broader audiences.
Learning from Ebola, malaria
More broadly, the rights chiefs said Africa has learned from its experiences with Ebola and malaria about the need to take swift action in countering disease spread. They reminded African Governments that it is a legal imperative – and a pre-requisite for success – that they protect the most vulnerable and stamp out any violations that emerge during the pandemic, including discrimination in all its forms, violence against women, food insecurity, excessive use of force and extrajudicial killings.
Mali: COVID-19 and conflict lead to rise in child trafficking
Child trafficking is rising in Mali, along with forced labour and forced recruitment by armed groups, due to conflict, insecurity and the COVID-19 pandemic, the UN refugee agency, UNHCR, said on Tuesday.
Some 230 cases of child recruitment were reported during the first half of the year, compared with 215 cases for the whole of 2019, according to a UNHCR-backed study.
Armed groups are also trafficking children to work in gold mines, with the profits being used to fuel the arms trade and finance violence, the agency added.
Meanwhile, adults operating in the mines are subjected to extortionate "taxes".
Worst forms of abuse
"As a result of conflict and socio-economic deterioration worsened by the pandemic, we are seeing some of the most egregious human rights violations in the Sahel," said Gillian Triggs, UNHCR's Assistant High Commissioner for Protection.
"Children are being forced to fight by armed groups, trafficked, raped, sold, forced into sexual or domestic servitude, or married off. Many more children are at risk in the Sahel, a region which is becoming the fastest-growing humanitarian crisis in the world."
Overall, an estimated 6,000 children, mainly boys, were found working across eight mining sites in Mali, according to UNHCR child protection assessments.
These youngsters are exposed to the worst forms of child labour, economic exploitation, and physical, sexual and psychological abuse.
Working to pay off bogus 'debt'
Some children arrived at the mine sites on "credit", meaning a third party had financed their transport and food, while others said they worked for days without being paid. They are expected to work for an unspecified time until they pay of their "debt".
Additionally, UNHCR said reports of communities of women and girls being abducted, sexually assaulted and raped, have been received from the Mopti region in central Mali, with more than 1,000 cases recorded so far this year.
The agency fears child marriage will also inevitably increase in a country where an estimated 53 per cent of girls are married before they turn 18.
Trafficked in transit
The victims of these crimes are Malians, but also refugees, asylum seekers and migrants.
Despite the conflict, and COVID-19 movement restrictions, UNHCR said Mali remains a key transit country for people attempting to reach northern Africa and Europe.
Some of these "people on the move" are trafficked for forced labour in the agriculture sector, while others, particularly women, are trafficked on the way to promised jobs in North Africa, Europe and the Middle East. Others are diverted to the capital, Bamako, or to mining or agricultural areas where they are forced to engage in so-called survival sex.
UNHCR said traffickers and their accomplices range from the echelons of organized crime and outlawed armed groups, tribal chiefs or state authorities, but can even include parents, relatives or community members.
The agency continues to press for greater support for efforts to prevent and respond to trafficking, to protect those at risk, and to provide assistance to victims while also ensuring perpetrators are brought to justice.
However, insufficient funding threatens these efforts, according to a recent report.
First of four UN humanitarian airlifts for Ethiopia refugees lands in Khartoum
An airplane loaded with humanitarian supplies for people fleeing violence in Ethiopia's Tigray region has arrived in the Sudanese capital Khartoum, the UN refugee agency (UNCHR) said on Friday, in an appeal for international assistance to cope with the growing numbers seeking shelter in Sudan.
"This morning, a plane carrying 32 tonnes of UNHCR emergency aid from our global stockpiles in Dubai landed in Khartoum", said spokesperson Babar Baloch. "Another airlift is scheduled to leave Dubai on Monday with an additional 100 tonnes of additional relief items…In total, we plan to send four airlifts."
Growing exodus
Since the start of fighting in Ethiopia's northern Tigray region in early November, more than 43,000 refugees have crossed into Sudan.
People have sought shelter amid reports of a heavy build-up of tanks and artillery around regional capital Mekelle, following the Ethiopian Government's ultimatum to forces loyal to the Tigray People's Liberation Front (TPLF) to surrender, which has reportedly expired.
On Tuesday, UN Secretary-General António Guterres expressed deep concern over the unfolding situation, before urging "the leaders of Ethiopia to do everything possible to protect civilians, uphold human rights and ensure humanitarian access for the provision of much-needed assistance".
In a statement, the UN chief also called for the "free and safe movement of people searching for safety and assistance, regardless of their ethnic identity, across both national and international borders".
Echoing the Secretary-General's message, UN High Commissioner for Human Rights Michelle Bachelet, warned that both sides were using rhetoric that was "dangerously provocative and risks placing already vulnerable and frightened civilians in grave danger".
One million refugees
Even before violence erupted in Ethiopia's northern Tigray region causing mass displacement, Sudan was already home to nearly one million refugees, mainly from South Sudan.
In eastern Sudan, UNHCR has continued to step up its relief effort, together with national and local partners. "Aid is being mobilized to help refugees, almost half of whom are children", Mr. Baloch said, citing "complex logistical challenges".
To date the agency has helped to relocate nearly 10,000 refugees to Um Rakuba site, 70 kilometres inside Sudan, as work continues to put up shelters and improve services.
Family tracing services have been established and these have already reunited many separated refugees.
Mr. Baloch noted that although humanitarian agencies continue to provide shelter and other facilities to help refugees, "more resources are required and Sudan needs international support urgently".
Inside Tigray, concerns continue to grow for the safety of civilians in Mekelle, home to more than 500,000 people, and some 96,000 Eritrean refugees based in four camps.
No access
"Without humanitarian access, it's very hard to say what is actually going on, on the ground but there were worrying reports that fighting was getting closer to these refugee camps", Mr. Baloch told journalists via video link at a regular UN Geneva briefing.
Before the conflict erupted, UNHCR had "regular access to the refugees", the UNHCR official continued, but "since the start of it, we have lost access".
Highlighting the refugees' reliance on humanitarian distributions, Mr. Baloch said that "according to what they have had…they will be running out of food as of Monday".
Quality and standards: Game-changers for the post-COVID recovery of African economies?
The United Nations Industrial Development Organization (UNIDO) has organized a webinar onquality and standards in the context of post-COVID-19 recovery of African economies. It provided a multi-stakeholder platform to discuss the role of quality institutions and services for the sustainable and inclusive industrialization of Africa.
The discussion took place in the framework of the UNIDO–African Union joint celebration of Africa Industrialization Week 2020 on the theme, "Inclusive and sustainable industrialization in the African Continental Free Trade Agreement (AfCFTA) and COVID-19 era". It also represented a follow-up to the International Quality Infrastructure Forum held in April 2019 in Brussels, which focused on the contribution of Quality Infrastructure (QI) to achieve the Sustainable Development Goals (SDGs) and to implement the AfCFTA.
The session was moderated by Patrick Gilabert, Head of the UNIDO Liaison Office in Brussels, and introduced by Bernardo Calzadilla-Sarmiento,Managing Director of UNIDO Directorate of Digitalization, Technology and Agri-Business, at UNIDO headquarters. Calzadilla-Sarmiento stated that standards and quality for the AfCFTA, strong partnerships, and investments, were key to ensure inclusive and sustainable industrial development in Africa and achieve the SDGs for people, planet and prosperity. He also highlighted that "digitalization will be an integral part of the new normal".
The keynote speech was delivered by Elsie Meintjies, Chief Technical Adviser for the UNIDO South Africa office, who presented case studies in the South African region. For her, "it is clear that we are facing challenges, but also opportunities to uniquely position ourselves in the world". COVID-19 is, in her view, "the catalyst for South African technical infrastructure to take a quantum leap to the next level of service for our industry and our citizens". She also confirmed the role and significance of standards, conformity assessment, accreditation, and metrology in the economy of South Africa.
Antti Karhunen, Acting Head of Unit at DG DEVCO, presented the European Union (EU) common response to the pandemic, called "Team Europe", which will support Africa with a recovery package of 3.8 billion €.From an EU perspective, improvements in quality infrastructure and standards harmonization in Africa, together with investment promotion, private sector support (especially SMEs), and value chain diversification, are seen as great opportunities for Africa to emerge as a strong international trading partner. Karhunen recognizedthe need to build international partnerships, based on mutual interests and shared values to "build back better" and aim for a green, digital, and resilient recovery. He concluded by acknowledging that DEVCO was looking forward to continuing the excellent cooperation with international partners such as UNIDO and the Organisation of the African, Caribbean and Pacific States (OACPS).
Escipión Joaquín Oliveira Gómez, Assistant Secretary General of the OACPS in Brussels, warned that the COVID-19 pandemic had disrupted all economic and social processes. Value chains are being put in a very difficult position, hence the time for a paradigm shift towards more competitiveness based on "value propositions". He said the guiding principles for OACPS to successfully tackle the COVID-19 pandemic are clear: recognize that it is not a crisis that can be tackled by one continent, region, country or sector alone; foster public-private sector dialogue and cooperation at all levels; promote national consumption of locally produced goods and services; assist vulnerable groups such as youth and women via special programs; take advantage of the crisis to promote the use of "leapfrog" technologies by MSMEs.
Eve Christine Gadzikwa, past President of the African Organisation for Standardisation (ARSO), recognized that we live through times that are both exciting, where the concept Made in Africa is becoming more and more a reality, and challenging. For her, the critical elements to unlock value from the continent are the participation of SMEs and the contribution of women and youth. Obvious gaps are also access to information, logistics facilitation, intellectual property rights, payment options, and data storage. Even more importantly, she believes the mindset of the private sector has to change and become one of productivity, competitiveness, sustainable growth, market penetration and recognition of the value of the digital economy.
Dorsaf Labidi explained how the African Development Bank (AfDB) has contributed to the global efforts against the crisis. She mentioned the quick response mechanism put in place through loans amounting to 10 billion dollars. These budgetary measures for governments and private sector intend to mitigate the direct impacts of COVID-19. However, they should also be complemented by capacity-building measures and technical assistance in order to anticipate the needs for the economic recovery and future shocks.
Papa Demba Thiam, economist and industrial development expert, argued that shared growth with wealth distribution can only take place through value chains with value addition. In the AfCFTA context, quality standards, metrology, and testing truly matter. He suggested to focus on the strengths of the continent to support industrialization and to follow a more integrated approach through minimum integrated trade expansion platforms and operational services.
Ron Josias, Chair of the African Accreditation Cooperation (AFRAC), shared his view regarding the impact of COVID-19 on accreditation corporations responsible for evaluating and establishing regional arrangements for accreditation bodies on the continent. Challenges occurred in two main ways: people and processes. One the one hand, social distancing changed the way communication, trainings, and administrative management usually worked. On the other hand, preventing laboratory visits and the verification of technical competences proved to challenge accreditation bodies to witness the quality of processes. In this context, smart technologies became key. Despite these challenges, his view is that the crisis introduced new grounds for innovation as it "made us think in different ways".
To conclude the webinar, speakers were invited to share their views on how they see the future of quality and standards. In a nutshell, key take-aways showed a common enthusiasm regarding the prospect of internationally accepted Made in Africa products, and a call for change in mindset that ensures consumers believe and trust in the quality of African products.
Panellists also agreed that collaboration was more than ever needed and especially through public-private partnerships. Joint efforts are required to ensure that pan-African quality infrastructure works, that concrete steps for the intra-African and South-South cooperation in regard to industrial development are made, and that integration is reinforced between all institutions.
Other concluding remarks urged the need for investments, capacity-building, digitalization of QI (especially data security, confidentiality and connectivity) and for taking more holistic approaches by working at regional level.
The discussion led to the conclusion that it is high time for a paradigm shift. Africa and key partners should build on the social and economic disruptions related to COVID-19, the opportunities offered by the momentum of AfCFTA, and the innovations brought by digital transformations. Looking ahead, quality and standards will remain cornerstones of competitiveness and essential services for resilient, inclusive, and sustainable industrialization in Africa "to build back better".