Blockchain Principles Launched to Preserve and Protect User Rights
COVID-19 has accelerated the development and use of emerging technology across industries. For blockchain technology to scale in its next phase, global alignment between the public and private sectors is needed.
To help individuals and companies build trust and preserve the fundamental values of blockchain technology, the World Economic Forum's Global Blockchain Council developed the "Presidio Principles: Foundational Values for a Decentralized Future." Co-designed at the World Economic Forum's offices in the Presidio of San Francisco, sixteen principles aim to protect users and preserve the values of the technology so that all can benefit.
"The blockchain ecosystem needed a baseline for designing applications that preserve the rights of users," said Sheila Warren, Head of Blockchain and Data Policy, World Economic Forum. "During our council meeting, we realized we could help curb many of the mistakes and missteps seen so far if we were able to provide developers, governments and executives with a 'Bill of Rights' style document."
Rights are grouped into four broad pillars: Transparency & Accessibility – the right to information about the system; Privacy & Security – the right to data protection; Agency & Interoperability – the right for individuals to own and manage their data; and Accountability & Governance – the right for system users to understand available recourse.
The Presidio Principles
Applications built on top of blockchain-based systems should preserve the following participant rights.
A participant should have access to information that would enable them to:
Understand how a service is operated, including potential risks of the service, availability of source code, and the rules and standards upon which it is based.
Understand the potential risks and benefits of a service's use of blockchain technology.
Understand system performance expectations and where the responsibility for service delivery lies.
Understand the rights and obligations of different participants in the system.
A participant should be able to:
Create, manage, and independently store cryptographic keys.
Manage consent of data stored in third-party systems.
Port data between interoperable systems or parts of a system.
Revoke consent for future data collection.
Have access to information sufficient to facilitate system interoperability.
Assess if their data is at risk through appropriate disclosure procedures, which may include, but are not limited to, an examination of audit results, certifications, or source code.
Have their data protected in accordance with internationally recognized technical security standards.
Limit data collection to that which is necessary and data use to the purpose for which it was provided.
Verify – through third-party or self-created tools – that operations have been completed and confirmed in accordance with the system's rules.
Access information needed to: (a) understand the system's governance and rules and (b) pursue effective recourse mechanisms.
Opt-out of using applications that don't treat data in accordance with internationally recognized governance and data protection standards.
Rectify demonstrably false, inaccurate, or incomplete data when necessary.
The Principles include a menu of options for how organizations or individuals can take action. A list of signatories is available to view and self-regulate/hold others accountable.
The genesis for this idea came during the first meeting of the Forum's Global Blockchain Council in 2019. The content was developed and workshopped in sessions around the world, including at the Annual Meeting in Davos 2020 with a variety of members of the blockchain community, government officials, civil society members and business leaders. A public comment period on the developer platform GitHub was open from 10 April 2020 to 5 May 2020.
"Our Global Blockchain Council membership reflects varying ideological perspectives on what blockchain technology is appropriate for and where it is going, ranging from bitcoin maximalists to enterprise service providers," Warren said. "This highly opinionated group came together and agreed that the blockchain community needed the foundational principles we are presenting today. Agreement from across Council members, despite their divergent perspectives, indicates the critical need for a values-based document like this in order to ensure that the technology remains true to its roots as the application layer starts to scale."
The Forum is partnering with ecosystem leaders from Hyperledger and Ethereum, as well as the consulting and investor communities to issue specific "Guidance Documents" around how the principles can be implemented on a more tactical level. These will further help developers, governments, executives, corporate boards, international organizations and others implement the principles and take action now.
Additionally, Global Blockchain Council members will be partnering with individual organizations, associations and membership-based entities and investors for virtual sessions on how companies can meaningfully implement the Principles in their operations.
Early Adopters and Supporters
"I accepted the nomination to Co-Chair the Global Blockchain Council because I believe despite differences in methods and philosophies, there's a shared feeling in the blockchain ecosystem that this technology is truly disruptive, democratizing access to money and ownership of data in ways that we never could before," said Elizabeth Rossiello, Chief Executive Officer, AZA Finance. "As a founder and entrepreneur, I know that the Presidio Principles will encourage wider accessibility to emerging technologies and therefore wider potential for adopters."
"As fiduciaries, it is our responsibility to act not only in the interest of our investors, but also in a manner that better aligns investor outcomes with the broader objectives of society," said Meltem Demirors, Chief Strategy Officer, CoinShares. "By incorporating the Presidio Principles into our investment analysis, ownership policies, and disclosures, we will introduce a voluntary set of investment guidelines for professional asset managers allocating institutional capital into digital currencies and blockchain networks."
"As open sourced and decentralized systems keep moving forward, we have seen how challenging it can be to build guidelines that apply to different and evolving blockchain projects, and that help teams work to solve problems together," said Aya Miyaguchi, Executive Director, Ethereum Foundation. "Fortunately and thanks to the hard work of everyone involved, I believe that the Principles will provide a high-level framework that can really help these critical conversations continue throughout the lifespan of the technology."
"As an open source community, we are focused on developers," said Brian Behlendorf, Executive Director, Hyperledger, Linux Foundation. "How they choose to build their solutions affects not only the users of today, but the trajectory of the technology. We are exploring ways for our community of developers to not just read and sign onto the principles – but look for ways to meaningfully integrate them into their processes."
"Decentralized protocols are designed to enhance trust and security through transparency," said Joseph Lubin, Founder of ConsenSys. "The Presidio Principles are a valuable next step for creating ecosystem-wide accountability to these goals. We hope all builders of Ethereum-based projects – and across the blockchain landscape – will sign on to demonstrate their commitment to the users of their systems and applications."
"We have built our blockchain business around the key needs and requirements of our clients and we are excited to join with others to advance these principles," said David Treat, Senior Managing Director and Global Blockchain Lead, Accenture. "Our focus is to responsibly apply this technology to drive real value with a priority on inclusion and social impact, particularly in these challenging times where there is so much potential to help."
"The World Food Programme has been exploring blockchain technology for many years to help expand refugee choices for assistance more efficiently, transparently and securely," said Arif Husain, Chief Economist and Director of the Food Security Analysis and Trends Service at United Nations World Food Programme. "Ensuring that the people we serve truly benefit from every blockchain deployment is of utmost importance to us. We welcome the opportunity to use these principles ourselves but also to share more widely with our peers in the International Organisations community."
"The Presidio Principles will become a global benchmark for good governance and accountability for the next generation of decentralized technology platforms," said Tomicah Tillemann, Founder and Director, Digital Impact and Governance Initiative, New America. "At a moment when demand for accessible digital services is surging, the Principles will help the private sector and government create solutions that offer people more control of their data, privacy, and digital rights. We are grateful for the opportunity to collaborate with the World Economic Forum and an extraordinary group of leaders in developing this framework."
"In our mission to empower everyone with economic freedom, we created and support Zcash as a fair and open currency," said Zooko Wilcox, CEO of the Electric Coin Company. "Our values and commitment to high standards of user consent, security, and organizational transparency align strongly with the Presidio Principles and we look forward to their use as a standard in support of human freedoms."
"Colombia views the Fourth Industrial Revolution as a significant opportunity for our country and we have worked to create an environment that favours and accelerates the transition to Industry 4.0," said Victor Munoz, High Presidential Counsellor for Economic Affairs and Digital Transformation, Colombia. "We supported the creation of the Presidio Principles – as well as guidelines and design principles for public institutions – because we wanted to ensure that progress can continue rapidly and responsibly, ensuring that basic characteristics like security and data privacy are secured for our citizens."
"In the Digital Economy 1.0 the focus was mainly on centralized efficiency and scale, too often at the expense of individuals' privacy and rights," said Jen Zhu Scott, Founding Principal, Radian Partners. "The Presidio Principles are designed to encourage aspiring entrepreneurs, builders, and participants to co-create a Digital Economy 2.0 that is inclusive, transparent, and with profound respect and protection to individual digital rights so we can empower the people as well as the businesses."
"Ongoing dialogue between all stakeholders is critical to help businesses and governments alike navigate the challenges and opportunities presented by blockchain innovation," said Greg Medcraft, Director, Directorate for Financial and Enterprise Affairs, Organisation for Economic Co-operation and Development (OECD). "The Presidio Principles are an important contribution to this essential dialogue".
"Blockchain, as the Internet of Value, holds enormous potential to build a more sustainable, prosperous, healthy and just world," said Don Tapscott, Co-founder and Executive Chairman of the Blockchain Research Institute. "But people and organizations will determine how and to what goals this innovation is applied. The Blockchain Research Institute was pleased to contribute to the Presidio Principles and we commit to advocate them globally to help ensure the promise of this technology is fulfilled."
"Technology holds great potential for increasing trust and transparency – but if not deployed correctly, it also holds great risk to the world's most vulnerable," said Delia Ferreira Rubio, Chair of Transparency International. "We want to use these Principles in our work across the globe to ensure that the user and technology's potential for good is at the heart of each design choice."
"We commend the World Economic Forum's initiative on achieving wide alignment and responsible adoption of transformative technologies," said Linda Pawczuk, US Blockchain Leader, Deloitte Consulting LLP.
"Everledger was founded in 2015 with the mission of digital transparency," said Leanne Kemp, Founder and Chief Executive Officer, Everledger. "The space has evolved over time, but it is clear that most are here to transform the way things operate for the better. We are excited to use the Principles in conversations internally and with our partners to hold each other accountable to the vision we are trying to achieve."
"At OmiseGO, we believe that the ability for people to transfer money globally and without restrictions has become a basic human need," said Vansa Chatikavanij, Chief Executive Officer, OmiseGO. "Our contribution towards a more financially accessible world is to launch the OMG Network to scale Ethereum transactions and lower the cost barrier, without sacrificing security. User protection and governance are critical for fintech players. The Presidio Principles is a starting point to help ensure innovation can progress with sufficient consideration."
Moscow electronic school — the future of education
The Moscow Electronic School ("MES") project is a cloud-based Internet platform launched in 2016 that unites all educational institutions in Moscow into a single high-tech environment. After successful testing, since September 1, 2017, the MES has been implemented in all educational organizations (schools, kindergartens, colleges) in Moscow and is available online for any user from anywhere in the world, from any device 24/7/365. Today MES unites about 3 million participants in the educational process of the capital, including teachers, students and their parents.
The Moscow Electronic School project is aimed at the most effective use of the school's IT capabilities to improve the quality of student education by forming a connection between the organizational and content aspects of the educational process (interactive equipment, as well as personal devices of users connected to the Internet, are linked with the educational materials of the platform).
The "MES" platform provides automation of most of the organizational, methodological and pedagogical tasks solved in a modern large educational organization, makes the content of education more accessible, allows in practice to implement modern pedagogical technologies and approaches, for example, blended learning, distance and electronic education.
Today "MES" has become a real digital assistant for the modern teacher. Thanks to special digital constructors, Moscow teachers in the "MES" Library create lesson scripts, "folk" textbooks, self-study guides, tests that students use in class, when preparing design work at school, in the course of independent work. Thus, the service allows not only to use the posted educational materials, but also to supplement the cloud educational platform with its developments and content, as well as to share them with colleagues. Electronic versions of textbooks, teaching aids, interactive applications and other modern digital content allow the teacher to diversify the content of the assignments and make the learning process fun for children and more effective.
"MES" services
The key elements of the digital educational platform are an electronic journal, an electronic diary, a library of electronic materials, the "Moskvenok" service (Pass and Power system), as well as infrastructure solutions: Wi-Fi access points with high-speed Internet, school servers, touch-controlled interactive panels with a built-in computer, teachers' tablets and laptops, a video surveillance system and turnstiles at the entrance.
"MES Library" is a unique repository of educational electronic materials and tools. The service is implemented in the web version and as a mobile application "MES Library". Library materials are available online at no cost to any user from anywhere in the world.
The "Moskvenok" service helps parents place an order for their child's hot meals (if the school is connected to the hot meal ordering service from the menu), check his arrival or departure from school, college or kindergarten, control his meals in the school cafeteria and the costs of the cafeteria. Children can use the "Moskvenok" carrier (bracelet, keychain or card) as a pass to an educational organization and museums in Moscow, as well as for non-cash payments for purchases at school.
The electronic diary contains complete information on training: curriculum for the year ahead, schedule and attendance of classes, progress, analytics. The service makes it possible to find out about current events and activities. It is available both in the web version and in the form of the "MES Diary" mobile application.
In the new academic year, "MES" will be replenished with a wide range of diverse partner educational content, which has already proven itself well among teachers and schoolchildren. Thanks to this, an additional 45 thousand units of new tools and materials will appear in the library: interactive presentations for lessons, design and research tasks, virtual laboratories and tests. Most of the tasks will be self-checking, that is, after completing the work, the teacher, student and parent can immediately familiarize themselves with the results.
Virtual laboratories
Another important area in the Moscow Electronic School is virtual laboratories – interactive online simulators of experiences and experiments for children and adults, which allow improving knowledge and skills in the subjects of the school curriculum. At the beginning of the academic year, new virtual laboratories for drawing, inorganic chemistry, computer science, mathematics, biology and physics will appear at the "MES".
This year, in the library of the Moscow Electronic School, the collection of virtual laboratories has been replenished with 10 new laboratories in the section of biology "Cytology" for schoolchildren in grades 5-11. It has an interactive virtual microscope that allows you to view individual cells. And the children can consolidate the knowledge gained by "collecting" cells in a game format, solving an interactive problem or passing a thematic quiz.
It is now possible to design and conduct experiments on electrostatics, magnetostatics and electromagnetism in the virtual laboratory "Electromagnetic field. Faraday", which became the fifth in the line of physics laboratories. The new laboratory will help schoolchildren to master the main sections of electrodynamics: electrostatics, magnetic field and electromagnetic phenomena.
Another novelty is the virtual laboratory "MES Informatics" for students in grades 7-11. Children will be able to test their knowledge using 290 ready-made tests, practice using more than 9 thousand tasks, and also take 254 programming courses.
Student's portfolio
An important innovation of the "MES" is the new "Student portfolio" service. It will accumulate the results and achievements of schoolchildren not only in the educational part, but also in olympiads, competitions, sports competitions. Also, students and their parents will be able to independently enter information into the new service, edit data and share their portfolio with friends, teachers, organizations.
Thematic materials about Russian writers
At the end of July, the project "Moscow Electronic School" made available thematic materials about the life and work of one of the greatest poets of the golden age of Russian literature – Mikhail Lermontov.
Also, the project "Moscow Electronic School" presented a thematic selection of materials about the life and work of Fyodor Dostoevsky in the year of the 200th anniversary of the birth of the writer. Schoolchildren are offered to go on a virtual trip to St. Petersburg of the XIX century and get acquainted with the peculiarities of the worldview of the classic.
First-of-Its-Kind Blueprint for Data Policy Adopted by City of Helsinki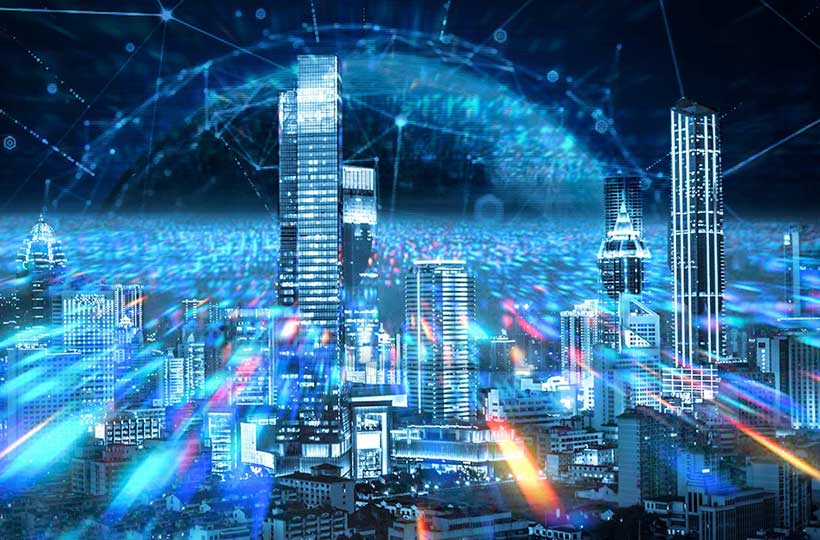 The World Economic Forum today released Empowered Data Societies: A Human-centric Approach to Data Relationships. The framework put forth in the white paper ensures that data is used in responsible and innovative ways to create progress while respecting, valuing and empowering people and communities.
As part of a year-long partnership with the City of Helsinki, the World Economic Forum convened a global community of technologists, anthropologists and policy and data experts to develop a new way to create data policy oriented around the values, needs and expectations of people.
By leading with the interests of those generating data or most impacted by resulting insights, this approach mitigates the trade-offs between innovation and privacy.
The Forum worked with a dedicated team of data practitioners and policy-makers with the City of Helsinki to apply this new methodology to develop a dedicated anonymization pipeline for complex personal data that will allow for maximal data utilisation anchored in respect for individuals and their privacy. New pathways, processes and tools were also created to document a best practice blueprint for human-centric proactive services, which Helsinki will open-source for future expanded use and improvement.
"Throughout this year-long partnership we were motivated by the principle that human-centricity is neither a 'nice to have' nor a 'deluxe' approach to data. Human-centricity can and should be the foundation upon which to build empowered data societies. With the release of this paper, we aim to share frameworks, insights and best practices so policy-makers around the world can adopt and build systems that use data in responsible and innovative ways to create progress that legitimately serves people and communities," said Sheila Warren, Deputy Head of the Centre for the Fourth Industrial Revolution Network, World Economic Forum.
The City of Helsinki created several tools to enable efficient utilization of extremely sensitive data. The main principle behind the blueprint is that the storage, anonymization and processing of data are separated and that different individuals perform each task.
Forging a way to create entirely new data analytics capabilities for Helsinki has resulted in a new technical environment for treating sensitive personal data with the highest ethical, data protection and cybersecurity standards. This environment will be used as the city continues accelerating its use of data to provide more personalized and timely services for its residents and visitors.
"Helsinki's commitment to serving its citizens requires going beyond traditional service provision and tapping into the full potential of data to deliver the best quality services in the most efficient way possible. Using data responsibly requires the development and implementation of new practices that are human-centric – those that assure citizens' interests are respected and prioritized at all times, empower citizens to improve their own lives through data, and increase participation in the overall ecosystem by building trustworthy data relationships," said Jan Vapaavuori, Urban Activist and Mayor of Helsinki (2017-2021).
Much of the data needed to tackle the world's most pressing challenges is siloed in public and private sources. Even for social good, the various regulatory, commercial and social risks prevent data sharing. The Shaping the Future of Technology Governance: Data Policy Platform works with partners from all sectors, regions and industries to develop agile and innovative approaches to accelerate the responsible use of data and empower stakeholders across the entire data ecosystem.
Digital billboards bring real-time air pollution data to Nairobi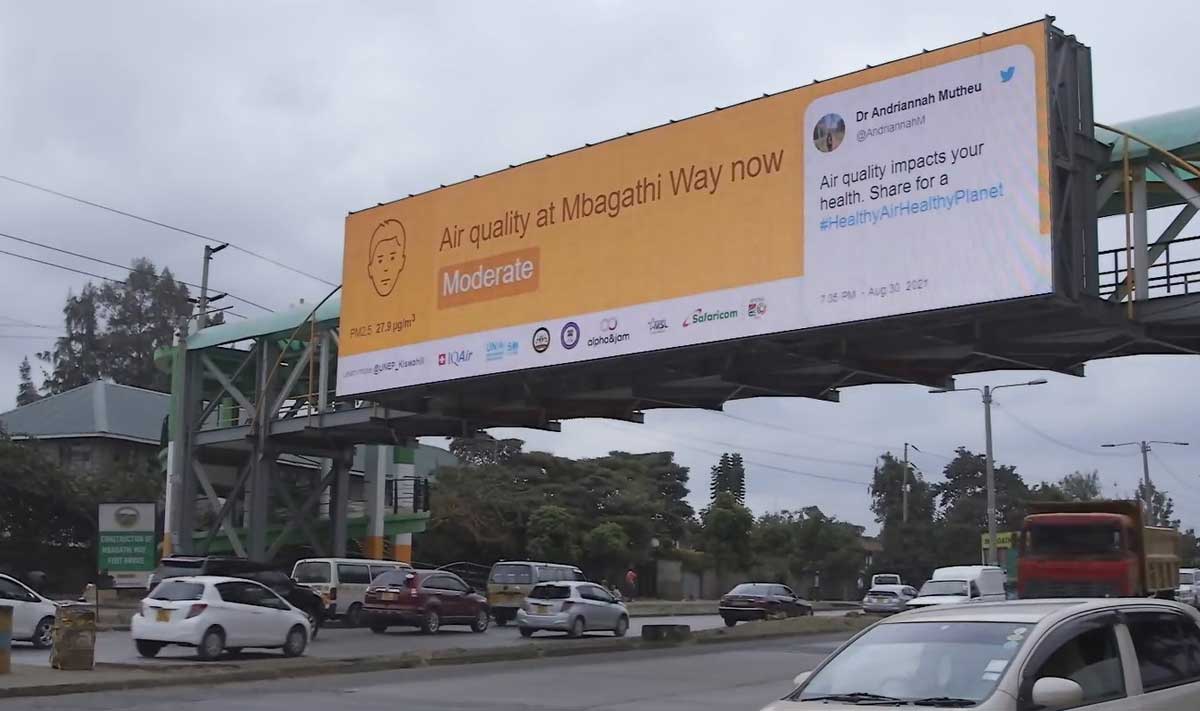 Digital billboards around the Kenyan capital today started to live stream Nairobi's real-time air pollution in an effort to increase air quality awareness among the city's 4.7 million inhabitants.
The initiative – by the UN Environment Programme (UNEP), in collaboration with IQAir, a Swiss air quality technology company, Safaricom, a telecommunications provider in Kenya, Alpha and Jam Ltd and Metropolitan Star Lite Ltd, Out Of Home (OOH) media – provides real-time air quality information for some of the most harmful type of air pollution, fine airborne particles, known as PM2.5. The pilot aims to engage the public by streaming real-time air pollution information to digital billboards at 4 critical locations in the city: Moi Avenue, University Way, Mbagathi Way and Jomo Kenyatta International Airport.
PM2.5causes serious health issues, including asthma, lung cancer, and heart disease. Exposure to PM2.5has also been associated with low birth weight, increased acute respiratory infections, and stroke.
"Real time air quality monitoring will help us with the issuance of health advisories as well as for formulation of smart traffic controls that minimize congestion," said Lawrence Mwangi, Assistant Director of Environment in charge of pollution control at the Nairobi County Government. "Dynamic advisories demonstrated through this collaboration will help people limit their exposure to harmful pollutants."
Around 3 billion people cook and heat their homes using open fires and simple stoves burning biomass (wood, animal dung and crop waste) and coal. More than 50% of premature deaths due to pneumonia among children under 5 are caused by the particulate matter (soot) inhaled from household air pollution. Outdoor air pollution in both cities and rural areas was estimated to cause 3 million premature deaths worldwide in 2012 with 88% of those premature deaths occurring in low- and middle-income countries.
Policies and investments supporting cleaner transport, energy-efficient housing, power generation, industry and better municipal waste management would reduce key sources of urban outdoor air pollution. Most residents of the city do not have access to real-time air quality data and consequently, are often unaware of the harmful levels of air they breathe.
"Action on air pollution, which is responsible for millions of premature deaths a year, is critical – efforts should focus on high-risk communities, such as people living in informal urban settlements," said Inger Andersen, Executive Director of UNEP. "Innovations to reach and engage the local community and decision-makers alike, can only elevate the understanding of the impacts of air quality and help create an enabling environment improve human and ecosystem health."
"We recognize that some of the world's most vulnerable communities are disproportionately affected by poor air quality," said IQAir CEO Frank Hammes. "Through our partnership with UNEP, we are able to leverage real-time air quality monitoring data, machine learning and data visualization to help identify those that are most affected by global air pollution. The real-time visibility of the impact of air pollution on mankind, combined with the outreach and support that the UNEP offers, can help governments and communities around the world take actions that lead to cleaner, healthier air."
The Nairobi air quality awareness demonstration project is the result of a unique collaboration between the UN, the private sector, academia, non-governmental and local governmental organizations and is expected to accelerate efforts to change how transport, waste management and other services are managed in cities so that air pollution from these activities is significantly reduced, if not eliminated.
"This partnership lies very much at the heart of our sustainability agenda that seeks to address environmental issues such as air pollution which remains a major challenge especially in urban centres. We intend to use our digital platforms and expansive network infrastructure to support the air quality monitoring project to expand across more urban areas in Kenya. We will also foster partnerships with other stakeholders including regulators, relevant ministries and private organizations to help build a compressive and sustainable air quality monitoring system in the long run", said Peter Ndegwa, CEO, Safaricom.
The demonstration project comes as the world celebrates the 2nd International Day for Clean Air and blue skies on 7 September, this year held under the theme, Healthy Air, Healthy Planet. The Day calls for increased international cooperation at the global, regional and sub-regional levels. It provides a platform for strengthening global solidarity as well as political momentum for action against air pollution and climate change, including the increased collection of air quality data, carrying out joint research, developing new technologies and sharing best practices.