Use SDGs and Paris Agreement to Guide Recovery from COVID-19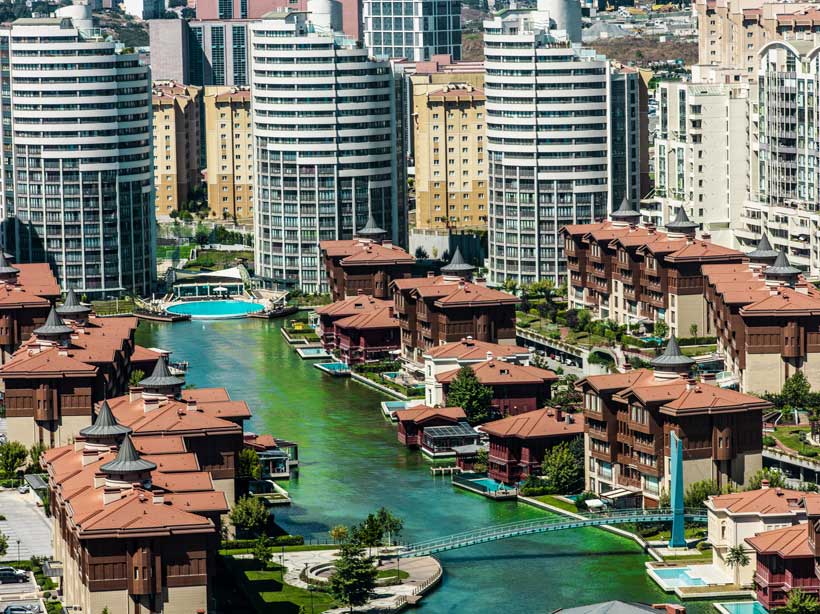 The United Nations Economic and Social Commission for Asia and the Pacific (ESCAP), Asian Development Bank (ADB), and United Nations Development Programme (UNDP) jointly launched today the latest edition of the Asia-Pacific SDG Partnership Report – Fast-Tracking the Sustainable Development Goals: Driving Asia-Pacific Transformations on the sidelines of the 7th Asia-Pacific Forum on Sustainable Development (APFSD).
The APFSD concluded today with a call for countries to revive international cooperation and multi-stakeholder partnerships in tackling the huge socioeconomic impacts of the novel coronavirus disease (COVID-19) pandemic, which threaten to reverse hard-won development gains in the region. Participants also expressed concerns on the limited progress made toward achieving the Sustainable Development Goals (SDGs) and underscored the need for transformative accelerated action by all stakeholders to meet the targets by 2030.
More than 730 delegates representing governments, civil society, businesses and international organizations took part in the Forum hosted virtually by ESCAP.
The report highlights strategies to accelerate transformation and helps countries compare their speed of progress with others. It calls for clear direction, removing systemic barriers, investing in institutional and public readiness to change, and upgrading policymaking approaches to manage increasingly complex development challenges.
One of the report's key findings is that higher income is not a silver bullet to address the challenges posed by the SDGs and achieve accelerated progress along transformative pathways. Low-income and lower middle-income countries emerged as some of the fastest-moving countries in the region.
"Resilience must be central to our strategies and interventions. Shocks such as the COVID-19 pandemic do not respect borders, so the pathway to saving lives and securing livelihoods lies not in national isolation, but in cooperating across borders on information sharing, capacity building, and policy coordination," said ADB Vice-President for Knowledge Management and Sustainable Development Bambang Susantono. "We must use the SDGs and Paris agreement as the guiding frameworks for our long-term recovery efforts, and do what it takes to prioritize their attainment."
Since 2014, the APFSD has provided a unique annual platform for countries in Asia and the Pacific to share perspectives, challenges and best practices as they progress toward implementing the SDGs. Outcomes from APFSD will provide input into the global discussions held at the United Nations High Level Political Forum on Sustainable Development in July this year.
4 million jobs added to Nepal's economy in the past decade -Report
Nepal's economy added nearly four million jobs over the past decade, and average job quality increased significantly, according to the World Bank's recent Nepal Jobs Diagnostic report. But continued job creation, especially of wage jobs, is needed to absorb underutilized workers into better-quality, stable, and well-paid jobs. The economic disruption caused by the COVID-19 pandemic – while not addressed in this report – highlights the importance of increasing stable and secure employment in the post-pandemic recovery period.
Nepal's economy has been gradually shifting from largely subsistence agriculture to more modern industry and services, and this structural transition is bringing better work opportunities for the labor force. Despite great strides, not all job seekers are able to access quality jobs, especially women. In the last decade, large numbers of men have entered jobs in construction, manufacturing, commerce and transportation, or have migrated abroad. Even though many of these are informal jobs or temporary wage jobs, they are nevertheless more productive and provide improved livelihoods compared to traditional low-productivity farm work. Women, on the other hand, have not transitioned in significant numbers. The share of wage work in Nepal jumped from 17 percent to 24 percent of total employment between 2008 and 2018, as nearly half of the jobs added since 2008 were wage jobs.
"The shift toward wage employment signals a fundamental change in Nepal's economic development and is similar to patterns seen around the world. As economies diversify their production activities and increase scale economies, employment becomes more specialized and more productive, and jobs are increasingly based in firms rather than self-employment, and pay more," stated Dr. Elizabeth Ruppert Bulmer, World Bank Lead Economist and main author of the report. "Urbanization amplifies these effects by concentrating economic activities while increasing the variety of products and services."
Evidence from a combination of data sources – national labor force surveys from 1998, 2008 and 2018, the 2018 Economic Census, and a 2019 survey of 900 SMEs across 6 districts – points to a number of constraints to achieving better labor market outcomes in Nepal. One key impediment is Nepal's dramatic topography, which makes access to wage jobs and to product markets costly. Most jobs are informal and concentrate in relatively low productivity sectors, while most firms are micro-sized with one or two employees, and target small local markets rather than exporting or connecting to regional or global value chains. In addition to credit constraints, many SMEs cite tax regulations, high taxes, scarce skills, and bureaucratic inefficiencies as obstacles to growth and therefore job creation.
Gendered social norms have limited female labor mobility and work opportunities, reflected by the fact that most women remain in unpaid work. Three-quarters of new jobs taken up by women between 2008 and 2018 were in non-wage self-employment or unpaid family work, much of which was farm work. Occupational segregation and social norms contribute to the large earnings gap between men and women, as per the report.
In order to improve job outcomes in Nepal, the report recommends policies focusing on fostering SME productivity and growth; improving the business environment and labor market policies; increasing the individual, family, and economy-wide benefits of international migration; and preparing and connecting women and youth to better jobs, including entrepreneurship.
"While the report does not address the shocks from COVID-19 experienced by Nepal's economy and its people, it underscores the imminent priority for Nepal to save livelihoods of the most vulnerable workers, including those in subsistence agriculture and urban and rural informal day laborers or self-employed workers who lost their income sources," states Faris Hadad-Zervos, World Bank Country Director for Maldives, Nepal and Sri Lanka. "The Government of Nepal has already initiated programs including the Youth Employment Transformation Initiative Project to address the immediate labor market challenges, and it is hoped that this analysis will further guide policy interventions to improve job outcomes as part of Nepal's resilient recovery efforts from the crisis."
Promoting Wellness Key to Developing Asia's Post-COVID-19 Recovery
Policies that promote and facilitate health and overall wellness are vital for Asia and the Pacific's recovery from the coronavirus disease (COVID-19) pandemic, according to the theme chapter of the Asian Development Outlook (ADO) 2020 Update released by the Asian Development Bank (ADB) today.
On top of the obvious health risks, the COVID-19 pandemic has increased inactivity, stress, and anxiety as lockdowns and layoffs heighten isolation, uncertainty, and economic hardships. The theme chapter, Wellness in Worrying Times, examines how wellness can help rebuild the human mind and body, and contribute to rebuilding the economy.
"Wellness involves the pursuit of activities that lead to holistic health, happiness, and well-being," said ADB Chief Economist Yasuyuki Sawada. "The pandemic has had a significant negative impact on physical and mental health, and governments should incorporate wellness-promoting policies into their recovery plans to promote economic growth that will benefit both individuals and society."
The report identifies a set of wellness measures across a range of policy domains including a healthy built environment, public infrastructure for physical recreation, healthy diet and nutrition, and a safe and healthy work environment. It explores how measures in these areas can contribute towards the region's recovery from the pandemic and emphasizes the importance of a lifespan approach to wellness to safeguard long-term mental and physical health.
Governments in the region can support public infrastructure that promote wellness including walkways, bicycle lanes, parks, recreation centers, and free sporting facilities. This will increase the number of people who participate in recreational physical activities on a regular basis—currently at 33.2%—making them healthier. Public infrastructure and programs for wellness are especially important for poorer Asians, who usually lack access to private wellness facilities such as fitness centers.
Governments should also encourage healthy eating by improving consumer information and awareness of nutrition and diet. For instance, some governments in the region are already imposing higher taxes on sugary drinks and tobacco products, combined with regulations on nutritional information disclosure for food and beverage products and public awareness campaigns. This is important given that annual direct medical costs due to obesity are estimated at 0.8% of the region's gross domestic product (GDP). Pursuing universal health coverage can amplify the benefits of wellness for all Asians.
Lastly, governments in Asia and the Pacific should strive to ensure a safe and healthy physical work environment for workers, especially in a post-COVID-19 scenario. In 2018, an estimated 2.3 million people died from work-related accidents and diseases worldwide, with the region accounting for over two-thirds of the total. The report notes that workers' happiness can improve by 0.15 units (on a scale of 1 to 10) if per capita workplace wellness spending doubles from the $11 global average to $22—which could lead to increased productivity and output.
Wellness is a big part of the global and regional economy, highlighting its potential role in post-COVID-19 recovery efforts. Wellness-related industries account for about 5% of global GDP or $4.5 trillion in 2018, and about 11% of developing Asia's GDP in 2017—and this is growing by about 10% annually. Wellness tourism, for instance, employed 3.74 million people in India, 1.78 million in the People's Republic of China, and 530,000 in Thailand in 2017.
Developing Asia's Economic Growth to Contract in 2020
Economies across developing Asia will contract this year for the first time in nearly six decades but recovery will resume next year, as the region starts to emerge from the economic devastation caused by the coronavirus disease (COVID-19) pandemic, according to a report released by the Asian Development Bank (ADB) today.
The Asian Development Outlook (ADO) 2020 Update forecasts -0.7% gross domestic product (GDP) growth for developing Asia this year—marking its first negative economic growth since the early 1960s. Growth will rally to 6.8% in 2021, in part because growth will be measured relative to a weak 2020. This will still leave next year's output below pre-COVID-19 projections, suggesting an "L"-shaped rather than a "V"-shaped recovery. About three-quarters of the region's economies are expected to post negative growth in 2020.
"Most economies in the Asia and Pacific region can expect a difficult growth path for the rest of 2020," said ADB Chief Economist Yasuyuki Sawada. "The economic threat posed by the COVID-19 pandemic remains potent, as extended first waves or recurring outbreaks could prompt further containment measures. Consistent and coordinated steps to address the pandemic, with policy priorities focusing on protecting lives and livelihoods of people who are already most vulnerable, and ensuring the safe return to work and restart of business activities, will continue to be crucial to ensure the region's eventual recovery is inclusive and sustainable."
A prolonged COVID-19 pandemic remains the biggest downside risk to the region's growth outlook this year and next year. To mitigate the risk, governments in the region have delivered wide-ranging policy responses, including policy support packages—mainly income support—amounting to $3.6 trillion, equivalent to about 15% of regional GDP.
Other downside risks arise from geopolitical tensions, including an escalation of the trade and technology conflict between the United States and the People's Republic of China (PRC), as well as financial vulnerabilities that could be exacerbated by a prolonged pandemic.
The PRC is one of the few economies in the region bucking the downturn. It is expected to grow by 1.8% this year and 7.7% in 2021, with successful public health measures providing a platform for growth. In India, where lockdowns have stalled consumer and business spending, GDP contracted by a record 23.9% in the first quarter of its fiscal year (FY) and is forecast to shrink 9% in FY2020 before recovering by 8% in FY2021.
Subregions of developing Asia are expected to post negative growth this year, except East Asia which is forecast to expand by 1.3% and recover strongly to 7.0% in 2021. Some economies heavily reliant on trade and tourism, particularly in the Pacific and South Asia, face double-digit contractions this year. Forecasts suggest that most of developing Asia will recover next year, except for some economies in the Pacific including the Cook Islands, the Federated States of Micronesia, the Marshall Islands, Palau, Samoa, and Tonga.
The inflation forecast for developing Asia is revised downwards to 2.9% this year from 3.2% forecast in April, due to continued low oil prices and weak demand. Inflation for 2021 is expected to ease further to 2.3%.
The update to ADO 2020 features a theme chapter, Wellness in Worrying Times, which discusses the importance of wellness as communities recover from COVID-19's toll on physical and mental health. The chapter explains that wellness can be an engine of inclusive economic growth if the region leverages its rich wellness traditions, and appropriate policies are promoted by governments.