On May 22, 2020 China will organize its largest institutional political assembly, the National People's Congress. Institutionally, it should have been held on March 5, but it had been postponed to May 22.
There are two obvious meanings underlying this political choice, which results directly from President Xi Jinping.
The first and most evident is the return to full normalcy, after the now officialised end of the outbreak in Wuhan, Hubei and of the other minor ones. Secondly, it is the sign of a rediscovered political, organizational and economic operation, pending a confrontation between China and the United States that is expected to become ever less easy to resolve on both sides, but also strongly decisive for the new world geo-economic equilibria.
There will be about 5,000 delegates from all areas of the country representing the 56 constitutionally recognized minorities who,over a period of about ten days, will institutionally define the annual budget, the country's annual and multi-year economic goals, as well as some important bills. It is a Congress that establishes China's "global strategy", albeit in a concrete and simple way.
Certainly there is still the block on the entry of Chinese coming from other countries, but workers have returned to factories and almost all schools and universities have been reopened, as well as shops, although there are signs of possible new spreading of Covid 19, which so far the Chinese government has not neglected at all.
The attention will be obviously focused on the Central Government's Report, which in this case will certainly be needed to have the necessary consensus and support from all regions in the country, so as to avoid both the danger of factionalism, which is central to the CPC's theory and practice, and above all to provide economic and organisational consistency and unity to all the work that peripheral areas shall carry out on their own.
This is a typical mechanism of the Third International's tradition.
I was once confidentially told by Deng Xiaoping, who also came from one of the recognised minorities, that they did not want Communism as it was achieved elsewhere, but just Socialism, albeit with Chinese characteristics.
Without bearing this in mind, even today little is understood of the Chinese political system and of its medium and long term goals.
At economic level, in fact, in the first quarter of 2020 China's GDP fell by 6.8% compared to the same period of last year.
The sharpest economic downturn since 1976, when Mao Zedong died and the GDP decreased only in that period, and later started to always grow again by 1.6%.
A final important sign to Western analysts was sent by President Xi Jinping on May 18 last, at the Assembly of the World Health Organization.
Obviously the first signal follows the vast diplomacy of support and economic and health collaboration, which characterized China immediately after the outbreak of the Wuhan epidemic-pandemic.
In other words, President Xi Jinping wants to eradicate the idea that the Covid-19 virus is only "made in China" – an idea that characterizes the great "fake news" that has alarmed the United States and so far collected 116 adhesions to the request – recently made by the EU – of an independent study on the virus origins and on the new ways of spreading among human beings it has shown.
The first information and economic goal pursued is to avoid – first and foremost – the worldwide defamation of China, of its economy and of its reliability, and also avoid having to pay large sums of money for repairing the damage caused by Covid-19, should some countries, just like the United States, want to resort to this legal-administrative and insurance instrument to achieve their real goal, i.e. preventing China from playing – for a sufficiently long time – its current role as global competitor at economic, political and military levels.
Hence, as President Xi Jinping clearly stated at the WHO Assembly, China does not feel to be and is not responsible for any life lost in the world due to the Covid-19 pandemic.
President Xi Jinping also added that China reacted as quickly as possible – as opposed to the slowness of action in other Western countries – thus clearly perceiving the threat posed by the pandemic. The President also said that it was China that first spread the sequencing of the entire virus genome, through the usual procedures, i.e. the official transmission of data to the WHO.
Therefore, President Xi's speech at the WHO is intended to reaffirm China's centrality. This will certainly be reaffirmed also at the forthcoming National People's Congress, but with another secondary objective, i.e. to underline the isolation of the USA and its "factionalism", just when China is regaining – after the pandemic – the primary role it has played in recent years as the leading country of the new globalization, while Donald Trump's "America First" policy is isolating the United States from the EU and from China itself and is reproposing an old "Cold War" tension with the Russian Federation, as well as finally rebuilding fences and spreading polemics in the Middle East and Latin America. Self-isolation or probably an old-style and "out of time" perception of the US global role, which is still inevitable but must be rethought without solemn and currently useless memories of the past.
This is the other communication, economic and political goal of China's current and future actions, in this phase when the Covid-19 still appears to be retreating.
Deng Xiaoping told me so very clearly.
He told me they wanted Socialism, not Communism. In Deng's mind, in fact, Communism is Western stuff. Indeed, the Chinese Communists had rightly interpreted Marx, who did not want the transition to Socialism and the structural end of capitalism in the peripheries of the world but, if anything, in its evolved centre, namely Germany and Great Britain. According to the CPC's documents, Togliatti and Gramsci – before him – had "made mistakes".
And certainly not out of servility towards the USSR that, at the time, was an unavoidable point of reference for the Italian Communist party (PCI).
Hence we should never think that the CPC stopped studying Karl Marx's texts, albeit with creative intelligence.
Quite the reverse. Nowadays Marxism is often mentioned in China, as the theory for shifting – within capitalism – from the production of goods and services to mass financialisation that the Chinese government currently uses, above all, to propose – with extreme caution – its entry into the world market.
And Deng, who was always a dear personal friend, is now one of the two true historical references for President Xi Jinping, together with Mao Zedong.
Hence unification of China, together with the still necessary Great Modernization, in addition to those established by Deng Xiaoping at the beginning of post-Maoism, which was never real Communism, because it never set as its goal the transformation of the remaining global capitalist world, but its penetration, with Chinese and, above all, national objectives and styles.
Moreover, just to eliminate again this brand of "Made in China" virus and of adverse actions and hacking against the websites of Western research centres – which is an accusation made by the EU – President Xi Jinping has clearly stated that- when discovered and tested – the therapies should become "global public goods".
Another strong signal sent by China to the West is clear: do not think you can make the usual big deal with the future anti-Covid19 vaccine because when we have it anyway – and we will probably have it before you – we will distribute it as free patent and we will not ask for additional costs or fees.
It is easy to imagine what could be the propaganda and geopolitical result for China in this case, which would find itself distributing modern and above all free anti-viral vaccines to all the regions, in Latin America, in Asia and in Europe itself, which have been radically and further impoverished by the pandemic.
What could Westerners say in this case? Could they say their vaccine is cheap, but better?
It is easy to imagine the effects of this counterfactual propaganda.
It is also easy to imagine the potential geopolitical impact of such an operation.
At the next upcoming National People's Congress another political and economic weapon of Chinese propaganda is and will be the reaffirmation of China's political, scientific and financial contribution to the World Health Organization, just as the United States has declared that its contributions to the WHO have been frozen.
Where there is a "void", the Chinese fill it. Westerners have left on their own, but they have lost both a possible ally and a major source of information. Bad choice. Opponents must be penetrated and not be cursed with a ritual that is very closely related to that of Protestant sects or American new religions such as Scientology. The eighteenth-century-style sectarianism is not a good way for spreading a political message – just think of the neo-evangelical sects that made Bolsonaro's electoral fortune in Brazil.
Hence, for the Chinese, simultaneous implementation of Sun Tzu's rules and the Thirty-Six Stratagems.
Finally, however, President Xi Jinping has not rejected the idea of a "large world analysis" on Covid-19, but regarding the global responses to the pandemic, not only the vague theories on its territorial origin.
These are the guidelines that, in all likelihood, we will see in action at the forthcoming National People's Conference.
But there are two other essential political signs from China that we must consider: one is the core of the future Chinese expansion, which is still Africa – another great void of Westerners that China is filling strategically and economically – and the other is the new Chinese attention- and of President Xi, in particular – paid to the Great South of the world. A legacy of Mao's Thought.
In the policy line, already established for the national People's Congress to be held on March 5 last, there are some rather new aspects: firstly, the new deadline for the eradication of absolute poverty throughout the country, which has been postponed for the meeting to be held next Wednesday, while the deadline for China to become a leading nation in technological innovation is still 2035. The same holds true for 2050, the deadline for the project to turn China into a world leader.
In other words, to make Deng Xiaoping's Fourth Modernisation, the military one, the axis of China's real technological, civil and organizational transformation.
Throughout China, the Covid-19 pandemic has in fact stepped up processes that had already been defined in the past by the central Government: firstly, the acceleration of digitalization, which has obviously been favoured by the "lockdown" that China has adopted – as happened in almost all European countries and the United States, where the closure of companies and distribution has forced consumers to inevitably resort to e-commerce.
Obviously, also in China, as elsewhere in the world, greater attention has been paid to what is still called – who knows for how long – "national interest".
However, this has not happened in the EU countries on the verge of bankruptcy, such as Italy itself, where any aid provided by the other EU Member States is only for their own gain, since they are obviously just waiting to swallow up what remains of Italian SMEs, and the huge colossal private savings of Italians, to rescue their banks.
In Italy an incompetent ruling class is waiting for ambiguous aid such as the ESM or the future, equally ambiguous, slow, vague and unclear "Recovery Fund", as it was charity, generous donations and gracious concessions from old friends.
Another structural factor of the Chinese economy triggered by the pandemic has been a greater level of technological and financial competition among the countries affected, and also among Chinese companies themselves in their domestic market, which has obviously grown in importance and has largely replaced reduced exports and also imports, actually blocked by the combination of the pandemic and the trade war between China and the United States.
Socialism that makes once again "substitution economy", as was the case in the 1950s.
Another economic factor that the pandemic has reactivated or accelerated, in China as elsewhere, is the major role of the private sector and the no-profit sector.
This will certainly be at the core of the next National People's Congress, which sees local, ethnic and political autonomies strongly represented. Nevertheless, it mainly represents – ina politically significant way – also some technical-scientific elites, fully integrated in the CPC, which, however, have a strong influence both on the Party and on the "inner circle" of President Xi Jinping.
President Xi wants to avoid China losing it dominant role in the world as a result of the now hopefully ended pandemic. Indeed, he wants to redesign it at a time when, due to past and present mistakes, the productive, social and healthcare system of the United States and part of the EU shows strong failures, which immediately spill over and affect what were once called the "productive forces".
As President Trump said, the United States has harshly asked for a gradual "decoupling" – albeit fast and certain – of the American companies from China. Due to the very characteristics of the current Chinese economy, however, President Xi Jinping knows all too well that – whatever happens to the Chinese economy today and in the immediate future – the Global Value Chains (GVCs), on which China cannot but fully rely, are all semi-destroyed.
A few months ago, Chinese companies were among the largest companies in the world to applyfor "force majeure" certificates to terminate existing supply contracts in the world.
Certainly, the real attack by Trump's America on the Chinese economy will be launched through the new Global Value Chains, which, almost certainly, will now encircle China, but will no longer penetrate it.
China will play its cards which – as we will see soon – will also be played at the forthcoming National People's Congress, with a network of probable internal Chinese marginal areas that will very fiercely compete with the new probable external pro-USA network of new CGVs which -we imagine – will pass through India to Vietnam, and through Taiwan, to India and obviously Japan. This is the reason for Taiwan's recent "revival" as an unlikely geo-economic opponent of China, upon US clear indication.
Another issue that will be surely well explored by the next National People's Congress – with President Xi Jinping who will be able to strongly innovate the Chinese economy, even with a higher rate of liberalization – is that of strengthening the State, so as to make it ever more effective as a "power multiplier" and as developer of a national policy line, "with Chinese characteristics" – exactly as Deng Xiaoping repeated to me – which combines military, finance, productive economy, diplomacy and intelligence Services, with a view to winning the real war of China today, i.e. the war against the USA which, however, no one will ever fight on the ground and with the old means of "classic" military power.
The complex puzzle of Canberra-Beijing ties, as diplomacy takes a back seat
Australia and China seems to be engaged in a repulsive tariff war targeting each other's goods. Canberra is struggling to manage its complex economic relationship with Beijing even as it finds itself in the strategically opposite camp. How did things turn out this way? Here, I analyse.
***
There was a time when Australia under the Mandarin-speaking Prime Minister Kevin Rudd, who was in office from 2007 to 2013, had the highest level of warmth in relations with China.
The Labour premier saw a promising prospect of economic partnership with a rising China at that point of time, but gravely under-estimated the geopolitical threat that would be soon posed by Beijing, a mistake later governments would realise and is still striving to rectify.
Quad pullout and comeback
Rudd even pulled Australia out of the four-nation Quad grouping in 2008, a year after it was conceived by former Japanese PM Shinzo Abe, in a move to appease Beijing with which Canberra's economic partnership was progressively moving upwards. But, nine years later, Malcolm Turnbull's premiership brought Canberra back to the Quad as regional and global security dynamics witnessed a paradigm shift.
Strategic shift
A decade later since Rudd took office, despite closer economic ties with Beijing, Canberra pushed for a closer alliance with the United States since 2017, the year Quad Security Dialogue was revived during the ASEAN and Related Summits in Manila.
It was a result of changes in security assessments by Canberra with regard to new threats and challenges from an increasingly assertive Beijing in the Indo-Pacific and beyond.
The rift between Australia and China further widened, earlier this year, when the Australian government supported an inquiry into the origins of the novel coronavirus, annoying China where it originated. Australian politicians also became increasingly divided on hawkish and dovish lines.
Huawei and ZTE ban
Tides were turned in 2018 when Australia became the first country in the world to ban Chinese telecom giants Huawei and ZTE from 5G trials and rollout, citing security concerns, as these companies 'allegedly' had links to the Chinese ruling establishment which they deny.
Beijing also reciprocated with tit-for-tat measures from time to time. The latest in line of such measures was the imposition of temporary anti-dumping tariffs up to 212.1 per cent on Australian wine imports with effect from November 28, this year.
Ongoing tariff tensions
2020 saw a foray of imposition of tariffs and reciprocal duties from both sides right from the beginning of the pandemic. Attempted mergers and acquisitions by Chinese companies involving companies in Australia were also blocked by Canberra citing security reasons.
Adding oil to the fire, anti-dumping investigations were initiated by both sides against each other, for using its findings as rationale for imposing more tariffs on different sets of goods such as aluminum, steel, paper, coal, copper, sugar, log timber, and barley.
ChAFTA
What will be the fate of the 2015-signed China-Australia Free Trade Agreement (ChAFTA)?
The worsening ties might take a toll on ChAFTA as it readies for a five-year review next month, notwithstanding the other broad-based trade pacts in which both countries are participants such as the recently-signed, 15-nation Regional Comprehensive Economic Partnership (RCEP).
ChAFTA took about a decade to complete and led to zero tariffs on many goods, but RCEP is still in its infancy.The main issue is not whether a review of ChAFTA is possible, but how to prevent the looming prospect of Canberra and Beijing retreating from the current commitments directly or indirectly that would effectively reduce the pact into a state of coma.
As ChAFTA goes for review in December, the most likely outcome could be both countries agreeing to maintain the deal's status quo. If any of the parties wishes to terminate the pact, there is a six-month notice period after which they can leave, with or without a review.
Still economic partners, but political rivals
Today, China has positioned itself as Australia's largest trading partner. Moreover, Australia strongly benefits from its close proximity to the vast markets of China and Japan which together represent over 40% of all Australian exports, in which a little over 32% amounting to $89.2 billion, are exclusively to China, as data from 2019 show. Despite this, Canberra and Beijing remain at odds politically.
Exercise Malabar 2020 and beyond
One of the striking questions in the strategic circles of all Quad partner countries is, will Australia continue to take part in the annual Exercise Malabar in the coming years, annoying Beijing further?
While Japan is a strategic partner in the Quad, ties with China are moving on an adversarial path, particularly worsening since Canberra took part in the annual Exercise Malabar in the Indian Ocean this month, after a gap of 13 years since it left the mega naval war games.
The exercise by the four Quad partners of India, United States, Japan, and Australia is apparently a warning to Beijing's naval ambitions in the waters of the Indo-Pacific.
Supply Chain Resilience Initiative
In fact, all the Quad partners and other democracies in the Indo-Pacific wish to decouple itself from over trade dependency on China. But, domestic economic realities prove otherwise. With a raging pandemic and the unravelling US-China cold war threatening supply chains, Japan has recently put forward an idea – the Supply Chain Resilience Initiative or SCRI.
It is a trilateral approach to trade, with India, Australia, and Japan as the key-partners aimed at diversifying its supply risk across a group of supplying nations instead of being disproportionately dependent on just one, apparently keeping China in mind.
Despite all these measures, the prospect of closing of huge Chinese markets for Australian exports, owing to a disproportionately high level of tariffs is haunting domestic producers in Australia that could potentially make Australian wine largely unmarketable and non-feasible in Chinese markets.
Ineffective diplomatic efforts
Current Australian PM Scott Morrison has been trying to bridge gaps in a reconciliatory tone by stating that his government's actions are wrongly seen and interpreted by some only through the lens of the strategic competition between China and the US. But, Beijing doesn't seem satisfied, as evident in the decision to impose the recent set of disproportionate tariffs on wine.
Loss of businesses for Australian domestic producers is already hurting the Australian economy badly as goods remain stalled at ports. But, the behemoth of Chinese economy appears to be largely resilient to adverse impacts, compared to the Australian economy.
Way ahead
Australia's producers and farmers are largely unhappy and unsatisfied with the way Canberra is dealing with Beijing as it directly threatens their livelihoods.
As things turn out worse, Canberra will have to strategise newer options to effectively balance geostrategic and economic considerations with regard to Beijing, possibly through the diplomatic route, in a way to immediately diffuse the prevalent confrontational approach to come out of this diplomatic impasse.
Is China on the brink of a food crisis?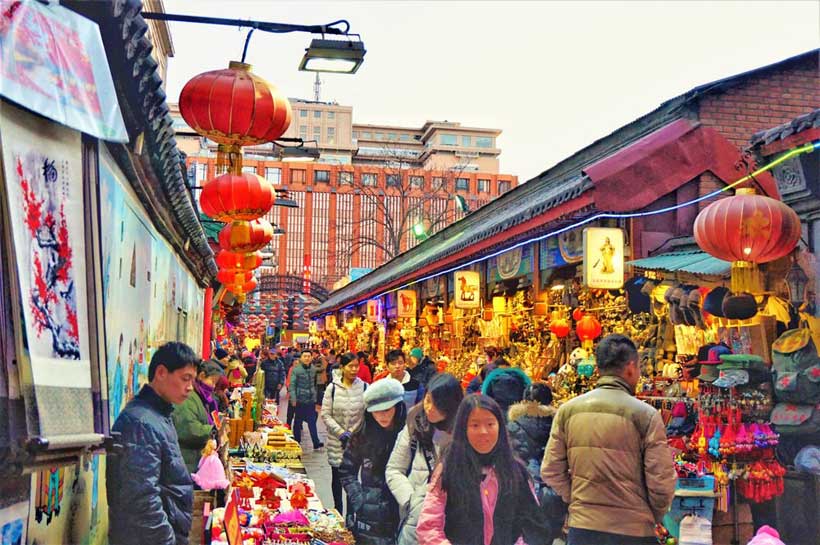 It is not a secret that the current COVID-19 pandemic has been affecting people all around the globe. The virus touched almost all spheres of regular life – i.e. it resulted in temporary or permanent closure of businesses, a rise in the unemployment rate, inability to physically spend time with family and friends. Such drastic changes in times of uncertainty significantly impacted the well-being of the world population. Moreover, Food and Agriculture Organization of the United Nations (FAO) warned about the emerging food shortages worldwide. According to FAO statistics, global food prices have been on the rise for four consequent months, hitting their maximum in September 2020. China – the place where the virus originated – is one of the states that have been seriously affected by the disruptions, including production and distribution of food.
In his speech on August, 11 Chinese leader Xi Jinping did not admit any food shortages. However, he promoted food security through the campaign "operation empty plate," thereby encouraging people to stop wasting food. It is interesting to note that Mao Zedong introduced a similar food campaign before the 1959 Great Chinese Famine. Meanwhile, there has undoubtedly been a significant increase in food prices in China. Many experts claim that China is on the brink of a food crisis that has been manifested as a result of lockdowns, infected livestock, and poor weather conditions. It is difficult to give any predictions or estimations about the future food situation in China because the country does not share enough of its data with the rest of the world, yet it is possible to answer the question why the state faces food difficulties.
Average food prices increase
The National Bureau of Statistics of China reported that, on average, food prices have increased by 11.2% compared to 2019. The price level of vegetables increased by 6.4% in one month; egg prices soared by 11.3% within the same period. Pork prices grew the most, by 52.6% compared to the last year's statistics. Why is it important?
Firstly, many workers and their families who faced loss or decrease of income or remittances became food insecure. That, in turn, has had social repercussions for the overall level of crime, health concerns among adults and infants, high death rate, different demographic and economic challenges. Furthermore, international trade will also suffer: due to the lack of labor force Chinese imports in foreign countries will seemingly increase in price.
Secondly, China, along with other countries, was in a period of recession earlier this year. Food insecurity will cause difficulties in coming out of this financial downturn.
The impact of lockdowns on food supply chains
One of the main factors contributing to the declining agricultural productivity and spiking food prices in China is the restrictions on personal mobility and transportation of goods. In January Chinese authorities adopted measures to limit mobility within the country; they imposed "city lockdowns, traffic control, and closed management of villages and communities." Such restrictions impacted food supply chains. For the production part many workers experienced difficulties getting to work that created a shortage of physical labor. That is why some crops were not picked, others were not even planted. As a result, the supply of agricultural goods decreased. On the other hand, at the beginning of the year, the demand for them also fell as restaurants and bars were closed. Thereby, many crops went to waste, while farmers did not make enough profit to purchase the seeds and fertilizers for the next season. It is a problem because businesses continue to open up, raising the demand and prices on crops. Immobility also impacted the distribution of seeds and fertilizers to the farms that disrupted the plantation season. Furthermore, the distribution of agricultural goods to grocery stores became difficult. Particular inconveniences associated with the restrictions on mobility all added up to the spike of prices on crops.
African Swine fever outbreak
Another factor impacting the emerging food crisis in China is the failure to rebuild last year's loss of pigs due to the infection. Chinese porcine farms were hit by the African swine fever outbreak that infected and killed a large number of pigs (40% of total Chinese pigs' population), decreasing the supply but increasing the prices on pork in 2019. According to China's National Bureau of Statistics, pork prices were 52.6% higher in August this year than the year before, while corn prices – the main porcine fodder – increased by 20% compared to last year. Chinese farmers failed to improve the situation in 2020 due to severe flooding. The increased amount of precipitation caused considerable losses of corn and thus the inability to feed pigs. China began to import crops from abroad – particularly, corn from the US. As the United States Department of Agriculture (USDA) stated, China had been importing 195,000 more tonnes of American corn than the year before.
Shuttered diplomatic relations between China and Western states
Some experts claim that Chinese diplomatic relations with such Western countries as Australia, the US and Canada shattered due to the fire of four ballistic missiles on the Indian border on August, 26. These states are China's major food exporters. If their diplomatic relations with Beijing worsen, then the trade has a high chance of being negatively affected as well. In other words, Chinese imports of crops have the risk of becoming more expensive, meaning that the prices of pork and other goods might rise even more.
Severe flooding and drought
Finally, worsened weather conditions – some parts of China experienced drought, others were hit by flooding – led to a decrease in crops and a significant increase in food prices. Southern, Central and Eastern China underwent a period of heavy rain and the worst flooding in the last hundred years. Excessively high water levels in major Chinese rivers, including the Yangtze River, resulted in the evacuation of 15 million people in July 2020. Moreover, the flooding destroyed 13 million acres of agricultural land, which is estimated to cost at least $29 billion of economic damage. In the meantime Northern (Xinjiang province) and Southwest (Yunnan province) China have gone through a period of severe drought. In April 2020 nearly 1.5 million people in Yunnan province were caught in an emergency situation: shortages of drinking water, damage of hundreds of hectares of crops and livestock. Consequently, the supply of many agricultural goods and pork decreased, which spiked the prices on these goods.
Chinese long-term prospects toward food security
To conclude, immobility, African swine flu, worsened weather and security conditions led to the growing food shortages and increasing food prices in China. This being said, the Chinese government has been working on that problem. It has taken special measures to ensure sufficience of agricultural goods by investing in various disaster relief funds for different crops, particularly rice and wheat. For example, Chinese authorities allocated 1.4 billion yuan to save the agricultural harvest in Hubei province. Due to the substantial loss of agricultural products, China has also increased its imports. General Administration of Customs reported that China's grain imports rose by 22.7% in July 2020 compared to the previous year. Meanwhile, the Chinese leader took a gentle approach to solve this problem. He did not announce the issues related to the insufficient number of crops; instead, he adopted a program for encouraging people to be more frugal with their eating habits. The Chinese Academy of Social Sciences followed the same path as it denied anticipation of a food crisis in the short-term perspective, yet warned about possible food shortfalls by 2025 if no agricultural reforms take place. As of now, China is not on the break of a food crisis; however, its shuttered prospects for long-term food sustainability are subject to dangerous repercussions.
From our partner RIAC
China and Mongolia: A Comprehensive and Never-Ending Strategic Partnership
Mongolia is an exceptional country when it comes to Eurasian geopolitics, linking China with Russia, two great countries in terms of military and economic capabilities, geographical area and population. In June 2016, the China-Mongolia-Russia Economic Corridor (CMREC) was announced in order to consolidate friendly relations and promote economic exchanges for the success of the Belt and Road Initiative. Many reports indicate the great position of Mongolia on the Chinese economic map as a pillar of the modern Chinese initiative. Mongolia is a major economic partner of China, and the Chinese administration aspires to forge permanent relations of cooperation and coordination with Mongolia by virtue of its common geography and strategic location, in order to open up through it to Russia and other Mongolia is a key economic partner of China, and the Chinese administration aspires to forge permanent relations of cooperation and coordination with Mongolia by virtue of its common geography and strategic location, in order to open up through it to Russia and other international partners.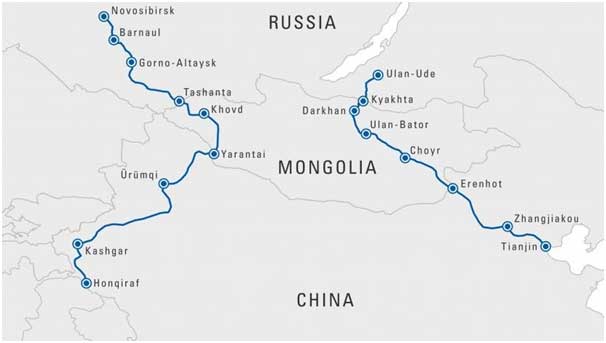 Mongolia is rich in natural resources, for example the mining industry provided up to 30% of GDP and almost 90% of exports, but its economy is not as developed compared to China. Some economic reports indicate the great economic benefit to Mongolia from the China-Mongolia-Russia Economic Corridor. Mongolia is expected to witness unparalleled economic growth in terms of international economic cooperation, which will positively affect the national economy. The Mongolian economy depends heavily on China's investment; data of the two largest ports in Inner Mongolia Autonomous Region in northern China indicates enormous economic benefits. In the chart below, the continued economic progress achieved in Inner Mongolia is shown. In addition, rail trade increased by 16 percent year-on-year to 11.2 million tons in 2017. In the same year, 570 trips were made on the China-Europe railways passing through Ernhot (a county-level city of the XilinGol League, in Inner Mongolia Autonomous Region, located in the Gobi Desert along the Sino-Mongolian border, across from the Mongolian town of Zamyn-Üüd).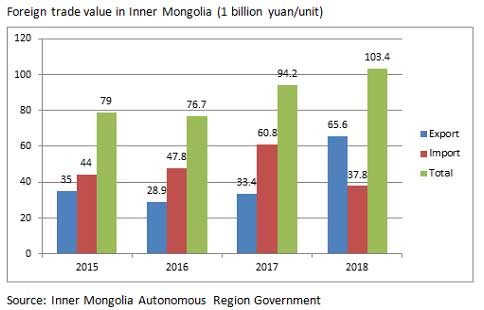 The Belt and Road Initiative aims for mutual profit, cooperation and peaceful communication. China shares an ancient cultural history with Mongolia, long common borders, and economic cooperation that has never stopped. The strategic geographic location of Mongolia makes it a priority for China on the new Silk Road, in addition to the richness of natural resources and livestock that China needs.
The Mongolians are a horse-loving people, a country known for its large number of horses. Mongols without horses are like birds without wings. Despite globalization and the great economic progress in the neighbor (China), as well as the cold weather and difficult geography, the Mongolians did not abandon their traditions and the Mongolian way of life still exists today. In Mongolia there are herders of horses, camels and cattle to benefit from milk, meat, wool, etc. During the pandemic in China, for example, President Battulga set up what is known as "Sheep Diplomacy" where Mongolian President donated 30,000 sheep to China. This initiative indicates the Mongolians' positive intentions towards the Chinese and the desire to open up more. In this context, I would like to point out that China is a big importer of meat and the Chinese demand for meat is constantly increasing, as shown in the chart below. Here is a great opportunity for Mongolia to increase its exports of meat to the Chinese market.
The reading of Mongolian history indicates that this country has passed through periods of prosperity. Mongolia may be a good example of power and rule, as its borders extended to many countries during the rule of Genghis Khan (1162-1227), the man whom the Mongolians consider their historical leader and has turned into a hero and a national symbol. The Mongolians did not abandon their land despite the cold weather and difficult geography, indicating that they are a deeply rooted people with land. Mongolia, with its vast territories and few people, has turned into a meeting place for Russia and China, and a strategic center for Chinese economic expansion. Therefore, it is impossible for the Chinese administration to abandon the partnership with Mongolia.
The Mongolian economy is heavily dependent on livestock, and the number of pastures has increased significantly since the Soviet era because of the transfer of ownership to the people. However, the government is still not able to provide all services to citizens "the government has failed to promote education and health care and veterinary care in pastoral communities, so there is no longer any incentive to stay in rural areas" said Sarol Khuadu, an official at the Institute for Environmental Research in the Mongolian capital. The policy, which no longer places much emphasis on the countryside, has led to the transfer of large numbers of citizens to the capital and to engage in the world of money and business.
Unfortunately, the Mongolian government is not working seriously to support citizens in remote areas. The conditions of life are not good and the loans granted are high interest, in addition to the weather that adversely affects their businesses. In order to help the poor and rural people, in cooperation with national governments, humanitarian, development and scientific partners, FAO has developed an early warning approach by monitoring risk information systems and turning warnings into proactive actions. International organizations contribute to permanent humanitarian and social assistance in Mongolia.
Mongolia's strategic policy through the "Mongolia Steppe Road Program 蒙古国"草原之路" is largely in line with the belt and road initiative, which is a road connecting Mongolia, China and Russia. Consequently, Mongolia, a country that mainly depends on the agricultural sector, will be a center for economic communication between China and Russia, and thus will witness a great economic development. The Steppe Road Program aims to boost Mongolia's economic standing and create an advanced network of infrastructure for communication with China and Russia and build an oil and gas pipeline. In 2014, during his historic visit, Chinese President Xi Jinping raised the level of relations between the two countries to "Comprehensive Strategic Partnership Relations". Since then, bilateral cooperation has begun to move faster.
China has never abandoned Mongolia; it is a country of advanced strategic location as a bridge between Asia and Europe, in addition to the important agricultural sector in Mongolia which benefits China greatly, not to forget to mention the China-Mongolia-Russia Economic Corridor which has become an important part of the belt and road initiative and a key component of Sino-Russian cooperation.
The relationship between China and Mongolia today is an ideal example of the bilateral relationship between two neighboring countries. Cultural, economic, political and tourism communication is in continuous progress between the Chinese and Mongolians, and the Belt and Road Initiative will push this communication forward. The Chinese aspire to increase free trade areas and economic connectivity through a developed infrastructure network.